Review of unit layouts and floor plans at Hill House
Hill House Showflat: 2 Bedroom - Type B3, 624 sq ft (58 sqm)
Total no. of units:
Who is it suited for:
Couples
Investors
Young families with one child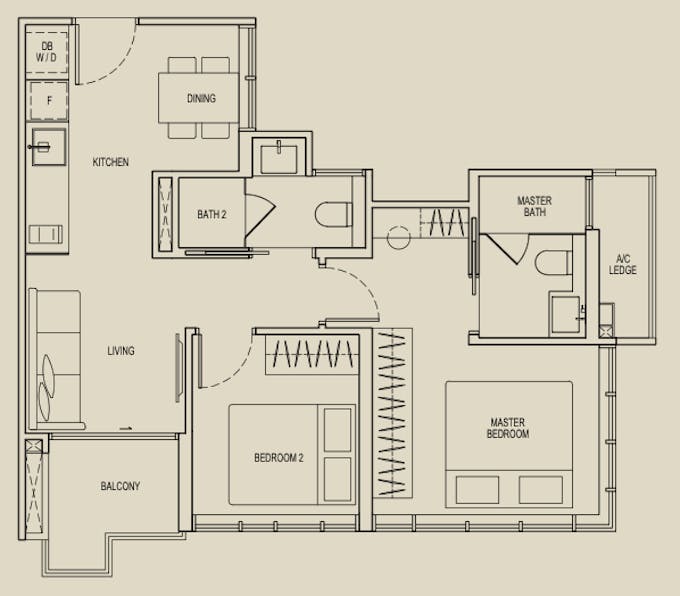 There are three layouts for Hill House's 2-bedroom units, all of which have an equal size of 624 sq ft (58 sqm). All the 2-bedroom units also have an L-shaped layout, which is suitable for buyers who value their privacy. With Hill House's convenient location near Orchard and Robertson Quay, the 2-bedroom units will also be popular for rentals.
While the layout is not conventionally a dumbbell layout, the 2-bedroom units have two bathrooms so it will still be suitable for two different tenants.
Dining area and open-concept kitchen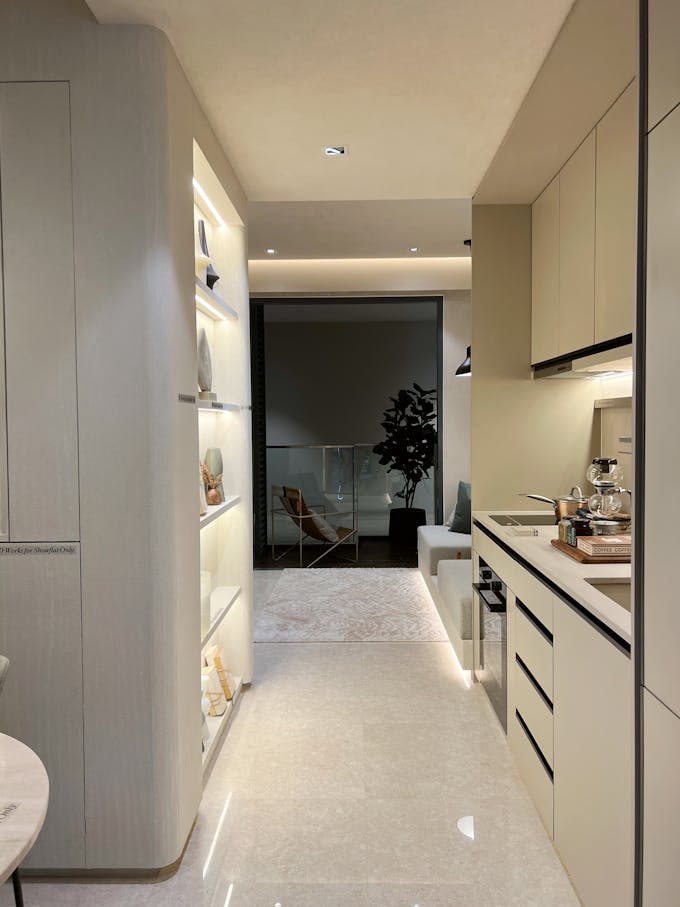 When you enter the unit, you'll be greeted with an open-concept kitchen and the dining area. As it's a compact 2-bedder, it's an efficient layout with no foyer space at the entrance.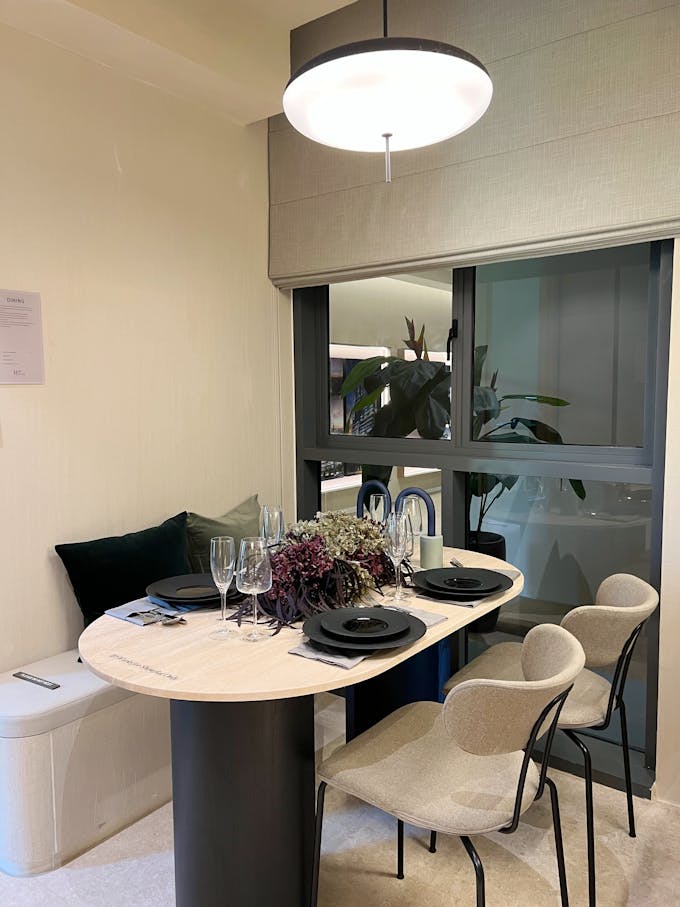 Some buyers might find that having the dining area at the entrance is quite an unconventional layout for a 2-bedroom.
But what we love about this is that there's a dedicated corner for having your meals. A great addition is a full-length window to enjoy natural light during the day. It also makes the kitchen area seem brighter and more spacious.
One downside here is that you won't be able to fit more seating in the dining area or have an extendable table if you wish to host more guests.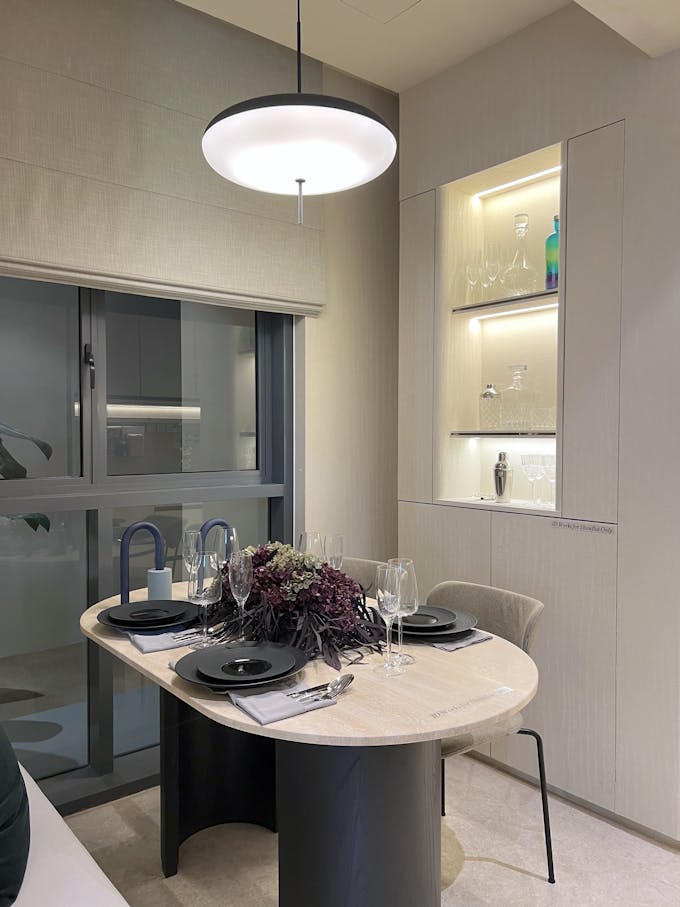 In the showflat, the ID has also designed some shelves to replicate a bar area. For buyers who love to entertain guests, this could be a possible idea for your home.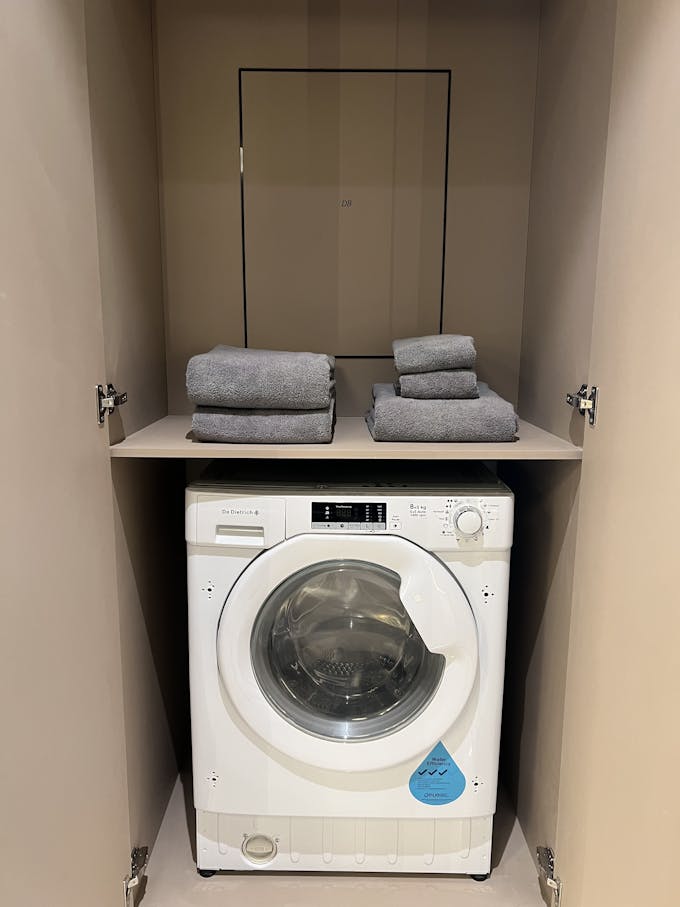 On the right side of the entrance, there's a "linen closet", which is part of the open-concept kitchen. Besides a washer-dryer by premium French brand De Dietrich, there's a shelf where you can store your washing essentials.
We've previously only seen this linen closet concept at Sky [email protected]'s showflat so far, and this is a great provision as it keeps your washer-dryer hidden. The distribution box (DB) is also located in this closet.
One consideration here is that by having this linen closet, you might not have space for shoe storage. However, a suggestion is to place a mini shoe rack on the shelf above the washer-dryer.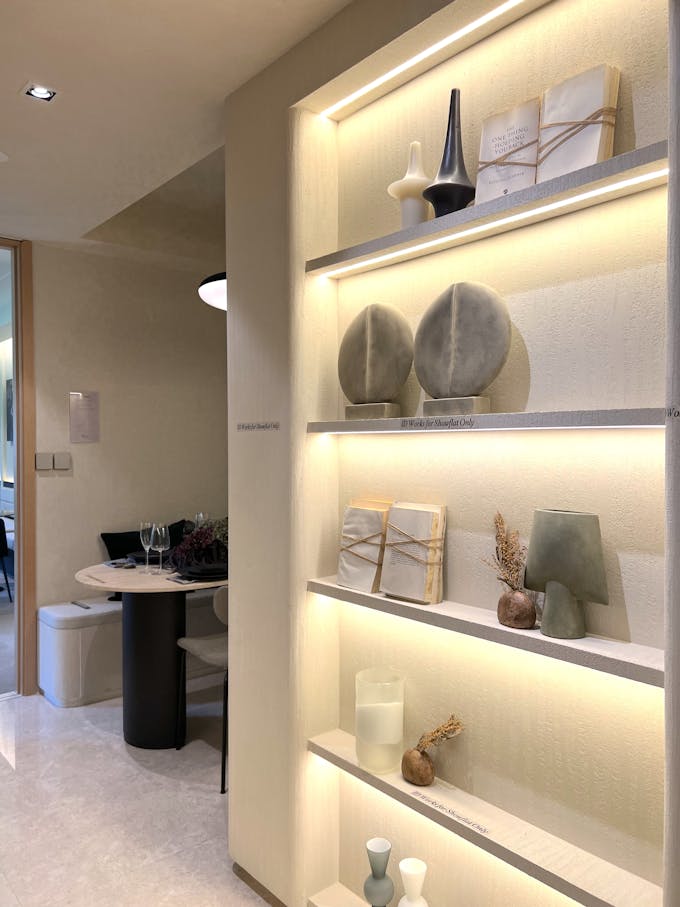 Alternatively, there's also an area opposite the kitchen countertop where you can build an additional storage cabinet.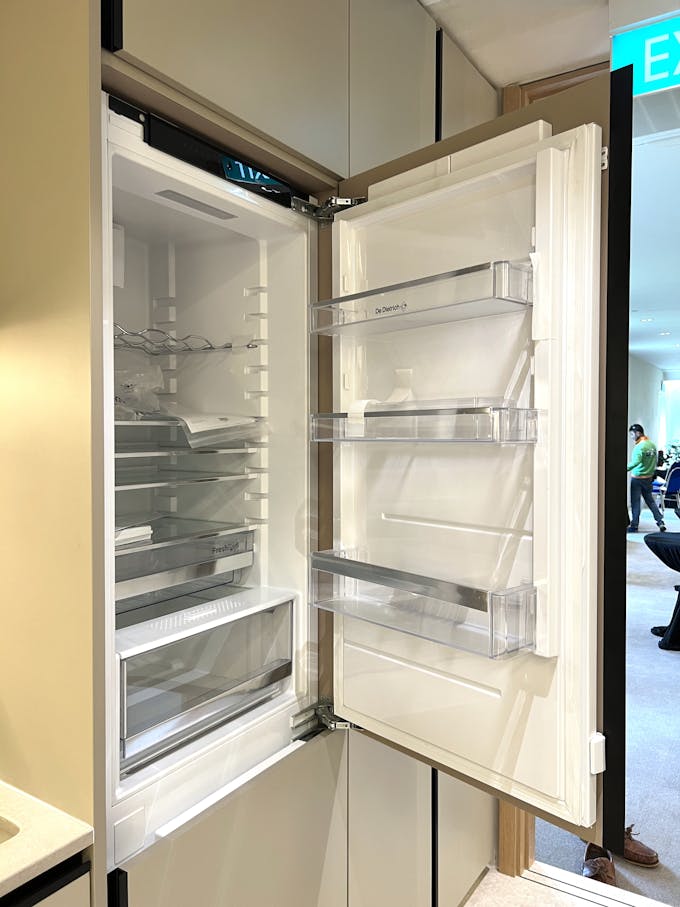 Similar to the washer-dryer, the fridge is also by De Dietrich and integrated with the kitchen cabinet. While an integrated fridge keeps the aesthetic kitchen uniform, it might be slightly inconvenient if you need to change your fridge in future.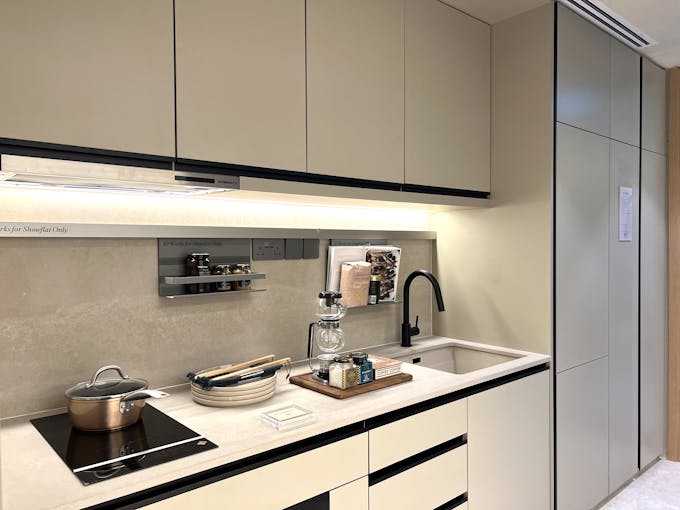 Hill House's interior palette is made up of light and neutral tones; this concept is reflected in the kitchen.
There are ample high and low kitchen cabinets, which are adequate for a 2-bedroom unit. LED striplights are provided as part of the high kitchen cabinet.
Both the kitchen countertop and backsplash are made from engineered stone by Caesarstone, a brand specialising in making quality countertops. Engineered stone countertops are durable and scratch-resistant, so you can expect them to last long.
All bedroom types will get an electrical cooker, hob and hood by De Dietrich. A built-in oven by the high-end Swiss brand V-Zug is also provided. We can understand why the developer isn't providing a gas cooker. As its target demographic is mostly younger millennials, most might not cook often, and even if they do, it will be simpler meals. Plus, Hill House's proximity to Orchard and Robertson Quay will offer plenty of F&B options, so residents might prefer to eat out instead.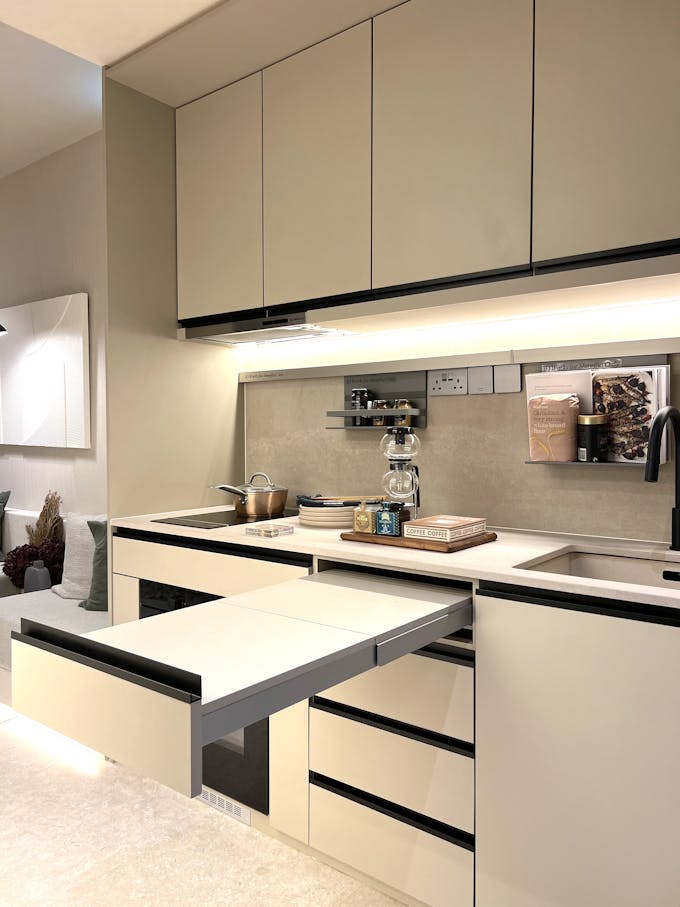 A unique highlight of the kitchen is this pull-out table concealed in one of the drawers. It can be used as an additional countertop space for food preparation. This is an ingenious idea we've never seen before, and it's useful, especially if you have many things on your kitchen countertop.
Living area and balcony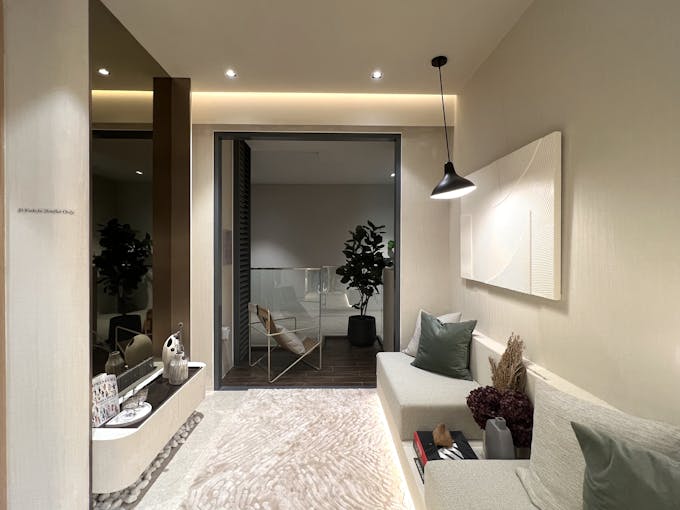 At 100.1 sq ft (9.3 sqm), the living area is a pretty standard size for a 2-bedroom unit. The space is adequate for a three or four-seater sofa.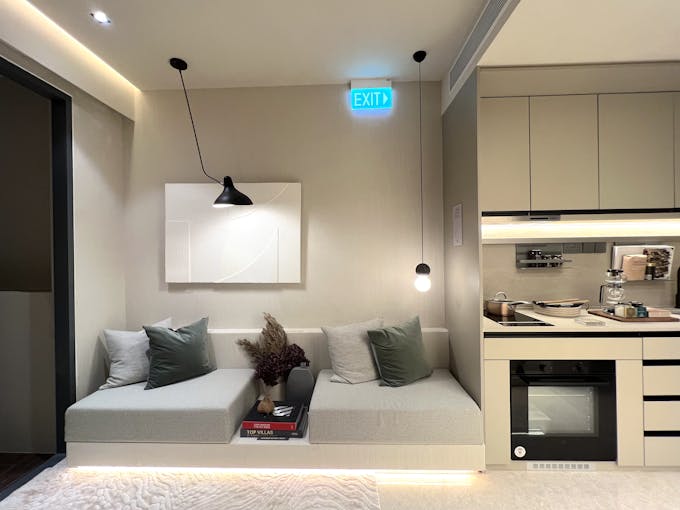 In the showflat, you'd notice that the ID has placed a small table in between two separate couches. This could be a suggestion for your home decor if you don't wish to place a coffee table in front of the sofa. Doing so would allow for more space in the living area.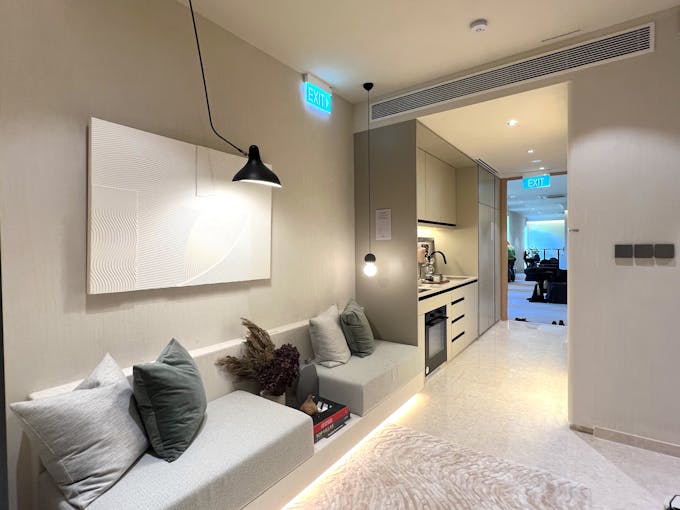 You'd also notice that the living, kitchen and dining areas are fitted with marble flooring, giving the common spaces a sleek and sophisticated look.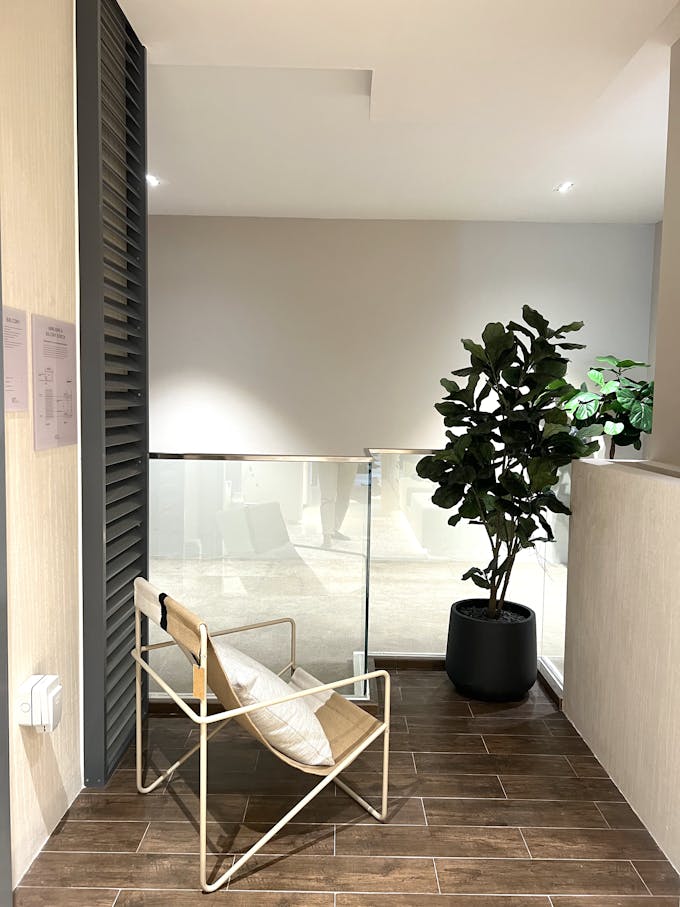 At 40.9 sq ft (3.8 sqm), the balcony feels like an extension of the living area. Although it's not a large space, it's cosy enough to fit a chair or couch for one and some plants.
Hill House's Master bedroom and bathroom
The master bedroom is 172 sq ft (16 sqm), slightly larger than average. What's great about it is that it's separated into two distinct areas - the dressing area and the sleeping area.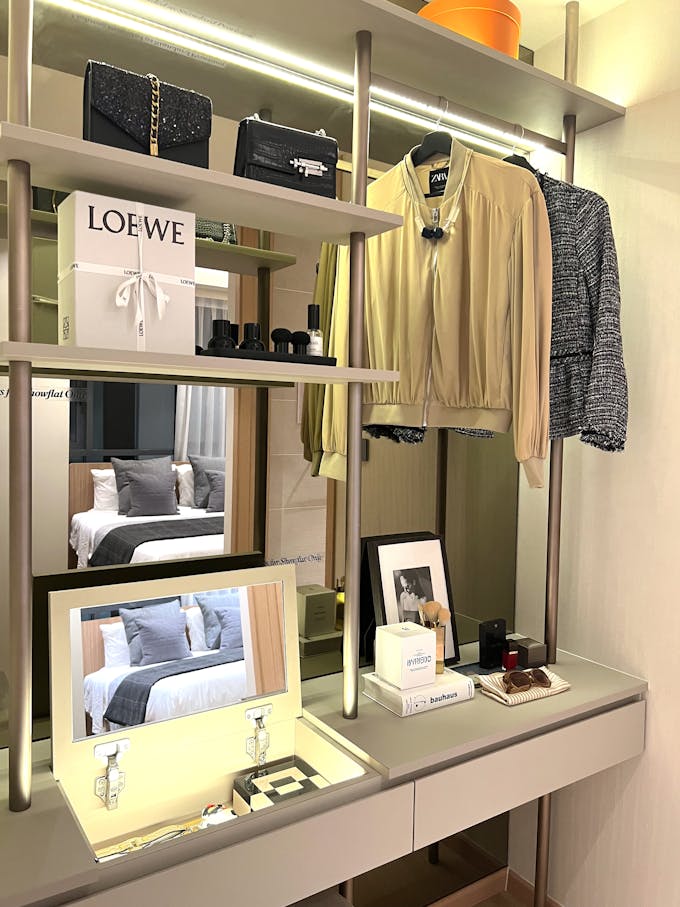 A key highlight of the master bedroom is a dual-function dressing table that can easily be switched to a work desk for days you work from home. What's great is that the dresser also comes with shelves for storage and a rack to hang clothes you wear daily.
The dresser is situated between the master bedroom entrance and the master bathroom, so it feels like you have a walk-in wardrobe. Do note that the backsplash mirror won't be included in the provisions.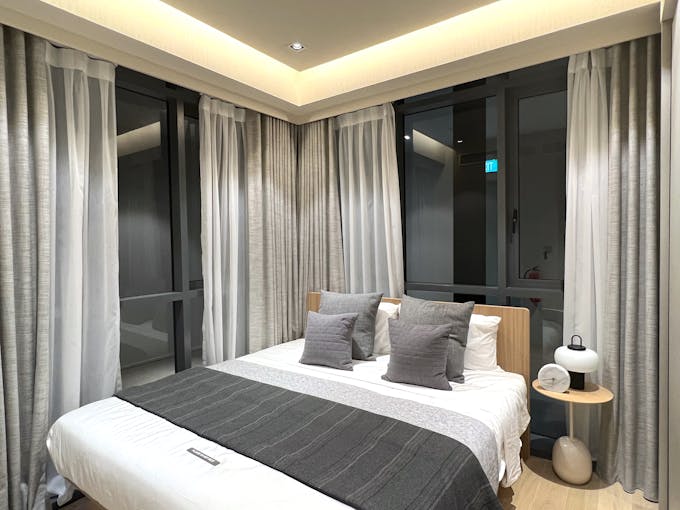 What we love about the sleeping area is the L-shaped and full-length windows which allow plenty of natural light to stream through. Very few developments are able to provide such a view in the master bedroom, and this is the first time we've seen this in a 2-bedroom unit.
The master bedroom can fit a king-sized bed, and there's still room for a side table. Though the space around the bed isn't very generous, there's still sufficient room to move around.
All bedrooms are fitted with engineered timber flooring, a popular choice for most developments.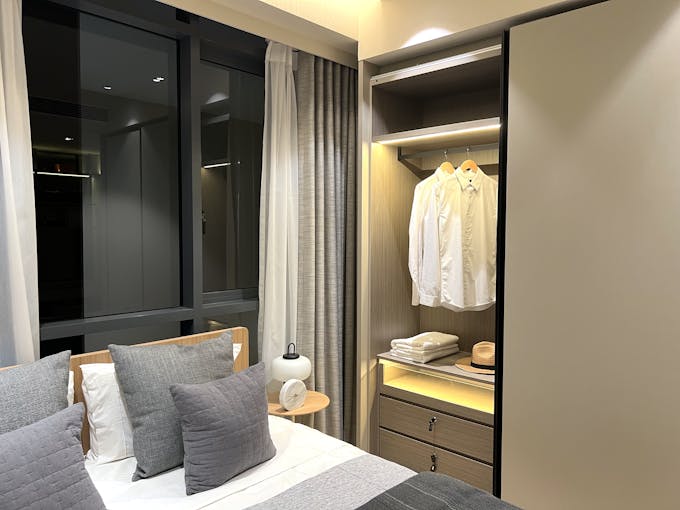 With a three-door wardrobe, there's ample storage space for residents. The wardrobe has built-in sliding doors and laminate door panels and has the same colour palette as the kitchen cabinets.
LED strip lights are included in the wardrobe too. In situations where your partner is asleep, and you don't want to disturb them, the LED strip lights are useful, so you won't need to switch on the main bedroom light.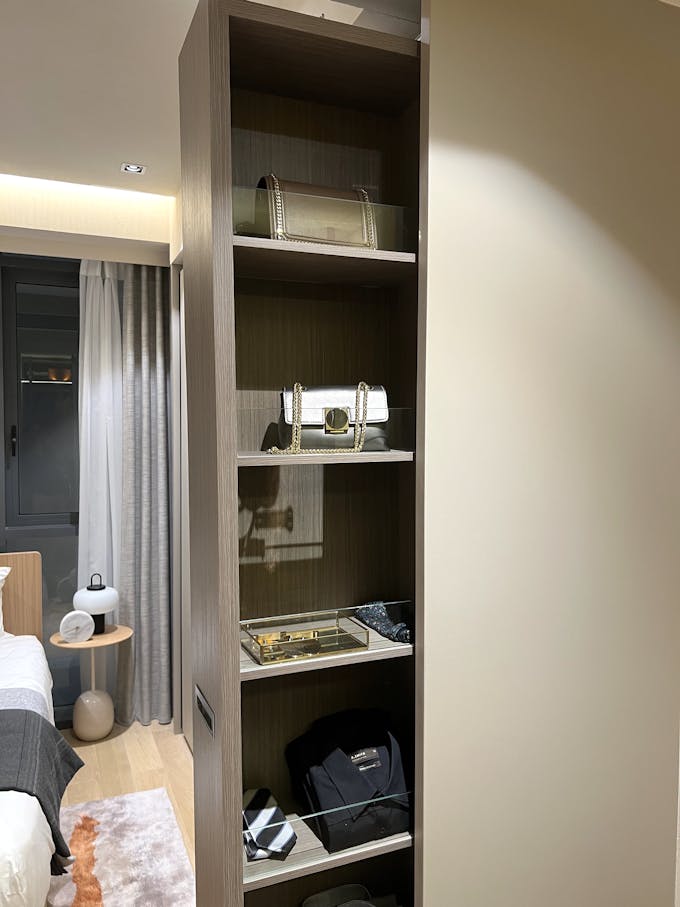 An interesting feature of the wardrobe is an additional compartment that slides out. There are shelves for additional storage, perfect for keeping clutches, jewellery, belts, watches and other small items.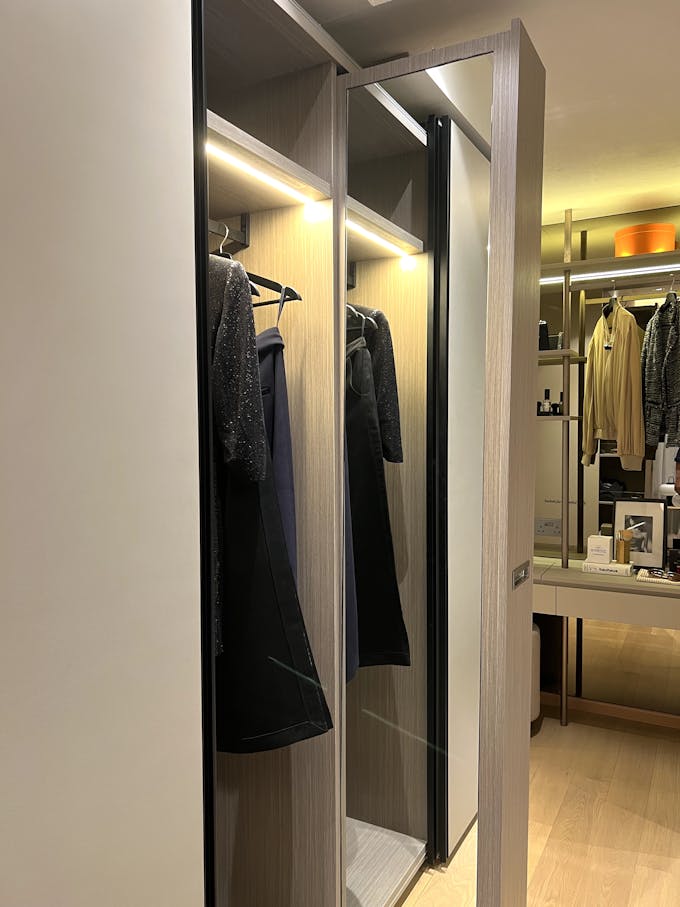 On the other side of the sliding compartment is a full-length mirror. This provides residents with additional space in the master bedroom for getting ready.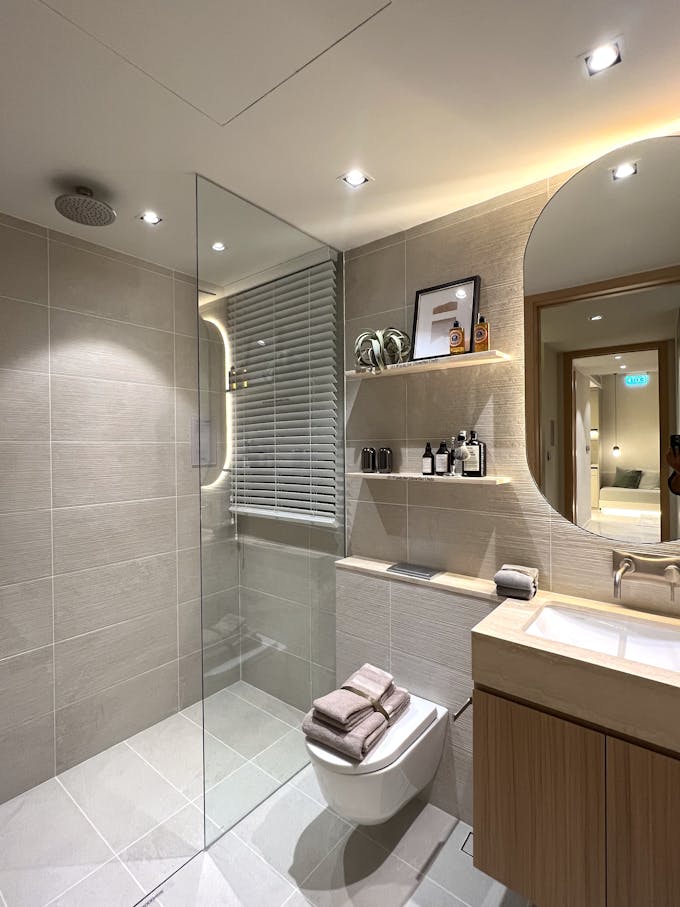 In line with the light and neutral tones of the development, the master bathroom is decked in earthy colours, which reminds us of a minimalist boutique hotel. It's designed with a polished travertine built-in sink, a material usually tied to luxury. Fun fact: Travertine originated in Italy and was used to make famous structures like the Colosseum and the Sacre-Coeur in Paris.
Some plus points in the master bathroom include a rain shower, a window for natural ventilation, a towel rail and robe hook.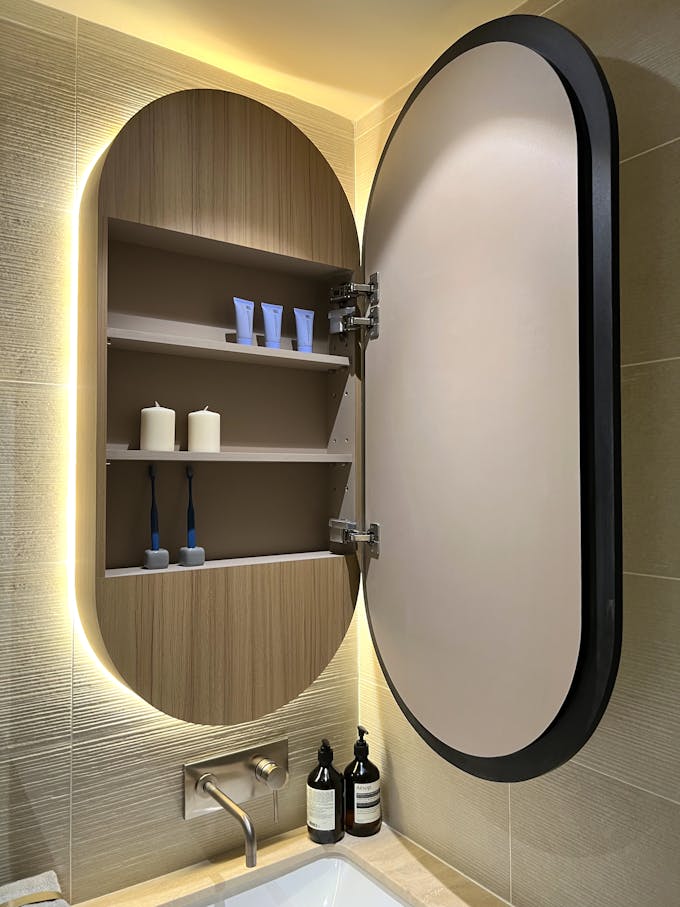 Instead of the standard rectangular-framed mirror cabinet, Hill House has decided to use a rounded frame so it looks more stylish. There's storage behind the mirror for residents to keep their beauty and grooming essentials. An LED strip light will also be provided.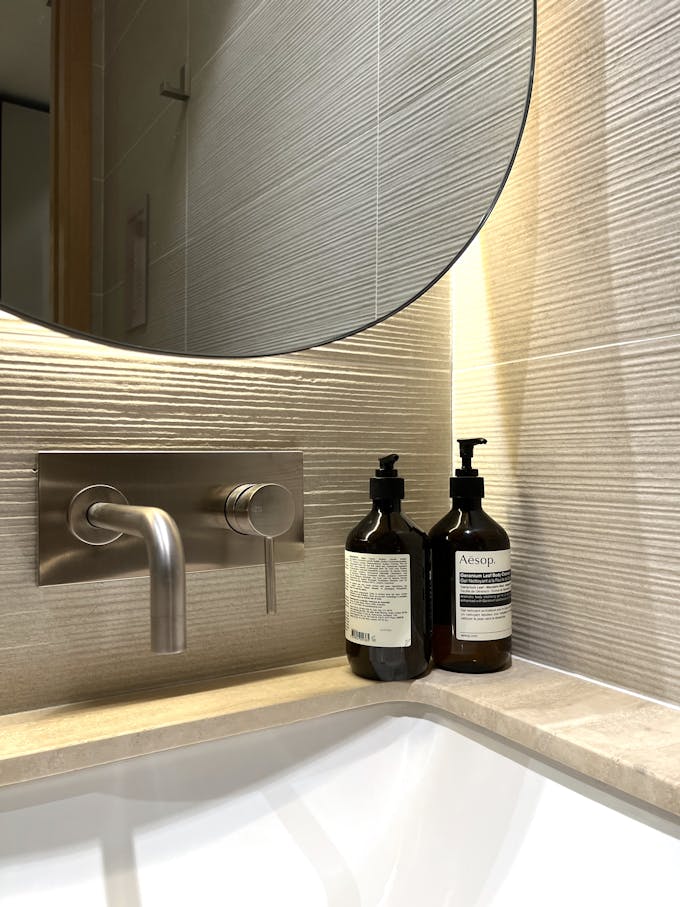 An interesting point to note is that the sink, wash basin, mixer tap and mirror cabinet have been handpicked by Joan Chang herself, which shows great attention to detail. The curation of fittings also reflects Ove Collection's philosophy.
Hill House's common bedroom and bathroom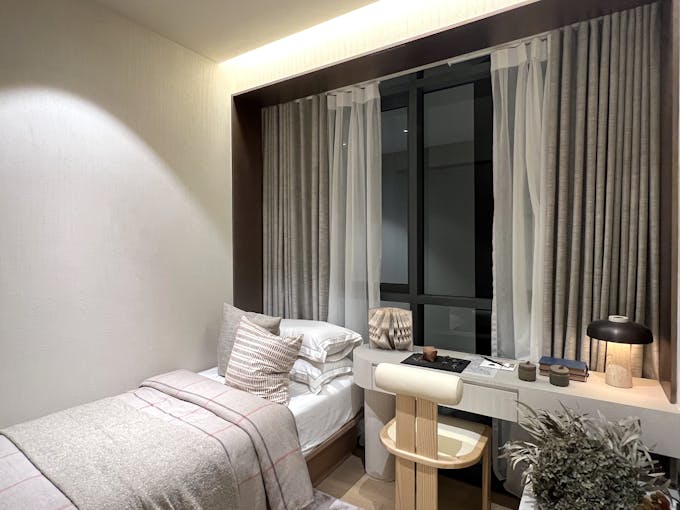 The common bedroom is 86.1 sq ft (8 sqm), which is the average size. It can fit up to a queen-sized bed and has full-length windows.
Residents with one child can place a single bed and still have enough space for a study table. Couples or singles might use this bedroom as a guest room or even turn it into a hobby or entertainment room.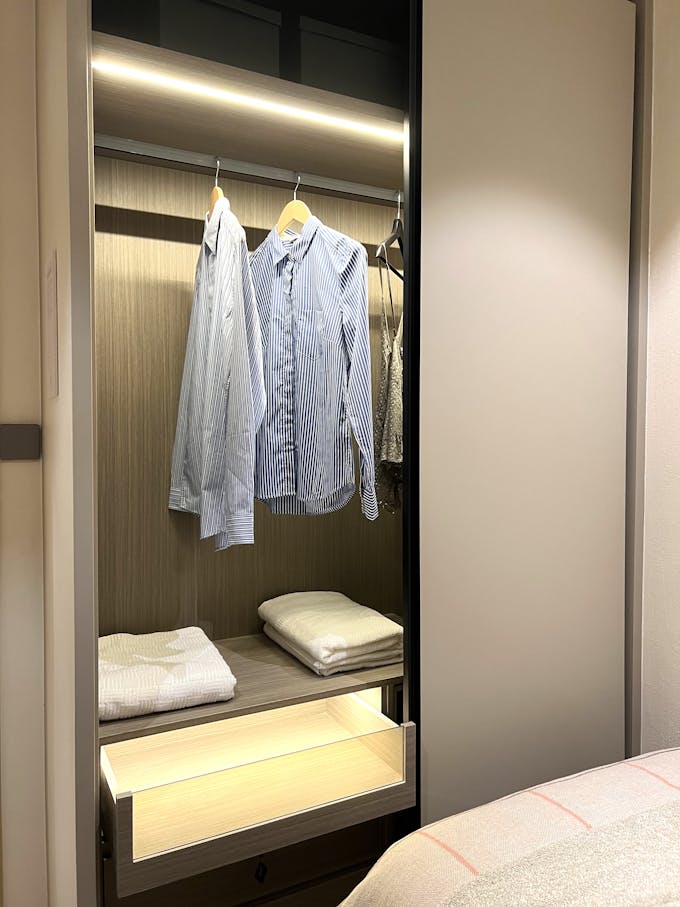 Similar to the master bedroom, the wardrobe has built-in sliding doors, laminate door panels and LED strip lights. The difference is that the wardrobe in the common bedroom is smaller.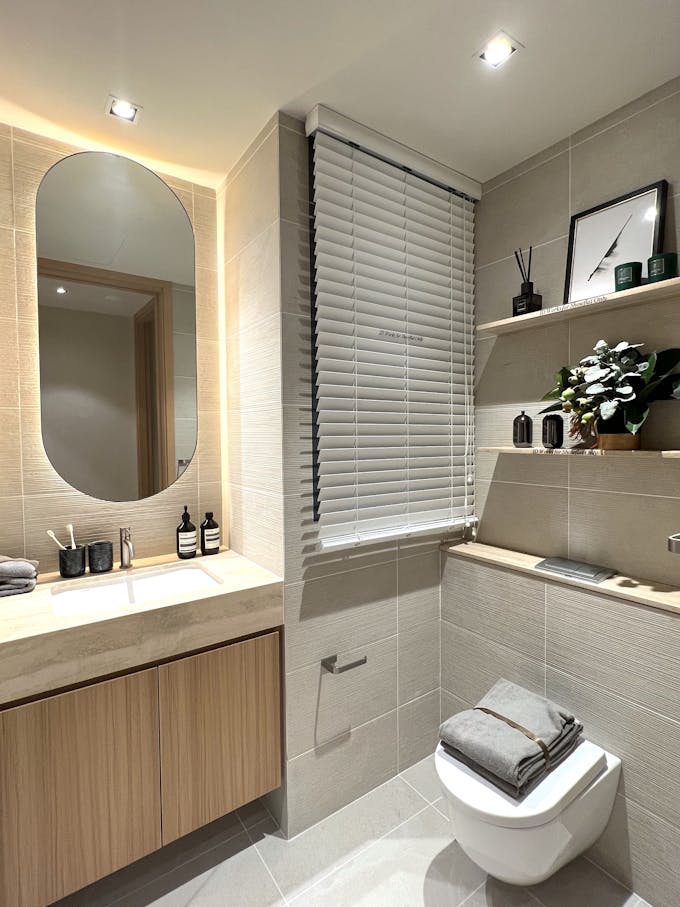 The shared bathroom also has similar provisions to the master bathroom - a built-in travertine sink, a rounded mirror cabinet with shelves and LED strip lights, and windows for natural ventilation.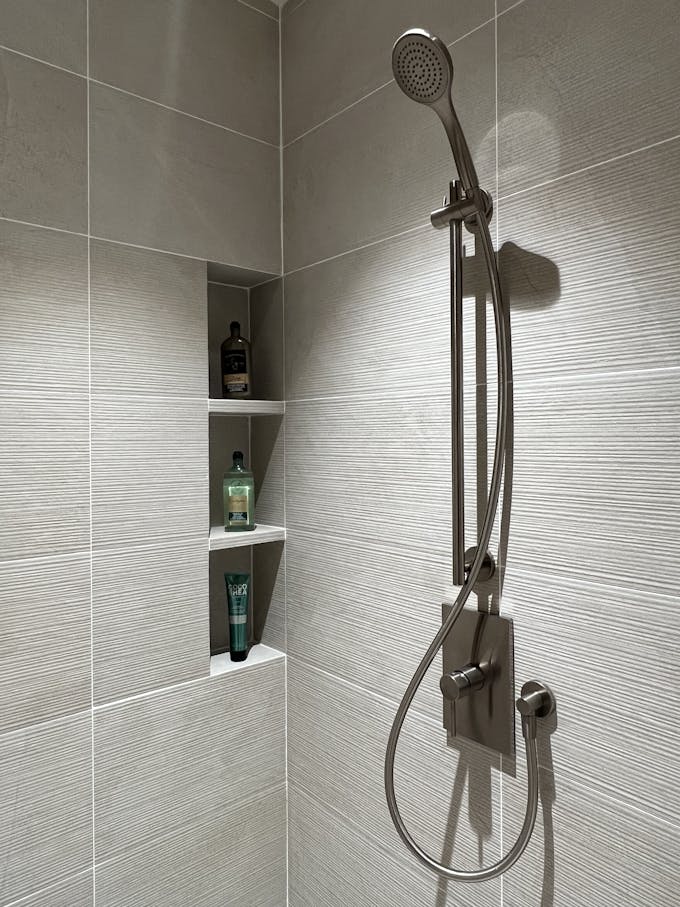 The only difference is that the shared bathroom has no rain shower.