What You Should Know About Midtown Modern's Sky-Bungalow Collection
1. Each Sky-Bungalow has an area of 3,616 sq ft with five bedrooms
With an impressive area of 3,616 sq ft, buyers can enjoy the perks of living in a bungalow due to its vast space. But instead of the conventional bungalow, homeowners can experience living in a bungalow "in the sky".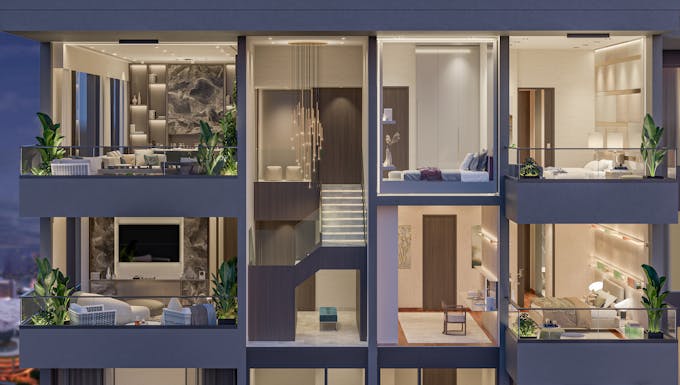 Cross-section of Sky-Bungalow
There are also five bedrooms which can easily accommodate a family of seven or more. This makes it perfect for large or multi-generational families who are looking to stay in a convenient location in the city centre. 
2. Each Sky-Bungalow has panoramic views of the city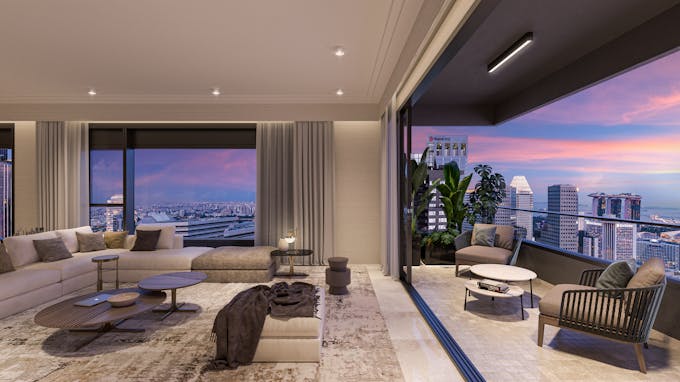 Artist's Impression of living room with balcony and views from the Sky-Bungalow
As the Sky-Bungalows are located from the 24th to 30th floor of Midtown Modern's towers, residents can enjoy panoramic views of the city. 
Instead of the usual 180-degree views, residents can enjoy a unique 270-degree view from the Sky-Bungalows. This is because the living and dining areas measure about 10 metres in length and flow into the large balcony. There are full-length windows in the living and dining areas too and hence, it gives residents a greater sense of space. 
3. Rare penthouse unit in the city centre
Among the six Sky-Bungalows, there's also a double-storey penthouse on the 29th and 30th floor of Midtown Modern's South Tower. 
The highlight of the penthouse is its remarkable ceiling height of 4.2m on the main living-dining floor. 
Multi-storey penthouses are usually found in districts like Orchard or Bukit Timah but it's rare to find one in a central location such as Midtown Modern. The last new launch duplex penthouse in the city centre that made headlines was the Super Penthouse at Canninghill Piers which sold for S$48 million ($5,360 psf).