North Gaia Location Review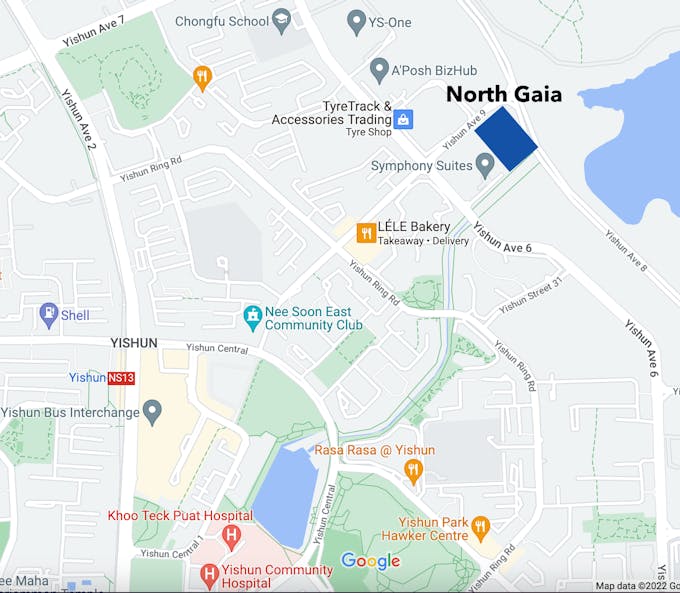 Image Source: Google Maps Screenshot
North Gaia is located in a relatively peaceful area of Yishun. Its immediate neighbour is Symphony Suites, a private condominium which TOP-ed in 2019. The surrounding areas consist of the upcoming Khatib Bongsu Nature Reserve, Yishun Industrial estate and new BTO projects along Yishun Avenue 6. 
Driving
For drivers, currently it takes about 26 minutes to drive to the CBD and about 23 minutes to Changi Airport during off-peak hours. During peak hours, the journey to the CBD can take up to 50 minutes.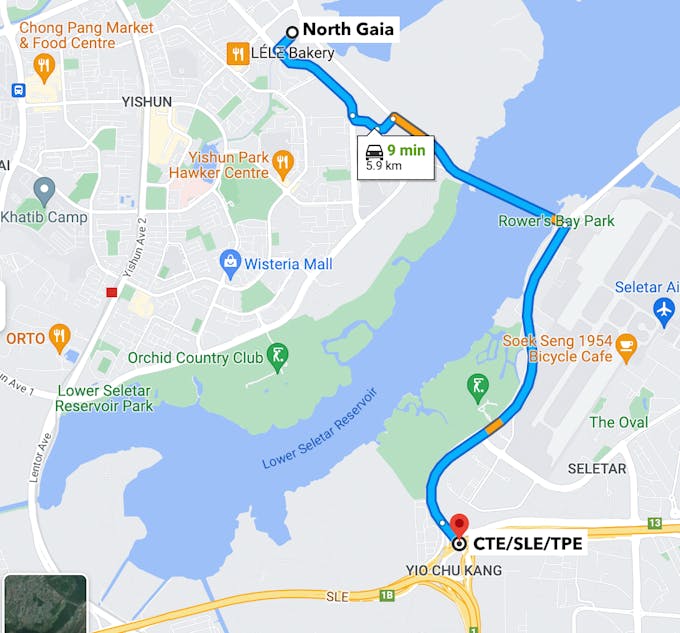 Image Source: Google Maps Screenshot
From North Gaia, it will take about a 9-minute drive (off-peak) to get to the CTE/SLE/TPE intersection via Yishun Avenue 8, Yishun Avenue 1 and Seletar West Link. Residents can easily get to various parts of Singapore and the city centre from the intersection. During peak periods, travelling times might be longer due to congestion.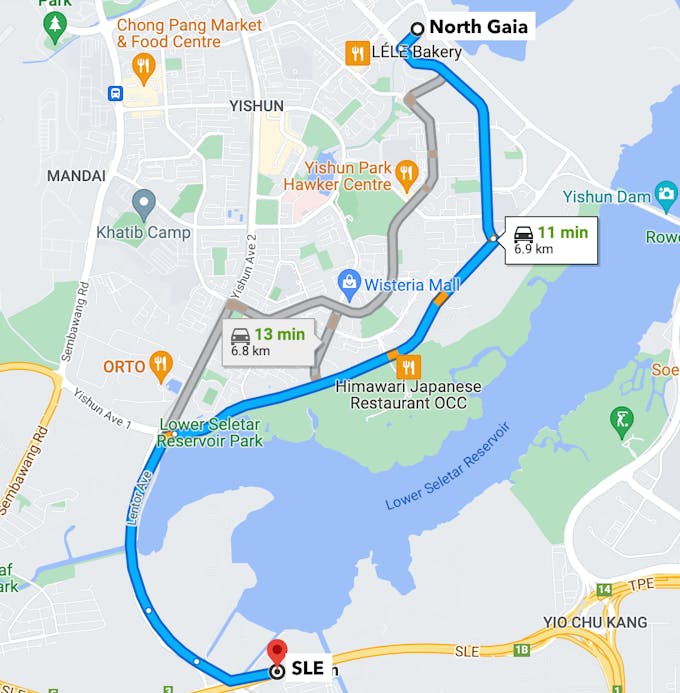 Image Source: Google Maps Screenshot
Residents can also access the SLE and then CTE via Yishun Avenue 1 and Lentor Avenue. This journey takes about 11 minutes from North Gaia.   
However, with the North-South Corridor (NSC) completed in 2027, road connectivity is set to improve. The NSC connects Singapore's northern region to the city centre so it's expected to cut driving times by about 10 minutes.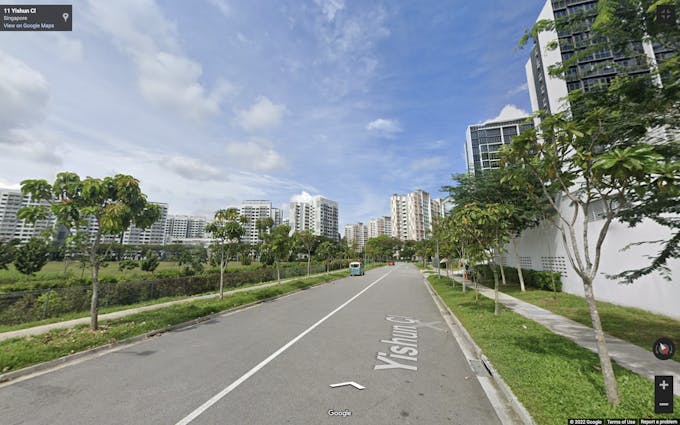 Image source: Google Maps Street View 
The entrance to North Gaia is also via Yishun Close, a cul-de-sac. Apart from enjoying a quiet entrance, residents who drive also won't have to worry about the road getting congested as the only other project that's sharing the road is Symphony Suites. 
The good news is that the unit to parking lot ratio is 1:1. As families are most likely to be the ones staying at North Gaia, most of them will own a car and hence, this will be beneficial for them. In line with environmentally-friendly initiatives, there are also seven Electric Vehicle (EV) charging stations. 
Public Transport
The nearest MRT station to North Gaia is Yishun on the North-South Line. It's about a 20-minute walk away, but residents who don't wish to walk can take a 6-minute ride on buses 801, 803 and 811 instead.
The Yishun Integrated Transport Hub also has plenty of buses connecting residents to various parts of Singapore, including the city centre. 
Amenities
The nearest mall to North Gaia is Junction Nine, which has a Sheng Siong supermarket, F&B outlets, enrichment centres, hair and beauty parlours, fashion stores, and more.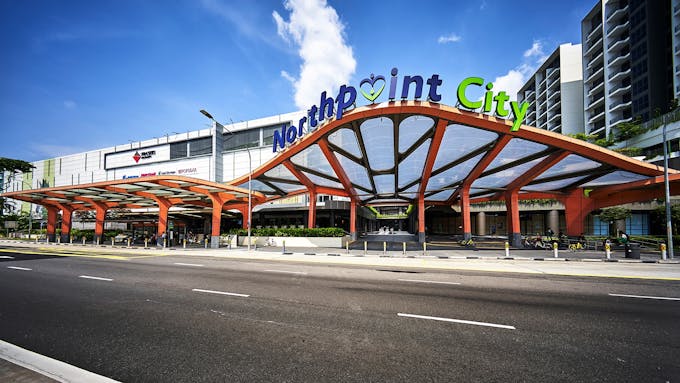 Image source: Northpoint City, Singapore on Facebook
Northpoint City is about an 8-minute drive away and it's a megamall with hundreds of F&B and retail outlets. You can also find two supermarkets here (NTUC Fairprice and Cold Storage) and a Korean mart. If you prefer getting groceries at a wet market, the nearest is at Blk 294 at Yishun St 22. 
Nearby, there are three coffee shops located at the Yishun Industrial estate, so residents can conveniently get their daily meals if they prefer not to cook. 
Schools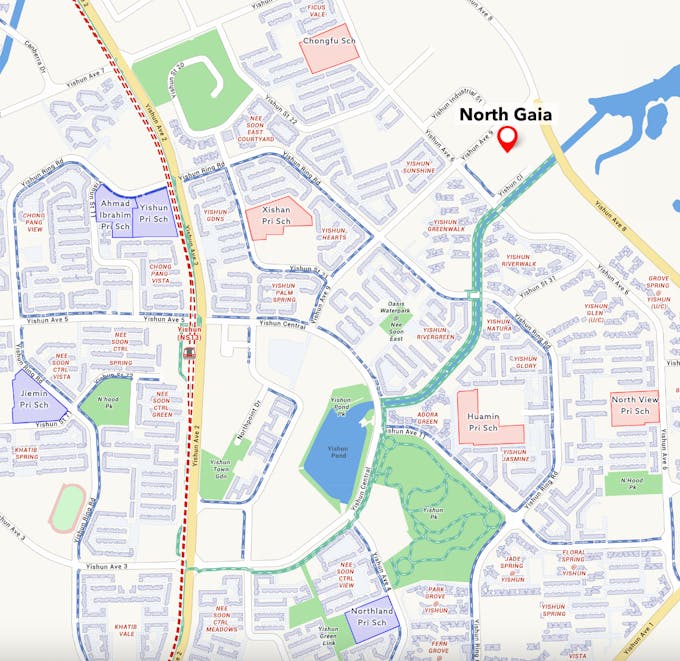 Image source: Screenshot from OneMap SchoolQuery
For those participating in the primary school balloting exercise, there are four schools within a 1km radius of North Gaia - Chongfu School, Xishan Primary, Huamin Primary and North View Primary. 
Another four more schools are within a 2km radius - Yishun Primary, Ahmad Ibrahim Primary, Jiemin Primary and Northland Primary. 
For families with younger children, there are three pre-schools located just opposite North Gaia at North View Bizhub - Mind Champs, Little Petals and First Steps.  
Nature Spots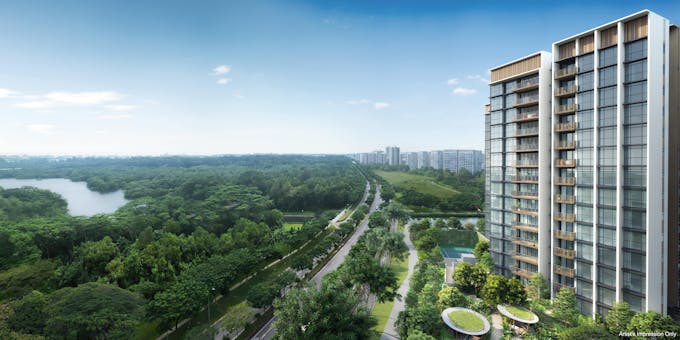 Artist's Impression of the view of Khatib Bongsu Nature Reserve from North Gaia (Image source: Sing Holdings)
One of the highlights of North Gaia is living just opposite the Khatib Bongsu Nature Reserve which will be ready in 2024. The 40-hectare park has one of the largest mangrove reserves in Singapore and other flora and fauna. In future, residents will be able to go hiking, kayaking and more at the nature reserve. 
North Gaia is close to other nature spots like Yishun Park, Yishun Pond Park, Lower Seletar Reservoir Park and Sembawang Hot Spring Park.