Review of Terra Hill's showflat unit layouts
Terra Hill Showflat: 2-bedroom + Study (B3) - 807 sq ft (75 sqm) [The Signature Collection]
Total no. of units:
Who is it suited for:
Couples
Tenants
Small families with 1 or 2 children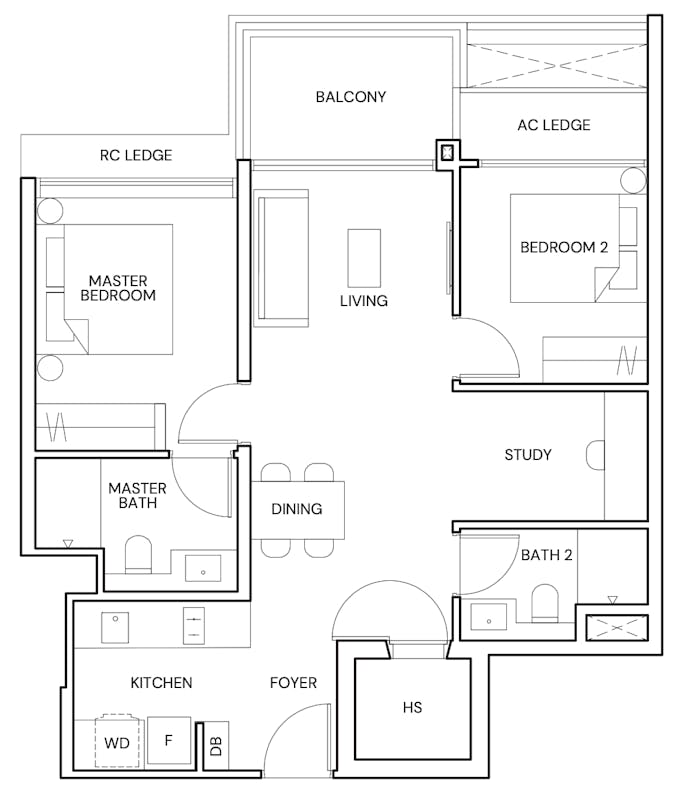 The 2-bedroom + Study unit is the biggest of all the 2-bedroom unit layouts; it's also the only 2-bedroom layout with a study room. Type B1 is 624 sq ft, while type B2 is 678 sq ft.
Only type B1 doesn't have a balcony. The good news is that all 2-bedroom units have two bathrooms and a household shelter. The latter is a bonus provision as few 2-bedroom units come with a household shelter. As most 2-bedroom units are compact, having a household shelter helps provide additional storage for residents.
Kitchen is open-concept but can be enclosed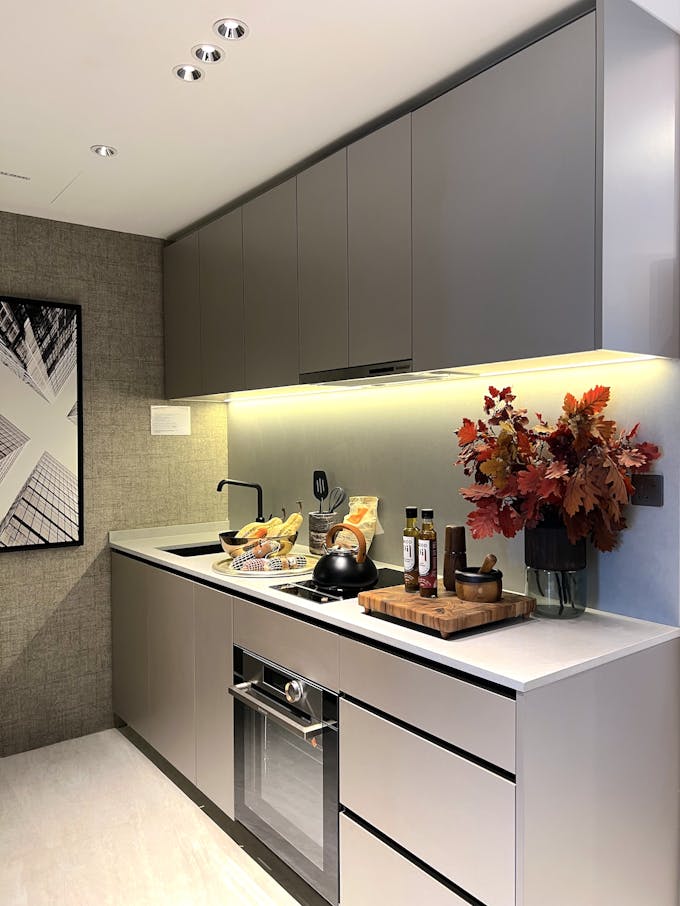 As you enter the unit, you'll be greeted by the kitchen on the left. What we liked about the showflat is that you'll enter from the exact entrance, giving you an idea of what the actual unit would look like.
Like most other 2-bedroom units, the kitchen is open-concept, but if you prefer an enclosed kitchen, you can install a sliding door (at your own expense).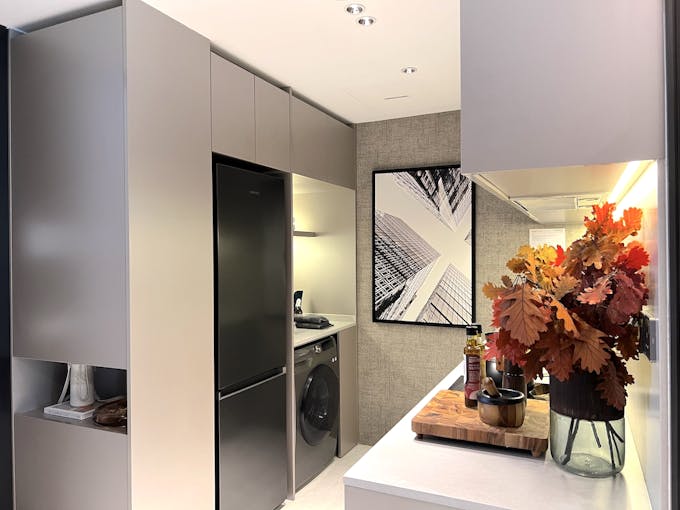 The standard provisions will be given; the induction hob and hood and built-in oven are by French premium brand, De Dietrich, while the fridge and washer-dryer are by Samsung.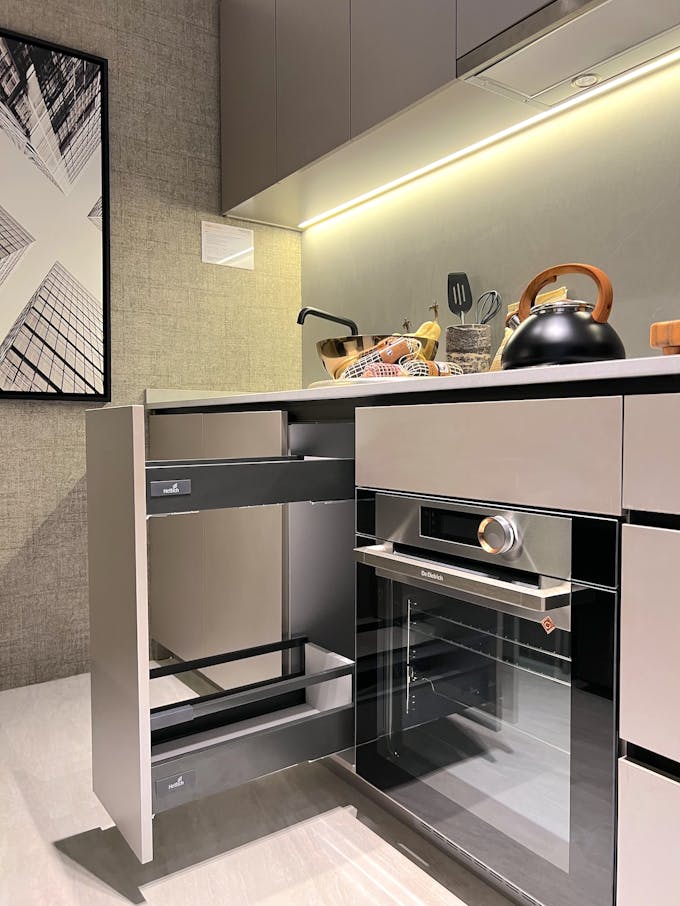 The space in the kitchen and cabinet storage is adequate for the target persona that's expected to live in this unit - couples and small families. There's also a pull-out rack which is convenient for residents to store their condiments and sauces.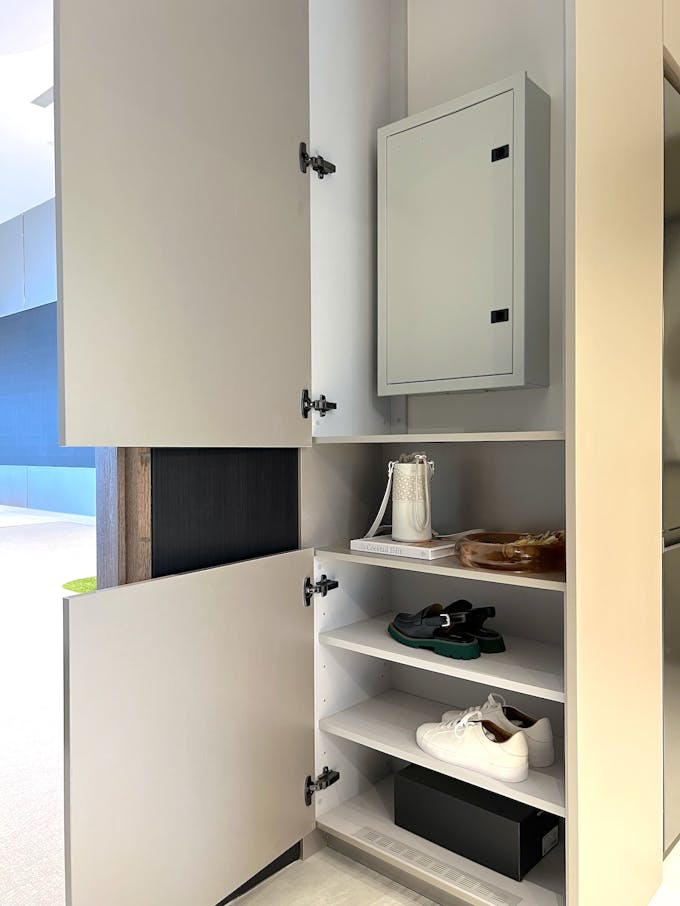 As the unit has a dumbbell layout, there's not much of a foyer area, but the developers are providing a storage cabinet where you can keep your shoes, and it also hides the distribution box (DB) from plain sight. There's also a niche between the DB and shoe cabinet for residents to store their keys when they get home.
Dumbbell layout of the living and dining areas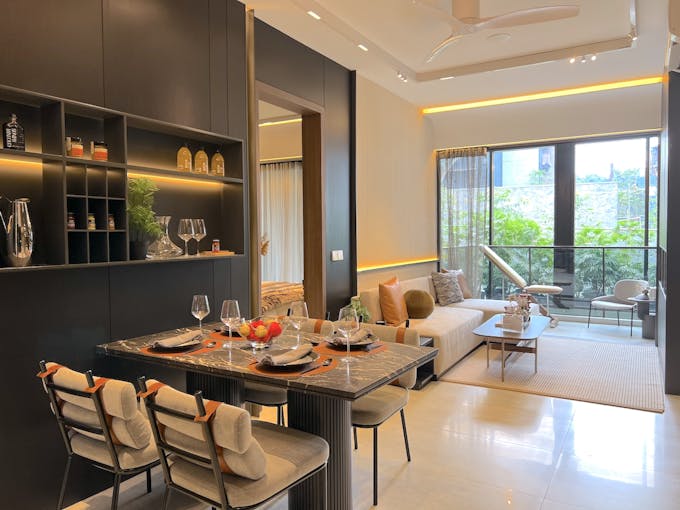 The combined area of the living and dining areas is 248 sq ft (23 sqm), a standard size for a 2-bedroom unit. But the width feels longer than other developments we've seen.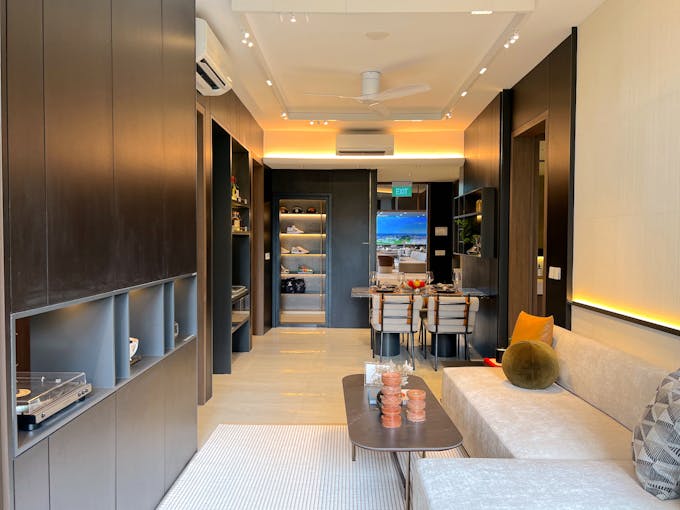 With the adjacent dining and living areas and the balcony, there's plenty of light in the common areas, which might make it look more spacious.
An interesting provision is a ceiling fan in the living/dining areas for all units. That's because Terra Hill is hoping to get the BCA Green Mark Platinum Award which is given to projects which have 30% energy and water savings and environmentally-sustainable building practices and green features. Other initiatives include installing solar panels on the roof of all blocks to power the utilities in the common areas and energy-efficient electrical appliances.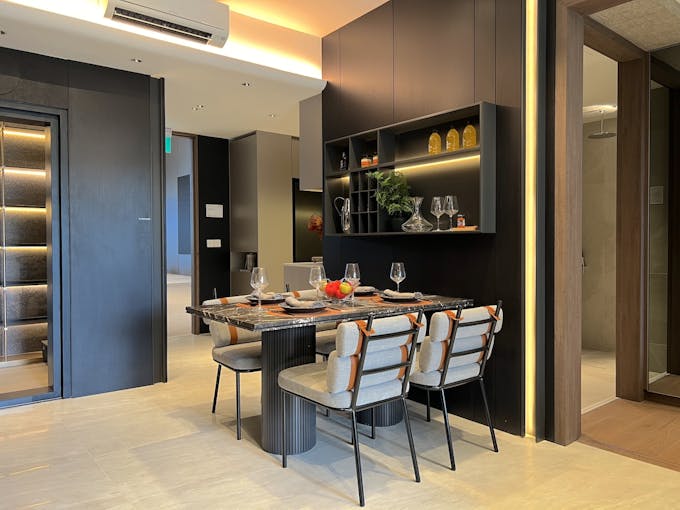 The dining area can comfortably accommodate a four-seater table. If you plan to have more guests, you'd possibly be able to fit a six-seater table, but there will be less walkway space in front of the household shelter and study room. Perhaps an extendable table might work better in this case.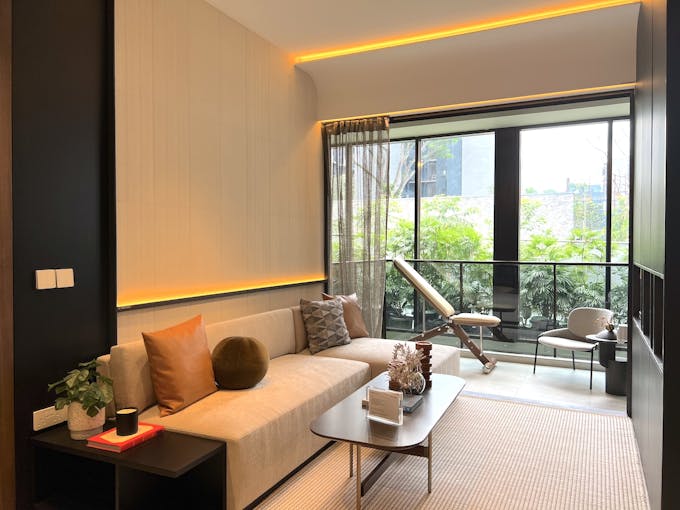 The living area can accommodate a three or four-seater, and in the showflat, the ID has placed an L-shaped sofa to give you an idea of how versatile the space is. It's interesting that the ID had opted for a rectangular table instead of a small round one, which accentuates the space in the living area.
Sizeable study room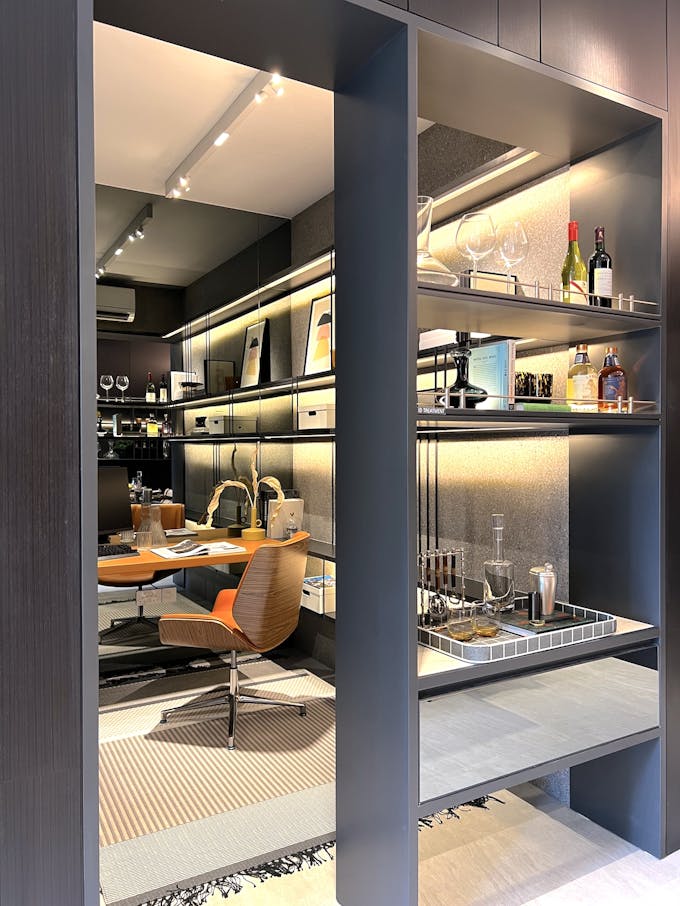 The study room is 54 sq ft (5 sqm) and has substantial space for a single bed. Buyers who might not have the budget for a 3-bedroom unit can also choose to enclose the study room to get an additional bedroom. Alternatively, if you don't need a study room or an extra bedroom, you can open up the space to have a larger common area.
Master bedroom and common bedroom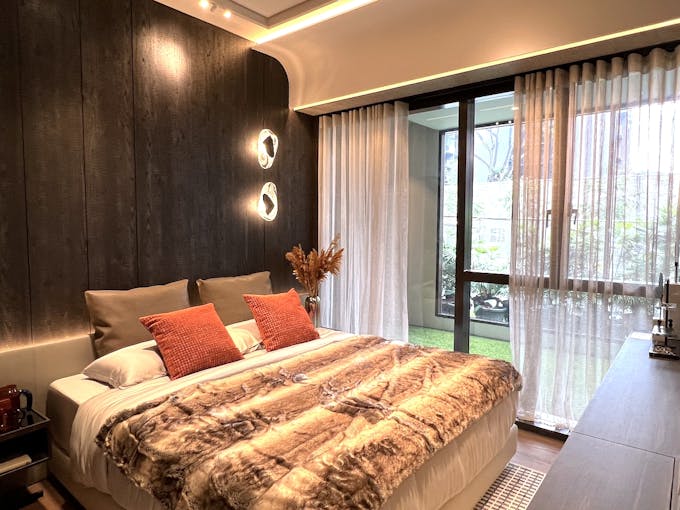 The master bedroom and master bathroom have a combined area of 183 sq ft (17 sqm), slightly larger than usual. It can fit a king-sized bed with ample walkway space around it. There's also enough room for two side tables. However, you won't be able to fit in a dressing table, which is usually the case for 2-bedroom units.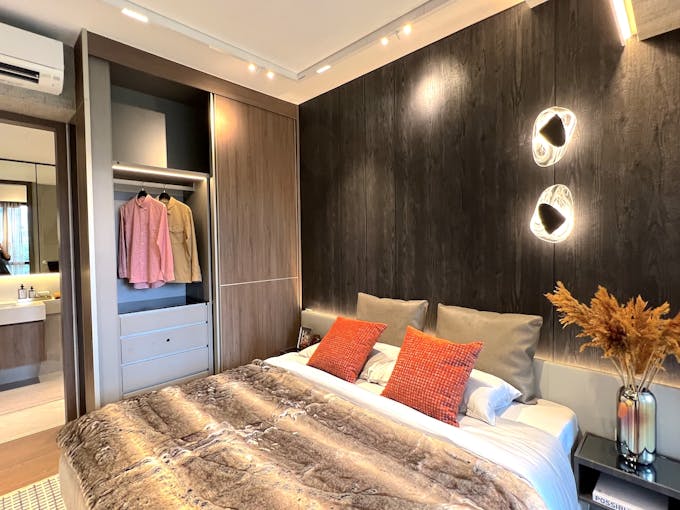 All bedrooms also come with an additional accessory drawer in the wardrobe, where you can keep smaller items like belts, watches and jewellery. The wardrobes are equipped with built-in LED lights too.
Previously, these provisions were only reserved for master bedrooms or more premium units, but recently, it's become increasingly common in new launches. Hence, it's great to see Terra Hill providing these as well.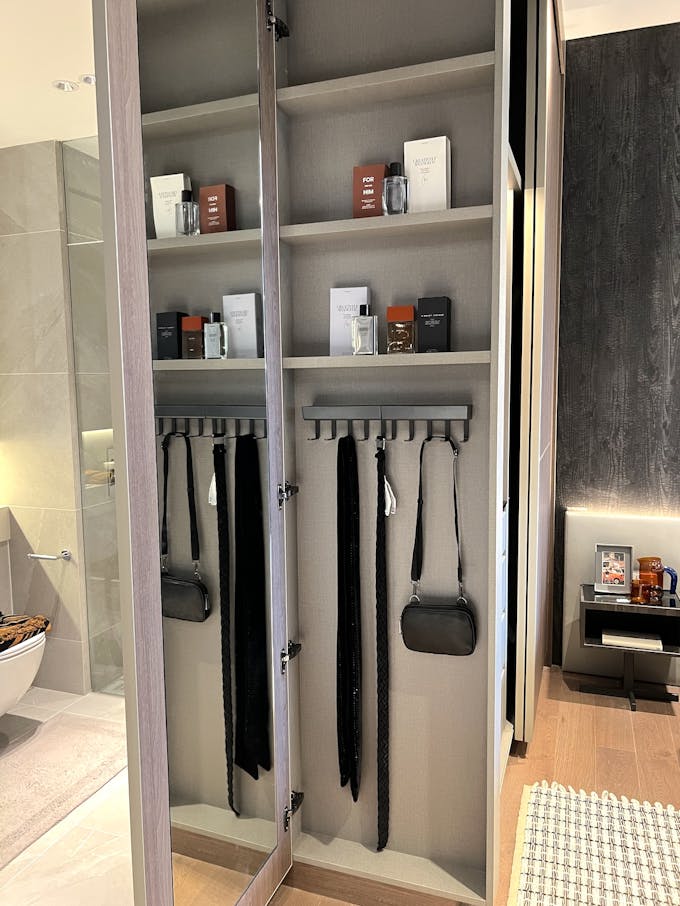 Although there won't be sufficient space for a dressing table, what's great is that there's a side wardrobe panel with a full-length mirror. This way, you and your spouse can have your own personal space while getting ready. This will be provided for all the master bedrooms in the Signature Collection units.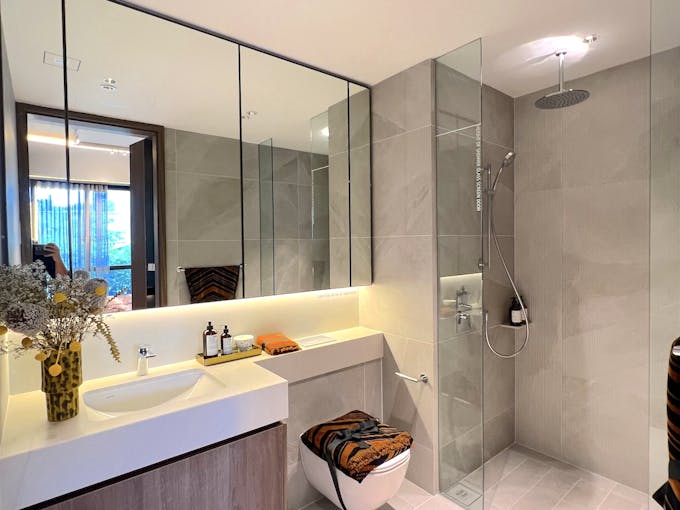 The master bathroom has a pretty standard size, with typical provisions like a vanity mirror cabinet and countertop. All master bathrooms also have an overhead rain shower which is usually more stylish.
One thing to note is that the bathroom LED lights in the showflat are ID treatment, so you'd need to install them yourself.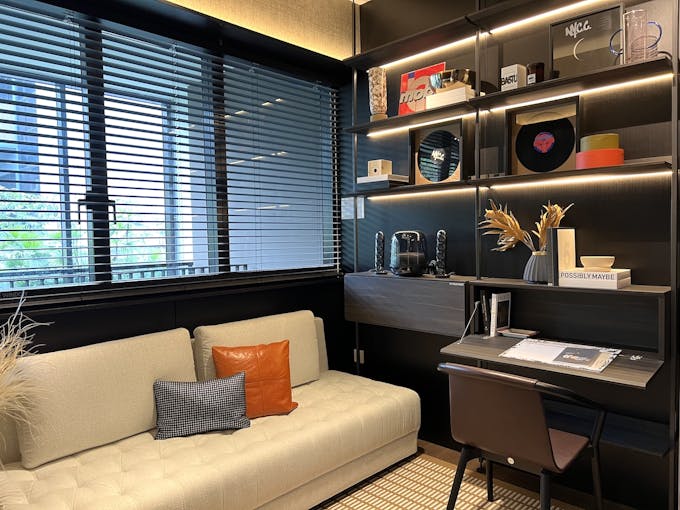 The common bedroom is 97 sq ft (9 sqm) which is pretty similar to what we've seen in other launches. It can fit a queen-sized bed, so it's suitable as a guest room. This is perfect for young couples with their parents or friends over occasionally.
In the showflat, the ID has designed the bedroom into a study/work room with a sofa. In addition to the study room, there can potentially be two separate working spaces for couples to cater to hybrid working arrangements.
Terra Hill Showflat: 3-bedroom (C5) - 1087 sq ft (101 sqm) [The Signature Collection]
Total no. of units:
Who is it suited for:
Mid-sized families with 4-5 members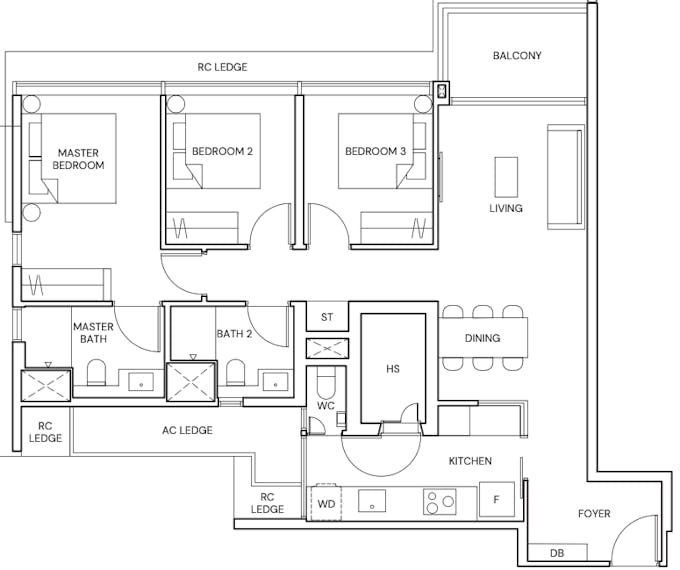 3-bedroom units are the predominant unit type at Terra Hill, making up around 47% of all units (126 out of 270). There are nine different floor plans for the 3-bedroom units, ranging from 904 sq ft to 1335 sq ft. With various layouts and sizes, the 3-bedroom units cater to a wide range of mid-sized families and their needs.
Extended foyer space for some 3-bedroom units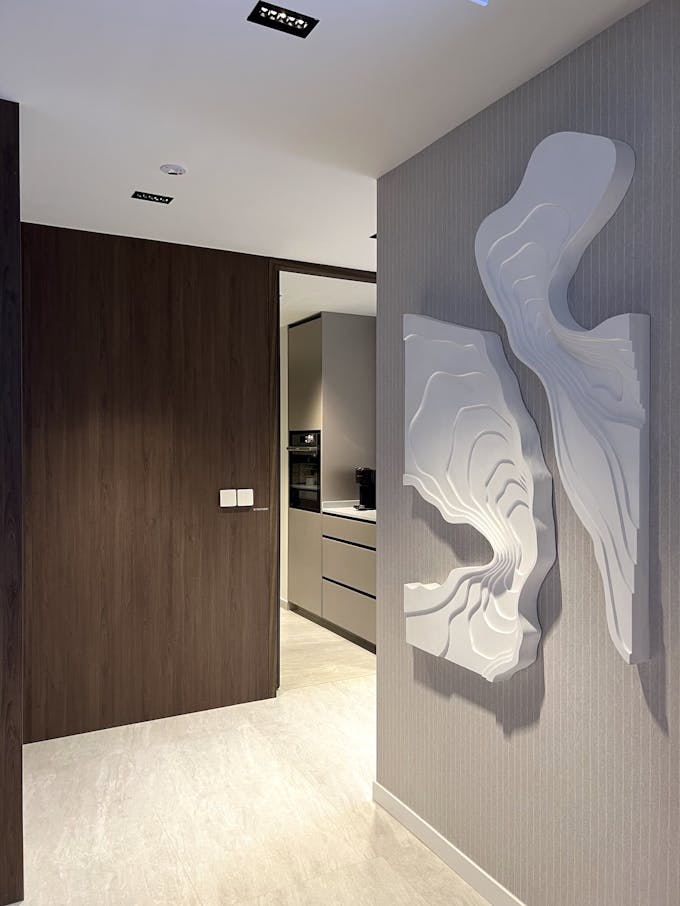 As you enter the unit, there's an extended foyer space, and you won't be able to see the living and dining areas at once. The C5 and C6 unit types are the only 3-bedroom units which come with an extended foyer area.
This is great for buyers who like to have some privacy, especially when there are delivery personnel at the door. If you frequently have guests over, the foyer is a nice area to greet them before welcoming them to the main living and dining areas.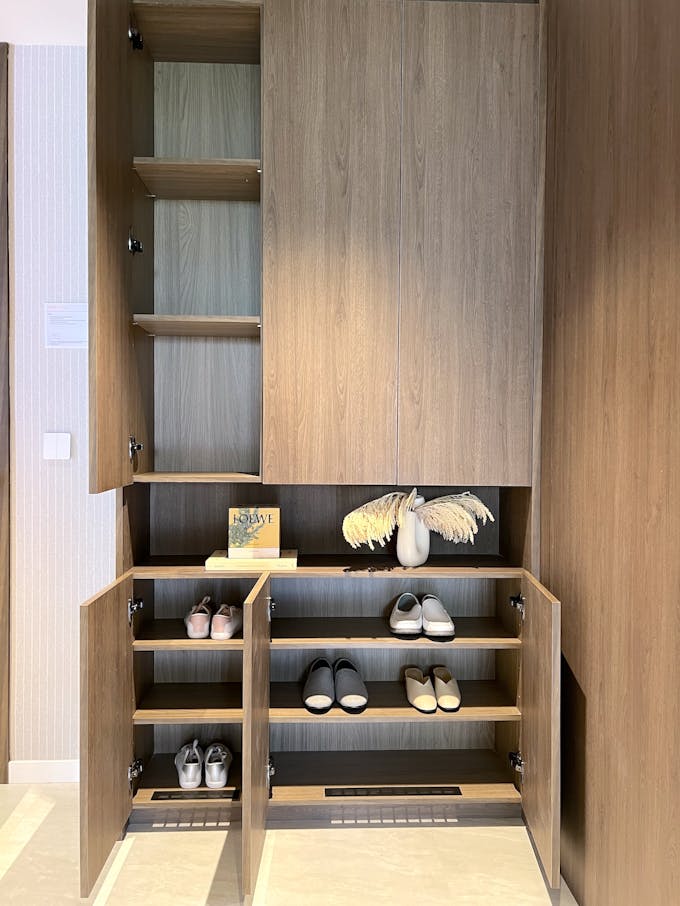 The developers will also provide a storage cabinet to keep your shoes and hide the DB. This is similar to what we saw in the 2-bedroom + Study unit, just that the cabinet is bigger in the 3-bedder.
For buyers who need more storage space, the foyer makes sense for them. However, some buyers might see it as wasted space and opt for the other 3-bedroom unit types instead.
All 3-bedroom units come with an enclosed kitchen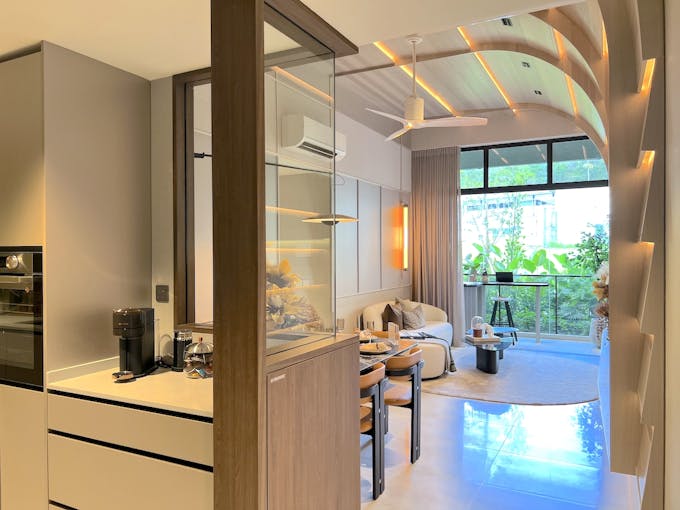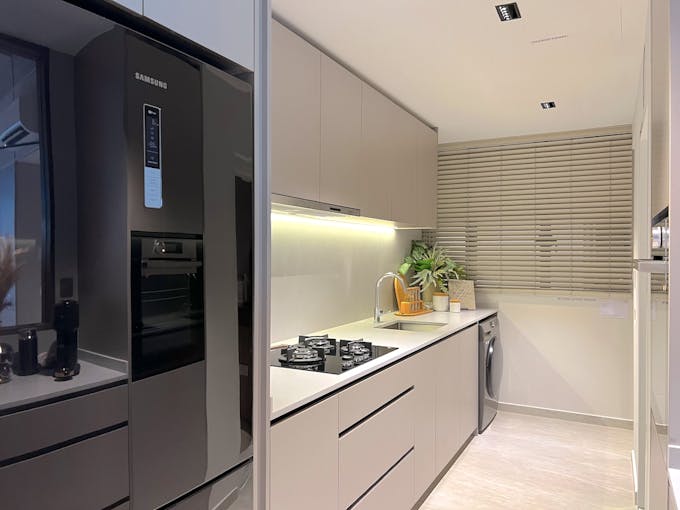 As 3-bedroom households usually cook more often, the kitchen is a comfortable space for around three people. There's also a gas hob and cooker hood instead of an induction cooker to accommodate more frequent cooking. Plus, there's a window for natural ventilation if you plan to do some heavy cooking.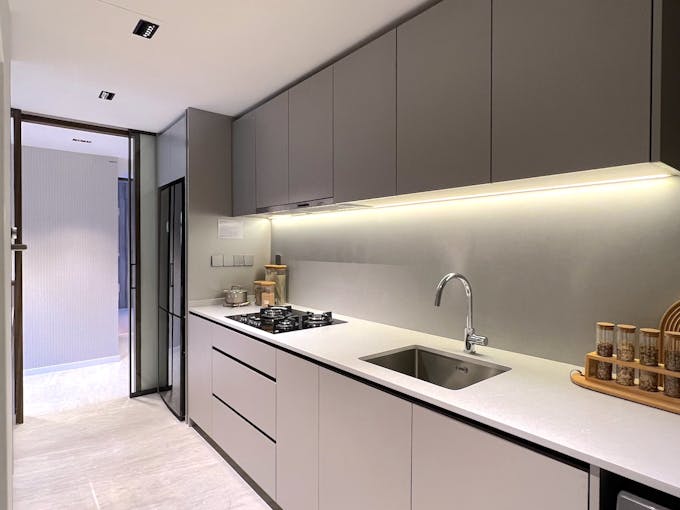 The other provisions included in the 2-bedroom unit - a built-in oven, fridge and washer-dryer. There's also a pull-out rack provided. However, for a 3-bedroom unit, we would have loved to have seen additional provisions like a dish rack above the sink.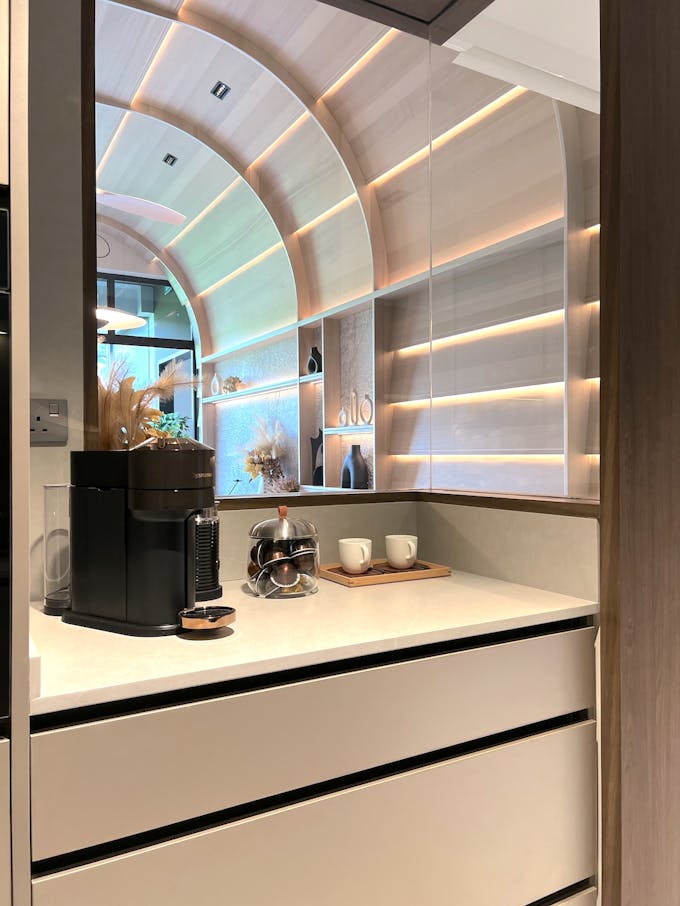 We like the plenty of cabinet storage space and countertops, especially this nook (pictured above) which residents can turn into a coffee corner.
Instead of a wall, the developers have installed a glass wall panel to provide more light in the kitchen. For parents with young kids, this is also practical as they can be in the kitchen preparing meals, but they can still keep a lookout for their children.
For those who don't fancy a glass wall panel, you can replace it with a standard wall, but this will be at your own expense.
Bigger families might also have a helper, and they might wish to turn the household shelter into a helper's room. Hence, developers are able to provide a louvre bi-fold door for ventilation in place of a standard metal door.
Ground-floor units have 3.55-metre ceiling height in the living and dining areas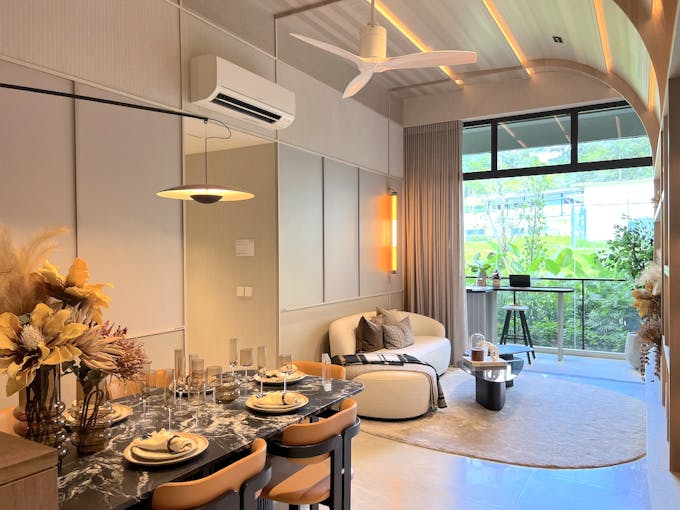 The 3-bedroom unit which we visited in the showflat is a ground-floor unit which has a ceiling height of 3.55 metres in the living and dining areas, balcony and all bedrooms. This is significantly higher than the normal ceiling height of 2.8 metres.
Although the living and dining areas are only slightly larger than the 2-bedroom unit, having a higher ceiling definitely accentuates the space and brings more light into the home.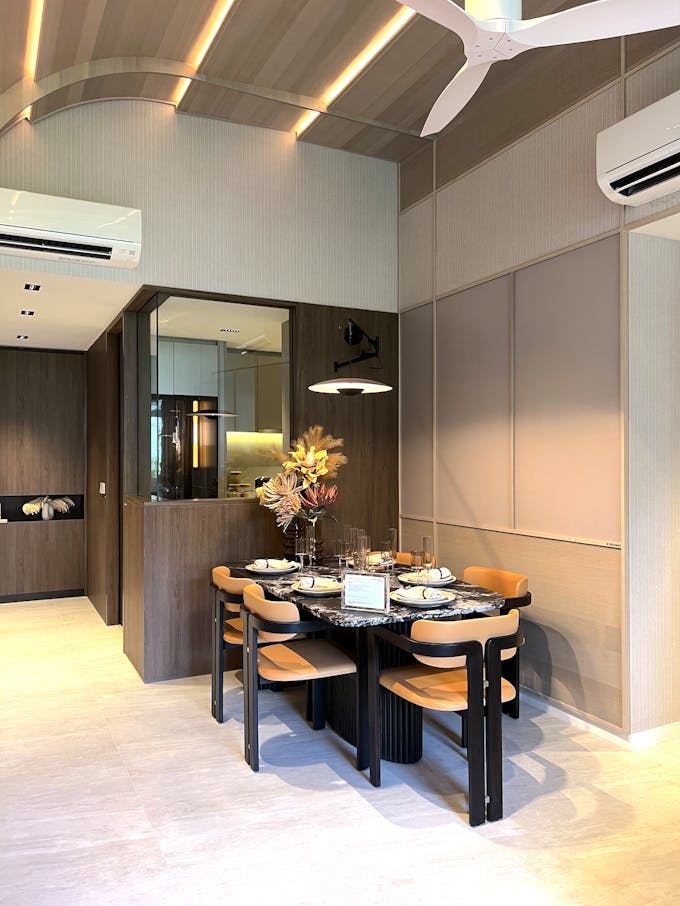 In the showflat, the ID has placed a five-seater table in the dining area. However, we do feel that the space is quite limited if you choose to place your dining table in such a way. An alternative would be to arrange the table parallel to the kitchen's glass wall panel. This would allow you to get a bigger table, but the downside is that it will eat into the walkway space from the kitchen to the living room.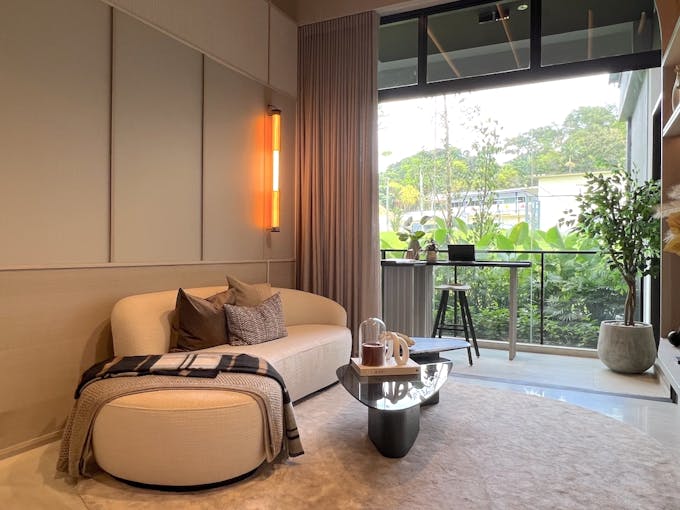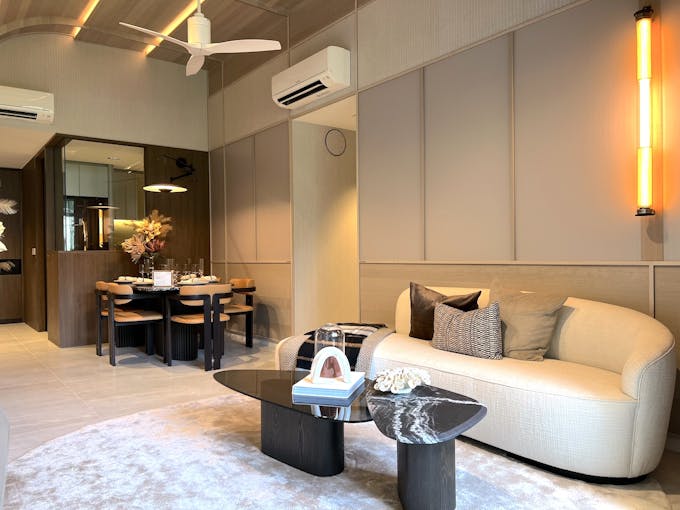 As for the living area, a three or four-seater sofa would fit comfortably. There's also enough room for an L-shaped sofa or an armchair if you wish to.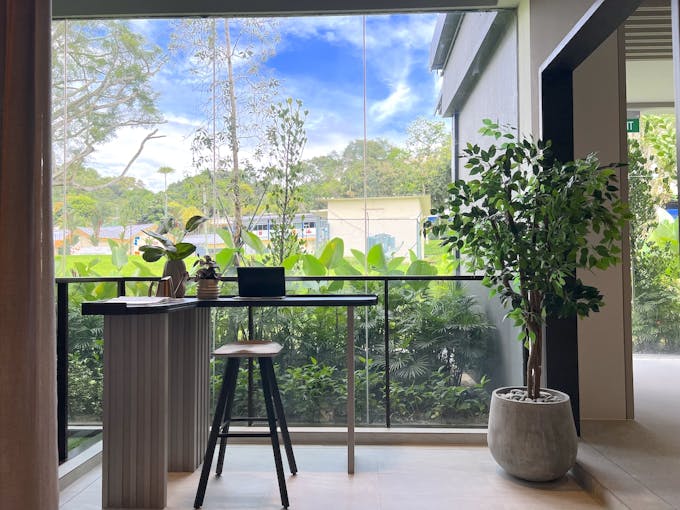 The balcony in the 3-bedroom unit is the same size as the one in the 2-bedroom unit so that it could be a space for additional seating or a work-from-home area.
None of the ground-floor units has a private enclosed space (PES) gate, usually allowing you to walk out to the condo's facilities. This is because the ground floor units aren't on the same level as the landscape deck due to the uneven terrain of the project. Hence, this might be something to consider if you plan on getting a ground-floor unit.
Dedicated storage space for cleaning items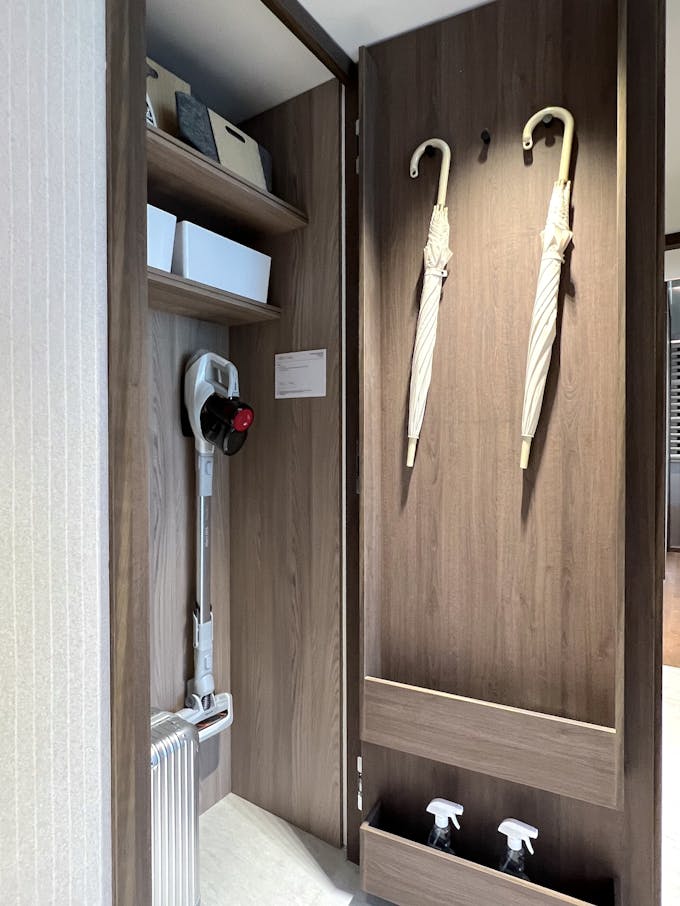 The 3-bedders (only types C4 to C9) and larger units come with a dedicated storage space in the corridor that is perfect for keeping day-to-day cleaning items and other things. What's great is that there's a power outlet so that you can charge cordless vacuum cleaners.
We've previously seen this at other new launches like Lentor Modern and Sky Eden@Bedok, and we love the idea as it speaks to the needs of younger homebuyers.
Master bedroom and common bedrooms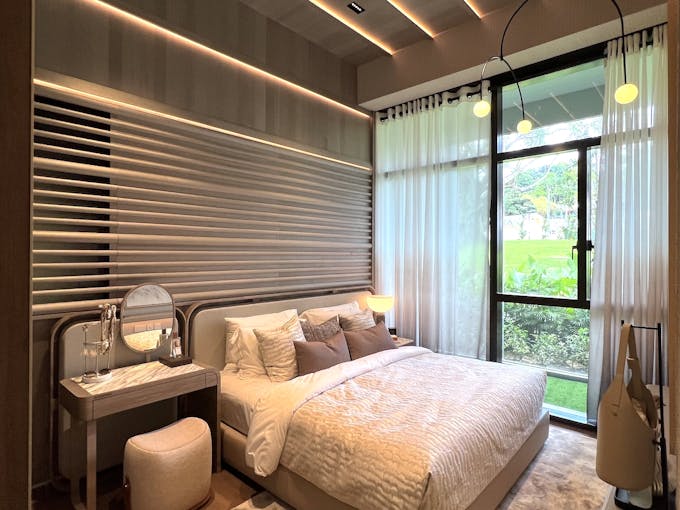 The master bedroom and master bathroom have a combined size of 215 sq ft (20 sqm), which is larger than average. There's a decent amount of space for a king-sized bed and a dressing table, and you'll still be left with ample walkway space. Even then, there's still space in front of the bed to install some shelves for more storage.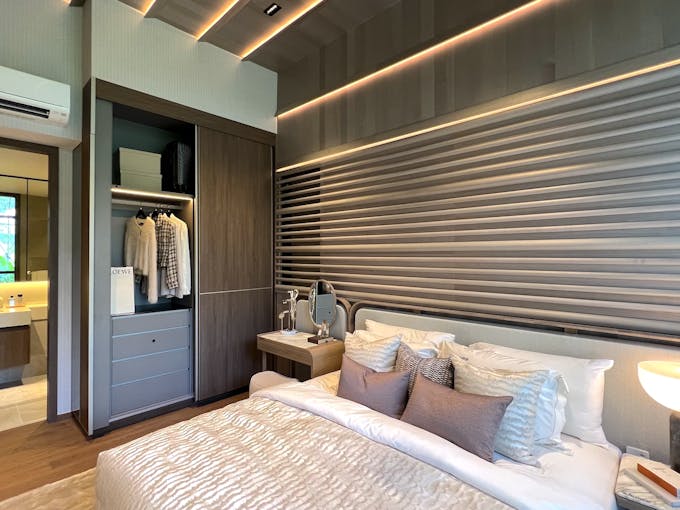 Besides full-length windows, there's also an additional window behind the dressing table. Having more natural light is always great as you won't need to switch on the lights during the day and can save on electrical expenses.
The wardrobe provisions are similar across the Signature Collection; there's a side panel wardrobe with a full-length mirror, accessory drawer and built-in LED lights.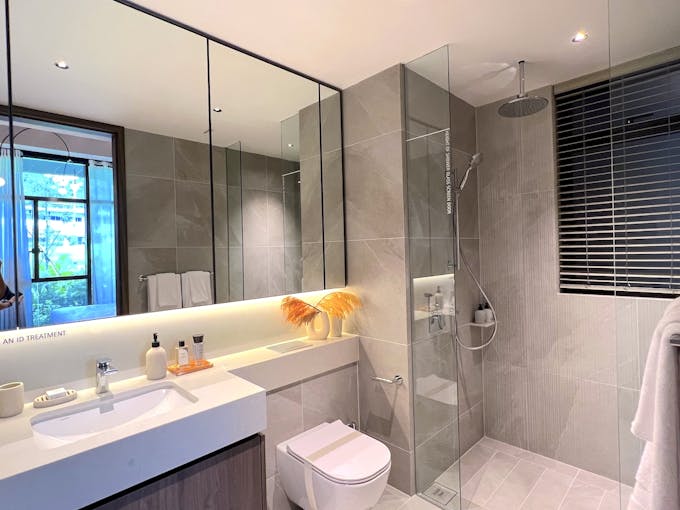 Similarly, the master bathroom provisions like the overhead rain shower, vanity mirror storage cabinets and sanitary wares are the same as the 2-bedroom unit. However, the master bathroom in the 3-bedroom unit has a window for natural ventilation.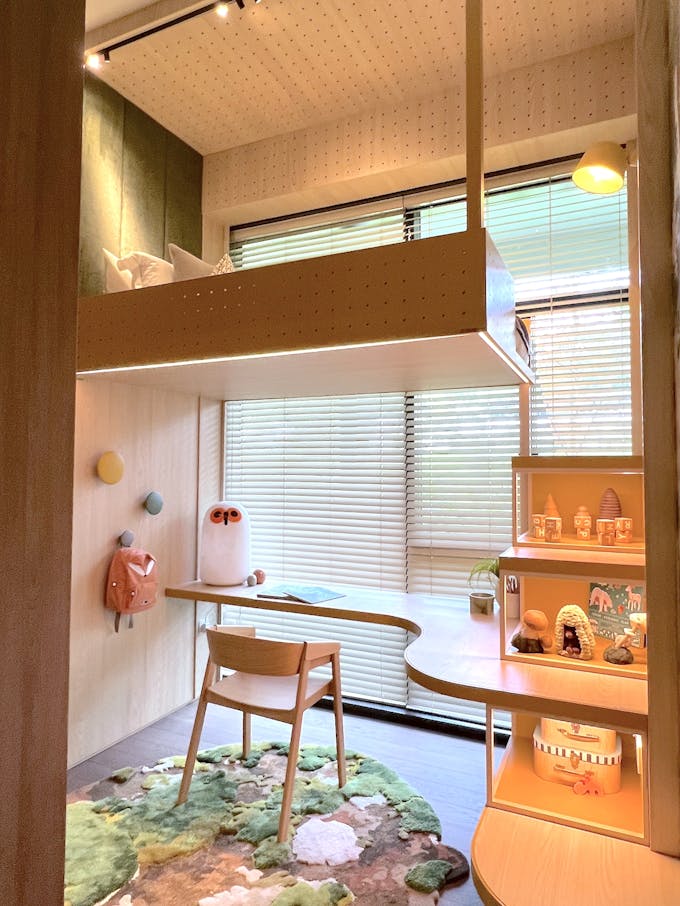 The two common bedrooms are 97 sq ft (9 sqm), which is average across new launches these days. Both bedrooms also have full-length windows. The ID has designed one of the rooms to have a double-decker bed with a study table to show how you can maximise the extended ceiling height of the ground-floor unit.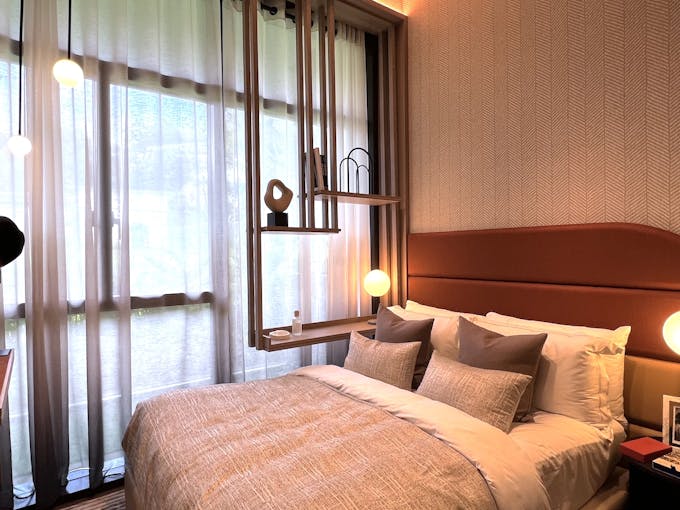 The other bedroom has a queen-sized bed to show the versatility of the common bedrooms. If you opt for a queen-sized bed, you'll inevitably have less space to walk around the bedroom, but it's not super cramped either.
Terra Hill Showflat: 4-bedroom (DP1) - 1894 sq ft (176 sqm) [The Prestige Collection]
Total no. of units:
Who is it suited for:
Multi-generational families
Large families with 6 or more people
Buyers who want to rightsize from landed property to a condo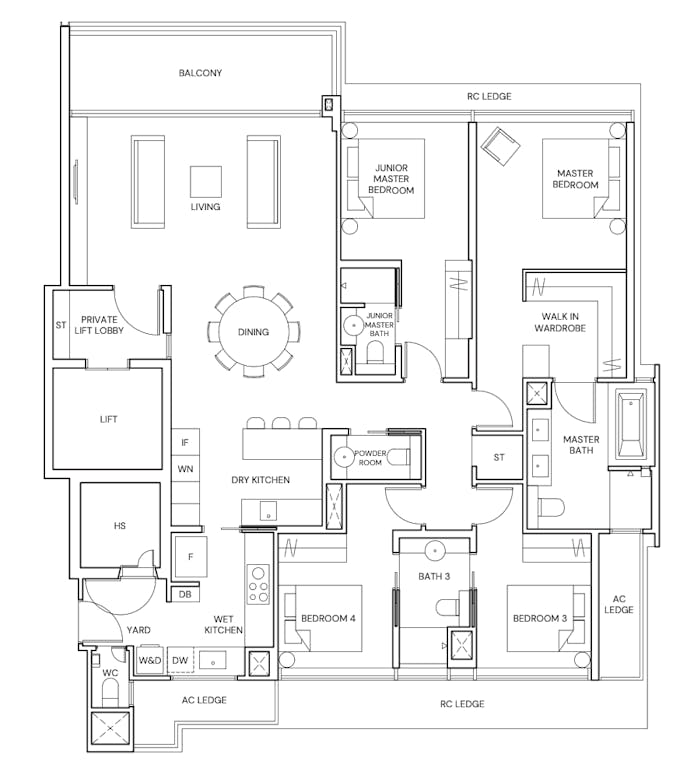 The highlight of Terra Hill's units is their Prestige Collection which is made up of 30 exclusive units. 24 of these are 4-bedroom units, and six are 5-bedroom penthouse units.
All Prestige Collection units are larger than the Signature Collection and have a private lift. The furnishings and fittings are also more luxurious than the Signature Collection, suitable for buyers who are looking for a more premium offering in the market.
The developer told us they saw a gap in the market for larger unit layouts in the RCR and OCR. Premium units with large floor plates are usually found in the CCR, and hence, Terra Hill is hoping to cater to buyers who prefer such a space.
We feel that the Prestige Collection will also appeal to buyers from the neighbouring landed estate. These buyers might be getting on in years and want to rightsize to a smaller unit, but they still need a large enough space for family gatherings.
Private lift lobby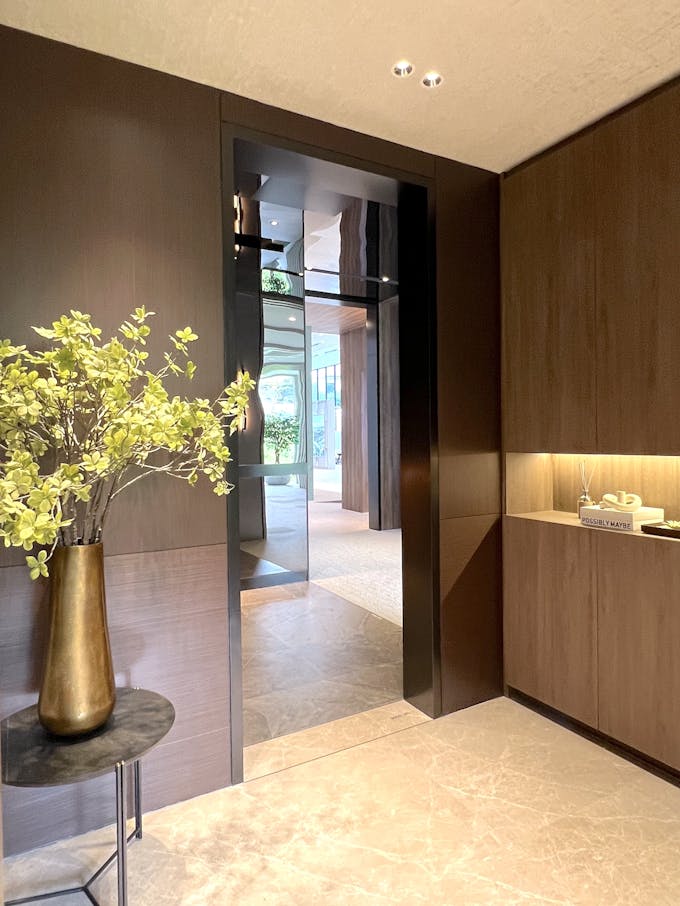 In the showflat, you'll enter the unit as you would from a private lift and arrive at a private lift lobby. There's ample cabinet storage here for you to keep your shoes. If you're entertaining guests, it will also be an elegant way to welcome them to your home.
Generous amount of space in the living and dining areas and balcony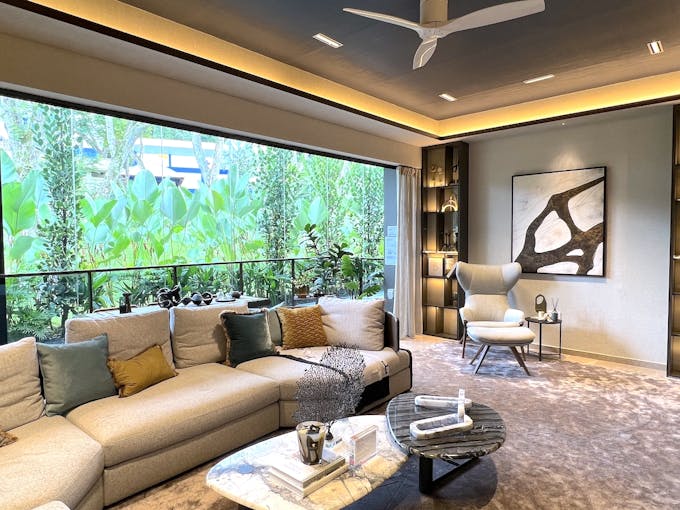 Step into the unit, and you'll be greeted with a supersized living room and balcony. The living room is 6-metres wide, which is the same as the minimum width of an intermediate terrace house. In most developments, this width would include both the living and dining areas, but for the Prestige Collection, this is solely for the living room.
Another thing you might notice is that marble tiles are provided for the Prestige Collection compared to porcelain tiles in the Signature Collection.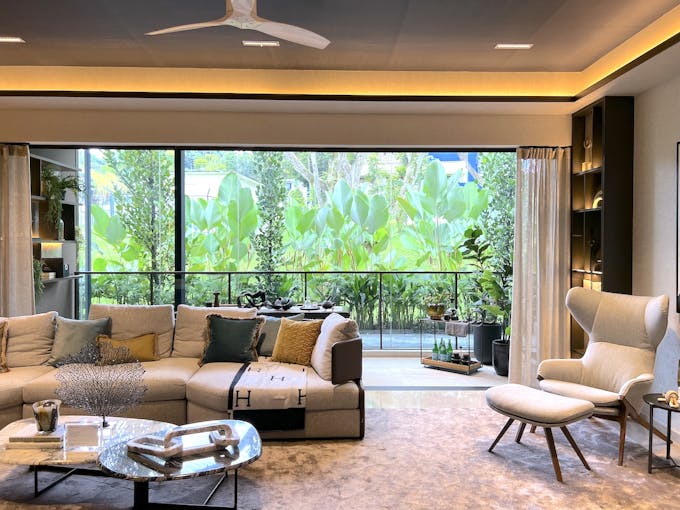 So, there's a generous amount of space, as you can see from the choice of furniture that the ID has opted for, a six-seater sofa with an additional side couch. With the abundant space, there are many furniture arrangements you can explore. For instance, most households would want a TV, and hence, they would have to face the sofa towards the wall.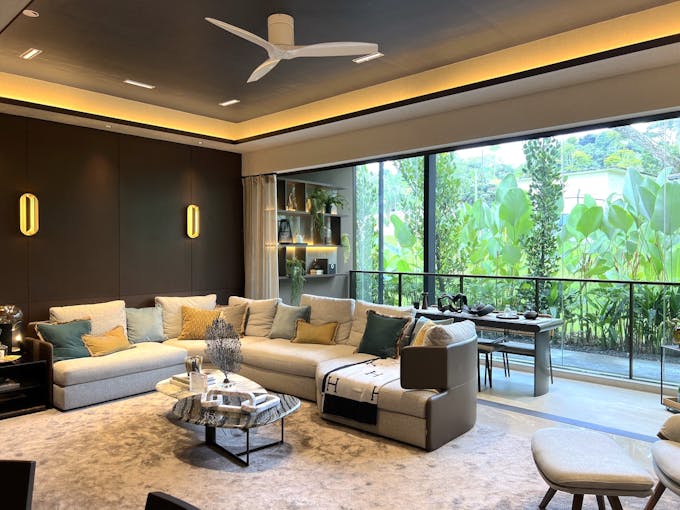 The balcony boasts an impressive size of 129 sq ft (12 sqm), which is larger than the average size of a common bedroom. For those who frequently have gatherings for their loved ones, you can also place a dining table on the balcony to accommodate more guests.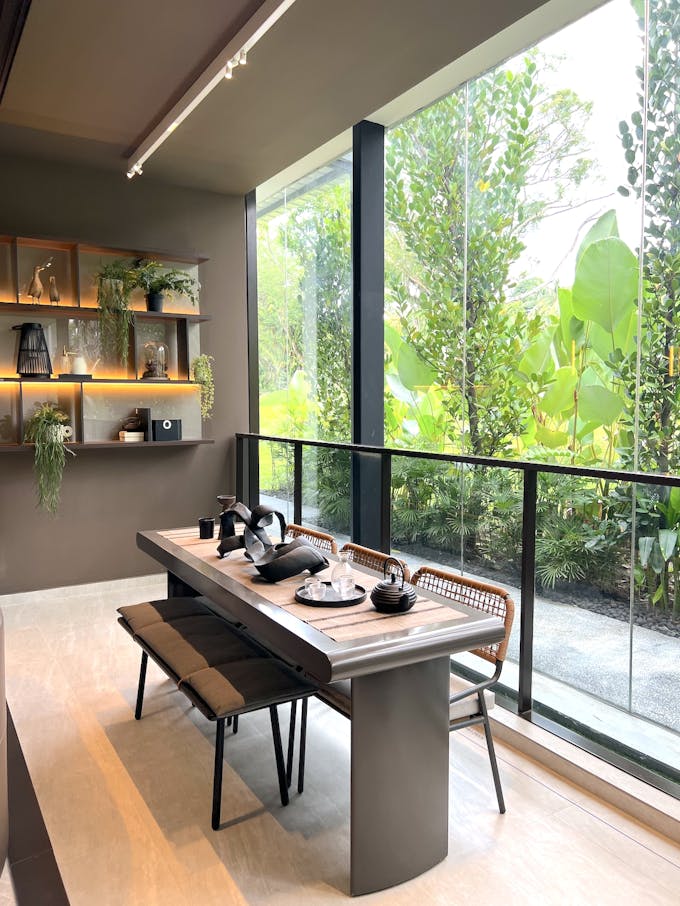 What's more, the Prestige Collection units are situated in the blocks which are on higher terrain, so those on the higher floors would be able to get a view of the whole development.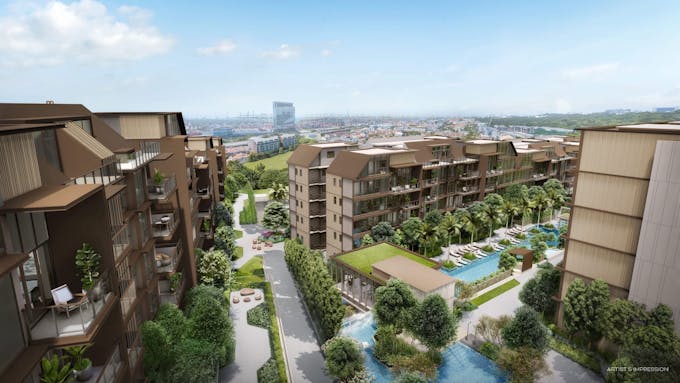 Artist's impression of the view from some units in the Prestige Collection
Some units will be able to enjoy views of the sea, too, as seen from this artist's impression above.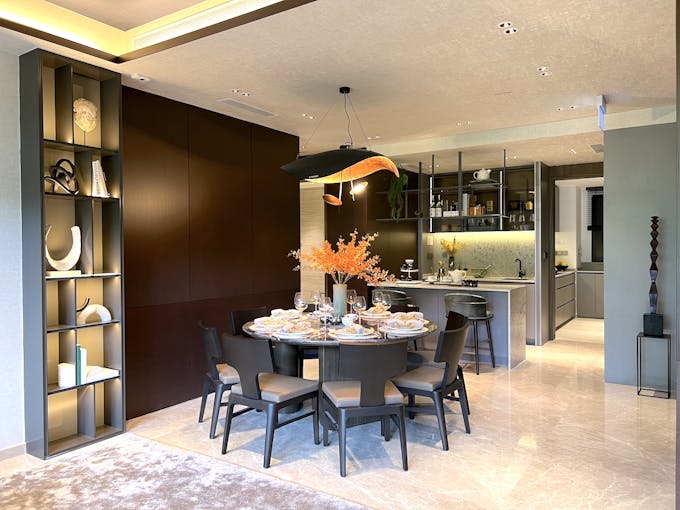 The dining area can fit an eight or 10-seater table, depending on the needs of your family. What's great is that there's enough space for a round table and larger families would love this as it's easier for sharing meals and conversations.
For multi-generational families who frequently hold gatherings, the dining area could be for the older folks while the younger ones have a meal on the balcony.
Dry and wet kitchen concept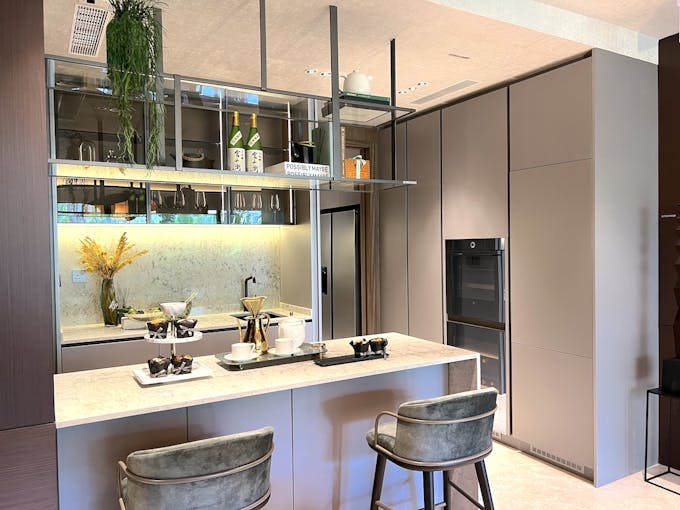 The dry kitchen is 86 sq ft (8 sqm) which is the size of a full-fledged kitchen. There's a bar countertop where you can serve drinks and snacks to guests. There are glass kitchen cabinets to store your wine glasses and other utensils.
As the dry kitchen is part of the communal areas and where you might also expect guests, the glass cabinets blend seamlessly into the decor of the home.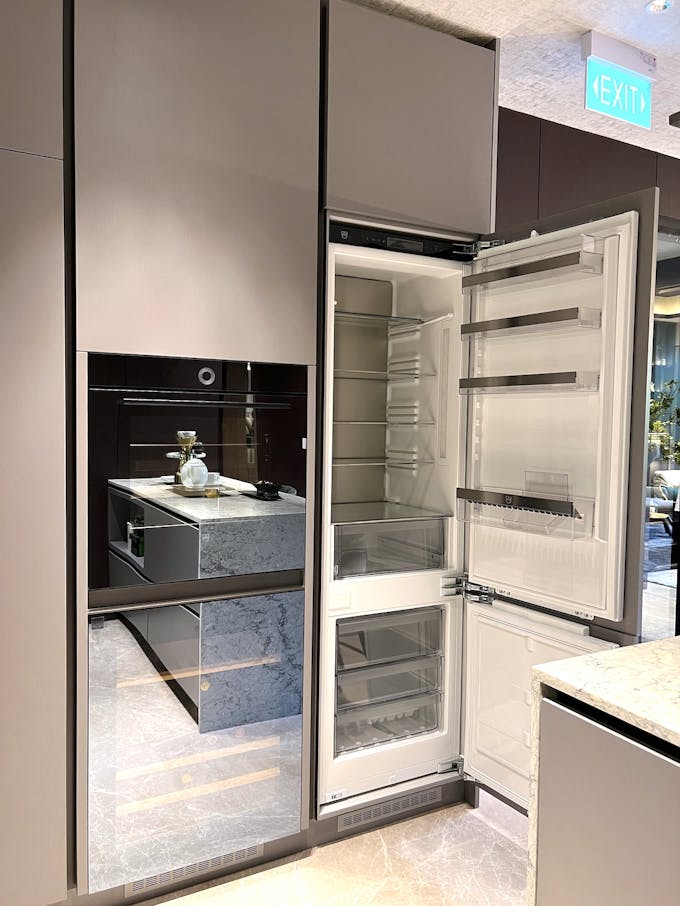 In terms of kitchen appliances, an integrated fridge, a built-in combination oven and a wine chiller are provided. They are all by the Swiss brand V-Zug, known for its luxury appliances.
As the dry kitchen is almost as complete as a proper kitchen, you can also prepare simple meals that only require the oven. This is useful for multi-generational families where there's more than one cook simultaneously.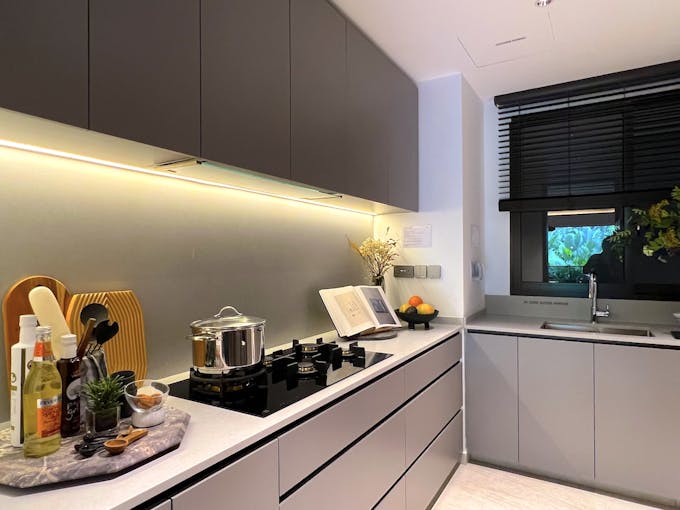 The wet kitchen and yard are 129 sq ft (12 sqm), with ample cabinets for storage and countertop space. One of the highlights is a 5-burner gas hob by V-Zug, which we seldom see in new launches, but it's very practical for a large household. There's also a decently-sized window for natural ventilation.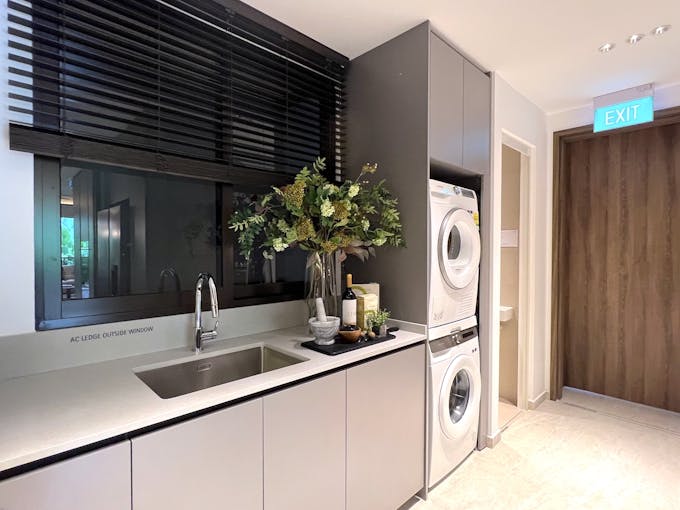 Other kitchen appliances from V-Zug include a dishwasher and a separate washer and dryer. The free-standing fridge is the only appliance by Samsung. We've rarely seen a dishwasher in the list of provisions for new launches, so this is a pleasant surprise. This is in line with Terra Hill's energy-saving efforts, as dishwashers are known to be water-efficient.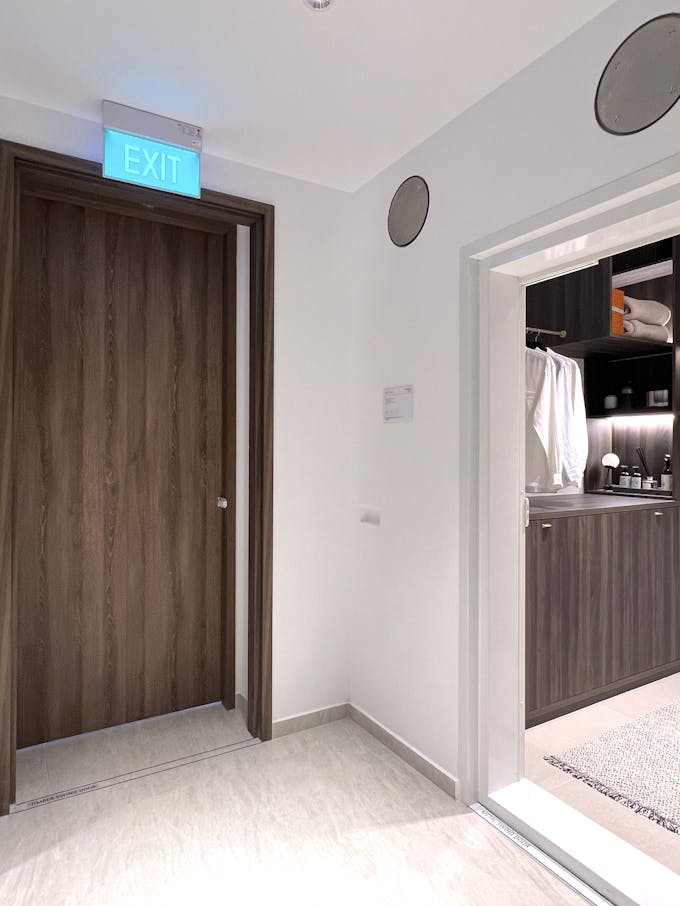 The yard has generous space, so you can also hang clothes here on days when you're not using the dryer. Here's where you'd also find the household shelter, WC and entrance from the common corridor. This entrance is great for deliveries and is convenient when you need to dispose of trash.
The Prestige Collection has two master bedrooms
All the units in the Prestige Collection have a main master bedroom and a junior master bedroom. This is perfect for multi-generational families with more than one married couple.
Main master bedroom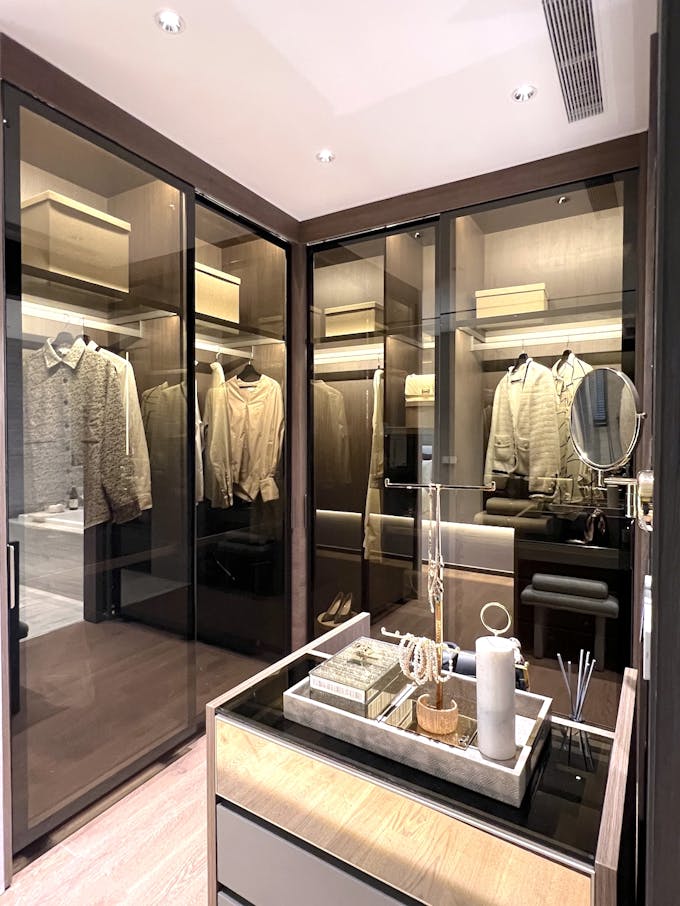 When you enter the master bedroom, you'll be greeted with an impressive walk-in wardrobe. Besides the generous wardrobe space, it also has a tinted glass finish with sensor LED lights which gives it a more elegant look. It's also practical as you can find your clothes easily without opening the wardrobe. A plus point is that there's also a standalone dresser provided, so you won't need to go through the hassle of finding one that fits.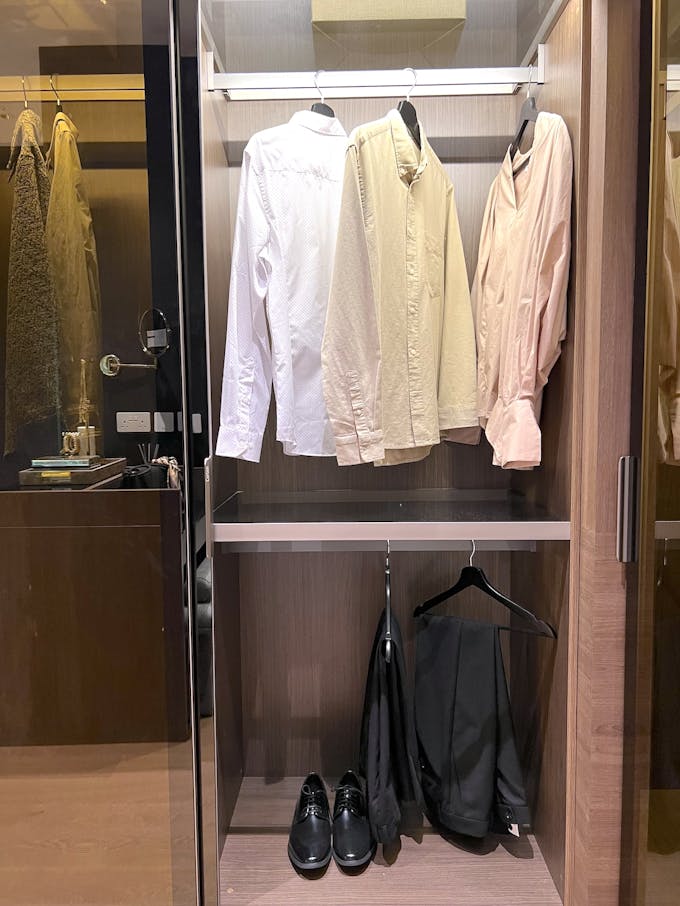 We love that the wardrobe has an upper and lower hanging rack as it makes it easier to organise your clothes.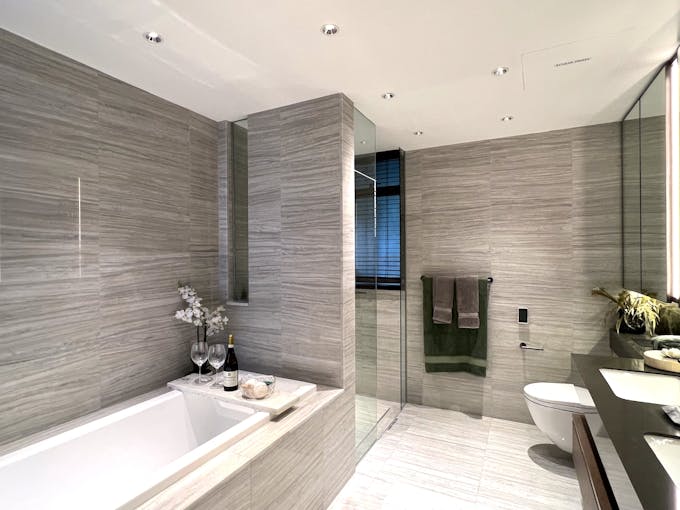 The master bathroom is adjacent to the walk-in wardrobe, and you'll immediately feel the difference from the Signature Collection. It's adorned with marble walls and flooring, and there's a bathtub to soak in and unwind after a long day.
The shower area is a separate space, and the good news is there are two windows - one at the shower and one at the bathtub. So, there's natural light during the day.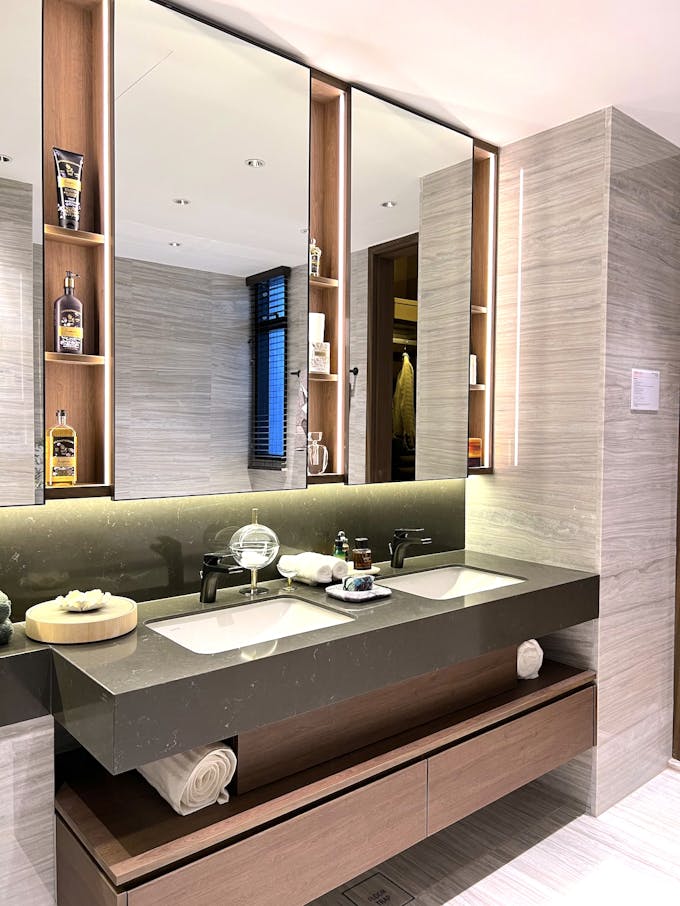 There are also his and hers sinks, so couples will have their own personal space as they go about their daily routine.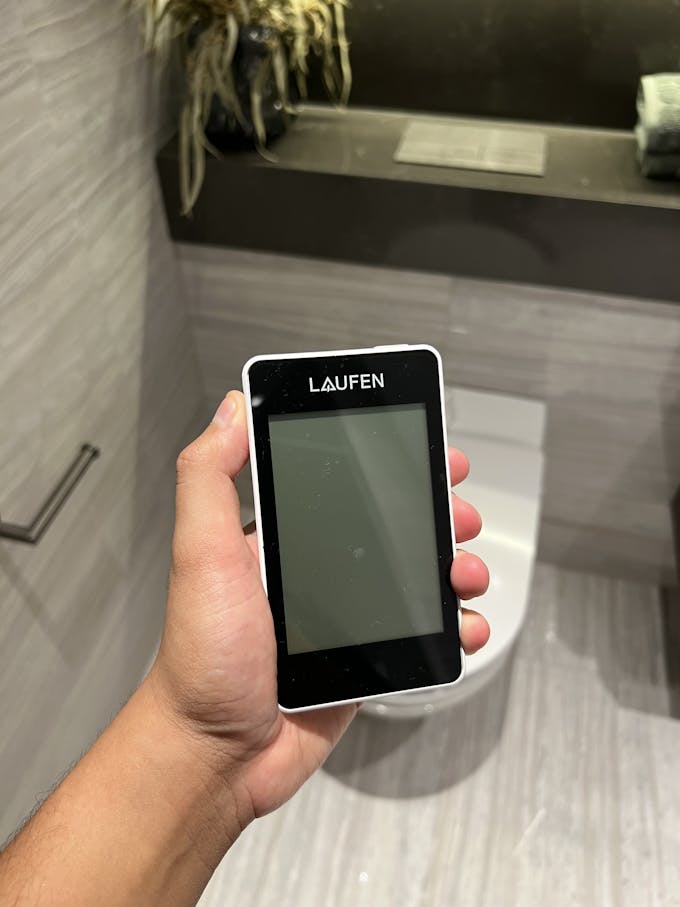 A feature we love is the shower toilet (or bidet) which comes with a remote control.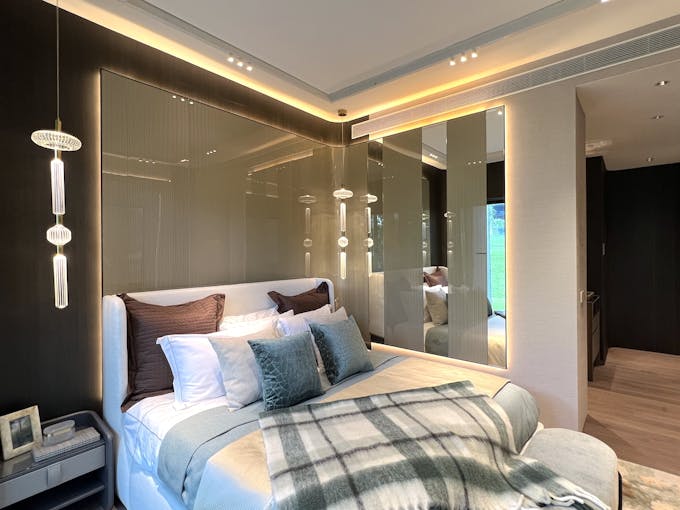 As for the main sleeping area, it can comfortably fit a king-sized bed with abundant space left for side tables and some seating areas.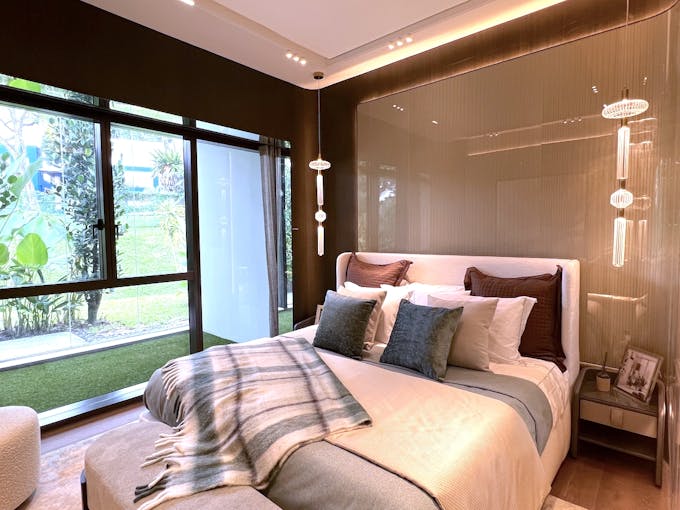 Overall, the main master bedroom in the Prestige Collection is a premium offering, and its provisions set it apart from the Signature Collection. It also matches up to premium units in other new launch developments we've seen.
Junior master bedroom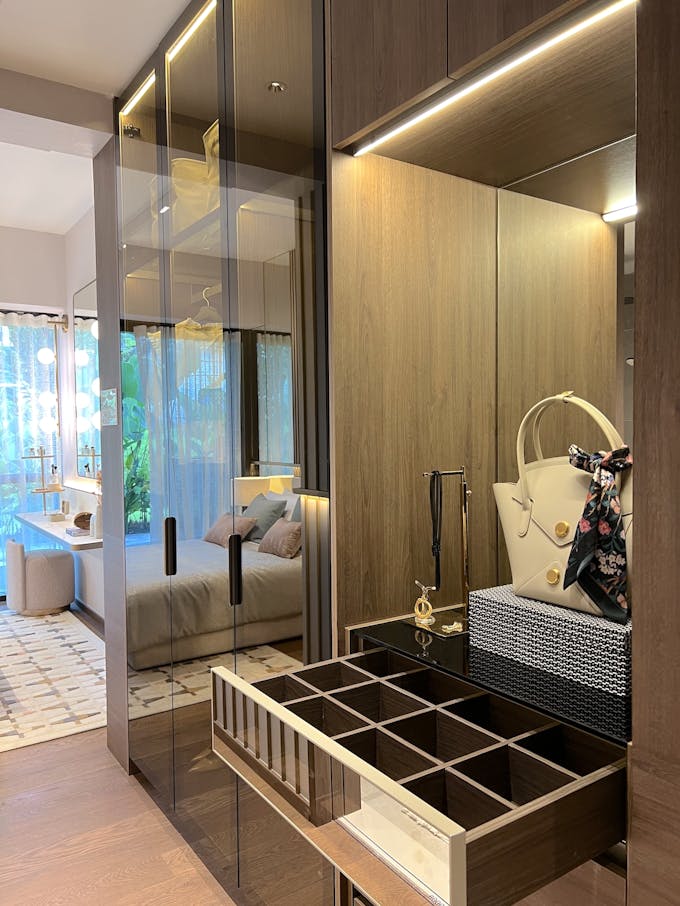 The junior master bedroom and bathroom have a combined area of 194 sq ft (18 sqm), slightly larger than the master bedroom in the 2-bedroom unit. While there's no walk-in wardrobe here, it's still separate from the sleeping area, and the wardrobes also come with a tinted glass finish with sensor LED lights. There's a standing dresser as well.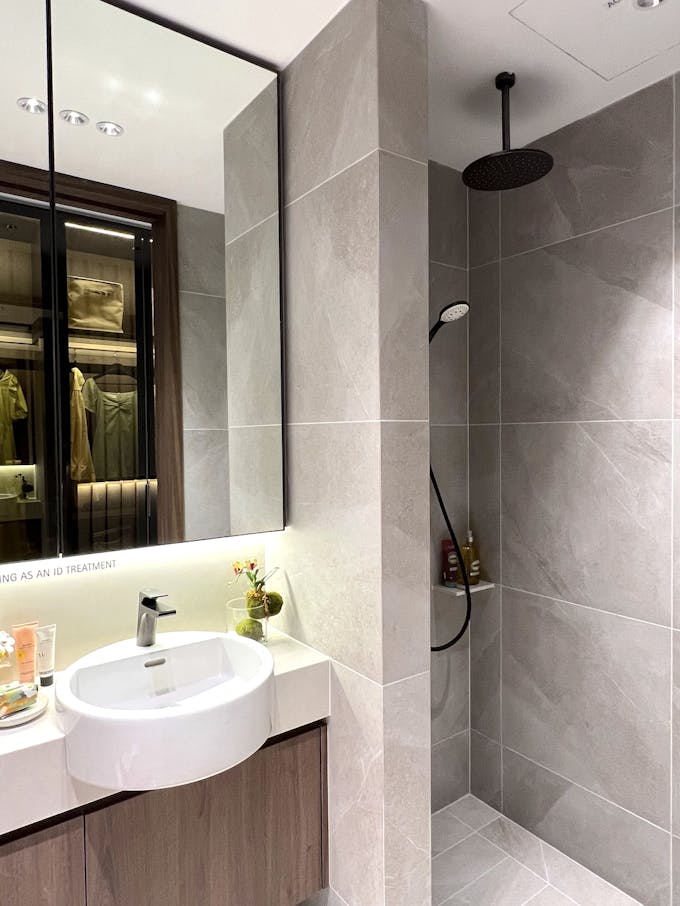 The bathroom is adjacent to the wardrobe area and has standard provisions like an overhead rain shower, vanity mirror countertop and storage cabinets.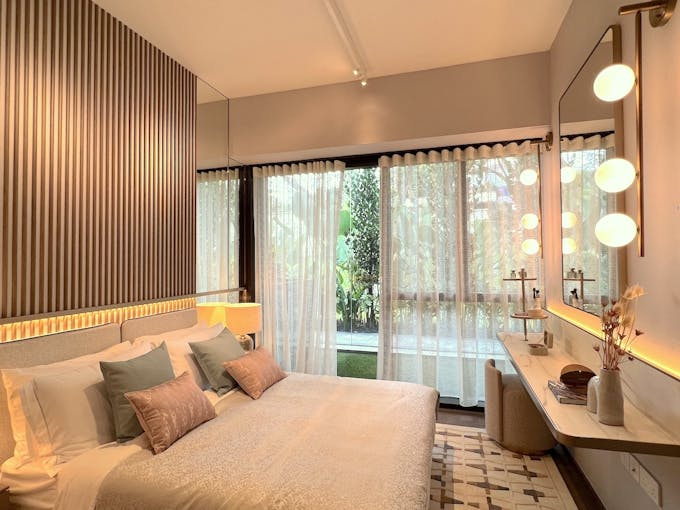 The sleeping area isn't as wide as the main master bedroom but is still decently sized for couples.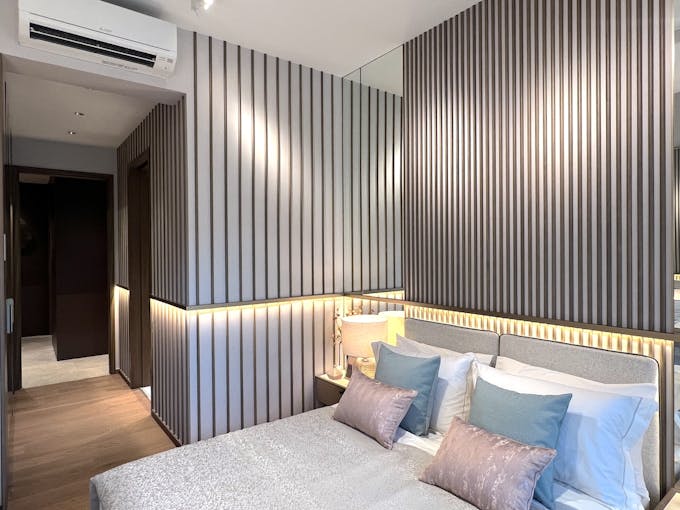 The ID has placed a queen-sized bed in the showflat, leaving comfortable walkway space. You can also fit a king-sized bed, but the walkway space will be slightly tighter.
There's some space for a dresser in front of the bed, though it might be a little bit of a squeeze.
All bedrooms in the Prestige Collection are en suite
Besides the main master and junior master bedrooms, the two other bedrooms are connected to a shared bathroom. This benefits families with elderly as it will be easier for them to use the bathroom without walking far.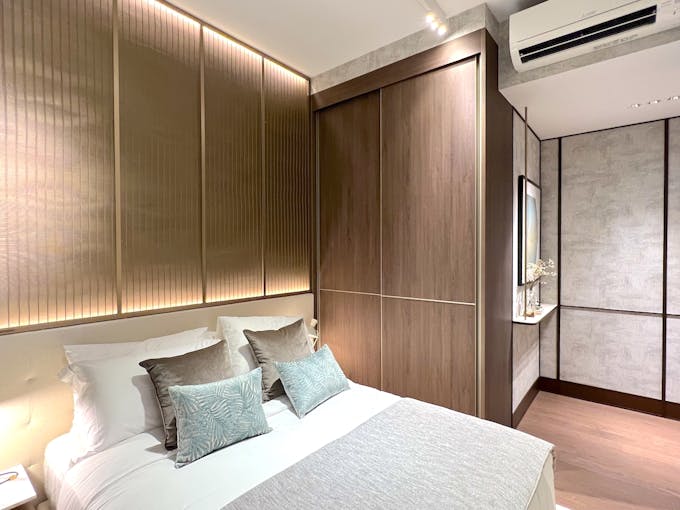 Both the common bedrooms are 118 sq ft (11 sqm) each, larger than those in the Signature Collection. Both are able to fit a queen-sized bed, so it's perfect for younger couples who are still living with their parents.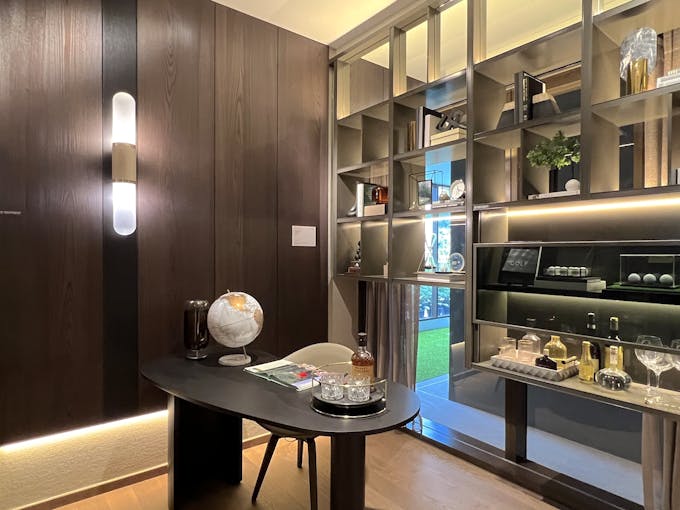 If you don't need that many bedrooms, you might also want to turn one into a study or work room since 4-bedroom units don't come with a study.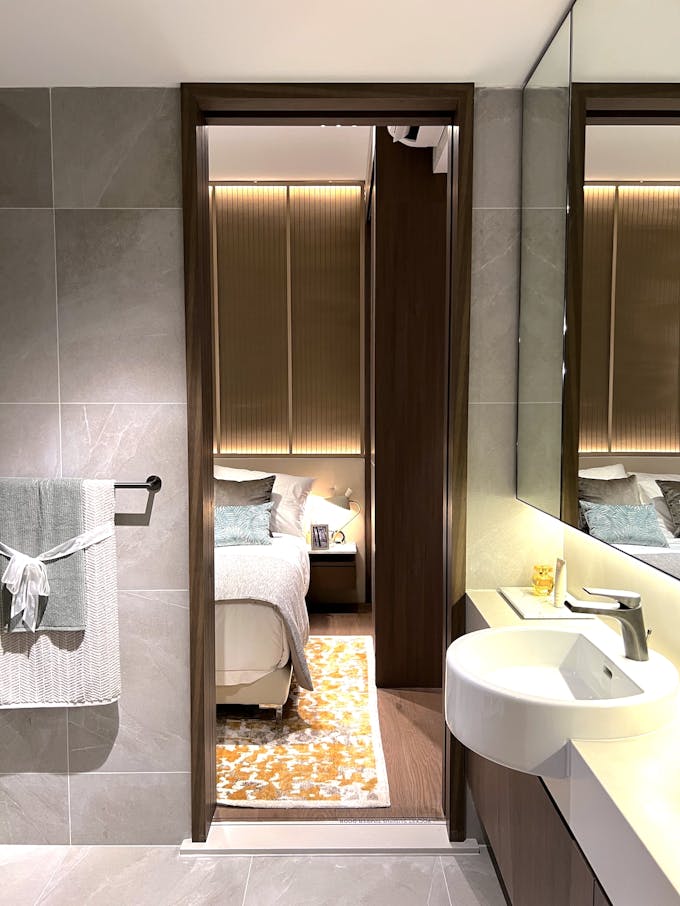 The good thing about the shared bathroom is that it's exclusive to the two common bedrooms. There's no entrance from the common corridor, and if you're having guests over, there's a powder room for them. This way, there'll be more privacy for family members. In total, there are four bathrooms in the 4-bedroom Prestige Collection unit (including the powder room but excluding the WC).