More details
| | |
| --- | --- |
| Neighbourhood | Punggol |
| Address | 227A Sumang Lane, 821227 |
| District | D19 |
| Tenure | 99 years |
| | |
| --- | --- |
| Built year | 2016 |
| Blocks | 5 |
| Units | 481 |
| Floors | 17 |
| Developer | HDB |
Who's it for?
The Verandah @ Matilda is an HDB development that will MOP in 2022. It is a perfect choice for those that:
Are looking for a modern and environmentally-friendly HDB flat 
Want to live in a family-friendly neighbourhood with facilities for both young children and the elderly
Enjoy both indoor & outdoor recreational activities
Want to be just 10-15 minutes away from all of the facilities of Punggol West
Features
Aligned with the initiative to position Punggol as an eco-town, The Verandah @ Matilda was designed with several environmentally-friendly features. These include: a separate refuse chute for recyclable waste; a rainwater harvesting system to catch rainwater and wash common areas; motion-activated lights in common areas to reduce electricity use, and bicycle stands all over to encourage emission-free transportation. 
The Verandah was also designed to allow residents to be surrounded by greenery. This design consists of collonaded verandahs, a green lawn and lush surroundings to mimic the tropical architecture of the nearby historical Matilda House. Further, there are 2 sky gardens fronting the Punggol Field which make great spaces for gatherings and relaxation. 
Accessibility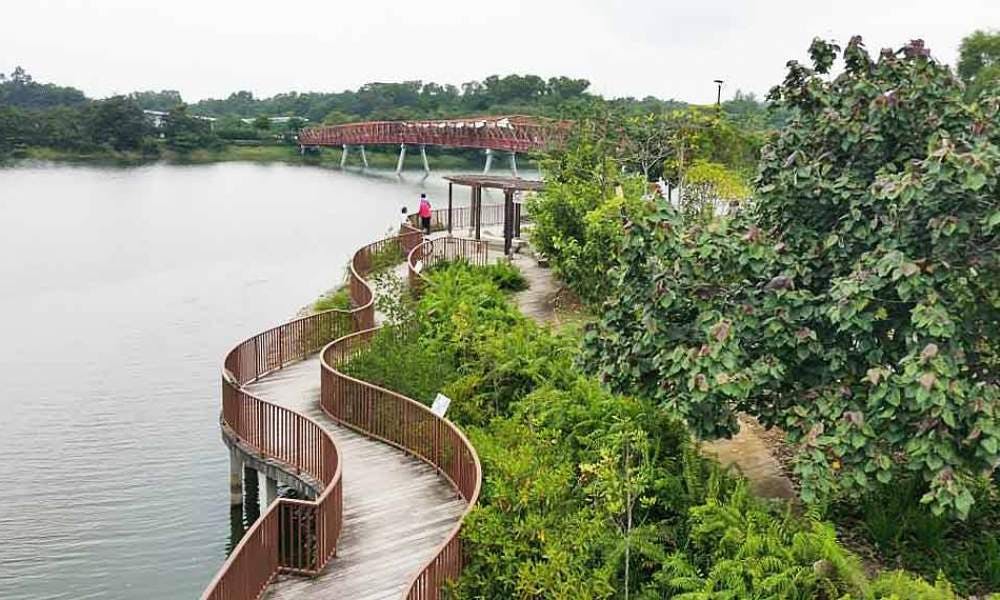 The Verandah @ Matilda is an HDB development along Sumang Lane and is part of the family of Matilda projects in Punggol along with Matilda Court, Matilda Edge, and Matilda Portico. The closest train station is the Soo Teck LRT station, which is about an 11-minute walk away. Adding to the residents' convenience, the nearest bus stops, at Block 224a and Block 226a, are right across the Verandah. 
From Block 226a, residents can hop on the 382/382G bus and reach the Punggol MRT interchange to access the North East Line. Alternatively, you can walk a bit to Soo Teck station and take the LRT down Punggol station. 
Residents that like to cycle or go for long walks will be thrilled to know this HDB has easy access to the Punggol Waterway Park via park connectors. Across the park's 4.2 kilometres, there are green spaces, cycling paths, play equipment, and resting paths for visitors to enjoy alongside the view of the waterfront. 
For those that drive, access to the Central Area as well as other parts of Singapore is made easy via the Tampines Expressway (TPE). In this case, Changi Airport is about 16 minutes away and Orchard is about 30 minutes. 
Nearby Amenities
Stocking up on daily necessities will never be a problem for residents of The Verandah as this HDB project is right in between two 24-hour groceries: Sheng Siong Supermarket at Matilda Court and U Stars Megamart at Matilda Portico. There is also a 24-hour Glamoria right across the HDB development for vitamins and supplements. 
While The Verandah has its outdoor fitness stations, residents might want to enjoy other outdoor activities such as playing futsal or hosting a BBQ. Luckily, these facilities are just a 10-minute walk away at the Punggol West Community Centre and slots for these facilities can be reserved. Residents can also look forward to the occasional events organized by the committee of the Community Centre.   
Another place residents can take full advantage of its facilities is SAFRA Punggol. Some of the indoor facilities include function rooms for hosting group events, a darts cafe, a billiards arena, a bowling alley, and even an indoor water park. For outdoor activities, there's a bike rental, basketball court, and a soccer field.  
Shopping Centres Near The Verandah @ Matilda
The closest shopping centre to The Verandah @ Matilda is Punggol Waterway Point. The easiest way to access it is by bus or LRT since it is right beside the Punggol interchange. As the flagship leisure destination in the centre of Punggol's water town, Punggol Waterway Point offers great shopping, dining, and entertainment options across its 4 levels. Some of which are: 
Basement 2: FairPrice Finest (open 24-hours), Timezone, Shaw Theatres

Basement 1:

Don Don Donki, Watsons, Guardian, Daiso, Toast Box, MOS Burger

Level 1:

A-One Signature, Cedele Bakery, Din Tai Fung, Nespresso, Cotton On, Uniqlo, Swatch, Bata, 7-Eleven
Level 2: The Playground, Toys R Us, Monster Curry, Genki Sushi 
For more shopping and dining options, other malls within a 3-kilometre radius from The Verandah @ Matilda are: Compass One (2.0km), Punggol Plaza (2.7km), and Oasis Terraces (2.8km)
Hospitals Near The Verandah @ Matilda
Within 3 kilometres from The Verandah @ Matilda, there are different medical facilities ready to address any type of medical concern. For quick checkups. consultations, or minor concerns, the area is surrounded by family and TCM clinics that are open during the day. For major concerns or emergencies in the unfavourable hours of the night, both the Sengkang Community Hospital and Sengkang General Hospital are ready to serve 24/7. Even elderly patients have a nearby facility for their needs with the St. Luke's Elder Care facility between Matilda Court and Matilda Edge. 
Here is a list of medical facilities near The Verandah @ Matilda:
Dr. Joyce & Partners Family Clinic - Flagship (350m)
Calrose Medical Family Clinic (350m) 
Hock Leong Ann Tcm Clinic (350m)
Medi Healthcare Clinic (500m) 
OneCare Clinic Punggol Sumang (500m)
St. Luke's Elder Care Sumang Lane (650m) 
Zenith Medical Clinic (1.0km) 
Sengkang Community Hospital (1.5km) 
Sengkang General Hospital (1.6km)
Lifeline Punggol Medical Clinic (1.8km) 
Healthway Medical Punggol Field (2.7km)
Shenton Medical Group - Punggol Oasis (2.8km)
Libraries Near The Verandah @ Matilda    
By mid-2022, the Punggol Regional Library at One Punggol integrated community hub will be open to the public. This 5-storey library will give avid readers an almost infinite amount of reading material. It will also be Singapore's first inclusive library with special collections, facilities, and spaces for those with disabilities.
In the meantime, however, residents can access both the Sengkang Public Library and Our Punggol West Container Library. The former is a 2-storey library occupying the 3rd and 4th floors of the Compass One mall and pays homage to Sengkang's heritage as a riverside port. It is divided into 3 sections based on age: the Adult Section, the Tween Section, and the Early Literacy Section.
Meanwhile, the Container Library is a temporary library built as a result of residents requesting a public library in the area while a full-fledged facility would still be under construction. Despite being a temporary library, it has over 3000 books and is fully air-conditioned.
Schools Near The Verandah @ Matilda
While this side of the Punggol neighbourhood is already fun by itself, parents can be assured that living in this area can still grant their children access to quality education. Right in the Matilda area are E-Bridge Infant Care & Pre-School and M.Y. World Preschool. While popular primary schools like Nan Chiau Primary, Springdale Primary, or Punggol Green Primary are all within a 2-kilometre radius from the HDB project. 
These are the nearest schools to The Verandah:
E-Bridge Infant Care and Preschool (190m)
M.Y. World Preschool (400m) 
Yusof Ishak Secondary School (800m)
Punggol Green Primary School (1.0km)
Valour Primary School (1.2km)  
Edgefield Secondary School (1.4km)
Punggol View Primary School (1.8km) 
Springdale Primary School (1.9km)
Nan Chiau Primary School (2.1km) 
Hawker Centres Near The Verandah @ Matilda
Conveniently located in the Matilda area are Kopitiam along Matilda Court and Tastebud Eating House along Matilda Portico. Some notable stalls at Kopitiam are Sabai Sabai (which translates to 'relax') for Thai food and Sedap by Encik Tan for char kway teow, chicken chops, and other local favourites. At Tastebud, there is the famous Mala Xiang Guo for Chinese perennial favourites and Habib Express for Indian Rojak. 
For more variety, some of the well-known hawker centres in the area are GM Food Centre and Broadway Food Centre. In GM, Prata Palace is particularly equally a favourite for those looking for sweet, fluffy pratas as much as it is for those looking to satisfy their cravings for dum biryani and other Indian-Muslim food. Meanwhile, at Broadway, you can enjoy iconic local dishes such as the Chilli Crab from the Broadway Live Seafood stall or the nasi lemak from the Old Punggol Nasi Lemak stall.
These are the hawker centres within a 3-kilometre radius of The Verandah @ Matilda: 
Kopitiam Sumang Lane (350m) 
Tastebud Eating House (550m) 
Kimly Coffeeshop (1.3km) 
Cook House by Koufu @ Punggol Central (1.5km)
GM Food Centre (1.8km)
Broadway Food Centre (1.8km) 
One Punggol U/C Hawker Centre (2.0km)
Happy Hawkers (2.8km)
Gourmet Paradise by Koufu (2.9m)
Places of Worship Near The Verandah @ Matilda
Punggol is a great area for residents of any religion as the places of worship for each religion are all within the vicinity. On foot, Buddhists can take an easy walk for 6 minutes from The Verandah @ Matilda to Dhammakaya Centre. Via Punggol Way Christians make it to the Church of the Transfiguration in 15 minutes also just by walking. Likewise, Muslims can reach the Masjid Al-Islah in 15 minutes by walking through Punggol Field. Lastly, Hindus can reach the Arulmigu Velmurugan Gnanamuneeswarar Temple in 40 minutes by taking the 119 bus at the Twin Waterfalls bus stop to Block 142a, plus a short walk. 
Here are the places of worship within a 4-kilometre distance to The Verandah @ Matilda:    
Dhammakaya Centre (550m) 
Church of the Transfiguration (1.2km)
Masjid Al-Islah (1.3km)
Fo Guang Shan (1.9km)
Puat Jit Buddhist Temple (2.0km)
Central Christian Church (2.3km)
St. Anne's Church (2.4km)
Sengkang Methodist Church (2.6km)
The Church Of Jesus Christ Of Latter Day Saints (3.0km)  
Arulmigu Velmurugan Gnanamuneeswarar Temple (3.1km)
Sheng Jia Temple (3.1km)
Gospel Light Christian Church (3.1km)
River of Life Community Church (3.6km)
Fu Hui Buddhist Central Culture (3.7km)
Abundant Grace Presbyterian Church (4.2km)
Parks Near The Verandah @ Matilda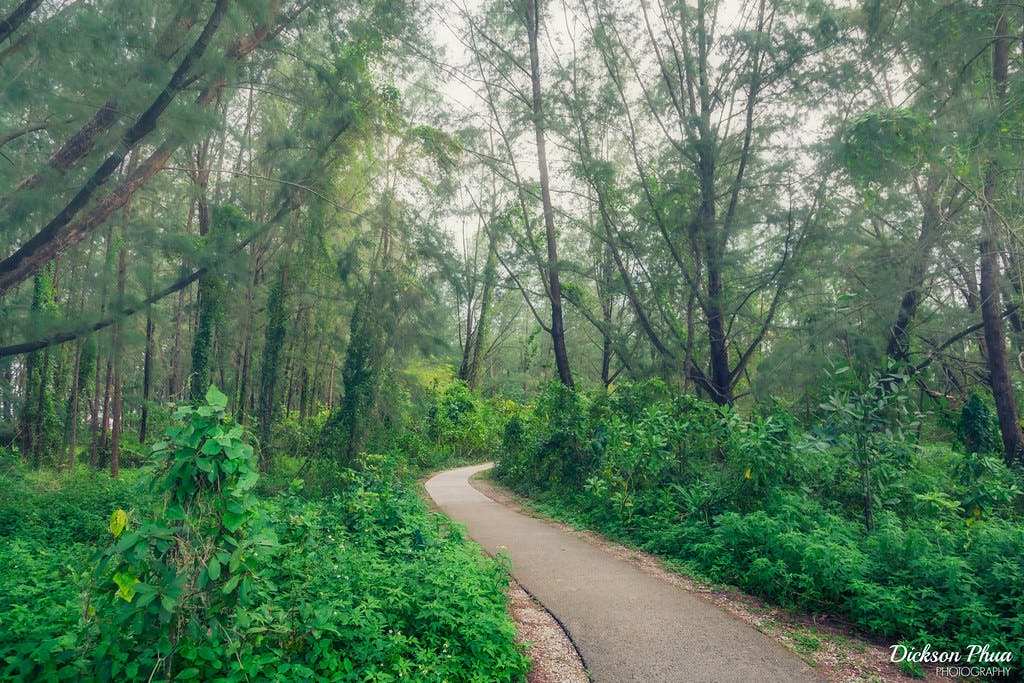 While residents can enjoy access to the Punggol Waterway Park almost everyday, one park great for the weekends is the Punggol East Container Park. During the day, you can enjoy scenic views. But the park really does come alive in the evening with the bustling hipster bars and restaurants.
Some of the popular activities to enjoy in the Container Park are: catching your own fresh seafood dinner at the fishing area, feeling like a kid at the Uncle Ringo Carnival, and exploring through the dinosaur exhibit. Fans of indoor sports will also have something for them with the 2-storey driving range, billiard arena, and the archery range. 
By driving, you can reach the Container Park in 10 minutes via TPE. By commuting, you will arrive in 30 minutes by walking to the Soo Teck station and taking the LRT down to Riviera station.      
Another go-to park for the residents on the weekends is Coney Island - a park rich in history where you will find a wide variety of habitats, including coastal forests, grasslands, mangroves, and casuarina woodlands. It is home to a variety of flora and fauna, of which some are critically endangered, as well as 80 species of birds. It is a great place to go birdwatching, cycling, and exploring the Nature Playgarden with your kids.   
The parks closer to the The Verandah @ Matilda are: 
Punggol Waterway Park (1.6km)
Punggol Breeze Park (2.7km)
Punggol East Coral Edge Community Park (2.7km)
Read more