Countries like New Zealand may have come out of their lockdowns, but travelling for pleasure still seems near impossible at this point of the Covid-19 pandemic. Not all hope is lost, however, when there's condos in Singapore that will "transport" you in another country in an instant.
You'll see what we mean with these five condominiums. In case you're wondering if the budgets for these are within your reach, we've included very affordably priced, yet gorgeous, developments so you can not only quench your thirst for travel, but also live out your wanderlust in perpetuity!
Condo #1: Villa Marina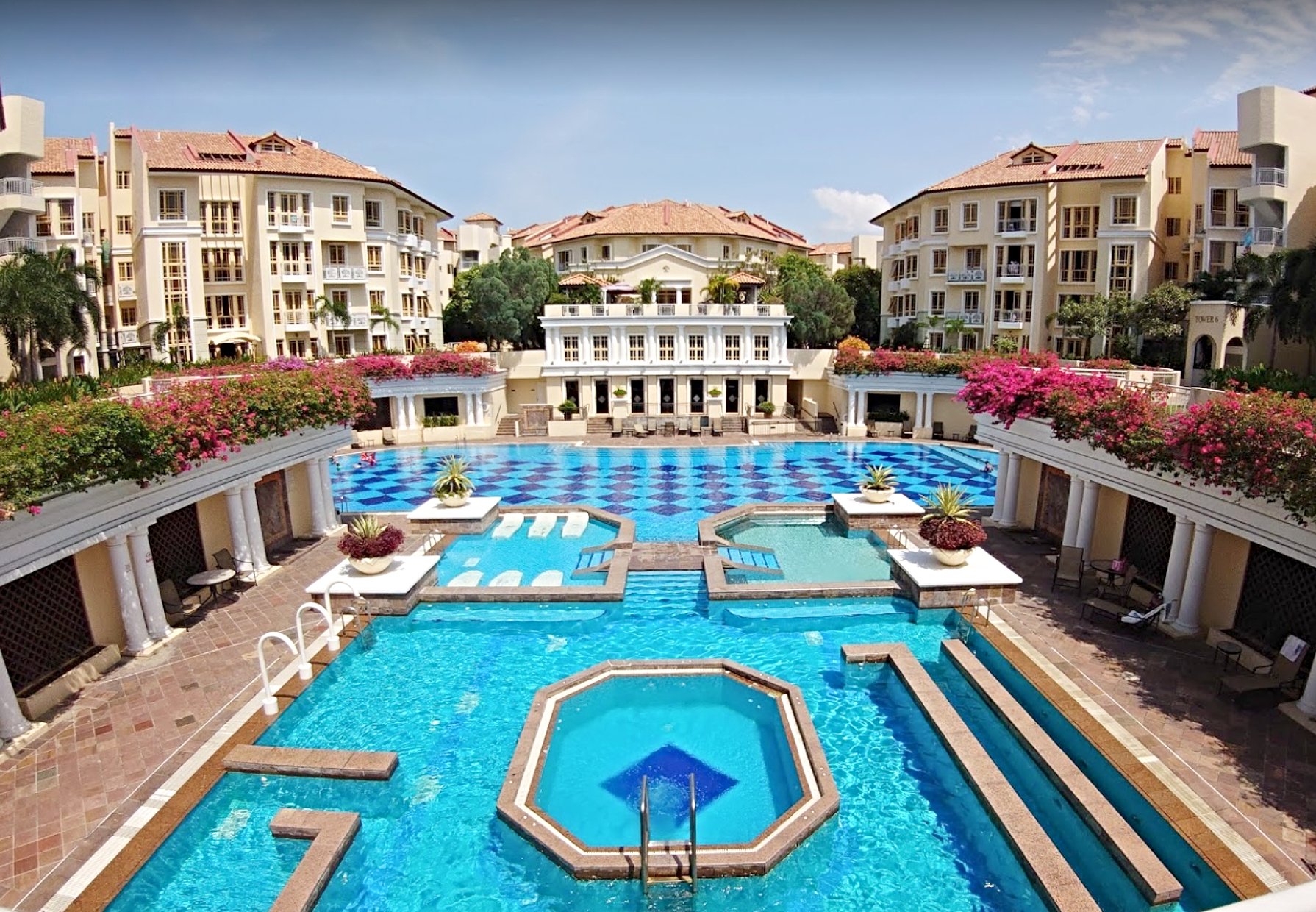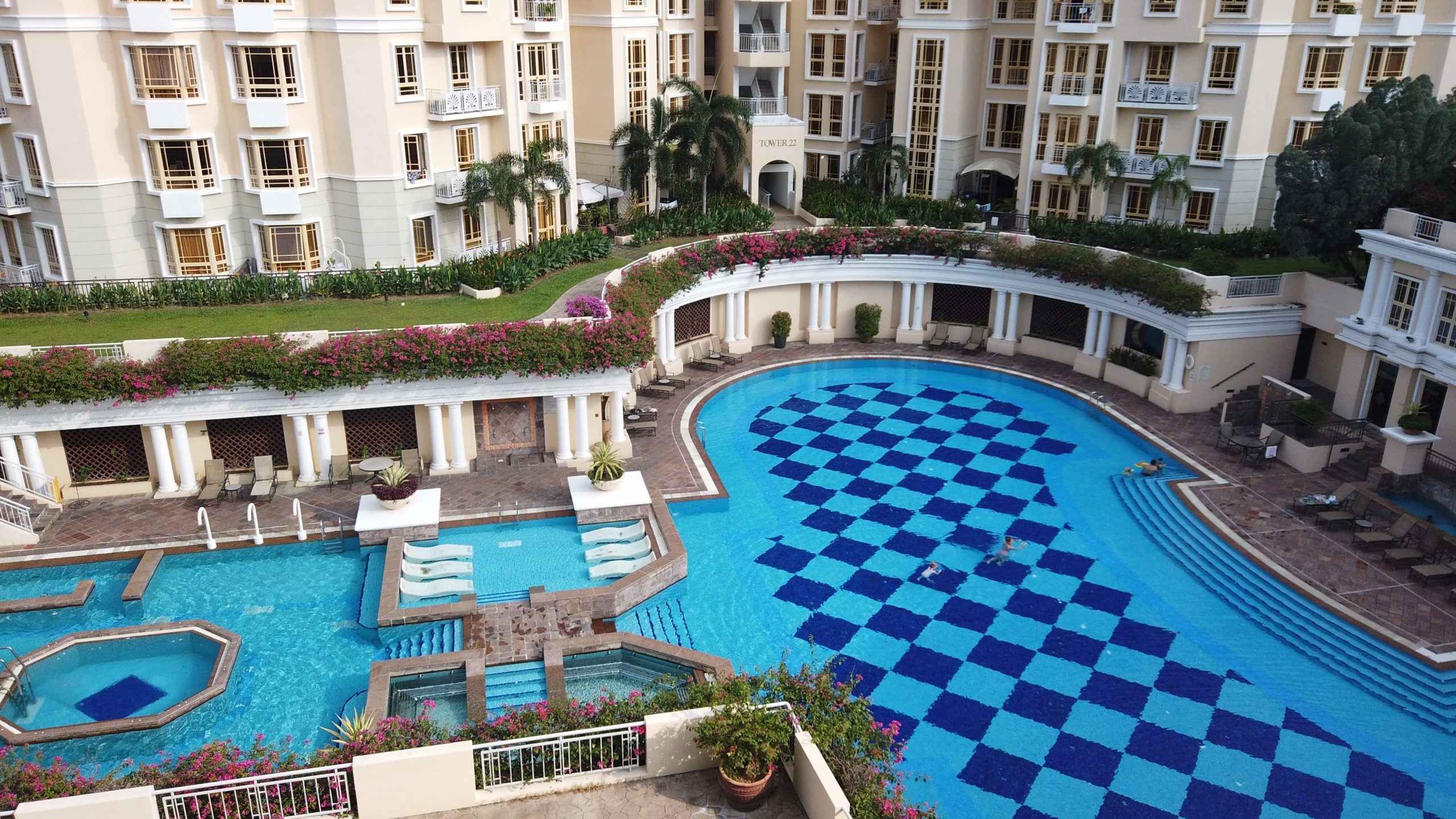 District: 15
Location: 21 Jalan Sempadan (Siglap)
Completed: 1999
No. of Units: 432
Average psf price (past six months): $960
Where this reminds us of: A palace in France
If your favourite holidays involve leisurely walks and sipping champagne while you admire gorgeous architecture, you'll like Villa Marina. With pitched roofs, Georgian columns and French windows, its colonial architecture reminds us of a French royal palace. Or, perhaps a Spanish villa or an English country manor. The point is that Villa Marina exudes the exact same aura of romance and grandeur that these foreign landmarks are known for.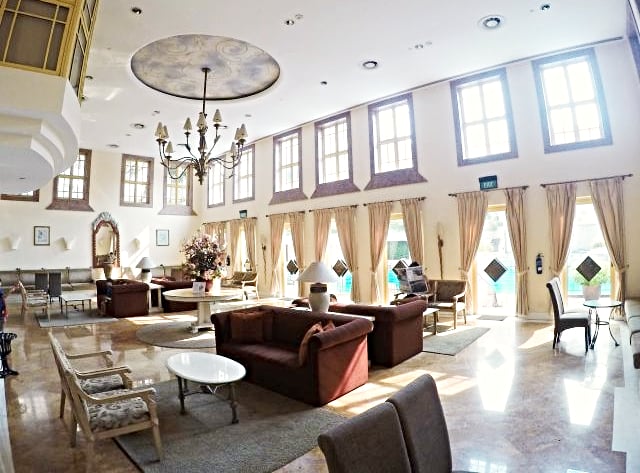 Several low-rise blocks face the courtyard, with shows-off pleasing and oddly satisfying classical symmetry. The massive swimming pool is undoubtably the centrepiece here: Tall columns draped in greenery surround the pool area, contrasting with the pool's checkerboard tiling that add to the grandeur.
It's no ordinary pool either. There's jacuzzi beds, a massage waterfall and even a maze!
View this post on Instagram
To complete a relaxing day, you can also head to Villa Marina's Turkish steam bath or do a stroll around its sprawling, well-manicured gardens (it's one of the larger condos in Singapore). Or, if you simply want to observe the beauty from the comfort of your own home, hang out in your balcony from your ideally positioned home overlooking the pool and estate.
[Check out Villa Marina units
listed for rent
] [Check out Villa Marina units
listed for sale
]
Condo #2: The Santorini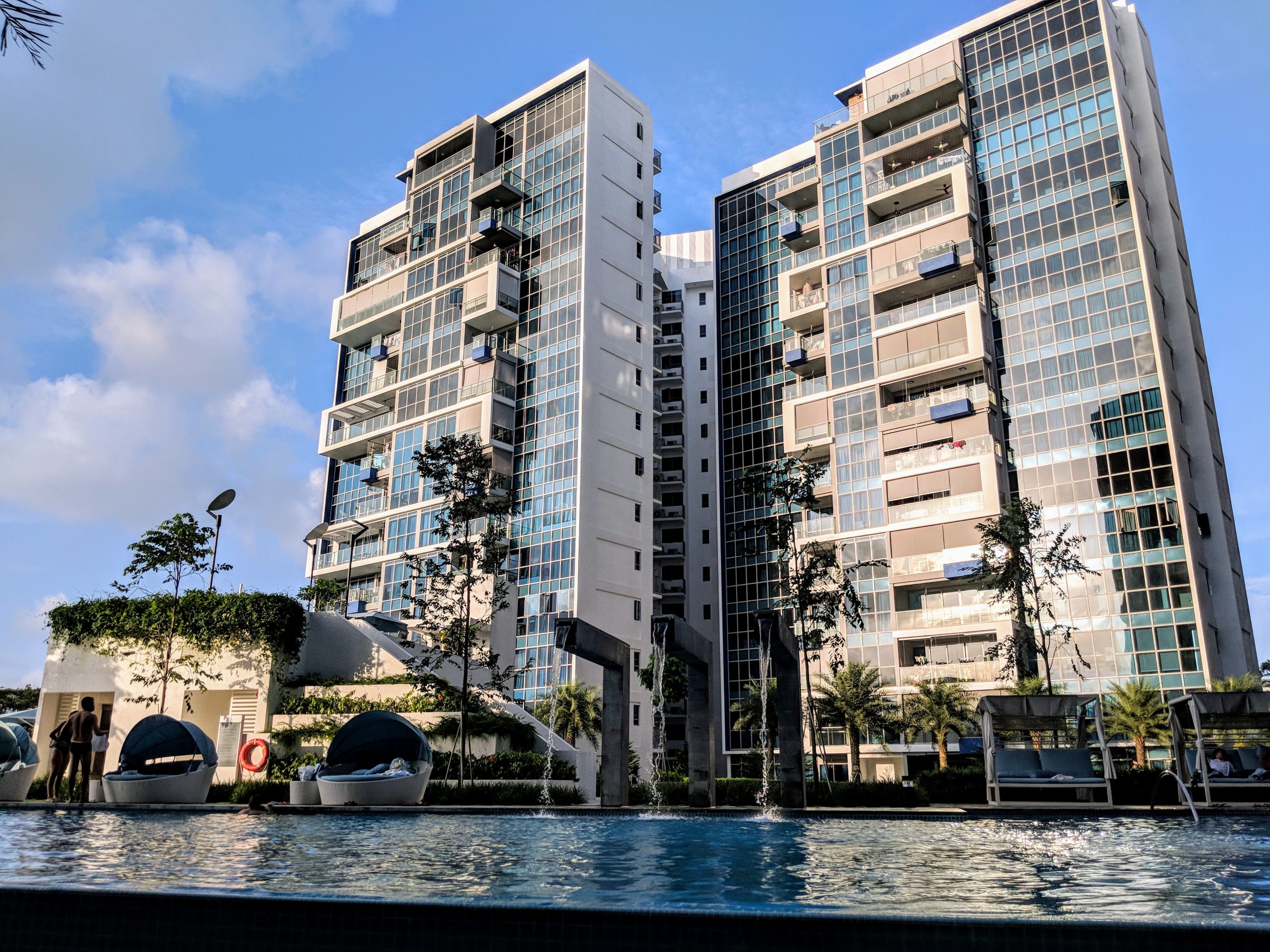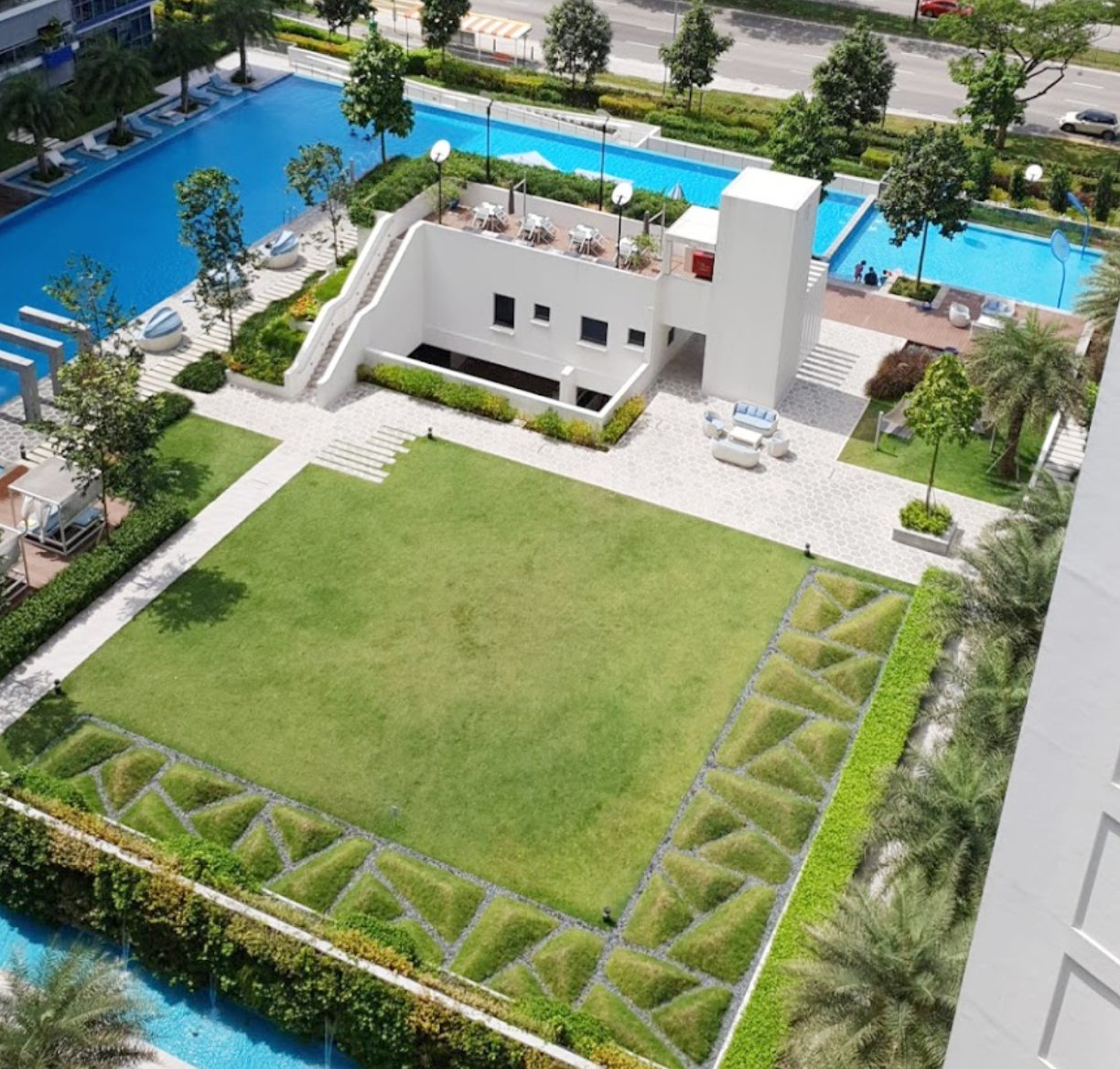 District: 18
Location: 21 Tampines Street 86
Completed: 2018
No. of Units: 597
Average psf price (past 6 months): $1,130
Where this reminds you of: Santorini, Greece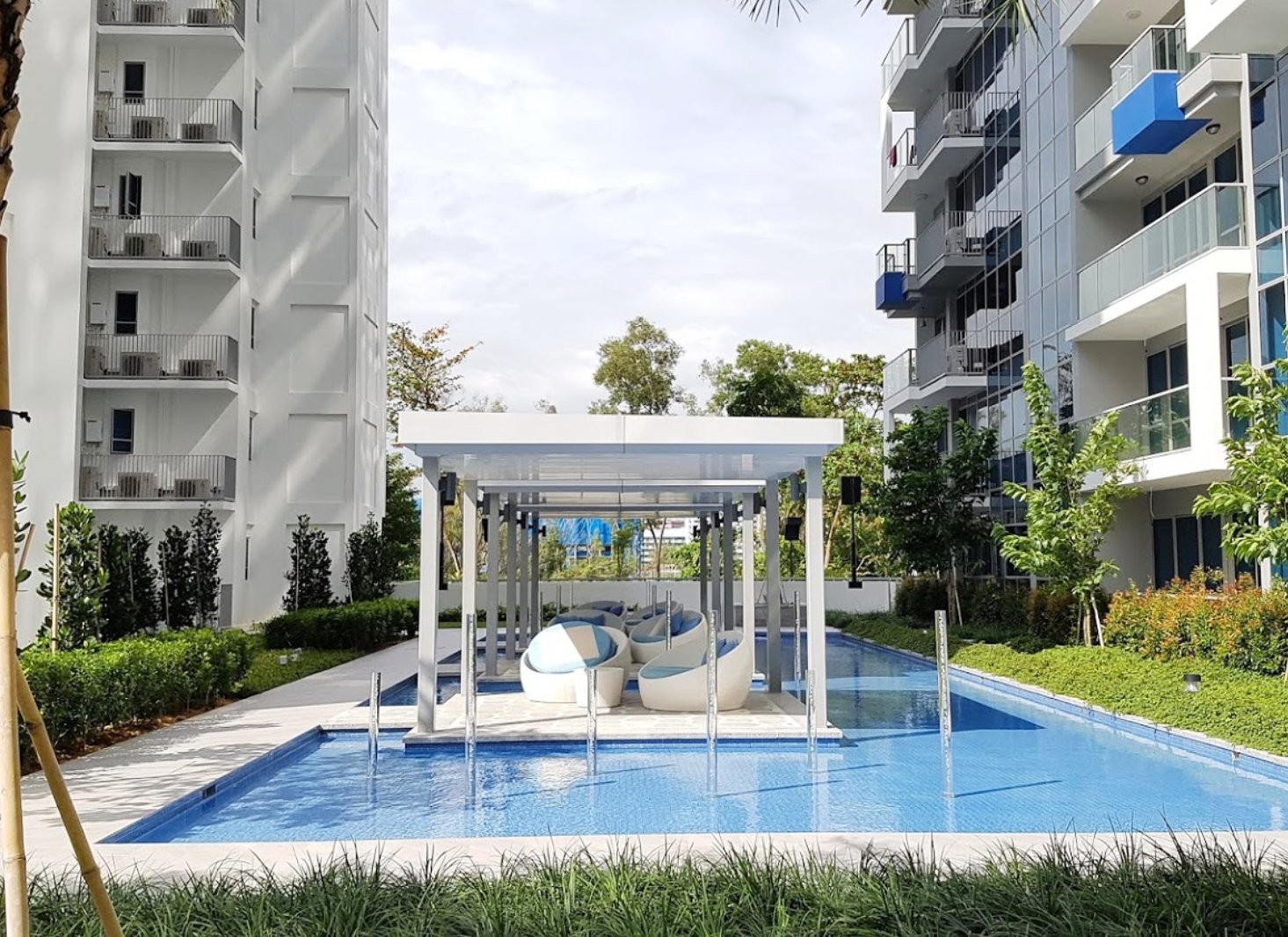 No guesses which country The Santorini 'transports' you to. The distinctive colour scheme of white and blue takes after Santorini in Greece, a town famed for their whitewashed buildings and bright blue doors. (And contrary to popular belief, not all homes in Santorini sport the blue dome; only churches don these crowns.) The town wouldn't be Insta-perfect, of course, without Greece's clear blue waters and sandy beaches.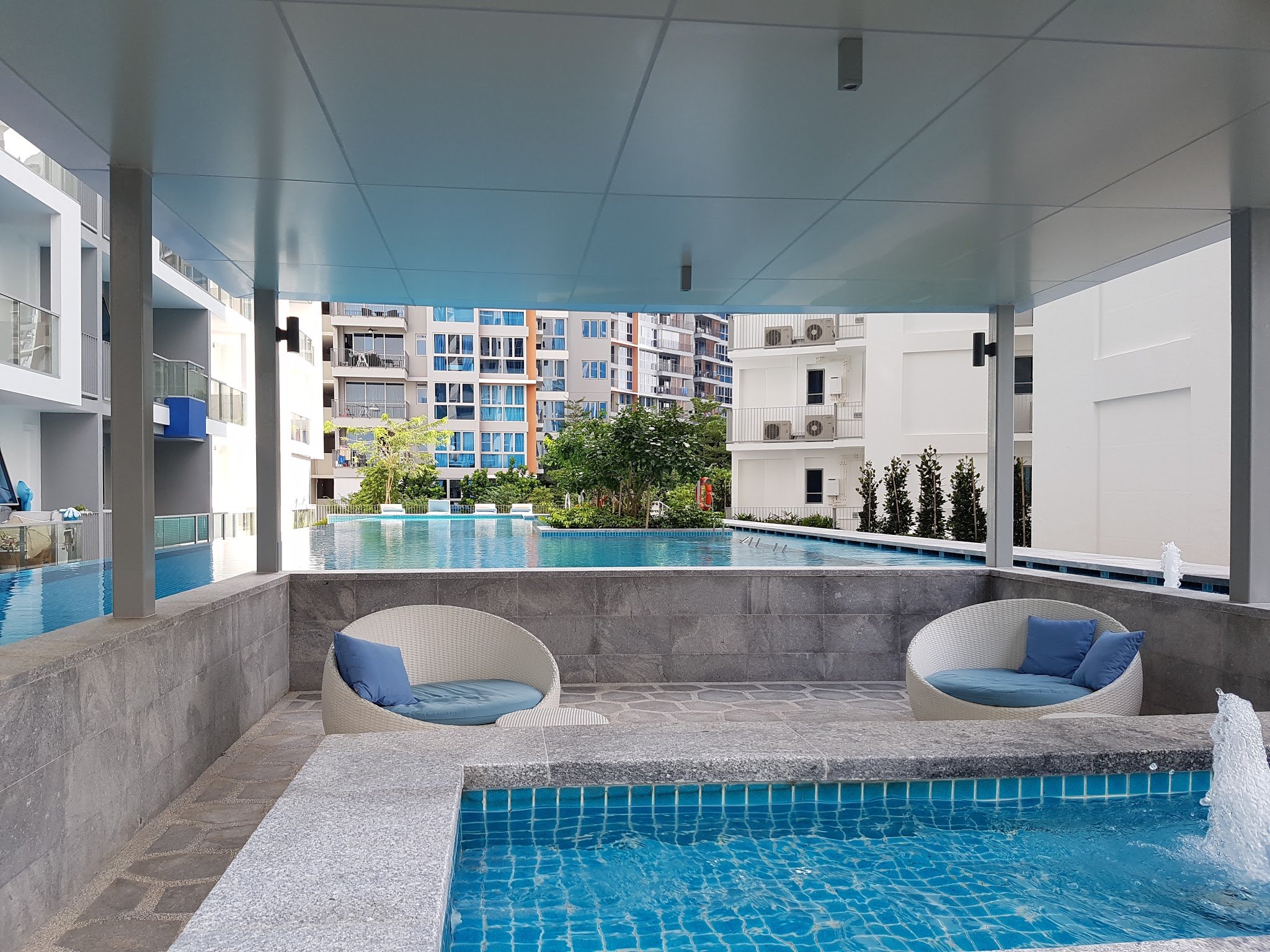 The Santorini replicates Greece's sun, sand and sea atmosphere with white cabanas and blue-hued hammocks. Most eye-catching, though, is the clubhouse: a low-rise white building with minimalist architecture. It reminds us of modern Greek homes that play with volume and simple lines. Situated on a grand lawn, the clubhouse features a rooftop BBQ deck and a gym. It is also linked to the lap pool and lounge deck. You'll be forgiven for forgetting you're in Tampines 😉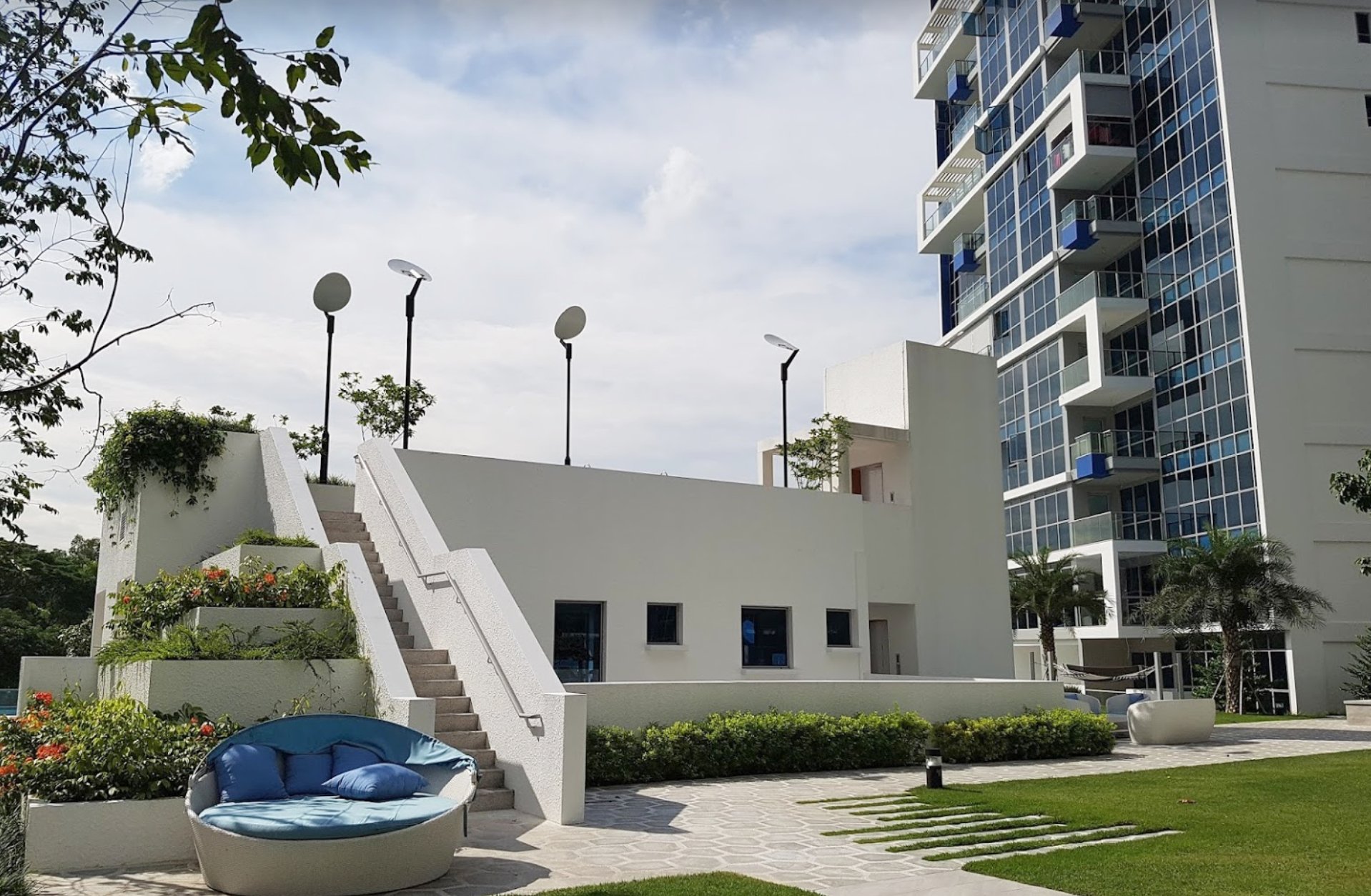 To top it off, the sky deck overlooks the lake of the former Tampines Quarry–no doubt a good spot for catching sunsets over a glass of wine. Just be sure to say "Yia Mas!", a common toast the Greeks make, before you drink.
[Check out The Santorini units
listed for rent
] [Check out The Santorini units
listed for sale
]
Condo #3: Seletar Park Residence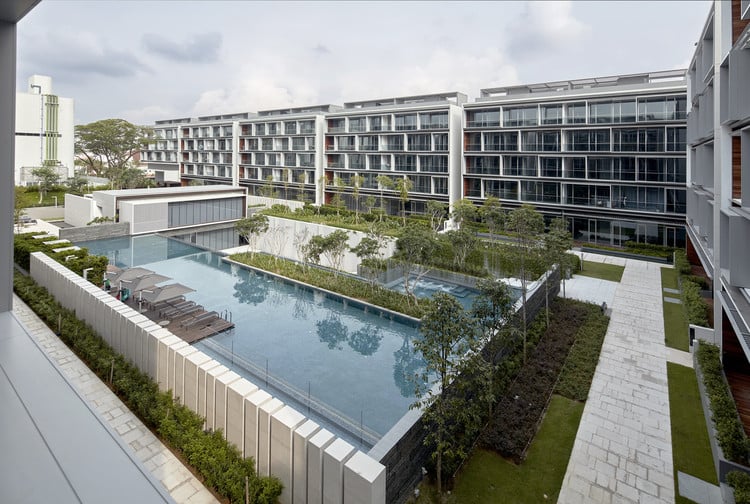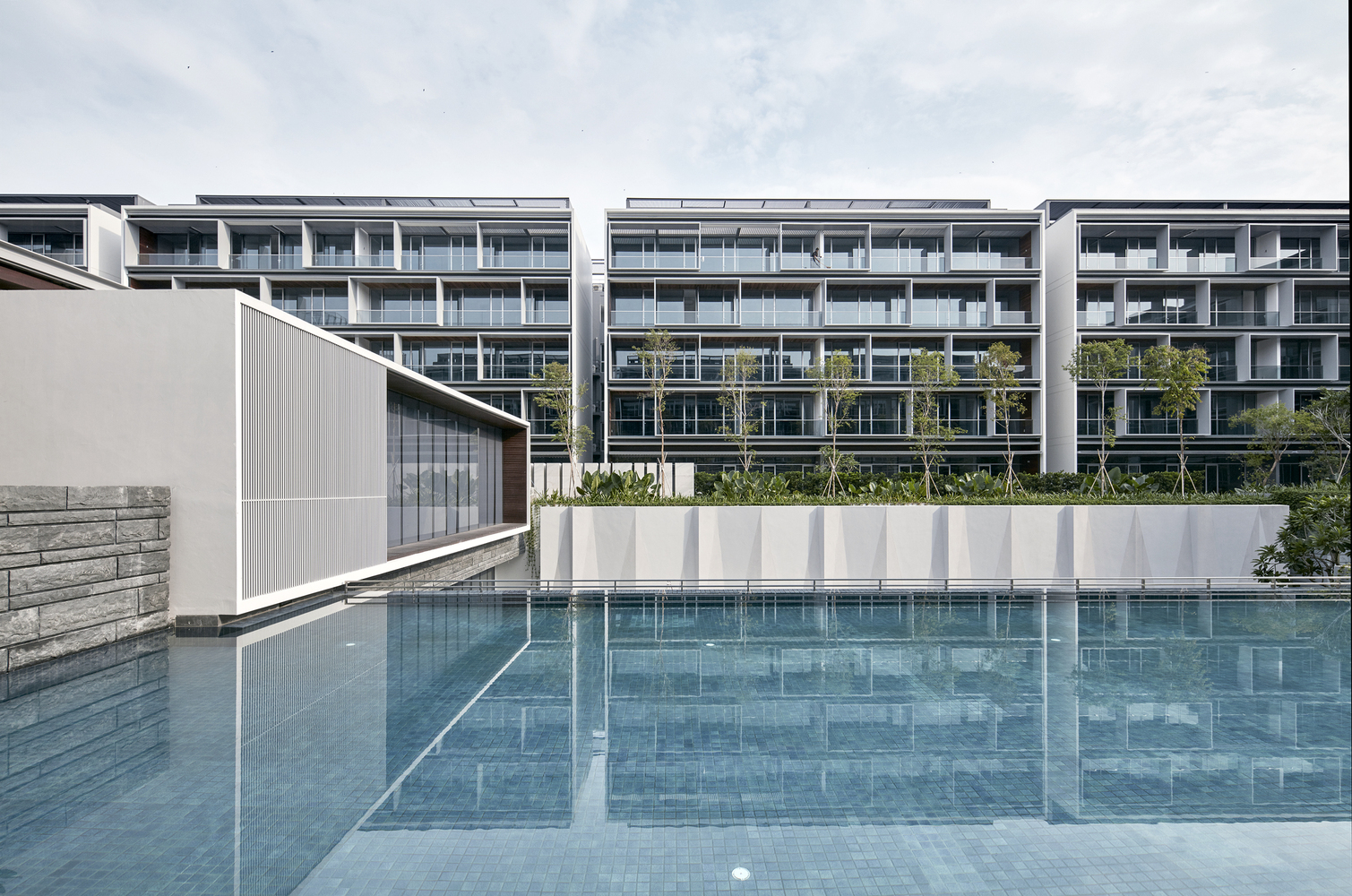 District: 28
Location: 17 Seletar Road
Completed: 2015
No. of Units: 276
Average psf price: $1,150
Where this looks like: An upscale resort in Bali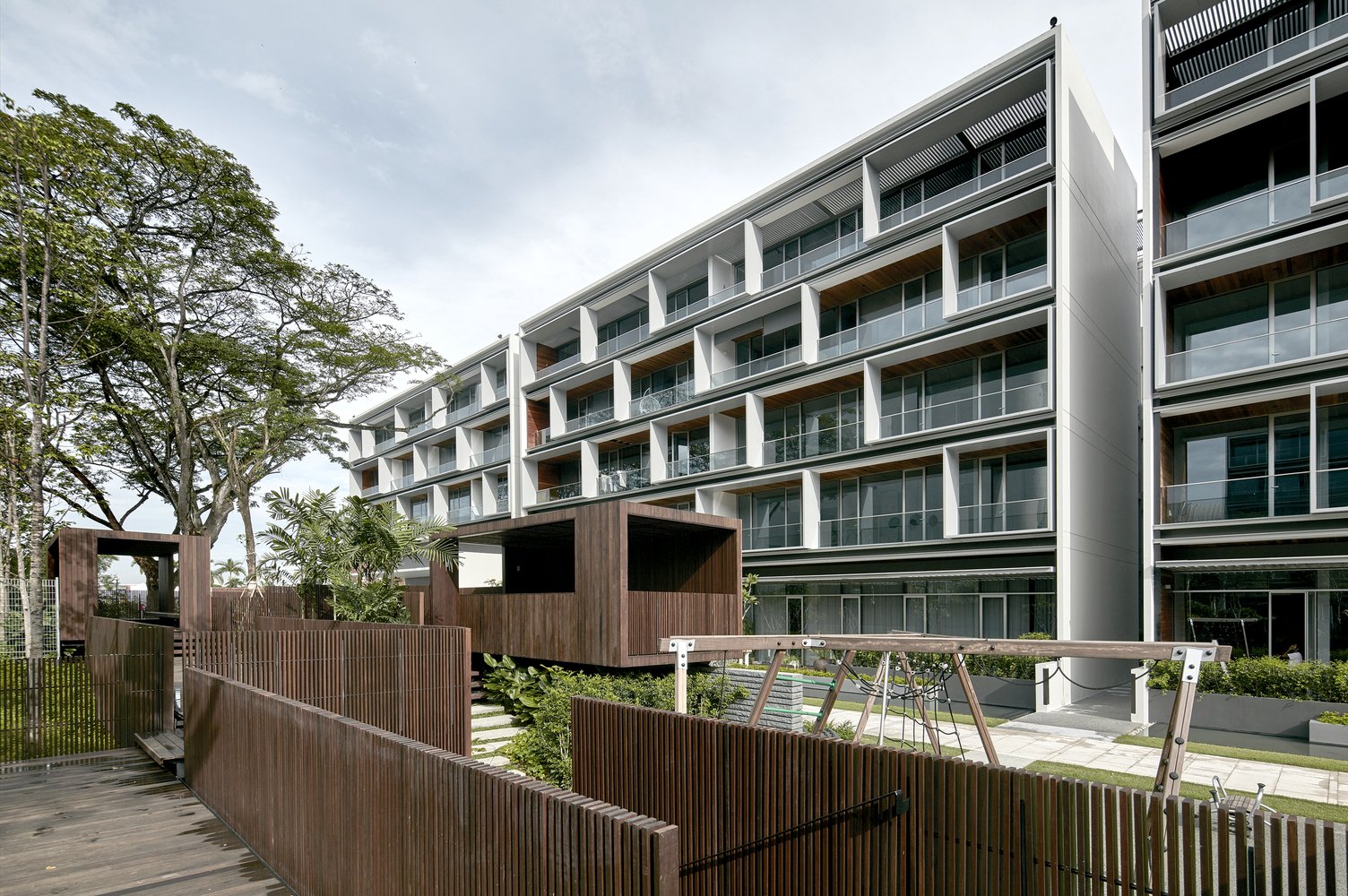 Those who frequent Bali will know that there are two sides of the Indonesian island: its vibrant nightlife scene, and the quiet resort life filled with nature walks and meditation.
When the sun goes down, the grounds of the condo look even prettier, thanks to gorgeous lighting design.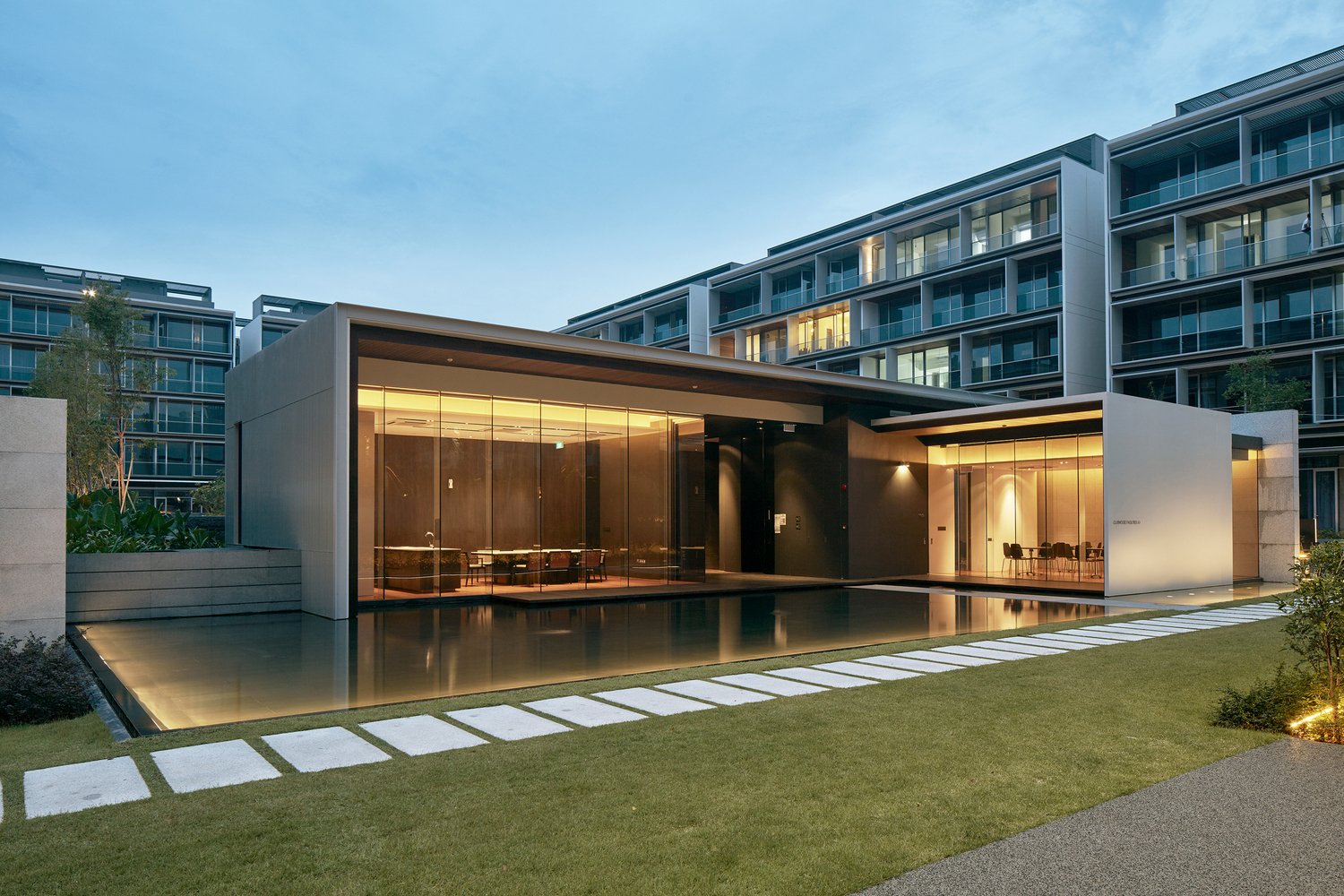 While you'd be hard-pressed to replicate its party atmosphere or the warm hospitality of the Balinese people in Singapore, finding a tranquil, nature-filled condominium to stay in is pretty easy.
Seletar Park Residence, for one, looks and feels like a modern, luxurious resort in Bali. It is decked in timber and stone finishes, and features sprawling grounds adorned with shrubberies and tall raintrees. The cascading water installation even shares a similar silhouette to Bali's terrace rice fields.
View this post on Instagram
There's also the Treehouse, a wooden playground that offers a vista of lush greenery on one side, and the clubhouse and its reflective pool on the other. And if you've never had the time to check out the clubhouse, a no-travel 2020 will give you plenty of opportunities to enjoy its golf simulation room, reading room, and the private dining kitchen.
[Check out Seletar Park Residence units
listed for rent
] [Check out Seletar Park Residence units
listed for sale
]
Condo #4: Chelsea Lodge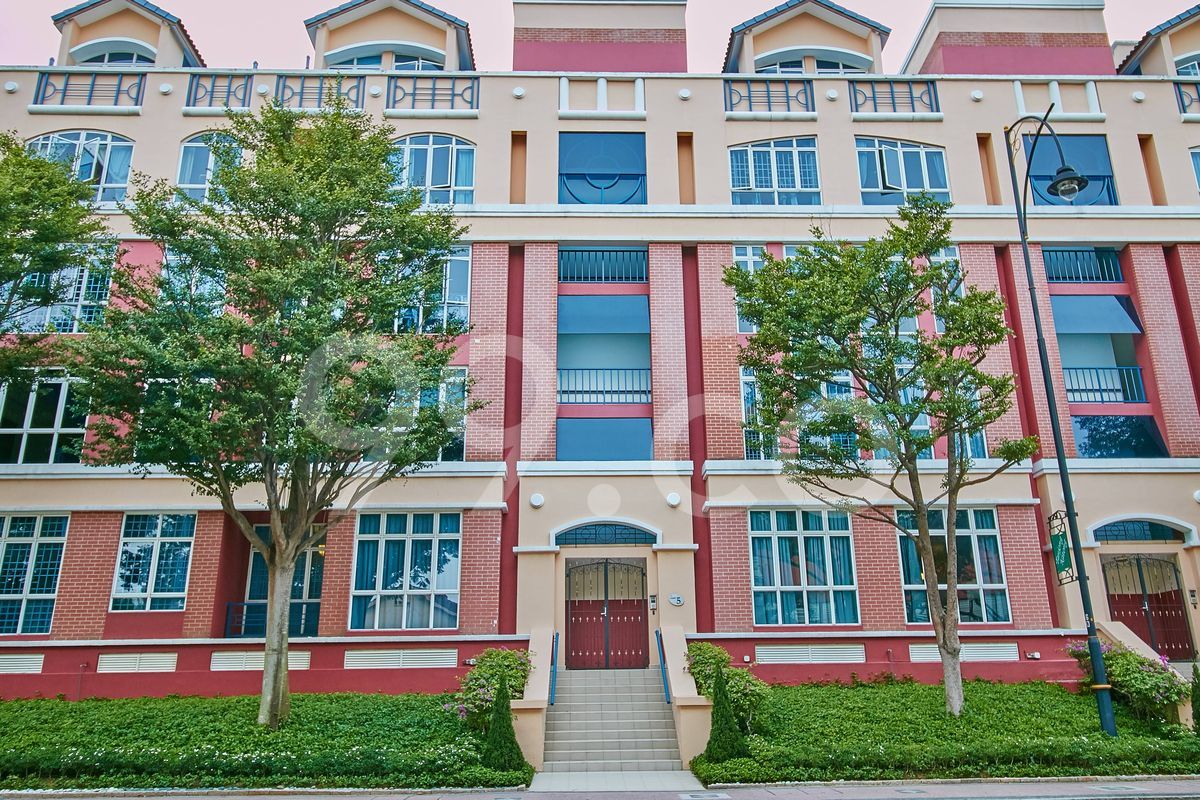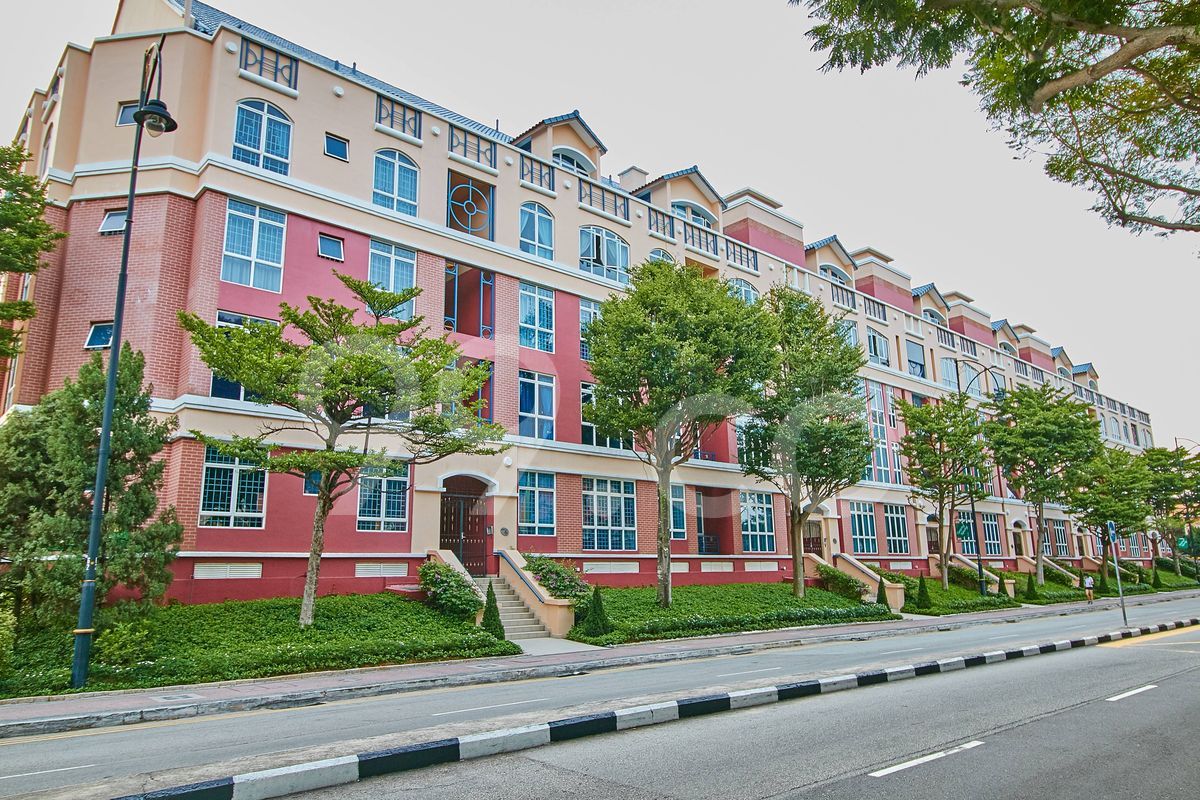 District: 15
Location: 300 Tanjong Katong Road
Completed: 2000
No. of Units: 78
Average psf price: $1,110
Where this looks like: Row houses in Queens, New York
You know the scene in Hollywood movies where a bunch of friends chill out on the front steps of someone's home? You can replicate that exact scene on the steps of Chelsea Lodge. This condominium in Tanjong Katong looks just like the row houses in Queens, New York. Even down to the red bricks!
View this post on Instagram
With many developers now opting for high-rise buildings or blocks hidden behind gates and large clubhouses, the medium-rise and open architecture of Chelsea Lodge is considered a rare find. It's situated on a fairly quiet spot, too, despite being near eateries and grocery shops. It's also next to a landed housing estate, where you can go for a peaceful jog.
We imagine it would be nice to walk out and pad across the road for some breakfast, before exploring the eclectic Tanjong Katong area. There's very few facilities in this condo, but the location provides plenty of amenities, such as the Chinese Swimming Club, within easy reach.
[Check out Chelsea Lodge units
listed for rent
] [Check out Chelsea Lodge units
listed for sale
]
Condo #5: Castle Green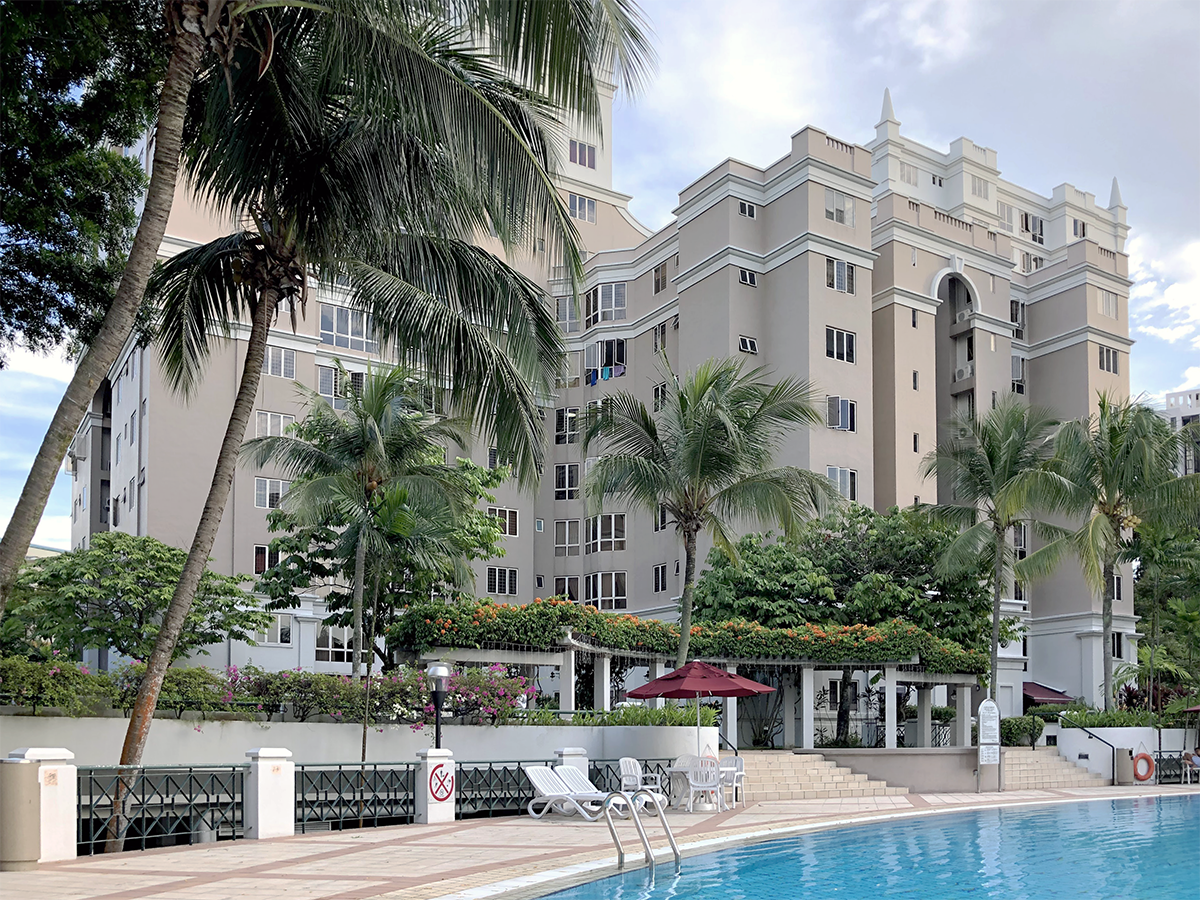 District: 26
Location: 418 Yio Chu Kang Road
Completed: 1997
No. of Units: 664
Average psf price: $860
Where this looks like: A castle in Germany
Okay, to be honest, Castle Green looks more like a simplified Disney castle than the ones in Germany–but it's close enough. After all, Castle Green does come with spires (the pointed structure atop roofs) as well as blocky towers that remind us of castle keeps. With its round pitched roof, the clubhouse also exudes a similar look. Even the colourful playground, which comes with a spire and a flag, looks the part.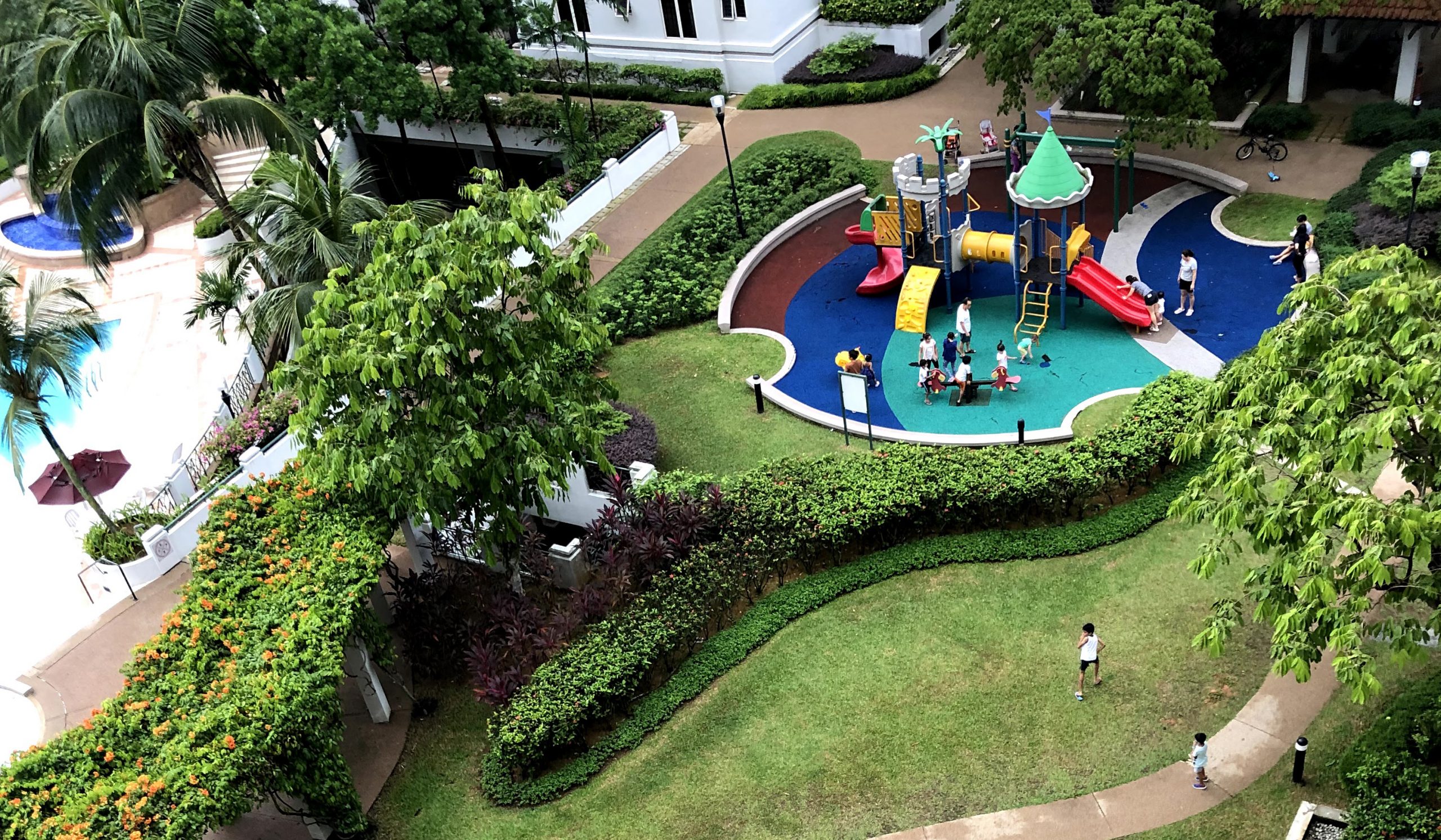 Residents here sing praises for the pool; the crest-shaped swimming pool stretches across the courtyard, giving the users plenty of space and privacy to wade around. This is just one of the many "country club facilities", as described by developer Allgreen, available in the condominium, which also includes two tennis courts for Rafael Nadal wannabes.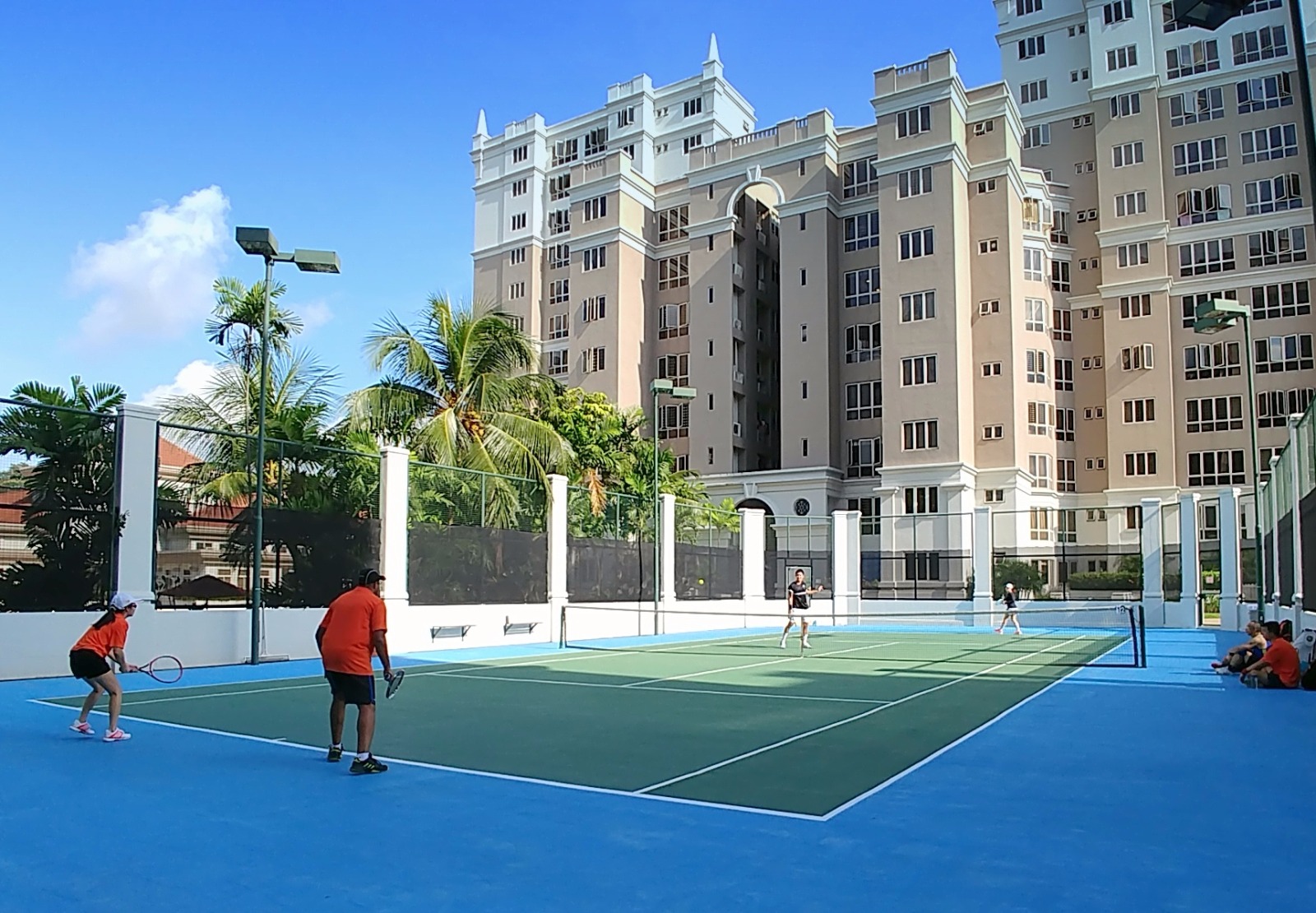 There's also a badminton hall, squash court, mini golf range, and a sauna–an amenity we really miss in newer condos!
[Check out Castle Green units
listed for rent
] [Check out Castle Green units
listed for sale
]
Which condo in Singapore would you pick for a make-believe overseas escapade? Let us know in the comments below!
If you liked this article, check out 6 unique SG condos with gorgeously conserved buildings and 5 cheap condos in Singapore for greenery and nature lovers
Looking for a property? Find you dream home on Singapore's most intelligent property portal 99.co!