Beauty World and Golden Mile are the "lifestyle hubs" of Singapore, according to numerous sarcastic comments concerning their recent en bloc attempts. Ignore those clueless people: not only are these two places iconic, they also have a location that would make any property developer reach for the wallet. But which of the two, Beauty World Plaza or Golden Mile Complex, is a better en-bloc prospect? Here's our analysis:
The lowdown on Beauty World Plaza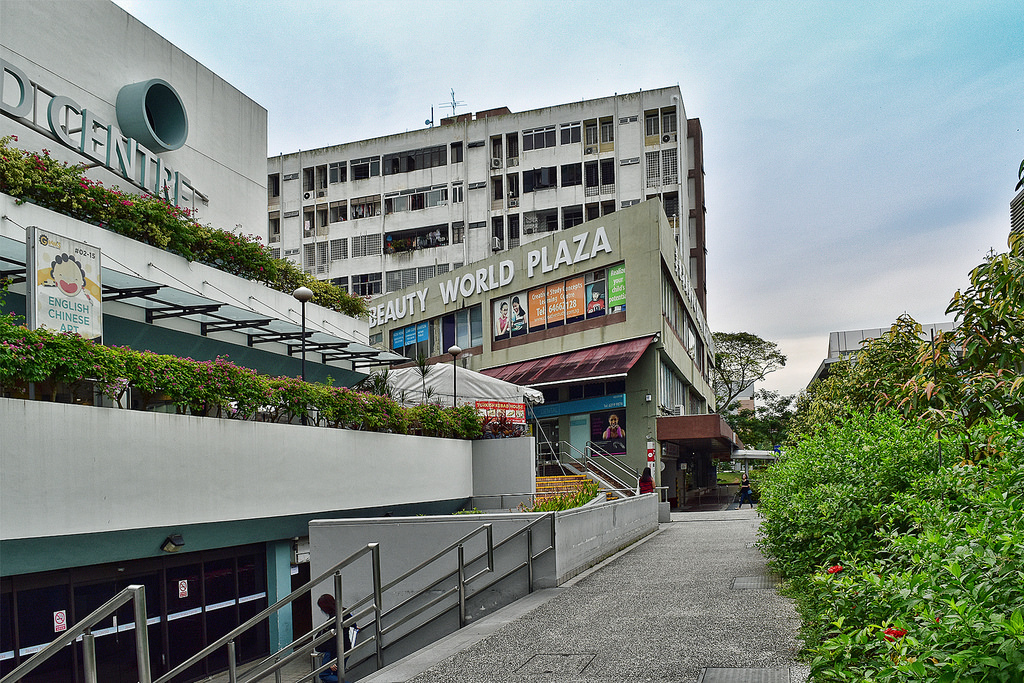 The area known as Beauty World started as an amusement park during the Japanese Occupation. As it turns out, "amusement" and "bayoneting bystanders" just didn't work as a combination. The place was eventually re-opened as Beauty World Market in 1947 after the Japanese surrender.
By the 1960s, Beauty World was a major cultural and retail hub. It was where a lot of stage plays and getai performances happened. It was also the place to buy textiles, music, and produce — understandable given its proximity to the Bukit Timah station of the old Singapore-Malaysia Railway.
By the '70s, Beauty World had become so haphazard it was practically a death trap. It was the site of several fires, two of which were major. The government re-acquired the land for redevelopment in 1975, and in place of the amusement park were three developments, Bukit Timah Shopping Centre (commercial), Beauty World Complex and Beauty World Plaza (mixed commercial-residential).
Beauty World Plaza, the smaller of the two commercial-residential mixed developments at 2,305.6 square metres, was put up for collective sale by tender at a reserve price of $165 million on 27 November 2018. The 36 years-old Beauty World Plaza currently consists of 61 retail and 30 residential units, and can be redeveloped into a higher density development as it sits on a plot ratio of 3.0.
Across the road, another old, strata-titled mixed development, Goh & Goh Building, was sold en bloc for $101.5 million in May 2017. The building sits on freehold land. It has a similar plot ratio to Beauty World Plaza and is slightly larger at 2,868.3 sq m in size. Unlike the mixed Beauty World Plaza, only residential developments are allowed on that plot, hence the cheaper price.
Speaking of lease, the key difference between Beauty World Plaza and Beauty World Centre: Beauty World Plaza has a 999-year lease (from year 1884), whereas Beauty World Complex is just 99 years (from 1979). (Bukit Timah Shopping Centre is also 999-year leasehold status.)
With only a handful of residential units and the fact that it's an ageing property, transactions for Beauty World Plaza have been few and far between. The latest two transactions were in 2015 — the year Beauty World MRT opened. A 5th floor, 700 sq ft unit was sold at $785,000 ($1,122 psf), and an 8th floor, 926 sq ft unit changed hands for $1.09 million ($1,177 psf).
Before these two transactions, no other unit was sold at above $800 psf. The below chart shows the meteoric rise in value of Beauty World Plaza residential units from 2003 to 2015.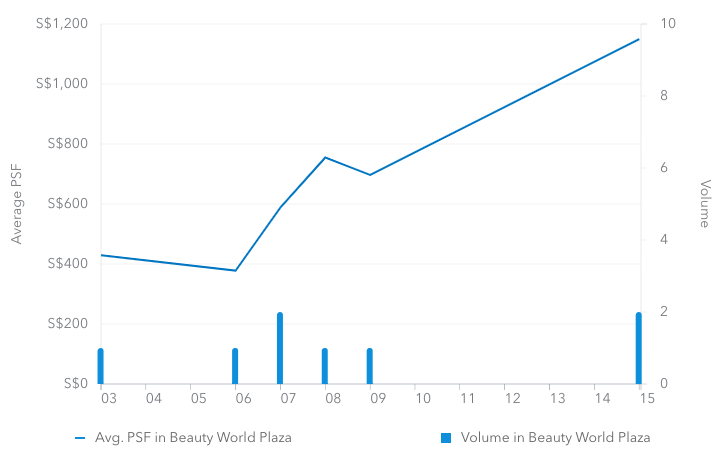 With such staggering capital appreciation, it was surely a sign of things to come. If the current en bloc attempt proves successful, each owner will stand to pocket $1.5 to 2 million. A submission has also been made to the Urban Redevelopment Authority (URA) by brokering agent Knight Frank to change the use of the residential component to serviced apartments, which if approved could further attract developers.
Here are the major draws for Beauty World Plaza site:
No development charge payable

Located in a generally high-rent area

Zoned for commercial and residential, which is of higher value than pure residential

Beauty World MRT right at the doorstep
Beauty World Plaza is located within District 21. This area, which sits just beyond prime district 10, has always been considered somewhat high-rent. This would explain the rationale for turning Beauty World Plaza into a mix of commercial and serviced apartments. If it remains residential, then surely buyers will be lining up to snap up a rare 999-year leasehold — essentially freehold — property that's right smack outside the entrance of an MRT station (Beauty World). Developers will also recognise this as a key attribute.
The location is also strategic. It's near to the entrance of the PIE and BKE expressways, which gives motorists a direct route east to the city and north to Malaysia in about 15-20 minutes, assuming no jams. Another draw is the proximity of the Bukit Timah Nature Reserve for recreation. The area around Beauty World is also known as a mini food paradise.
**[View all condos for sale in District 21]
The lowdown on Golden Mile Complex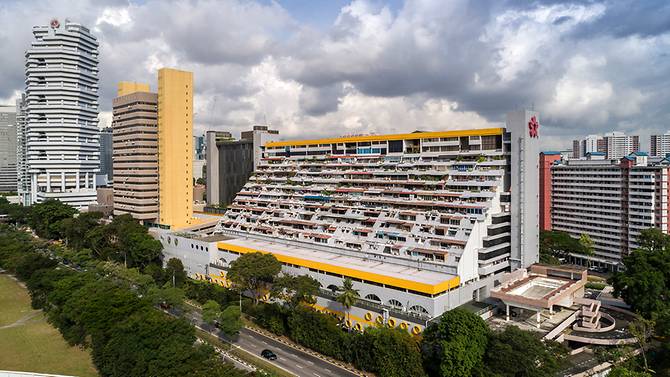 Golden Mile Complex (originally Woh Hup Complex) was developed as part of an urban renewal scheme in the 1960s. It was actually the first major mixed-use development in Singapore, with shops, offices and residential units.
DP Architects, which also designed People's Park Complex, created the stepped, "terrace" effect to maximise natural light (before the days of floor-to-ceiling windows). The overall design is iconic of brutalist architecture, which uses concrete blocks to create a plain-looking yet striking aesthetic. Think of it as a Disneyland in black and white.
Golden Mile Complex was completed for just $18 million in the year 1973. At the time of its opening, it was one of the most desirable properties in Singapore: It had a sea view, and faced the National Stadium (residents could always watch the National Day Parade from their balcony). It was pretty much the equivalent of the Concourse Skyline back then.
A lot of people also don't realise that Golden Mile Complex has a swimming pool on the fifth floor. This used put the building on par with many major swimming centres/clubs, with its own snack shop and picnic spots. Sadly, the pool is currently drained, and today the fifth floor is more famous — or infamous — for being a haunted spot.
Between the 1990s to 2000s, Golden Mile became "Little Thailand", as many Thai nationals moved into the area. Many Thai discos, as well as some of Singapore's best Mookata places, are still located here.
Given its age and strata-titled nature, Golden Mile has aged quite badly. While it's a colourful cultural landmark, a lot of the residential units have now resorted to makeshift repairs. Leaks are common, and the maintenance fund has shrunk to the point where it's hard to keep everything in working order.
A lot of Singaporeans pressed for the building to be conserved even if its sold. In 2008, a Straits Times poll ranked it as the third most popular building for preservation. With the building's faults, conservation seems unlikely, and infeasible, now.
On 11 August 2018, the collective sale by tender for Golden Mile Complex was announced after more than 80% of the owners gave their consent at a reserve price of $800 million. Golden Mile Complex has 49 years left on its 99-year state lease, although developers can refresh the lease after paying the necessary fees. The site is significant in size: it's around 13,000 square metres and does not currently have an assigned plot ratio.
Here are the major draws for Golden Mile Complex site:
Super-hot, central location

Tons of amenities nearby

Upper floor views are stunning

Upcoming makeover of the Bugis district
Located in District 7 and just outside the Core Central Region as defined by the URA, Golden Mile has a fantastic location, and the land value definitely surpasses the financial worth of the property on it (although we can't speak for the historical value). Just look at the price trend of six 99-year leasehold condos surrounding Golden Mile Complex, which includes the older Textile Centre (1977) and The Plaza (1979):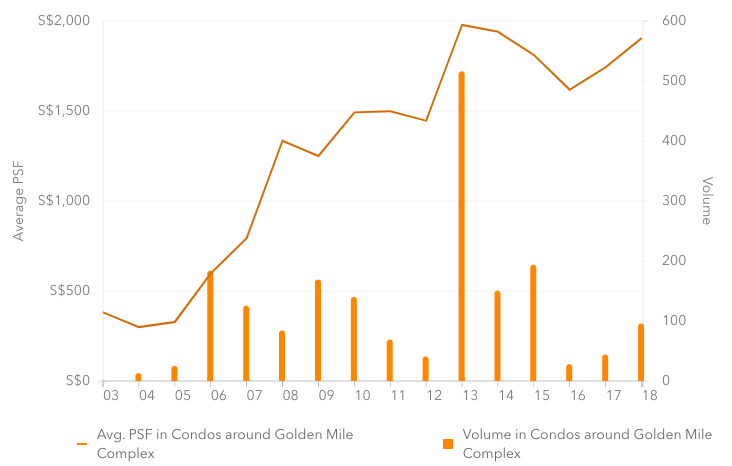 Units from newer 99-year leasehold condos such as Duo Residences and Concourse Skyline regularly fetch above the 'magic mark' of $2,000 psf nowadays, and a new residential development on the site of Golden Mile Complex will do the same.
**[View all condos for sale in District 7]
On top of the central location, the site can be easily accessed by the Lavender and Nicoll Highway MRT stations. It's minutes away from the CBD and from Nicoll Highway, and about a 10 minutes' drive from Orchard. One other point of appeal is the proximity of shops and eateries in the Kampong Glam Conservation Area and Arab Street.
In short, just about any commercial and/or residential property in this location is bound to do well — there's a good reason why the commercial section of the Golden Mile Complex is still a hub of activity, despite its age and disrepair.
Moreover, the view has become even more spectacular, as the National Stadium has given way to a gleaming dome and the downtown has been transformed with the Singapore Flyer and Marina Bay Sands. This is the million-dollar view future residents can expect: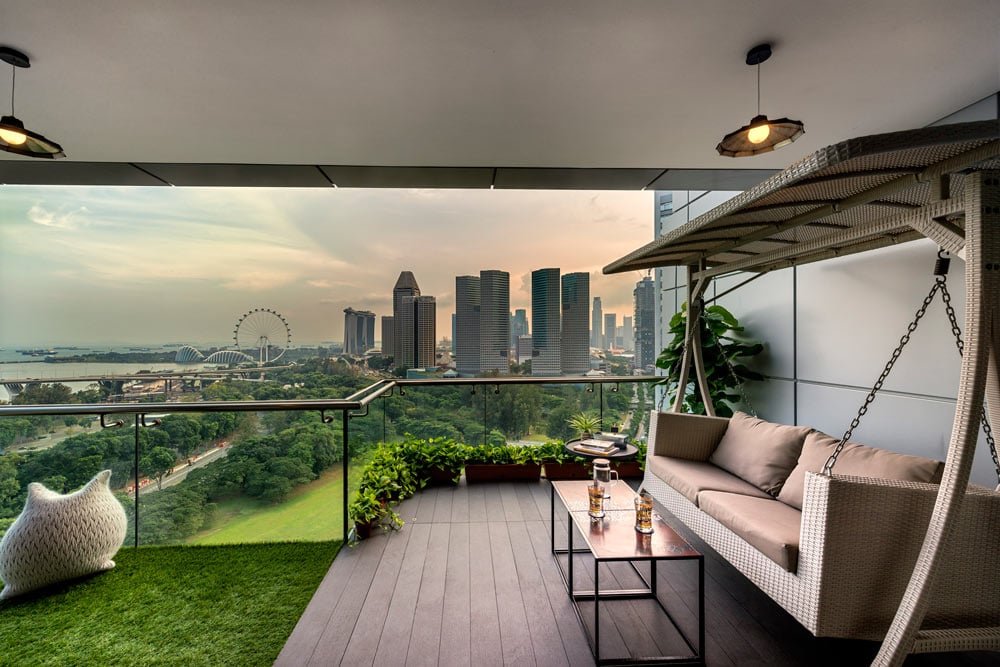 So which would be the better en bloc project — Beauty World Plaza or Golden Mile Complex?
Beauty World Plaza has a lot of appeal — it feels more like a private enclave. More importantly, there are no development charges to incur. This is an important consideration for prospective bidders/developers given that development charges have been rising across the board.
Also, the Beauty World Plaza plot is smaller in size. This is helpful to developers, as they have only five years to complete and sell all the residential units before incurring additional stamp duties. A huge plot like Golden Mile Complex could be hard to finish and sell off in such a time limit.
But that being said, we lean more toward Golden Mile Complex in terms of the potential for capital appreciation. That's coming back to the core rule of property: location.
There's no getting around the fact that Golden Mile Complex is within striking distance of the CBD. In a happy coincidence, the CBD is currently expanding outwards in the direction of Golden Mile with the announcement of the Guoco Midtown project, while the entire Bugis area is about to undergo a makeover. The developments in the area will sync up with a bigger picture: the completion of the North-South Corridor expressway in a few year's time that will funnel significant traffic directly to the Bugis area.
All of these developments could dramatically raise land values in the district in the next decade. So, if we're talking about upside, it's the Golden Mile Complex en bloc that really holds the greatest potential, even if it's a 99-year leasehold affair.
With iconic building do you think has the greater en bloc redevelopment potential? Voice your thoughts in our comments section or on our Facebook community page.
If you enjoyed this article, 99.co recommends 5 HDB-lookalike condos that actually have high en bloc potential and En Bloc Potential: 7 Reasons Why a Collective Sale Tender Fails
Looking for a property? Find the home of your dreams today on Singapore's largest property portal 99.co!