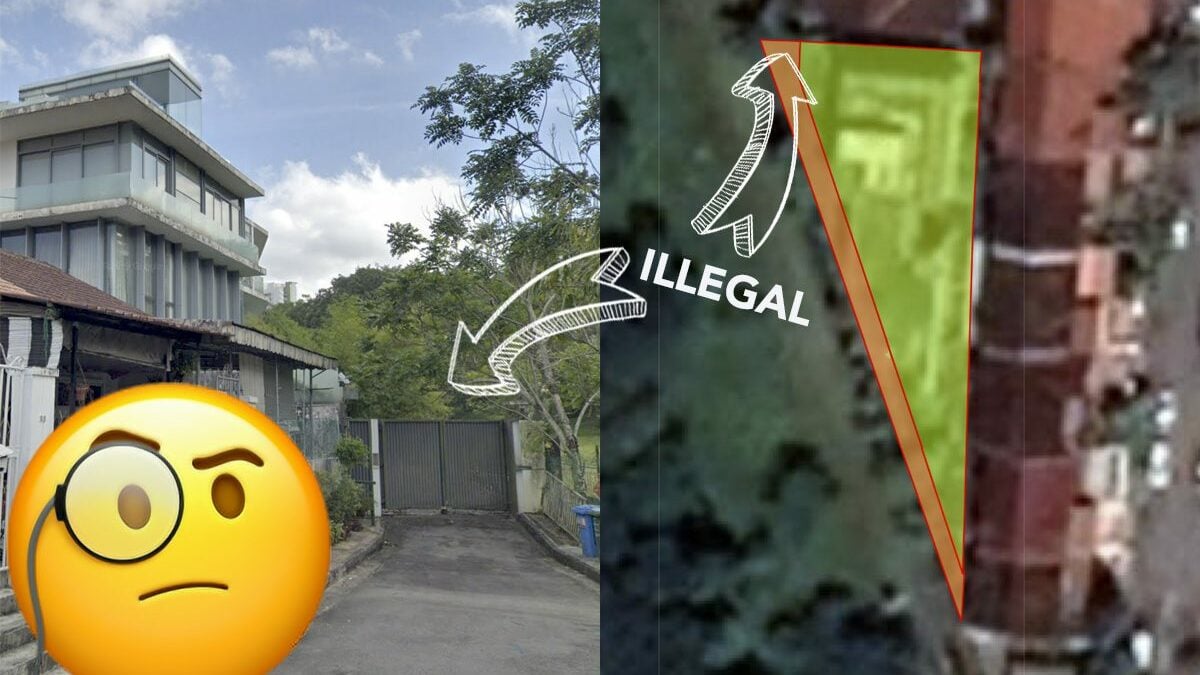 For nearly 15 years, a couple had illegally occupied 144.2 square meters of state land—the size of a HDB executive maisonette flat—by annexing it as part of their existing three-storey landed property until the law finally caught up with them.
Tan Teck Siong and his wife Cheah Mee Poh had bought the 999-year leasehold land, located at the end of Jalan Tari Zapin near Seletar, in 2001 to build a three-storey bungalow as a gift for Tan's parents.
Between 2002 and 2004, the couple had obtained the official approvals required to build the house. Tan, an architect, also named himself the Qualified Person (QP) for the project, meaning that he was responsible for ensuring that works at the house are carried out in line with building regulations.
In receiving a $4,000 and $3,000 fine respectively for their offences, Tan and Cheah also became the first people in Singapore to be prosecuted and sentenced for trespassing on state land under the State Lands Encroachments Act.
Tan was fined another $5,000 under the Building Control Act for making four false declarations in December 2005 that the building works did not deviate from approved plans.
House originally had no vehicular access
When carrying out the building works for the three-storey bungalow in 2015, Tan had wilfully decided to deviate from the approved plans as the QP for the project. The couple annexed a parcel of state land adjacent to the land they owned, and proceeded to build a main gate, entrance driveway, two boundary walls and a fence as part of the bungalow. Part of the bungalow's swimming pool also encroached onto state land.
Before the encroachment occured, the land that Tan and Cheah bought was not accessible to vehicles because the site only about one metre of road frontage along Jalan Tari Zapin, which was insufficient for a car to pass through.
Additionally, the court heard that when the couple bought the house, an old gate was already in place. While Defence Counsel Mahesh Rai argued that the couple merely "refurbished or replaced" old structures when they bought the property, District Judge Clement Tan acknowledged the old gate's existence but said that this did not legitimise the encroachment.
"What is clear and undisputed is that Tan and Cheah had erected a new entrance gate to the property which effectively cut off any public access, thereby 'privatising' the driveway which is actually part of state land," the judge said.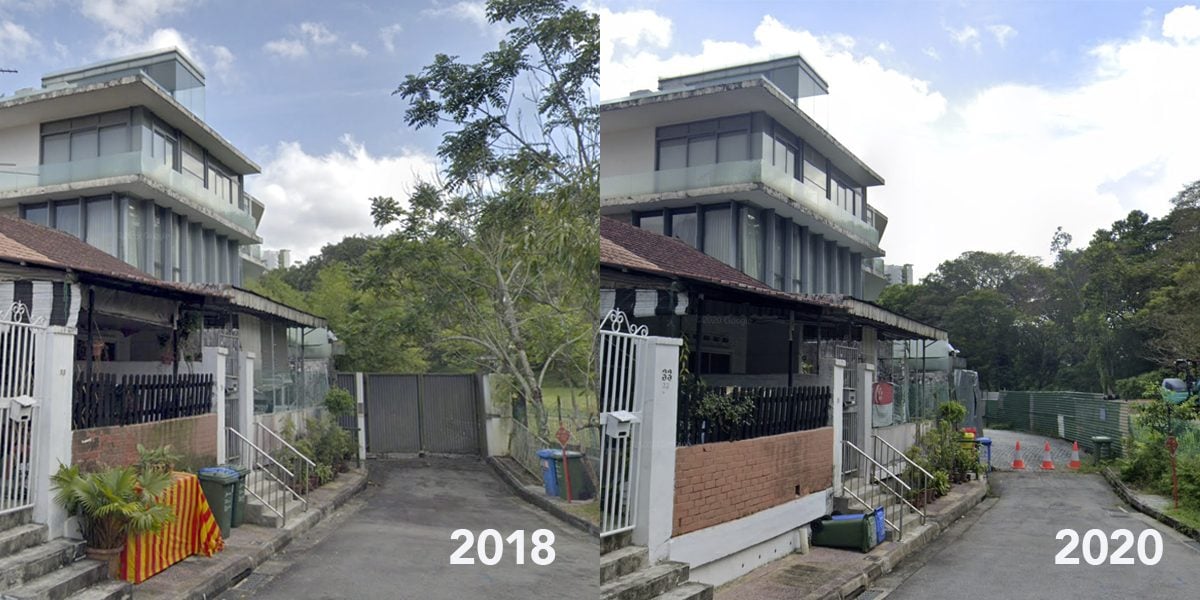 House left vacant after construction
Although originally built as a gift for Tan's parents, the court heard that the property was eventually left vacant when Tan's father died soon after construction was completed and the house was deemed too big for Tan's mother to live alone.
Nevertheless, Tan and Cheah, who are now in their 60s, did not put up the property for sale, nor did they move in.
Then, in 2013, the Singapore Land Authority (SLA) discovered the encroachment while inspecting the site for a PUB drainage improvement project. The drainage project was intended to reduce the area's flood risk.
The authorities took the diplomatic approach at first, sending a letter to the couple to ask for the removal of the structures that encroached onto state land.
However, the couple did not accede to official requests. They argued and claimed that they could not reposition the gate, as it would block the only vehicular access to the property. They were also reluctant to hack the swimming pool wall.
Following that, the authorities met the couple and exchanged further correspondence, but the couple did not comply.
PUB incurred additional $24,000 in costs because of the encroachment
During the impasse, PUB started work on the drainage inprovement project, but could not upgrade a 95-metre length of drain that directly bordered Tan and Cheah's property. Because of the obstruction, PUB also spent $24,000 on temporary flooding measures.
Finally, in June 2019, the SLA issued a letter of demand to the couple to remove the encroaching structures. The owners eventually agreed to comply.
Then, in December 2019, the couple were issued summonses for trespassing on state land.
Tan and Cheah pleaded guilty to the charges. Under the law, anyone convicted under the State Lands Encroachments Act can be sentenced to a fine of up to $5,000 or jail of up to six months, or both.
For making a false declaration to the Commissioner of Building Control, Tan could've been sentenced to a fine of up to $10,000 or jail of up to six months, or both.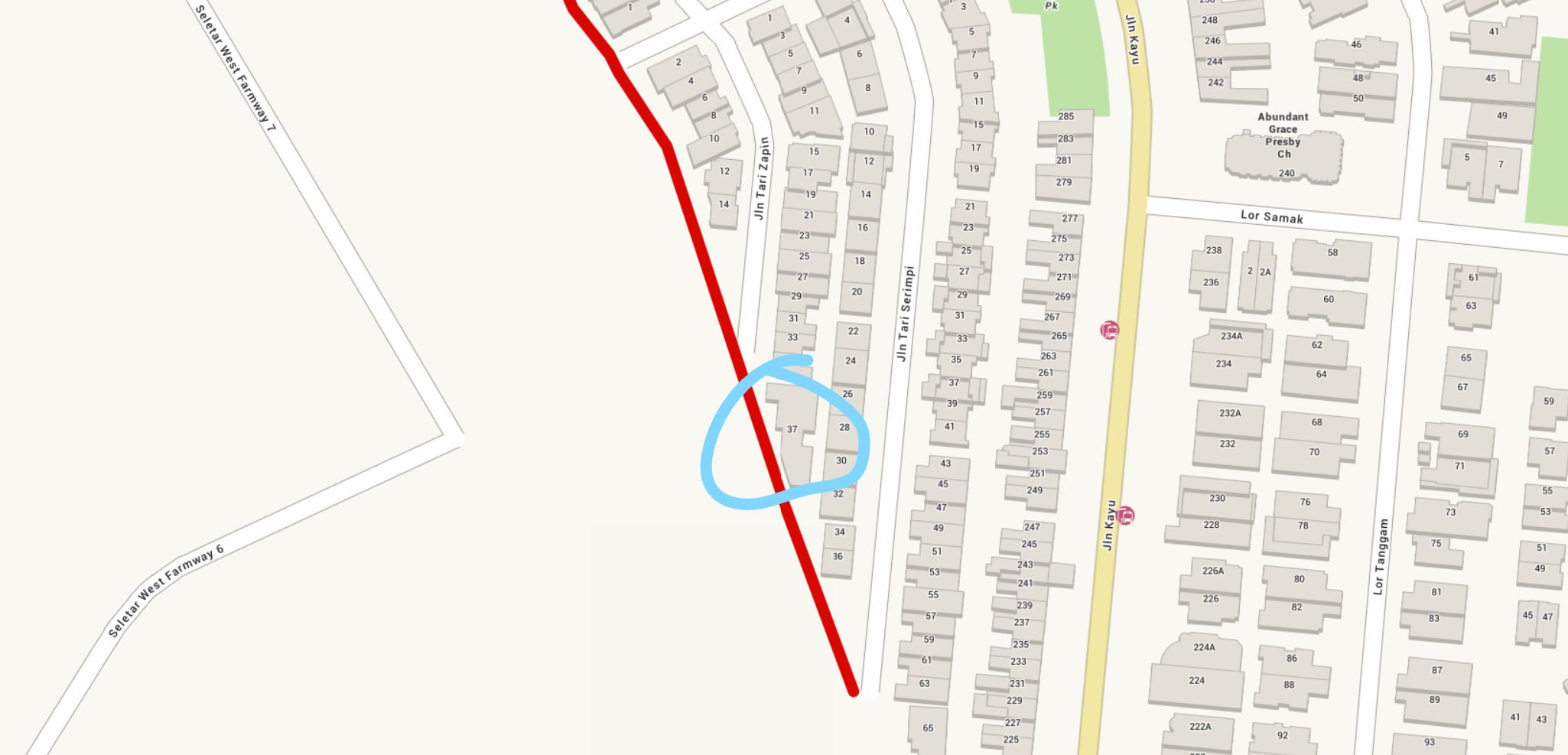 Offences did not warrant jail term, says Judge
Despite having encroached on state land the area of a HDB executive maisonette for nearly 15 years, Tan and Cheah escaped jail terms. Prosecutors had initially sought a $5,000 fine each.
Although the couple had exclusive access to the state land during that period, Judge Tan stated that he believed that the level of harm caused by the encroachments and the couple's level of culpability to be moderate.
The judge also stated that a jail term was not warranted, as there was no damage to the land and there were no reports of flooding during this time. He sentenced Tan to a heftier fine because he believed that, as an architect and Qualified Person, he is more culpable than his wife.
The judge also felt that Tan's conduct in making the false declaration, and believing that the odds of being found out were low, was "exploitative" rather than malicious or nefarious.
"In fact, Tan's gamble would have paid off had PUB not embarked on its drainage upgrading project," the judge noted.
The combined $7,000 fine for encroaching on state land for 15 years equates to about $38.90 per month of encroachment.
According to SLA, a Temporary Occupation Licence (TOL) for the legitimate rental of state land for a condo showflat starts from $7.70 per square meter per month. So an area equal to the size of Tan and Cheah's encroachment would cost $1,110 per month.
Should the couple be given jail terms for occupying state land? Share your thoughts in the comments below!
If you liked this article, check out Property agents can now be fined without a disciplinary hearing, says the Government and Homegrown condo developers are snapping up old landed properties. Here's why
Looking for a landed property? Check out the listings on Singapore's fastest growing property portal 99.co!
About Kyle Leung
Content Marketing Manager @ 99.co
Looking to sell your property?
Whether your HDB apartment is reaching the end of its Minimum Occupation Period (MOP) or your condo has crossed its Seller Stamp Duty (SSD) window, it is always good to know how much you can potentially gain if you were to list and sell your property. Not only that, you'll also need to know whether your gains would allow you to right-size to the dream home in the neighbourhood you and your family have been eyeing.
One easy way is to send us a request for a credible and trusted property consultant to reach out to you.
Alternatively, you can jump onto 99.co's Property Value Tool to get an estimate for free.
If you're looking for your dream home, be it as a first-time or seasoned homebuyer or seller – say, to upgrade or right-size – you will find it on Singapore's fastest-growing property portal 99.co.
Meanwhile, if you have an interesting property-related story to share with us, drop us a message here — and we'll review it and get back to you.
Join our social media communities!
Facebook | Instagram | TikTok | Telegram | YouTube | Twitter