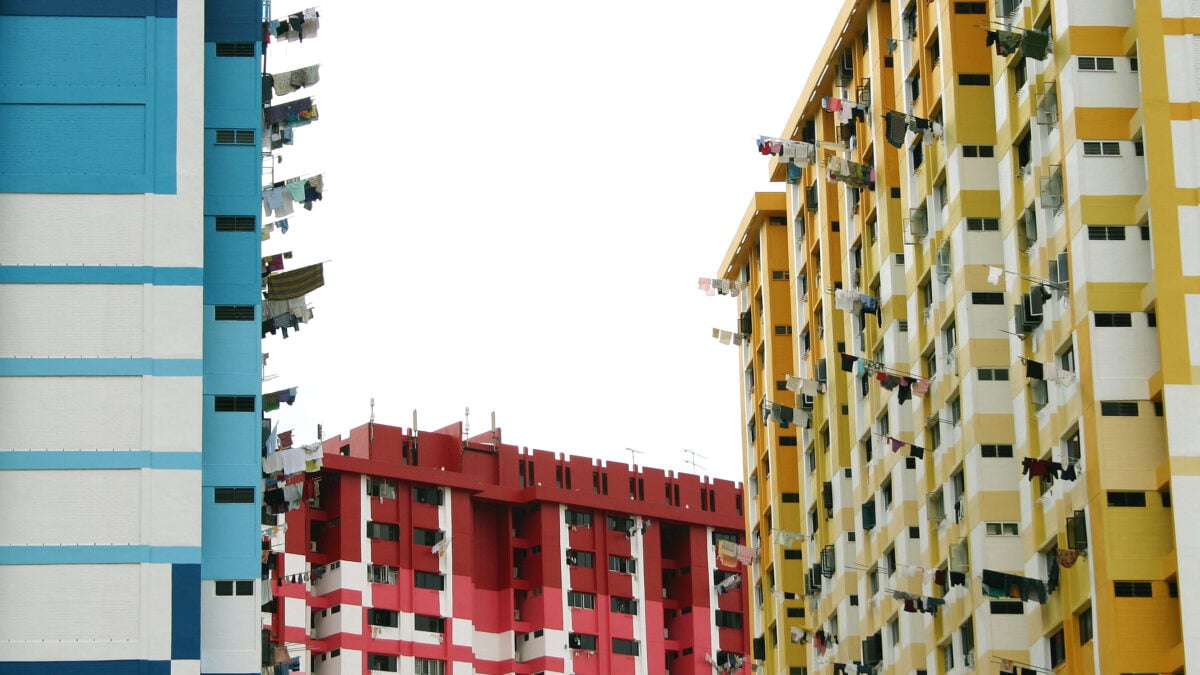 Resale flat prices have fallen for five years now – and at the time of writing, they're at their lowest in seven years. In light of that, is it still true that even 50+ year old flats can still appreciate? Or has the truth of expiring leaseholds sunk in, and sent them plummeting to worthlessness? Have a look at the numbers:
How are 50+ year old flats faring?
First, do 50+ year old flats still appreciate, or is that just hot air?
Well, we looked at the price movements of HDB flats that were completed between 1961 and 1968, throughout Singapore for the past 10 years. Here's what we got: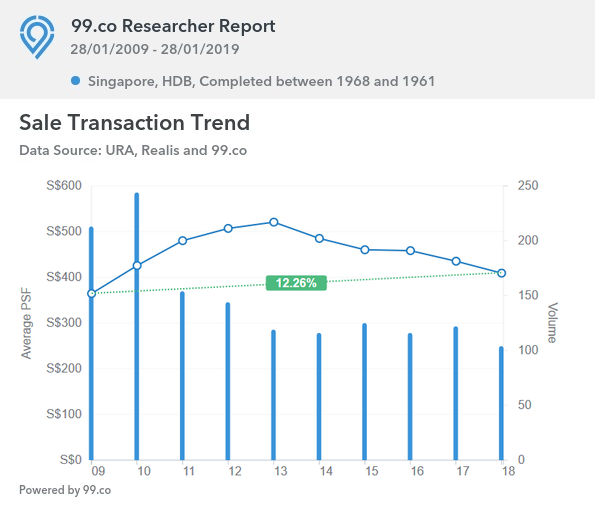 You can see that over the past 10 years, the prices of these "grandfather flats" have indeed managed to increase!
Yes, okay, we know 12.2 per cent is not exactly and impressive increase, but it's an increase nonetheless.
But here's something else to notice: that big dip between 2013 to 2014, that marked the beginning of a decline.
2013 was the last peak, after which a slew of cooling measures kicked in. And in 2014, HDB came up with a rule that seriously impacted resale flat prices: they started to reveal the valuation of a flat only after the price is agreed upon.
For example, if you agree to buy a flat for $450,000, and the valuation turns out to be just $440,000, then the COV would be $10,000.
Since COV can't be covered by the bank or HDB loan, buyers are inclined to more conservative with their offers. (That's why buyers should always check 99.co, to see the prices of nearby units when buying).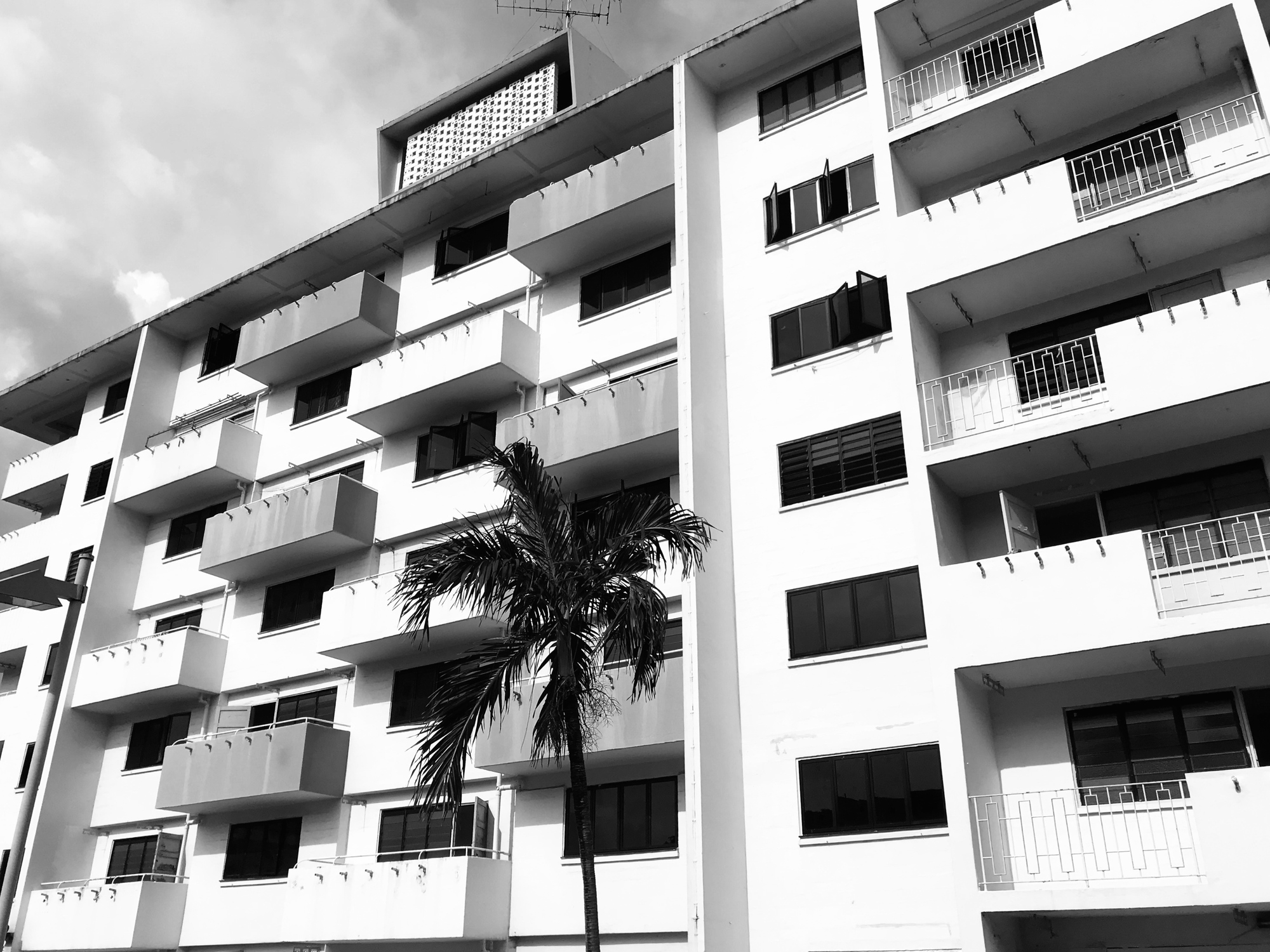 Today, it's become more common for flats to be sold with zero or negative COV; a far cry from the days of 2013, when COV was expected and was directly negotiated.
Coupled with the other cooling measures and a growing supply of flats, resale flat prices in general have come down. They've now fallen for five consecutive years, and are at their lowest in seven years. But the question is…
How much worse is it for 50+ year old resale flats, compared to their newer counterparts?
We looked at the price movement for resale flats completed between 1961 and 1968, and compared their price movement to all other resale flats. This happened over the past five years: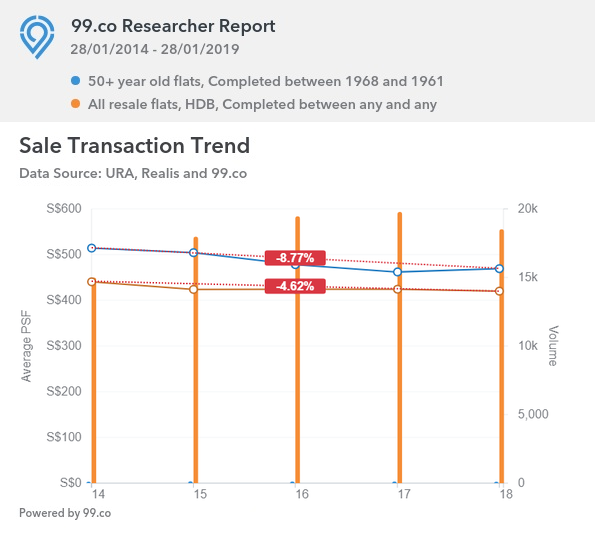 Of course, it's not surprising that older flats saw their values fall faster – but at least now we have a sense of how much more they lose out. Over these past five years of declining resale prices, the oldest flats lost out to their newer counterparts by around four percentage points. This bears thinking about, when deciding whether to delay the sale of your aging flat.
Worries about expiring leases are finally beginning to sink in
Back in the property heyday of 2013, there was almost a state of denial surrounding the "99 year time bomb". Everyone knew the 99-year leases of HDB flats had to expire eventually; but we still acted as if our flats would always appreciate.
There was a lot of presumption regarding the Selective En-bloc Redevelopment Scheme (SERS). A prevalent belief was that the government would always intervene with SERS before leases ran out; and some buyers even targeted older units to benefit from SERS.
That belief has since crumbled. The government has said that only five percent of old HDB flats will qualify for SERS. The remainder will instead go through the Voluntary Early Redevelopment Scheme (VERS), which is much less lucrative, and not guaranteed (it requires 80 per cent approval for an early, less generous en-bloc).
As the truth of this sinks in, we doubt buyers will be as enthusiastic about old flats as they used to be. For now, flats that are 50+ years old
Are you concerned about the age of your flat? Voice your thoughts in our comments section or on our Facebook community page.
If you enjoyed this article, 99.co recommends 5 Ways URA's Size Restrictions Can Affect You, and Buying a Property Under Your Child's Name: Is It a Good Idea?
Looking for a property? Find the home of your dreams today on Singapore's largest property portal 99.co!