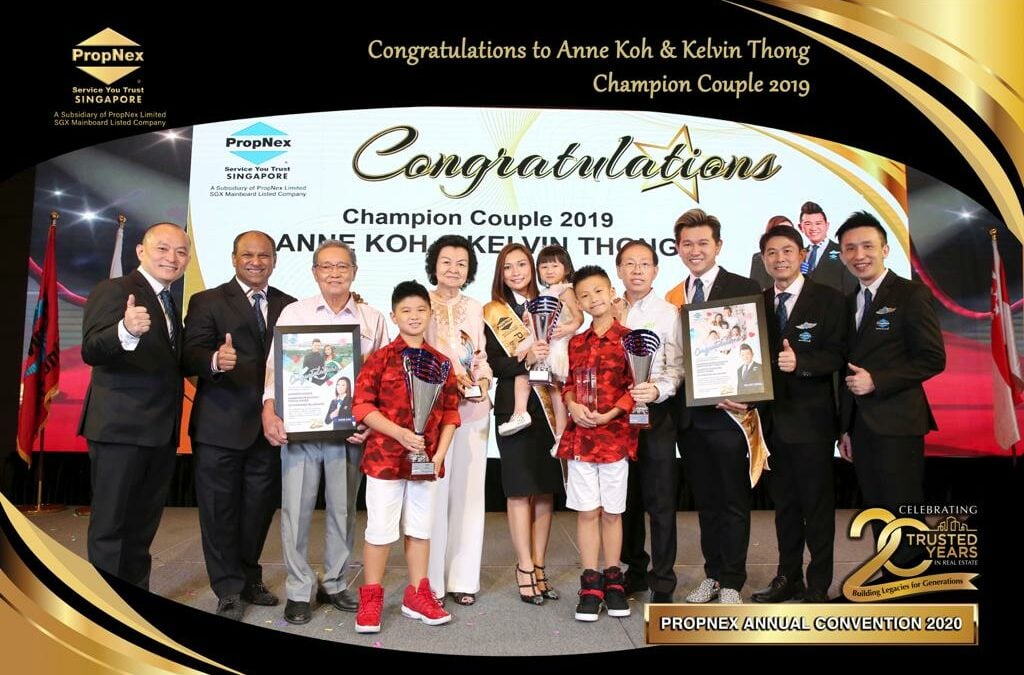 In this series entitled Agent Success Stories, we sit down with agency leaders to find out their side of the story. From their humble beginnings to the challenges that they have faced on their road to success, we learn that a career in the real estate industry is one filled with boundless opportunities – if you know where to look.
In this series of Agent Success Stories, we sit down with power couple Kelvin & Anne to find out the secret to their success at partnering in both life and work.
For those in the industry, the name Kelvin Thong is sure to ring familiar bells. As a Senior Group District Director at PropNex, Kelvin Thong is an experienced realtor who rose through the ranks to be a top salesperson within his first few months at PropNex back in 2010. He has made a name for himself by consistently achieving outstanding results through the years. You can read more about his success story here.
The other half of this power couple, Anne, only joined the real estate industry in 2019, but has already caught up with powerhouse Kelvin in personal sales achievements. Her strong background in sales, ranging from corporate fundraising, private eduction to selling software training and related products, helped propel her to the success she experiences today.
Together, they're a force to be reckoned with, with both of them making it to the Propnex Millionaire in 2019 and 2020, the first couple to have achieved this feat in the industry. Despite only joining in May 2019, Anne was crowned the Top Champion Rookie of 2019, clocking in a new record in commission in the industry in just over six months.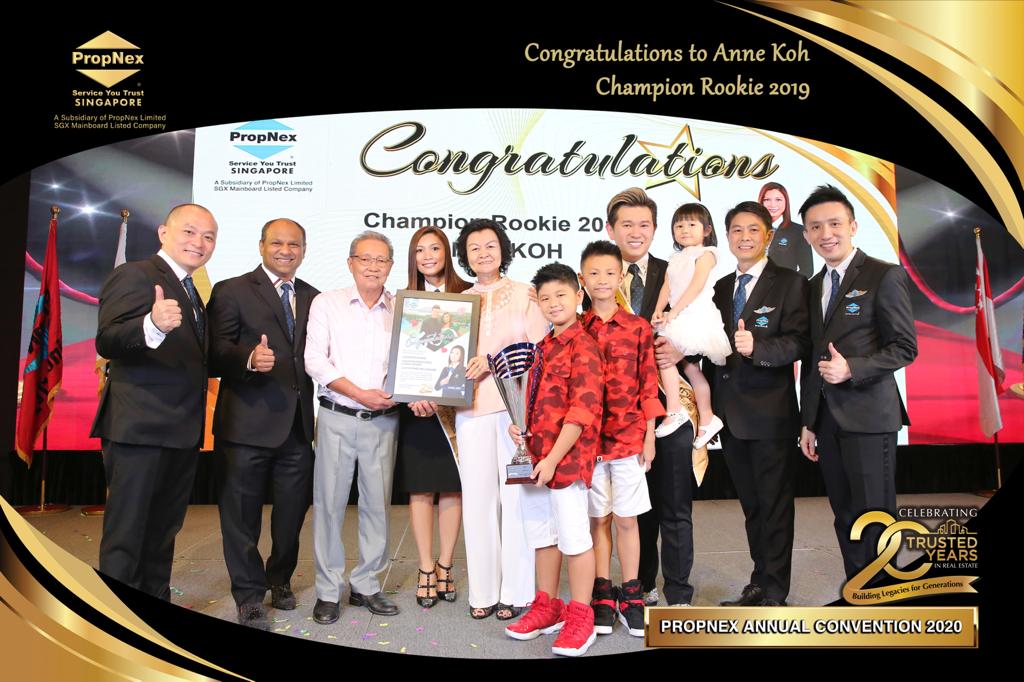 Anne receiving the Top Rookie Award in 2019
Being able to achieve the success they did was no easy feat. During the interview, one thing that rings strongly for this couple would be how well they complement each other, and it is not hard to see how they make such great partners both at life and at work. This is why it came as no surprise to find out that both of them were the Champion Couple of Propnex in 2019.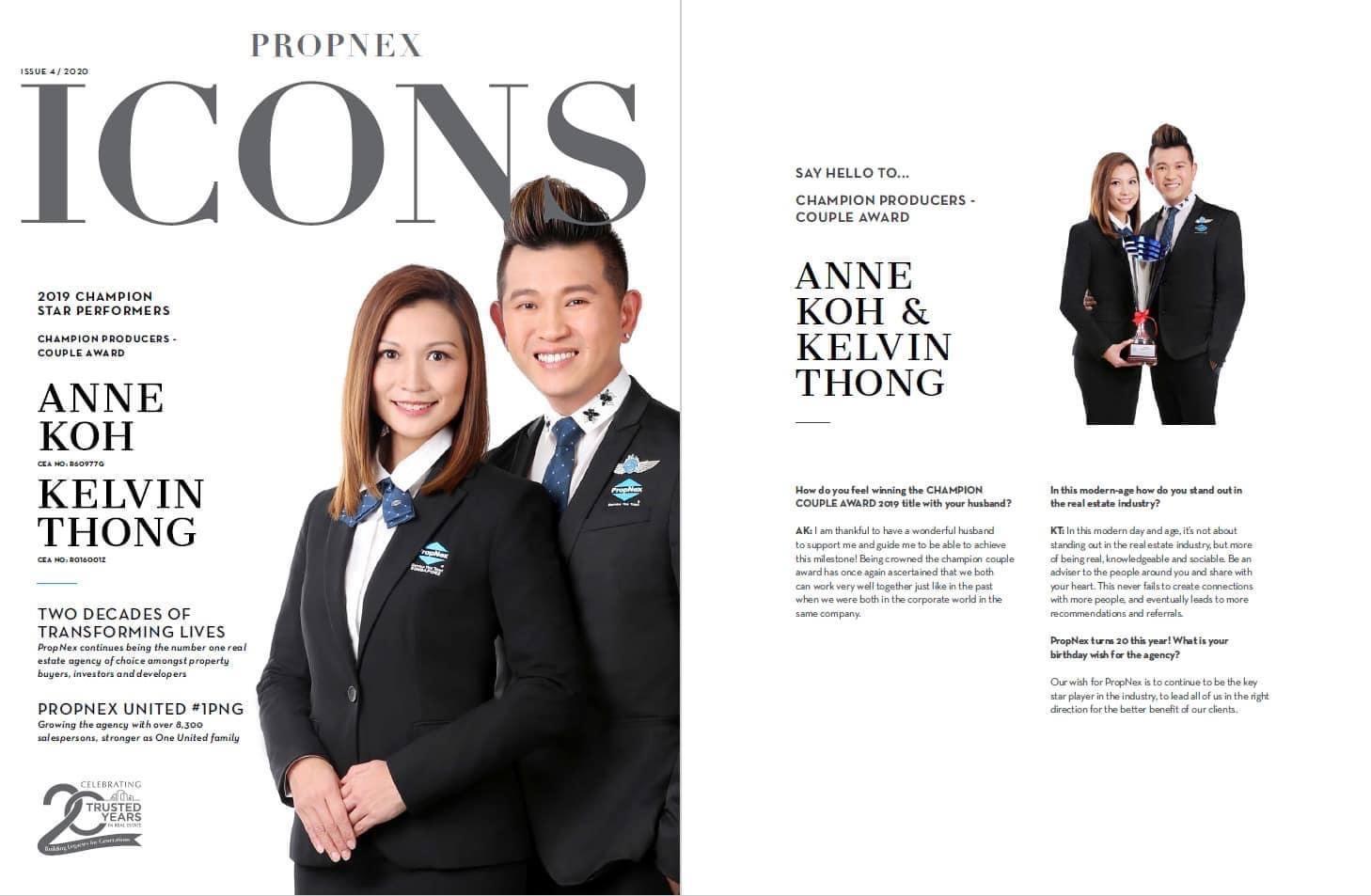 Featured as Champion Producers under Propnex's Couple Award
For the skeptics, they will be happy to know that Anne and Kelvin are not the only successful couple in the industry. In fact, Propnex has a culture of couples joining and excelling together.
In the first Propnex convention that Kelvin attended in year 2010, he saw Janet Lim, wife of Kelvin Fong, went onstage to receive her award as the #2 Top Producer. This was when Kelvin realised that perhaps having both him and Anne in the industry might lead to twice the success he had, especially since he was convinced of Anne's sales ability.
After years of persuasion, Anne finally took the leap to join him in 2019.
Despite being in the industry for a mere 2 years, Anne holds deep knowledge similar to that of a veteran. Her quick dive into the industry can be attributed to Kelvin who welcomed her on board wholeheartedly. He spared no efforts in teaching her the tricks to replicate his success, just as he had for the other 250 associates in his division.
Coupled with her natural charisma, it is no wonder the people around her started gravitating towards her for their property decisions. This has helped gear her business strategy to focus more on serving the needs of her friends and referrals rather than specialising in a particular category.
With a strong sales background like Anne, it made Kelvin's job as her mentor a thousand times easier. Also, their relationship as a couple meant they had the natural tendency to know each other well.
On most occasions, there is no need for either to voice out their thoughts because the other party would already know what they're thinking. This makes partnering a lot more effective as they're able to leverage off Anne's strong interpersonal skills and Kelvin's knacks for statistics, numbers, cycles and trends to form a winning pitch to close their deals.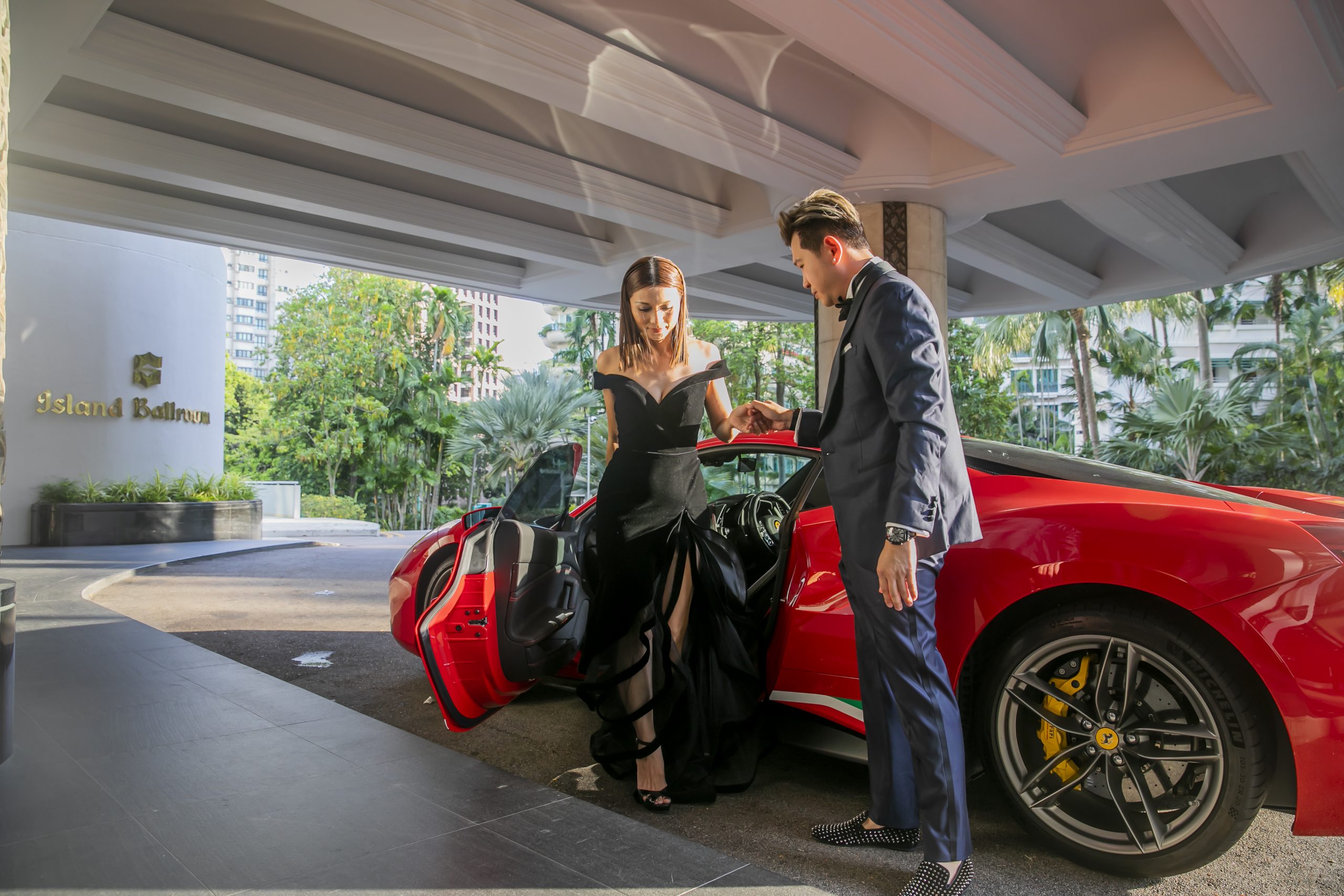 Arriving in style at one of Propnex's gala dinner
Other than pitching and closing together, Anne has long been a trusty aide to Kelvin in his division even before she joined the industry. She took the lead as his Rest-And-Relax (R&R) manager and would often help plan all his team bonding events. Leading a team as dynamic and fun as Kelvin's meant having to keep up with the team's love of getting together, and Anne not only does it but does it well. As such, she has become the epitome of fun and is the gel that helps to bring everyone together.
Prior to the Covid-19 pandemic, Anne would rally the division together for regular dinners, parties and karaoke sessions, and also sees to inject a bit of creativity into their events. For example, she even organised an entire Monopoly-styled treasure hunt at Sentosa–an event planned and executed entirely by her!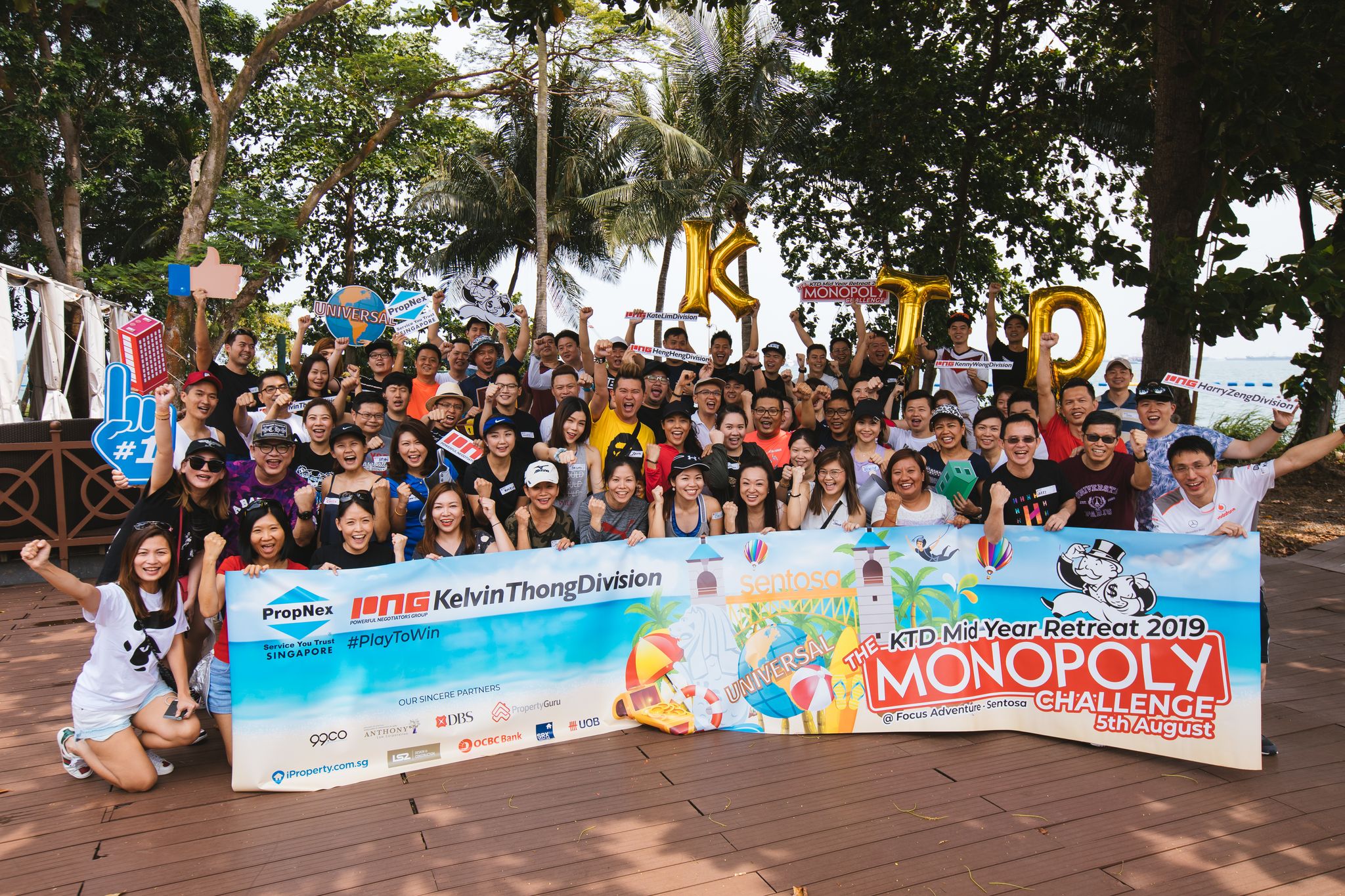 KTD at the Monopoly event organised by Anne in 2019
To Anne, it is crucial for the associates of Kelvin Thong Division (KTD) to build strong relationships via the events she organises. Even though sales can be an individualistic role, both Anne and Kelvin believe there is strength in numbers, and that everyone will need the support of one another to succeed.
Despite their success, Anne and Kelvin chose to raise their kids on their own without any helpers. This decision holds contrary to a typical family's practice of engaging helpers to assist with the children as the parents head out to work. So, with both of them having full-time careers in the real estate industry, Anne and Kelvin are definitely unique.
As Kelvin states, "If you're someone who appreciates time with your family and loved ones, the real estate industry is one of the few that will be able to give you the freedom of time without having to compromise your career."
Anne adds, "Kelvin's right! I've never regretted joining the industry with Kelvin. Together, I can gladly say we're living the dream of being successful at what we do without compromising on family time."
For other couples looking to follow in their footsteps, both Anne and Kelvin's advice would be "don't hesitate".
With still many years ahead in their career, it'll be interesting to see how Kelvin and Anne grow from here to achieve even greater heights in the years to come.
For those interested in joining the Kelvin Thong Division, you can find out more here or contact Kelvin at 97986600.
About Felicia Tan
Looking to sell your property?
Whether your HDB apartment is reaching the end of its Minimum Occupation Period (MOP) or your condo has crossed its Seller Stamp Duty (SSD) window, it is always good to know how much you can potentially gain if you were to list and sell your property. Not only that, you'll also need to know whether your gains would allow you to right-size to the dream home in the neighbourhood you and your family have been eyeing.
One easy way is to send us a request for a credible and trusted property consultant to reach out to you.
Alternatively, you can jump onto 99.co's Property Value Tool to get an estimate for free.
If you're looking for your dream home, be it as a first-time or seasoned homebuyer or seller – say, to upgrade or right-size – you will find it on Singapore's fastest-growing property portal 99.co.
Meanwhile, if you have an interesting property-related story to share with us, drop us a message here — and we'll review it and get back to you.
Join our social media communities!
Facebook | Instagram | TikTok | Telegram | YouTube | Twitter