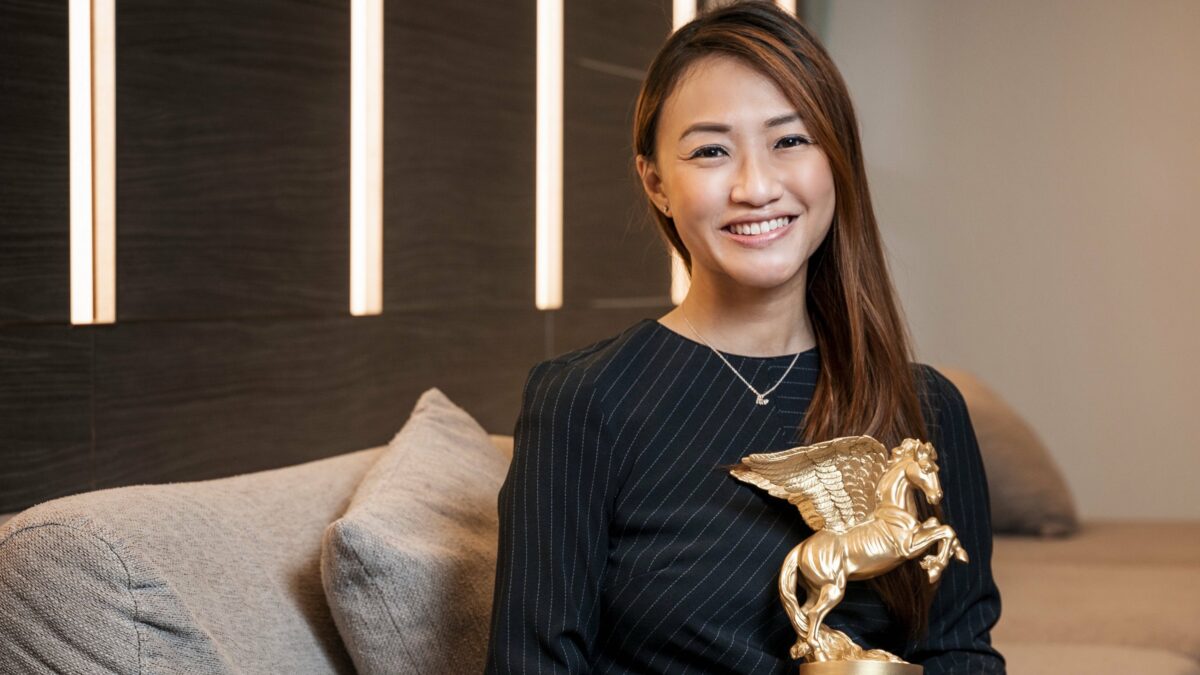 In this series entitled Agent Success Stories, we sit down with agency leaders to find out their side of the story. From their humble beginnings to the challenges they have faced on the road to success, we learn that a career in the real estate industry is one filled with boundless opportunities – if you know where to look.
Leeann Low, Senior Associate Marketing Director at Propnex, has gone on to break records as she takes on a personable and educational approach when helping her clients find their dream home. Unlike other agents, her 13 years of marketing puts her at an advantage as her customer-centric approach and sincere personality pave the way to greater opportunities when building friendships with her clients.
Prior to joining the real estate industry, Leeann worked in the cosmetic industry for the majority of her career. Even though she had established a reputable title, she craved greater autonomy and wanted to be able to manage her own time. This drive for independence grew even more after she gave birth to her first child as she realised that flexibility was essential to having a good work-life balance. Having found her forte in public relations, she wanted to explore options where she would be able to interact with clients directly as she was confident in her ability to deliver results. She decided to explore the property industry as a career and has not looked back ever since.

Becoming her own boss
Leeann's property journey was not always a smooth one. When she first entered the industry, she saw a demand for international properties and began to direct her efforts to help locals purchase properties all over the world. However, she felt a great sense of discomfort pitching properties that she had not seen in person. Being someone who prioritises transparency and honesty, she wanted to be able to promise her clients, top-notch quality properties, and not being able to see these properties in person did not sit well with her. For that reason, she eventually switched from international to local properties.
During this transition, she found herself relearning everything she knew about the property market. Despite having invested a great proportion of her money and time into marketing international properties, this did not falter her as she used it as a motivating factor to work even harder to get her name out there in the local market. Since then, she has successfully built a reputation in the property market and has gone on to achieve awards such as Top 30 Achievers in SRI Mid and End 2019.
Making friends, not clients
Leeann specialises in asset progression for new launches, private resale, and HDB resale.
Upon entering the industry, she noticed that many property buyers were unsure of their property objectives. She realised that many misinformed consumers, especially first-time buyers, were quick to purchase a property with the expectation of making immediate returns. Understanding this, she took it upon herself to educate new buyers to make better property choices where they would reap greater profits in the long term, in hopes to make a change. She set up her YouTube channel "The Propfolio" to share data-backed research to offer everyone insight into their property journeys. "Not everyone is sure of their objectives and would normally say that it is for investment and for own stay. But it is never a one-size-fits-all situation."
When meeting her clients for the first time, she would begin each consultation with a casual chat to get to know them better. From there, she would draw out a comprehensive strategy presenting data and patiently guide them through the entire process. Being an intuitive person, she is quick to adapt her communication styles to best suit different clients regardless of age, to help them understand difficult concepts and data. "Some clients would rather me take the lead, while others would bring a portfolio of properties to our first consultation. Regardless, my job is never to impose any decision, but to empower them to make the one that they are comfortable with instead."
Leeann's genuine and forthcoming approach makes it even easier for clients to trust and warm up to her. Her selfless mentality of always going above and beyond for her clients makes her highly appreciated by every person she meets. Regardless of any obstacle faced, her optimistic and resilient attitude always makes her think out of the box when looking for solutions. Once, she had helped her client stage their property on a really tight budget by sourcing for her own props. Through her efforts, not only did she successfully sell the property at a much higher price, but also built a strong friendship that she holds dearly till today. If anything, helping her clients achieve another step closer to their personal goal fuels her to want to do more, if not work even harder as both a property confidant and friend. "When you are honest and genuine with your advice, no matter how hard it might be to hear at the start, people will always come back to you."
One of her most memorable transactions was when a client originally wanted to purchase a resale property for en-bloc potential. She shared that the client had originally chanced upon an article on the Internet and was hoping to reap the same benefits the article had promised. However, upon inspection, she noticed that the property was really old and knew that it might not appreciate as much as they were hoping for. She then advised her to purchase a property with better potential instead and to date, her property has appreciated in capital value much higher than expected. "I want to be there for my clients both as a property confidant and a friend. I've built many amazing friendships with my clients and it has definitely been a highly fulfilling experience."

Thankful for the people around her
Leeann attributes her success to her children for being the main source of motivation. Throughout her career, her kids have been a constant reminder towards the importance of remaining humble and reflective about one's achievements. As she balances both her family and professional responsibilities, she finds herself growing alongside them as she ensures that they are taught how to credit even the smallest achievements from a young age. "There was once I came home with a trophy after winning an award and when my son asked me about it, I made sure to remind him that it was from putting in my best effort, rather than focusing on the prize. As my kids get older, I find myself learning and relearning with them and reminding them and myself that hard work does not always equate to material rewards."
Advice to young agents today
She encourages every agent to look long term, rather than short term. "As an agent, you need to stay humble and stay true to the value and service you provide your clients. By going the extra mile for people, not only will your relationships last for a long time, but it will open doors for your next opportunity."
"The motivating factor has to be intrinsic, in order for the role to be meaningful for yourself and others. Remember, you are in it to help the client, and by taking that approach, you will become a better version of yourself."
Looking to sell your property?
Whether your HDB apartment is reaching the end of its Minimum Occupation Period (MOP) or your condo has crossed its Seller Stamp Duty (SSD) window, it is always good to know how much you can potentially gain if you were to list and sell your property. Not only that, you'll also need to know whether your gains would allow you to right-size to the dream home in the neighbourhood you and your family have been eyeing.
One easy way is to send us a request for a credible and trusted property consultant to reach out to you.
Alternatively, you can jump onto 99.co's Property Value Tool to get an estimate for free.
If you're looking for your dream home, be it as a first-time or seasoned homebuyer or seller – say, to upgrade or right-size – you will find it on Singapore's fastest-growing property portal 99.co.
Meanwhile, if you have an interesting property-related story to share with us, drop us a message here — and we'll review it and get back to you.