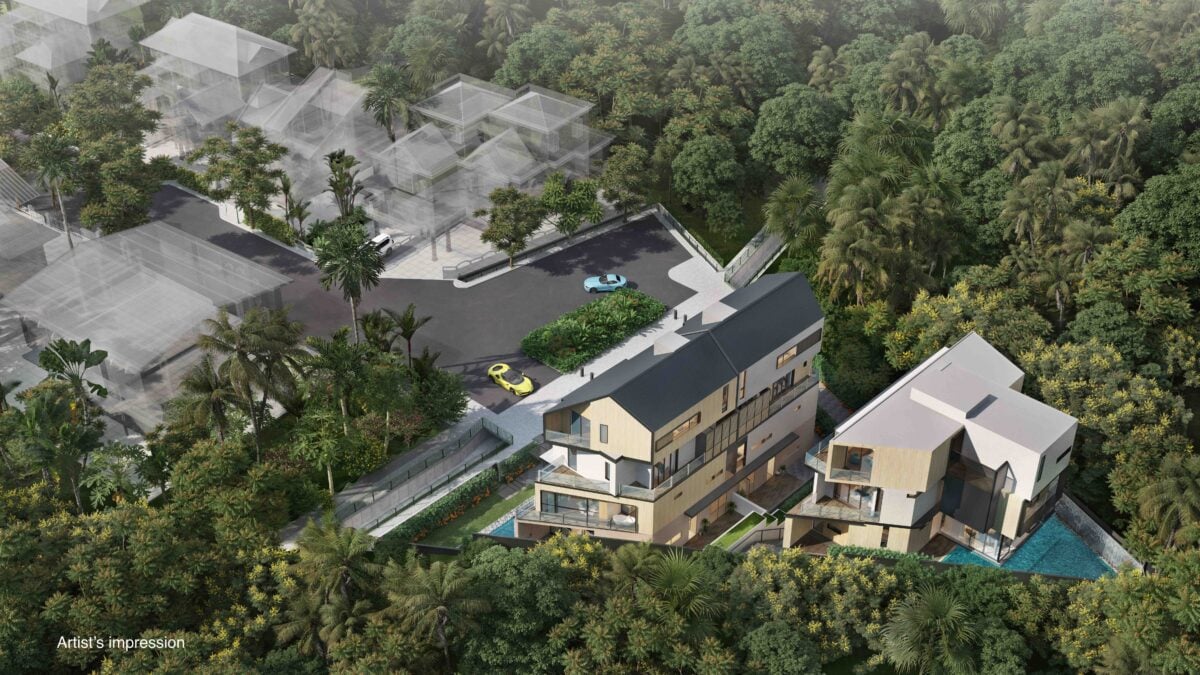 Nestled in Singapore's prestigious and nature-rich Bukit Timah area, Villas @ Greenbank Park is a boutique development that reconceptualises luxury living. Comprising three exclusive, bespoke landed houses, including one freestanding bungalow and two semi-detached homes, this exclusive property development presents more than just a promising investment — it offers a lifestyle immersed in nature's beauty, architectural elegance, and innovation.
There exists tremendous potential for appreciation in this category of newly built landed homes. Recent data released by URA reveals that the median land price of new detached houses has surged by 60% from S$1,959 psf in 2018 to S$3,136 psf in 2023. In the same timeframe, new semi-detached houses saw a substantial 28% increase in median land prices, rising from S$2,106 psf to S$2,704 psf.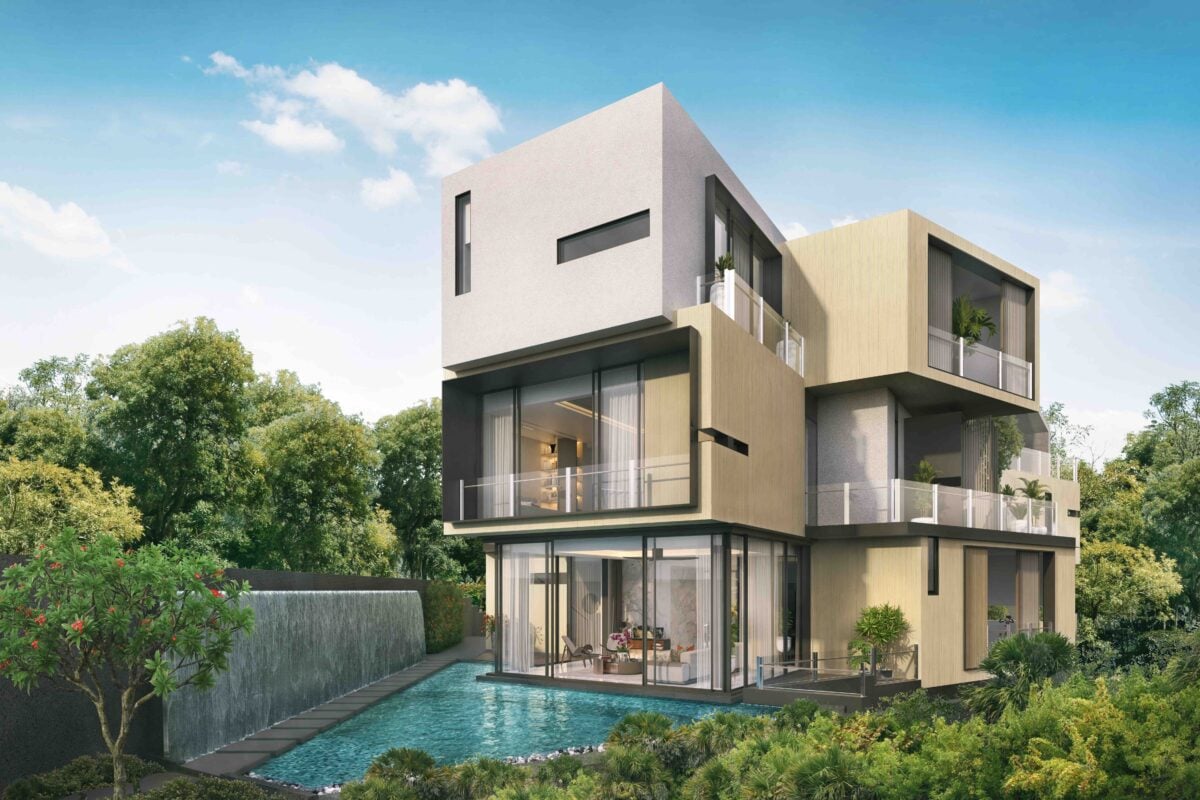 These price-rises may be the result of growing demand for more generous-sized homes following the 'circuit breaker' lockdowns, and the inevitable supply-demand imbalance in Singapore, where land is extremely limited. In addition to these factors, wealthy buyers are increasingly drawn to new detached and semi-detached houses due to their perception as superior assets for preserving value and facilitating generational wealth transfer.
Beyond the investment opportunity, one of the key attractions of Villas @ Greenbank Park is the development's idyllic, sought-after Bukit Timah location. Situated in the peaceful and serene environment of Greenbank Park, these homes are surrounded by a low-rise landed housing enclave, comprising closely held properties unlikely ever to be redeveloped into condominiums. Moments from the prestigious Good Class Bungalow area of Binjai Park and Swiss Club Road, residents of Villas @ Greenbank Park will be surrounded by some of Singapore's most prestigious neighbourhoods.
Nature enthusiasts and those who enjoy outdoor activities will find much to pique their interest here, with numerous parks and green spaces nearby. The newly opened Rifle Range Nature Park, Dairy Farm Nature Park, and the scenic Rail Corridor offer residents opportunities for leisurely strolls and outdoor activities such as cycling, jogging and birdwatching. Meanwhile, the MacRitchie Reservoir and Bukit Timah Nature Reserve are only a short drive away, providing additional avenues for exploration and adventure with friends and loved-ones.
World-class architecture is among the development's chief appeals. These homes have been meticulously designed by the highly respected Singapore firm of RT+Q Architects. Founded in 2003 by Rene Tan and TK Quek, RT+Q specialises in architectural design combining artistry with rigorous technical expertise. The firm's portfolio spans a wide variety of projects, from houses to urban planning, evidencing its versatility. During its two decades, RT+Q has earned great acclaim, including Rene Tan winning the title of 'Designer of the Year' at Singapore's prestigious President's Design Awards.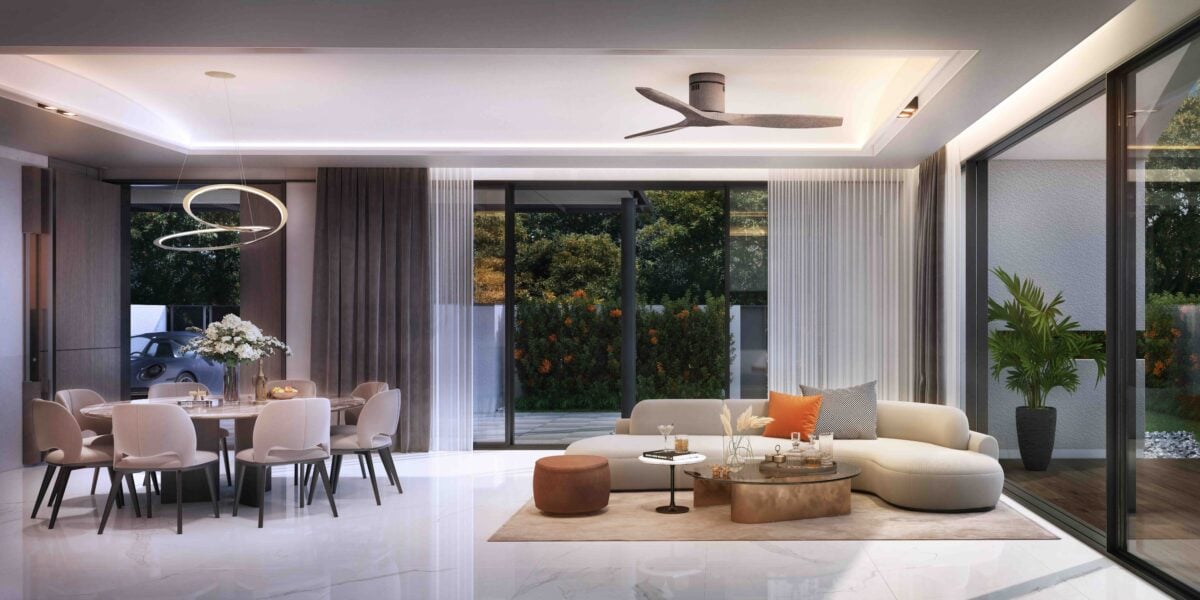 Embodying the firm's innovative approach, with Villas @ Greenbank Park, RT+Q Architects has created one of its most thoughtful projects to date, challenging conventional forms while respecting proportion and scale, ultimately producing intelligently functional spaces that are as practical as they are beautiful.
Each of the homes is unique, and the development's creative approach to semi-detached housing — focusing on complementary designs rather than uniformity — challenges the conventional norm. When asked about the inspiration behind this approach, eschewing the typical practice for multi-home developments of building 'identical twins', architects RT+Q said, "We wanted to break down the scale of the buildings and create dynamic designs with movement."
The two semi-detached houses each boast an expansive land area of approximately 300sqm. Spanning three stories plus an attic, these homes offer spacious built-up areas exceeding 500sqm. With features like a private lift, spa pool, and two covered carpark lots, perhaps what truly sets these semi-detached houses apart is their wide frontage, with House No. 50 at 20m and House No. 52 at 16m, providing a grand and inviting exterior with an abundance of 'curb appeal'. RT+Q's creativity shines through in the use of nature-inspired colours and textured painted walls on different planes and panels of the external elevation, which add dimension and visual interest to the façade, in contrast with the monotonous single-colour treatment seen in most other semi-detached houses.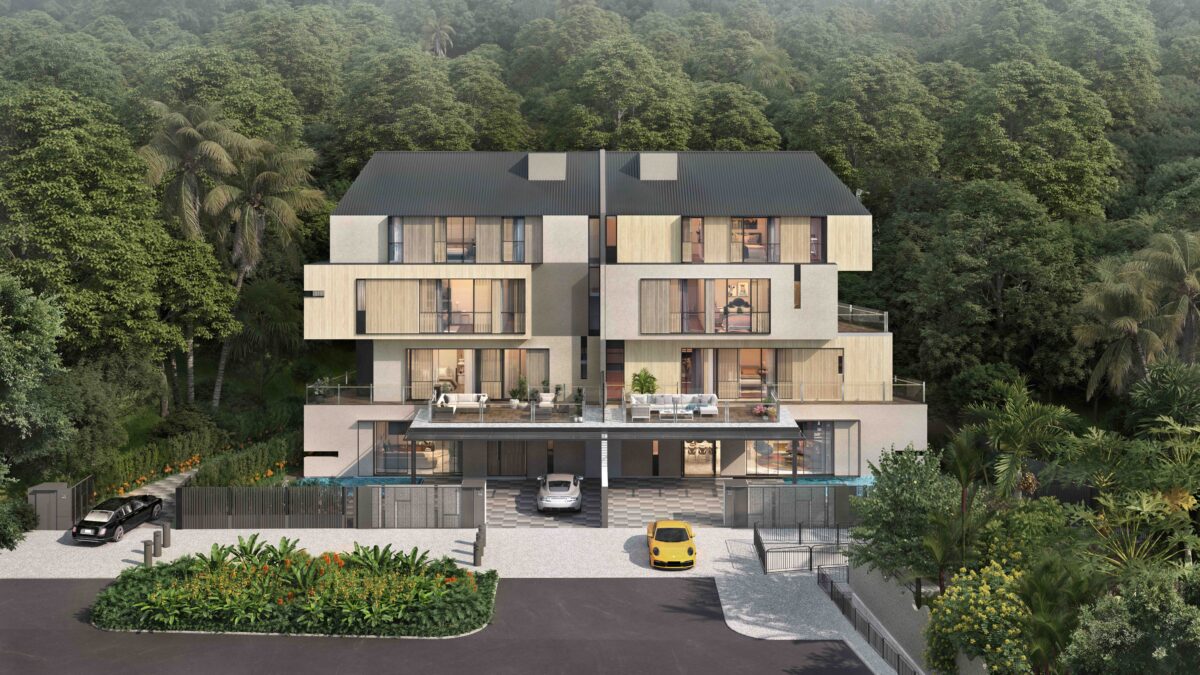 The three-storey plus attic standalone bungalow at the Villas @ Greenbank Park offers a land area of 450sqm, and a spacious built-up area of 775sqm. With features such as a private lift, spa pool, and three covered carpark lots, the bungalow is elevated above the road level in order to offer unobstructed views of the surrounding greenery in the nature reserve. Just like the semi-detached houses, the bungalow's façade is a work of art, featuring sleek design elements, with different planes and panels on its external façade allowing for a spectrum of captivating colours to complement the natural beauty of the leafy surroundings.
The integration of the homes with nature and the preservation of residents' privacy were significant considerations during the design process. "Sites surrounded by a lush forest are very rare in Singapore and so the houses were designed to take advantage of this rare opportunity," the architects said. "The outdoor baths and 'floating pavilion' in the midst of verdant greenery allow buyers to experience resort-like living in their home."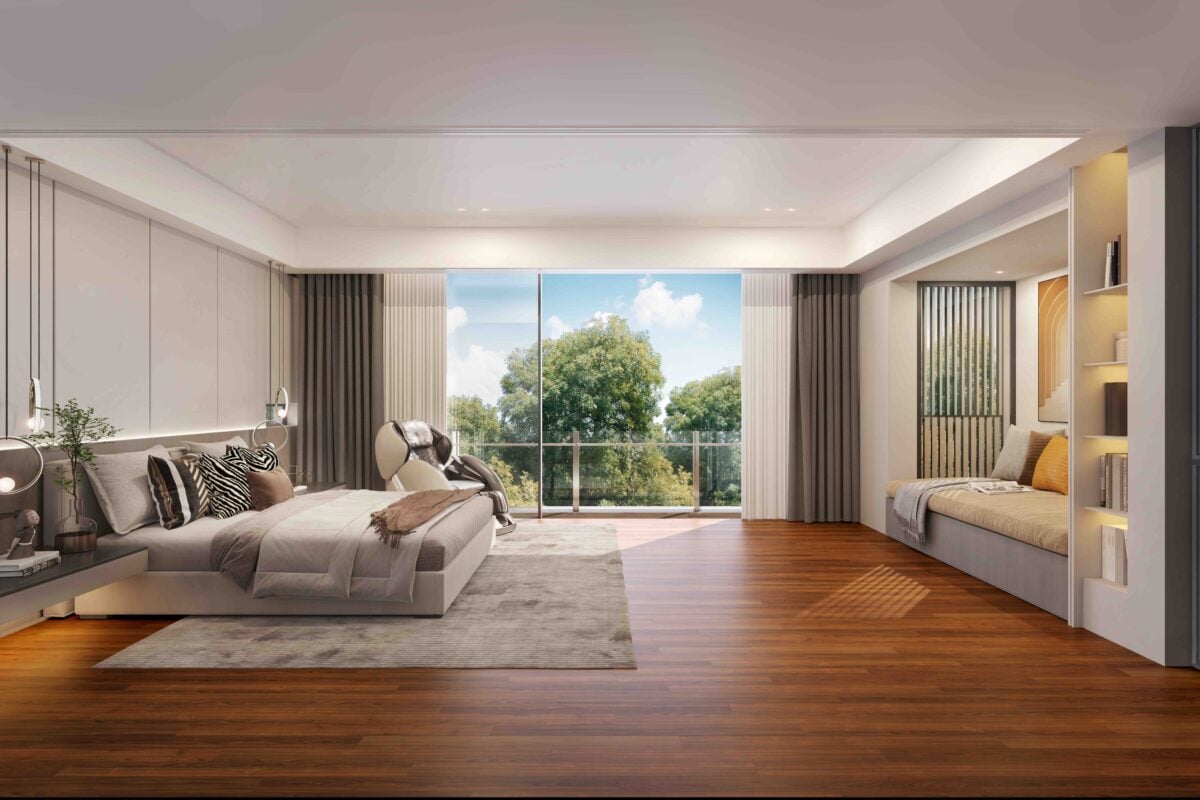 The design also incorporates "classic devices for mitigating the extremes of Singapore's tropical climate," RT+Q Architects explained, "such as covered terraces and sliding screens to allow for a lifestyle in harmony with nature." To ensure privacy, they said, "We maximised openings towards the lush forest, filtered through screens, and selected openings on the front façade so that privacy can be maintained."
In keeping with developer Tong Eng's reputation for quality finishes, the Villas @ Greenbank Park will be equipped with imported kitchen and wardrobe systems, top-of-the-line kitchen appliances from Swiss maker V-Zug, and luxurious US fridge brand, Sub-Zero. Bathrooms are fitted with high-quality fixtures and fittings from Swiss brand Laufen and German brand Hansgrohe, ensuring that every aspect of these homes exudes luxury and refinement.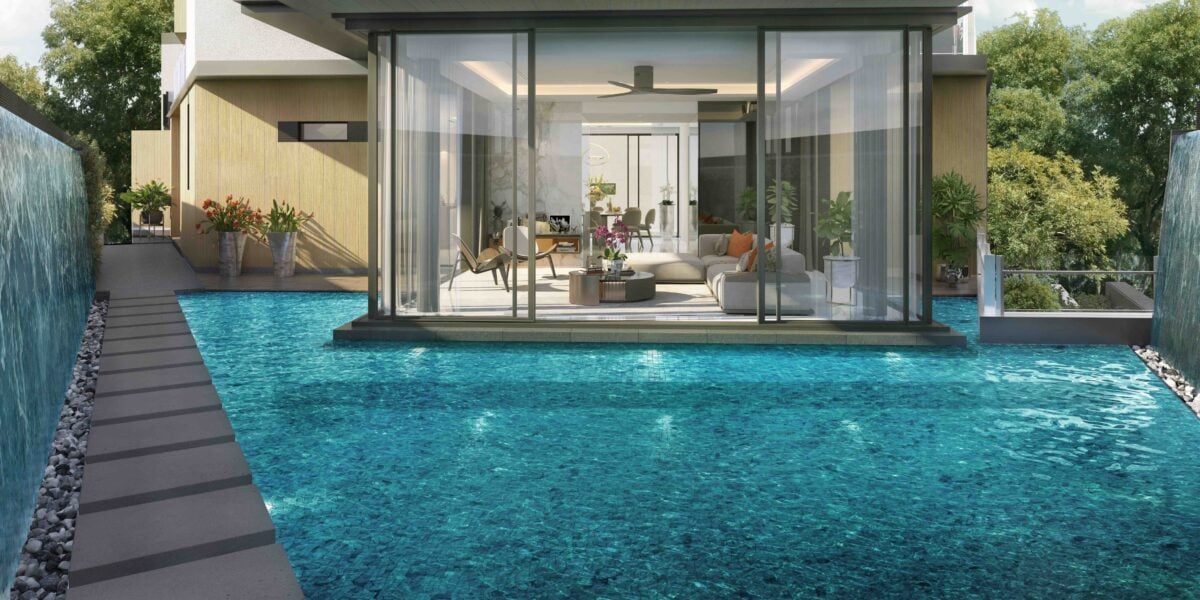 Tong Eng Group is synonymous with quality, boasting over 60 years of experience in real estate development and investment in Singapore. Throughout its history, Tong Eng has delivered numerous noted commercial and retail developments, condominiums, and a multitude of landed and strata-landed housing developments. One of their more recent and notable achievements is the Belgravia collection of a few hundred strata landed houses, which has received acclaim both locally and internationally, a testament to the group's commitment to design and built excellence — qualities that will be embodied in the Villas @ Greenbank Park.
The world-class, cutting-edge design of these homes, effective space planning, coupled with the developer's commitment to quality finishes, and the emphasis on blending with and celebrating the natural environment make this development a true one-of-a-kind. For those seeking a serene sanctuary for their family, living in the embrace of lush, calming greenery, the Villas @ Greenbank Park present an opportunity not to be missed.
To learn more about these remarkable homes, contact 6226 6333, or email sales@tongeng.com.sg 
About Christian Barker
Looking to sell your property?
Whether your HDB apartment is reaching the end of its Minimum Occupation Period (MOP) or your condo has crossed its Seller Stamp Duty (SSD) window, it is always good to know how much you can potentially gain if you were to list and sell your property. Not only that, you'll also need to know whether your gains would allow you to right-size to the dream home in the neighbourhood you and your family have been eyeing.
One easy way is to send us a request for a credible and trusted property consultant to reach out to you.
Alternatively, you can jump onto 99.co's Property Value Tool to get an estimate for free.
If you're looking for your dream home, be it as a first-time or seasoned homebuyer or seller – say, to upgrade or right-size – you will find it on Singapore's fastest-growing property portal 99.co.
Meanwhile, if you have an interesting property-related story to share with us, drop us a message here — and we'll review it and get back to you.
Join our social media communities!
Facebook | Instagram | TikTok | Telegram | YouTube | Twitter