Quick facts about Lentor Modern
1. The first new launch condo in the Lentor area under the government land sale (GLS)
Lentor Modern is the first new launch condominium in the Lentor neighbourhood under the GLS programme. Its land site, the Lentor Central GLS, was sold to GuocoLand in July 2021. Lentor Modern will also be the first private condominium launch in the Lentor neighbourhood in more than two decades.
There will be five more new launch condos in the Lentor neighbourhood. Lentor Hills Residences was awarded to GuocoLand, Intrepid Investments and TID Residential in January 2022. 
Another site at Lentor Central and a site at Lentor Hills Road (Parcel B) are open for tender, and applications will close on 13 September 2022. The other two sites are Lentor Gardens and a third Lentor Central site, which are on the H2 2022 confirmed list and reserved list, respectively. 
Altogether, the Lentor condos will collectively yield about 3,000 new units.
2. Lentor Modern will be the first and only integrated and mixed-use development in Lentor
Apart from its integration with Lentor MRT station, Lentor Modern's residents can enjoy 96,000 sq ft of commercial, retail spaces and F&B options. There will be around 50 shops which include cafes, restaurants, clinics and more. For grocery shopping needs, there will be a 12,000 sq ft supermarket, and for those with young children, there will be a 10,000 sq ft childcare centre.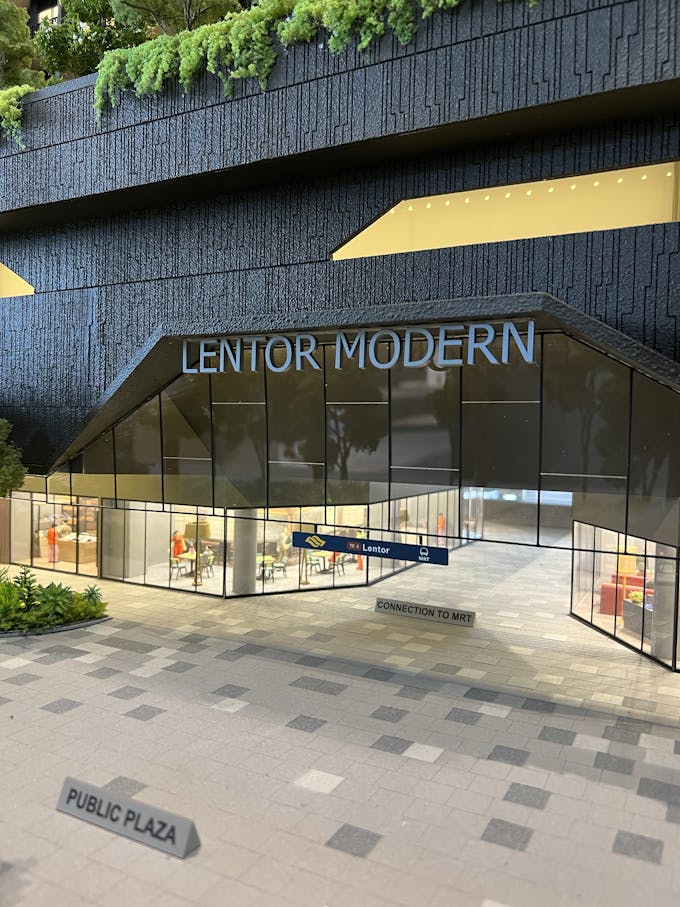 According to GuocoLand, it will take less than one minute to head down to the Lentor Modern mall from their home. They term this the "One Lift Ride Lifestyle", where residents will be one lift ride away from everything. This includes direct connection to the MRT, F&B, retail, supermarket and other amenities.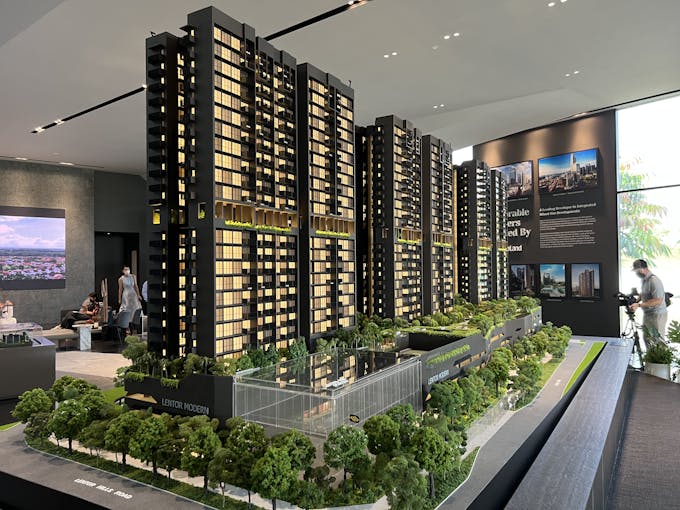 Lentor Modern will join other integrated and mixed-use developments which have been launched in the past year, including Piccadilly Grand and Canninghill Piers. Other mixed-use developments that are coming up include Sky Eden@Bedok and Sceneca Residence, both in the east.  
As the first and only integrated mixed-use development in the area, Lentor Modern will be at the forefront of Lentor's transformation from a quiet neighbourhood to a bustling spot.
3. Views of Lentor landed property enclave 
When completed, half of Lentor Modern will have unblocked views of the Lentor landed housing enclave towards the east. The other side will face the other new launch condos.

Artist's impression view of Lentor landed estate from Lentor Modern (Image source: GuocoLand)
The higher floors might also be able to enjoy views of the Lower Seletar Reservoir in neighbouring Yishun. 
4. Close proximity to reputable schools in the Ang Mo Kio estate
Lentor Modern is a great option for young families as it is near reputable schools in the Ang Mo Kio estate. This includes Anderson Primary within a 1km radius and CHIJ St. Nicholas Girls Primary, Mayflower Primary and Ang Mo Kio Primary within a 2km radius. 
Other reputable schools in the vicinity include Presbyterian High School, Serangoon Anderson Junior College and Anderson Secondary School.