CBD
Tags:
Business District
Highly Accessible
Entertainment
As Singapore's downtown core, numerous commercial buildings and cultural landmarks can be found in the central business district. Notable buildings include the UOB Plaza, One Raffles Place, Republic Plaza, One Raffles Quay and OCBC Centre. Along the waterfront, The Esplanade Theatres on the Bay, one of the busiest art centers in the world can be reached via the Promenade and Esplanade train station. Attractions like the Singapore Flyer, Merlion Park and Marina Bay Sands Light and Water Show are all nearby.  Down south, Bayfront and Marina Bay train station brings residents to Marina Bay Sands casino, Gardens by the Bay and Marina Barrage. Housing apartments including Emerald Garden, Sail @ Marina Bay, Marina Bay Residences and the upcoming Marina Bay Suites, provide residents employment prospects near home. Meanwhile, dining, shopping and entertainment options are offered at CHIJMEs, Suntec City Mall and Raffles City. Downtown and Tanjong Pagar train station also serve this neighborhood.
Summary
Making up a bulk of what is known as the Central Business District (CBD), Raffles Place and City Hall are both home to many integral finance centres as well as office buildings and commercial facilities. Both districts, while separate, are similar in their densely developed estates, and host a slate of buildings which serve a wide range of purposes from commercial to residential.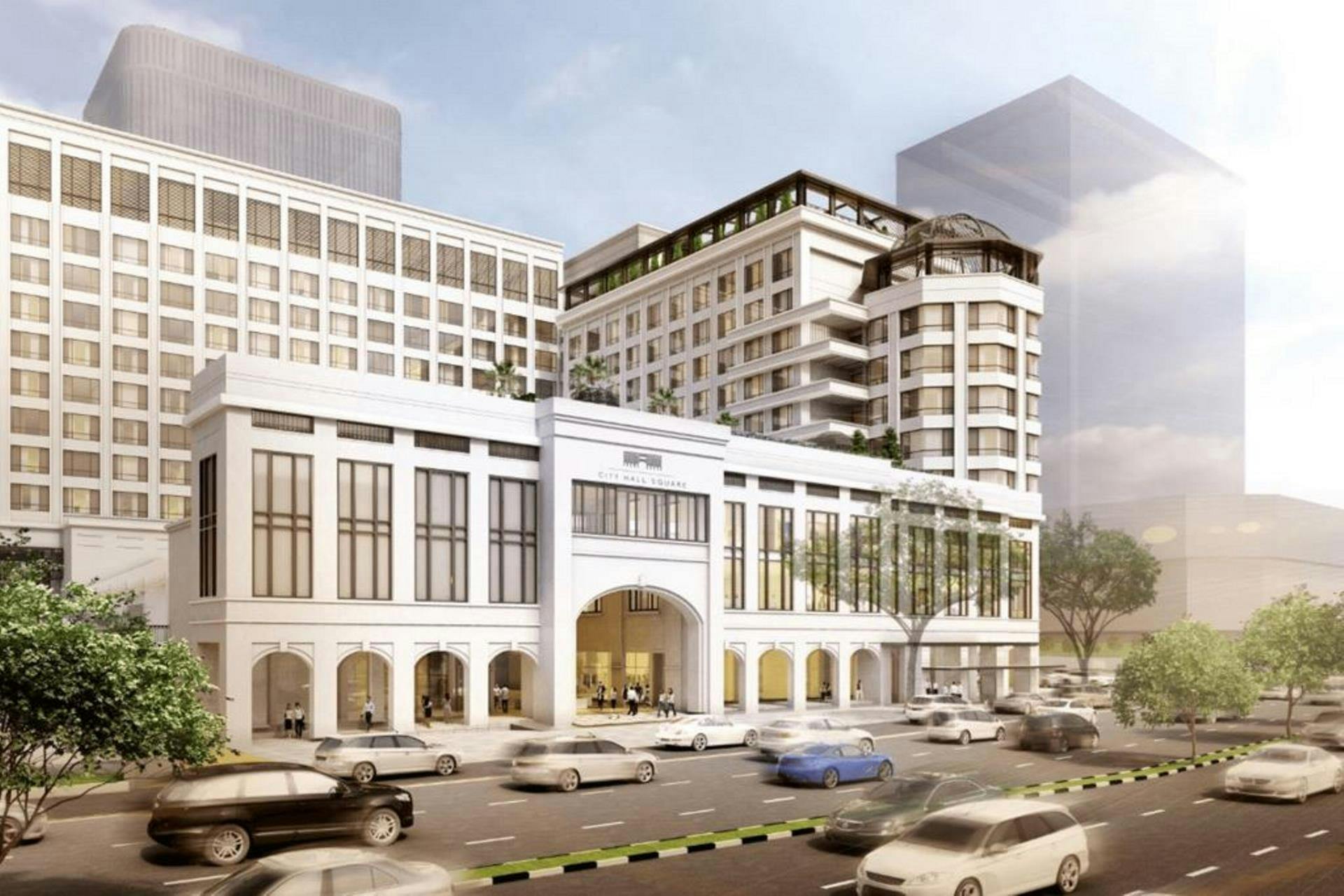 As a financial district, Raffles Place's roots lie in the early 19th century when, on the orders of Sir Stamford Raffles, it was cultivated into Singapore's business capital, dubbed Commercial Square. Attracting businesses worldwide, Commercial Square was renamed to Raffles Place in 1858 in Sir Stamford Raffles' honour, and has remained the financial capital of Singapore since.
The Civic District of Singapore or, as it is more commonly known, City Hall is a district located within the Central Area of Singapore. Its perimeter includes buildings, memorials, and parks of National and historic interest. It also includes the Asian Civilisations Museum, the Esplanade, Fort Canning Hill, the National Museum of Singapore, Raffles City shopping centre, and the Supreme Court Building.
As part of the Central Area, City Hall lies in Downtown Core, one of the eleven constituent planning areas which include Marina East, Marina South, the Museum Planning Area, Newton, Orchard, Outram, River Valley, Rochor, the Singapore River, and Straits View.
Together with Raffles Place, City Hall's significance to Singapore has remained intact over the decades. Even with the development of Orchard Road and its surrounding precincts as the retail hub of Singapore in the 1960s, Raffles Place and City Hall have still retained heavy human traffic be it for professional or personal purposes.
CBD - Stay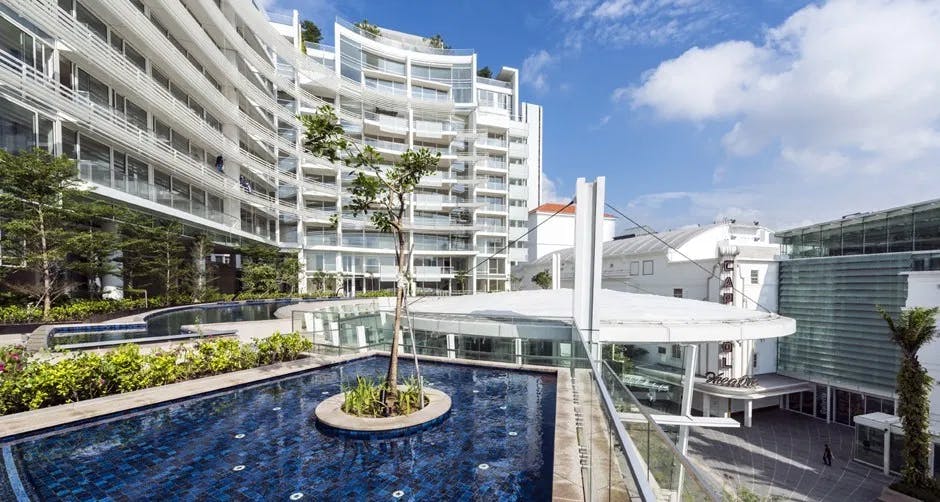 The Raffles Place and City Hall areas are relatively populous, though a bulk of the housing that can be found are much closer to City Hall than they are to Raffles Place. These homes are at the pinnacle of being in the CBD, and are priced accordingly. There are also beautiful landed homes available in the area. Victoria Street and Armenian Street are lined with some of them.
Amenities and luxury are a guarantee at the condominiums in City Hall. Eden Residences is one such condo, an integrated residence that includes the conserved Capitol Theatre are the former Stamford House. 
Other condo developments include the artfully designed High Street Centre condo near Clarke Quay. The building was developed in 1969 and is regarded as one of the most remarkable developments in the area. 
CBD - Eat
Between Raffles Place and City Hall, there are numerous attractive food options ranging across cuisines, occasions, and price points. Look no further than the malls.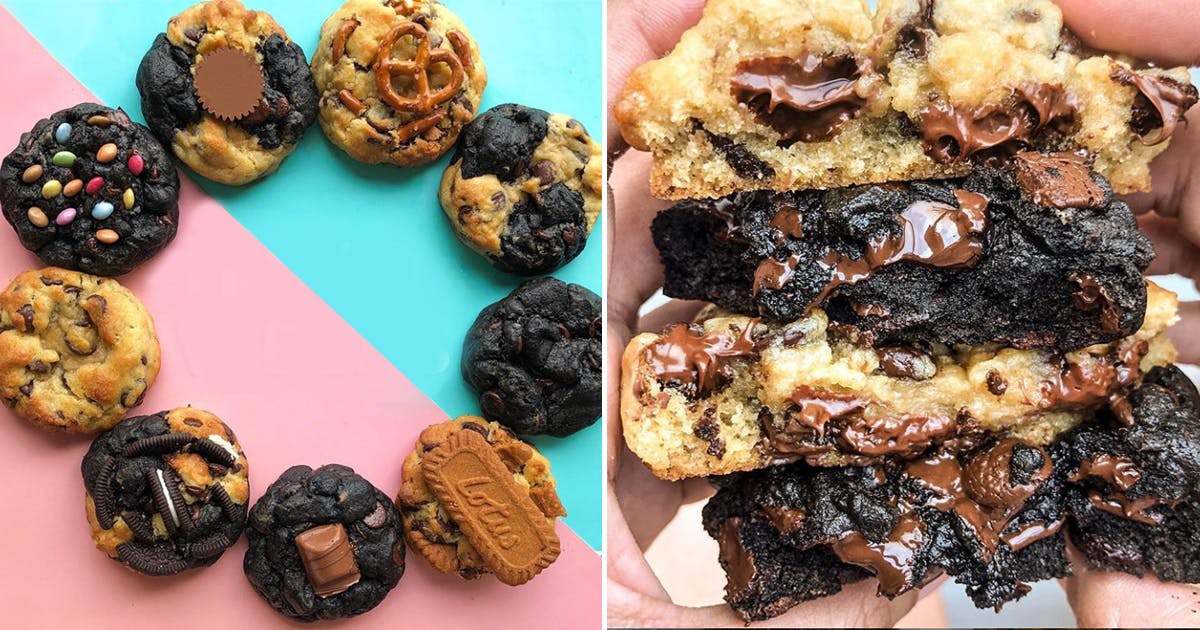 The revamped Funan Mall is intended to cater to the lifestyle needs of young working professionals, no matter their interests, and time of day. The mall definitely delivers on its promise, as exemplified by the immense range of food options available. From dessert hangs to bakeries, salad bars, and a food court, they've got the full package. 
Dine at a technologically advanced food court, KOPItech, a Kopitiam concept where you can pay with cryptocurrency. Head to The Oyster Bank for beer and oysters at only $2 each, or to Crystal Jade Go for a taste of a quick, hearty luxury meal for less than $10. Taste the best all-day breakfast food at Tiong Bahru Bakery Diner, which has a 100% sourdough waffle dish. If not, head to Little Caesers, which sells US pizzas at just $8 for 12 inches. Finish it all off with cookies that are sure to hit the spot from Nasty Cookie, inspired by Levain Cookies in New York.
For other options that are slightly more upscale, tread closer to the malls at Raffles Place, and spots like CHIJMES. Ocean Financial Centre, One Raffles Place, Raffles Place Shopping Centre, Clifford Centre, UOB Plaza, and Raffles Place Shopping Centre are all places with troves of food options to cater to the mega workplaces in the area. 
CBD - Drink
Raffles Place and City Hall have some of Singapore's most beautiful, unique cafes. The best of Singapore's bustling cafe scene convenes here.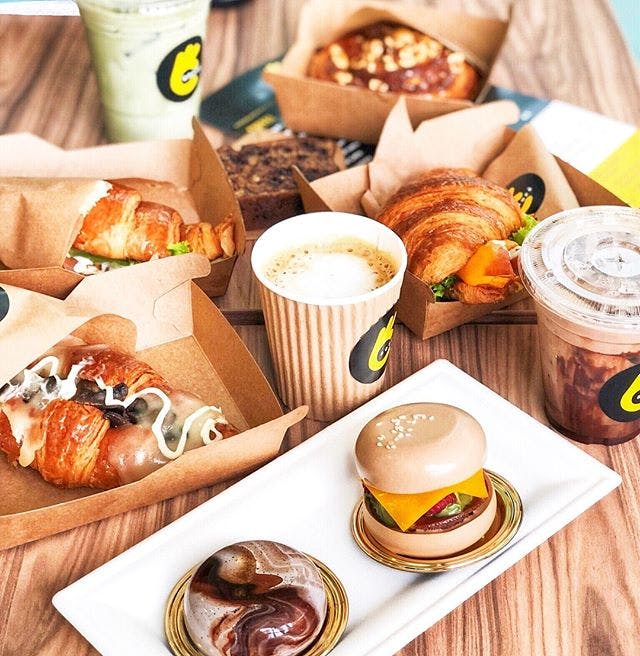 Boufé Coffee·Cakes·Croissants sells some excellent coffee with their desserts. The cafe is a sister of Boufé Boutique Cafe, and offers eye-popping cakes with their drink menu. If you're there, be sure to try The Rock, which is chocolate mousse rum syrup, salted caramel, and a swirly milk glaze to top. They've also got a gâteau burger, with chocolate mousse to replicate buns, mango jelly for the cheese, mint jelly for the lettuce, and raspberry for the tomatoes. 
Coffee is the talk of the town at Kurasu, a cafe by Yozo Otsuki that encourages coffee lovers to speak with their baristas and learn some of the tricks of the trade. Sit along their coffee bar and sip on a Japanese coffee while watching the baristas at work, whether it is a flat white, an iced black, or a matcha latte that you prefer.
There are numerous other cafes and bars in the Raffles Place and City Hall areas that deal with serving picture-perfect drinks and dessert. 
CBD - Shop
Raffles Place has everything one could need from a commercial retail experience. One Raffles Place and Raffles City Shopping Centre share about 300 shops that cater to lifestyle, beauty, healthcare, and technological needs. City Hall has its share of malls that fulfil the same roles, Suntec City being one of them. All of these malls house big, international brands and unique retail experiences.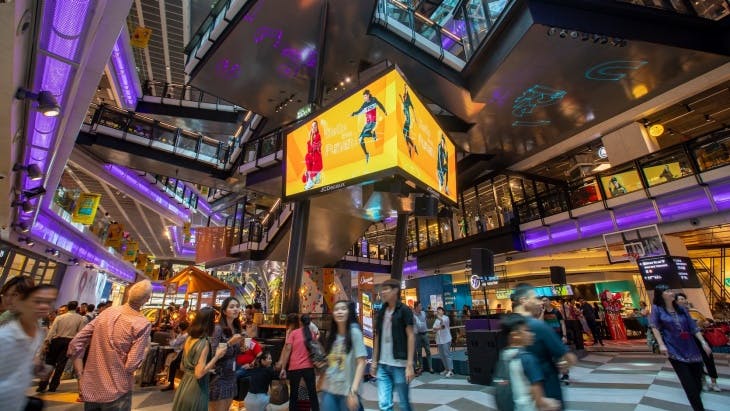 Funan Mall has an eclectic range of shops, able to cater to a variety of lifestyles. Support creators by shopping from We The People, a store for crowdfunded projects, or go to Japan IPL Express for a 20-minute session of quick, permanent hair removal. 
It's worth knowing that City Hall offers some cult shopping experiences that simply cannot be replaced by the convenience of online shopping. Adelphi Mall right next to City Hall MRT Station is a mall frequented by audiophiles for its range of specialised sound equipment and vinyl stores. The mall is the collectors' haven, with shops dealing only in particular brands and products. Buy a gramophone, a rare toy, or a metal car model here. 
Peninsula Plaza, referred to as Singapore's Little Burma, is a good place to go to if you're interested in bringing Burmese food to your kitchen. You'll also be able to find cheaper imports of your favourite sodas and chocolates at the same quality. Not to mention, a variety of clothes and shoes are always on sale.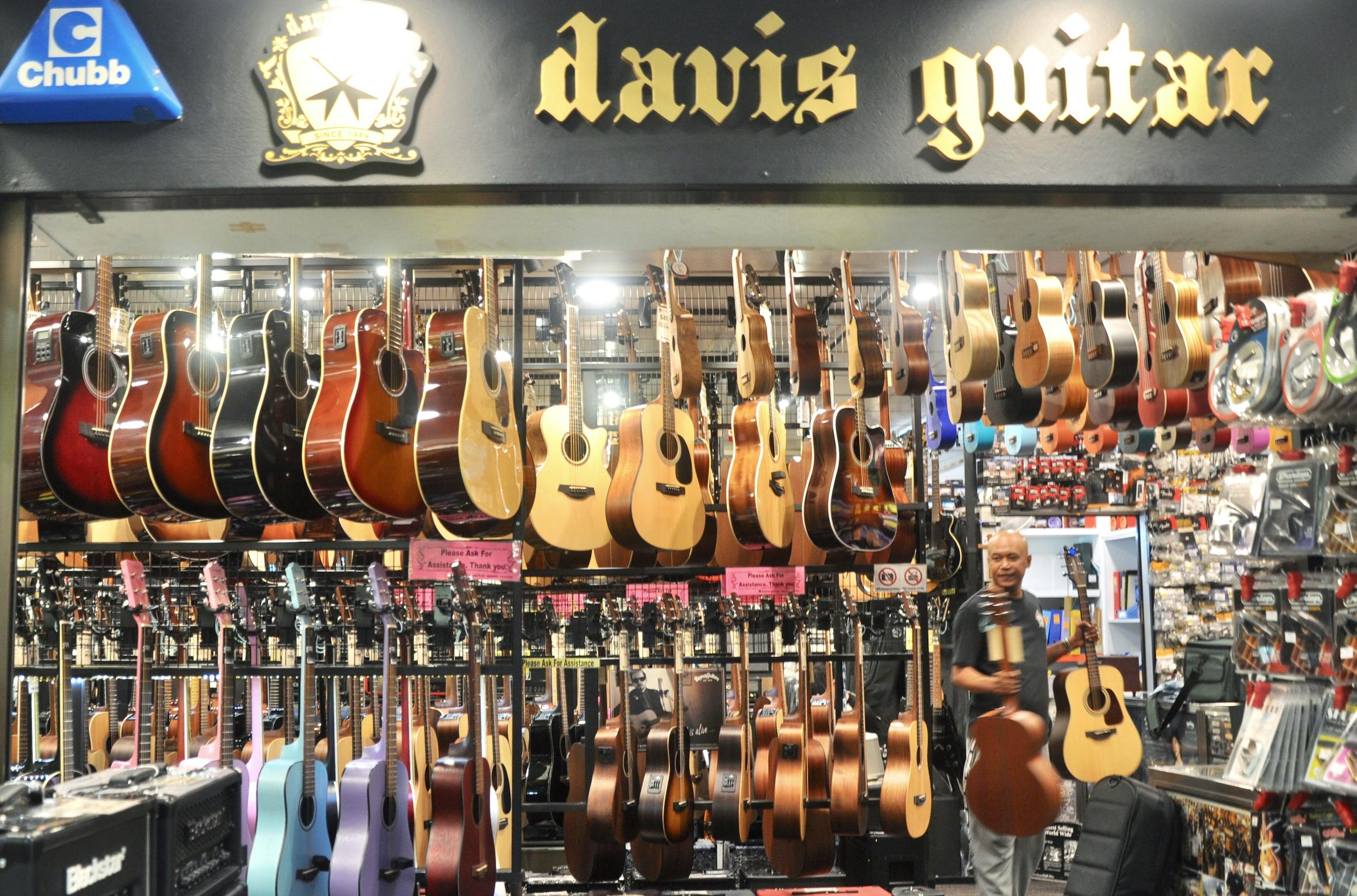 Easily mistaken for the aforementioned mall, Peninsula Shopping Center has an assortment of goods and services. The mall houses some harder-to-find popular joints like Bath & Body Works, and Baskin Robbins. Connected to the mall is also the rustic Excelsior Shopping Centre, which houses services and stores for Singapore's young and urban. The spot is a go-to for many's first tattoos, and also for people looking to get their hands on trendy band merchandise, and the coolest guitars. 
CBD - Play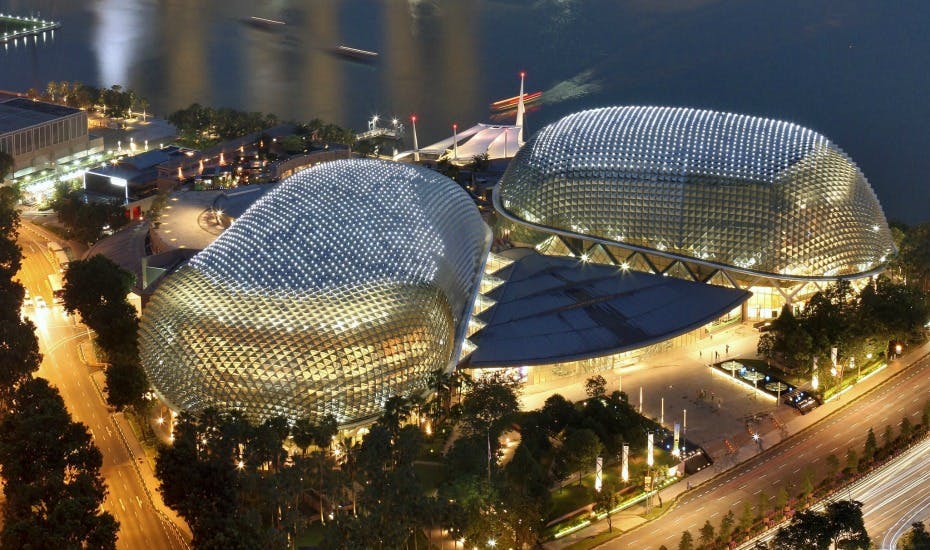 Locals taking the beauty of tourist spots for granted is not a problem that exists only in Singapore. If you're looking for something to do in Raffles Place and City Hall, maybe it's time to visit the Merlion Park. With two iconic statues of the mythical legend, the park is also a picturesque spot to watch the city come to life at night. And if that doesn't satiate you, you can go on a Merlion hunt to find Singapore's other Merlions - there are eight in total! 
Enjoy Singapore's performing arts with Esplanade - Theatres on the Bay, one of the busiest arts centres in the world, and the durian-shaped architectural marvel. The centre has weekly performances showcasing the talents of local and regional performers, and you can check their website for the schedule. You can also visit the library@esplanade, a public library dedicated to the performing arts. The library houses collections you will not find elsewhere, with material from the Asian Film Archive, Arts Alive, and W!ld Rice.
Experience the locale's history on the move with Singapore Footprints. A group of walking enthusiasts from NTU, Singapore Footprints, organises walking tours in the area for locals and tourists alike. Convening at Raffles Place MRT Exit B, their tours cover multiple spots of interest in the vicinity.
Alternatively, take in some of Singapore's prestigious art sites at The Arts House. The zone includes the National Gallery Singapore, and Victoria Theatre and Concert Hall. And for a stroke of culture beyond our humble borders, The Asian Civilisations Museum is a sure stopover.
CBD - Learn
The schools in Raffles Place and City Hall are mostly private learning and skills training institutions, as well as care schools for young children. Some skills training institutions include The Oriental School of Business, School of Counselling, Singapore Institute of Hospitality, Alsagoff Arab School, School of Nursing, and the Bedford Language & Commercial School. 
Some schools for young children with parents working in the CBD include Rosemary Hall Montessori Childcare, Greentree Montessori, House on The Hill Montessori Pre-School, and EtonHouse Pre-School Robertson.
There are also some primary and secondary schools in the area, including Insworld Institute, River Valley Primary School, City Private School, Farrer Park Primary School, and Madrasah Aljunied Al-Islamiah. 
CBD - Move
Like its sister district Raffles Place, City Hall is one of the two MRT stations on the East-West MRT line to have been designated as an interchange when the North-South line was extended from Yio Chu Kang. Taking its name for the national monument of City Hall, the MRT station has become synonymous with its location and the area surrounding it.
Since opening in 1987, City Hall MRT station has been one of the busiest MRT stations by virtue of its location and one of the two MRT interchanges in the CBD. Additionally, in 2000, CityLink Mall, Singapore's first underground mall, was built, connecting City Hall MRT station to Suntec City.
Subsequently, in 2002, the mall also served as a link to Esplanade - Theatres on the Bay, rendering City Hall MRT station the only station servicing these locations until 2010. When the Circle line was finally launched, Esplanade MRT station and Promenade MRT station both served to ease the traffic in City Hall MRT station.
In addition to the MRT, both Raffles Place and City Hall are served by an extensive array of bus services. Some of these services include 7, 14, 77, 106, 111, 162, 171, 175, 190, 700, and 857.
Where City Hall and Raffles Place do differ, however, is their accessibility by road. While Raffles Place is nestled within an intricate set up of buildings and small streets, City Hall has a wider scope of roads with quick access to Hill Street, Victoria Street, and Stamford Road. Both locations are close to Nicoll Highway.
Nevertheless, the parking in these areas alone would have you choosing a bus or train ride over driving.
CBD - Public Library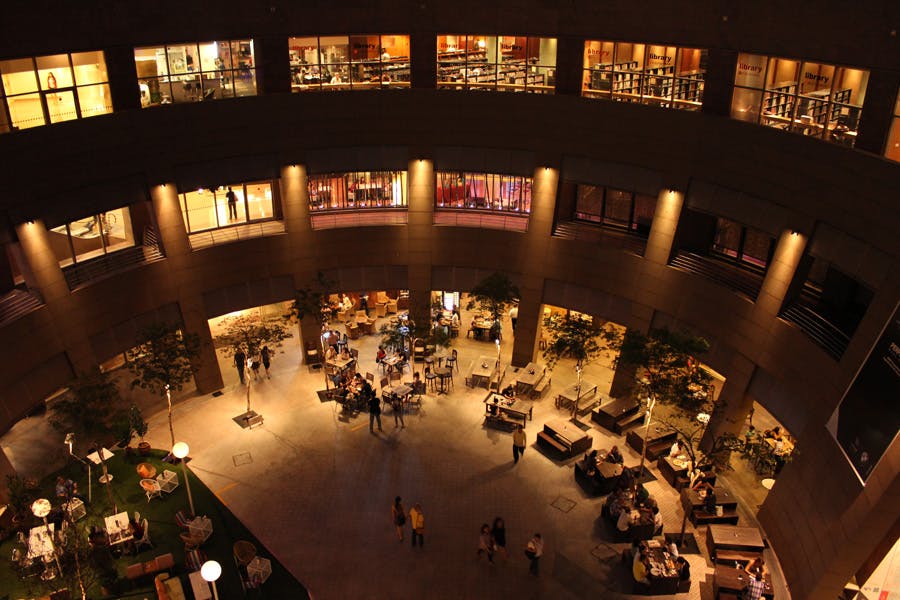 Sited within Singapore's Downtown Core, Library@Esplanade is an exceptional public library you surely would want to visit. It is located on the third floor of Esplanade Mall at Marina Centre and it is Singapore's first public library dedicated to performing arts. It is also one of the few libraries in the world to be located within a performing arts complex. Its specialised book collections, programmes, and information services seek to enhance the understanding and appreciation of the performing arts for people from all walks of life. In addition, the library also plays host to a variety of performing arts-related programmes and exhibitions. Some of Library@Esplanade's regular programmes include Esplanade Co.'s Festival programmes, SSO Pre-concert talks, music performances and recitals, talks by industry veterans and arts practitioners, as well as film screenings. Spanning a floor area of 2,300 square metres, the layout of Library@Esplanade comprises four clusters or "villages" for music, dance, theatre, and film. This arrangement seeks to create a conducive environment that supports creativity, learning, and entertainment.
CBD - Parks and Gardens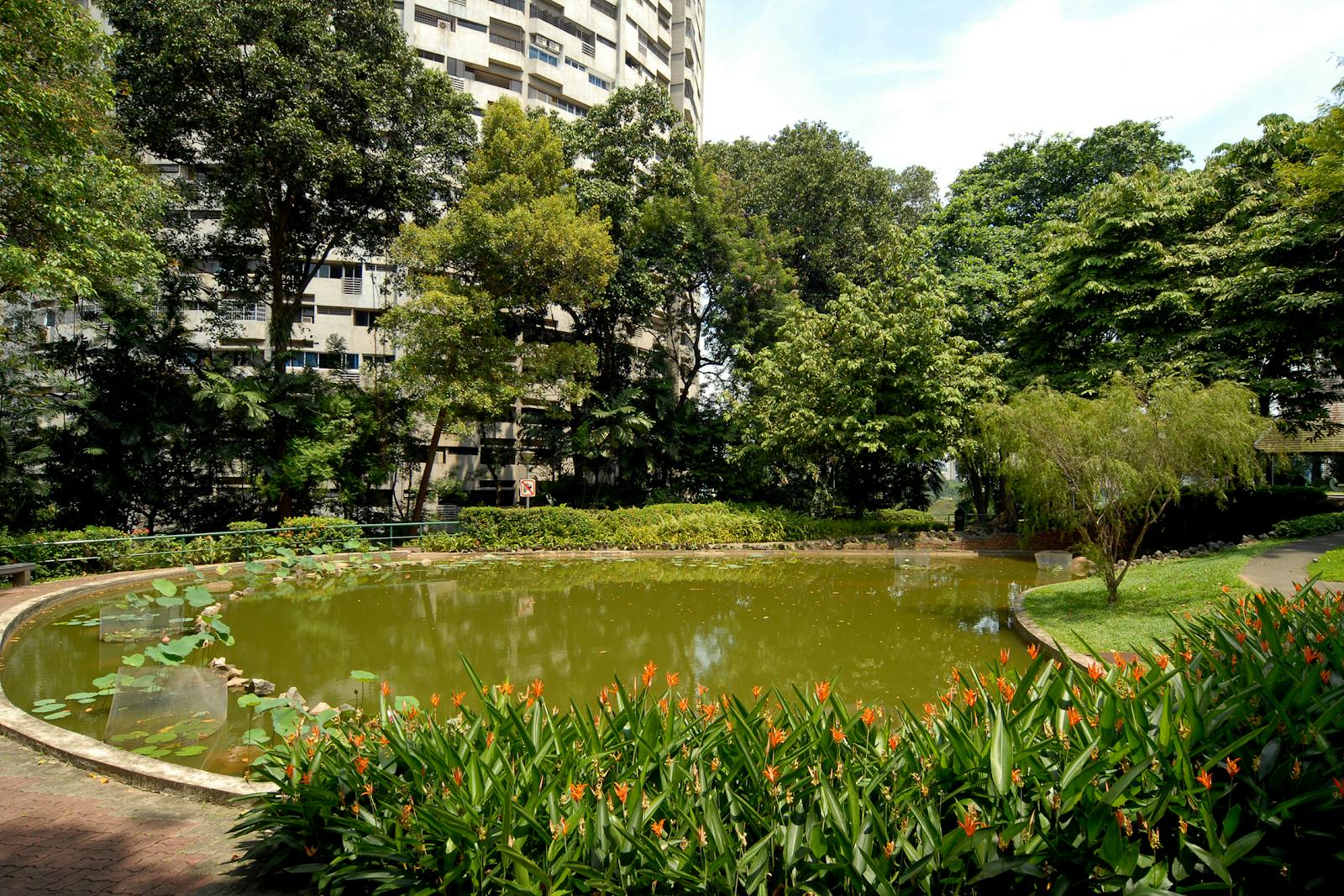 While Merlion Park is a major tourist attraction in the Downtown Core district of Singapore, locals might want something which can offer them a touch of tranquillity in the middle of the city. Here are a couple of public parks that 99.co would love to recommend, in times you need to refresh your mind and soothe your soul with some greenery. A green space within the heart of Singapore's financial centre, Raffles Place Park, is definitely on the list. It has become a favourite spot for the city's professionals who work in the surrounding commercial building to relax and unwind. A little bit further from the centre, Pearl's Hill City Park is also worth visiting. Built around a reservoir on top of a hill, it is a romantic hideout just 5 minutes away from the Outram Park MRT station. Visitors can look forward to enjoying the wooded ambience provided by the mature Tembusu trees while basking in the serenity of the park. Alternatively, sit back and relax by the pond and admire the beautiful lotus plant. This quiet ambience of the park makes it a great place to escape the hustle and bustle of the city.
Shortlist folder is empty
Search for listings to shortlist