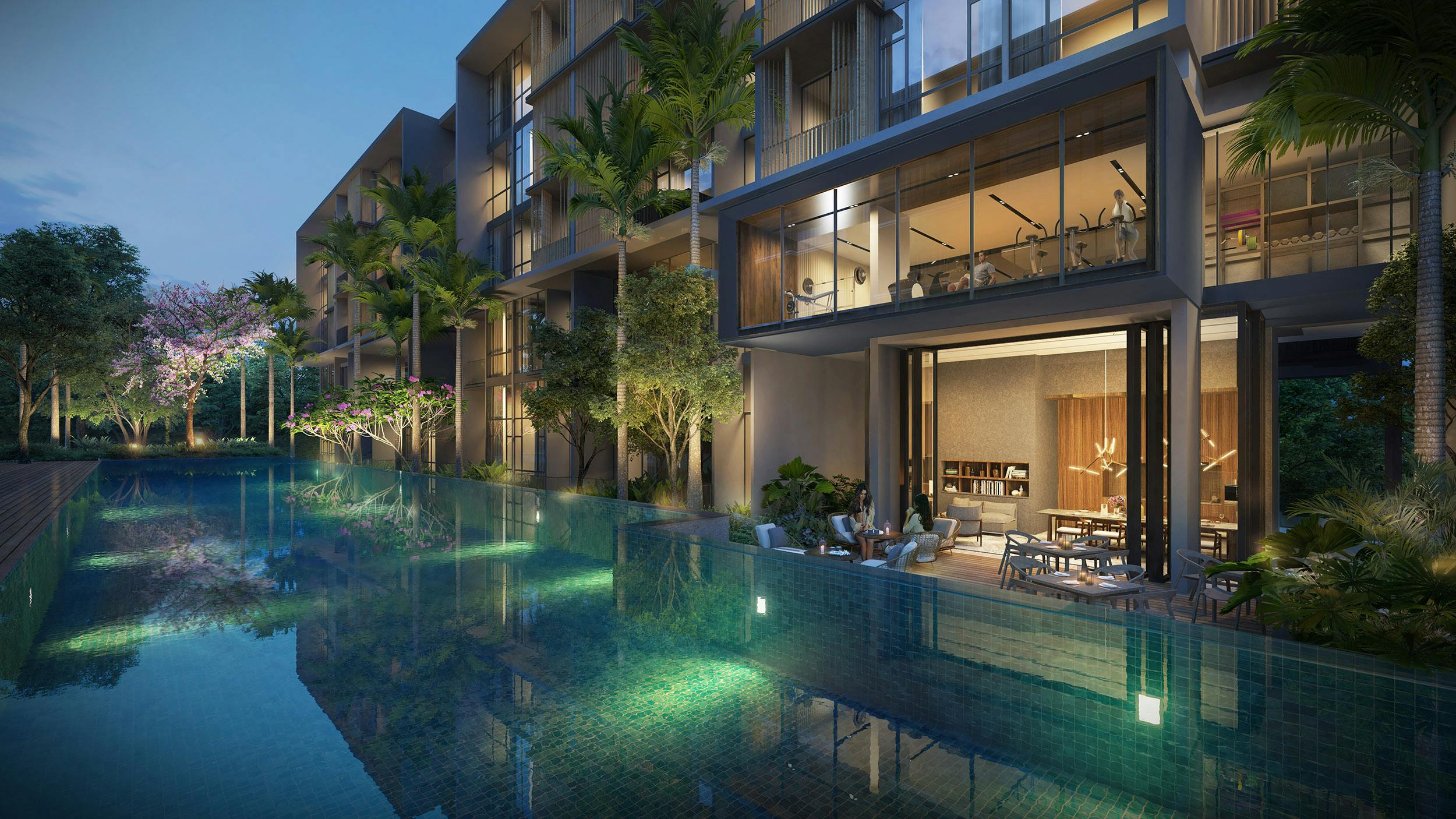 Parc Komo is an exciting, freehold residential that is situated along 38 Jalan Mariam Road in District 17, set to project a unique concept rooted in nature, life and community. Inspired by the architectural style of the refined, luxury and lifestyle resort, Aman Resort, the property is built and designed in mind to bring leisure, respite and tranquillity to future homeowners, and what it means to create that luxurious living space for the residents of Parc Komo to live a balanced and meaningful lifestyle in the most life-affirming way possible.
Developed by CEL Developments Pte Ltd, the property consists of 276 low-rise residential units, and sprawls across 10 blocks. Homeowners have the options to choose from a variety of apartment sizes, ranging from a cosy one-bedroom unit for the individual to a spacious five-bedroom unit for multi-generational living.
Home with an Exquisite Low Plot Ratio
Parc Komo is not only built and designed to deliver a whole new level of modern, luxury experience to would-be homeowners, within the enclave, where not a single HDB block is in sight, but it also provides a tranquil getaway from the towering skyscrapers that lace most other parts of Singapore. As there are no existing or upcoming mixed developments in the area, Parc Komo is referred to as "A Jewel in the East". The area where the property resides has a low plot ratio of 1.4 (the low density allows for more ground and garden space per resident). Unlike other locations with plot ratios of 2.8 to 4.9, residing on a plot ratio of 1.4 means that Parc Komo gives residents a unique sense of spatial liberation that doesn't feel dense or congested.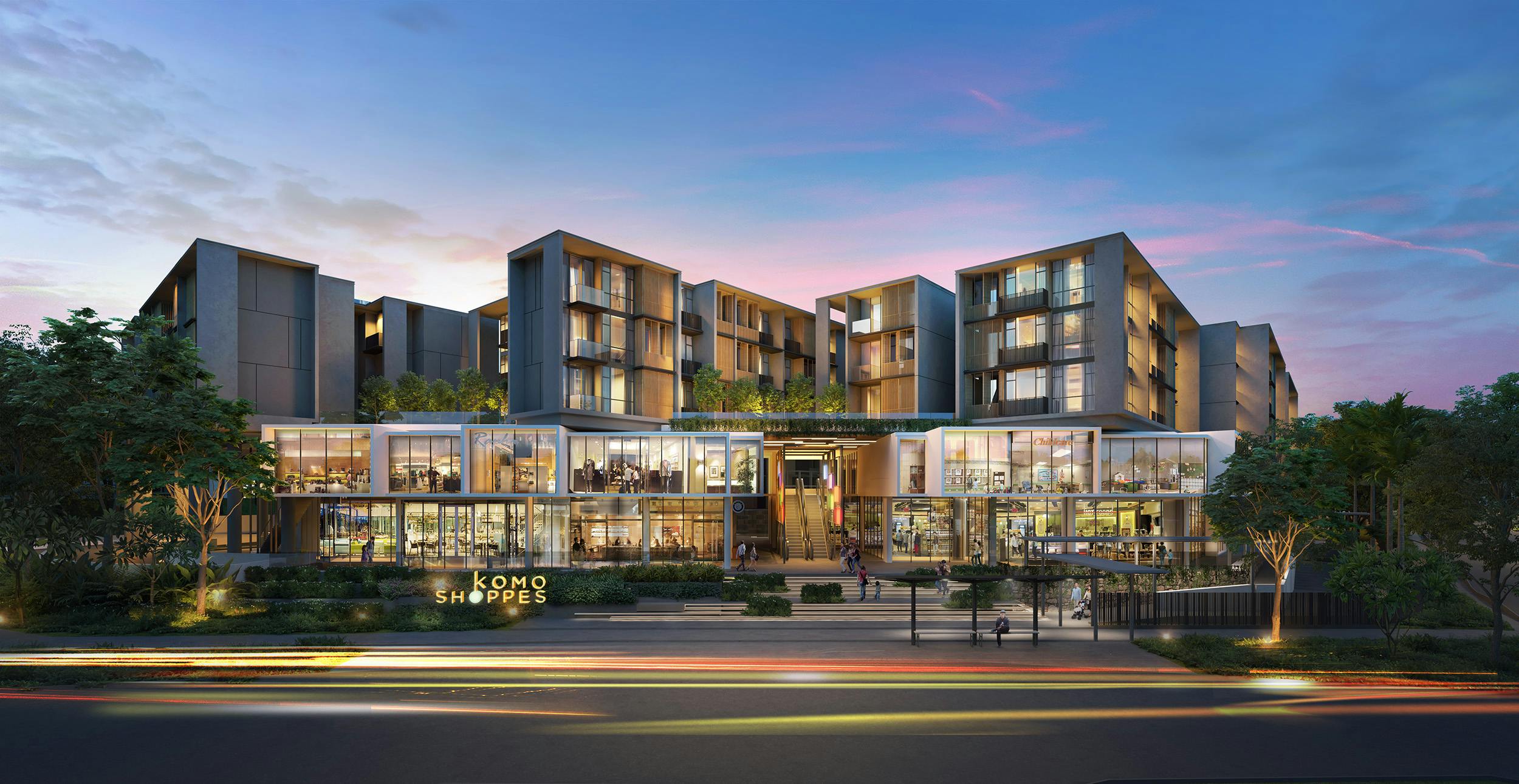 Embrace the Unprecedented Quality of Life in Your Abode
Parc Komo focuses on carving a legacy home and enriching the experiences in the house for residents to relish for generations to come. Designed to be rich in every narrative and detail, this home aspires to nurture a quiet sanctuary and inspire a cosmic retreat.
There is a full curtain window in each apartment to bring more light into the room. Imagine how it feels like to push out the windows and allow natural air to permeate every corner of your home while sipping a cup of chamomile tea. After all, a well-lit oasis with an abundance of natural light makes your home feel more summery and is always more welcoming to improve one's overall well-being.
Of course, a perfect abode is not complete without a good design choice. The interior designer has incorporated quality furnishing and fittings that are purposefully tailored to imbue a sense of personal connection, between meaningful function and living space, and it adds serendipitous elements to a room.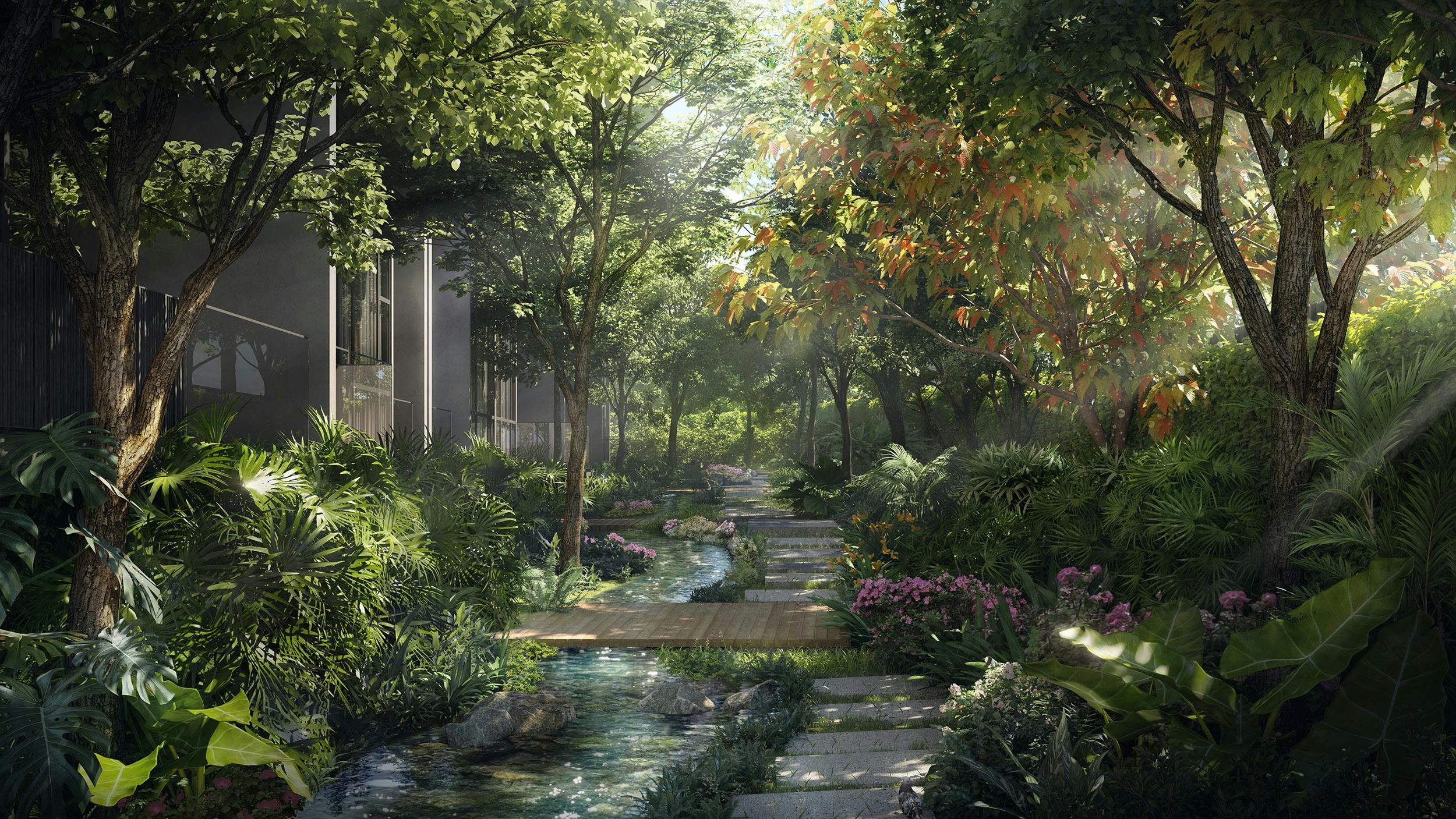 Experience Komorebi, Popular in the Japanese Culture
Retaining a calm and peaceful feel, the Komo in Parc Komo comprises also an outdoor sanctuary surrounded by abundant greenery, which is an addition that emphasises the connection to the outdoor spaces for all residents to enjoy.
Inspired by the Japanese word "Komorebi", which is well-known in the Japanese culture for "the effect of sunlight dances through the leaves and casts a gentle glow", the similar experience is beautifully interpreted in the shapes and structures found in the development that formed the concept for Parc Komo's outdoor landscape.
Step out and walk the trails of Komo and experience the natural sunlight filtering through the canopies, allowing one to reconnect with one's senses and find renewal in an overwhelming abundance of lush greenery at the outdoor spaces.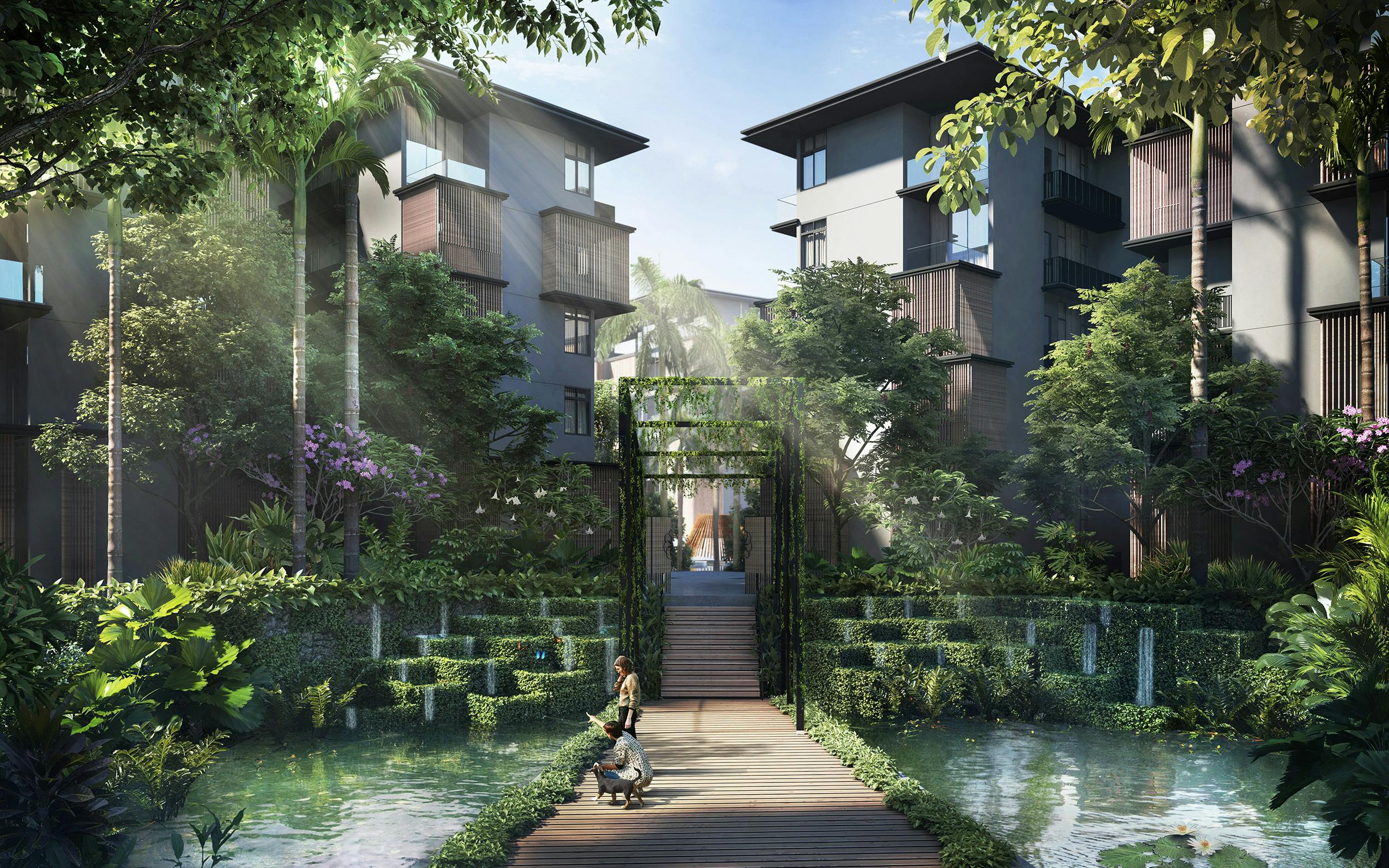 Nature Facilities: Connect and Embrace Nature
At Parc Komo, there is a perfect activity for every resident. Interesting facilities have been created outdoors to present a more laid-back environment so that you can return to your private sanctuary after a long day out and seek reconnection with yourself, those around you and get better acquainted with mother nature.
For residents who enjoy relaxing moments in the open air, the Nature Facilities are curated to offer just that – envisage the perfect, modern and versatile relaxing spaces to reconnect with nature – taking away those daily stresses and anxieties of life.
You don't have to go far out to welcome respite and escape the tropical heat. Just a stone's throw away from your doorstep, receive all the pampering treats you can at the Nature Facilities, comprising glamping, veranda stream and grotto jacuzzi with a cave-like alcove with trickling waterfall just to name a few, for a mindful and soulful retreat.
For the gardening enthusiasts, get up-close with the plants, spices and organic herbs at the Herbs Pavilion and discover their historical significance and healing property. Else take a gentle evening stroll through the garden, while breathing in the fresh scents of herbs and spices for inner healing.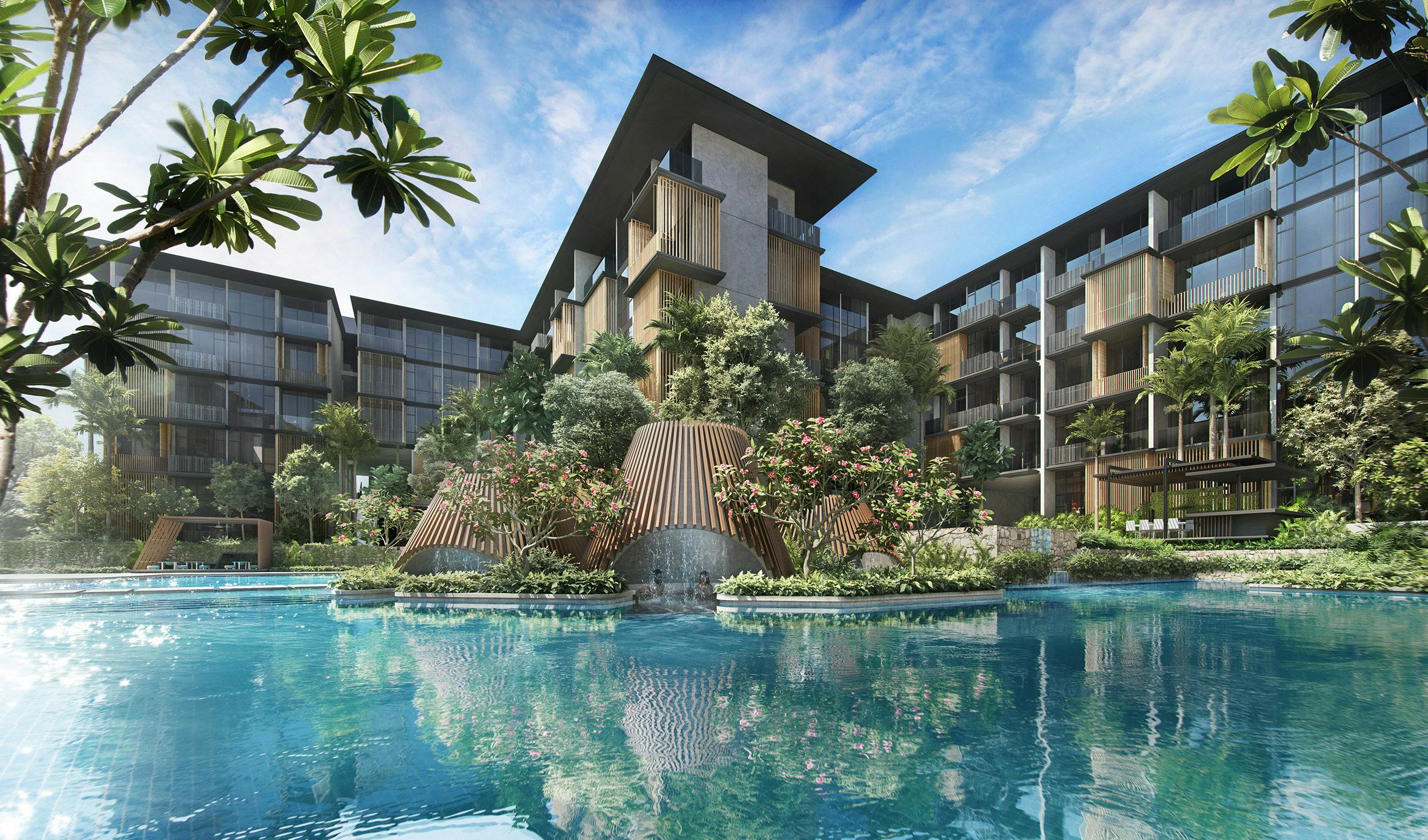 If it's not enough, uplift your spirit by engaging in fun-filled activities that are most important to you – be it spending time with your family and friends at the private party deck alongside the sunken lounge and a private pool, sweating it out at the state-of-the-art gym, or pumping up your adrenaline rush by taking it out at the 50m lap pool.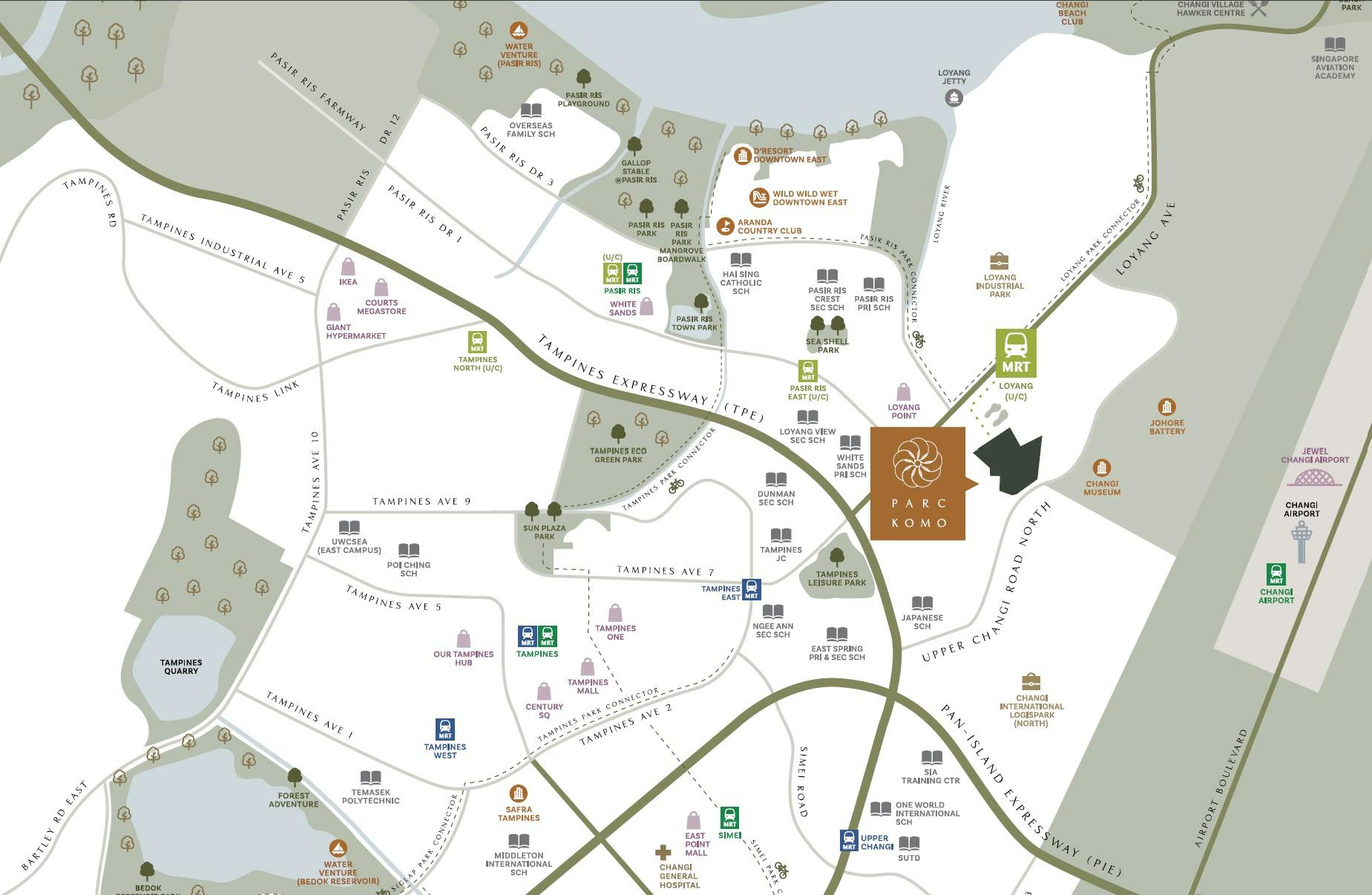 Beautifully Connected in Every Sense
In addition to the stunning residential, Parc Komo is well-positioned in the Eastern corner of Singapore, offering easy transportation, shopping and interesting F&B dining concepts, and even gourmet grocer which will be the new focal point of the neighbourhood, as well as a cluster of conveniences to residences:
Travelling: Easy Accessibility
Travelling by car can take the Tampines Expressway (TPE), Pan-Island Expressway (PIE) and East Coast Parkway (ECP) to reach other parts of Singapore.
A short

5-minute drive

to Changi Airport and Changi Business Park.
Nearby Giant, IKEA, Courts mega outlets, Tampines Regional Centre, Singapore University of Technology and Design and Singapore EXPO Convention and Exhibition Centre.
The nearest MRT stations of Tampines East and Downtown lines are close, along with island-wide buses 2, 4, 5 and 29 which can be accessed at the surrounding bus stops.
Shopping and Dining
Century Square, Tampines Mall, Tampines One, White Sands, Downtown East, Changi City Point, Changi Village, Changi Jewel and Komo Shoppes (bringing the new lifestyle mall at your doorstep).
Schools
Primary Level:

Primary Level:

Primary Level:

Casuarina primary school, East Spring primary school, Pasir Ris primary school, White Sands primary school.

Secondary Level:

Secondary Level:

Secondary Level:

Dunman secondary school, East Spring secondary school, Greenview secondary school, Hai Sing Catholic school, Loyang View secondary school, Meridian secondary school, Ngee Ann secondary school, Pasir Ris Crest secondary school.
Others: Singapore University of Technology and Design, Temasek Polytechnic, The Japanese School (Changi Campus), United World College. 
Places of interest
A short drive to Changi Coastal Point, Beach, Pulau Ubin.
Enjoy picturesque views along the Changi Point Coastal.
Immerse in the tranquillity of Changi beach and Pasir Ris Park and take a gander at planes flying by along Tanah Merah Coast Road or Aviation Park Road.
Over the years, CEL Developments has overseen many full sold projects such as High Park Residences, 100 Pasir Panjang Riviera Residences and many more. Drawing on the property developer's diverse range of expertise and know-how, Parc Komo offers quality living, functional layouts, as well as fair pricing strategies, which saw over 70 per cent of Park Colonial sold since its launch in July 2018 despite a sluggish market. Backed by impressive growth in recent years, CEL Development has developed a portfolio of projects in Singapore, including a well-established presence abroad (Australia, Vietnam, etc.).
Find your home with 99.co today!