Pinetree Hill location review
Neighbourhood and amenities around Pinetree Hill
During our visit to Pinetree Hill's showflat, we drove past the development's neighbourhood as the showflat is located at its actual site. Although Pinetree Hill is in District 21, it is at the fringe of the district and is very close to prime District 10. Other than the main traffic along Ulu Pandan Road, the Mount Sinai area is a tranquil enclave of private condos and landed houses. Hence, the area is perfect for buyers who like some privacy and exclusivity.
Pinetree Hill's neighbours are older developments like the Pine Grove condo, Pandan Valley and Astor Green, all of which are over 20 years old.
In terms of F&B and hangout spots, Pinetree Hill is less than a 10-minute drive to Sunset Way, Holland Village and Dempsey Hill. In just a 5-minute drive, you can easily get to Clementi Central Town Centre and the malls around it. In terms of groceries, Cold Storage Jelita is the nearest, followed by Sheng Siong at Blk 352, Clementi.
Pinetree Hill is also near several nature spots like the Clementi Forest and Rail Corridor. Here's a video walkthrough of the Rail Corridor (Central), which is easily accessible via Holland Road near the development:
Connectivity and accessibility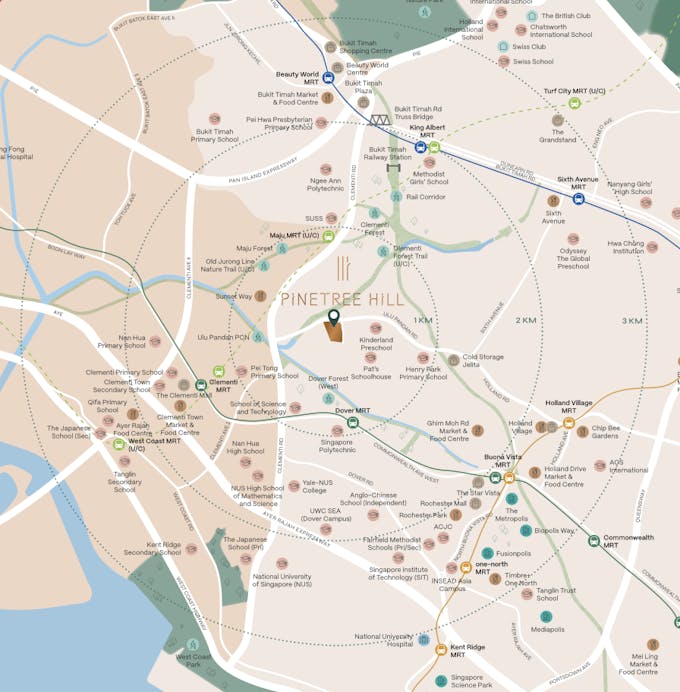 In terms of connectivity, the nearest MRT station to Pinetree Hill is Dover, which is about a 15-minute walk. With Singapore's unpredictable weather, a 15-minute walk is not the most convenient and the route to the MRT is unsheltered as well. (It would be the perfect opportunity to clock your steps though.)
However, on the bright side, multiple buses along Ulu Pandan Road will bring you to Clementi and Holland Village MRT stations. Some buses will also bring you to Orchard and the city centre. The management will also provide a free shuttle service to Holland Village and Buona Vista for the first year.
Based on the demographics of those living in the area, we foresee that many residents will drive. What's great is that Orchard and the CBD are within a 15-minute drive. The one-north business district is about a 7-minute drive from the development.
Schools near Pinetree Hill
One of Pinetree Hill's target demographics is young families and it's not hard to see why. The development is located in a "prime education belt" as there are reputable schools nearby, from pre-school to primary, secondary and tertiary education.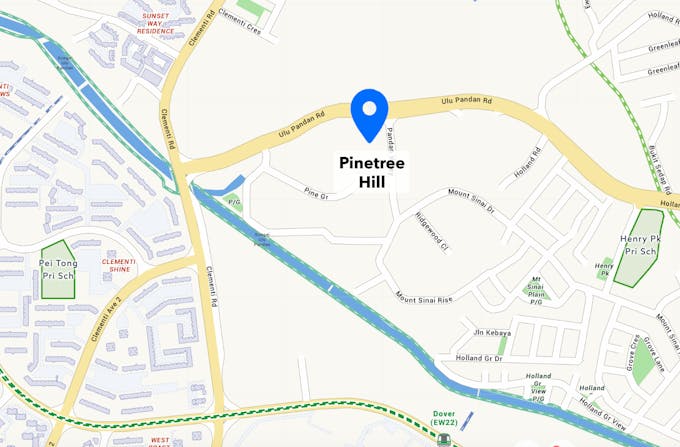 For those participating in the primary school balloting, Henry Park Primary and Pei Tong Primary are within 1km of Pinetree Hill. The former is best known for its gifted education programme (GEP). Other reputable schools like Pei Hwa Presbyterian Primary, Methodist Girls' School (Primary) and Nan Hua Primary are within 1-2km of Pinetree Hill as well.
In terms of secondary and tertiary education, some of the notable ones near Pinetree Hill are Methodist Girls' School, Nan Hua High, ACS (Independent), Anglo-Chinese Junior College and the National University of Singapore.
For expatriate families, the nearest international school is Dover Court International School and the UWC Southeast Asia (Dover campus).