Pinetree Hill
Pinetree Hill (Pine Grove Parcel A) is a new launch condominium located within the Ulu Pandan vicinity in District 21 with a site area of 22,534.7 square metres (242,561 sq ft) and a lease of 99 years. Along with Pine Grove (Parcel B), which is adjacent to the site, these two developments are situated where the now-defunct Nexus International School used to be. Pinetree Hill is the first new launch in the vicinity in 14 years and will have 520 units.
The development will have three 24-storey residential towers comprising a mix of 1-bedroom + Study to 5-bedroom units. Residents will enjoy unblocked views of the tranquil surroundings as the units oversee Clementi Forest and Bukit Timah Nature Reserve. The greenery of the nearby nature sites will also be incorporated into the development's design.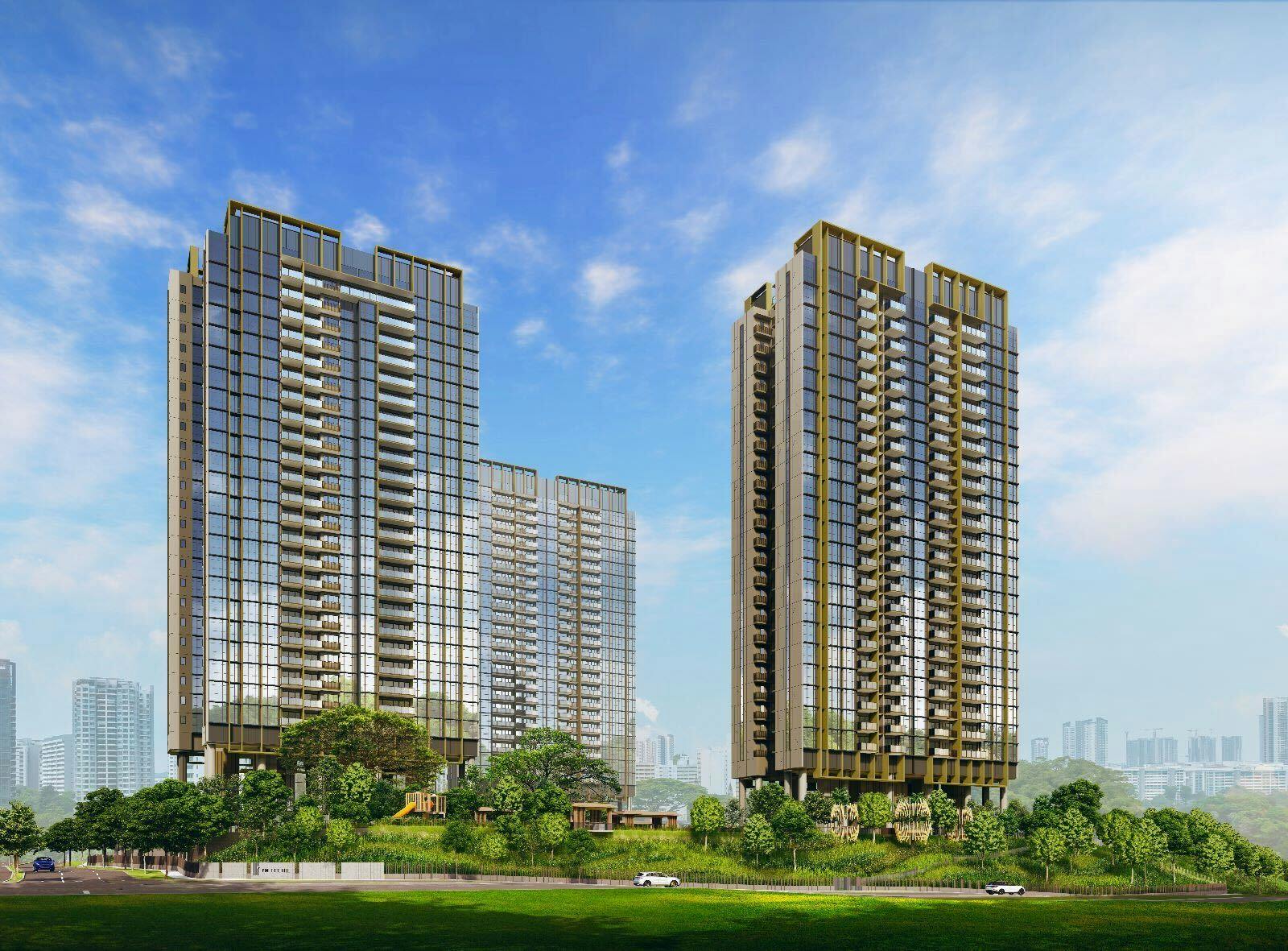 Pinetree Hill - Artist's impression
Pinetree Hill - Pine Grove (Parcel A) Government Land Sale (GLS)
United Venture Development, an 80:20 joint venture between UOL Group and Singapore Land Group, won the bid for the Pine Grove site where the Pinetree Hill condominium is set to develop. The winning bid was S$671.5 million, which translated to S$1,318 psf per plot ratio.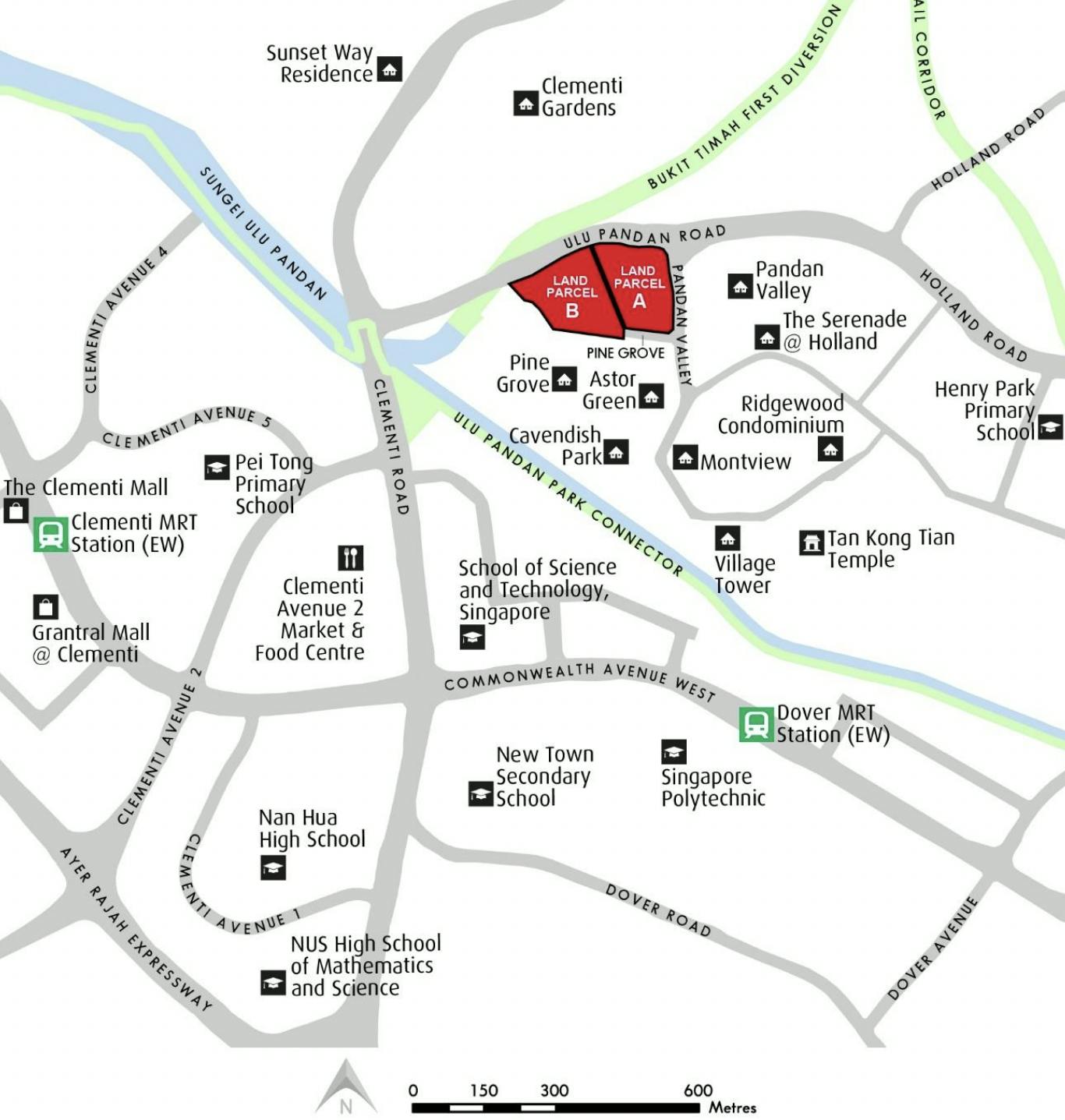 Map of Pine Grove (Parcel A) GLS. Source: URA
Pinetree Hill Unit Mix and Facilities
43% of units in Pinetree Hill are 2-bedders, making it the predominant unit type. 3-bedders and 4-bedders make up 30% and 14% of the units, respectively, while 1-bedders and 5-bedders each make up 4%. There is only one penthouse in the entire development.
1-Bedroom + Study - 538 sqft (22 units)
2-Bedroom - 700 & 805 sqft (45 units)
2-Bedroom Premium - 764, 775 & 915 sqft (113 units)
2-Bedroom Premium + Study - 797 sqft (68 units)
3-Bedroom - 969, 1163 & 1173 sqft (68 units)
3-Bedroom Premium + Study - 1216, 1421 & 1453 sqft (91 units)
4-Bedroom Deluxe with Private Lift - 1292 & 1485 sqft (45 units)
4-Bedroom Premium with Private Lift - 1464 & 1668 sqft (45 units)
5-Bedroom Premium with Private Lift - 1733 sqft (22 units)
Penthouse - 2874 sqft (1 unit)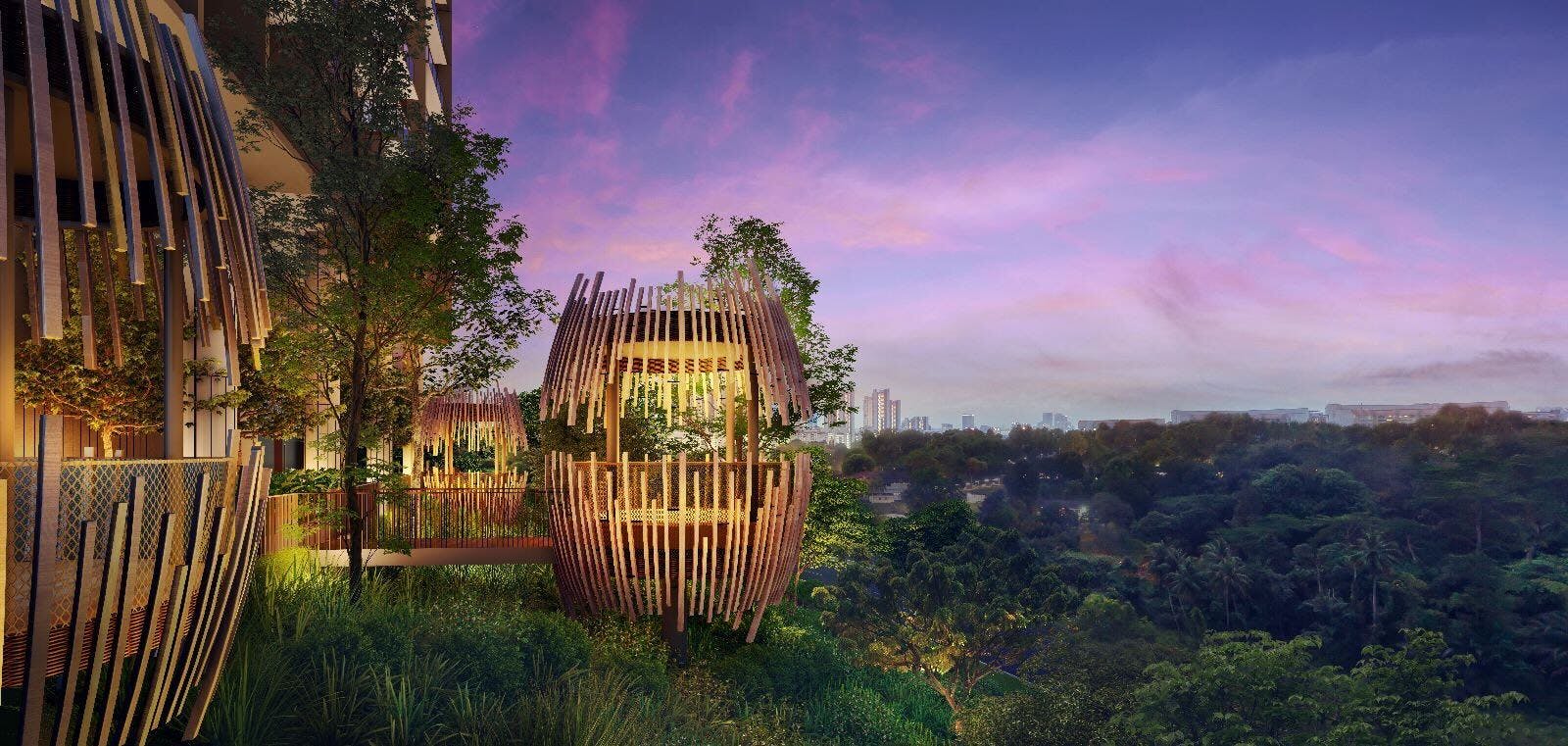 Pinetree Hill Nest - Artist's impression
One of Pinetree Hill's highlights is the PineTree Nest. As Pinetree Hill is situated on elevated ground, residents will be able to enjoy a view of the surrounding vast greenery from the PineTree Nest. This will create a charming resort-like ambience for residents.
Some of the development's facilities include:
50m Lap Pool
Pool Deck
Aquatherapy Pool
Half Basketball Court
Tennis Court
Karaoke Rooms
Gym and Social Space
Outdoor Gyms
Function Rooms (3)
BBQ Pavilions
Exploration Tails
Gardens (Cyathea Garden, Maranta Garden, Heliconia Garden)
Pine Grove Pond
Ulu Pandan and Mount Sinai Locale
Pinetree Hill is tucked away within a quiet residential area close to greenery, which is good news for those who want to enjoy some peace and tranquillity. However, it is also situated close to Sunset Way, which is known to have several eateries and cafes for residents to enjoy a meal or two. So, it's a balance of exclusivity and convenience.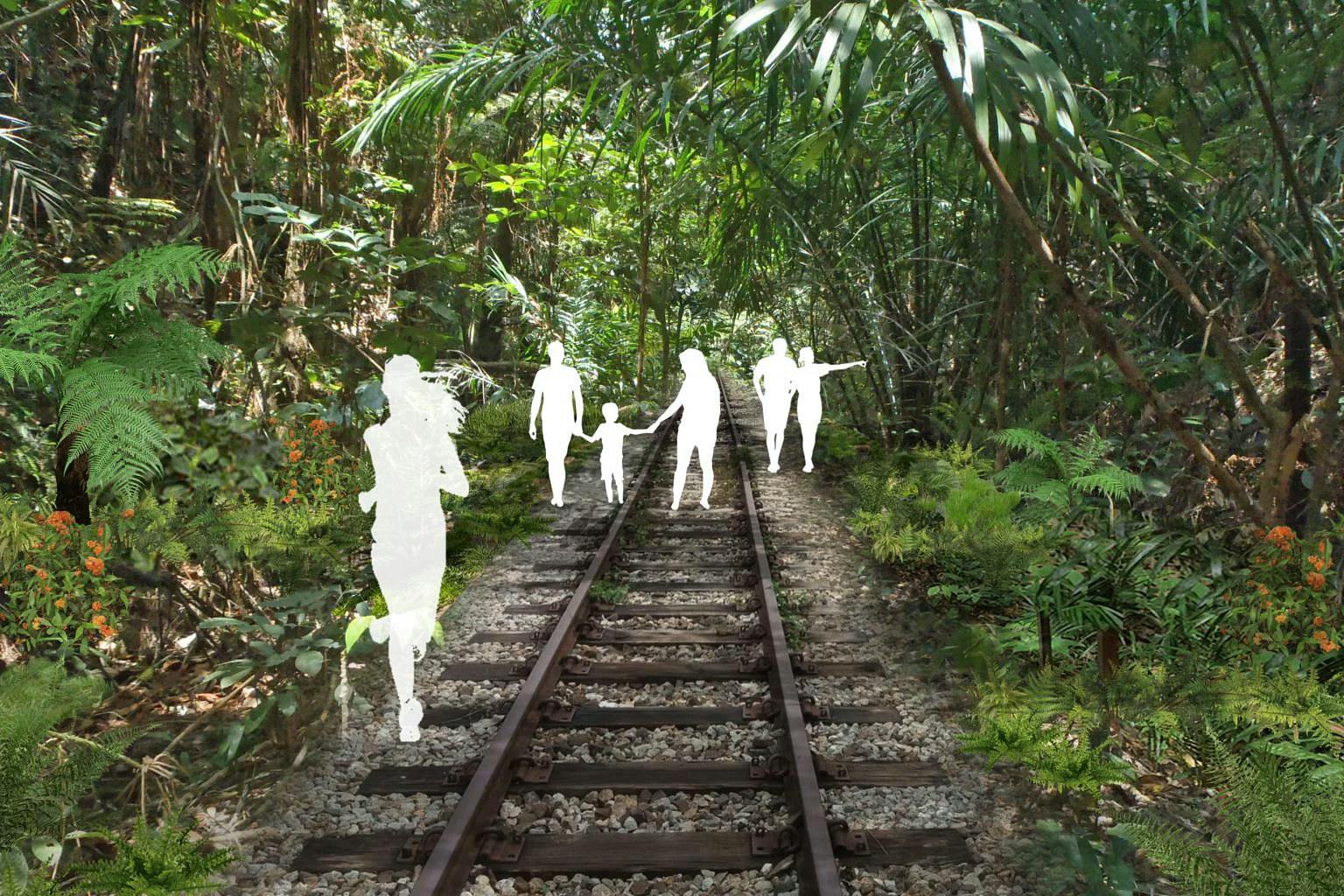 Clementi Forest. Source: NParks
Moreover, Pinetree Hill is surrounded by nature. The site will be within walking distance for residents to access the upcoming Clementi Nature Trail, and the trail will run along the Ulu Pandan Park Connector. It will eventually be connected to the rail corridor when the Clementi Nature Trail opens in 2023.
Connectivity and Accessibility around Pinetree Hill
Getting around the area is made easy with a wide selection of bus stops and bus services, which will be able to take you to places such as Bukit Batok and Clementi Central. The nearest MRT station to Pinetree Hill is Dover MRT station on the East-West line, which is within a 15-minute walk and less than a 5-minute drive. Residents can also enjoy added accessibility with the upcoming Maju MRT station on the Cross-Island line Phase 2, expected to be completed in 2032.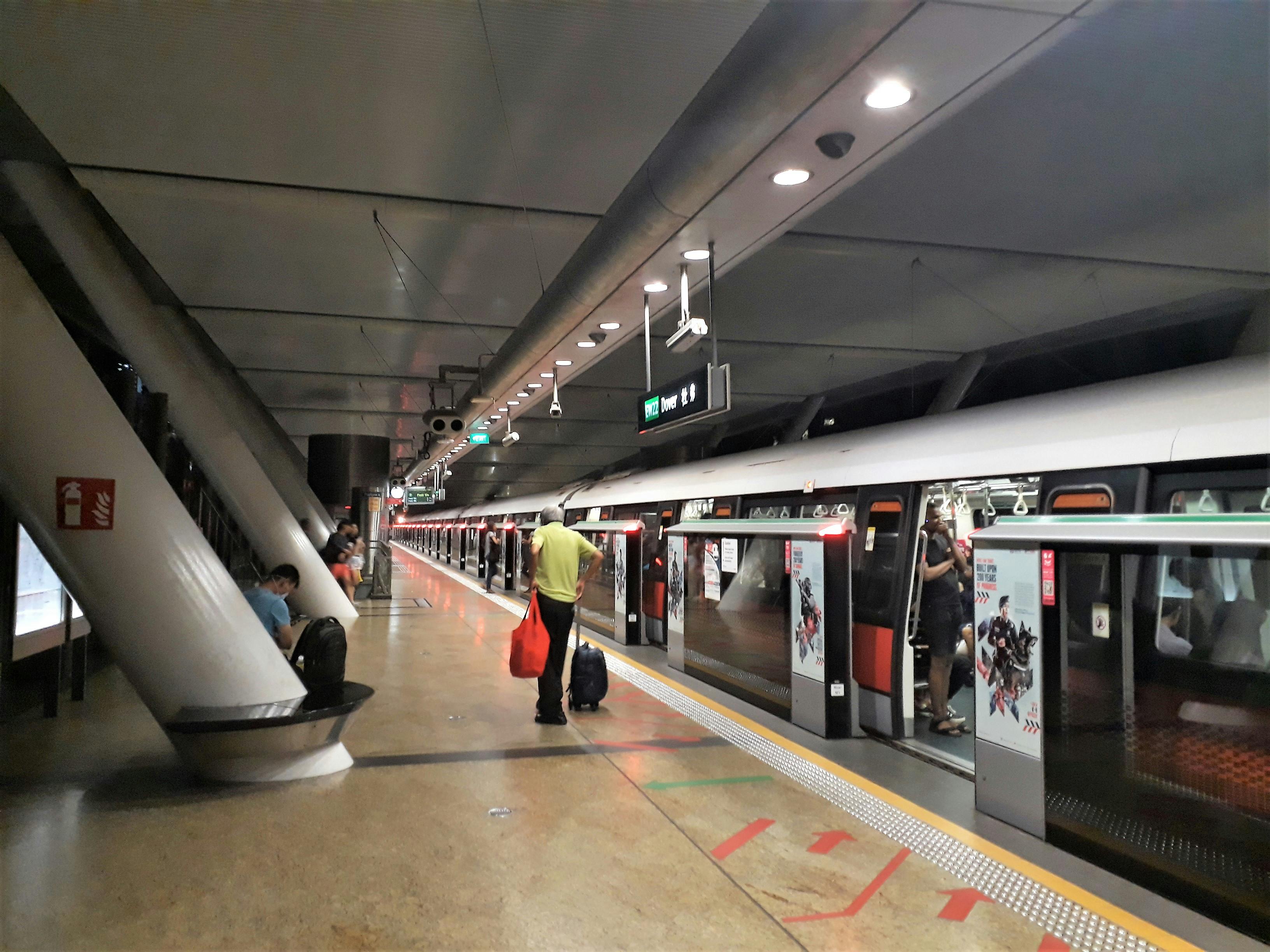 Dover MRT Station
If you drive, it would be a 10-minute drive to Clementi Mall, Grantral Mall @ Clementi, and Clementi Avenue 2 Market and Food Centre for all your daily essentials and retail needs and an estimated 30 minutes to the city and CBD.
Schools near Pinetree Hill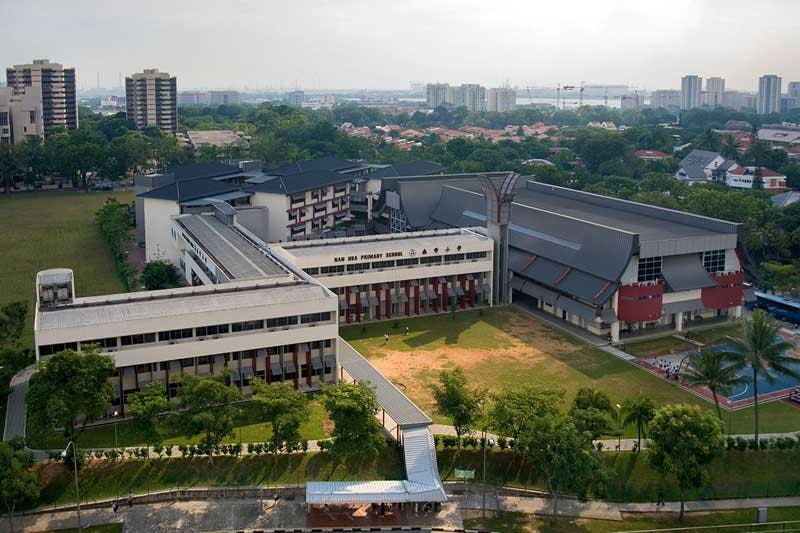 Nan Hua Primary School
Pinetree Hill is located close to Clementi, which is a very popular neighbourhood for families with children due to its extensive variety of popular schools nearby. Notably, it is within 1km of the renowned Henry Park Primary School and Pei Tong Primary, which will be advantageous for those participating in the Primary 1 registration exercise.
Other nearby schools include Nan Hua Primary School, Methodist Girls' School (Primary), Nan Hua High School, School of Science and Technology, Singapore Polytechnic and NUS High School of Mathematics and Science.
Shopping Malls near Pinetree Hill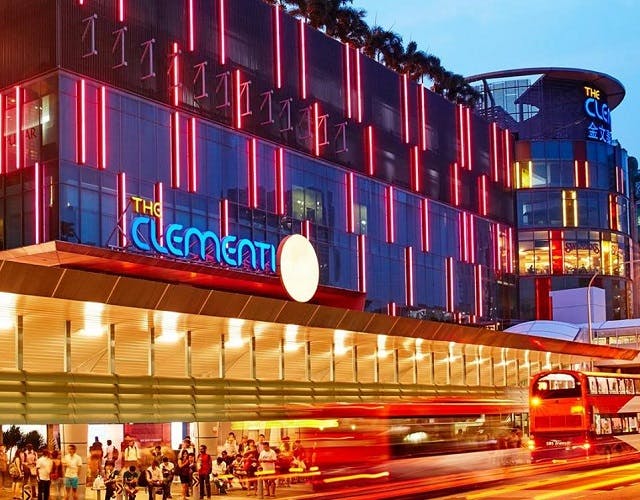 The Clementi Mall
There are several well-established shopping malls around the Pinetree Hill condo. The closest one, the Clementi Mall, is within a 7-minute driving distance. It is a five-storey mall with many popular tenants, with Clementi Public Library located within the building. 
Other than the Clementi Mall, other shopping malls within a 10-minute driving distance include Clementi Avenue 2 Shopping Centre, the Star Vista, West Coast Plaza, and Viva Vista Shopping Mall.
Hawker Centres near Pinetree Hill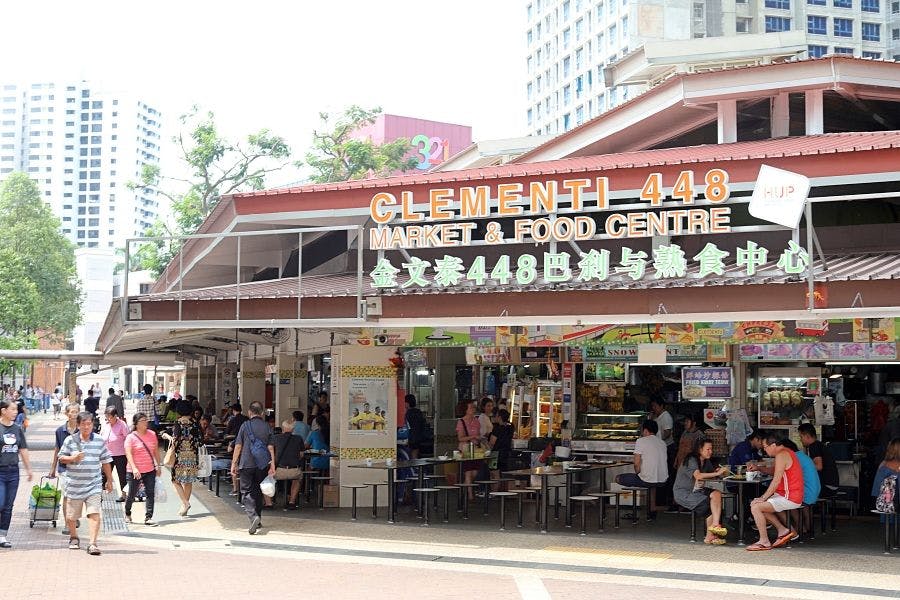 Clementi 448 Market & Food Centre
Residents have a wide range of options when it comes to hawker food. There are over 5 hawker centres nearby, including Clementi 448 Market & Food Centre just beside the Clementi Mall. Some say they can find "the best carrot cake in Singapore" in this hawker centre. Fried Carrot Cake is probably the one with the longest queue at Clementi 448 Food Centre – people love this for its old-school flavour. 
Many other stalls include Sayed Aminah Muslim, Lau Phua Chay Roasted Rice, Nee Kee Fried Prawn Noodles, and Chai Ho Satay. Residents of Pinetree Hill condo will be spoiled with so many choices of good food, indeed.
Places of Worship near Pinetree Hill
Temples are quite abundant in the area near Pinetree Hill. Tan Kong Tian Temple, for example, is located within walking distance. Nearby temples include Hoon San Temple, Clementi United Temple, and Ang Chee Sia Ong Temple.
St James' Church, Church of the Holy Cross, Christian Disciples Church, and Covenant Community Methodist Church are all within a 3-kilometre radius of Pinetree Hill. As for mosques, Masjid Darussalam and Surau Ghim Moh are among the nearest ones.
Hospitals near Pinetree Hill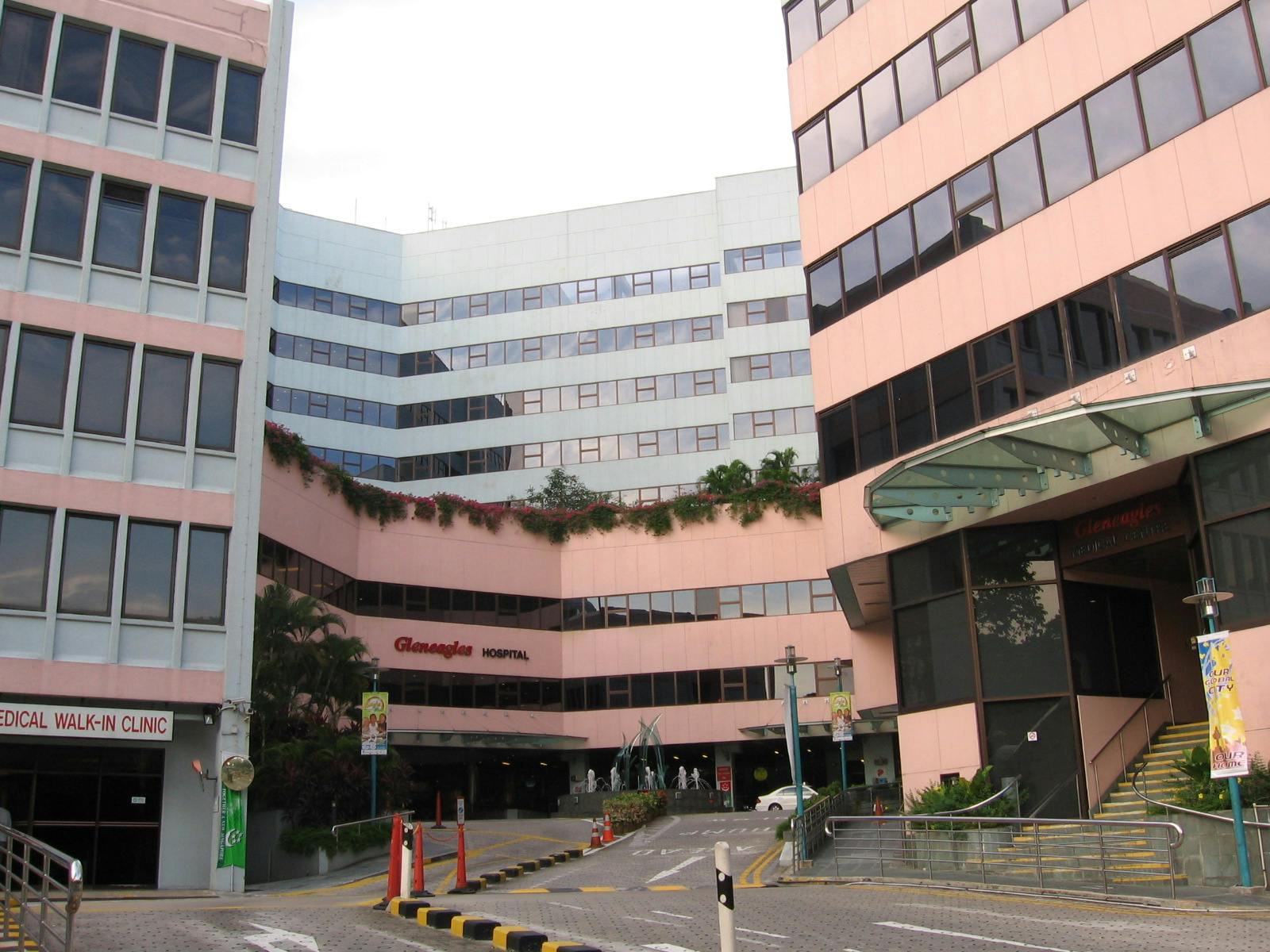 Gleneagles Hospital
Nearby healthcare facilities include Gleneagles Hospital, a full-facility hospital located around a 12-minute drive from Pinetree Hill condo. The 233-bed hospital provides specialist, diagnostic, and imaging services. The specialities include oncology, cardiology, gastroenterology, orthopaedic surgery and sports medicine, and obstetrics and gynaecology.
Those who prefer medical facilities closer to home can head to Teo Clinic & Surgery, Swiss Clinic, or International Medical Clinic – these are among the nearest clinics to the Pinetree Hill condo.
URA Masterplan near Pinetree Hill
The Ulu Pandan neighbourhood will be undergoing several developments in future, and this will benefit residents of Pinetree Hill.
One of the proposed developments is a nature park in the western part of the Ulu Pandan estate, which will be within walking distance of Pinetree Hill.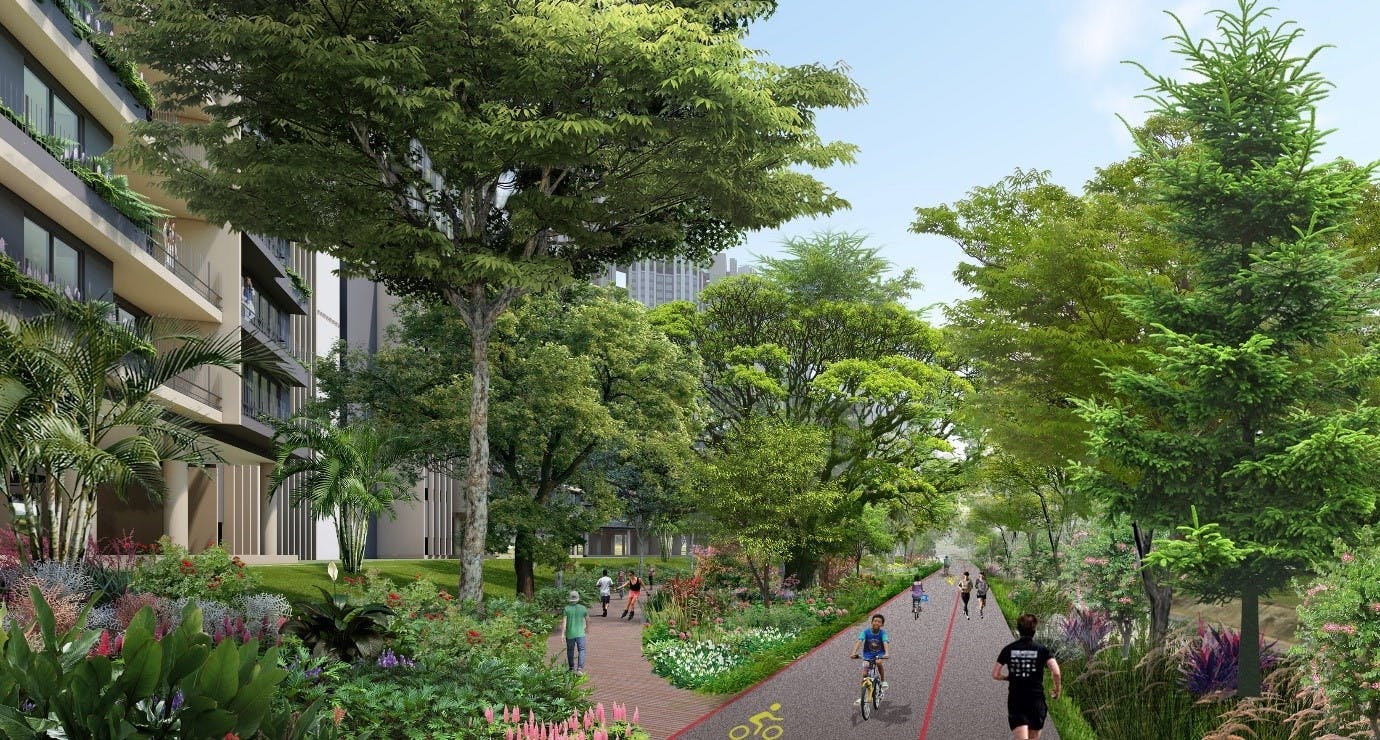 Artist's impression of a green corridor along Ulu Pandan Canal. Source: HDB
There could also be a linear park and green corridor along Ulu Pandan Canal with upgraded water features and a wider park connector where residents can enjoy a walk or run. There will also be increased connectivity to Dover MRT station from the Pine Grove estate.
Artist's impression of a commercial node at Dover MRT. Source: HDB
Pinetree Hill residents will also enjoy a new commercial node next to Dover MRT station. This will include a wide range of commercial and recreational amenities, shops and F&B outlets.