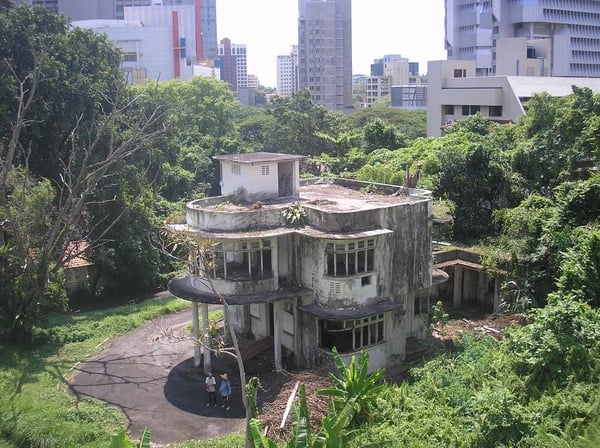 Looks can be deceiving. For example, my stomach extends 12 inches past my waist, but in reality I eat only salads. That's like the places on this list: they're kind of old and run-down, but you'll be amazed to know how much they're really worth.
1. Peace Mansion
Peace Mansion is located along Sophia Road, and is within striking distance of town, Little India, and a wide range of sexually transmitted diseases.  
By that I mean the apartments are attached to Peace Centre, which houses a range of seedy KTVs. Walk around at night, and you'll see the downstairs food court is filled with hostesses, or patrons glowering at you from the top of a beer bottle.
A former resident of Peace Mansion, who wanted to remain anonymous, told me conflicts with the management are common. Just a few years ago, residents banded together to vote out the management because of maintenance issues.
The resident cited leaks, musty smells, and cleanliness issues. In fact, he left before it was resolved, because he found conditions at a Hotel 81 more comfortable.
But to be fair, I think Peace Mansion is in admirable condition, considering it was built, oh, five years before the Vietnam War ended. Its 99-year lease began on 2nd June 1970, so give the place a break.
Hidden value:
$1,125 per square foot, with a total value of about $680 million.
Peace Mansion has gone up for an en-bloc sale three times, with no success. Why? Because of location.
Peace Mansion sits at the junction of Selegie Road and Sophia Road. That puts it within walking range of six MRT stations: Dhoby Ghaut, Little India, Bras Basah, Bugis, and the soon to come Bencoolen, and Rochor.
It is also next to the malls Parklane, PoMo, and Wilkie Edge, and about five minutes from Sim Lim Square.
And we wonder why residents keep a death grip on the place.
2. Chee Guan Chiang House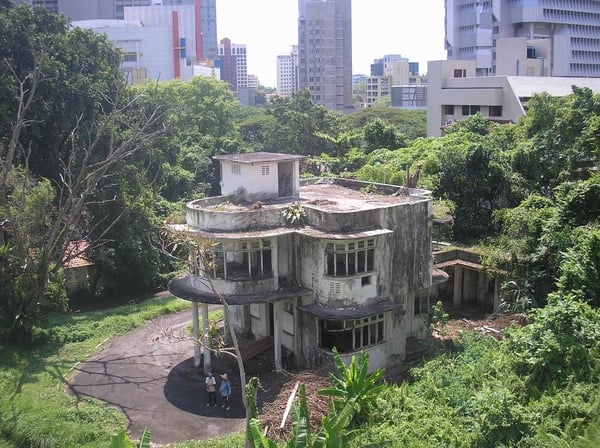 This house looks like a mid-air collision between five UFOs, which crashed into a clearing and never got untangled. It was designed by architect Ho Kwong Yew, who was cutting edge for his day. Sadly, the next cutting edge he met was probably a Japanese officer's sword; he was killed during the Occupation.
But the late Mr. Ho's design was influenced by buildings like the Da La Warr Pavilion in the UK, which makes it pretty visionary for its time. This mansion was one of Singapore's most daring residential buildings in its day, and it still looks better than buildings like Ion (which is apparently influenced by the structure of a large genital wart.)
The building is closed off now, and in 2008 was rightfully added to the list for conservation.
Hidden value:
One of the most valuable residential properties in Singapore. Not only is it on prime location along Grange Road, it's 100,000 square feet. That gives it an estimated value of over $400 million. It's currently owned by Lee Tat Developments.
3. The Verge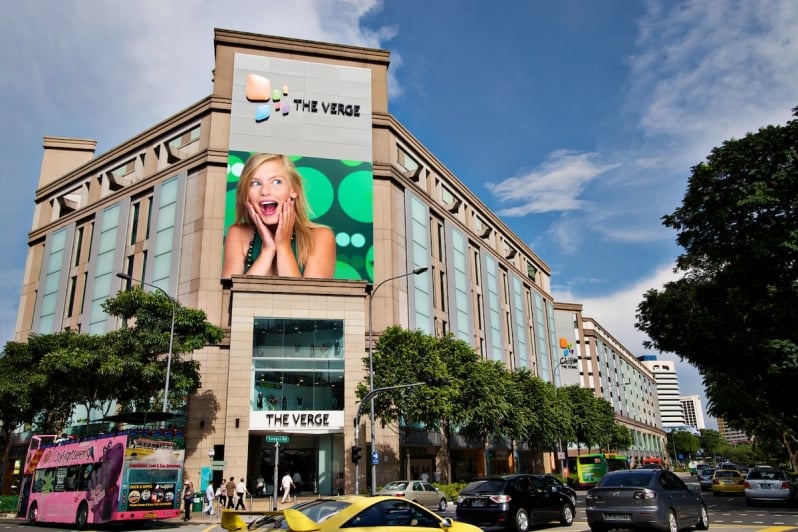 This makes me cry. The Verge used to be Tekka Mall, a bustling hub in Little India which most of us loved growing up. Then it became the monstrosity called The Verge, and is now a giant black hole into which all life and energy disappears.
I used to think they called it The Verge because it looks perpetually on the verge of vacancy. There seems to be no rhyme nor reason to the inner workings of this mall.
Most malls have a particular theme, or an anchor tenant. Just like how Wheelock once had Borders, and The Heeren once had HMV (notice how they flopped about after the anchor tenant left.)
Well The Verge lacks that – unless you count the one big family KTV it has – and so lacks the same vibrancy that once came out of Tekka mall (no offence to the individual shops there, which are just fine. It's just that the combination of shops is disparate.)
But while The Verge has never quite recaptured the aura of Tekka, its location is not to be questioned.
Hidden value:
The entire property has been sold for $317 million, to Mr. Keith Tang, Chairman of Heritage Group. The plan is to redevelop it into serviced apartments, and somebody got a steal here.
The Verge has a prime location in Little India (with the related train station), and is included in the downtown core planning region. That will expose it to a ton of demand from affluent expatriates and tourists.
The value of the resulting development is expected to be around $1,920 per square foot per plot ration, for a total of around $480 million.
4. Karikal Mahal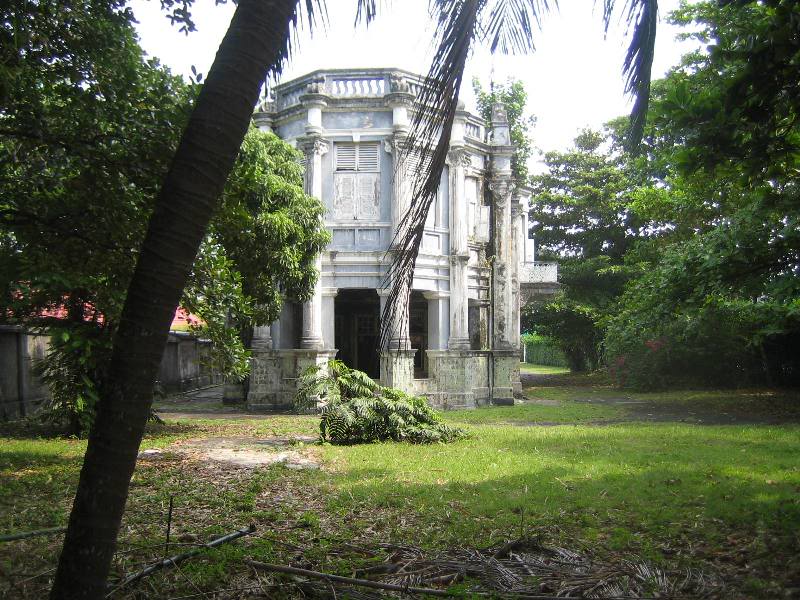 A personal favourite of many East Coast Singaporeans – many of us have passed this dumpy looking old building many times, on the way to malls like Parkway Parade.
The older generation may remember that the Karikal Mahal used to be a lot bigger, before the government built a road right through the mansion and split it in two.
This is a gated, two storey blue and white mansion that dates back to 1917. Among the children of Marine Parade, it was the neighbourhood haunted house. At least when I was a kid, which is around the time the T-Rex ruled, so things may be different.
This place was built by a businessman named Moona Kadir Sultan, as a set of four separate houses behind a gated wall. It was noted for a large artificial lake, of which there are no photographs now (just the recount of Pioneer Generation Singaporeans.) Before the land reclamation activities, Karikal Mahal was also a seaside residence.
It was bought by the Lee Rubber company after World War II, and converted into a hotel. And you would think if you bought a palace you would make it a high end hotel, but for some reason they made it a budget hotel.
This mansion cost half a million to build in 1917 by the way, and today that's worth…I don't even know how much, but you'd probably need a crane to lift that value in $100 denominations.
So turning it into a budget hotel was kind of like buying Buckingham Palace, and turning it into a KFC.
Also, the hotel flopped. So today it's a warehouse, and a sad reminder that rubber companies should stick to trees and not tourists.
Hidden value:
Its along Still Road, and a short hop from Parkway Parade and the Eunos MRT. It is also close to Joo Chiat, which has become the hipster cafe central of the East Coast. People would kill to live here, which again, confuses me as to how this failed as a hotel. It's literally minutes away from the successful Mercure hotel.
So for now, Karikal Mahal may be Singapore's most valuable warehouse, at an estimated value of $300 million.
First it gets turned into a budget hotel, and now it has a value of $300 million but just sits there as a warehouse. Maybe Mr. Keith Tang ought to buy this one too.
Looking to sell your property?
Whether your HDB apartment is reaching the end of its Minimum Occupation Period (MOP) or your condo has crossed its Seller Stamp Duty (SSD) window, it is always good to know how much you can potentially gain if you were to list and sell your property. Not only that, you'll also need to know whether your gains would allow you to right-size to the dream home in the neighbourhood you and your family have been eyeing.
One easy way is to send us a request for a credible and trusted property consultant to reach out to you.
Alternatively, you can jump onto 99.co's Property Value Tool to get an estimate for free.
If you're looking for your dream home, be it as a first-time or seasoned homebuyer or seller – say, to upgrade or right-size – you will find it on Singapore's fastest-growing property portal 99.co.
Meanwhile, if you have an interesting property-related story to share with us, drop us a message here — and we'll review it and get back to you.