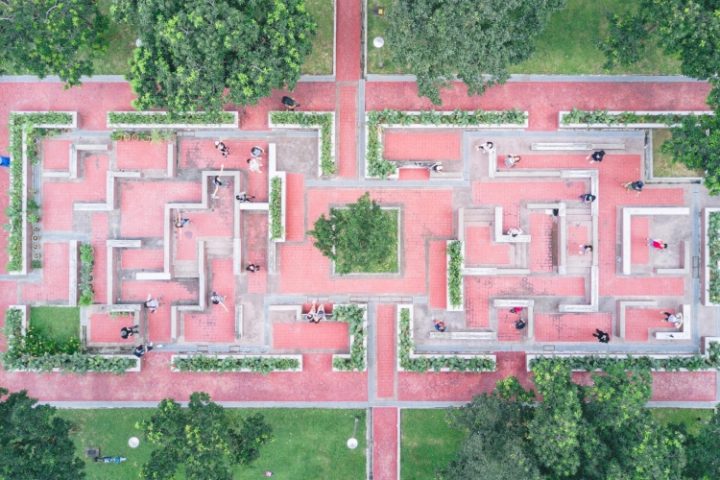 Yes, we love to complain about how HDB flats are getting more expensive, and many of us are still hung up about the fact that we're just lessees, and not actual owners of our properties. But all in all, we'd say that HDB has done a pretty good job at mapping out what limited space we have in Singapore, and making Singapore a truly liveable city. One evidence of this is how HDB common spaces are used across the island.
So, here are 5 ingenious uses of HDB common spaces, some of which you may or may not have known about. If any of these sounds new and interesting to you, it's time to start exploring!
HDB Common Space #1: Bedok Maze in Bedok South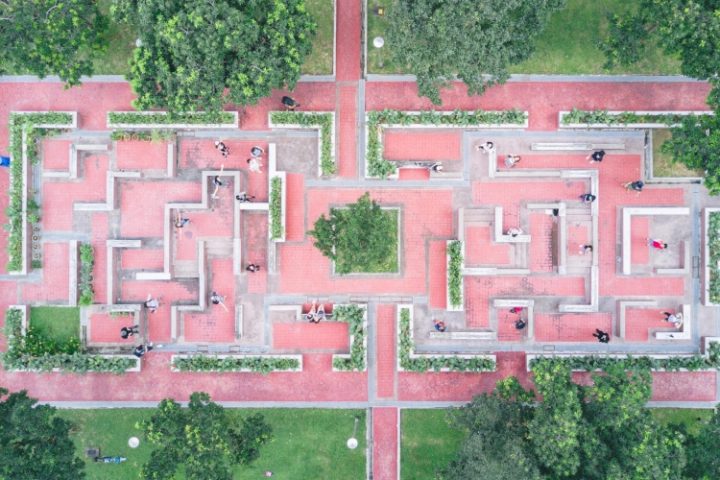 Located between Block 41 and 42 Bedok South Road, Bedok Maze is the place that people go to practice parkour. In fact, this spot is actually pretty renowned in the international parkour community, so it's not just locals who come here — there are plenty of foreigners who make a pitstop in Singapore specifically to check out the maze.
Parkour practitioners aside, Bedok Maze is also frequented by members of the general public. You'll find elderly folks taking their walks early in the morning, and children playing in the area from late afternoon onwards.
It's a shame that East Coast Fengshan Town Council currently has plans to demolish Bedok Maze, but there's an online petition that you can sign.
**[Browse HDB homes for sale in Bedok here]
HDB Common Space #2: Brick Art Workshop at Taman Jurong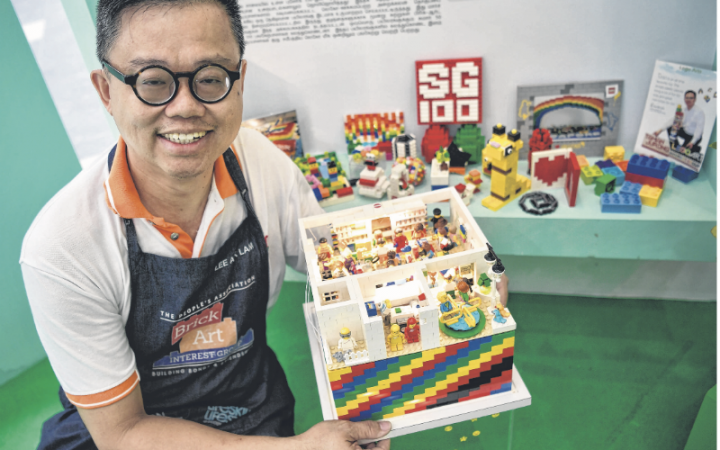 Most of our void decks are just, well, void decks… but this one at Block 336 Tah Ching Road has been transformed into a flexible workshop space that's currently used for teaching Brick Art (art made with toy bricks). Completed in 2018, the space is decked out with Lego-inspired furniture designed by residents in the neighbourhood. The key man is Lee Aik Lam, a former robotics teacher who's running Brick Art regular workshops for kids (and kidults) at this space. You can register for upcoming workshops here.
**[Browse HDB homes for sale in Jurong West/Taman Jurong here]
HDB Common Space #3: Upcycled Play Yard at Aljunied Crescent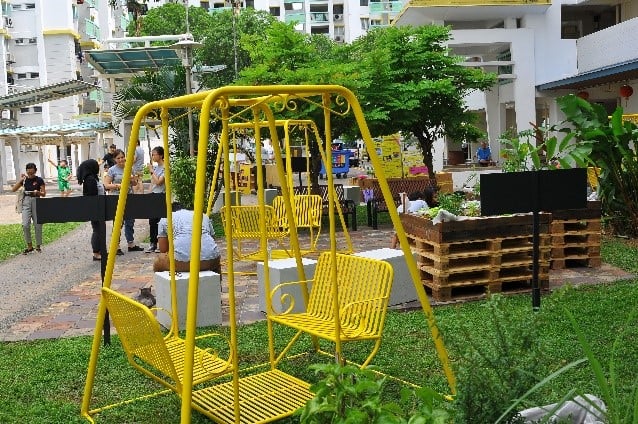 Just two years back, the space between Block 96 and Block 97 of Aljunied Crescent used to be an empty grass patch. A few residents came together and started thinking about how they could use the space better… and today, they've transformed the area into an upcycled play yard complete with swings, seating and mini-gardens (growing edible crops). It's a simple and rusticconcept, but one that has effectively brought the residents of the neighbourhood together.
Want to start your own community project? Visit this page for more information.
**[Browse HDB homes for sale in Geylang/Aljunied here]
HDB Common Space #4: 'Play It Forward' at various locations
If you've ever spotted a colourfully decorated piano sitting bang in the middle of nowhere, that's probably the handiwork of Jean Hair, Billy Soh, and Lee Yan Chang of Play It Forward.
Play It Forward started back in 2015, when Jean and her friends realised there were a huge number of pianos being disposed each year. The trio thought it was a pity that all these pianos were going to waste, so they decided to rescue the pianos and share the joy with the public.
The movement all started with just two pianos being placed on Aliwal Road as part of the Urban Redevelopment Authority's (URA) PARK(ing) Day. Today, Play It Forward has restored more than 20 pianos, gotte local artists to transform these pianos into public art pieces, and brought the pianos to over 16 locations in the city — including in HDB heartlands.
Right now, three of Play It Forward's pianos are housed in permanent locations at Bukit Panjang Community Centre, The URA Centre, and National University of Singapore. The rest live their days out as vagabonds, travelling throughout Singapore. Locate the pianos here, one might just be near you!
**[Browse HDB homes for sale in Bukit Panjang here]
HDB Common Space #5: GoodLife! Makan at Marine Parade
We can't believe it has taken until 2016 for someone to come up with the idea of a communal kitchen in the heartlands. GoodLife! Makan, as the first-ever communal kitchen in Singapore is called, is located at the void deck of Block 52 Marine Crescent. Intended to encourage interaction the building of social networks (not the Facebook kind) among stay-alone seniors in the neighbourhood, the bright and cheery kitchen — at 360 square metres the size of four HDB 4-room flats — has been a hit with residents.
Beyond the social community, the space has also won architectural awards for its design. The public can drop by anytime the kitchen is open — weekdays from 9am to 6pm — to see what's cooking!
**[Browse HDB homes for sale in Marine Parade here]
Know of any other ingenious use of HDB common spaces? Share them with us in the comments section or on our Facebook community page.
If you found this article helpful, 99.co recommends Study shows: the more greenery in the neighbourhood, the higher its value and Why living in a cycling neighbourhood is the way to go.
Looking for a property? Find the home of your dreams today on Singapore's largest property portal 99.co!