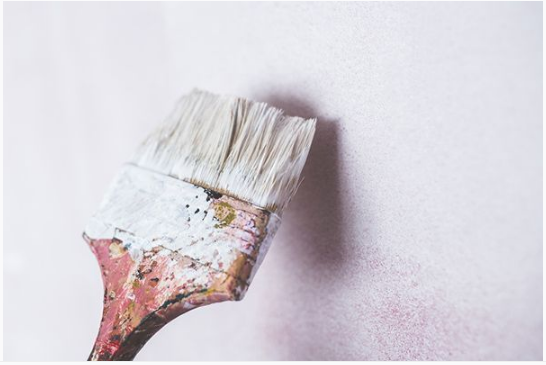 For the price of paint and materials, you can make your humble abode sparkle like the true Pinterest-worthy showpiece it is. While the cost is minimal, the seemingly simple process of laying down paint is deceptively difficult. Consider the following advice to make the job faster, cleaner, and more efficient:
1. Hate to clean brushes?
Avoid cleaning brushes by wrapping your brush tightly in plastic and placing in the freezer. Before using it again, let the brush thaw for a couple of hours.
2. Save money on paint roller covers
If you need a break but expect to get back to the job within the same day, wrap your roller cover in plastic and then place it in a Pringles can–there's no need to remove it from the roller assembly. If you're stopping more than one day, do the same thing and then place the can in the freezer.
3. Stop buying paint tray liners
Place your paint tray in a plastic kitchen trash bag and push down to expel the air. Use the trash bag's built-in drawstring to seal it shut.
4. Don't stress cleaning latex paint that has dripped on a wood floor
Don't panic! As long as your floor has a glossy surface, let the drips dry. Once they've dried, you can easily pick them off with a fingernail.
5. Need to paint in tight spaces, such as behind a toilet tank?
Glue a paint edger pad onto one of those complimentary stirring sticks paint stores give away.
6. Use canvas dropcloths
The pros don't just use canvas dropcloths because they're reusable. Plastic dropcloths are slippery to walk on; canvas ones are not. Invest in a canvas dropcloth early in your home remodeling process, and you'll never regret it.
7. The best way to clean brushes…
…is by using a paintbrush comb, which effectively pulls latex paint out of the brush when you hold it under running water. Water alone will not clean the brush well and will result in a brush lifespan of only three or four uses.
8. Ensure colour consistency from gallon to gallon
Pro painters know that multiple-gallon projects require paint boxing, which is the process of combining all the paint you will be using into one large container. Buy a cheap five-gallon bucket and combine your paint in it.
9. Use wet newspapers as a substitute for masking film or tape
When painting around windows, carefully run water over a sheet of newspaper and stick the newspaper to the glass. Now you can paint around the window while keeping the glass free of paint.
10. Fill holes by hammering them
It sounds counter-intuitive, but if you need to fill small holes in your wall with Spackle [available in Home-Fix], start by gently tapping a hammer one time on the hole. This creates a smooth indentation that allows the Spackle to better stick to that area.
11. Don't wipe excess paint on the can rim
The classic method of wiping excess paint from your brush onto the can rim will only add gunk to the can. Instead, loop a rubber band lengthwise over the can and wipe the brush against the bottom of the rubber band.
Article originally published in Fix.com and Cromly.  Edited and published with permission.