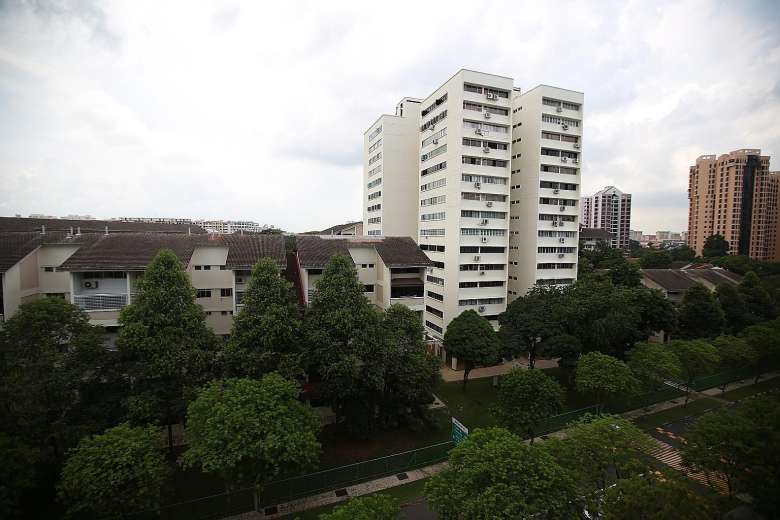 (Credits)
In May 2016, Qingjian Realty bought the old Shunfu Ville land plot for $638 million, the third largest en-bloc we've seen in the country. The former HUDC estate is a prime piece of land, and any development here is bound to benefit from the development in the area since the 1980s. Here's what we know so far:
A new condo is in the works
We don't know what the new condo will be called, unless Qingjian's website is being literal (the site is titled New Condo at Shunfu Road). But we really hope that's not its actual name.
Regardless, what we do know is that it's a 99-year leasehold development, with an estimated 1,000 plus units. That's huge by the way; apart from Bayshore Park (1,083 units) and Marina One (1,042 units), few developments have more than 1,000 units.
Then again, we knew the developer was ambitious when they bought the 408,972-square foot plot. Along with the Additional Buyer's Stamp Duty (ABSD) for developers, and the Qualifying Certificate (QC), Qingjian Realty will have five to seven years to complete all the units and sell them off. That could be a tough call, if the capricious property market makes a turn for the south.
What will be the new condo's main highlights?
Access to public transport is fairly easy with Marymount MRT (which runs on the Circle line) located within walking distance.
By the time the development is finished – probably in 2020 – it can have access to the Upper Thomson MRT station (650m away), which should be completed in about the same year.
The new condo will then be serviced by both the Circle line and Thomson-East Coast line.
Thomson Plaza is nearby, and has a large FairPrice Finest supermarket for all your everyday grocery needs. Shunfu Food Centre is also in the vicinity, so there's no shortage of food options. Raffles Junior College (RJC) is also nearby, within one kilometre. MacRitchie reservoir park is about the same distance away, and makes for a good weekend spot for families. Note that some units in this development will have stunning, unblocked views of MacRitchie reservoir.
The Thomson Nature Park is scheduled to be completed in 2018. Along with MacRitchie, residents here will have a lot of hiking or biking trails to choose from.
What are prices in the area like right now?
At present, surrounding private properties (according to the 99.co's map) transact at an average of $1,400 psf. However, this could be much higher by the time this new development launches; current prices are depressed due to the overall property price slump since 2013.
Is it worth keeping this project in my real estate radar?
Your guess is as good as mine at the moment. But barring Tresalveo, there aren't many other private properties competing for buyers in this location (perhaps that contributed to why Qingjian was willing to put in a high bid). As such, there probably will be a rush for units the moment they're up; especially among private property buyers who like the area or appreciate the investment potential of the locality.
We feel the main draw will be the enclave-like nature of the development. Because key amenities are all nearby, this is the sort of place where you can stay in for half a year and not feel a need to go into town.
But if you need nightlife, and long walks in parks don't appeal to you, you'll want to look somewhere else. The entertainment available in this district will please outdoor types, and do little for the sort who want cinemas, major shopping centres, or pubs.