About Mattar Residences
Mattar Residences is an upcoming 99-years condo in the Geylang neighbourhood of Singapore's District 14. Tucked within the landed property enclave of Mattar Road, Mattar Residences is an exclusive residential development consisting of only 26 luxury units.
Mattar Residences is a rare find, flanked by private estates, reputable schools and an MRT station. Located away from the fierce hustle and bustle of the main street, the serene yet central locale of Mattar Residences makes it an ideal choice for the discerning buyer who values privacy and convenience.
Mattar Residences - Enhanced Connectivity without compromising on Privacy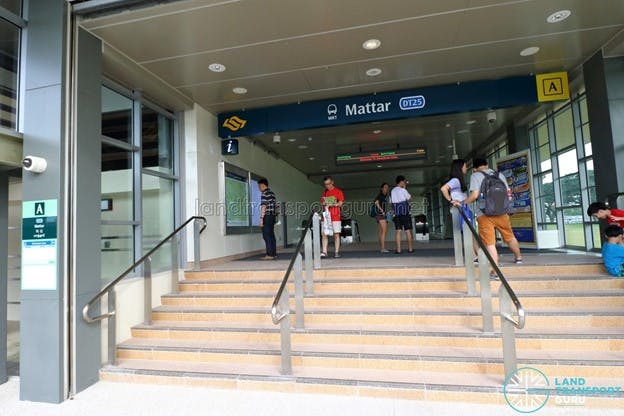 Despite its quiet location, Mattar Residences remains highly accessible via a wide range of transport options. Most notably, the nearby Mattar MRT station, which services the Downtown Line, is only 4-minutes away by foot. Thanks to the strategic position of Mattar MRT station along the Downtown Line, residents can easily access other train lines such as the Circle Line via MacPherson MRT interchange, North-South Line via Marina Bay MRT interchange.
For those who prefer taking public transport to work, you'll be glad to know that a car-lite life is achievable at Mattar Residences. The Downtown Line provides a direct train route to the Downtown CBD area, culminating in a short 14-minute train ride. It also takes residents an enviable 10 minutes via train to commute from Mattar Residences to their offices at Paya Lebar.
Alternatively, the Kallang-Paya Lebar Expressway (KPE) and Pan Island Expressway (PIE) are at your disposal, ensuring seamless access everywhere via car. The combination of Mattar Residences' central location and enhanced transport network provides immense transportation flexibility and ease that will inevitably save you time that's better spent elsewhere.
A plethora of Trendy Retail and Dining near Mattar Residences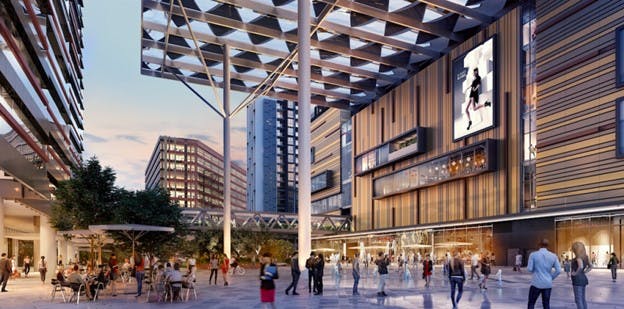 Pick up your daily necessities from multiple shopping centres within close proximity of Mattar Residences, such as Paya Lebar Quarter, Paya Lebar Square and Singpost Centre - all of which are accessible via an 8-minute drive.
This vibrant trio of malls at Paya Lebar MRT station is brimming with amenities, from award-winning restaurants and trendy cafes to a whole array of retail and entertainment options. For an afternoon well-spent, you can drop your kids off at an indoor playground at Paya Lebar Quarter, then simply unwind at one of the many al-fresco dining outlets or go on a much-needed spa therapy - the options are countless!
If an afternoon of non-stop shopping and cafe-hopping leaves you craving local delights, just head further down the road to the famous Haig Road Market and Food Centre, only a 10-minute drive from Mattar Residences. You can feast on all manner of local cuisine and even do some grocery shopping at the wet market! For a hawker centre closer to home, you can check out the MacPherson Market and Food Centre, located 7 minutes from Mattar Residences.
Mattar Residences - Never too far from Nature and Adventure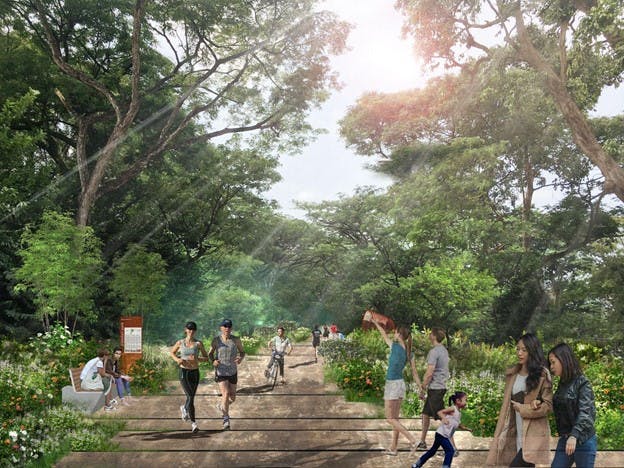 Fitness enthusiasts at Mattar Residences will have plenty of options when it comes to switching up your exercise routine. For starters, you can take a leisurely 8-minute jog to the nearby Aljunied Park - a large family-friendly park with a playground and exercise stations. You can also go across the road from Mattar Residences and book a football pitch at Home United Youth Football Academy for a round of soccer with the boys.
Come 2022, the nearby Bidadari area will feature a new sprawling 10-hectare Bidadari Park that includes a 700-metre heritage walk, an open lake and 6-kilometres of walking trails for nature lovers. Bidadari Park is also a favoured spot amongst birdwatchers during bird migratory seasons, offering tons of learning opportunities for families with children.
 If you're looking for something more challenging, the Kallang Leisure Park is only 10 minutes from Mattar Residences. A large lifestyle and recreational hub, the Kallang Leisure Park and its surrounding amenities not only offers tons of sports activities, there are also enough entertainment amenities to keep the whole family occupied.
Mattar Residences - Surrounded by Top Reputable Schools
It's hard to beat Mattar Residences' close proximity to many top-performing local schools and international schools in Singapore. These schools can be accessed via a short drive from Mattar Residences, and they include MOE Kindergarten @ Cedar, St Margaret's Primary School, Geylang Methodist School (Secondary), and Nexus International School.
Schools near Mattar Residences:
●      Bartley Secondary School
●      Broadrick Secondary School
●      Canossa Catholic Primary School
●      Canossian School
●      Cedar Primary School
●      Cedar Girls' Secondary School
●      Geylang Methodist School (Secondary)
●      Geylang Methodist School (Primary)
●      Kong Hwa School
●      Maris Stella High School
●      Magdalene's Kindergarten
●      Maha Bodhi School
●      Manjusri Secondary School
●      MOE Kindegarten @ Cedar
●      Nexus International School
●      Stamford American International School Singapore
●      Singapore School for the Deaf
●      St Andrew's Secondary School
●      St Margaret's Primary School
●      The Windstedt School
●      Victory Life Christian School