About Mori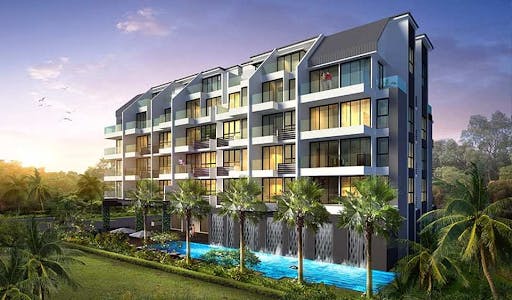 MORI is a stunning freehold condominium complex with top-notch amenities. Each unit has been meticulously built with cutting-edge designs and the most innovative home technology to elevate your living to new heights. The condominium is slated to sit in Singapore's District 14, at Lot number MK 25 Jalan Molek and Guillemard Road, and is expected to be completed in 2024.
MORI is well-suited to an active lifestyle since it is located in a strategic location, boasting eclectic charms and amenities that can be found only in East Singapore. With a vast variety of amenities, the condo might just help redefine elegance in the Geylang area. 
MORI Floor Plans - A Good Mix Of Units
The developers of Mori have promised a five to eight-storey residential block that houses 137 units. For home buyers looking for a condo that's neither too populated nor too private, this number of units offers something of a sweet spot where lifestyle is concerned. 
These units will range from 1-bedroom to 5-bedroom apartments, but the size of each unit and allocation of unit sizes is still under wraps. 
MORI Location - Central, Connected and Craved For
This luxury condominium will occupy Lot number MK 25 at Jalan Molek and Guillemard Road. Let's talk about the technicalities first. 
You'll be almost equidistant from three MRT stations (Aljunied, Mountbatten and Dakota) about a ten-minute walk depending on which direction you're headed for the day.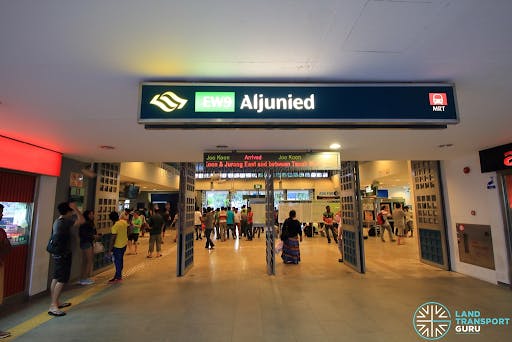 For those of you who'll be driving, your two nearest highways will be the PIE and KPE, while Nicoll Highway is also close by. Other connecting major roads include Sims Avenue, Guillemard Road, Geylang Road and Mountbatten Road. 
If you've got business meetings or work in the Central Business District, you'll be able to get there in a mere 15-minute drive. And if you're a frequent flyer, you'll travel worry-free with just an 18-minute drive towards Singapore Changi Airport.
If you're bored over the weekends and are looking to cool off with some retail therapy, Orchard Road is just 17 minutes away, toward the west.  
Just ask any of the residents of Singapore's Geylang area, and they'll attest to the superior location of their district due to its convenience when accessing different amenities and the city centre itself. 
MORI Developer - One of the Best in the Business
The development of the MORI condo project will be undertaken by Roxy-Pacific Holdings Limited, via their subsidiary RL East Pte. Ltd. The developers are amongst Singapore's best-listed property developers, with a main focus here on the Asia Pacific region.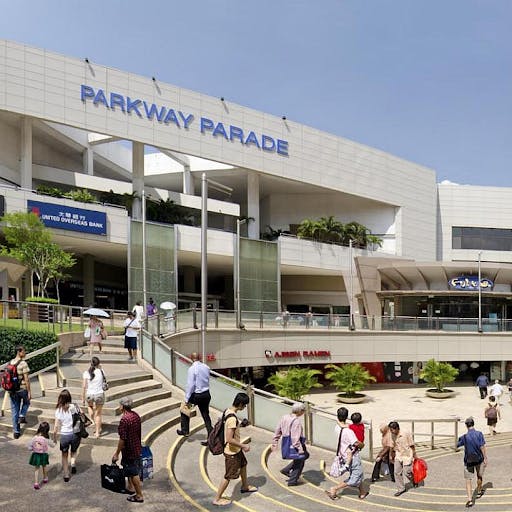 The group's flagship real estate project is the iconic Grand Mercure Singapore Roxy Hotel, which visitors of the Katong area and Parkway Parade Mall would be very familiar with. 
They also own other properties in Japan, Thailand, Australia and the Maldives. Other esteemed residential developments they have developed in Singapore include 120 Grange, a luxury condo, RV Altitude and Arena Residences. The MORI project cost them S$93 million, in one of the largest private residential transactions in the country. 
With a track record extending back to May 1967, Roxy-Pacific takes a strong approach to sustainability in their work, and future residents can be assured that their homes are built by the best in the business. 
MORI Accessibility - You'll Never Leave Wanting
Let's have a look at what residents will have access to in their own backyards. MORI is set up to be an exquisite condo equipped with excellent facilities. Apartments themselves will be fitted with the latest home technologies, to help raise your lifestyle to even greater heights.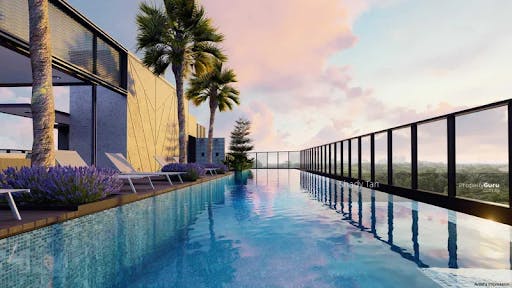 In-house facilities will include a gym, swimming pool, outdoor fitness corner, kid's playground, lounge, BBQ pits, sun decks and more! Off the back, there seems to be something for everyone. You could be a fitness enthusiast, a parent who needs to keep their kids busy, someone who loves a good ol' fashioned cookout, or just wants to relax after a long day at work. With all of this just within your private estate, let's take a step outside and see what the Geylang area has to offer. 
Nothing brings the residents of Singapore together like food, and you'll be blessed with a bowl full around you. From the famous Frog Porridge and local eateries to seafood restaurants and international cuisine, the area is littered with options for someone who's looking to satisfy their appetite. Even if you're looking to throw back a couple of pints with friends or class it up with a wine night, you will find an appropriate watering hole to have fun at.
Groceries are a key component of running a household, whether or not you're shopping for yourself. Walking distance from your doorstep, you will find Scarlett Supermarket which is an Asian grocer, Nisha Supermarket which is an Indian themed grocer, a couple of other independent grocers, and an all-too-familiar NTUC FairPrice as well. 
In case of medical emergencies or should you want healthcare maintenance, there's a Guardian close to Mori. There are approximately four clinics servicing the area as well, and with Parkway East Hospital down the road, you can rest easy knowing that you're covered in any medical situation. 
Fitness nuts will appreciate that there are a few independent gyms within the estate itself such as Bruce Fitness and Frit Fitnez Singapore. Other private gyms in the area include Silverback Gym, FAME.SG GYM and Zeus Fitness Singapore. The Singapore National Stadium with numerous fitness facilities also lies close to Mori. Head on over for a swim, run, or partake other activities in the multi-purpose all-in-one fitness centre. 
Nature lovers need not go wandering too far before they chance upon an outdoor spot. Geylang East Park, Green Lane Park, Arthur Park and Arena Park are some of the many green scenes near Mori.
There are also numerous shopping malls in the vicinity. City Plaza, an old school mall with local vendors, is a charming find nearby. For retail experiences, dining and sports activities, head on over to Kallang Wave Mall. KINEX, a vibrant mall with dining options is also close by. 
With education being the backbone of a child's foundation, parents will want to be informed on what schools in the area are like. 
Primary schools in the area include Geylang Methodist School, Kong Hwa School, St Margaret's, Canossa Catholic and Tanjong Katong Primary School. There are also highly rated secondary schools, including Dunman High School, Broadrick Secondary, Tanjong Katong Secondary, Geylang Methodist and Chung Cheng High School. 
In addition to that, there also international schools nearby, such as Nexus International School, The Winstedt School and EtonHouse International School. Parents also have plenty of options for young kids with Raffles Montessori, Iroha Kindergarten and White Lodge Kindergarten East - all within walking distance from MORI. 
MORI Site Plan - In Roxy-Pacific We Trust
While the site plan of Mori has yet to be released by the developers, what we do know is that the land plot occupied by Mori will be at 3,450 square meters, which translates to 37,131 square feet. The gross floor area of the apartments is set at 103,967 square feet. 
With a number of self-contained facilities planned, MORI looks set to be a beauty in a bottle. 
MORI URA Master Plan
Residents will be glad to know that their immediate vicinity is marked for "Architecture Excellence".
The future Paya Lebar Central Business Hub is soon to come up, a stone's throw away from MORI. Factors such as these will, in turn, boost the desirability of the location, and possibly the price too, for investors. Staying close to a business hub has traditionally proven an increase in the demand for a location.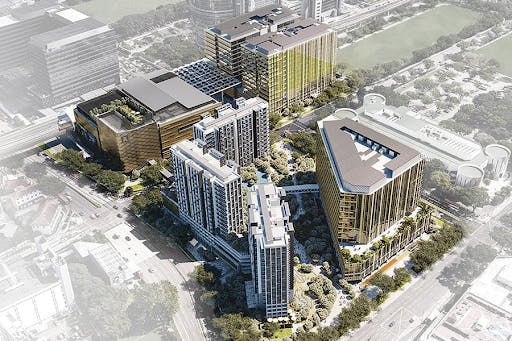 In itself, the Geylang area itself is well developed with two different MRT routes nearby, and road connectivity expanding out to the rest of the island. MORI is also close to the recently developed National Stadium area. Residents can be well assured that their location is already highly sought after and well developed.