When it comes to Singaporeans buying property, it's not only investors who care about capital appreciation. Even own-stay buyers want the assurance that their property asset can rise in value to serve their asset progression objectives. So, when we found proof of profit for condos in the Aljunied area, we expect that will piqued the already elevated buyer interest for the soon-to-launch Penrose.
First, let's take a look at how much the area's property values has risen in recent months.
Aljunied sets the stage for condo profits in 2020
In 2020, resale transactions for recently completed 99-year leasehold condos in Aljunied gave Singaporeans a taste of what's in store if they were to buy into the area.
Tre Residences, one such condo in the Aljunied area, saw its first resale transaction in April this year.
Located on the ninth floor, the unit transacted was a 700 square feet (sq ft), 2-bedroom + study apartment. The price was $1,200,000, which translates to $1,714 per square foot (psf).
The seller had bought the unit from the developer in March 2017 for a price of $1,003,000.
So, in just over three years time, the seller reaped a handsome profit of $197,000—about 19.6%.
This is a lot more than the 10% gain in value that property agents claim new launch condo units can attain upon completion, if purchased early on in the launch phase.
View this post on Instagram
Strong evidence of new-launch-to-completion value appreciation at Sims Urban Oasis
Slightly further away from Aljunied MRT station, but still well within walking distance, is the 99-year leasehold Sims Urban Oasis.
The sizeable 1,024-unit condo had received it's TOP at the end of 2017. Since then, there has been a flurry of resale transactions, each of them with varying degree of profits.
One of the most profitable transactions was for a dual key 2-bedroom unit on the 6th floor measuring 786 sq ft, which sold for a 14.9% profit last month with a transaction price of $1,100,000 (or $1,399 psf). The unit faces east and has an unblocked pool view.
Even the not-so-fancied stacks at Sims Urban Oasis have racked up profits for its sellers. An example is a 10th floor, 409 sq ft shoebox unit that faces the Pan Island Expressway (PIE), which transacted for a 10.1% profit last month. The transaction price was $645,000, or about $1,577 per square feet.
The average resale transaction price of units at Sims Urban Oasis in 2020 have hovered around the $1,510 mark.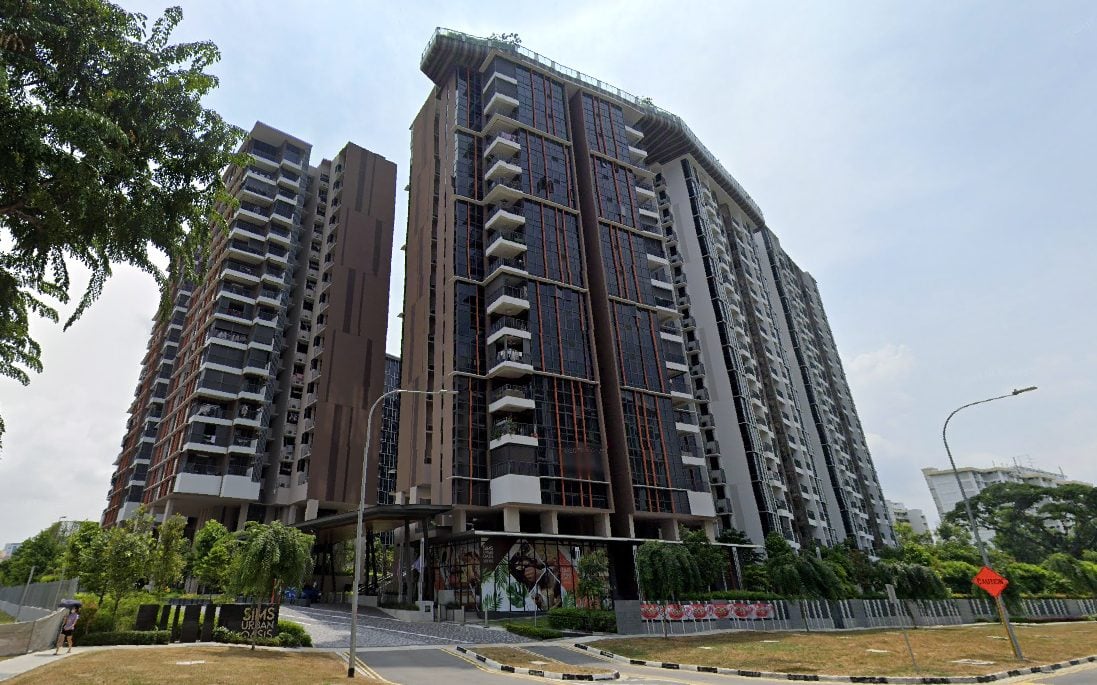 Penrose pricing also a factor in buyer interest
Located right next to Sims Urban Oasis is the 570-unit Penrose, the next condo to come up in Aljunied with an estimated late Q3 or early Q4 2020 launch.
Judging by the number of enquiries for Penrose already received on property portal 99.co, prospective buyers appear to be especially keen on Penrose. This mid-sized 99-year leasehold project is jointly-developed by Hong Leong Holdings and CDL.
Aside from the robust recent track record of price appreciation of newer condos in the area as well as positive developer reputation, another thing that's piquing buyer interest for Penrose is the projected launch price.
For a two-bedroom unit, prices listed on 99.co for Penrose is expected to start in the $1,450 to $1,500 range, which is lower than current resale prices at the neighbouring Sims Urban Oasis.
Penrose's starting prices is expected to be very attractive to buyers thanks to the timing in which the developers had bought the land, which was after the implementation of additional cooling measures in July 2018.
Facing less intense competition from foreign developers in the Government Land Sales (GLS) exercise, Hong Leong and CDL managed to secure the winning bid for the eventual Penrose site at Sims Drive at a good price of $383.5 million, which translates to an estimated breakeven price of $1,250 to $1,300 psf.
This allowed the developers leeway to price the project based on the competition they face, which happens to be intense. So, mark our words that Penrose will be priced competitively for buyers right out of the gate.
Because of this, Penrose will be one of the cheapest new launch condos in the city fringe RCR region when it launches. (There may be cheaper new launch projects, but they might not have the the same attributes—such as full condo facilities or MRT station within walking distance—that Penrose possesses.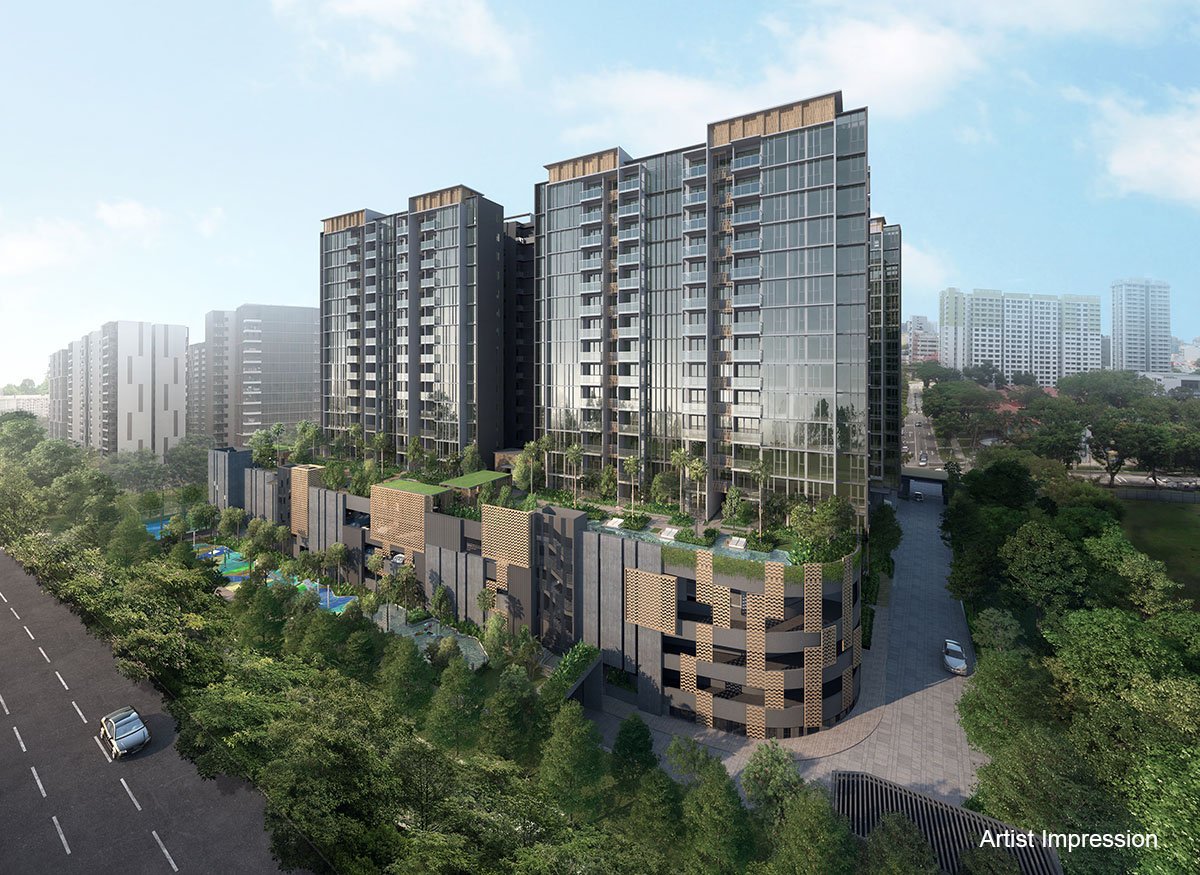 What's so hot about Aljunied anyway?
What further backs up the case of value appreciation for new condos in Aljunied, compared to other city fringe locations, is the fact that overall condo prices in the Rest of Central Region (RCR) had only risen by about 5% in the past five years (2015 to 2020). From 2017 to 2020, condo prices in RCR rose by about 10%.
Aljunied is located within District 14. Taking average prices of newly launched and newly completed condominiums into consideration, District 14's average psf condo prices have shown a consistent uptrend in recent years, compared to competing RCR districts that are showing signs of plateauing and dipping.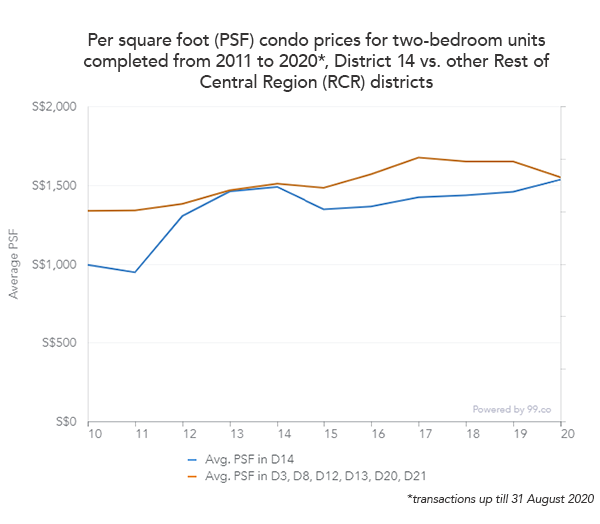 A reason for Aljunied's buoyant condo prices is because of the larger Paya Lebar growth story, which will be one of the most spoken-about urban development narratives of this decade.
Not only will Paya Lebar (an MRT stop away) continue to develop as a regional commercial and business district following the completion of Paya Lebar Quarter (PLQ), Aljunied itself appears to be poised for transformation.
First of all, the commercial-zoned greenfield land next to Aljunied MRT has been dormant for decades. With enough new residential developments in the area and an increase in population, the Urban Redevelopment Authority (URA) may finally see the justification for a new mall and release the site for tender.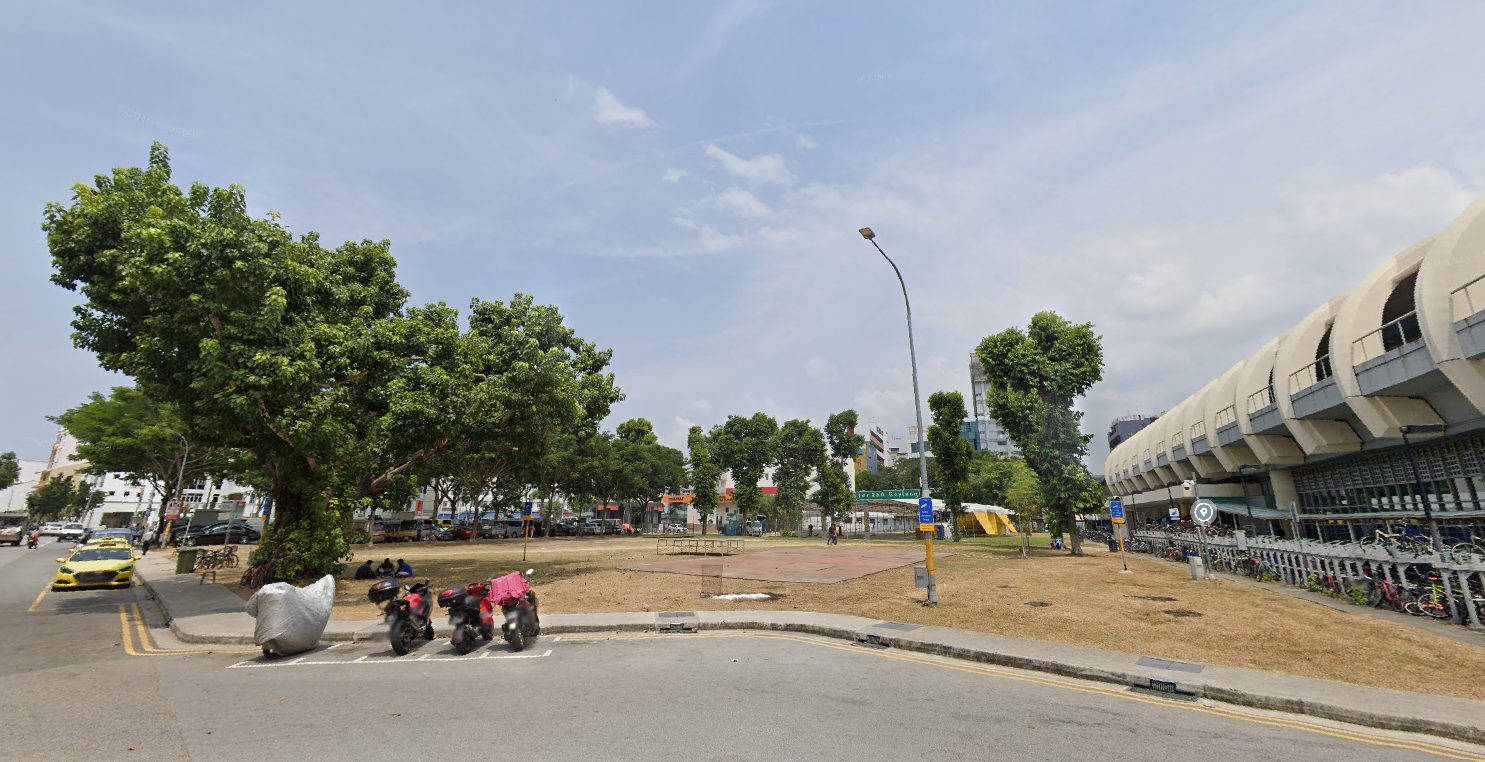 Secondly, despite the Covid-19 situation, the Aljunied area has recently seen several developments being put up for sale either by en bloc or via private treaty/expressions of interest. In July 2020, Yuen Sing Mansion on Lorong 13 Geylang became the first successful en bloc deal this year.
The latest to hit the market is a freehold clan association building on Lorong 27A Geylang, which can potentially be redeveloped into a boutique condominium. All these are signs that the government's plan to transform Geylang is starting to have some real-world impact.
Thirdly, Aljunied is in the process of establishing its appeal towards expatriates. The arrival of Nexus International School this year right opposite Penrose and Sims Urban Oasis is a big step in that direction, especially with a sizeable maximum intake of 1,200 students.
The fact that the international school has chosen to move their operations from Holland Road to Aljunied is a sign of things to come. With the Covid-19 recession, this is also a perfect (albeit unfortunate) timing for expats to relocate from prime areas to more affordable locations like Aljunied.
And once expats come calling, there can only be one direction prices can go, or keep going, for Aljunied's condos.
Condos in Aljunied
---
See all listings
Penrose
28 Sims Dr · D14
4
3
$2,176,000
Penrose
28 Sims Dr · D14
3
3
$1,872,000
Penrose
20 Sims Dr · D14
3
3
$1,763,000
Penrose
20 Sims Dr · D14
3
2
$1,595,000
Penrose
20 Sims Dr · D14
4
3
$2,142,000
Penrose
22 Sims Dr · D14
4
4
$2,176,000
Penrose
20 Sims Dr · D14
3
3
$1,872,000
Noma
331 Guillemard Rd · D14
4
2
$2,013,683
Sixteen35 Residences
16 Lor 35 Geylang · D14
2
2
$1,100,000
Rezi 24
39 Lor 24 Geylang · D14
3
1
$1,800,000
See all New Launch >
See all listings
Guillemard Suites
213 Guillemard Rd · D14
2
3
$1,200,000
Rezi 26
5A Lor 26 Geylang · D14
1
1
$640,000
Guillemard Suites
213 Guillemard Rd · D14
1
2
$815,000
Guillemard Edge
38 Lor 30 Geylang · D14
1
1
$800,000
Sims Urban Oasis
8 Sims Dr · D14
3
2
$1,488,000
Centra Residence
8 Lor 7 Geylang · D14
2
2
$1,150,000
Silverscape
39 Lor 32 Geylang · D14
1
1
$620,000
Centra Residence
8 Lor 7 Geylang · D14
2
1
$828,000
TRE Residences
7 Geylang East Ave 1 · D14
3
2
$1,250,000
La Brisa
50 Lor 28 Geylang · D14
3
3
$1,300,000
See all Resale >
Will we continue to see profits for Aljunied's condos? Share your thoughts in the comments below!
If you found this article useful, 99.co recommends 'Buy low, sell high': Is this Sengkang condo the most profitable in SG history? and Designer jumbo flat is first Ang Mo Kio HDB unit to break $1 million barrier
Looking for a property? Find your dream home on Singapore's most intelligent portal 99.co!