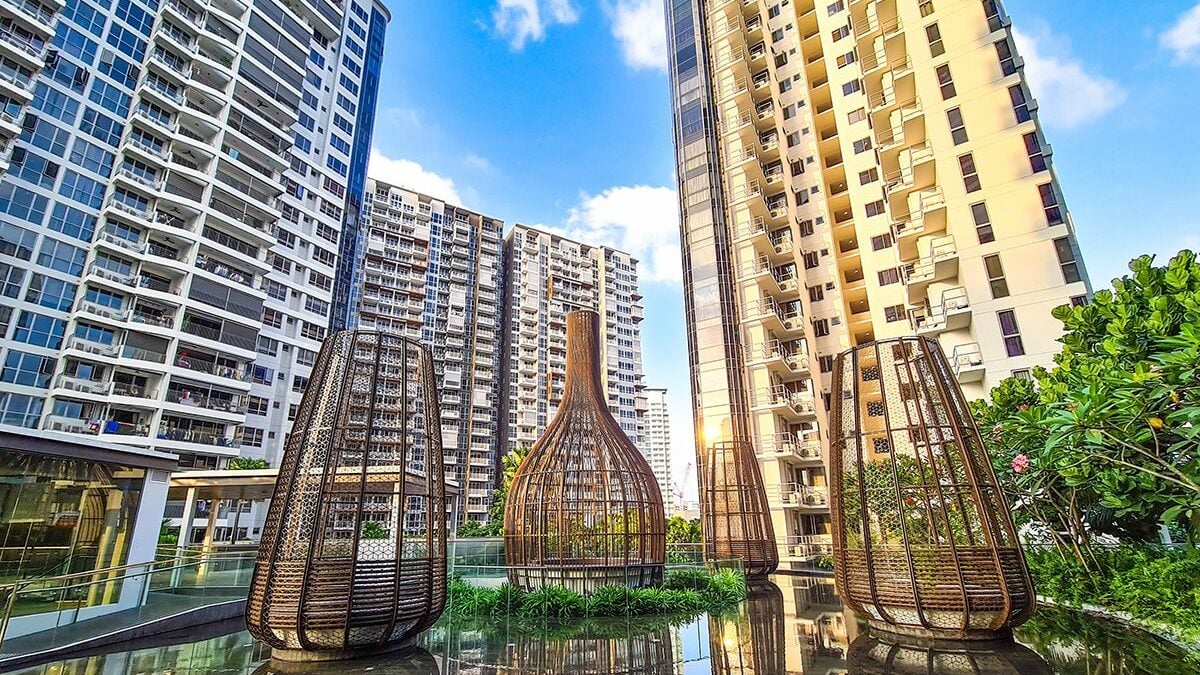 When most people think of condos and potential for capital appreciation, what comes to mind are often big-money, centrally-located properties. But this assumption is consistently being proven wrong by condos in less fancied locations. In fact, one of the best examples of 'buy low, sell high' is the newly completed High Park Residences at Sengkang.
Looking at the figures, we'd go as far as to argue that this is the most profitable condo in Singapore in recent history.
The backstory about High Park Residences
Launched in July 2015, High Park Residences was at the time the largest condominium development in Singapore, units-wise, with 1,390 homes. It was initially made up of two adjacent land parcels; developer CEL Development, the property arm of Chip Eng Seng Corp, won the bid for both in the August 2014 Government Land Sales (GLS) exercise.
Executive Director of CEL Development Michael Ng told 99.co that, after the company won the bid for the two land parcels, a decision was made to combine the two plots into a massive 34,000 square metre site that can "offer amenities that normal sized condos will not be able to offer."
The size of the land also "allowed the blocks to be more spaced out, with more greenery and facilities". He added that a new condo of this size was "rare" at the time.
At launch, the average per square foot (psf) price of High Park Residences was $991, with the cheapest unit– a 387 sq ft studio configuration – sold for just S$373,450. In what was a weak property market at the time, buyers flocked to the High Park Residences showflat and snapped up 1,169 units (84% of total units) in the month of launch.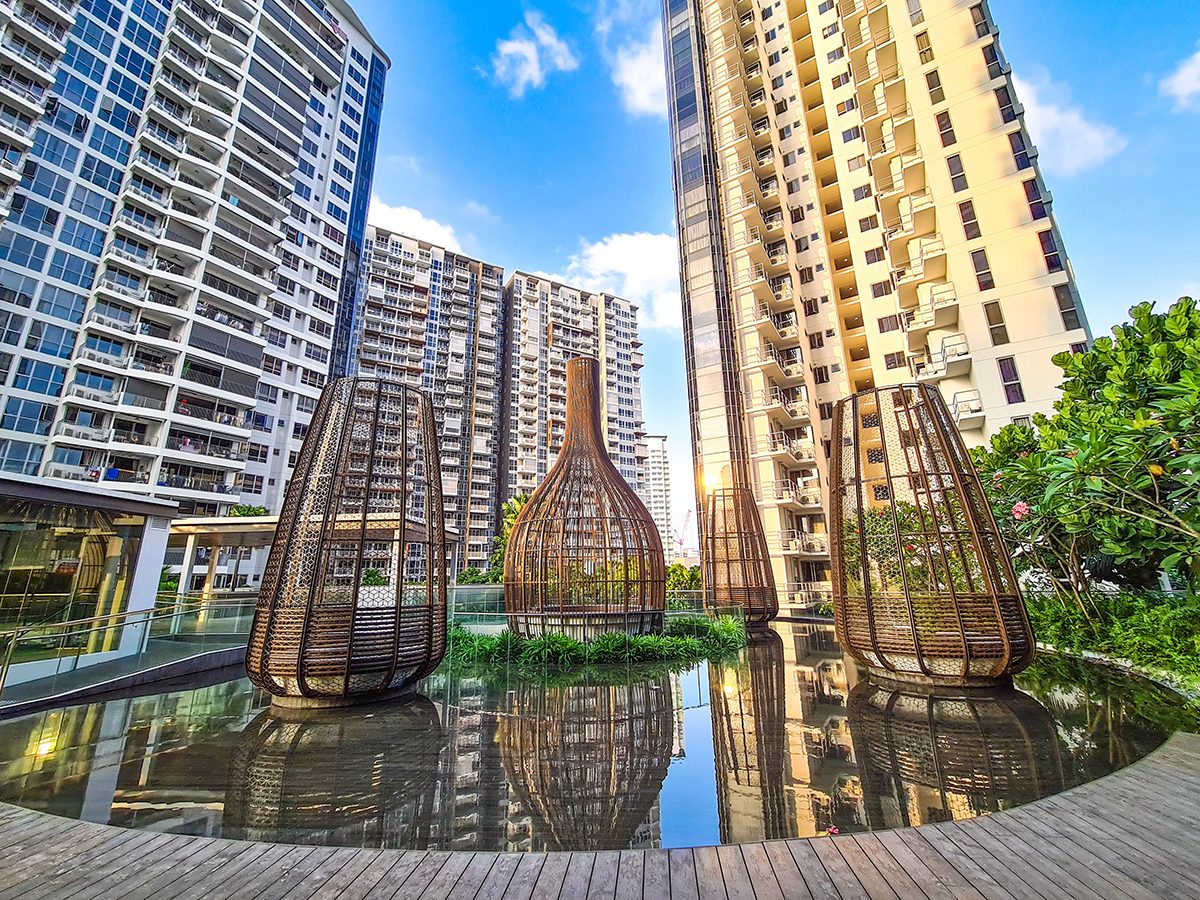 While some developers might have raised prices after an initial launch period, CEL Development kept theirs mostly constant up until the last unit was sold in March 2017. For the nine remaining units that were sold from January to March 2017, the average price was S$992 psf.
In the same period, property prices in the Outside Central Region had fallen by about 3.3% – according to past Urban Redevelopment Authority (URA) statistics. The 3rd quarter of 2017, however, was the start of a significant rebound; non-landed home prices first rose 0.7% (Q3 vs Q2 2017), followed by 0.8%, 3.9%, 3.4% and 0.5% in subsequent quarters.
High Park Residences got off to a quick start. In September 2017, with the condo still under construction and the property market just starting its rebound, the project recorded a sub-sale transaction with a 14% profit.
Then, in November 2017, Parc Botannia – a condo just 200 metres away – launched at an average psf price of S$1,283 psf – 29% higher than High Park Residences' launch price.
In February and April 2018, two more sub-sale transactions occurred at High Park Residences, netting the respective sellers eye-popping profits of 40% and 23%. When the government implemented additional cooling measures in Q3 2018, condo prices overall have risen by about 9%, but High Park Residences was already leaps and bounds ahead of that figure.
The flipping begins
Admit it, even if you had bought a new High Park Residences unit for your own stay, knowing that your half-built home has risen in value like a supercharged tech stock would surely tempt you to cash out.
Owners of High Park Residences certainly sat up and took notice of prices at Parc Botannia. As their three-year Seller's Stamp Duty liability period elapsed, a sizeable number decided to list their yet-to-be-completed units for sale. From August to December 2018, a further 19 units were sold at an average price of S$1,214 psf – up more than 22% from the developer's pricing.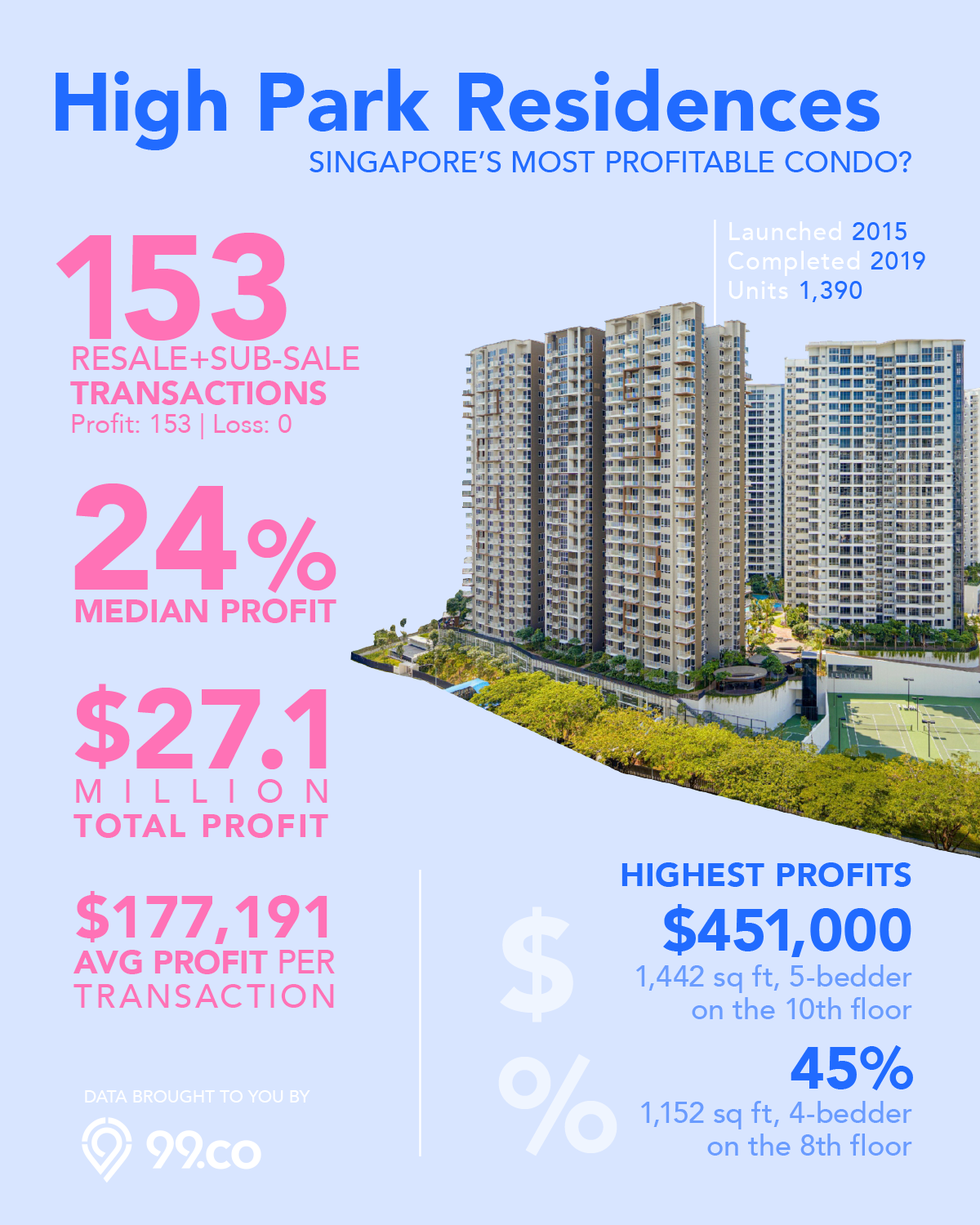 To date, a total of 135 sub-sale (a record number for a condo) and 18 resale transactions have been recorded at High Park Residences. One owner managed to turn a 45% profit – the highest out of all transactions – while another managed to net a S$451,000 profit on a 5-bedroom unit that was originally bought for S$1.3 million.
Notably, every one of the 153 transactions at High Park Residences was profitable (one unit even changed hands twice, albeit with a modest S$8,000 profit on the second sale). Sellers' median profit was 24%, with the average profit per unit at over S$177k.
At the time of writing, the average psf transaction price at the condo is S$1,204 (based on transactions in the past 6 months).
Affinity At Serangoon
32 Serangoon Nth Ave 1 · D19
3
3
$6,000
123 Hougang Avenue 1
Singapore 530123 · D19
2
2
$378,000
51 Kent Road
Singapore 210051 · D8
3
2
$4,500
197A Boon Lay Drive
Singapore 641197 · D22
3
2
$638,000
Serangoon Garden Estate
Stokesay Dr · D19
7
7
$15,800
14 Upper Boon Keng Road
Singapore 380014 · D14
4
2
$938,000
578 Hougang Avenue 4
Singapore 530578 · D19
4
3
$1,158,888
Rochelle At Newton
188 Keng Lee Rd · D11
2
2
$5,500
453 Choa Chu Kang Avenue 4
Singapore 680453 · D23
4
2
$739,888
Avenue South Residence
11 Silat Ave · D3
2
2
$5,500
What makes this condo tick?
We've already hinted at the intrinsic qualities of this development; High Park Residences is a one-of-a-kind mega project that set a benchmark for its sheer size and 118 facilities, which include a 3-metre-high 'swirl and splash' water slide – a first for a residential development in Singapore.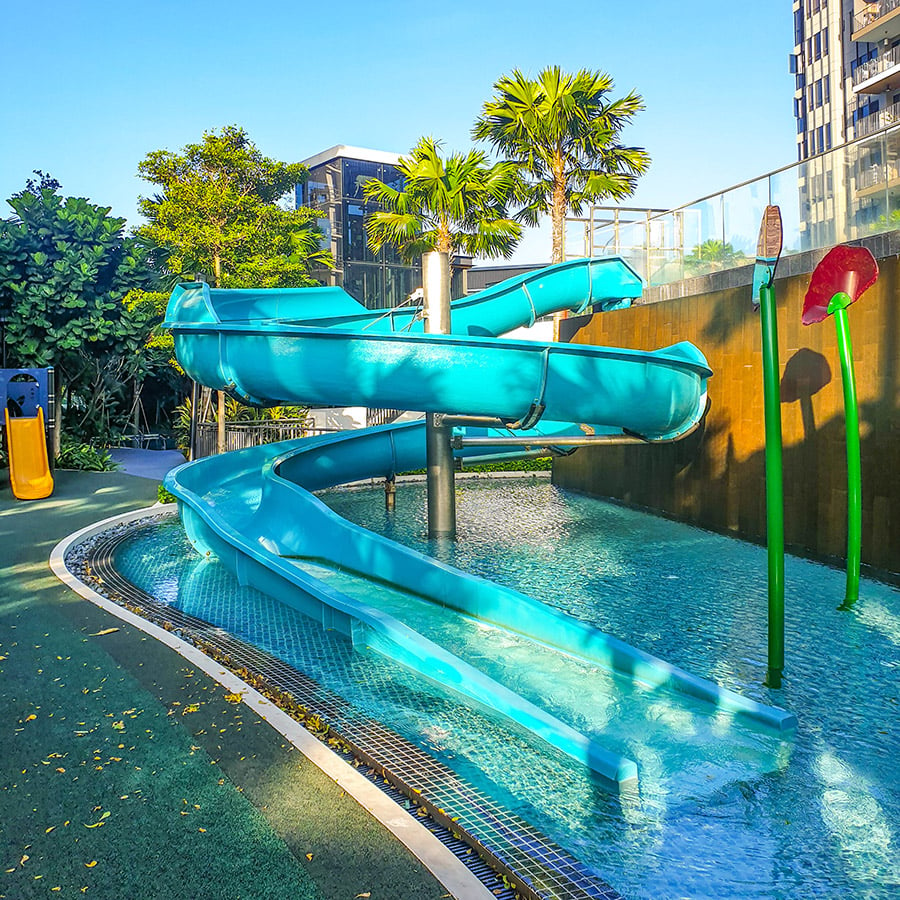 "On TOP, everyone was star struck by the theme-park feel of the condo's facilities, yet with lots of privacy and space between the various blocks," said Michael.
There's also the launch of Parc Botannia, which in one fell swoop set a new price standard for condos in the area.
What also initially attracted buyers in droves was that two condos nearby – Rivertrees Residences and Riverbank @ Fernvale – had launched a year earlier at an average psf price of S$1,066, higher than High Park Residences' S$991.
Julius Uy, a software engineer who bought a 2-bedroom unit at High Park Residences as a family home in 2015, told 99.co that he did "a lot of research before jumping in to buy" and added that he was "almost certain" that the price he paid for his home was "below market value".
Asked if he expected a significant increase in property value just a few years later, Julius replied: "I was expecting this to happen, because during the launch, the market was near its bottom."
More than just pure timing, the location of High Park Residences is also key to its success. Despite its location in a corner of Sengkang town within the relatively undeveloped District 28, the condo has almost every amenity at its doorstep, save for an MRT station. Motorists are also close to two expressways, TPE and CTE.
Accessibility-wise, Thanggam LRT station is right next to the condo, giving residents easy access to amenities at or near Sengkang Central. Jalan Kayu, a laid-back lifestyle precinct with a variety of dining options, is a two-minute walk away. Meanwhile, the nearby Seletar Mall at Fernvale includes a cinema and fulfils most daily shopping and entertainment needs.
According to the URA Master Plan, land the size of Marina South to the west of Jalan Kayu has been earmarked for future development as a hub for clean, light industries and logistics. This, together with the still developing Seletar Aerospace Park, will likely sustain property value growth for High Park Residences and other private homes in the area.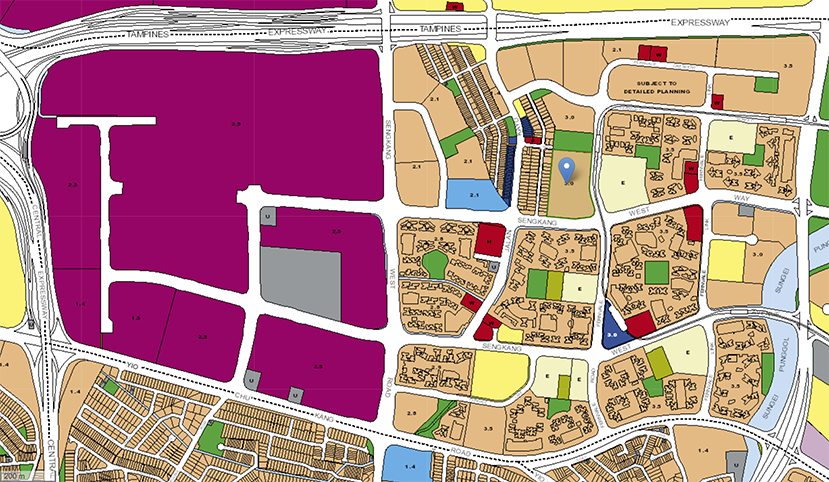 [Recommended article:
URA Master Plan for Property Buyers: How to understand it
]
Studio units were the most resold
The unique case of High Park Residences, where a large number of sub-sale and resale transactions happened within a short span of time, also gives property buyers and investors a golden learning opportunity.
We say this because the transaction data here is largely unaffected by variables/factors such as internal wear and tear, renovations and changes in surrounding amenities. In fact, most High Park Residences owners who had sold their units to date hadn't even moved in!
So, we compiled all 153 sub-sale and resale transactions to date and calculated their profits. We then proceeded to look at the correlation between the unit types (of the units sold) versus their profit margins.
High Park Residences: Unit type vs. profit
| Unit Type | Total no. of units | Units resold | % of units resold | Highest % Profit | Median % Profit |
| --- | --- | --- | --- | --- | --- |
| Studio | 72 | 17 | 24% | 31% | 20% |
| 1-Bed+S | 153 | 28 | 18% | 39% | 26% |
| 2-Bedrm | 595 | 53 | 9% | 33% | 21% |
| 3-Bedrm | 305 | 27 | 9% | 41% | 25% |
| 4-Bedrm | 159 | 17 | 11% | 45% | 31% |
| 5-Bedrm | 92 | 8 | 9% | 35% | 26% |
| Strata landed | 14 | 2 | 14% | 11% | 11% |
| All | 1,390 | 152 | 11% | 45% | 24% |
Source: URA, 99.co
Comparing profit among unit types in the table above, we can see that the four-bedroom unit type achieved the highest profits, whereas the strata landed homes netted the lowest profits.
Nearly 1 in 4 studio units were resold, signifying that a large proportion of buyers for these units were likely investors (rather than buying for own-stay). These investors could have been planning on renting these units out, but came to the conclusion that selling at a significant profit was the better option at the time.
So, even though studios made up only 5% of total units, it accounted for 11% of 152 sub-sale and resale transactions. The more significant observation here would be that competition between studio units on sale could have suppressed sellers' profits somewhat (20% vs. the median of 24%).
Another noteworthy finding: Even though the a similar proportion of 2-bedroom, 3-bedroom and 5-bedroom units were sold (9%), it is the 2-bedroom units that generally sold at a lower profit. The likely reason is that, although the 2-bedder unit type is typically the most popular among condo buyers, the large overall supply of such units at High Park Residences could have given buyers more negotiating power, hence slightly suppressing the sale price and reducing sellers' eventual profits.
Lesson for condo buyers: Remember, simple economics apply; the more of a unit type there is in a development, the more likely a seller of that unit type will have to compromise on the selling price. The presence of competing units of the same type could also mean that sellers can expect their property to stay on the market longer (i.e. take longer to sell).
Lower floor = higher profit?
Typically, for units in the same stack, the higher the floor level, the higher the price. At High Park Residences, CEL Development priced 2-bedroom units of the same block and stack with a price differential of S$108,000 between the lowest floor (#2) and the highest floor (#23). Lower floors typically had a price difference of S$3,000 between each floor, whereas the top two floors carried a S$5,000 price difference.
In subsequent sub-sale and resale transactions, however, buyers and sellers were free to determine (e.g. through negotiations) what price is justified for a unit at a particular level, versus an alternative unit at a higher or lower level. This can be highly arbitrary.
That said, when we aggregated the sub-sale and resale transaction data for High Park Residences, we discovered an interesting pattern that relates floor level with eventual sellers' profits. It's one that really deserves our attention.
High Park Residences: Floor Level vs. profit
| Floor Level | Highest % Profit | Median % Profit |
| --- | --- | --- |
| 21 to 25 | 40% | 21% |
| 16 to 20 | 38% | 22% |
| 11 to 15 | 37% | 24% |
| 6 to 10 | 45% | 25% |
| 2 to 5 | 39% | 25% |
Source: URA, 99.co
Looking at the median percentage profit column, it quickly becomes obvious that the lower the floor level, the higher the profit for the seller. It can also be argued that profits from the 2nd to 15th floors were roughly the same, but any higher and sellers would be looking at a drop in profit.
The reason for lower profits at higher floors – 1% for a S$1 million property translates to S$10,000 – could be due to the arbitrary nature of the open market. While buying a unit direct from developer (i.e. at launch) entails a specific floor level premium, in the open market buyers and sellers do not adhere to such a rule.
Take for example a high-floor unit on sale that was initially bought for S$800,000. The unit below was bought for S$5,000 less, at S$795,000. In the open market, will buyers affix the same S$5,000 premium to the unit on the higher floor?
Probably not. After all, buyers are right to reason that, for most units, the difference in view between one floor and the next is negligble: "No difference, what."
So, buyers of new launch condos who pay good money for high floor units must be prepared that the floor level premium for such units might end up cutting into their eventual profits, when they re-sell.
All said and done, there's no discernable correlation between the maximum profits that a unit at can reap and its floor level. The maximum profit for a unit from the 11th to 15th floors was 37%, whereas it was 40% for the topmost floors. This would suggest that, while the likelihood of higher profits is greater for lower floors in general, the layout and facing of the individual unit could still have a bigger sway on eventual selling price and profit.
Lesson for condo buyers: If there's an optimal floor range for capital appreciation and profitability, we'd lean towards the lower floors. But do take note of the facing, as lower floor units might be subject to greater noise from amenities such as the kids' pool and play areas.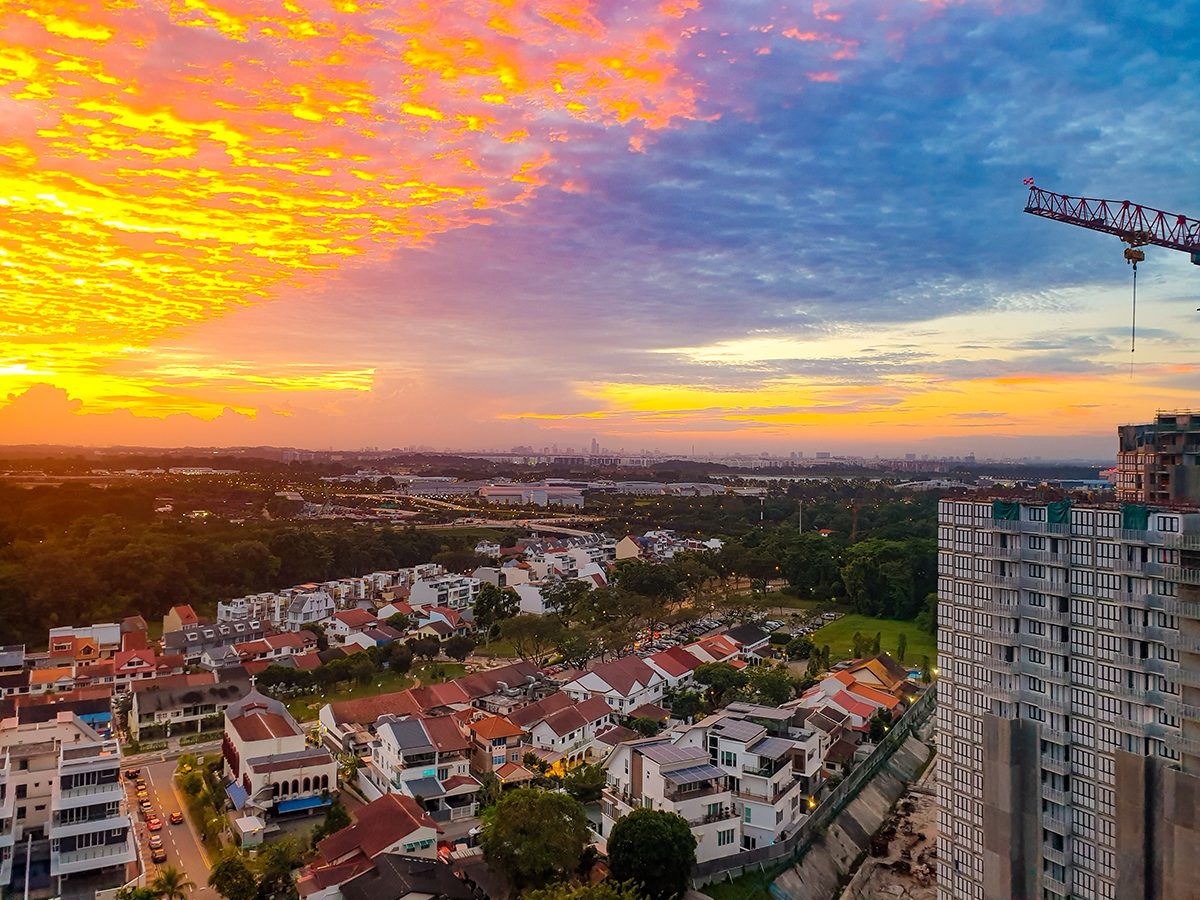 Will the High Park Residences story continue?
Value appreciation is a reason for owners wanting to sell, but what about the reasons why buyers are willing to pay current market prices despite knowing they were much cheaper before? And why are some owners determined to stay put?
Firstly, a project of this size and scale remains rare in today's market. Older mega-projects like the 1,093-unit Bayshore Park are cheaper (S$935 psf) but come with less-varied, more dated facilities, coupled with a low remaining lease (65 years left in Bayshore Park's case), whereas condos of a comparable age such as Kingsford Waterbay (TOP: 2018) and Coco Palms (TOP: 2019) are selling at a higher psf price.
Moreover, current suburban mega projects under construction, such as Parc Botannia, Parc Clematis and Treasure at Tampines, are all priced higher.
Secondly, aside from the extensive facilities and spaciousness, High Park Residences appears to be giving all the right vibes: buyers tend to be instantly drawn when visiting in person, while existing owners have forged support networks and positive emotional connections.
"The community here is young and vibrant," said Julius. "There are a lot of events going on. During weekends, I enjoy seeing a lot of families playing with their kids and hanging out at the function halls. On the homeowners Facebook group, people share recipes, tips and pictures."
Also, there's a confidence that the surrounding area will continue to develop. Aside from industrial-zoned land, the URA Master Plan also indicates a large number of plots for future residential development, including mixed-use commercial and residential site at nearby Jalan Kayu. An MRT line could also run through the area two decades later.
Competition from new condos will come in due time. But for the time being, High Park Residences continues to rake in the profits – and everyone's happy.
[
Special thanks to Julius Uy for his photographs.
]
---
Know of any other profitable condos in Singapore? Let us know in the comments section below.
If you liked this article, 99.co recommends Is there such a thing as 'first mover advantage' in property? and Designer jumbo flat is first Ang Mo Kio HDB unit to break $1 million barrier
New launch alert! Welcome to Grand Dunman
About Kyle Leung
Content Marketing Manager @ 99.co
Looking to sell your property?
Whether your HDB apartment is reaching the end of its Minimum Occupation Period (MOP) or your condo has crossed its Seller Stamp Duty (SSD) window, it is always good to know how much you can potentially gain if you were to list and sell your property. Not only that, you'll also need to know whether your gains would allow you to right-size to the dream home in the neighbourhood you and your family have been eyeing.
One easy way is to send us a request for a credible and trusted property consultant to reach out to you.
Alternatively, you can jump onto 99.co's Property Value Tool to get an estimate for free.
If you're looking for your dream home, be it as a first-time or seasoned homebuyer or seller – say, to upgrade or right-size – you will find it on Singapore's fastest-growing property portal 99.co.
Meanwhile, if you have an interesting property-related story to share with us, drop us a message here — and we'll review it and get back to you.
Join our social media communities!
Facebook | Instagram | TikTok | Telegram | YouTube | Twitter