Serangoon
Tags:
Central
Highly Accessible
Bustling
With numerous schools within the vicinity, Serangoon especially appeals to families with schooling children. These schools include St. Gabriel's Primary School, Kuo Chuan Presbyterian Secondary School, Nanyang Junior College, Australian International School Singapore and many more. Other renowned educational institutions such as Maris Stella High School, Bartley Secondary School, Cedar Girl's Secondary School and Paya Lebar Methodist Girls' Primary School are in the area as well. All schools can be easily accessed from Lorong Chuan, Bartley and Serangoon station. A wide range of leisure and dining facilities are available at Nex and Serangoons Gardens Circus nearby, not forgetting Chomp Chomp Food Centre and cafes like Wimbly Lu. Meanwhile, private estates and condominiums such as Chiltern Park, Crystal De Azure, Sun Glade, Chuan Park and recently completed The Scala, make up the residential portfolio.  New apartments like Gambir Ridge, Bartley Ridge and Bartley Residences will add on to scene, providing more accommodation choices.
Summary
Located in the North-East region of Singapore, Serangoon is a populous area with an estimated HDB resident population of 69,000, and a total estimated population of 117,310 people. It is encircled by Sengkang to its north, Toa Payoh to its south, Hougang to its east, and Ang Mo Kio and Bishan to its west.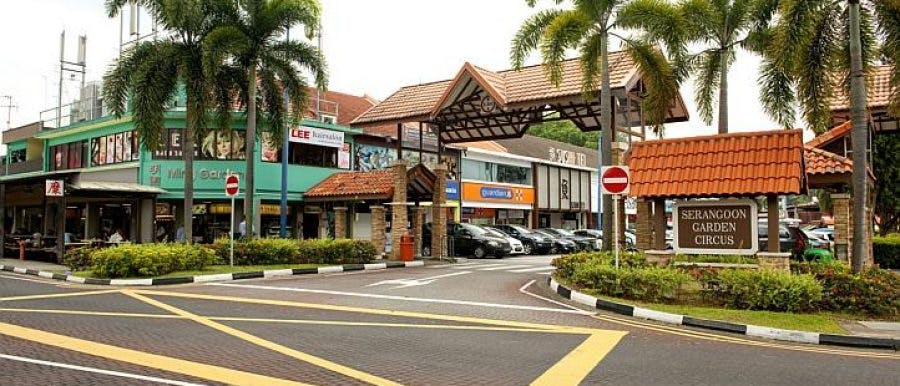 Given its vivacious population, it's not surprising that the area is made up of seven subzones, namely Serangoon Central, Lorong Chuan, Upper Paya Lebar, Serangoon Garden, Serangoon North, Seletar Hills, and Serangoon North Industrial Estate. In Serangoon, you'll find a healthy mix of lavish HDB homes, condominiums, and landed properties. Homes in Serangoon actually come with the reputation of being superior in terms of size and options, also owing to the accessibility of the area.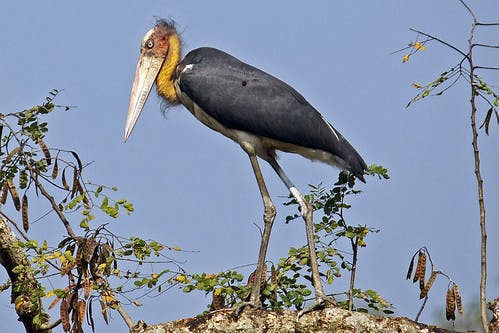 Despite being so firmly rooted in modern-day Singapore's identity, the Serangoon area actually has murky and anecdotal origins. It is not known for sure how the area derived its name, though there are two main accounts, both originating from the Malay language. One common account suggests that the name was derived from 'Ranggong', a bird that was a fond sight at the riverine swamps encircling Serangoon River. Another account says that it's from 'di-serang dengan-gong' that Serangoon got its name. The phrase translates to 'to surround with gongs', and could possibly refer to how gongs were used to thwart animals away in forested areas of Serangoon. 
Whichever anecdote you prefer, it was only in the early 19th century that Serangoon was pioneered by Tamil Muslims. Prior to that in the 1820s, the area had served as an industrial area for cattle farming and the brick kiln trade, both of which were undertaken mostly by Indians who were construction workers and farmers. 
The previous presence of a dominant Indian population can still be seen today in some of the remaining architecture in the area. Some of the terrace shophouses in the northern tip of Serangoon, Serangoon Gardens, were created utilising an external plasterwork technique. Called the Madras chunam, the plaster was made from a mixture of egg whites, lime, and sugar, with coconut husks and water. Once it had hardened, the surface would be plastered with crystal stones to create a smooth finish. 
And while Serangoon Road is one of Singapore's earliest built roads, parts of its history can be seen today at Little India, which the long Serangoon Road passes through. Unlike Chinatown and Kampong Glam, Little India was not an area that had been set aside for a racial community. The strong presence of the Indian community in Serangoon during the development of Singapore was what led to the development of Little India as we know it today.
Singapore has since been further segmented, rendering present-day Serangoon in the North-East region of Singapore. 
Stay - Serangoon
The Serangoon neighbourhood has a hefty residential portfolio, with an expansive mix of HDB, condominium, and landed homes. Numerous areas in Serangoon hold their own sense of character, creating a sense of ambience for homeowners in Serangoon.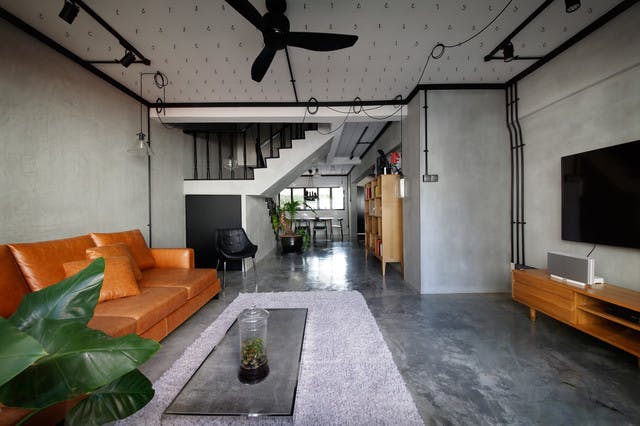 The Housing & Development Board has developed a bulk of Serangoon into a mature housing estate, further enlivened after the construction of Nex in 2010. Nex is a shopping mall integrated with both a bus and train interchange, making homes in the area worth holding on to. HDB homes akin to the ones at Lorong Lew Lian possess a particular charm, with rustic mansionette units that grant access to Serangoon MRT Station in less than three minutes. 
Condos in Serangoon offer amplified value, with projects like Affinity at Serangoon by Oxley offering affordable entry prices with value guaranteed to skyrocket, especially after the construction of Serangoon North MRT station on the Cross Island Line, set to open by 2029.
Sunglade, Casa Cambio, and The Yardley are all names of condos near Serangoon MRT station. Properties such as The Minton, which offer luxuriant lifestyles in the heart of the well-equipped neighbourhood, make buying a condo in Serangoon an ease. 
With options for just about everyone, there are landed properties in Serangoon that offer the same accessibility as some Serangoon condos. Roads like Sommerville Walk hold many spacious landed homes minutes away from Serangoon MRT station, while areas like Serangoon Gardens promise comfortable living in a luxurious enclave. 
Eat - Serangoon
The best of our country's food is in no shortage in the Serangoon neighbourhood, with plenty of gems hiding in below-block coffeeshops. Here at 99.co, we've compiled the following list of places you should visit for top places to eat in Serangoon.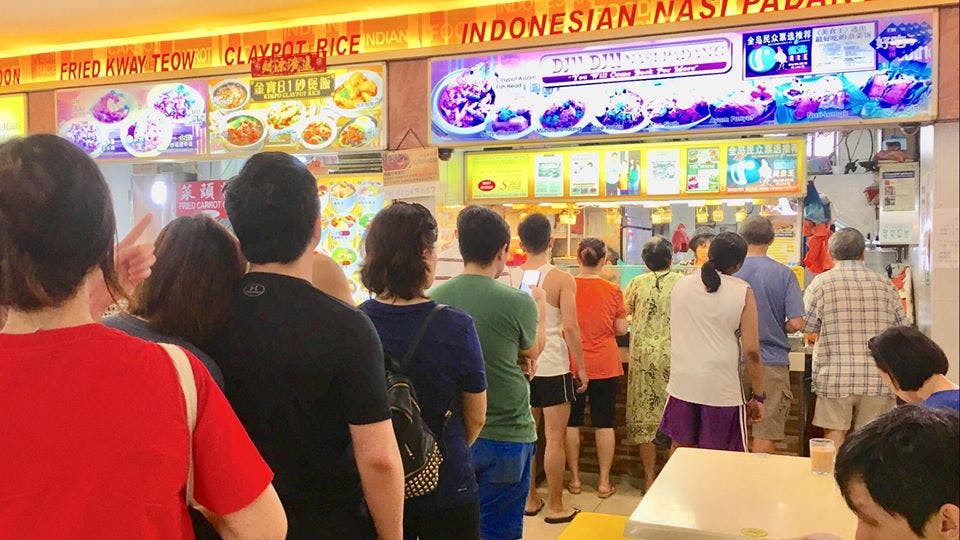 Dju Dju is an unassuming stall in Serangoon Avenue 2 that serves hearty Indonesian nasi padang. Have your pick from over 30 dishes, and indulge in the more "jelak" ones like the Claypot Assam Fish Head cooked in piquant, creamy gravy. If not, you can always fall back on their traditional breakfast options like mee siam, mee rebus, and sardine curry puffs.
Meanwhile, opt for sizzling, juicy, charred meat at Lau Wang Claypot Delights, which sells generous servings of a variety of meats. Some include the Spicy Sambal Sotong and the Frog Legs with Ginger and Onion. You can even switch it up and ask for spicier versions that come with dried chilli. 
There's also a place in Serangoon that is home to a collection of only the best, most popular eats, and that's at Serangoon Gardens. While getting there may not be as easy as central Serangoon, we guarantee it'll be well worth the additional ten minutes of travel. 
Chomp Chomp Food Centre is a hot favourite spot, famous for local hawker classics like hokkien mee and seafood. Meanwhile, Serangoon Gardens also has RK Eating House which is known for their show-stopping pratas, and MyVillage, a mall which houses many popular premium eateries like iSteaks Diner.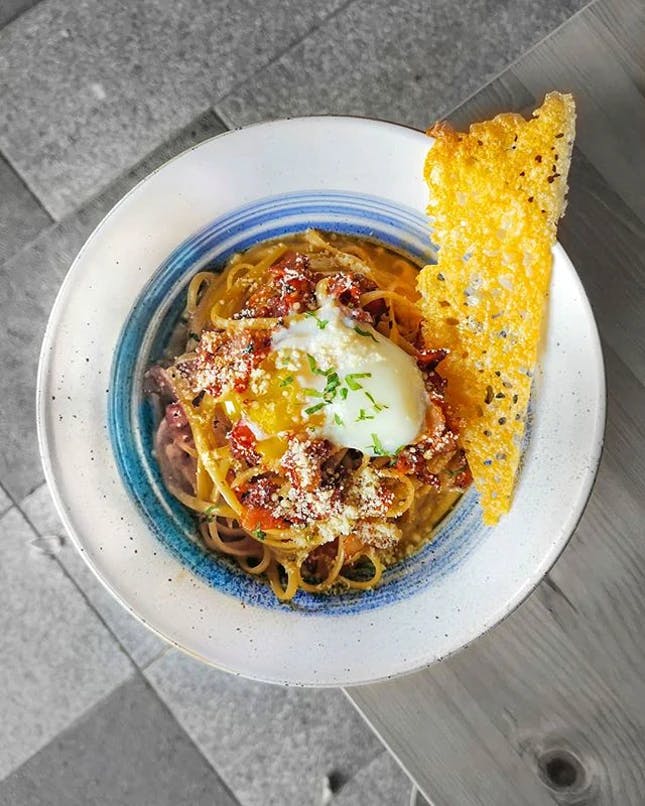 Other options in Serangoon Gardens include interesting options with fantastic food like newcomers The Peel 1889 which sells mod pizza, as well as classics like Aliff Nasi Lemak, which sells nasi lemak cooked with fluffy basmati rice. 
Drink - Serangoon
And with food not being something that's taken lightly, neither are drinks at Serangoon.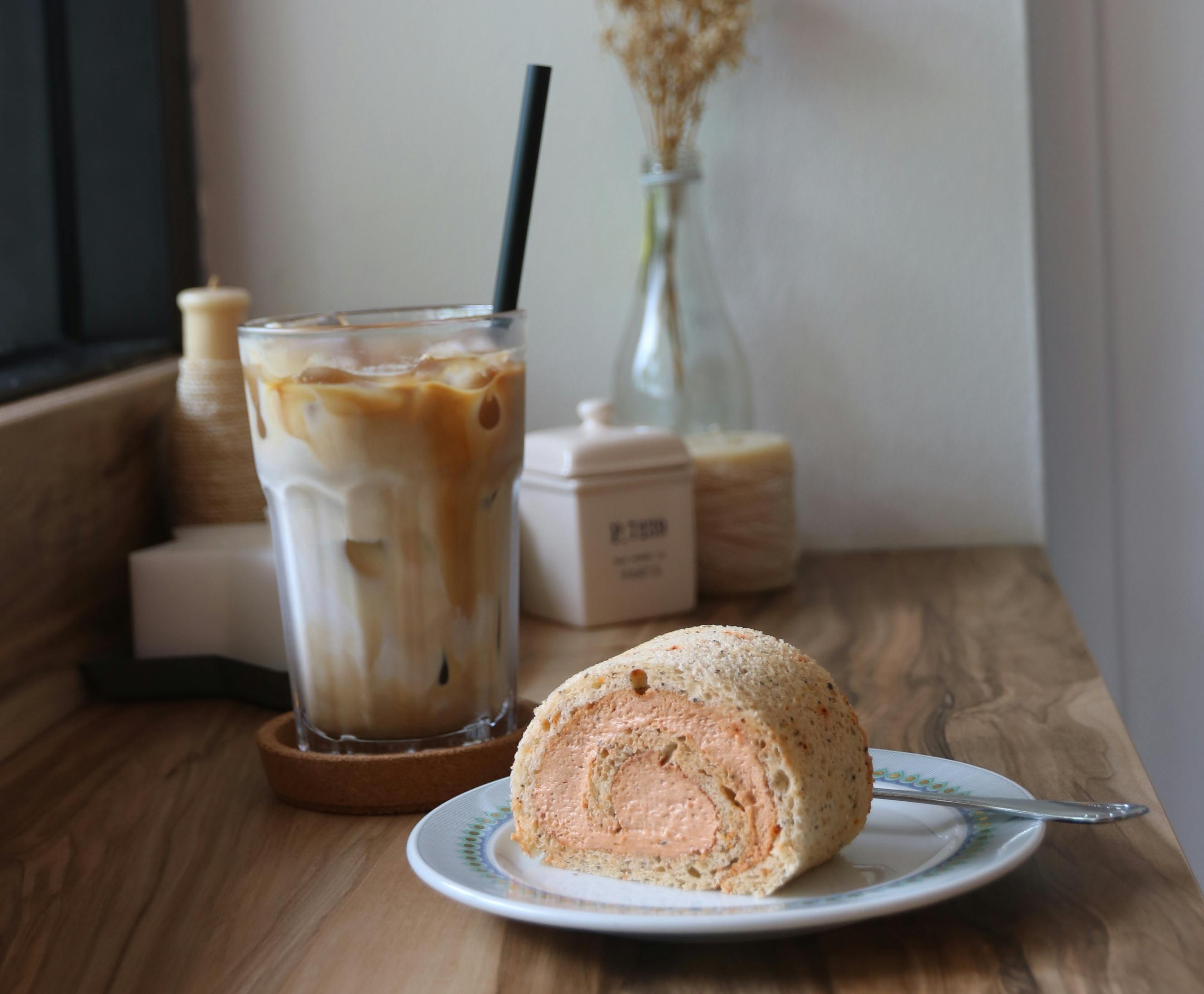 Cafes are aplenty and very well known. Wimbly Lu is a renowned option famous for their crispy waffles with an extensive drink menu, from which you can choose between a classic hot chocolate and a Mayan hot chocolate. The Plain Jane is a beguiling option, with only swiss rolls on their cafe menu. Grab an original creme swiss roll or a Nutella chocolate one, and accompany it with their selection of classic and premium tea blends. Nanyang breakfast tea is also available at The Plain Jane Cafe. 
At RK Eating House, where the tallest tissue prata stands, are also the imposing five-litre towers of Teh Tarik and iced Milo. Also in Serangoon Gardens is Fu Er Dai, run and founded by two promising young entrepreneurs. Alongside Hakka-styled mains, the restaurant serves cheap bite-sized yong tau fu at just 90 cents, and astoundingly good Chinese coffee that comes in comforting hot cocoa-styled mugs. 
Alcohol haunts are also promising at Serangoon. Ever tried the Brother's Toffee Apple cider? Grapevine Cafe & Restaurant is known for its large alcohol collection, with plenty of specialty ciders to choose from. Plonk Bar & Restaurant is where you want to be if you're looking for dinner and drinks, with thick milkshakes, wines, cocktails, and beers. 
Shop - Serangoon
An integrated development, Nex shopping mall was developed along with the Circle line and the Serangoon bus interchange. Built with the exits to the interchange and the MRT within the shopping mall, Nex is a new approach to customer convenience.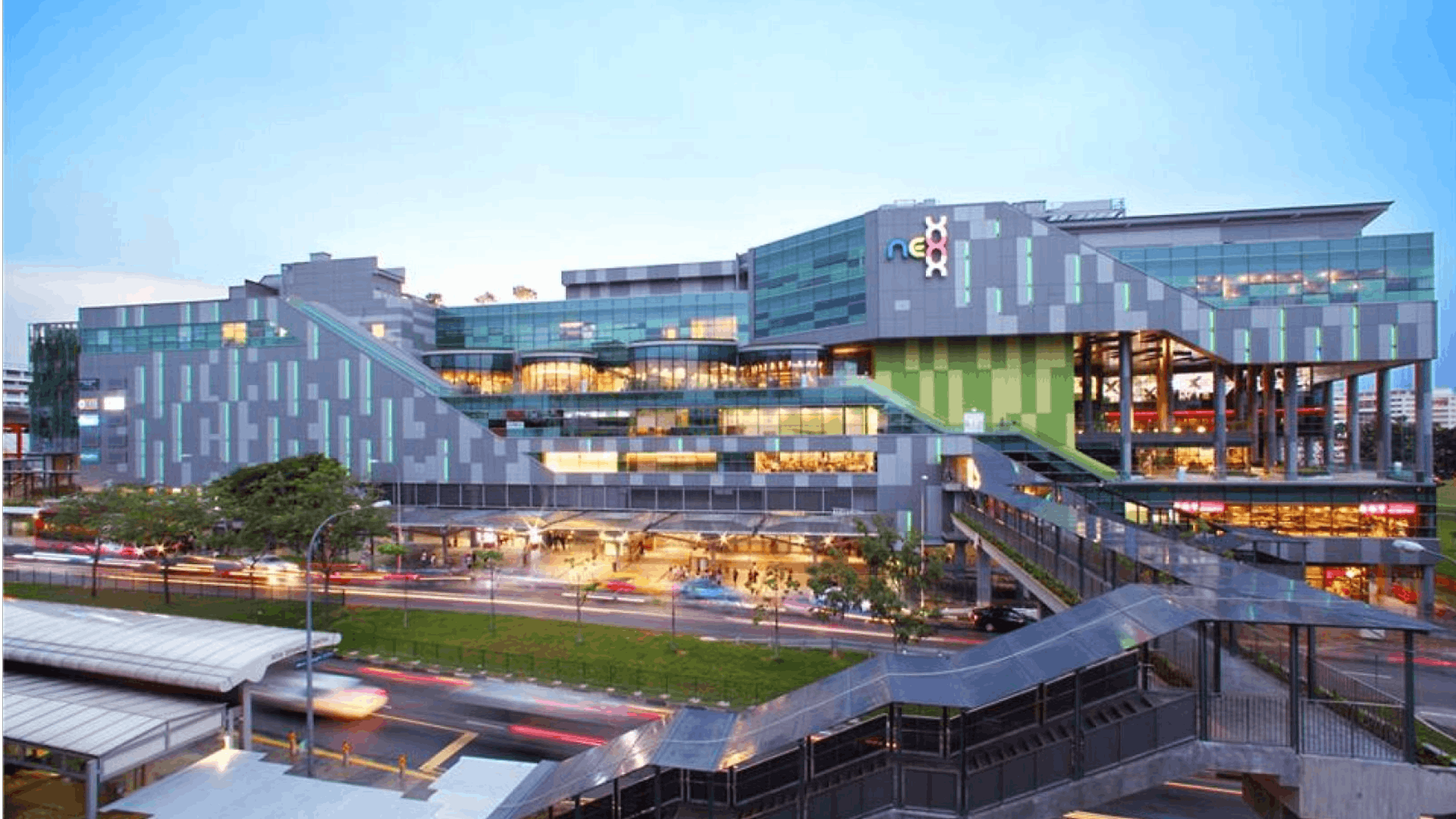 The 7-storey mall hosts a mix of entertainment, retail, lifestyle, food and beverage vendors with over 350 premium tenants and brands. The largest mall in the North-East region of Singapore, it boasts both a Cold Storage and an NTUC Fairprice Xtra, both of which are open 24 hours.
A short bus ride away from Nex is myVillage at Serangoon Gardens. Retaining much of the kampung spirit Serangoon was once known for, Serangoon Gardens still hosts community events and more. Marrying light-hearted nostalgia and modern convenience, it is a place where people can buy daily essentials, pamper themselves, unwind and bond with their loved ones, with even a Fairprice Finest for premium items at a good price.
For a true neighbourhood feel with just the basic necessities, head to Upper Serangoon Shopping Centre. Although the mall may now seem a tad shoddy on the surface it hosts many necessary amenities like tuition centres and dining options. 
Play - Serangoon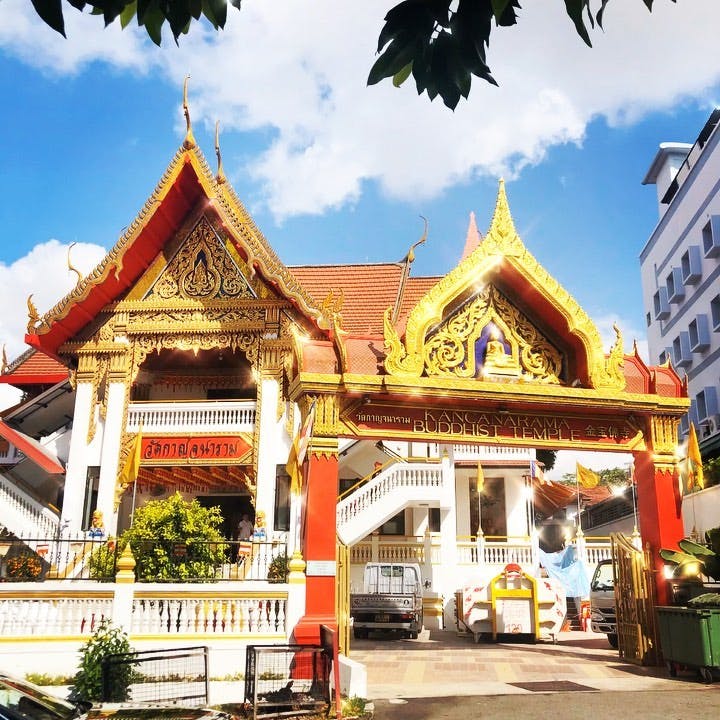 Serangoon's rich residential past has forged the roots for a deep cultural legacy. Today, the district is home to several spots known for cultural exploration. The Church of St. Francis Xavier on Chartwell Drive predates independence, having been established in 1959 in the Serangoon Gardens Estate. The Kancanarama Buddhist Temple is known for its beautiful architecture at Lorong Ong Lye. And the Simon Road Market Sculpture is a well-established landmark.
Due to Serangoon's extensive residential zones, the precinct has seen the designation of multiple parks. While not within the jurisdiction of National Parks, Serangoon Community Park and Serangoon Sunshine Park are frequent sites of visit for residents. The more traditional NParks venue is present with Tavistock Avenue Park which boasts the usual features of playgrounds, walking trails, and more.
Learn - Serangoon
Serangoon is a hotspot for families because of the myriad of schools that exist in the area to cater to various educational stages. Rosyth School, Zhonghua Primary School, Yangzheng Primary School, and CHIJ Our Lady of Good Counsel provide elementary education to young students in the area. Students in need of tertiary education can pick from nearby options like Serangoon Garden Secondary School, Peicai Secondary School, Zhonghua Secondary School, St. Gabriel's Secondary School, and Nanyang Junior College. 
There are also other notable schools close to the Serangoon Neighbourhood, like Australian International School Singapore, Cedar Girls' Secondary School, and Paya Lebar Methodist Girls' Primary School.
Move - Serangoon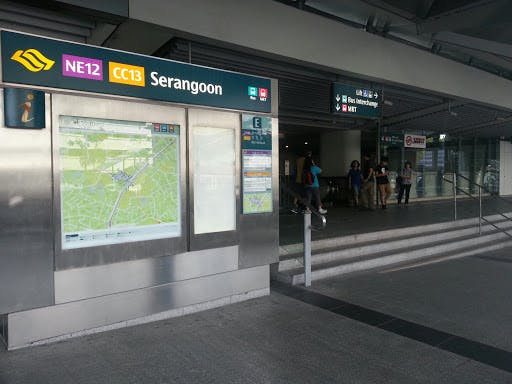 Set in the middle of Singapore, Serangoon has been well connected to the ends of the country by virtue of its proximity to the city. In 2003, the Serangoon MRT station on the North-East line was launched.
The first MRT line to be managed by SBS Transit, previously known as Singapore Bus Service, the North-East line is not only the first line to feature fully automated and driverless trains in Singapore, it is also the world's first fully automated completely underground and driverless high-capacity line. However, it is the last of the high capacity lines built in Singapore, with subsequent MRT lines being of the medium capacity variety.
Being the first completely underground line, telecommunication facilities are supported by Wireless@SG, a WIFI service. The North-East Line is the first and currently only line to feature WIFI coverage at all its stations.
In 2009, the fourth MRT line, dubbed the Circle line, was opened. An integrated development effort, the Serangoon station was developed along with Nex shopping mall, and the Serangoon Bus Interchange with both transportation facilities having direct access into the mall.
Both MRT lines connect Serangoon residents to Harbourfront and Dhoby Ghaut, just off of Orchard. The Circle Line also extends towards Bayfront and Marina Bay. Still incomplete, the Circle line will include 3 additional stations, connecting Marina Bay to Harbourfront.
By 2029, the Cross Island line will introduce 12 new stations which will include Serangoon North station. While not intersecting with the North East and Circle line interchange at Serangoon station, Serangoon North will connect to the North-East line at Hougang and Punggol stations, making them both interchanges as well.
Public Library - Serangoon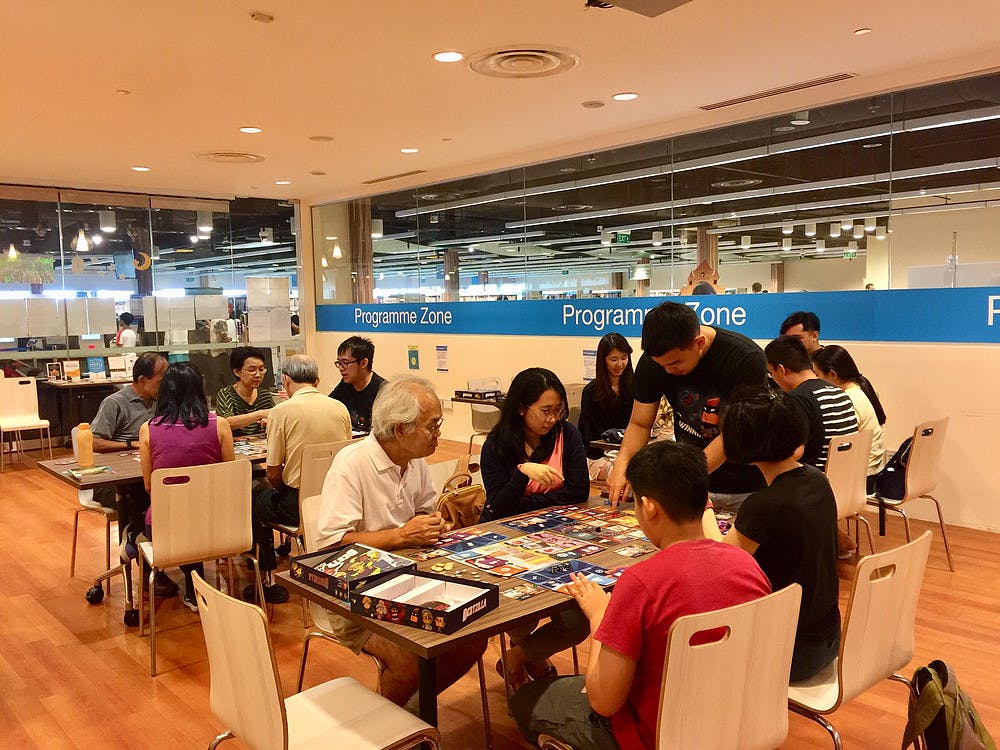 Serangoon offers something unique when it comes to libraries. Serangoon Public Library, or SRPL, is located on the rooftop of NEX shopping mall and easily accessible to commuters passing through Serangoon's transport epicentre, which consists of the Serangoon Bus Interchange and the Serangoon MRT Station. One of the most exciting things about the place is the board game sessions. Facilitated by the Singapore Boardgames Meetup group, the sessions are held on every 3rd Sunday of even months. It is suitable for teens, adults, children with their parents, and everyone who is interested in learning and social bonding through play. The library itself houses more than 180,000 items for readers of all age groups, including a wide collection of books, magazines, and audio-visual materials. With a selection that includes popular fiction and information books, Serangoon Public Library is well placed to nurture the joy of reading and learning in its community. On top of that, since it is located on the rooftop of a major retail hub in the northeastern part of Singapore, you can also catch a scenic view of the neighbourhood too while you are there.
Parks and Gardens - Serangoon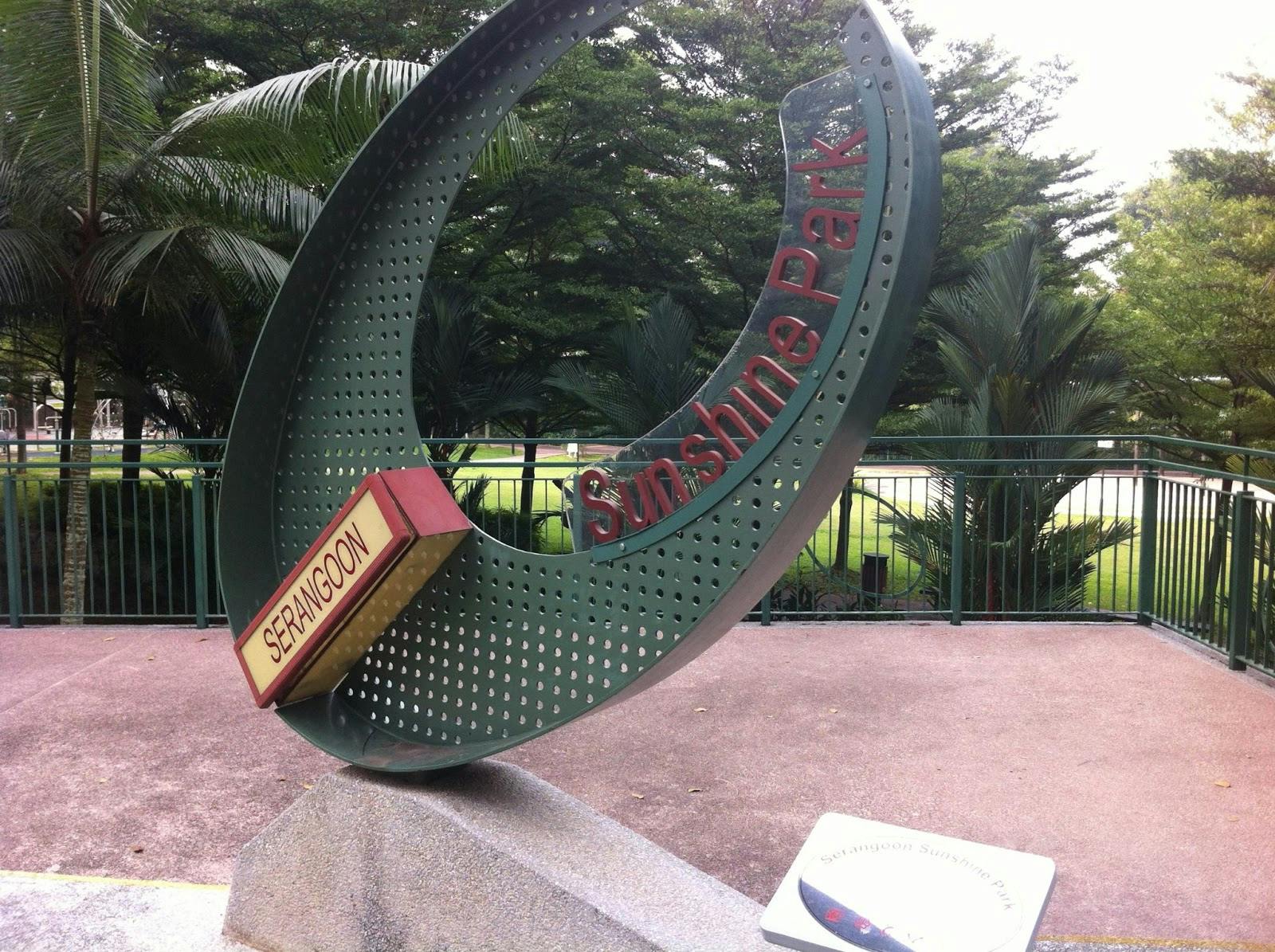 Outdoor enthusiasts will be glad to find Serangoon Community Park in the neighbourhood. It is a lush recreational area and has a children's playground located close to Serangoon Central, only 7 minutes away from Serangoon MRT station. From picnics, morning and evening walks, playing, to taking a leisurely stroll with your loved ones, this park is popular as it provides a refreshing hub for locals and tourists who wish to relax and rejuvenate. Serangoon Community Park has a lot of facilities including an outdoor gym, play area, and splash pad. Fitness areas and wheelchair access are also available on site. Another option for beautiful open spaces in the neighbourhood is the Serangoon Sunshine Park. Exciting playground facilities including climbing frames and swings are perfect for young children. The fitness session itself is suitable for all ages, and the park even offers yoga classes as well. Several other parks in the area include Tavistock Avenue Park, Haus Linear Park, Chartwell Drive Park, and many more.
Sports Facilities - Serangoon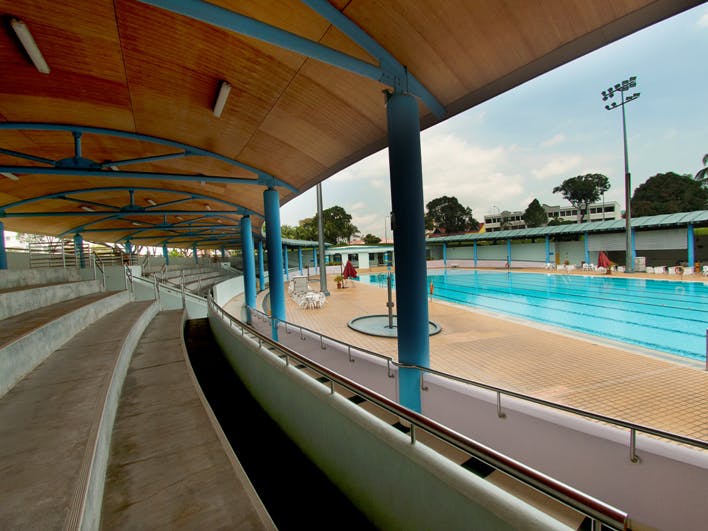 Formerly known as Serangoon Sport and Recreation Centre, Serangoon Sports Centre is located at 33 Yio Chu Kang Road. You can work those leg muscles and break a sweat along the running tracks of Serangoon Stadium, which has a seating capacity of 1,200. This stadium is open to the public for recreational activities as well. If you are up for a friendly match, grab your racket and swing a serve or smash at the Burghley Squash and Tennis Centre. Alternatively, cool off by dipping your toes in the swimming complex. Swimming lessons are available in this Serangoon Swimming Complex and intended for various age groups, from babies and toddlers to adults. Baby and toddler swim classes are generally conducted in the teaching pool with a depth between 0.9 to 1 metre. As the baby and toddler classes are parent accompanied, this is to allow parents to be able to stand comfortably when guiding their child in the class. Meanwhile, kids and adult swim classes are generally conducted in both the teaching pool and the competition pool. This is to allow the learner to be able to pick up important survival skill such as treading water.
Shortlist folder is empty
Search for listings to shortlist