About Riverfront Residences
Riverfront Residences has hit the jackpot with its location. The 99-year leasehold development is a waterfront residence located along the Serangoon River — that means fantastic feng shui*, windy evenings, and an unobstructed view of glistening streams and lush greenery. If you find this area familiar, it is because Riverfront Residence — a joint venture between Oxley Holdings Limited, KSH Holdings Limited, SLB Development Ltd and Apricot — is taking over the spot of Rio Casa, which was enbloc in 2017.
*Having a body of water, be it a lake or pond, in front of your house is said to have a positive impact on one's feng shui.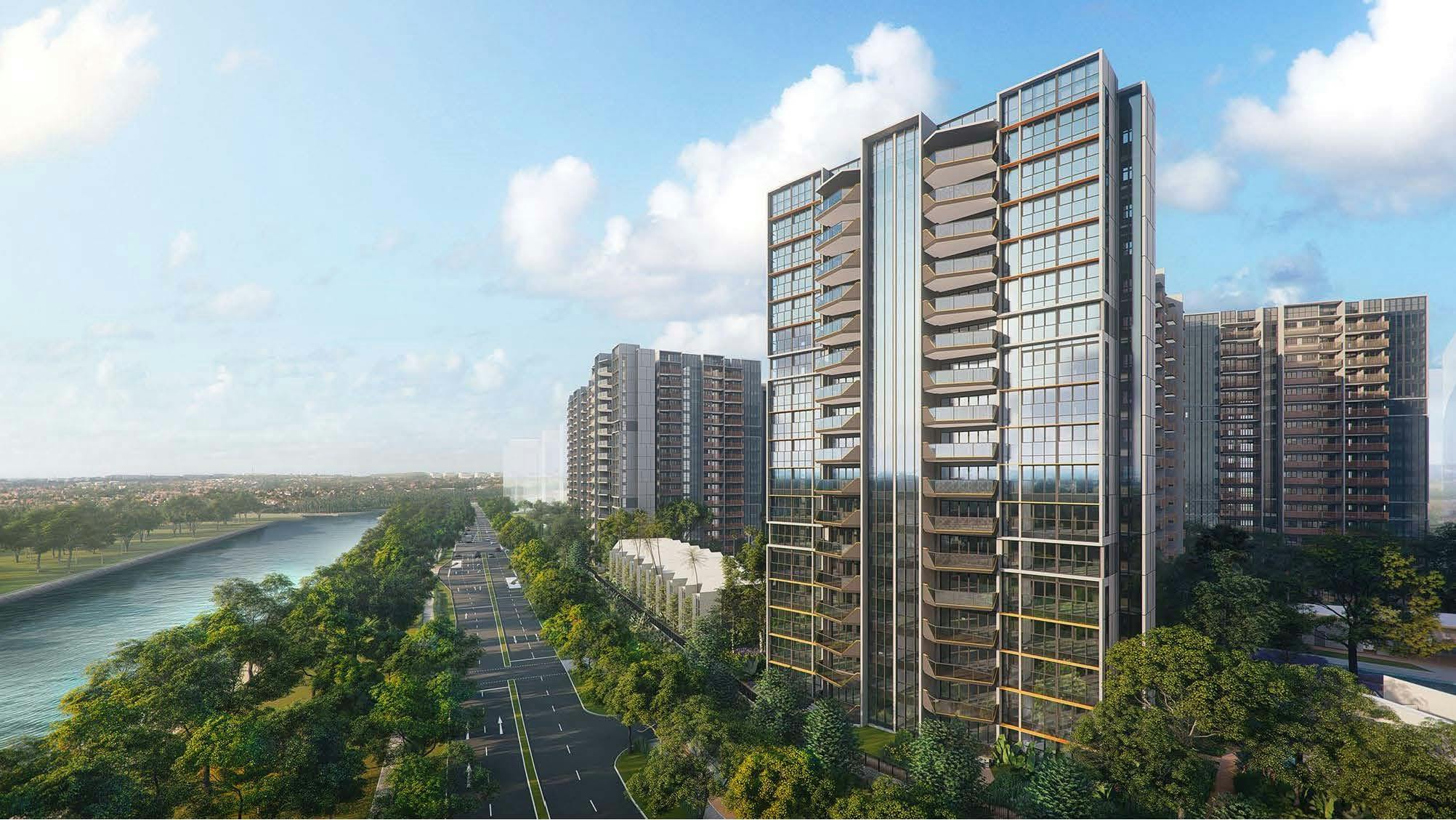 Location, location, location
Here are more reasons to love Riverfront Residences: it is accessible to transportation as well as schools — ideal for parents and parents-to-be.
The Kallang Paya Lebar Expressway (KPE) is only a five-minute drive, and Central Expressway (CPE), 14 minutes. Will your kids be taking taking public transport to school? Drop them off at Kovan MRT Station (five-minute drive) or, if you're not rushing for time, take a 13-minute walk to Hougang MRT. With the upcoming Cross Island Line (CRL), travelling from Hougang via MRT to places like Ang Mo Kio Hub and Changi Airport will be much easier in the future.
Nearby schools include Punggol Primary School, CHIJ Our Lady of the Nativity, and Holy Innocents' High; you will reach any of these schools under 12 minutes (by foot). Slightly further away are Monfort Secondary School and Xinmin Secondary School; both are a six-minute drive away.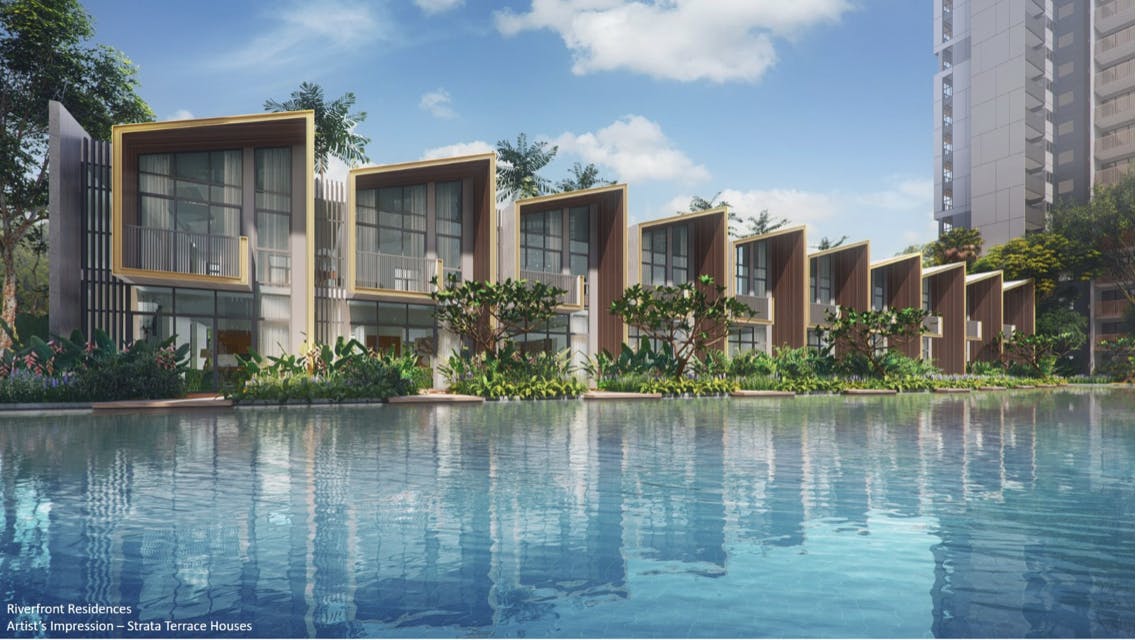 Homes for families
Riverfront Residences has 30 blocks of residential units, ranging from one to five-bedroom apartments, as well as 21 exclusive strata terrace houses. Those lucky enough to snatch the four- and five-bedroom premium apartments will have the added convenience of a private lift. The premium units also feature yacht deck-inspired balconies.
To create a restful, beach resort-type ambience, while still equipping its residences with modern conveniences, Oxley Holdings et al has furnished every home with a Fibaro smart home system. Systems like these can help you save electricity and even come up with a customised mood lighting to welcome you home. Each home also comes with a Yale digital lock, Electrolux appliances and Grohe kitchen and bathroom fittings.
Multi-generational families will love the strata terraces. These 2,109sqf houses feature four bedrooms and span across three levels. Residents will have access to a private carpark, too.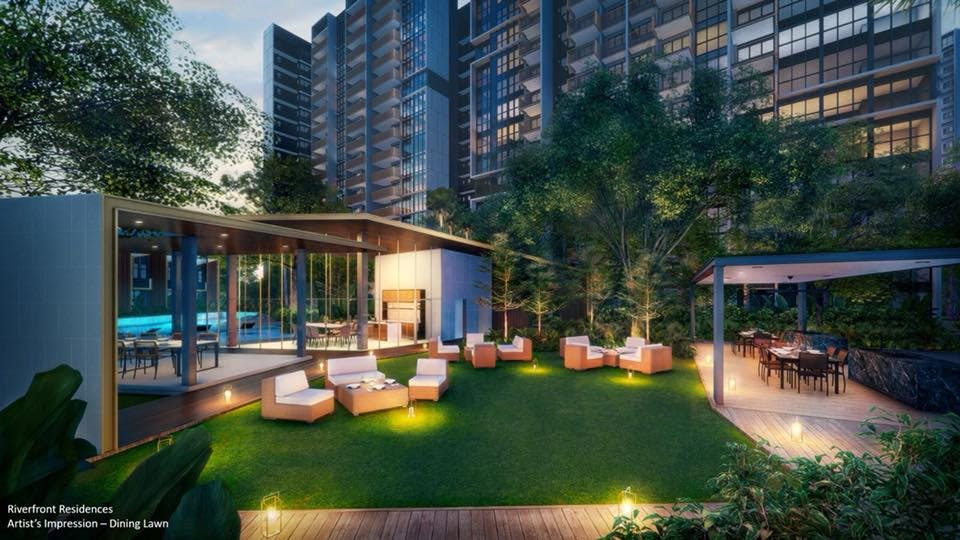 More than 100 facilities available at Riverfront Residences
Riverfront Residences has three main hubs — or coves, in Riverfront-speak. The Botanic Cove is an idyllic spot for family gatherings (there are three villa-style dining pavilions and a private pool here) as well as working from home. The co-working space boasts a picturesque view. The Mangrove Resort Cove, on the other hand, is where most activities take place. You can choose to take it easy and relax on the waterbed or pool hammocks, go for a family swim in the 50m lap pool, or sing your best rendition of Bohemian Rhapsody in the KTV room.
There are various kid-friendly spots, too. Overcome their fear of heights at the rock-climbing wall or Flying Fox station, and train the little one to be the next Rory McIlroy at the Putting Green station. Don't forget to check out the 20m shallow play pool!
Riverfront Residences also accommodates healthier pursuits. It has a yoga lawn and deck for those looking to stretch in the morning. Residents can partake in vinyasa flows in preparation for a long work day.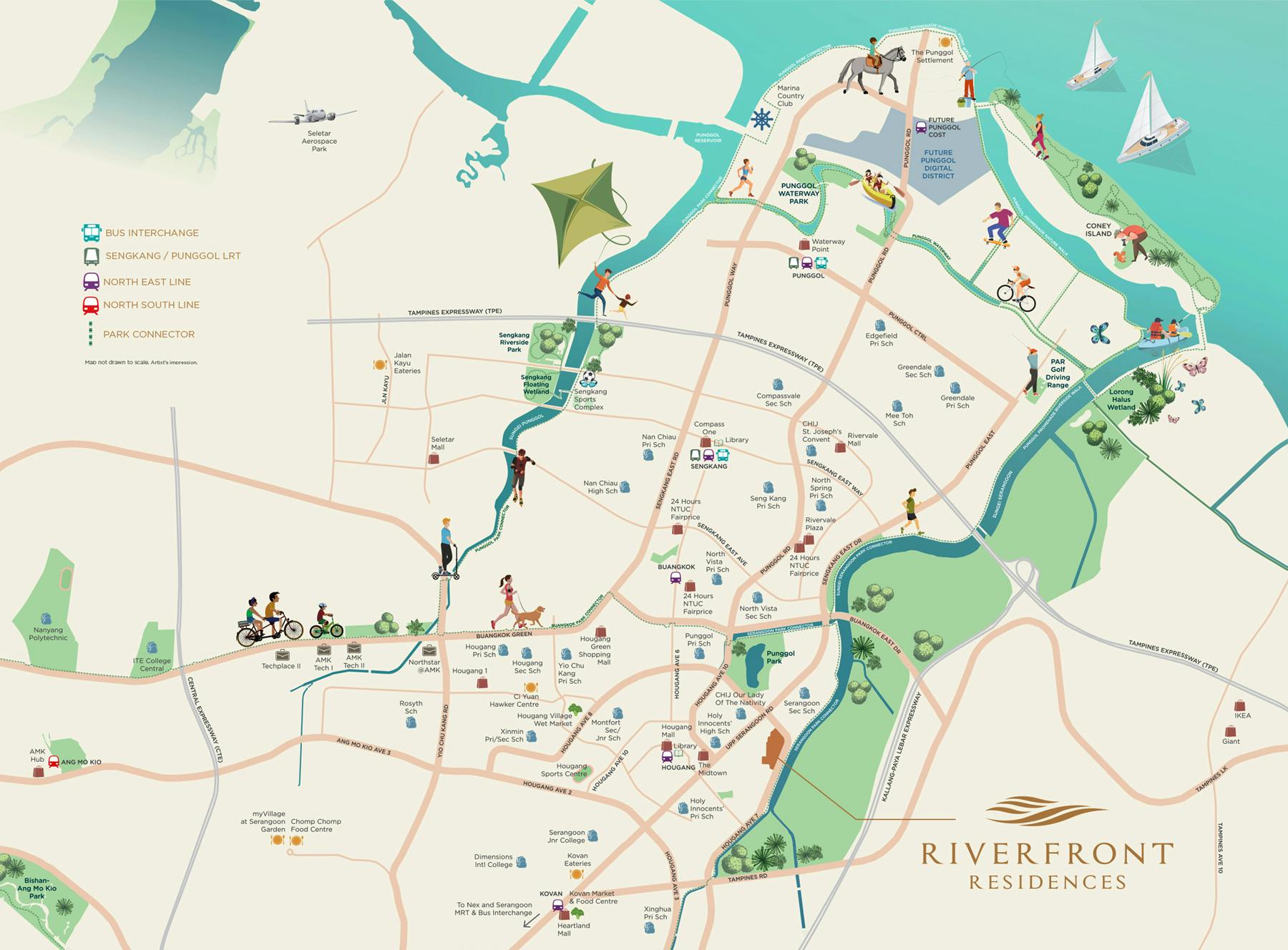 Parks are also in close proximity. From Serangoon Park Connector, Punggol Park is an eight-minute walk away; Evergreen Park is a mere five-minute walk away, too. Also, five minutes away is Hougang Sports Hall.
Shopping & Food
Hougang Mall (3-min drive)
Hougang 1 (6-min drive)
Compass One (7-min drive)
Nex Shopping Mall (9-min drive)
Waterway Point (9-min drive)
Chomp Chomp Food Centre (11-min drive)
The Punggol Settlement (13-min drive)
Junction 8 Shopping Centre (16-min drive)
Business Parks
Seletar Aerospace Park (14-min drive)
Central Business District (22-min drive)
Schools
CHIJ Our lady of the Nativity (5-min walk)
Holy Innocents' High School (7-min walk)
Serangoon Secondary School (9-min walk)
Punggol Primary School (12-min walk)
Monfort Junior School (4-min drive)
Xinghua Primary School (4-min drive)
Montfort Secondary School (5-min drive)
Xinmin Secondary School (6-min drive)