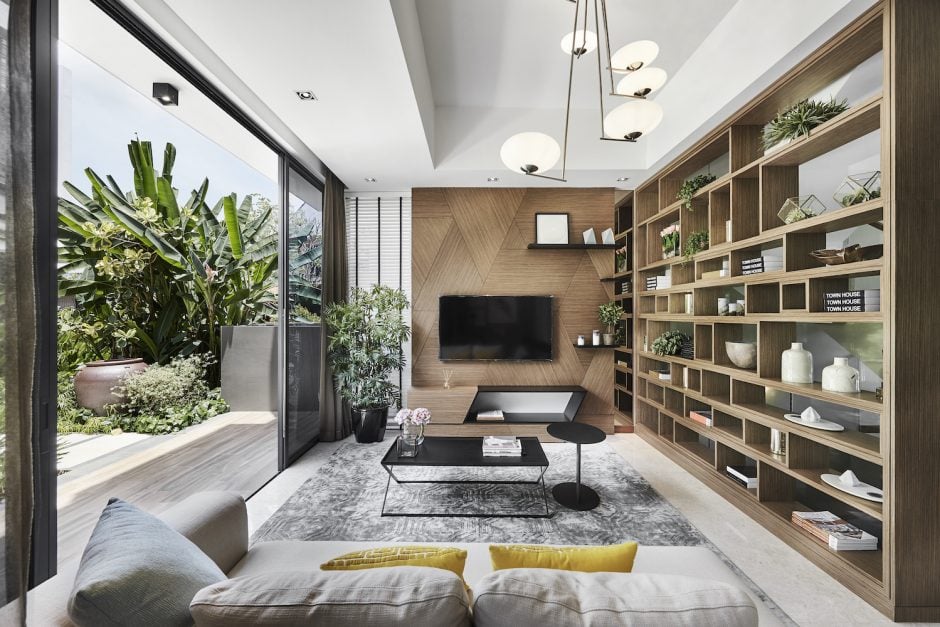 The typical Singaporean will buy the biggest possible condo they can afford. It'd go something like: "Find out how much is enough to literally bankrupt me, and then just shrink that amount by a bit." But in this age of higher downpayments, economic uncertainty, and climbing interest rates, that's a bad idea. To make your purchase sustainable in the long-run, you'll need to pick a right-sized condo instead:
Thinking in terms of "need", not "feet"
When it comes to houses, bigger is not always better. A bigger condo doesn't just mean a bigger cash outlay, it's also a maintenance nightmare. Have you seen some of the Sentosa Cove units? Your domestic helper will need to hire a domestic helper.
Instead of thinking in terms of square feet or rooms, think in terms of your household type:
The lifelong single

The lifelong single who's a dedicated hobbyist/professional

Couples or small families

The typical family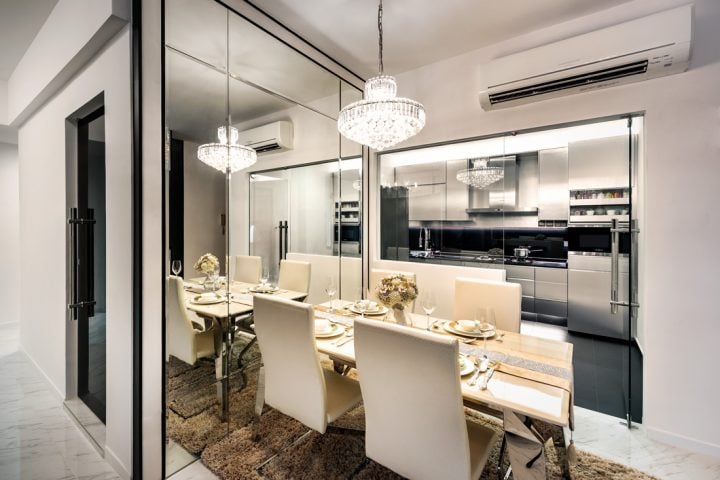 The lifelong single
This is for people who intend to stay single for life, or who are trying to get initial exposure to the property market (i.e. your first investment).
For this group, it's best to start out small, rather than splurge on a huge condo all at one go. This allows you to trade off space for a more central location, or a more luxurious condo.
A typical example would be a shoebox unit in a central location. (Shoebox units are defined as units below 50 square metres, or 538 square feet, in area.
Illuminaire on Devonshire, for instance, is around $1.08 million. For that price, you get to live in a 440 sq ft unit that's just three minutes from the Somerset MRT station. Imagine being able to walk to Orchard Central, ION Orchard, or elsewhere in the downtown core within the space of a few minutes – you can certainly find a larger condo for this price, but that's likely to be in areas like Pasir Ris or Jurong.
If you're sensitive about price, consider that you can buy a fully private shoebox — along with the usual condo amenities — for under $600,000; such as at the 999-year leasehold Glasgow Residence. Although the price point is attractive, always consider whether there's a healthy rental demand for such units in the area, if you buy a non-central shoebox unit for investment. (Shoeboxes typically cater to single expatriates; there's a reason why there are so many of them in the city area/downtown.)
If you're buying one for your own stay, do be certain that you won't be settling down in the near future! One of the worst things you can do is buy a shoebox, then have to incur Seller's Stamp Duty (SSD) and/or sell it at a loss because you unexpectedly met "The One".
And if you want to relocate to a larger resale flat from a shoebox, remember that the regulations require you to dispose (i.e. sell) your shoebox unit within six months of the resale flat's completion date. This might not sit well with you. (You'll need to wait five years — to the end of your flat's Minimum Occupation Period — before you can buy another private property.)
99.co tip: To get the most out bang for your buck of a shoebox unit, you might want to look for ones that's squarish in layout (i.e. no odd-shaped layout, no corridors in the house). Units without a balcony will also save you some money on the square feet.
The lifelong single who's a dedicated hobbyist/professional
Many singles don't mind bringing their work home (or at least, they mind less than the typical family person). We're referring to types like professional photographers, architects, designers, etc.
Some of these singles live alone, but have greater space needs. They may use their home as a studio, for example, or have a gallery set up for art collections. This means the smaller shoebox units are out — but at the same time, they still don't need a huge family-sized condo.
A compromise would be a unit that's somewhere between a larger shoebox, but not a full-sized condo, such as units that are between 500 to 750 square feet.
Seaside Residences is a very good example of this: the Siglap-based property has units that are around 600 square feet. This is big enough to live comfortably while setting up, say, your own mini photography studio or pottery zone under $1 million.
If you need it to be more central, Icon at Gopeng Street offers 700 square feet for around $1.4 million. That's not cheap for a small unit, but it's in a central location, while still giving you the space you need. These units could also be easier to sell or rent out given their central location.
As with shoebox units though, make sure you won't suddenly decide to settle down in the near future. These units may be bigger than shoeboxes, but they're still not big enough to comfortably raise a family.
99.co tip: Units in a 1-bedroom + study configuration may suit these group of people, but not all such units are the same. Some layouts put study rooms in a space that's entirely separate from the other areas, hence limiting it's utility. We favour study areas that can be easily merged with, and separated from, areas such as the living room or the bedroom.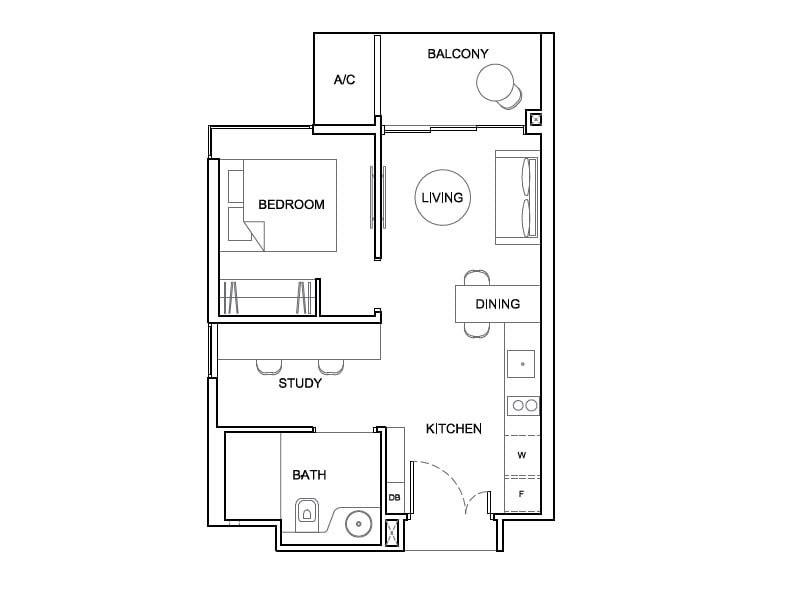 Couples or small families
For couples or families of up to three (i.e. one kid), you'll want to consider two-bedroom condo units. These condo units range from roughly 750 to 1000 sq ft.
These units also make a good first home, if you can't get an HDB flat or an EC and need to skip right to the private market. They're big enough to give your child a private room, and also provide decent space for small gatherings on Christmas, New Year, etc.
Assuming you want to use the unit for rental play, these units are also easier to rent out: many mid-senior level expats with/without a child opt for units of this size, rather than shoeboxes or condos with more rooms.
To increase tenant demand for your two-bedroom property, you can allow your main tenant to sublet the spare room to one additional tenant. Not many landlords currently do this, so you'll get the upper hand and rent out a two-bedder unit more easily if you allow this.
The Bayshore offers seafront living with this amount of room, at just around $950,000. It's part of a cluster of condos at Bayshore Road, with the nearby Bayshore Park offering comparable size at just over $1 million. If price is a big concern, look toward the west or northwest – you can get up to 958 square feet for just $800,000, at Palm Gardens.
There are some exceptions, of course. If you happen to already have large space needs (e.g. you need a professional studio/workspace in the house), you may find that you need a bigger condo, even if it's just you, your spouse, and one child. If another child comes along, you may have to look at relocating before he/she reaches school age (especially if its of a different gender to your first).
99.co tip: Pay attention to the sizes of the kitchens of two-bedroom apartments. Some come with kitchens that are as small as their one-bedroom variants, which doesn't make sense for a family that cooks and dines at home often.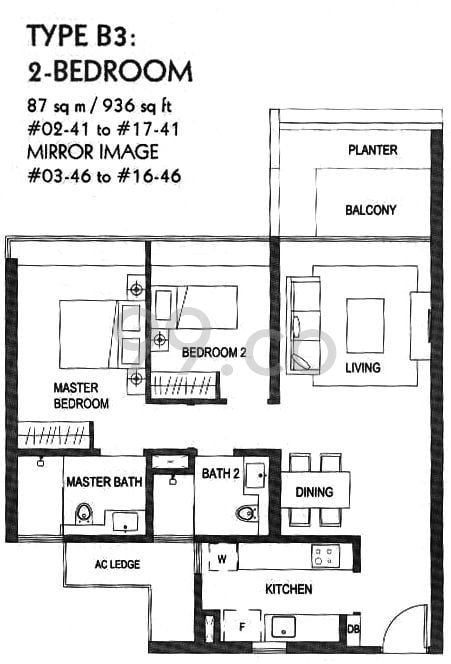 The typical family
In Singapore, if you have two kids, your family size is already larger than the national average. And consider the fact you might have even more kids, or your folks want to move in. You'll eventually need at least four-bedrooms.
To live in comfort, our take is that a person requires minimally 250 sq ft of space. So, a household of six should require a minimum of 1,500 sq ft to maximise the well-being of its occupants and minimise conflict. A household of five can get by with 1,200 sq ft, we reckon.
The thing is, condos at these sizes do not come cheap. But look hard enough and you'll find some great value.
Don't believe us? The Tapestry, located in Tampines, has over 1,100 square feet for just $1.35 million. Livia, in Pasir Ris Gove, offers units that are over 1,300 square feet, for just $1.15 million.
Alternatively, look West, specifically in Bukit Batok. Hillview Regency has units of around 1,200 square feet, also going for just $1.15 million. The nearby Regent Heights has three-bedroom units (around 1,173 square feet) for around $1.01 million.
Our point is, as long as you're not opting for a fancy central location, you can actually find condos that are LARGER in size than comparable HDB homes, where a four-room and five-room flat typically measures 980 sq ft and 1,084 sq ft respectively.
99.co tip: For larger units, 'useless' spaces such as bay windows, A/C ledges, corridors and planters can really add up in terms of square footage, and $$$. You might want to pick a unit with as much useable space as possible.
At this point, some readers are thinking that, instead of going for a $900,000 unit, they might as well go for a $1.15 million unit.
You see? You see?! This is what we mean when we say Singaporeans tend toward buying houses bigger than they need.
Yes, you can get a bigger house for a little bit more. But a "little bit more" can equate to hundreds of thousands of dollars when it comes to property. This is money which is sometimes more prudently invested elsewhere.
So, the moral of the story is: Don't be too quick to buy a bigger house, even if it seems affordable to you. A "little bit extra", such as having a balcony, is not worth the difference between a fat and slim retirement portfolio of assets down the road.
If you still think an extra $15,000 forked out for a few more square feet won't make a difference, talk to your financial advisor — they can explain how the money makes a world of difference when invested properly.
Buying your first home or investment property? We're here to help. Find out how to make your property purchase safe as, well, houses. Our panel of experts are ready to answer your questions, and provide clarity on any property issues.
Consult them at Property Investing for Non-Millionaires, on 25th May 2019, at the HDB Hub Auditorium (Toa Payoh). Tickets are just $20, and early birds get a 50 per cent discount.