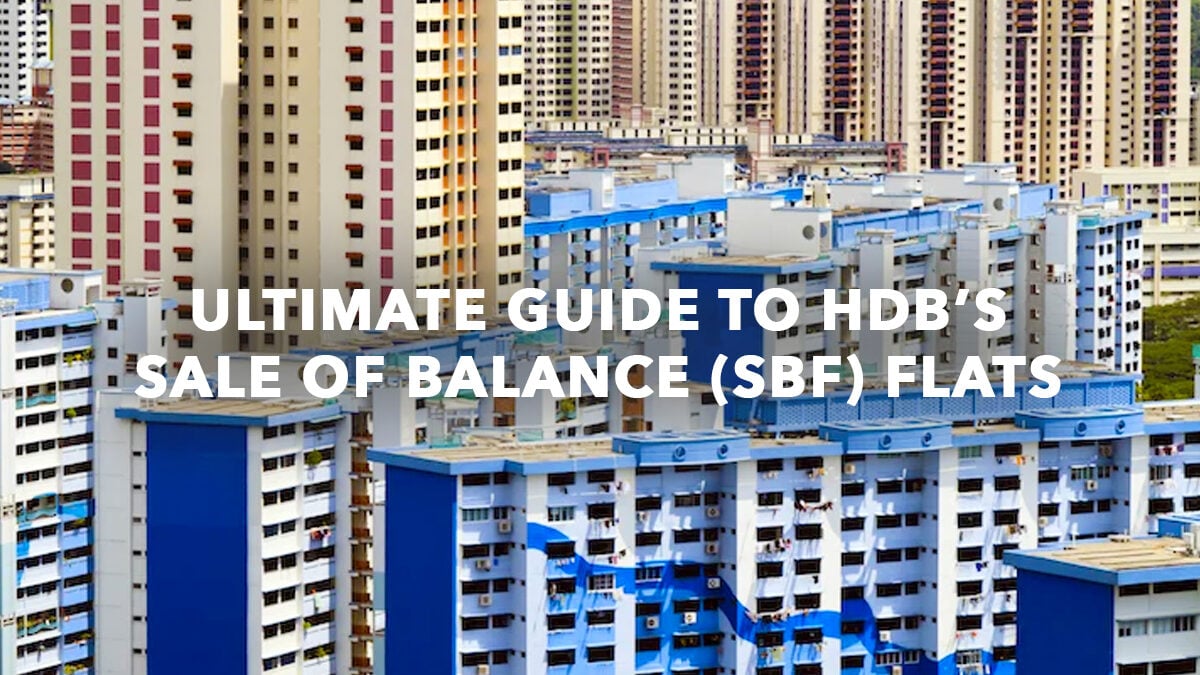 Update as of 2 June 2023: The May 2023 HDB SBF application period has been extended to 8 June, 11.59pm. 1,500 units are available for balloting on the HDB portal. 
Chances are, you already know a fair bit about HDB's Build-To-Order (BTO) and resale flats. But there's a third option available in the public housing market: Sale of Balance Flats (SBFs). You might also be wondering when the HDB Sale of Balance Flats exercise will be in 2023. In this article, we explain what these flats are and what to take note of.
What is a Sale of Balance Flat (SBF)?
Sale of Balance Flats (SBF) are leftover flats from previous BTO launches, surplus Selective En Bloc Redevelopment Scheme (SERS) replacement flats and repurchased flats. These include flats that previous owners chose to give up. Possible reasons for this include couples splitting up or inability to finance their flats.
This means that for the flats that have been built, they may even be as old as 40 years old. In fact, we found a Toa Payoh flat to be nearly 47 years old when it was put up for SBF in November 2020.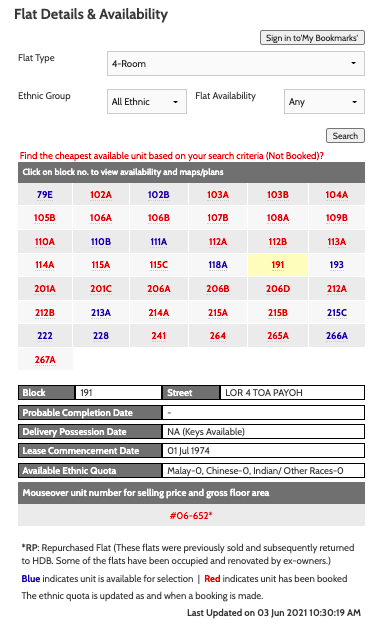 You can read more about old Sale of Balance Flats in this article.
What this also means is that not all flats under SBF come with a fresh lease of 99 years. So just like buying a resale flat, you'll need to take note of the lease decay if you purchase an SBF built several years ago.
But here's the good news if you're keen on buying an old flat for its larger size. You'll be able to buy it through SBF at a cheaper price than through the resale market. And similar to getting a BTO, you may be eligible for the Enhanced CPF Housing Grant (EHG) of up to S$80,000.
Read this: Quick guide (with infographic) to BTO, SBF and resale HDB grants for singles
What's the eligibility criteria to buy a Sale of Balance flat?
The eligibility criteria is similar to getting a BTO flat. If you are buying a flat with your fiancé/fiancee or spouse, you'll need to be at least 21 years of age. Alternatively, if you're buying a flat as a single, you'll need to be at least 35 years and above.
(You can find out more about HDB's eligibility criteria on HDB's website).
Note that for this May 2023 HDB SBF, you'll need to do the following:
1. preliminary HDB Flat Eligibility (HFE) check before you submit your SBF application
2. apply for the HFE letter within 30 days of doing this preliminary check
You'll need the HFE letter when you go for the flat booking appointment.
When is the next Sale of Balance flat launch?
SBF launches are held twice a year, coinciding with HDB BTO sales launches in May and November. 
How long do you need to wait if you purchase a Sale of Balance flat?
It depends! If you're purchasing a unit that has already been built, you'll be invited to sign the Agreement for Lease and collect your keys six months after booking the flat from HDB. If not, you'll need to wait for the flat to be completed. This can take anywhere from a few months to three or four years.
But the main advantage SBFs have over BTOs is that they have a much shorter waiting time.
In the case of the May 2023 HDB SBF exercise, you'll be informed on your queue number in July 2023, with the flat booking exercise taking place starting from August 2023. You will need the HFE letter when you go for the appointment. 
You'll then be invited to sign the Agreement for Lease within nine months of booking the flat. Head over to this page for more info.
How many available flats are there in each Sale of Balance flat launch?
It depends. For instance, in the sales launch in May 2022, HDB launched 1,952 flats for sale via SBF. More recently in November 2022, 1,071 SBF units were launched for sale.
For the May 2023 SBF, 1,500 units have been launched for balloting. 
Do take note that availability of a unit also depends on the ethnic quota. Depending on the existing racial profile of resident households in the block, a listed unit may only be made available to applicants of a certain race.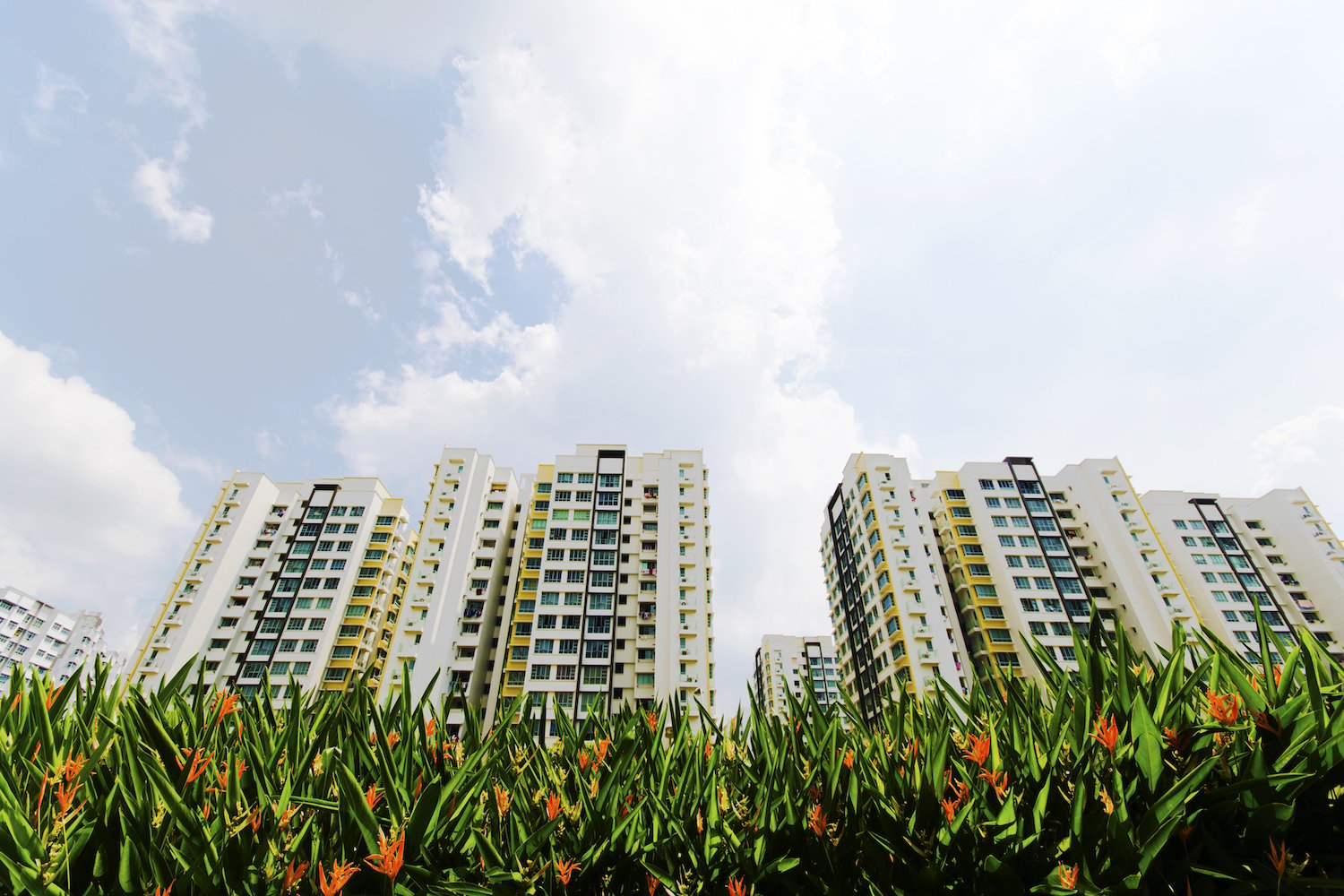 When is information about Sale of Balance flats released?
HDB only releases information about SBF during the launch itself. This is unlike BTO flats, in which we usually have the info on the exact locations, estimated number of units and flat types three months in advance.
This leaves you with only one week to look through the flats available through SBF and submit the application.
But the plus side is that you get more information about the flats available, right down to the block number and unit number. So you'll be able to know which flats to avoid (such as those west-facing flats).
Another good thing about the Sale of Balance Flats scheme is that it doesn't just comprise four to five locations like in a typical BTO launch. You can find flats of various types spread across the different estates in Singapore, as well as the race quota, put up for SBF.
In the SBF exercise in May 2023, popular estates like Bishan and Bukit Merah are included as well.
Here's a breakdown of the flat supply for the May 2023 SBF. 
Non-mature estates
Town/ Estate

Flat Application Category

Flat Supply

Ethnic Quota

Selling Price

Malay

Chinese

Indian/ Other Races

Bukit Batok

2-room Flexi (short lease)

18 (10*)

10

10

10

From S$63,000

2-room Flexi (99-year/ balance lease)

8

8

8

From S$110,000

3-room (income ceiling $7,000)

6

6

6

4

From S$199,000

4-room

4

4

4

4

From S$328,000

Bukit Panjang

2-room Flexi (short lease)

8 (6*)

6

6

6

From S$67,000

2-room Flexi (99-year/ balance lease)

2

2

2

From S$110,000

3-room (income ceiling $7,000)

4

3

4

4

From S$204,000

4-room

3

3

3

3

From S$288,000

5-room (2 units)/ Executive (1 unit)

3

3

3

3

From S$495,000

Choa Chu Kang

2-room Flexi (short lease)

13 (8*)

7

8

8

From S$54,000

2-room Flexi (99-year/ balance lease)

4

5

5

From S$130,000

3-room (income ceiling $7,000)

2

2

2

2

From S$199,000

4-room

14

14

14

14

From S$233,000

5-room (4 units)/ Executive (1 unit)

5

4

5

4

From S$375,000

Hougang

2-room Flexi (short lease)

30 (17*)

17

15

17

From S$53,000

2-room Flexi (99-year/ balance lease)

13

13

13

From S$103,000

3-room (income ceiling $7,000)

5

5

5

5

From S$219,000

4-room

33

33

30

33

From S$318,000

5-room (12 units)/ Executive (2 units)

14

14

14

12

From S$473,000

Jurong East

2-room Flexi (short lease)

18 (9*)

9

9

1

From S$80,000

2-room Flexi (99-year/ balance lease)

9

9

9

From S$140,000

3-room (income ceiling $7,000)

8

8

8

8

From S$219,000

4-room

11

11

11

11

From S$401,000

5-room

1

1

1

1

S$440,000

Jurong West

2-room Flexi (short lease)

24 (12*)

12

12

12

From S$57,000

2-room Flexi (99-year/ balance lease)

7

12

12

From S$99,000

3-room (income ceiling $7,000)

55

14

55

22

From S$119,000

4-room

16

15

16

15

From S$243,000

5-room (2 units)/ Executive (3 units)

5

4

5

4

From S$355,000

Punggol

2-room Flexi (short lease)

39 (2*)

2

2

2

From S$72,000

2-room Flexi (99-year/ balance lease)

36

37

36

From S$123,000

3-room (income ceiling $7,000)

7

5

7

7

From S$249,000

3-room (income ceiling $14,000)

6

6

6

6

From S$262,000

4-room

68

58

68

57

From S$303,000

5-room

7

7

7

7

From S$380,000

Sembawang

2-room Flexi (short lease)

6

6

6

6

From S$67,000

2-room Flexi (99-year/ balance lease)

From S$115,000

3-room (income ceiling $7,000)

4

4

4

3

From S$200,000

4-room

27

27

27

26

From S$298,000

5-room (8 units)/ 3Gen (1 unit)

9

9

9

9

From S$405,000

Sengkang

2-room Flexi (short lease)

37 (12*)

12

12

9

From S$65,000

2-room Flexi (99-year/ balance lease)

25

25

25

From S$111,000

3-room (income ceiling $7,000)

7

7

7

7

From S$207,000

4-room

36

36

36

36

From S$293,000

5-room

10

10

10

10

From S$416,000

Tengah

2-room Flexi (short lease)

26

25

26

26

From S$77,000

2-room Flexi (99-year/ balance lease)

From S$133,000

3-room (income ceiling $7,000)

14

14

14

14

From S$210,000

4-room

32

30

32

32

From S$330,000

5-room

26

26

26

26

From S$461,000

Woodlands

2-room Flexi (short lease)

45 (18*)

12

18

16

From S$57,000

2-room Flexi (99-year/ balance lease)

15

27

27

From S$98,000

3-room (income ceiling $7,000)

13

2

13

9

From S$144,000

4-room

27

12

27

26

From S$223,000

5-room (23 units)/ 3Gen (3 units)

26

18

26

25

From S$385,000

Yishun

2-room Flexi (short lease)

46 (16*)

16

16

14

From S$57,000

2-room Flexi (99-year/ balance lease)

30

30

30

From S$100,000

3-room (income ceiling $7,000)

14

13

14

13

From S$204,000

4-room

55

47

55

48

From S$238,000

5-room

7

7

7

7

From S$414,000
5-room and Executive HDB flats for sale in non-mature estates
Mature estates 
Town/ Estate

Flat Application Category

Flat Supply

Ethnic Quota

Selling Price

Malay

Chinese

Indian/ Other Races

Ang Mo Kio

2-room Flexi (short lease)

15 (10*)

10

8

9

From S$102,000

2-room Flexi (99-year/ balance lease)

4

4

5

From S$177,000

3-room

7

7

6

7

From S$229,000

4-room

26

26

9

26

From S$298,000

5-room

2

2

1

2

From S$754,000

Bedok

2-room Flexi (short lease)

14 (8*)

7

8

8

From S$82,000

2-room Flexi (99-year/ balance lease)

5

6

6

From S$142,000

3-room

19

18

18

17

From S$189,000

4-room

10

10

9

10

From S$293,000

5-room

1

1

1

1

S$475,000

Bishan

2-room Flexi (short lease)

5 (3*)

3

3

3

From S$119,000

2-room Flexi (99-year/ balance lease)

2

2

2

From S$263,000

4-room

3

3

2

3

From S$523,000

Bukit Merah

2-room Flexi (short lease)

22 (17*)

17

6

16

From S$105,000

2-room Flexi (99-year/ balance lease)

5

2

5

From S$132,000

3-room

9

9

4

9

From S$149,000

4-room

4

4

0

4

From S$353,000

5-room

2

2

2

2

From S$665,000

Bukit Timah

2-room Flexi (short lease)

5*

5

5

5

From S$120,000

Clementi

2-room Flexi (short lease)

2

2

2

2

From S$153,000

2-room Flexi (99-year/ balance lease)

From S$262,000

3-room

8

8

8

8

From S$184,000

4-room

9

9

7

9

From S$303,000

5-room

5

5

5

5

From S$505,000

Central

3-room

2

2

1

2

From S$269,000

Geylang

2-room Flexi (short lease)

17 (6*)

6

6

6

From S$117,000

2-room Flexi (99-year/ balance lease)

11

10

11

From S$122,000

3-room

19

19

11

19

From S$154,000

4-room

44

44

31

43

From S$333,000

5-room

1

1

1

1

S$565,000

Kallang/ Whampoa

2-room Flexi (short lease)

18 (15*)

15

7

15

From S$106,000

2-room Flexi (99-year/ balance lease)

3

3

3

From S$142,000

3-room

10

10

9

10

From S$119,000

4-room

9

9

8

9

From S$378,000

Marine Parade

3-room

1

1

1

1

S$244,000

Pasir Ris

2-room Flexi (short lease)

13 (10*)

5

10

0

From S$53,000

2-room Flexi (99-year/ balance lease)

2

3

3

From S$148,000

3-room

1

1

1

1

S$304,000

4-room

6

4

6

5

From S$373,000

5-room (5 units)/ Executive (1 unit)

6

5

6

5

From S$520,000

Queenstown

2-room Flexi (short lease)

18 (11*)

11

4

9

From S$130,000

2-room Flexi (99-year/ balance lease)

7

5

7

From S$312,000

3-room

11

11

5

11

From S$199,000

4-room

6

6

1

6

From S$363,000

5-room

2

2

0

2

From S$625,000

Serangoon

2-room Flexi (short lease)

5*

5

5

5

From S$68,000

3-room

2

2

2

2

From S$204,000

4-room

2

2

1

2

From S$293,000

Tampines

2-room Flexi (short lease)

30 (17*)

11

17

17

From S$67,000

2-room Flexi (99-year/ balance lease)

1

13

13

From S$172,000

3-room

16

4

15

16

From S$214,000

4-room

64

25

64

64

From S$293,000

5-room (33 units)/ 3Gen (1 unit)/ Executive (1 unit)

35

21

35

35

From S$435,000

Toa Payoh

2-room Flexi (short lease)

32 (24*)

24

23

21

From S$97,000

2-room Flexi (99-year/ balance lease)

8

8

8

From S$149,000

3-room

19

19

16

19

From S$144,000

4-room

45

45

39

44

From S$450,000

5-room (3 units)/ 3Gen (1 unit)

4

4

3

4

From S$696,000

Total

1,500

1,275

1,377

1,394

 
5-room and Executive HDB flats for sale in mature estates
---
See all listings
260B Ang Mo Kio Street 21
Singapore 562260 · D20
3
2
$1,188,888
552 Ang Mo Kio Avenue 10
Singapore 560552 · D20
3
2
$758,000
578 Ang Mo Kio Avenue 10
Singapore 560578 · D20
4
4
$1,150,000
350 Ang Mo Kio Street 32
Singapore 560350 · D20
3
2
$850,000
631 Ang Mo Kio Avenue 4
Singapore 560631 · D20
5
4
$860,000
578 Ang Mo Kio Avenue 10
Singapore 560578 · D20
4
3
$1,150,000
700A Ang Mo Kio Avenue 6
Singapore 561700 · D20
3
2
$1,020,000
578 Ang Mo Kio Avenue 10
Singapore 560578 · D20
4
4
$1,150,000
700C Ang Mo Kio Avenue 6
Singapore 563700 · D20
3
2
$1,068,000
310A Ang Mo Kio Avenue 1
Singapore 561310 · D20
4
2
$1,100,000
460 Ang Mo Kio Avenue 10
Singapore 560460 · D20
4
2
$699,000
439 Ang Mo Kio Avenue 10
Singapore 560439 · D20
3
2
$700,000
437 Ang Mo Kio Avenue 10
Singapore 560437 · D20
3
2
$740,000
588C Ang Mo Kio Street 52
Singapore 563588 · D20
3
2
$1,180,000
259 Ang Mo Kio Avenue 2
Singapore 560259 · D20
3
2
$850,000
316A Ang Mo Kio Street 31
Singapore 562316 · D20
3
2
$880,000
401 Ang Mo Kio Avenue 10
Singapore 560401 · D20
3
2
$880,000
700A Ang Mo Kio Avenue 6
Singapore 561700 · D20
3
2
$1,065,413
316A Ang Mo Kio Street 31
Singapore 562316 · D20
3
2
$880,000
700B Ang Mo Kio Avenue 6
Singapore 562700 · D20
3
2
$1,100,000
714 Ang Mo Kio Avenue 6
Singapore 560714 · D20
3
2
$880,000
439 Ang Mo Kio Avenue 10
Singapore 560439 · D20
3
2
$730,000
588A Ang Mo Kio Street 52
Singapore 561588 · D20
3
2
$1,150,000
171 Ang Mo Kio Avenue 4
Singapore 560171 · D20
3
2
$890,000
305 Ang Mo Kio Avenue 1
Singapore 560305 · D20
3
2
$785,000
111 Ang Mo Kio Avenue 4
Singapore 560111 · D20
4
2
$700,000
620 Ang Mo Kio Avenue 9
Singapore 560620 · D20
3
2
$670,000
618 Ang Mo Kio Avenue 4
Singapore 560618 · D20
4
2
$730,000
588B Ang Mo Kio Street 52
Singapore 562588 · D20
3
2
$1,250,000
312 Ang Mo Kio Avenue 3
Singapore 560312 · D20
3
2
$748,000
439 Ang Mo Kio Avenue 10
Singapore 560439 · D20
3
2
$700,000
455B Ang Mo Kio Street 44
Singapore 562455 · D20
3
2
$1,095,000
725 Ang Mo Kio Avenue 6
Singapore 560725 · D20
3
2
$800,000
458 Ang Mo Kio Avenue 10
Singapore 560458 · D20
3
2
$728,000
260B Ang Mo Kio Street 21
Singapore 562260 · D20
3
2
$1,220,000
See all Ang Mo Kio >
See all listings
11 Chai Chee Road
Singapore 460011 · D16
3
2
$950,000
723 Bedok Reservoir Road
Singapore 470723 · D16
3
3
$860,000
61 New Upper Changi Road
Singapore 461061 · D16
2
2
$750,000
61 New Upper Changi Road
Singapore 461061 · D16
2
2
$750,000
611 Bedok Reservoir Road
Singapore 470611 · D16
3
2
$728,000
108 Lengkong Tiga
Singapore 410108 · D14
4
3
$1,100,000
407 Bedok North Avenue 3
Singapore 460407 · D16
3
2
$750,000
101 Bedok Reservoir Road
Singapore 470101 · D16
3
2
$588,000
32 Bedok South Avenue 2
Singapore 460032 · D16
3
2
$700,000
807C Chai Chee Road
Singapore 463807 · D16
3
2
$948,000
636 Bedok Reservoir Road
Singapore 410636 · D14
4
2
$1,999,988
721 Bedok Reservoir Road
Singapore 470721 · D16
3
2
$898,000
611 Bedok Reservoir Road
Singapore 470611 · D16
3
2
$728,000
553 Bedok North Avenue 1
Singapore 460553 · D16
4
2
$578,888
415 Bedok North Avenue 2
Singapore 460415 · D16
3
2
$640,000
716 Bedok Reservoir Road
Singapore 470716 · D16
3
2
$1,192,888
725 Bedok Reservoir Road
Singapore 470725 · D16
3
3
$890,000
636 Bedok Reservoir Road
Singapore 410636 · D14
4
2
$1,388,888
61 New Upper Changi Road
Singapore 461061 · D16
2
2
$750,000
140 Bedok North Street 2
Singapore 460140 · D16
3
2
$840,000
721 Bedok Reservoir Road
Singapore 470721 · D16
3
2
$898,000
118 Bedok North Street 2
Singapore 460118 · D16
3
2
$680,000
552 Bedok North Avenue 1
Singapore 460552 · D16
3
2
$688,000
710 Bedok Reservoir Road
Singapore 470710 · D16
3
2
$615,000
415 Bedok North Avenue 2
Singapore 460415 · D16
3
2
$678,000
31 Bedok South Avenue 2
Singapore 460031 · D16
3
2
$838,000
61 New Upper Changi Road
Singapore 461061 · D16
2
2
$775,000
60 New Upper Changi Road
Singapore 461060 · D16
3
2
$900,000
137 Bedok North Avenue 3
Singapore 460137 · D16
4
2
$718,000
61 New Upper Changi Road
Singapore 461061 · D16
3
2
$690,000
108 Lengkong Tiga
Singapore 410108 · D14
4
3
$1,099,000
611 Bedok Reservoir Road
Singapore 470611 · D16
3
2
$728,000
747C Bedok Reservoir Crescent
Singapore 473747 · D16
3
3
$1,050,000
10 Chai Chee Road
Singapore 467010 · D16
3
2
$948,888
187B Bedok North Street 4
Singapore 462187 · D16
3
2
$899,000
See all Bedok >
See all listings
25A Jalan Membina
Singapore 162025 · D3
3
2
$1,199,000
96A Henderson Road
Singapore 151096 · D3
3
3
$1,368,888
114 Depot Road
Singapore 100114 · D4
3
2
$700,000
48 Telok Blangah Drive
Singapore 100048 · D4
3
2
$850,000
109 Spottiswoode Park Road
Singapore 080109 · D2
3
2
$860,000
135 Jalan Bukit Merah
Singapore 160135 · D3
4
2
$850,000
95C Henderson Road
Singapore 153095 · D3
3
2
$1,390,000
25B Jalan Membina
Singapore 164025 · D3
3
2
$1,399,999
140 Jalan Bukit Merah
Singapore 160140 · D3
3
2
$710,000
85 Telok Blangah Heights
Singapore 100085 · D4
3
2
$1,090,000
109A Depot Road
Singapore 101109 · D4
3
2
$828,000
96A Henderson Road
Singapore 151096 · D3
4
2
$1,668,000
8 Jalan Rumah Tinggi
Singapore 150008 · D3
3
2
$820,000
9B Boon Tiong Road
Singapore 163009 · D3
3
2
$1,400,000
106 Spottiswoode Park Road
Singapore 080106 · D2
3
2
$830,000
74 Telok Blangah Heights
Singapore 100074 · D4
3
2
$799,000
114 Bukit Purmei Road
Singapore 090114 · D4
3
2
$1,000,000
110 Spottiswoode Park Road
Singapore 081110 · D2
3
2
$880,000
104 Spottiswoode Park Road
Singapore 080104 · D2
3
2
$888,000
114 Depot Road
Singapore 100114 · D4
3
2
$700,000
55 Tiong Bahru Road
Singapore 160055 · D3
4
2
$1,499,900
127D Kim Tian Road
Singapore 164127 · D3
4
2
$1,498,888
8 Jalan Rumah Tinggi
Singapore 150008 · D3
3
2
$790,000
110 Spottiswoode Park Road
Singapore 081110 · D2
3
2
$938,000
95 Havelock Road
Singapore 160095 · D3
3
2
$1,180,000
115 Bukit Merah Central
Singapore 150115 · D3
3
2
$790,000
25A Jalan Membina
Singapore 162025 · D3
3
2
$1,199,000
85 Telok Blangah Heights
Singapore 100085 · D4
3
2
$1,090,000
95 Havelock Road
Singapore 160095 · D3
3