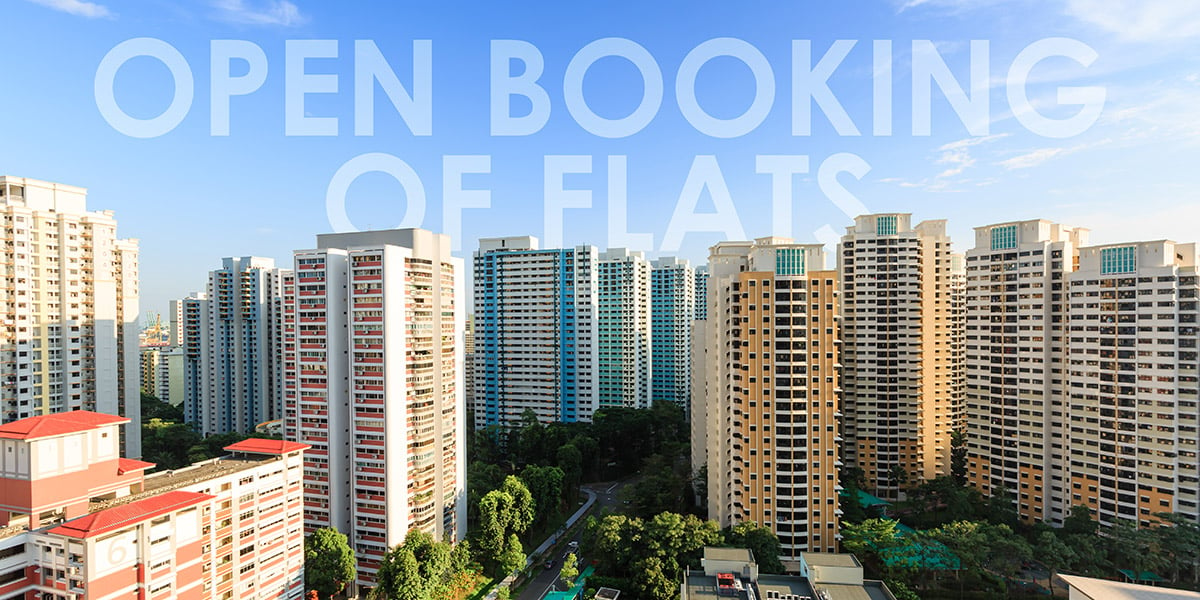 Okay, so we did our research on HDB's new Open Booking of Flats platform to see how it compares to buying a flat from the resale market. We wanted to give you an analysis breaking down the merits of each approach but, frankly, there's pretty much nothing about Open Booking of Flats that truly benefits homebuyers, so the short answer to the title question is a big fat NO.
But if you still want to find out why, read on:
What is Open Booking of Flats?
First, a brief background. Much like how condo developers put up yet-to-be-built projects for sale, the Housing & Development Board (HDB) launches thousands of new flats each year that'll take an average of 3.5 years to complete. The HDB first sells these flats through wildly popular Build-to-Order (BTO) sales exercises, which consists of new HDB projects in 2 – 5 locations.
During these exercises, BTO flats are typically oversubscribed – after a balloting and selection process, only a few of them are left over (mainly because of a lack of demand for a particular location or that the ethnic quota is maxed out).
These leftover flats, also called 'balance flats', are then pooled together with completed flats repossessed or sold back directly to HDB. Whenever a BTO launch comes around, a concurrent Sale of Balance Flats (SBF) exercise lets applicants ballot for these leftover flats.
Leftover flats from the SBF used to go onto a third ballot exercise called the Re-offer of Balance Flats (ROF), until the latter was scrapped in March 2020 to just let applicants book the damn flats on a first-come-first-serve basis through its online Open Booking of Flats portal, which is now open.
Why the HDB start Open Booking of Flats?
Previously, those who want to get a flat direct through the ROF instead of the resale market had to wait for a specific twice-a-year window to view available flats and apply, whereas the Open Booking of Flats lets buyers to apply for a new flat all year round.
According to Minister for National Development Lawrence Wong, the Open Booking of Flats allows the earlier release of more balance units to "enable home-seekers with urgent needs to access flats more quickly".
But, in truth, there's simply no need to implement a ballot system for leftover HDB flats that can be likened to crumbs on a dinner plate or 'Reduced to Clear' items in a supermarket.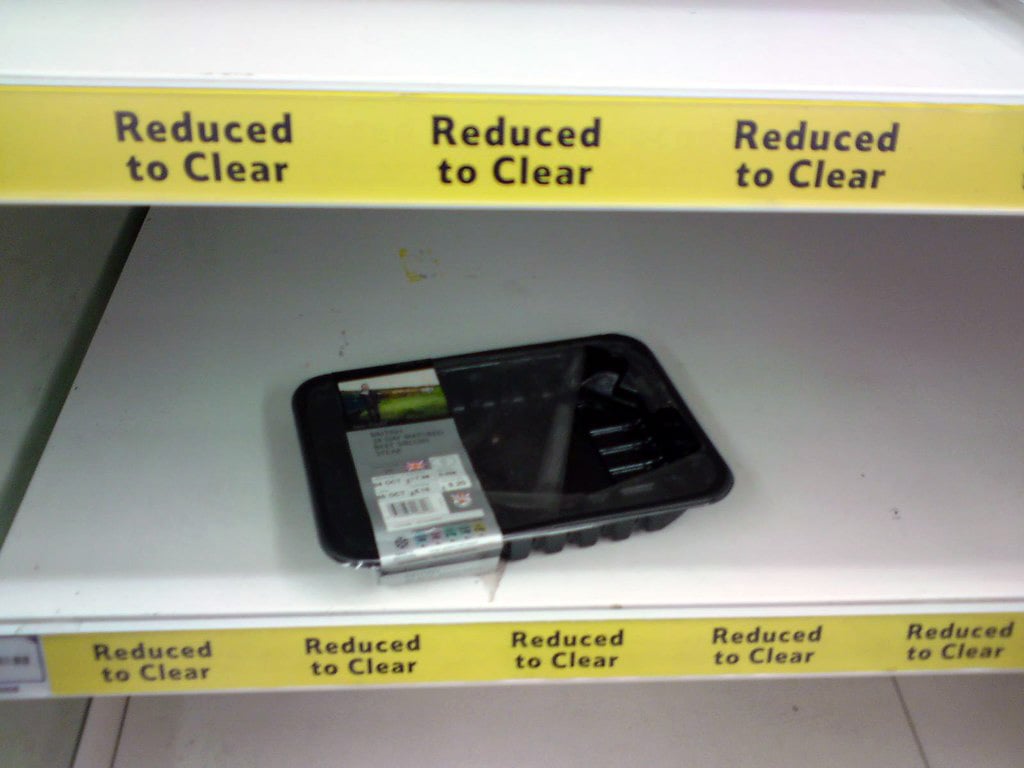 The 'accessing flats more quickly' argument is also a somewhat dubious one, as applications via Open Booking of Flats entail a waiting period (to sign the Agreement for Lease) of up to four months from your flat selection date.
On the other hand, if you buy a resale HDB flat, the entire process from entering into an Option to Purchase (OTP) to key collection can be done and dusted in two months.
And here's the kicker: Even if the flat is a completed unit, HDB doesn't allow any in-person viewings of the flat. At best, HDB might include photographs of the unit. If there are no photos, well, you're buying blind and hoping for the best, amigo.
Compare that to buying a resale flat, where the buyer can organise multiple viewings to suss out the pros and cons of each unit.
Hence, buying a flat from the HDB Open Booking of Flats system is like buying a leftover watermelon at NTUC Fairprice where there's an enforced social distancing between you and the said watermelon.
Aiyo, why liddat say Open Booking of Flats until so poor thing?
In short, the Open Booking of Flats serves HDB more than it does home buyers⁠—it's HDB's last resort to clear its outstanding and repossessed units.
Let's say you don't mind the potentially longer waiting time, and you're okay with not viewing the unit because it's either under construction or you somehow trust that HDB has done all the necessary checks for the unit to be in saleable condition.
We checked out the selection of flats on the day the portal opened on 25 March 2020, and tallied the flats available for applicants. Here's what we found: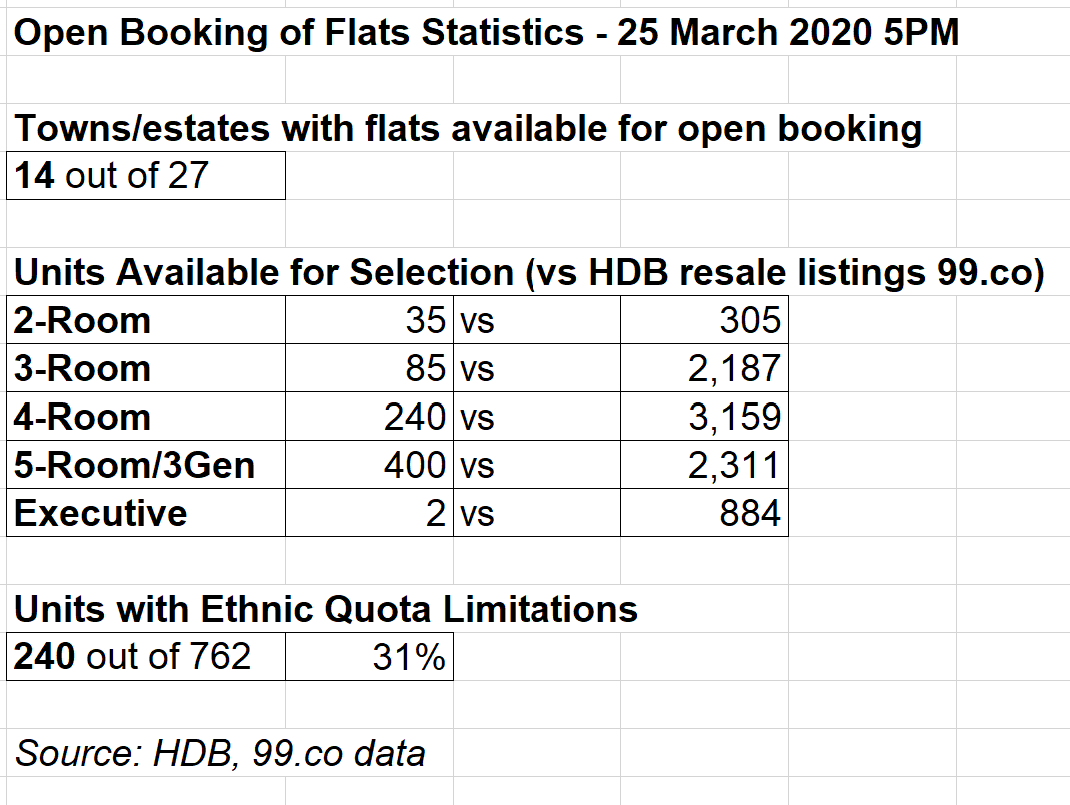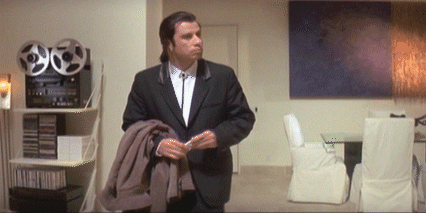 All right, we get you, but is Open Booking of Flats cheaper than buying HDB resale?
Ultimately, we wanted to find out whether a balance flat from the Open Booking of Flats portal is cheaper than recently transacted HDB resale flats with the same location and characteristics (e.g. floor level and size).
HDB publishes the price of all units on the Open Booking of Flats portal. For the purpose of comparison, let's examine a 3-room, 700 sqft flat in Clementi at 6 Holland Close, where the Open Booking of Flats portal has listed a (likely repossessed) 13th floor unit at S$319,500.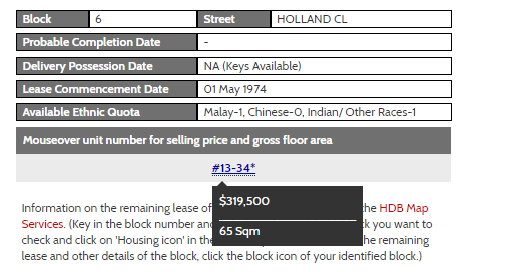 Now let's head to 99.co and look at transaction data for similar units in the same block (there are two for the same unit type and area in the second half of 2019):
Comparing the Open Booking vs Resale transaction prices for flats in the same block, we can see that already-completed flats on the Open Booking platform can be around 5% cheaper than if the same unit were to be listed in the open market.
Bear in mind that this is a rough gauge and the unit is typically restored to a condition that will cost serious cash to makeover (see below photo), but the discount is a somewhat fair valuation for a unit that has been repossessed.
In this case, HDB is pretty much in the same position as a bank who has foreclosed a home; it just wants to get the property off its books ASAP and is willing to offload it at a discount. The only difference is that HDB sells the unit at a fixed price, whereas the bank sets a Reserve Price and takes the property to auction.
Then again, for bank mortgagee sales of private property, the prospective bidder can at least view the house in person instead relying on photos!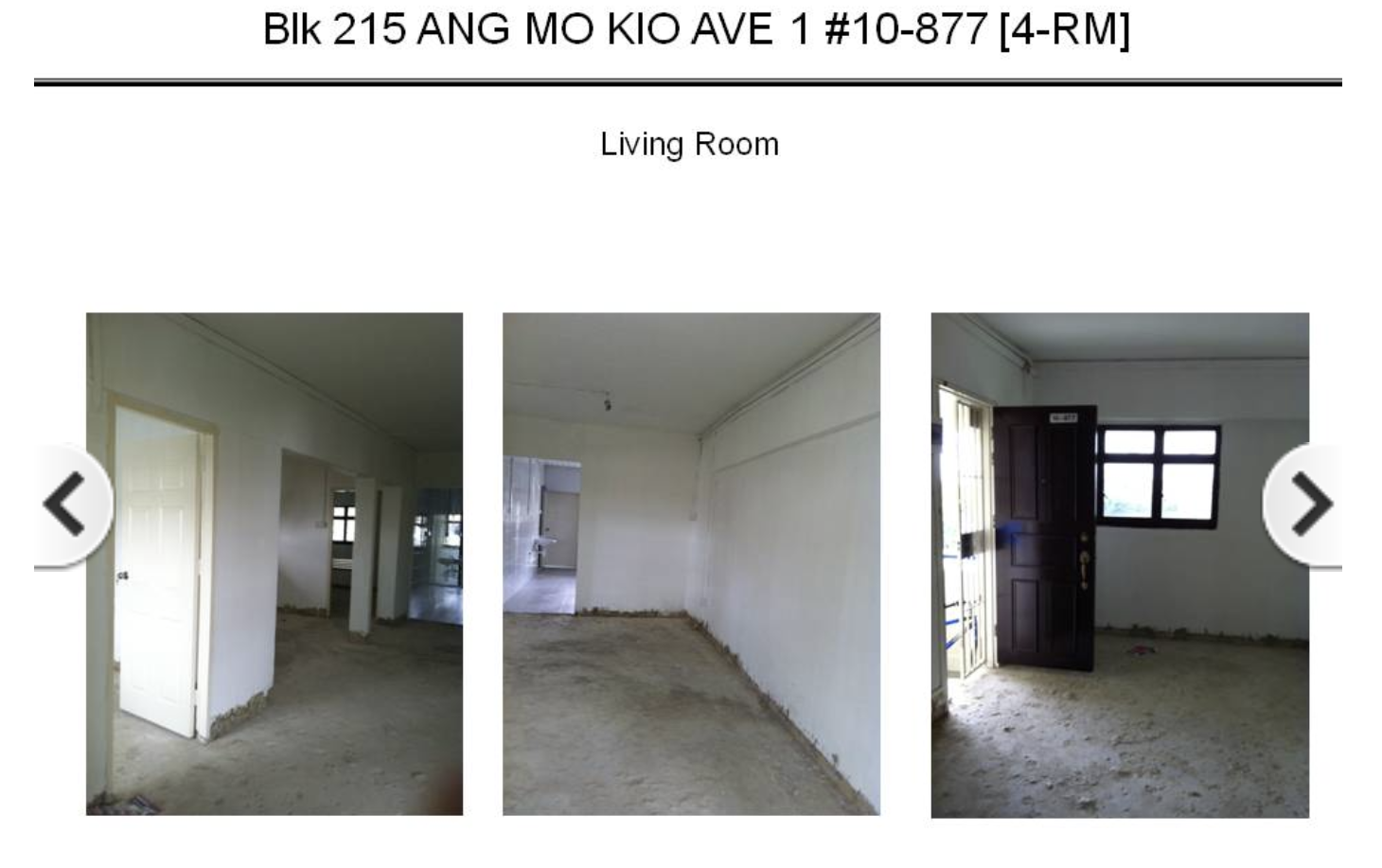 For BTO (i.e. uncompleted) flats, the units listed on the Open Booking of Flats platform tend to be ineligible for one or more ethnic groups.
Take for example 3- and 4-room flats in Geylang's Pine Vista and Dakota Breeze BTO projects that were launched back in May 2017; only those who belong to the Malay ethnic group are eligible to apply for the remainder units listed, because the Chinese and Indian quota has been maxed out.
For these particular uncompleted BTO flats, it is worth nothing they are on average 7 to 10% more expensive than the initial BTO launch price.
There are two key reasons for this price premium: There's a shorter waiting time to completion, coupled with the increase in overall HDB resale prices over time.
Enough about the Open Booking of Flats bashing; it seems there is a plus point after all: If the ethnic quota allows, the applicant can access an earlier BTO project they could have missed.
In any case, if you ask us, we'd pick HDB resale any day, hands down.
---
Would you ever choose an Open Booking flat over resale? Let us know in the comments section below. 
If you found this article helpful, 99.co recommends My complete BTO experience: From balloting to renovation regrets and What you need to know about HDB's Sale of Balance Flats (SBF)
New launch alert! Welcome to Grand Dunman
About Kyle Leung
Content Marketing Manager @ 99.co
Looking to sell your property?
Whether your HDB apartment is reaching the end of its Minimum Occupation Period (MOP) or your condo has crossed its Seller Stamp Duty (SSD) window, it is always good to know how much you can potentially gain if you were to list and sell your property. Not only that, you'll also need to know whether your gains would allow you to right-size to the dream home in the neighbourhood you and your family have been eyeing.
One easy way is to send us a request for a credible and trusted property consultant to reach out to you.
Alternatively, you can jump onto 99.co's Property Value Tool to get an estimate for free.
If you're looking for your dream home, be it as a first-time or seasoned homebuyer or seller – say, to upgrade or right-size – you will find it on Singapore's fastest-growing property portal 99.co.
Meanwhile, if you have an interesting property-related story to share with us, drop us a message here — and we'll review it and get back to you.
Join our social media communities!
Facebook | Instagram | TikTok | Telegram | YouTube | Twitter