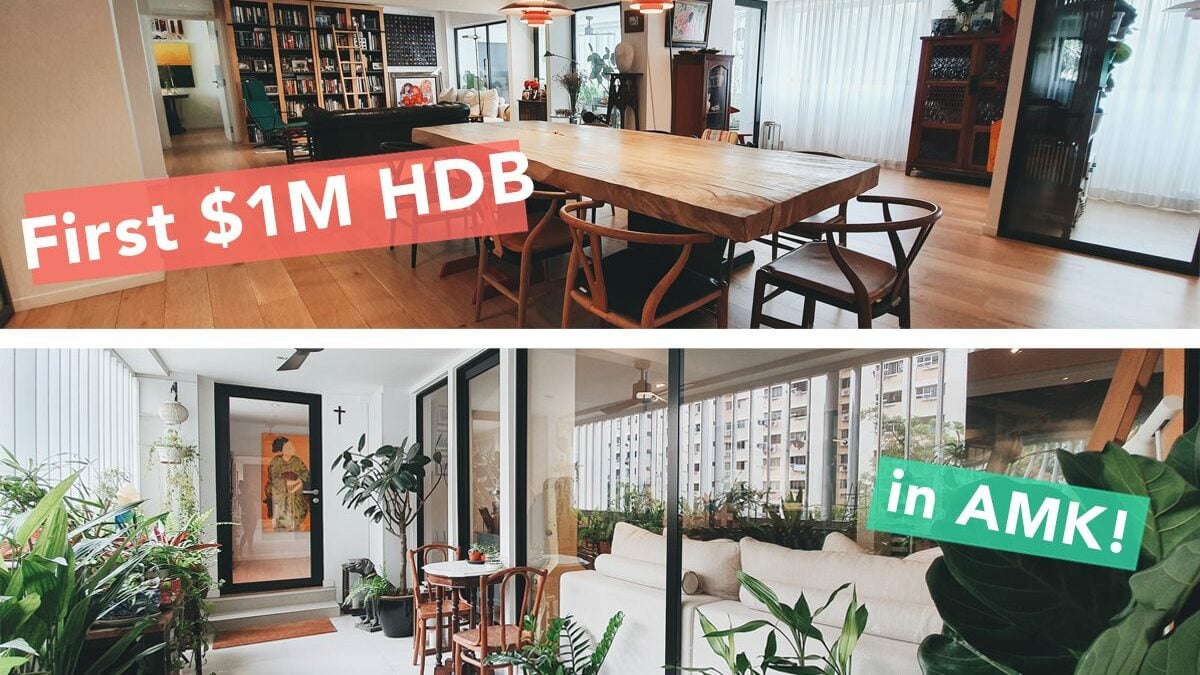 In one of the most unexpected, stunning property transactions to happen during the Covid-19 outbreak, a 40-year-old Ang Mo Kio HDB jumbo flat managed to fetch a price of $1,030,000—becoming the first ever flat in the town to break the million dollar price barrier.
Located in Ang Mo Kio Avenue 5, the 1,916 square foot (sq ft) jumbo flat is part of a HDB block built in 1980, and has 59 years left on its 99-year lease. The sellers, Pieter Idenburg and Cheryl Chen, are a husband-and-wife team of interior architects who originally bought the jumbo flat for $850,000 in late 2014.
As their first home together in Singapore, the Dutch-Singaporean couple had wanted a large space they could afford, having previously lived in a two-storey villa in the Middle East.
"It wasn't a cheap purchase," said Cheryl. "But it was the only flat like this on the market at the time. Anything else comparable was in Jurong or Woodlands and about 1,700 square feet, so that's 200 square feet less. We felt what we've paid for was very worth it."
From $850,000 flat to a million dollar condo-lookalike
Located on the fifth floor of the block, the jumbo flat is made up of two adjoining three-room flats. The common corridor space they once shared has been incorporated into the flat. But sheer size wasn't the only reason for its million dollar price tag.
After the couple got their keys, what followed was a dramatic makeover with a unique interior design approach. "This might sound strange, but we had no theme," the couple told 99.co.
Rather, they focused on using natural, high quality materials (such as engineered wood flooring) and meeting the needs of the home's occupants. "Cheryl is an artist and she paints, so we needed enough wall space for art," said Pieter.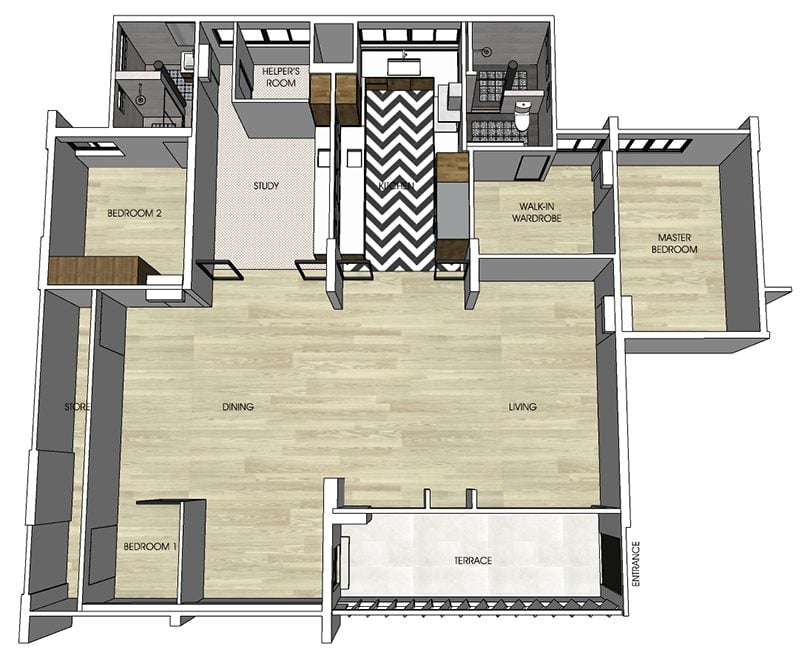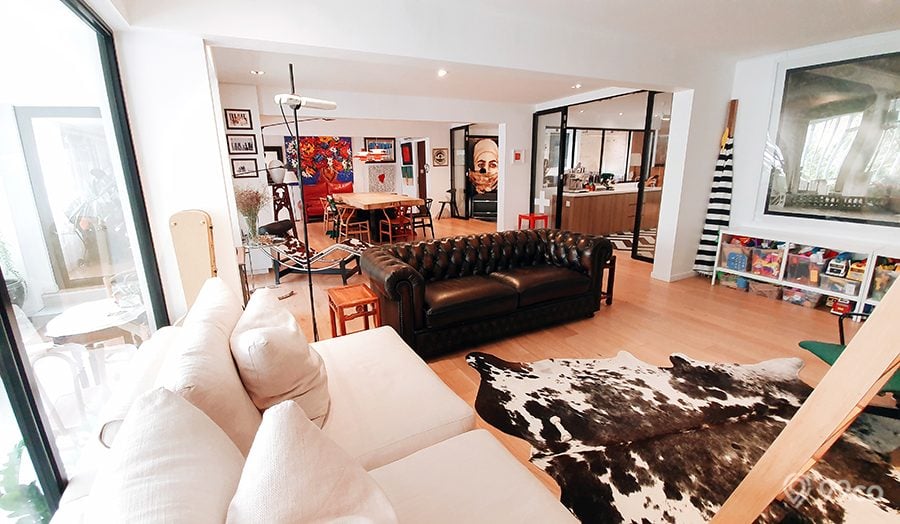 "The funny reaction of most people is that, when they walk into our place, and they haven't seen it on a magazine or Youtube, they'd say 'Wow, it looks like a condo,'" Pieter recalled. (The flat was previously featured in an edition of Home & Decor.)
Perhaps the most striking aspect of the flat's design is the experience of entering the home. "Even in a condominium, you open the apartment door and you step into one big space. This was something we wanted to avoid. Through the entrance, we wanted to have a bit of greeting space before you step into the home itself," said Cheryl, referring to the six-metre long terrace that once served as the common corridor of the HDB block many decades ago.
"We also wanted green space, but at the same time not have it indoors in an air-conditioned space," she added.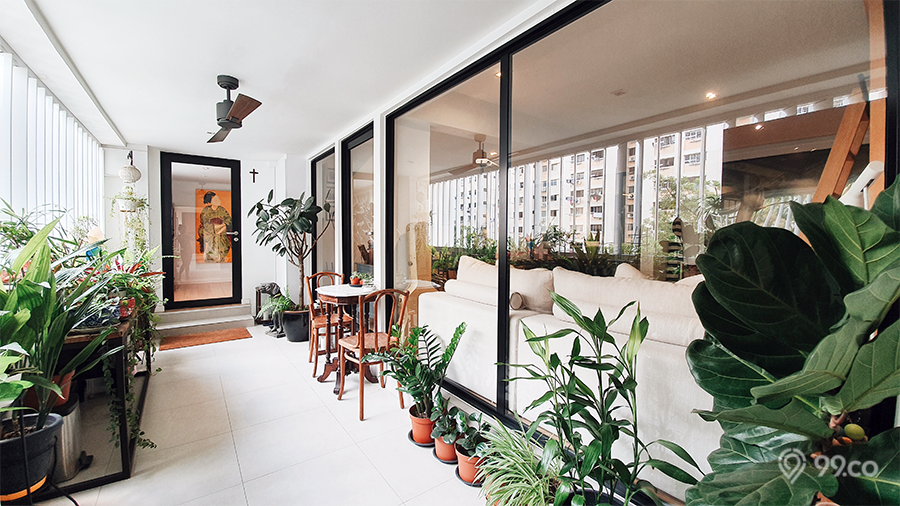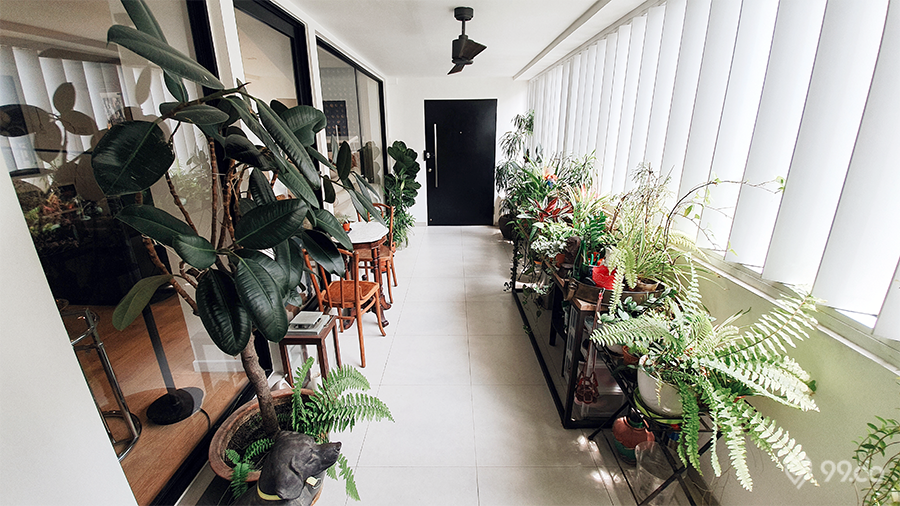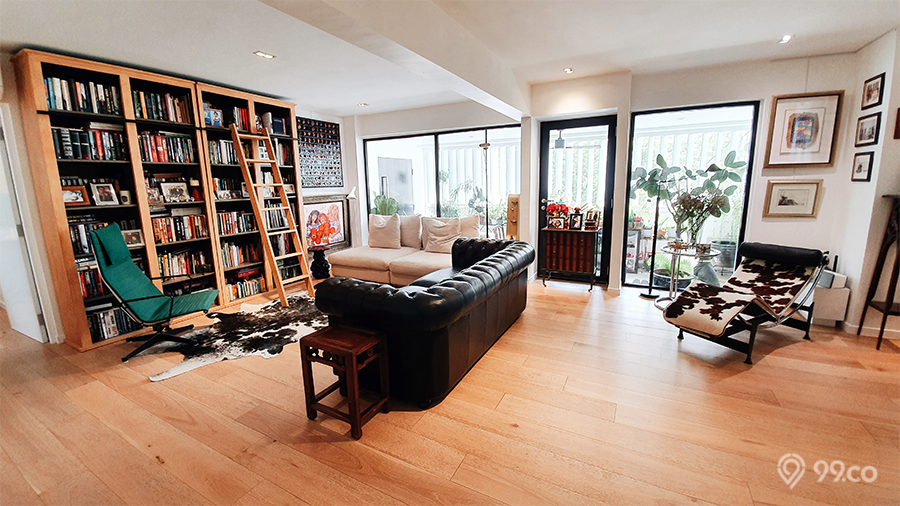 Eventually, the makeover of the flat came up to about $200,000. "It's about $100 per square foot, which the is the normal price for a renovation from the ground up, really," said Pieter.
The five years of living in the jumbo flat saw Pieter and Cheryl's household grow in numbers. With only two proper bedrooms in the flat, the couple remodelled the guest room into a kids' room with the arrival of their first daughter, who was soon followed by a second.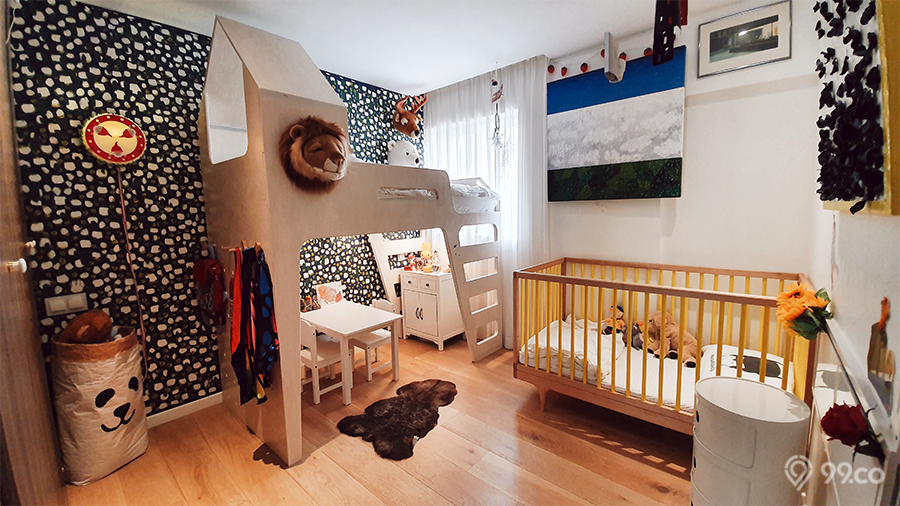 Inside the jumbo flat, there's also a separate artist's work studio for Cheryl, a room for the domestic helper and plenty of space to roam for Milka, the proud golden retriever of the house.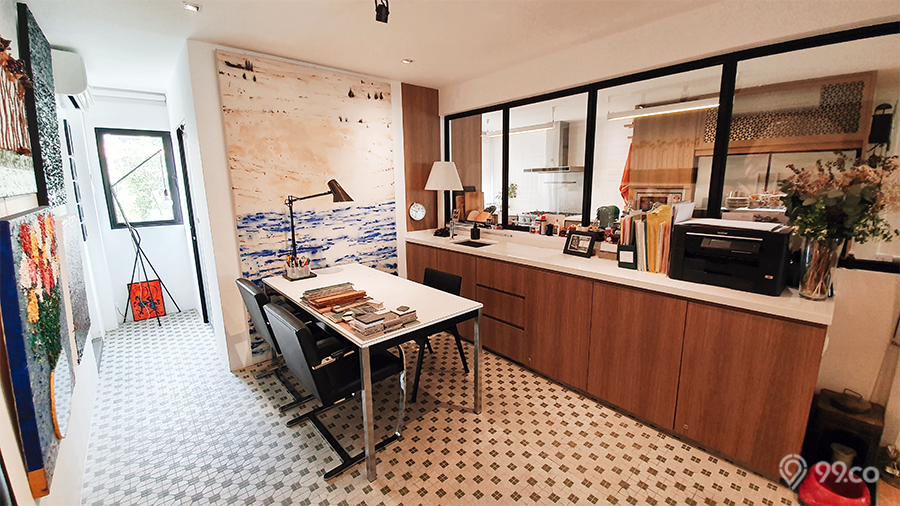 For the master bedroom, Pieter and Cheryl carved out a walk-in wardrobe between the bedroom and ensuite bathroom. The couple also combined the four bathrooms in the original floor plan into two larger bathrooms, with a his-and-hers vanity sink in the master ensuite.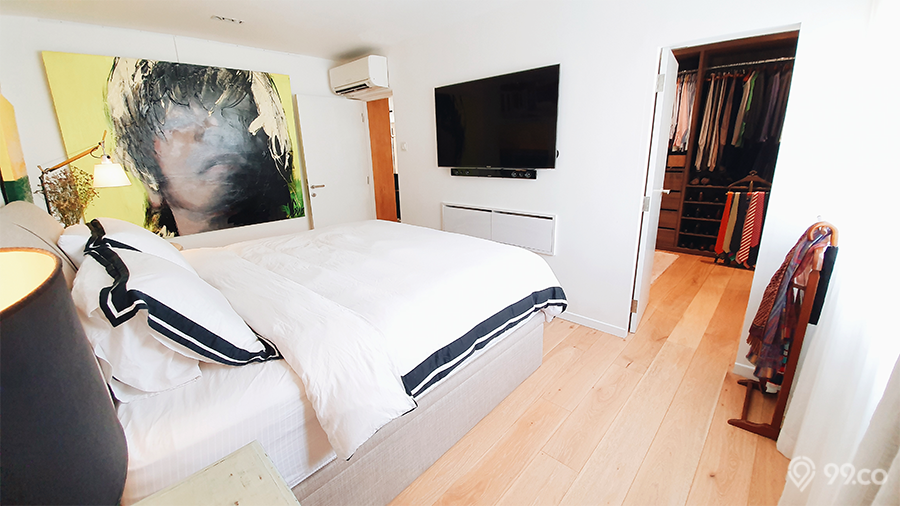 "We would have definitely not sold it otherwise."
Towards the end of the flat's five-year Minimum Occupation Period (MOP), Pieter and Cheryl's expanding business meant the couple had to relocate to Europe. "We're doing very well in Singapore, but we've also decided to open an office in Europe while continuing our business here, with Cheryl coming back once a month," said Pieter.
Relocating meant having to sell the flat. "We would have definitely not sold it otherwise, because we were extremely happy with it," he added. "It's an extremely nice neighbourhood, and very central in location, which is important as we do business all over Singapore."
Because they were moving out of the country, Pieter and Cheryl also included their home's branded appliances and fittings as part of the sale. It's an extensive list that included a Fisher & Paykel dishwasher and french door refrigerator, Bertazzoni cooker hood and freestanding hob/oven, as well as all spot lighting in the home. Even the water filter, curtains and blinds were part of the inventory.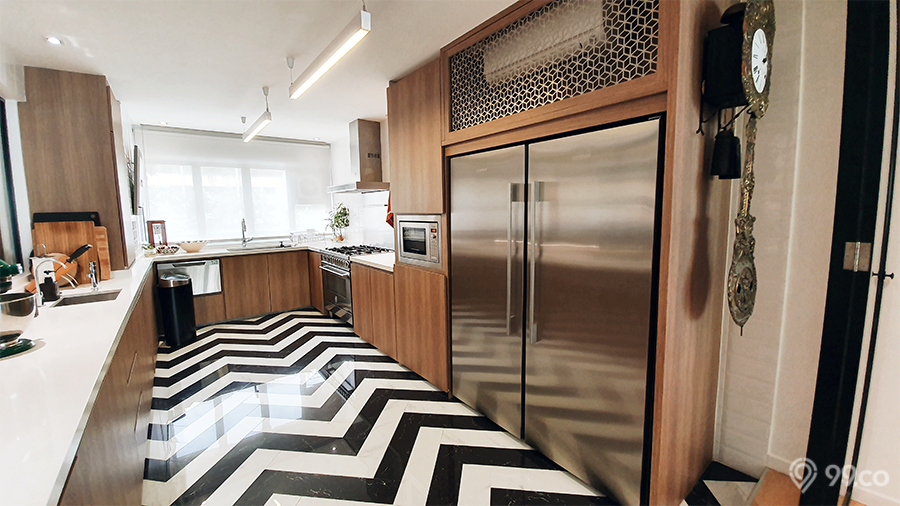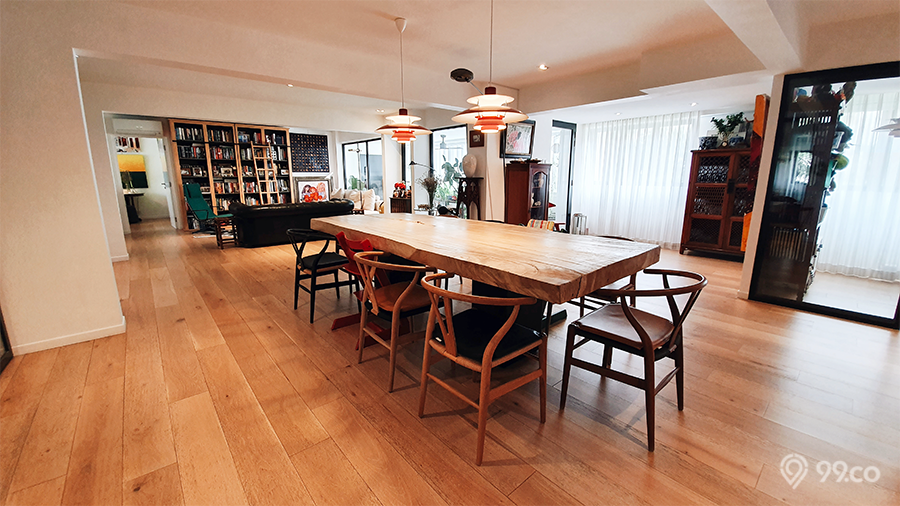 "You can never tell who's a real buyer."
The jumbo flat was listed on 99.co with an asking price of $1.12 million. Within four hours of putting their home on the market, the couple received their first enquiry.
From then on, Pieter confessed that it was a "torturous" process simply because of how good the flat had looked on the listings. "We had a lot of tyre-kickers, people who were just wanted to come and see the flat without any intention to buy," said Pieter.
"We had an agent representing us, but you can never tell who's a real buyer," said Cheryl. "The people who ended up buying the flat were the most no-questions-asked, fuss-free people! So I think you can never really judge and you have to keep the house open throughout the whole process."
Among those who came to view the flat were young families with kids in tow. "They were drawn to the area because of the good schools around," said Pieter. "But what I thought was interesting was that there were three or four downgraders who came from landed properties and wanted a bigger apartment."
After opening the home to more than 25 sets of buyers, the couple finally inked the deal to sell the place for $1.03 million—days before circuit breaker restrictions on property viewing kicked in. "We were probably very lucky!" Pieter quipped, on hindsight.
Aside from being the first flat in Ang Mo Kio town to be sold for $1 million or above, it is also oldest non-terraced HDB flat to do so. (Previously, the oldest HDB apartment unit to transact at or above above $1 million was an 1,582 sq ft Executive Maisonette at Shunfu, built in 1985.)
And if you're wondering when the next million-dollar transaction will happen for an Ang Mo Kio flat, it's unlikely we'll get to see one for quite some time. The second most expensive sale was $980,000 for a 9-year-old, five-room DBSS flat, way back in 2016.
[See
all jumbo flats for sale
in Singapore right now.]
Would you have paid $1 million for this jumbo flat? Tell us in the comments section below!
If you liked this article, 99.co recommends Pinnacle@Duxton HDB flat sold for $1.23 million, record broken again and Brand-new flats, $402 million en bloc condo to house foreign workers on temporary basis
Looking for a resale HDB flat? Find your dream home on Singapore's most intelligent property search portal 99.co!
About Kyle Leung
Content Marketing Manager @ 99.co
Looking to sell your property?
Whether your HDB apartment is reaching the end of its Minimum Occupation Period (MOP) or your condo has crossed its Seller Stamp Duty (SSD) window, it is always good to know how much you can potentially gain if you were to list and sell your property. Not only that, you'll also need to know whether your gains would allow you to right-size to the dream home in the neighbourhood you and your family have been eyeing.
One easy way is to send us a request for a credible and trusted property consultant to reach out to you.
Alternatively, you can jump onto 99.co's Property Value Tool to get an estimate for free.
If you're looking for your dream home, be it as a first-time or seasoned homebuyer or seller – say, to upgrade or right-size – you will find it on Singapore's fastest-growing property portal 99.co.
Meanwhile, if you have an interesting property-related story to share with us, drop us a message here — and we'll review it and get back to you.
Join our social media communities!
Facebook | Instagram | TikTok | Telegram | YouTube | Twitter