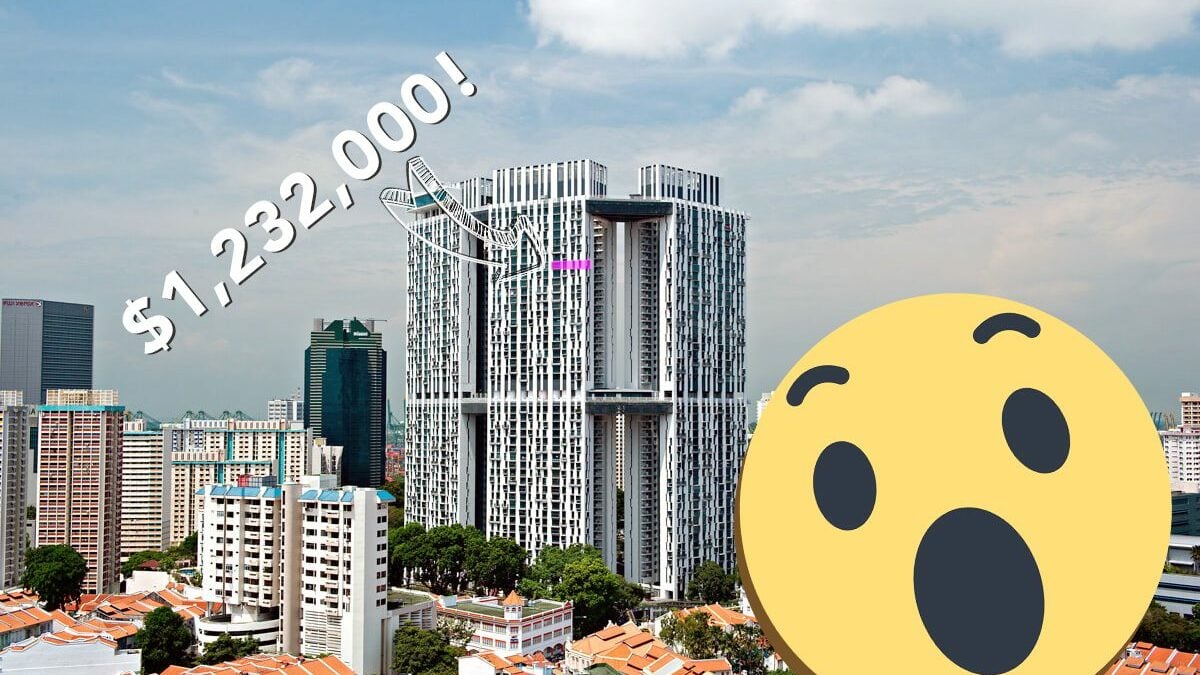 Move aside, Covid-19. The virus situation in March 2020 hasn't stopped an record-high transaction for a HDB flat from taking place. This time, a five-room, 1,151 square feet (sq ft) flat at Pinnacle@Duxton was sold for $1.232 million dollars, beating the previous $1.205 million record set in July last year for flat in Boon Keng.
In selling the flat, the owner also netted a cool $800k profit, which is an 187% increase on the unit's original selling price when it was launched as an HDB Build-to-Order (BTO) project back in May 2004.
If you didn't already know, Pinnacle@Duxton is the one and only BTO project to date that's located in the city. Completed in 2010, the project began selling at record prices soon after the flat owners attained their five-year Minimum Occupation Period (MOP) towards the end of 2014.
A look at the most expensive HDB flats ever
| Where? | When? | How much? |
| --- | --- | --- |
| Pinnacle@Duxton | March 2020 | $1.232 million |
| City Lights @ Boon Keng | July 2019 | $1.205 million |
| Pinnacle@Duxton | August 2019 | $1.2 million |
| Tiong Bahru View | April 2019 | $1.2 million |
| City Lights @ Boon Keng | January 2019 | $1.185 million |

To date, Pinnacle@Duxton has had 40 transactions at/above the $1 million mark. Per square foot, it remains the most highly valued HDB project ever built in Singapore.
Let's take a look at the record-breaking unit and what makes it worth so much!
Spacious layout and stunning views… for $1.232 million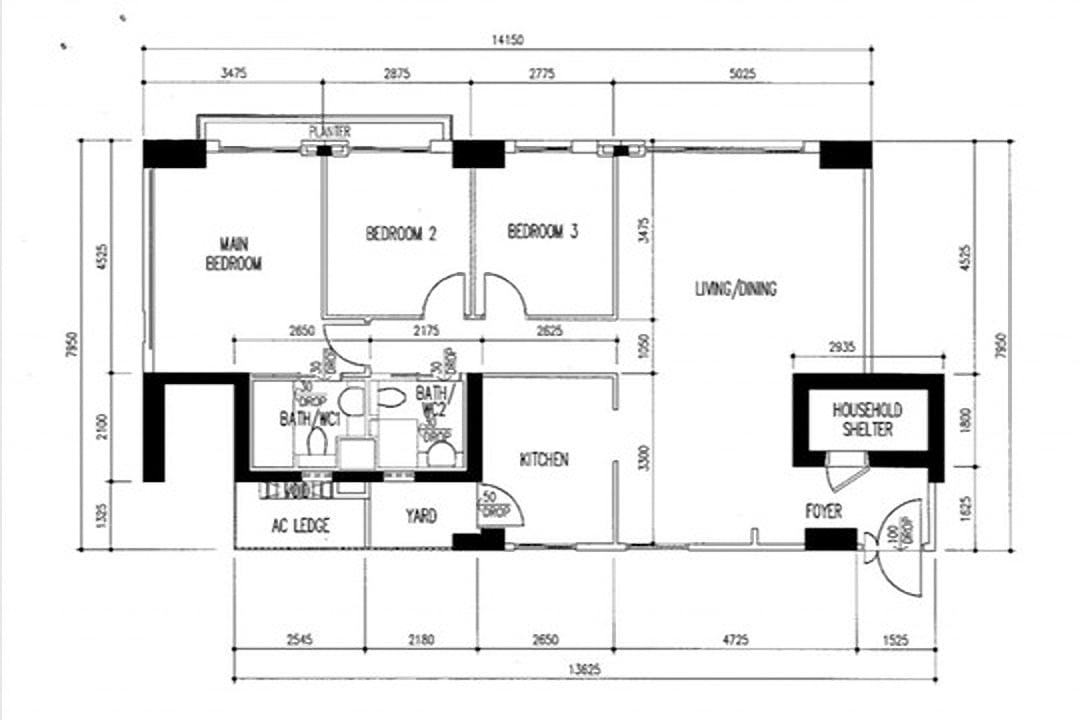 Located on the 41st storey and measuring 1,151 sq ft (or 107 square metres) in floor area, the layout of the record-breaking $1.232 million flat at Block 1B of Pinnacle@Duxton is as generous as a HDB flat can get. This flat is about 2% larger than most current 5-room configurations, and the largest of its kind at Pinnacle@Duxton.
Most of the extra space went into the living and master bedroom areas. There's also a foyer, a seldom seen feature of HDB flats and more often seen in grander homes (think landed properties).
We don't have photos of the actual unit sold, but here's the living room of a unit at Pinnacle@Duxton (with matching layout) that is currently on sale on 99.co: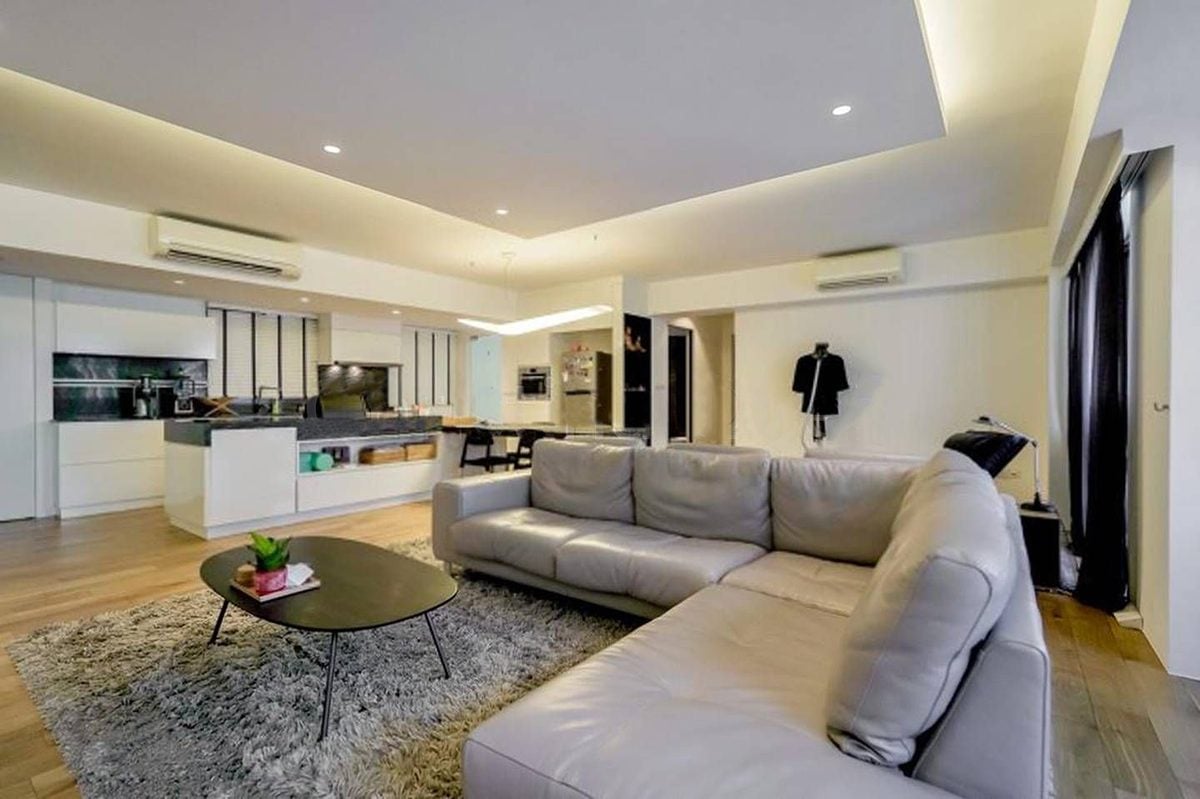 The above example of the same layout (which is a superb example of contemporary interior design, by the way) sees the walls of the kitchen and a common bedroom knocked down to create an even larger living and dining area with an open kitchen concept, in the process DOUBLING the space from 225 to 454 sq ft.
Here's another example of a master bathroom (of the same layout) that's very atas looking: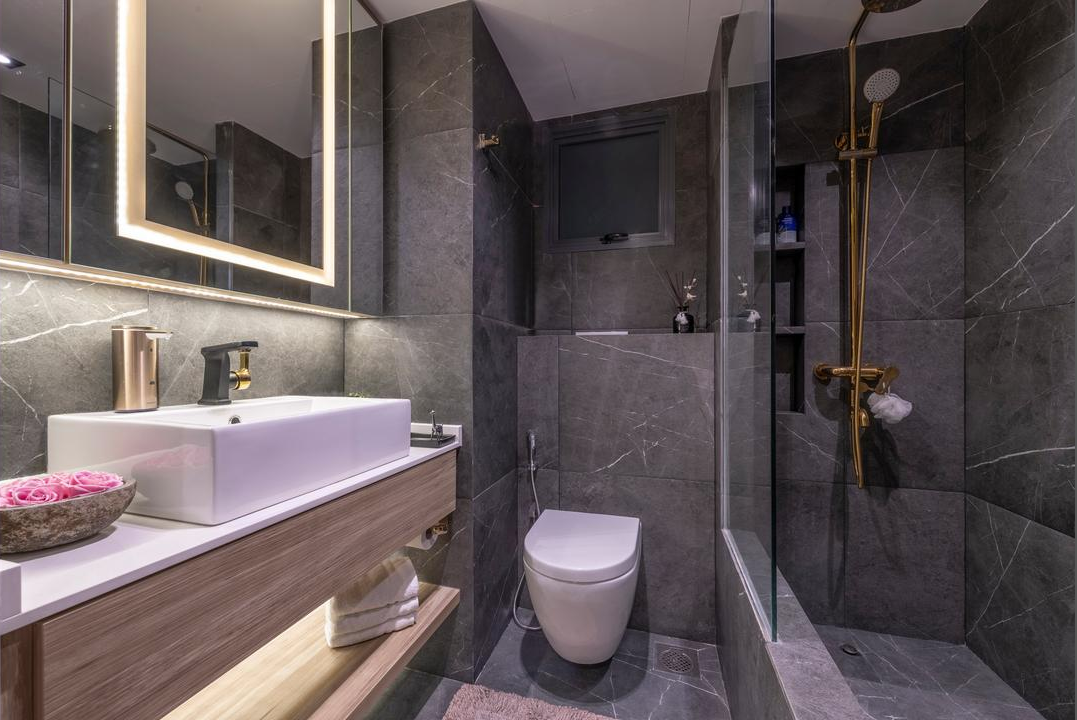 As the $1.232 million flat is located high up on the 41st floor, the buyer of the flat will enjoy these stunning views towards the north-east of Singapore, the direction the flat is facing: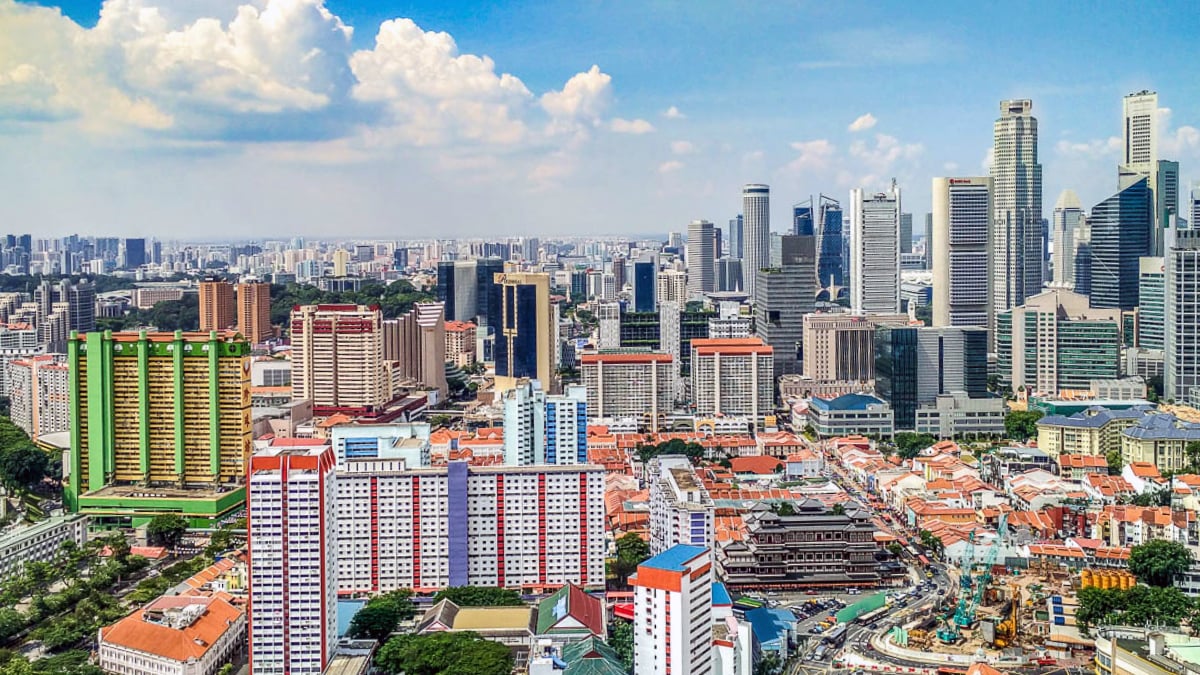 And the view slightly more to the left: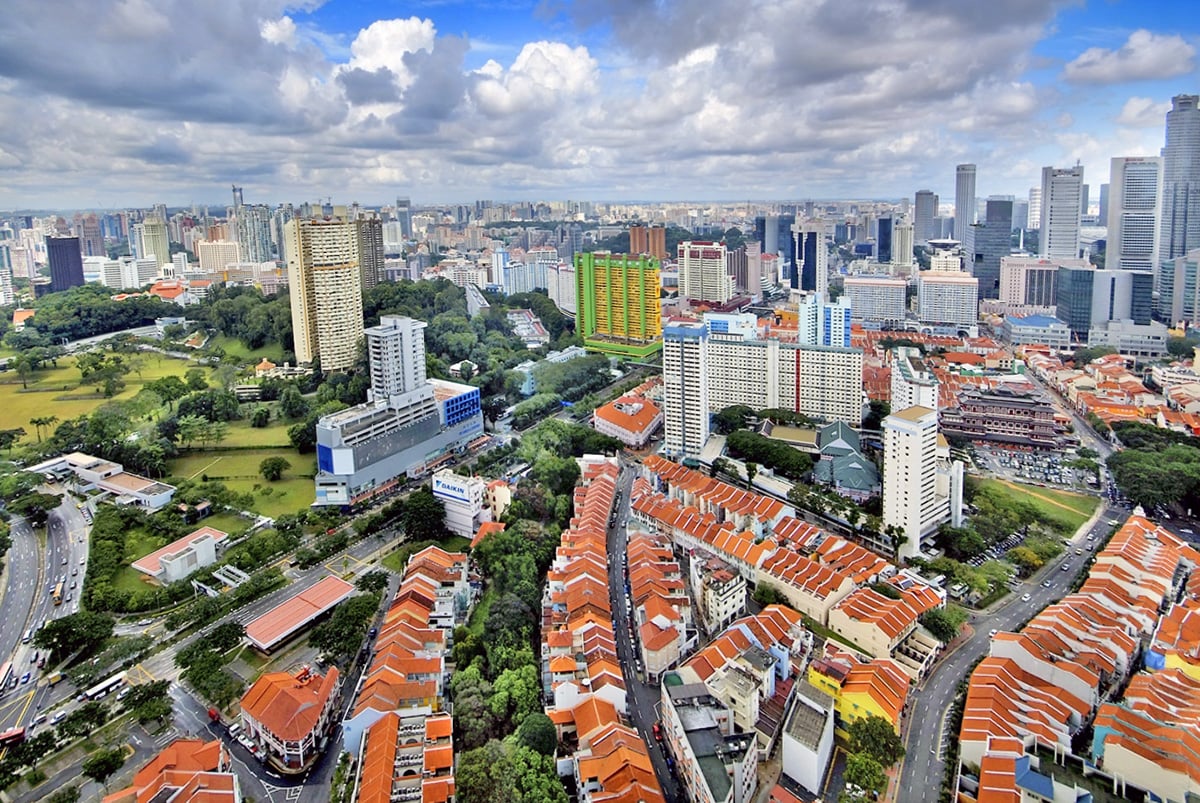 If you get a high-floor flat at Pinnacle @ Duxton that's facing the opposite direction, you'll get a sea view that's also worth a millon bucks.
How can the Pinnacle@Duxton command such crazy prices for a HDB flat?
Three things: location, scarcity and age. In Singapore and in many developed cities around the world, land values that are within walking-distance proximity to the Central Business Distict (CBD) are sky-high. Aside from its nearness to the CBD, Pinnacle@Duxton is also within walking distance to key amenities, including two MRT stations (Outram Park interchange and Tanjong Pagar), as well as an assortment of amenities such as kopitiams, restaurants, supermarkets, parks and schools.
The second reason for Pinnacle@Duxton's sky high prices is scarcity. Between 1985 and 2003, no HDB flats were built in the vicinity of the CBD. Today, there are only a handful of new-ish flats in the Central area of Singapore, and none as iconic as Pinnacle@Duxton, which won an international award for its design and architecture. According to its architects, Pinnacle@Duxton was designed to "optimise views" and "eliminate overlooking between units"—attributes that increase the price premium of a home.
Contrast this to the flats at nearby Cantonment Towers, Pinnacle@Duxton's closest competition in terms of age and distance to the CBD. Cantonment Towers was built in 2003, only goes up to 30 storeys, and is designed like regular HDB flats. None of the flats there have transacted above $1 million at the time of writing, although prices are rising faster than Pinnacle@Duxton's thanks to the upcoming Cantonment MRT station at its doorstep.
Thirdly, the age of Pinnacle@Duxton flats also explains its high prices. The project is only 10 years old, with 89 out of 99 years of lease remaining at time of writing. Eventually, lease decay will start to exert downward pressure on the value of flats at the Pinnacle@Duxton, but that's a good 30/40 years away from happening. That explains why nearby HDB flats at Tanjong Pagar Plaza and Everton Park, built in 1977 and 1980 respectively, command lower prices.
What other homes can $1.232 million buy me?
For roughly the same price as the record-breaking flat at Pinnacle@Duxton, there's a wide range of homes in Singapore for homebuyers. For properties that are of the same size as the $1.232 million flat, one can easily purchase a resale condo, although for this price point they tend to be located much further away from the city. Newer resale options within walking distance of an MRT station include The Palette (at Pasir Ris), The Rainforest (at Choa Chu Kang) and Twin Waterfalls (at Punggol).
Alternatively, if you're a Singapore Citizen and are eligible to buy a brand-new Executive Condominium (EC), a $1.2 million budget can easily get you a unit above 1,000 sq ft with a full suite of condo facilities.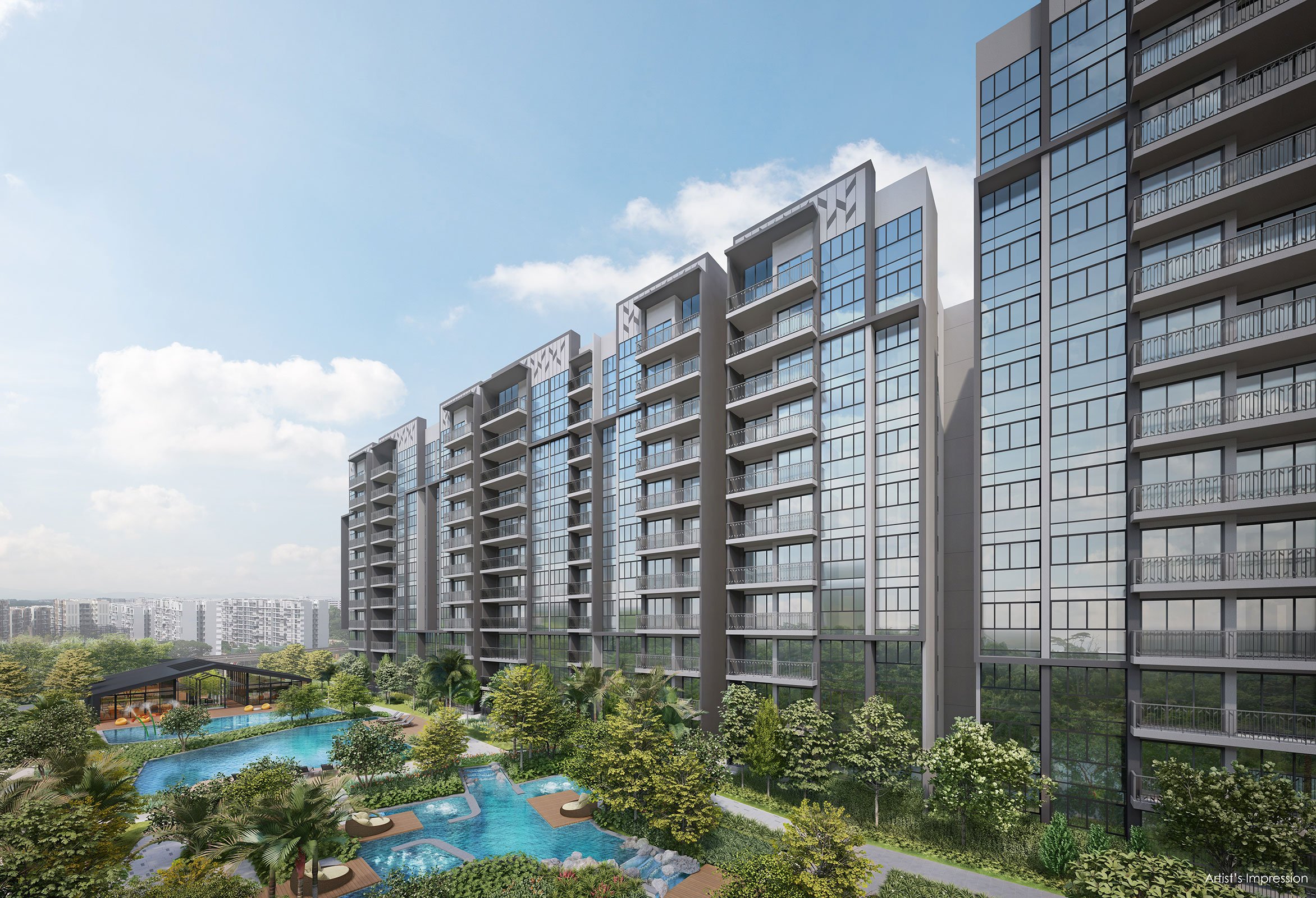 Would you buy a flat at Pinnacle@Duxton if you had $1.2 million to burn? Tell us in the comments!
If you enjoyed this article, 99.co recommends This Sengkang BTO project made more profit than The Pinnacle @ Duxton and What does Bala's Curve tell us about leasehold property value?
Looking for a property? Find your dream home on Singapore's most intelligent property search portal, 99.co!
New launch alert! Welcome to Grand Dunman
About Kyle Leung
Content Marketing Manager @ 99.co
Looking to sell your property?
Whether your HDB apartment is reaching the end of its Minimum Occupation Period (MOP) or your condo has crossed its Seller Stamp Duty (SSD) window, it is always good to know how much you can potentially gain if you were to list and sell your property. Not only that, you'll also need to know whether your gains would allow you to right-size to the dream home in the neighbourhood you and your family have been eyeing.
One easy way is to send us a request for a credible and trusted property consultant to reach out to you.
Alternatively, you can jump onto 99.co's Property Value Tool to get an estimate for free.
If you're looking for your dream home, be it as a first-time or seasoned homebuyer or seller – say, to upgrade or right-size – you will find it on Singapore's fastest-growing property portal 99.co.
Meanwhile, if you have an interesting property-related story to share with us, drop us a message here — and we'll review it and get back to you.
Join our social media communities!
Facebook | Instagram | TikTok | Telegram | YouTube | Twitter