Who's it for?
Eastlawn @ Canberra HDB is set to MOP in 2022 and is the perfect home for those that:
Love nature and want to live in a scenic neighbourhood
Care about proximity to education institutions
Love living in the North and want to be in a convenient location
Accessibility
Together with the other developments in the area such as Eastbrook @ Canberra and  Eastwave @ Canberra, Eastlawn @ Canberra is a relatively new development in the estate. With the prompt opening of the Canberra MRT Station in 2019, residents can reach Canberra MRT station in 9 minutes by walking. Canberra MRT station is on the North-South line, which means that residents can reach key destinations such as Orchard in under 40 minutes.
For residents who prefer private transportation, the HDB development is connected to Canberra Link. It will link residents to major roads such as Woodlands Ave 12, which is connected to the Seletar Expressway (SLE). The SLE traverses the northern end of the island and joins the Central Expressway (CTE) and Tampines Expressway (TPE) in Seletar to the Bukit Timah Expressway (BKE) in Kranji. This brings residents to the Central areas of Singapore in under 40 minutes if there is no traffic jam.
There are also bus services offered around Eastlawn @ Canberra. Blk 104C bus stop, which is a 3-minute walk away, offers bus services 117, 117M, 883 and 883M. The bus services bring residents around the Sembawang area and more. 
Schools Near Eastlawn @ Canberra
There are plenty of schools in the North, and many of it is concentrated in the Yishun/Sembawang area. Education for residents of Eastlawn @ Canberra will not be a problem. 
The list of schools near Eastlawn @ Canberra includes:
Chongfu School (2km) 
Ahmad Ibrahim Secondary School (1.8km)
Wellington Primary School (1.7km)
Skool4Kidz Preschool @ Sembawang Canberra East Crown (650m)
Sembawang Primary School (1.9km)
Skool4Kidz Preschool @ Sembawang Canberra East Creek (700m)
Shopping Centres Near Eastlawn @ Canberra 
For neighbourhood malls, there is Canberra Plaza (550m) and Junction Nine (2.5km). Canberra Plaza, which started its operations in 2020, is a neighbourhood mall integrated with Canberra MRT station. Canberra Plaza has anything from Gymmboxx to McDonald's, KFC, A&W, NTUC Fairprice, Cantine and more. 
The closest major malls to Eastlawn @ Canberra @ Canberra is Sembawang Shopping Centre and Sun Plaza. They are both within walking distance, about 1.5km away from Eastlawn @ Canberra. 
Sembawang Shopping Centre is a four-storey mall comprising plenty of retail stores. Some notable stores across each level include Anytime Fitness and MR. D.I.Y on level 2, Astons, Giant and Q & M Dental Surgery (Sembawang) are anchor tenants of B1, Burger King, Daiso and Hei Sushi on level 1.
Just opposite Sembawang Shopping Centre, there are plenty of food options, such as the famous White Beehoon and The Better Scoop. 
Sun Plaza is a mixed-use residential and commercial development with over 170 retail outlets that span five commercial levels. For restaurant and dining, there are tenants such as Haidilao Hot Pot, Crave, Dunkin' Donuts and more. For banking services, there is ICBC Bank Singapore and a UOB Autolobby. For shopping and retail, there is Bata, Challenger, Decathlon, Japan Home and more.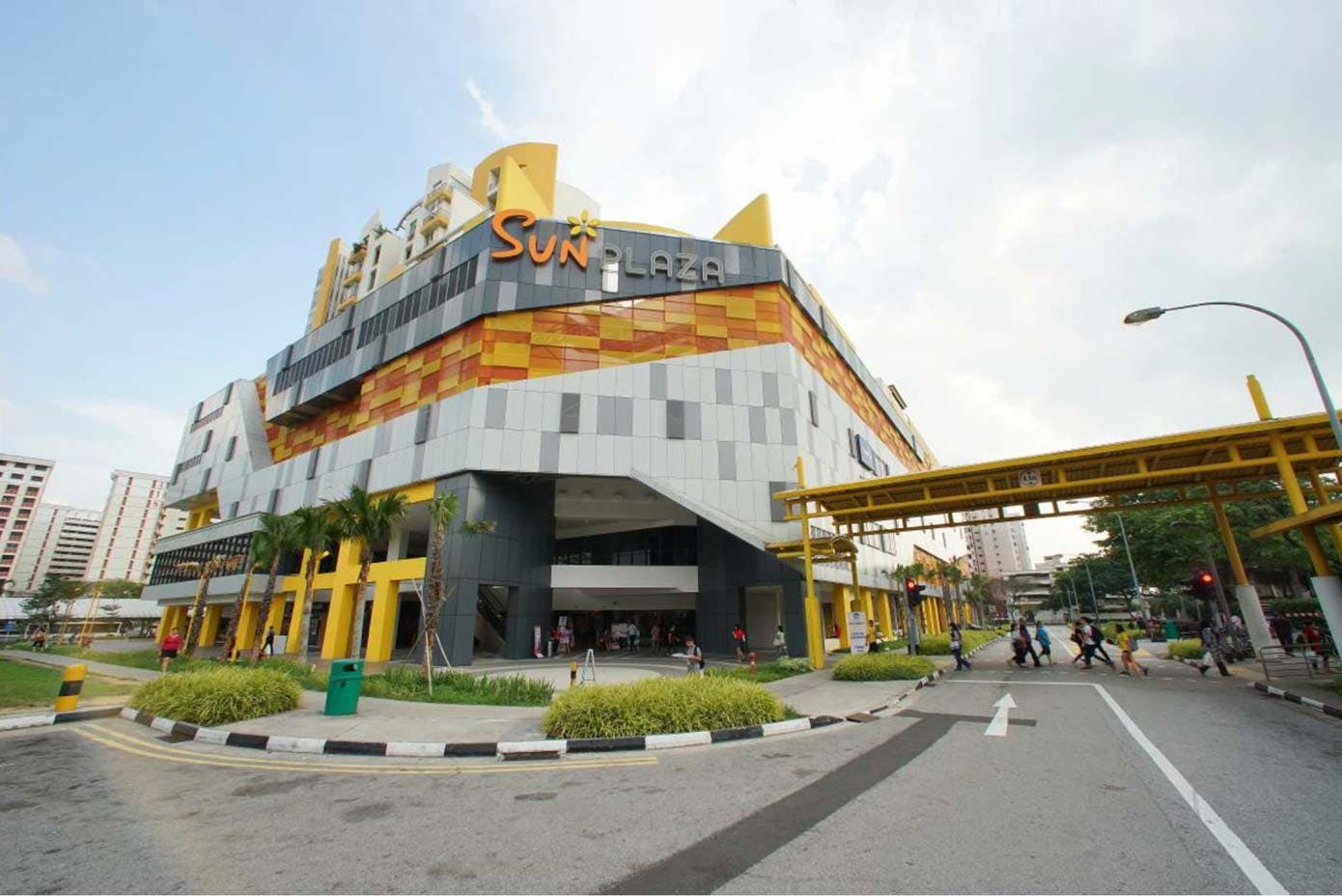 Amenities Nearby
As one of the most sparsely built developments in the region, Eastlawn @ Canberra does not lose out in terms of amenities. There is a central lawn that beautifies the area aside from the usual playgrounds and fitness stations. There is also a pavilion where mass events can happen, which is rare in an HDB development. For those with green fingers, grow your own plants in the community garden on the rooftop above the multi-storey car park.
Crossing the road will bring residents to an array of facilities such as Yong Li Coffee Station, Sheng Siong Supermarket, Kerluxe Hair Studio, Combo 105, DIY Laundry at 105 Canberra Street and more. 
For residents who enjoy market shopping, there is a variety of markets nearby. Here is a list of them:
Yishun Market produce (2.6km)
Aamir's Wet Market (2.2km)
Farmer's Mart (2.3km)
Chong Pang Market & Food Centre (3km)
Yishun Avenue 5 Wet Market (3.1km)
Lucky Market (2.3km)

Additionally, Chong Pang Food Centre serves up delicious hawker food, so residents doing their marketing can kill two birds with one stone. 
Parks Near Eastlawn @ Canberra 
Aside from the Yishun Neighbourhood Park, residents will have easy access to nature with the nearby parks.
Other parks near Eastlawn @ Canberra also worth visiting are:
Jalan Kemuning Park (1.5km)
Jalan Sendudok Park (850m)
Simpang Kiri PCN (1km)
Sembawang Park (1.7km)
Places of Worship Near Eastlawn @ Canberra
Members of various religions can be assured that their respective places of worship are accessible from Eastlawn @ Canberra.
Here is a list of the places of worship near Eastlawn @ Canberra:
Glory Joy Christian Church (1.9km)
Praise Evangelical Church (1.3km)
Smyrna Assembly (2.6km)
Chu Siang Tong Temple (1.1km)
Chong Pang Combined Temple (2 km)
Masjid Darul Makmur (1.7 km)
Assyafaah Mosque (2.2km)
Masjid Petempatan Melayu Sembawang (2.4km)
Hospitals Near Eastlawn @ Canberra 
With the increase in family clinics, there are plenty of clinics nearby to treat common ailments such as cold and flu. There are at least two clinics within 200m in the vicinity:
Canberra Care Medical Clinic (550m)
T Medical Clinic (Canberra) (550m)
BestMed Family Clinic & Homecare (550m)
Frontier Medical Associates (180m)
OneCare Clinic Canberra (180m)
The nearest hospital, Khoo Teck Puat Hospital, is just a short drive away. Khoo Teck Puat Hospital specialises in many departments ranging from Dental Surgery to General Surgery.