Who's it for?
Fernvale Riverwalk is the ideal choice for those who:
Want to live in an HDB project in the Sengkang West area that will MOP in 2022
Want to be just a 15-minute walk away from any daily necessities
Want to keep an active lifestyle whilst living in a scenic area
Accessibility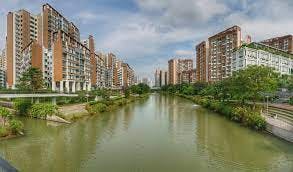 Fernvale Riverwalk is an HDB development bounded by Fernvale Link, Sengkang West Avenue, and Punggol Reservoir. The closest train station is Layar LRT, which is about a 3-minute walk from this project. Layar also serves as the nearest bus stop for you to access the other areas of Sengkang West. 3 LRT stops away from the Layar station is the Sengkang Interchange which gives residents access to the North East Line. 
This HDB development is located along the Punggol Reservoir. The 6.1km park connector running along the reservoir joins Punggol Waterway and passes Anchorvale Community Club, Sengkang Sports Complex, and Singapore's largest man-made wetland, the Sengkang Floating Wetland. Residents who are able to get a unit beside the river will be able to enjoy good views.Apart from that, those living at Fernvale Riverwalk will also be able to enjoy kayaking as well as catch-and-release fishing along the reservoir. 
Nearby Amenities  
A number of amenities come with this project including children's playgrounds, adult & elderly fitness stations, resting shelters, a multi-storey car park, and a precinct pavilion. Pockets of green spaces are also scattered around the development to create the ideal spaces for relaxation and bonding. 
Fernvale Riverwalk was developed to allow residents to have everything just conveniently by their doorstep. Within the development, residents will have access to a 24-hour Sheng Siong Supermarket, multiple retail shops, a hawker centre, as well as a childcare facility.  
By walking, residents can reach the Fernvale Community club in 5 minutes where they'll have access to another hawker centre, childcare facility, and a wet market. The Community Club also organizes various events and workshops happening almost on a weekly basis. From the Community Club, the Seletar Mall is just another 2 minutes away - giving residents access to a slew of shopping and dining options. 
Hawker Centres Near Fernvale Riverwalk
As mentioned earlier, within the HDB complex is a Food Paradise hawker centre if you're looking for a quick and easy meal. Soon to open in mid-2022 will be the Fernvale Hawker Centre located at the community club, where you'll be able to have a wider range of food choices. 
But, for the meantime, if you are looking for more variety, you can head over to the Kopitiam situated along Fernvale Road, which is just a short walk away from the HDB. This Kopitiam serves a good variety of traditional stalls (such as mixed veg rice, chicken rice, nasi lemak, etc.) to international stalls (such as Japanese, Indian, Western, etc.). They also have a vegetarian stall for those with more specific dietary requirements. 
The hawker centres near Fernvale Riverwalk are:
Food Paradise (230m) 
Fernvale Hawker Centre & CC (400m) 
Kopitiam Fernvale Rd (650m) 
Happy Hawkers (800m)
Anchorvale 303 Foodcourt LLP (1.3km) 
Kopitiam Square (1.9km) 
Shopping Centres Near Fernvale Riverwalk
The nearest mall to Fernvale Riverwalk is the Seletar Mall, which is only a 7-minute walk away from the development. This mall features 6 levels of retail and 3 levels of parking and is conveniently connected to many access points. For those who commute, the mall is connected to the Fernvale LRT. Meanwhile, for those who drive, the mall gives easy access to the Tampines Expressway (TPE) and Central Expressway (CTE).  
Some notable stores you will come across are Uniqlo, FairPrice Finest, Shaw Theatres, Japan Home, Amore Fitness & Boutique Spa, Watsons, Guardian. For food and drinks, you can find Din Tai Fung, MOS Burger, Starbucks Coffee, Sushi Express, Ya Kun Kaya Toast, My Biryani House, McDonald's, The Original Boat Noodle, and more. 
For those looking for other places to shop, these are the other malls within a 3-kilometre radius from Fernvale Riverwalk: 
The Seletar Mall (500m)
Compass One (2.1km)
Rivervale Plaza (2.7km)
Rivervale Mall (3.3km)
Parks Near Fernvale Riverwalk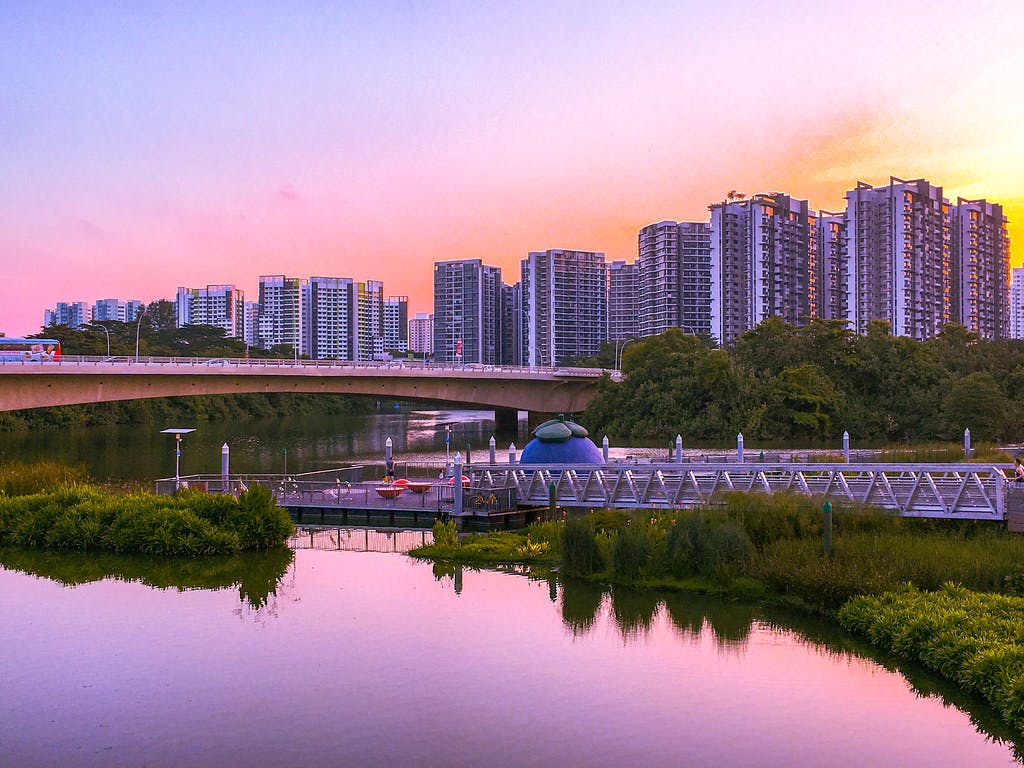 A favourite park among nature-lovers is the Sengkang Riverside Park. The park is a calm, tranquil place that has the Punggol Reservoir running through it and is part of the Northeastern Rivering Loop where residents can cycle or walk to Punggol Waterway, Coney Island, Coast to Coast Trail, etc. It also features a constructed wetland of rich biodiversity. 
The park is a great place to break a sweat as it is a popular place for exercise enthusiasts to do their morning jogs and cycle around. If you prefer to do a leisurely walk, you'll find many trails that lead you to the park's marshlands where you will encounter a variety of aquatic plants and wildlife habitats. On the way to these marshlands, you will also come across fruit trees planted around the park. Besides common edible fruits such as star fruit, and dragon fruit, you may even discover exotic fruits that cannot be found in local stalls and supermarkets. 
Another park famous among residents of Fernvale is the Sengkang Sculpture Park. It is an iconic park that is noticeable for the coloured spheres and interesting sculptures located across the park. Apart from being able to appreciate the art here, you'll also be able to use the facilities there such as the fitness equipment, kids' playground, as well as the outdoor refreshment area. 
The parks within 3 kilometres to Fernvale Rivewalk worth exploring are: 
Fernvale Riverbow Common Green (750m) 
Fernvale Park (1.3km) 
Sengkang Riverside Park (1.5km)
320D Anchorvale Drive Calisthenics Park (1.4km)
Compassvale Ancilla Park (2.4 km)
Sengkang Sculpture Park (3.3km) 
Schools Near Fernvale Riverwalk
Looking for a good school will not be a problem for parents living in Fernvale Riverwalk. For very young children, there is an E-Bridge Preschool within the HDB project and a My First Skool along Fernvale Link, which is about 7-minutes away. As for primary schools, there are at least 4 primary schools within a 1-kilometre distance, depending on which block you're in. Whereas, for secondary school, there is the popular Nan Chiau High School, which is just a 15-minute walk from the property.   
Here is a list of schools near Fernvale Riverwalk:
Pei Hwa Secondary School (300m) 
Sengkang Green Primary School (700m)
Fernvale Primary School (850m) 
Anchor Green Primary School (950m)
Nan Chiau High School (1.1km) 
Fern Green Primary School (1.3km)
Springdale Primary School (1.6km)
Nan Chiau Primary School (1.7km)
Palm View Primary School (1.7km) 
North Vista Primary School (2.2km)
North Vista Secondary School (2.8km) 
Libraries Near Fernvale Riverwalk   
The most accessible library for avid readers to access is the Sengkang Public Library located on the third and fourth floors of the Compass One mall. Divided into 3 main areas, the library consists of an Adults Section, a Tween Section for children ages 10 to 14, and an Early Literacy Section for parents to enjoy quality bonding time together with their young children. 
This public library was the first self-service library introduced by the National Library Board, with only one librarian manning the entire facility. This started with self-service borrowing stations and borrowers' enquiry terminals to enable patrons to carry out straightforward transactions on their own. Now, a 'cybrarian' kiosk has also been introduced to allow patrons to interact with library staff stationed at another library via teleconferencing when in need of assistance. 
Residents of Fernvale Riverwalk can also visit these other nearby libraries: 
Our Punggol West Container Library (3.2km) 
Cheng San Public Library (3.3km) 
Hospitals Near Fernvale Riverwalk
You won't have to worry on those days you're just feeling a bit under the weather. Within walking distance to Fernvale Riverwalk are a number of family clinics that are open during the day to address most minor medical concerns. In cases where you'll need more medical attention, both the Sengkang General Hospital & Sengkang Community Hospital are not too far away as they are both about a 10-minute drive/cab ride away and are ready to serve you 24/7. 
These are the health facilities within a 2-kilometre radius to Fernvale Riverwalk: 
Vitacare Family Clinic (190m)
Shenton Medical Group - Seletar Mall (500m) 
Prohealth Medical Group @ LRT Fernvale (600m)
Etern Medical Clinic - Fernvale Palm (800m)
AE Medical Clinic - Fernvale (1.0km) 
Fernvale Family Clinic (1.0km)
Holistic Care Family Clinic (1.1km)
My Family Clinic - Anchorvale (1.3km)
Island Family Clinic - Fernvale (1.4km)
Sengkang General Hospital (1.8km)
Sengkang Community Hospital (2.0km)
Places of Worship Near Fernvale Riverwalk
Followers of any kind of religion will be able to feel at home at Fernvale Riverwalk as the Sengkang West area has nearby places of worship for each religion. For Christians, both the New Creation Church and Sengkang Methodist Church are walkable in less than 11 minutes. The same is true as well for Buddhists as they can easily access the Thye Hua Kwan Temple. Muslims will have access to Masjid Al-Mawaddah and Hindus can head over to the Arulmigu Velmurugan Gnanamuneeswarar Temple.  
Here is a list of the places of worship near Fernvale Riverwalk:    
New Creation Church @ Seletar Mall (650km)
Thye Hua Kwan Temple (700m)
Sengkang Methodist Church (900m)
Ubin Thai Temple (1.0km)
Jalan Kayu Joint Temple (1.0km)
Ji Gong Temple (1.5km)
Chee Hwan Kog Singapore (1.5km) 
Puat Jit Buddhist Temple (1.5km)
Sengkang Combined Temple (3.4km)
Masjid Al-Mawaddah (1.7km)
St. Anne's Church (2.9km)
Central Christian Church (3.1km)
Sengkang Combined Temple (3.4km)
Church of the Transfiguration (3.5km)
Masjid Al-Islah (3.5km)
Arulmigu Velmurugan Gnanamuneeswarar Temple (3.6km)