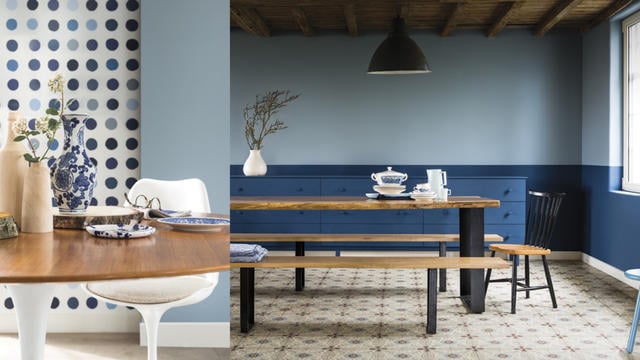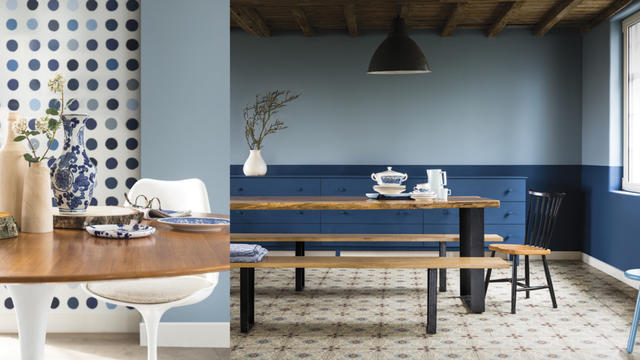 (Credits)
With Chinese New Year over and done with, we've officially welcomed the year of the Rooster! If you're thinking of renovating your place in any of the upcoming months, make sure you check out our guide to find out what colours you should be using, and when to do your renovations. The aim is to ensure that you have an auspicious new home!
What colour should I paint for an auspicious new home?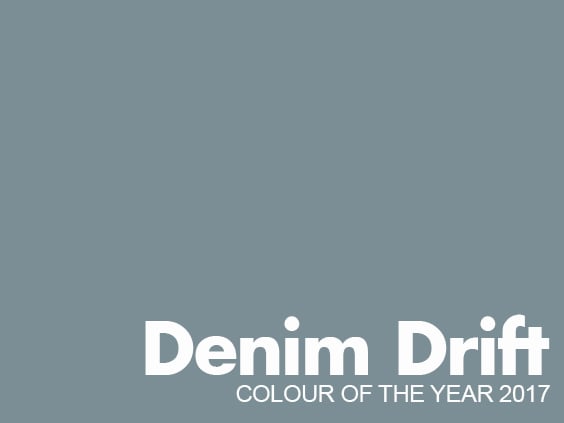 (Credits)
As 2017 is the year of the fire rooster, homeowners should lean towards colours which are calmer and can help to balance out the 'heat' and aggressive energy of the fire rooster. One such colour is the Denim Drift, which is a blue-grey shade that Dulux has named Colour Of The Year 2017.
According to Master Goh from Way Fengshui Consultancy, Denim Drift is a doubly auspicious colour as it combines blue – which offsets the fire element in 2017 – with grey, a lucky colour for Singapore. Master Goh also notes that accompanying blues with green and black hues will go a long way in enhancing a household's stability and peacefulness in the upcoming year.
What colour should my door be?
Ideally speaking, your door should be grey in order to attract wealth into your home. If it's not a feasible idea to paint your door, however, you can also use the colour grey around your main entrance in order to achieve the same effect.
What colour should I paint my bedroom?
Here are the best colours to use in your bedroom, according to your zodiac sign:
Rat: Yellow and brown
Ox: White and gold
Tiger: Red and orange
Rabbit: Blue and black
Dragon: Yellow, brown, white, and gold
Snake: White and gold
Horse: Yellow and brown
Goat: Red and orange
Monkey: Blue, black, yellow, brown
Rooster: Yellow and brown
Dog: Red and orange
Pig: Green
If you need a little luck in the romance department, other than using the appropriate colour as described above, go one step further in placing a vase filled with fresh flowers in your bedroom. This will help to stimulate your 'tao hua', or romance energy – but make sure that these are live flowers, and also, the area surrounding your vase must be spick and span!
When should I renovate my home?
The auspicious dates for home renovation depend on which orientation your home is facing.
Not sure which direction you're facing? Simply stand at your door and use a compass to determine the direction. However, if your door does not face the same direction as your house, you should be taking direction from either a window or sliding doors that correspond to the direction in which your house faces instead.
For those facing East, South, and West, renovating your home in 2017 is highly discouraged. But if you have to go ahead with your renovation plans, opt for one of the auspicious dates below!
North
7 July – 6 August
7 November – 6 December
Northeast and Southwest
4 April – 4 May
5 June – 6 July
7 July – 6 August
8 October – 6 November
7 December – 4 January 2018
East
3 February – 4 March
4 April – 4 May
7 July – 6 August
8 October – 6 November
7 November – 6 December
Southeast
3 February – 4 March
5 June – 6 July
8 October – 6 November
7 November – 6 December
7 December – 4 January 2018
South
7 July – 6 August
7 November – 6 December
West
3 February – 4 March
4 April – 4 May
5 June – 6 July
7 December – 4 January 2018
Northwest
3 February – 4 March
4 April – 4 May
7 July – 6 August
8 October – 6 November
7 November – 6 December
7 December – 4 January
Want to read up more on Fengshui and other methods to have an auspicious new home? Check out our other Fengshui guides:
Feng Shui 101: How the kitchen can help increase your wealth
Feng Shui 101: How to increase positive energy in your living room