Much has been said about lease decay affecting the market value of HDB flats, but private properties in Singapore bounded by a 99-year lease should — in theory at least — be facing the same issue. In this week's chart, we examine how leasehold condos in four different age bands transacted over the past 15 years to uncover insightful observations concerning age versus property value of these condos. The age bands are defined by TOP year.
We specifically compared condos in non-central districts, as condos located in central areas are more prone to price distortion. The districts excluded from comparison are Districts 1, 2, 4, 6, 7, 9, 10 and 11. The resulting average per square foot (psf) transaction price graph is as below: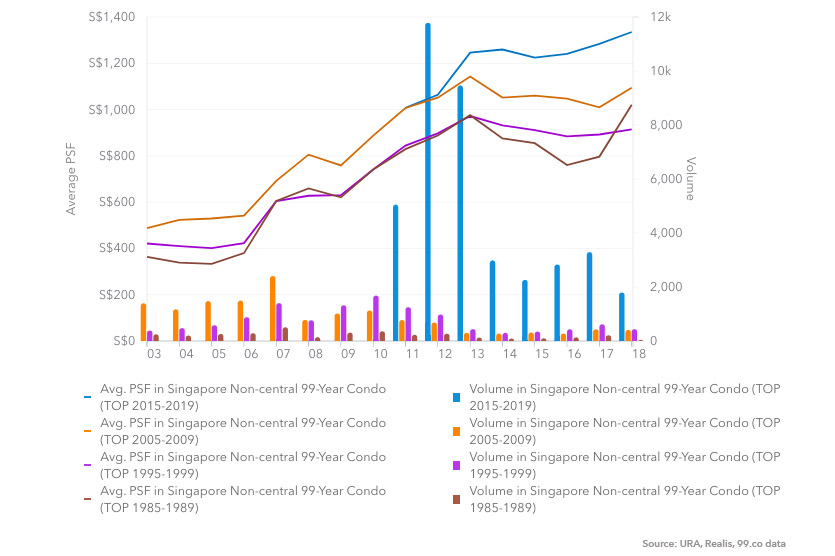 Here's a five-yearly snapshot (Table 1) for comparing the leasehold condos across the four different age bands: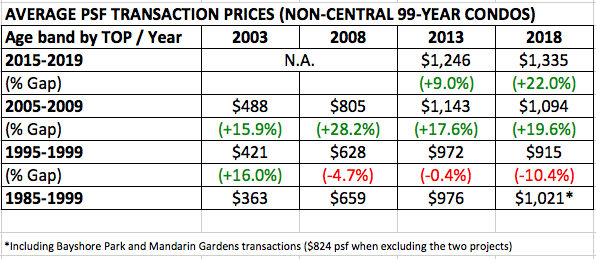 From the chart and table, here are our five key observations on age vs. property value for 99-year leasehold condos in Singapore:
Observation #1: A supply glut of newer leasehold condos from 2011 onwards
Looking at the chart, it's obvious that not only the prices stand out. The volume of new condo units launched (TOP between 2015 and 2019) and sold from 2011 onwards far outstripped sales volumes for older condos. (In 2012, a staggering 11,782 units were sold.) There could be a few reasons for this, but we think the chief reason is actually lies in our second observation:
Observation #2: Newer condos are NOT worth much more, at least in an absolute sense
Consider the following average price transaction graph and table, featuring the same properties: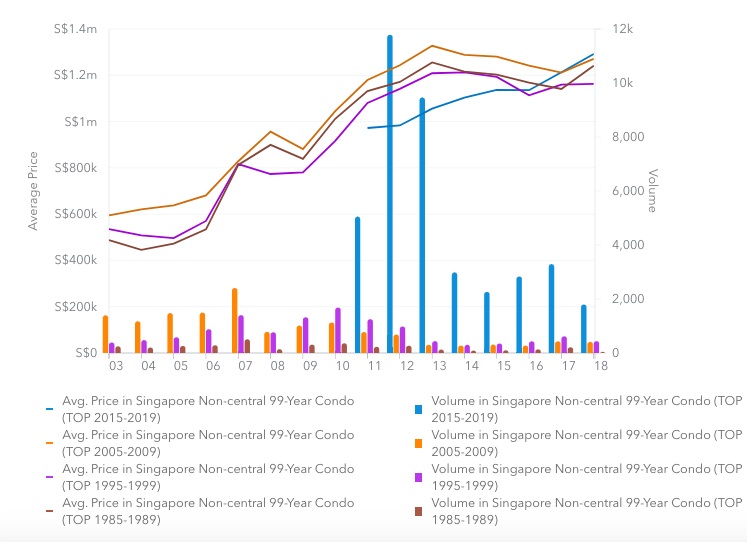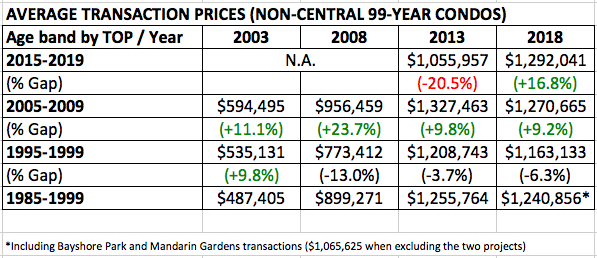 Look at the price graph, as opposed to the psf graph, and you'll realise that buyers were probably drawn to the new condos (TOP 2015 to 2019) due to their lower absolute price point. In other words, developers began to shrink the floor areas of these condo units to lower the perceived price and increase the profit margin of each project.
As the absolute price point for newer condos rises above their older counterparts again in recent months, the demand for older condos could pick up somewhat, which would be much-needed good news given the next observation:
Observation #3: Impact of 2013 cooling measures hit oldest leasehold condos hardest
The additional cooling measures implemented in 2013 had a price dampening effect across the board, but the effect was most keenly felt in the oldest age band of condos in our comparison. In the two-year period from the end of 2013 to the end of 2015, average psf transaction prices of the newest condos (TOP 2015 to 2019) fell by 1.7%. The average psf prices for the two middle condo age bands — TOP 2005-2009; TOP 1995-1999 — fell by 7.2% and 6.6% respectively. For the oldest band of condos that TOP-ed from 1985 to 1989, average transaction prices fell by 12.4% in the two years following the 2013 cooling measures.
It remains to be seen whether the July 2017 additional cooling measures will induce the same phenomenon, but it's something we should all take note. In any case, the latest cooling measures appears to have put a stop to our last observation:
Observation #4: Speculation can cause abnormal spikes in the prices of oldest condos
Back in 2003, the average psf price gap between properties about 10 years apart in age was about 16% (see Table 1), which could be a fair reflection the differences in remaining tenure between the properties in the different age bands.
The property boom in 2007 changed this. After a price dip in the years before, condos in the oldest age band (TOP 1985 to 1989) saw the biggest percentage increase in average psf price, catching up with properties that are on average a decade newer. The most likely explanation? A fair few buyers were betting on these condos going en bloc.
This argument makes sense, considering how quickly and how much prices for the oldest condos fell in the wake of the 2013 cooling measures (resuming their price gap with condos a decade newer).
In 2018, average psf prices for the oldest condos abruptly shot up again. A closer look revealed that transactions in two properties — Bayshore Park and Mandarin Gardens — was responsible for this spike. With both projects touted for en bloc sale before the July cooling measures, a crazy 38 units in these two projects changed hands in the first six months of 2018 alone. Compare that to other condos of the same age band (TOP 1985 to 1989), and there were only 8 transactions across Singapore. The only transactions that have occured since the 5 July 2018 cooling measures — for this group of condos — were for 4 units in Bayshore Park, and none elsewhere.
Taking Bayshore Park and Mandarin Gardens out of the equation, and 2018 average psf transaction prices for the oldest band of condos stands at $824 (instead of $1,021). Granted, this is still higher than the $797 psf average for this group of condos in 2017.
This observation reveals the mindset of a majority of prospective buyers for older leasehold condos — they are keen to strike when the iron is hot. Likewise for homeowners, who are eager and willing to cash out at the right price. Beyond speculating for en bloc, we urge buyers — investors in particular — to consider well-maintained older condos for the potential value they bring in rental yield. Surely this should be a bigger consideration when buying a older leasehold unit as opposed to hoping to strike the collective sale lottery.
**[View all condos in Singapore for sale built before 1990 and discover units that are good value for rental play.]
Which age band of 99-year leasehold condos currently represent the best value for buyers? Share your thoughts in the comments section or on our Facebook community page.
If you found this article helpful, 99.co recommends Should you buy a 99-year leasehold over a freehold condo? and New Launch versus Resale: Which Makes a Better Investment Property?
Looking for a property? Find your dream home on Singapore's largest property portal 99.co!