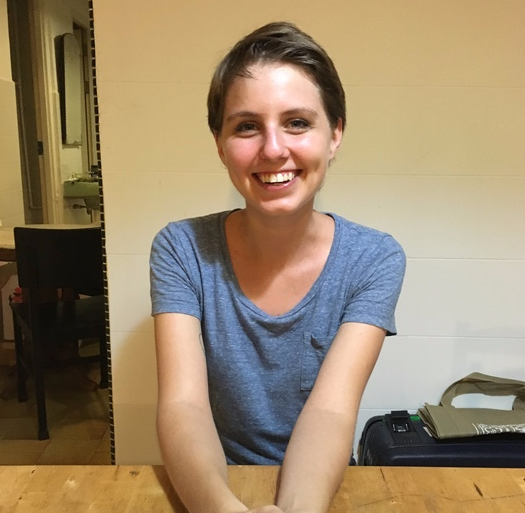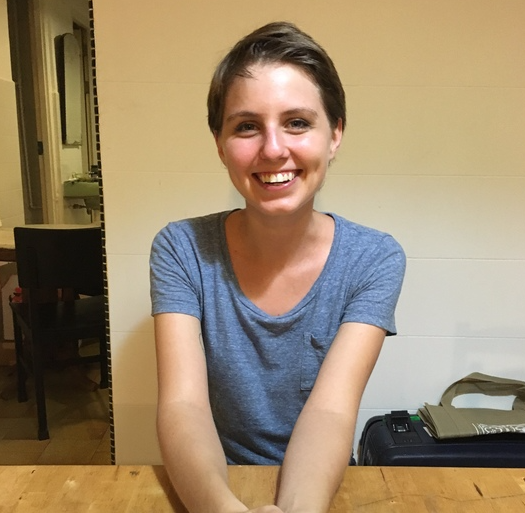 Previously living with roommates, Samantha Moberg and her boyfriend decided to find their own apartment to rent for the first time in Singapore. Read and join their journey on how they secure their charming flat in Aljunied Crescent through 99.co.
How long was your search period?
In total (while using other platforms), I searched for about 2 months. It took me less than a month to find this place once I started made the switch to 99.co.
What was the trigger to start searching for a rental property?
I was house-sitting for a friend in the East Coast. My friend then wanted to permanently move out of Singapore, so I had to find another accommodation. My boyfriend and I first looked for shared apartments, but after a few viewings, we felt like the other tenants were not very friendly. After much consideration, we decided to look for a whole unit rental for ourselves.
How did you find out about 99.co?
I was frustrated with other search platforms and was looking for other alternatives. Luckily, I chanced upon a 99.co billboard at an MRT station.
Why did you start using 99.co?
Before using 99.co, I used PropertyGuru, and other classified platforms like Carousell and Gumtree. They were really tedious to use and I felt like I wasn't finding anything that I liked and a lot of time was spent browsing compared to actual searching. I already knew what I wanted, but they were not showing them to me.
99.co is much more organised and straightforward. I could pinpoint where I wanted to stay, which was somewhere in the east, preferably in District 15, and key in those requirements. The search results give you what you can get within those set perimeters. Comparing 99.co and PropertyGuru, 99.co had more extensive listings with quality pictures for District 15 and 16, exactly what I was looking for. So I continued using 99.co only and stop using PropertyGuru.
District 15 and 16 search for rent on 99.co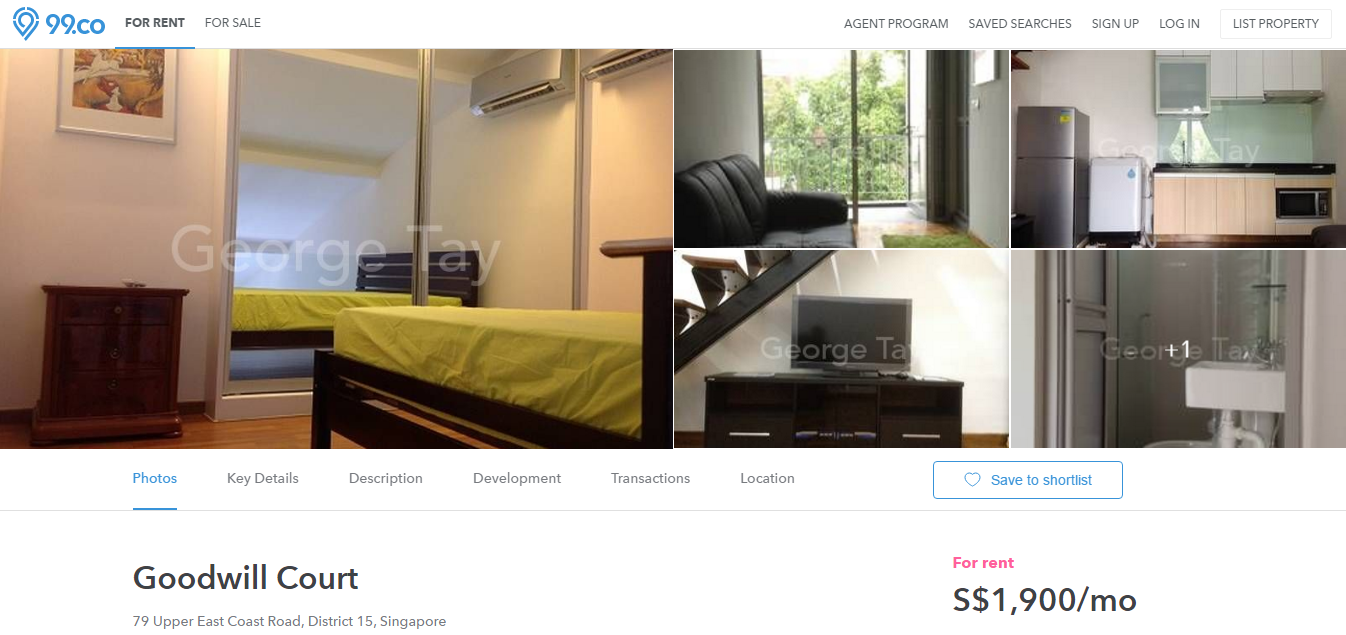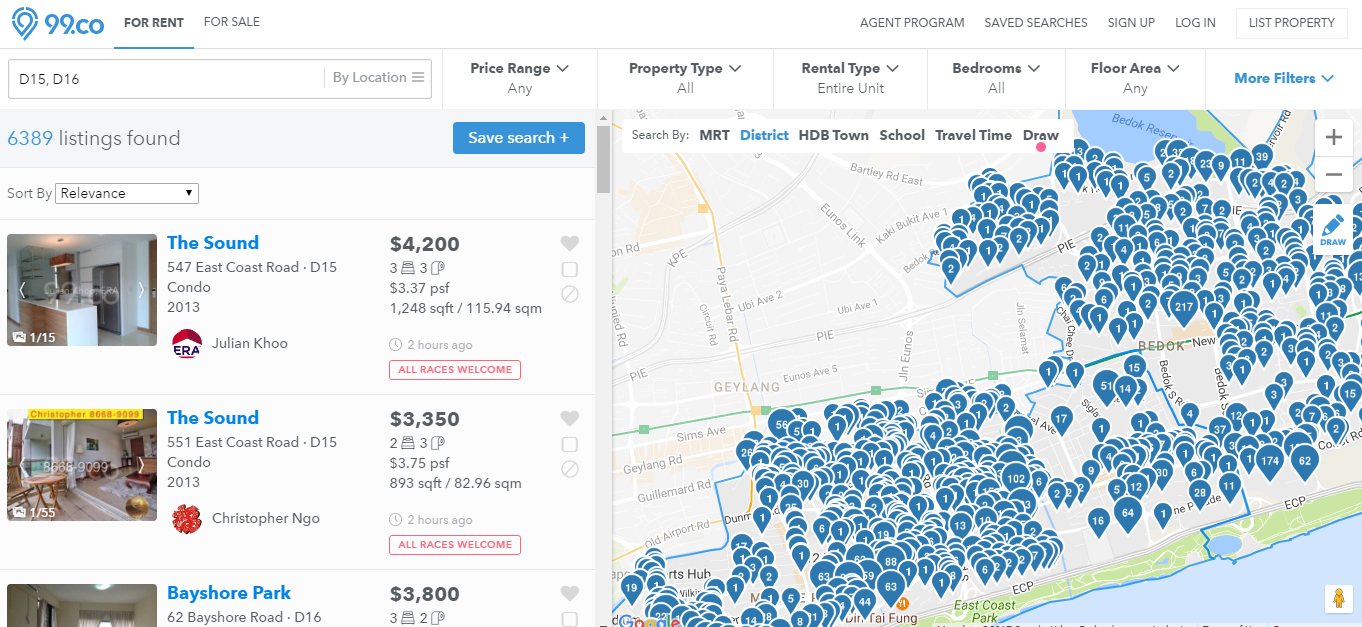 What did you like about 99.co?
I like how organised 99.co is. Since I knew what I wanted, I like that you can just pick an area at a town and it will show you what your options are and their prices, which was what I did by focusing on District 15.
99.co was very addictive and convenient. During lunch breaks, I would not stop scrolling through the available listings on the app. Also, as I am new here, I do not know Singapore's property market well, so I'm glad that 99.co was very informative in showing me property prices in different areas, and I was able to compare them easily. The knowledge gained gave me more confidence, making my search experience very comfortable on 99.co.

Did you go through a tenant's agent or a landlord's agent directly?
When I first started searching I did use an agent. But that wasn't really working as it was l felt like they were showing me what they wanted to show instead of what I wanted to see.
When searching for a rental property, what was the order of how you searched?
I had two priorities – location and price. We stayed in East Coast and felt comfortable there. So, we decided to continue our stay in that area and searched for properties around.
We made sure that it is convenient to travel to work or even to town from our place, so we wanted to stay near Aljunied MRT station. Next, we set a budget of $1,700.
We found this place while searching within these criteria. Our home is just a few minutes walk from the station. The Geylang area is near as well, which is a plus for me as I enjoy the different side of Singapore it presents. Monetary wise, we manage to shave $100 off our budget as we got this unit for $1,600 including utilities.
How did you make your decision in the end? What information did you use to guide your decision?
We were deciding between two units. This home is cute with its old building charm while the other unit we viewed was very boxy, like any new HDBs. We took the weekend to decide and in the end, it was the unique design of our current place that appealed to us more.
How likely are you to refer your friends to 99.co? <scale of 1-10 with 10 being extremely likely>
I would definitely recommend my friends if they're moving. So a 10.
New launch alert! Welcome to Grand Dunman
About Julene Gatot
Looking to sell your property?
Whether your HDB apartment is reaching the end of its Minimum Occupation Period (MOP) or your condo has crossed its Seller Stamp Duty (SSD) window, it is always good to know how much you can potentially gain if you were to list and sell your property. Not only that, you'll also need to know whether your gains would allow you to right-size to the dream home in the neighbourhood you and your family have been eyeing.
One easy way is to send us a request for a credible and trusted property consultant to reach out to you.
Alternatively, you can jump onto 99.co's Property Value Tool to get an estimate for free.
If you're looking for your dream home, be it as a first-time or seasoned homebuyer or seller – say, to upgrade or right-size – you will find it on Singapore's fastest-growing property portal 99.co.
Meanwhile, if you have an interesting property-related story to share with us, drop us a message here — and we'll review it and get back to you.
Join our social media communities!
Facebook | Instagram | TikTok | Telegram | YouTube | Twitter