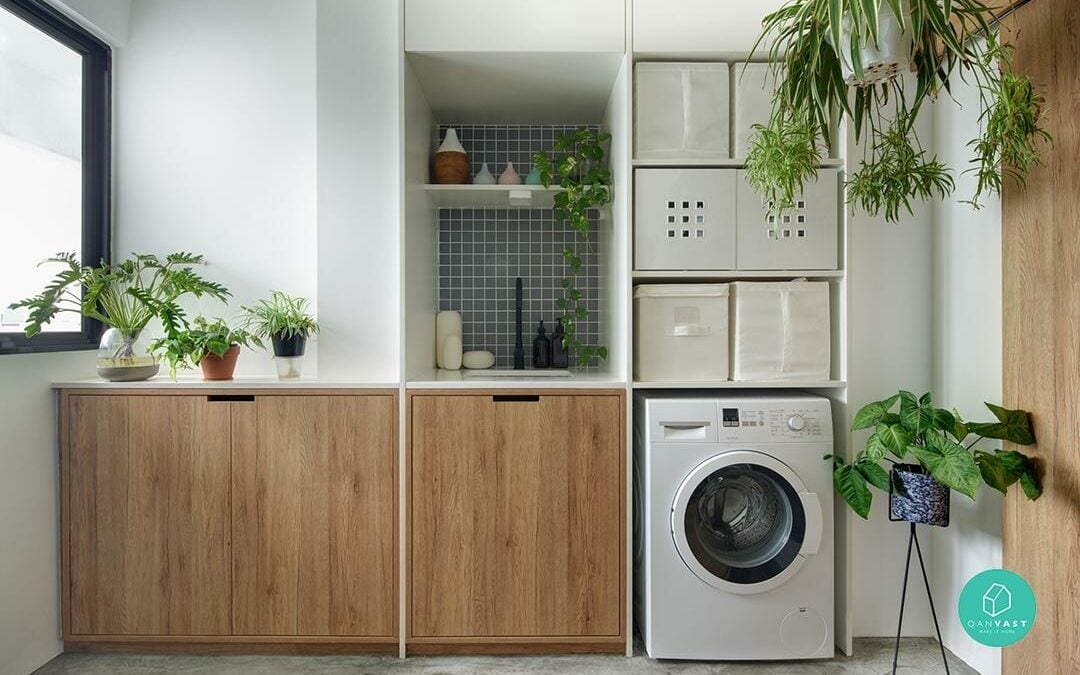 Despite its all-round usefulness as a general utility area and laundry room, the service yard is rarely a top priority for homeowners when it's time for an interior makeover. This shouldn't come as a total surprise, however, considering that service yards are more about practicality than looks.
In any case, that you shouldn't stop you from realising the fullest potential of your home's service yard – if not in form, then in function. Not sure how to get started? Then check out these real-life ideas from Singapore homes for some inspiration on how to transform your service yard into a useful, clutter-free space.
1. Create More Prep Space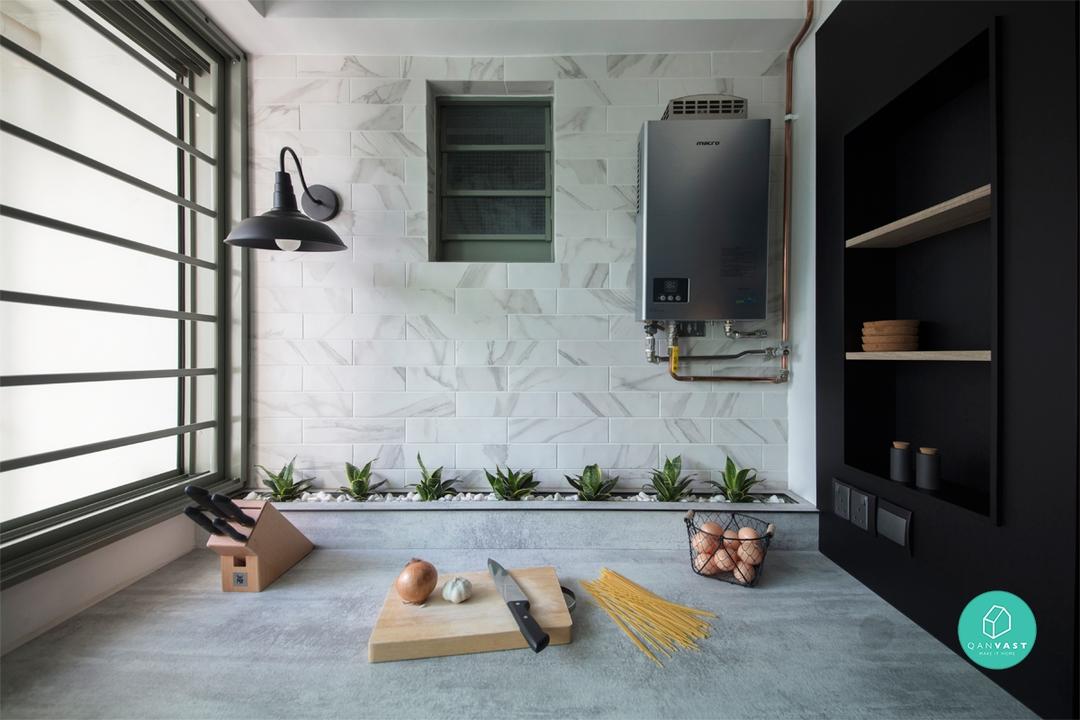 Considering how tight service yards typically are, it's natural to think that installing a counter in the area would be well… counterproductive. But on the contrary, having an additional surface in your service yard is likely to make it more versatile and useful.
Don't believe us? Just take a look at this Punggol apartment. Here, a sturdy countertop and built-in shelves for condiment bottles allow the service yard to be used as a food preparation area. And this certainly helps seeing how that one side of the kitchen is entirely taken up by storage solutions.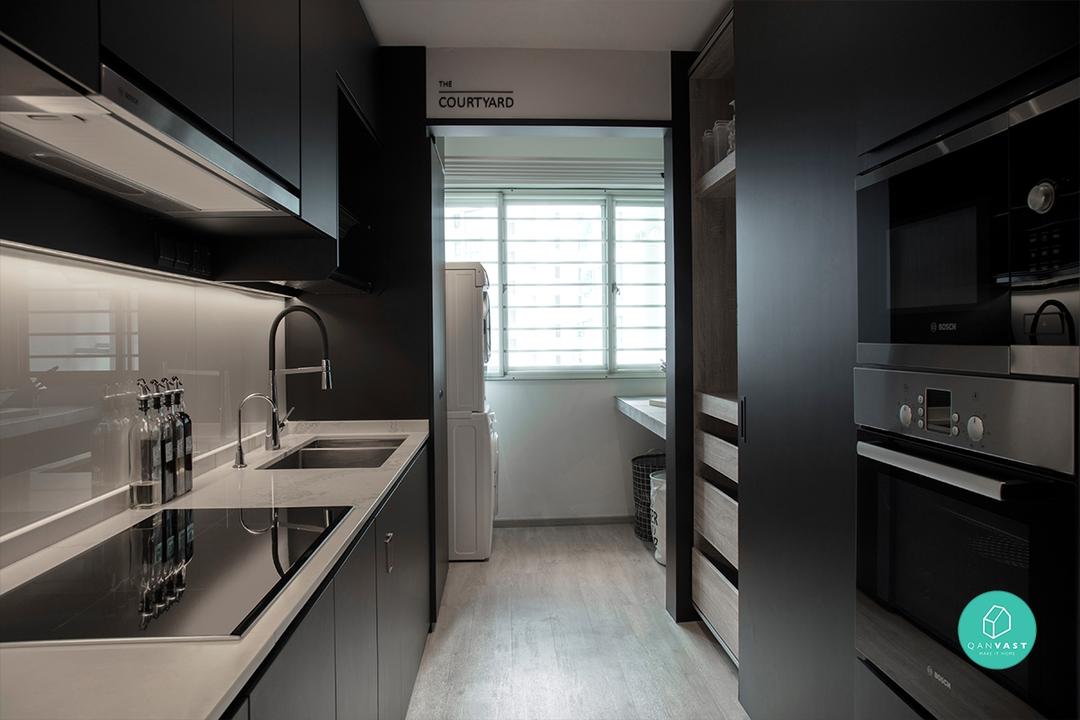 Not a fan of fixtures? You can also create an extended workstation by bridging gaps between the kitchen and service yard with useful furniture.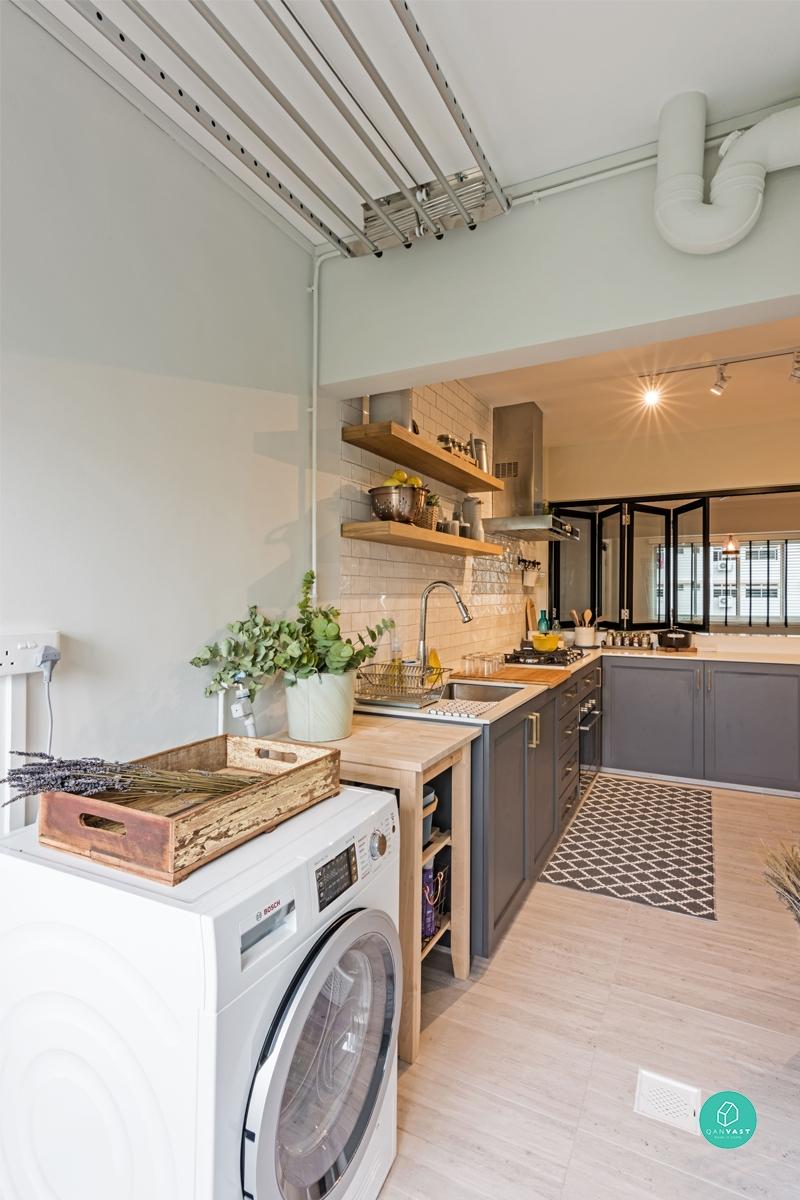 What the owners of this Choa Chu Kang apartment have done is to place a table of similar height between the kitchen counter and the washing machine. Not only does it unify both spaces, this simple addition also ensures that everything is kept within easy reach on the same level. Talk about killing two birds with one stone, huh?
2. Maximise Vertical Space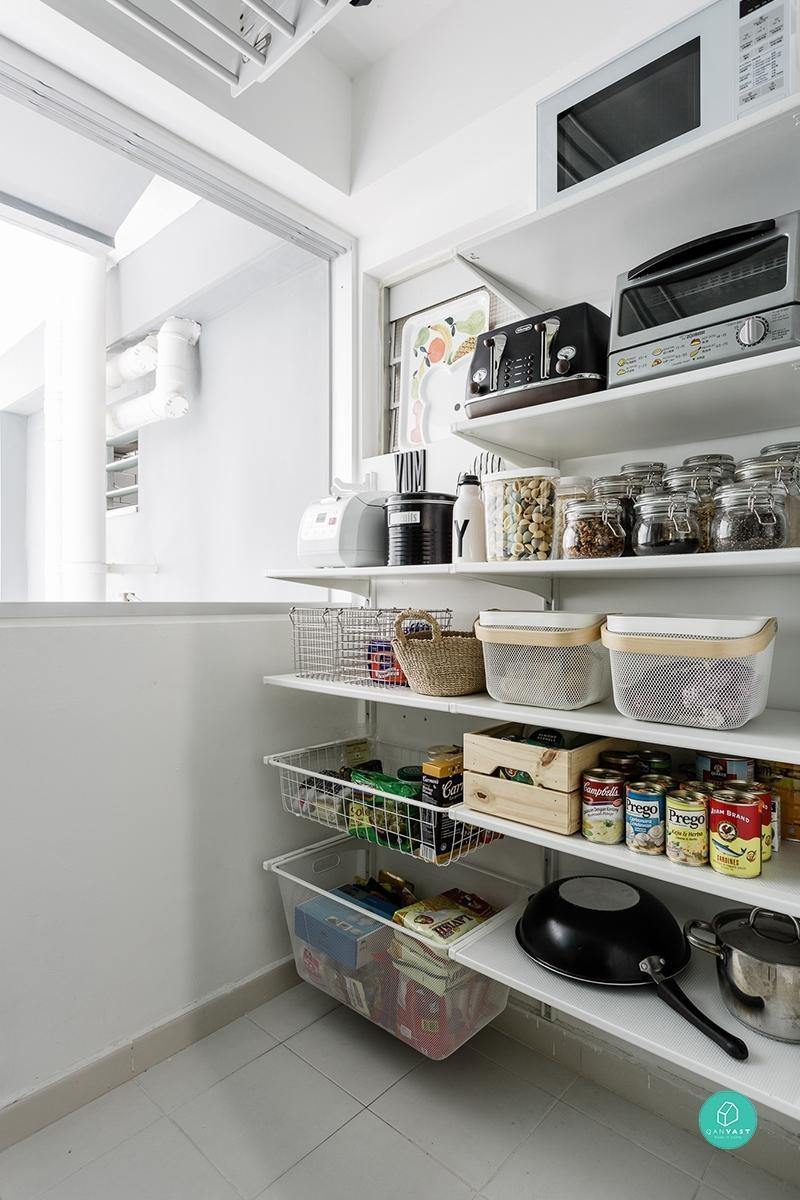 Going tall may be the oldest trick from the book, but there's certainly more that you can do than add a dropdown clothing rack. For instance, if you have a blank wall or two in the back, consider using them to get your home organised by introducing a variety of useful storage fixtures, such as bins, shelves and baskets.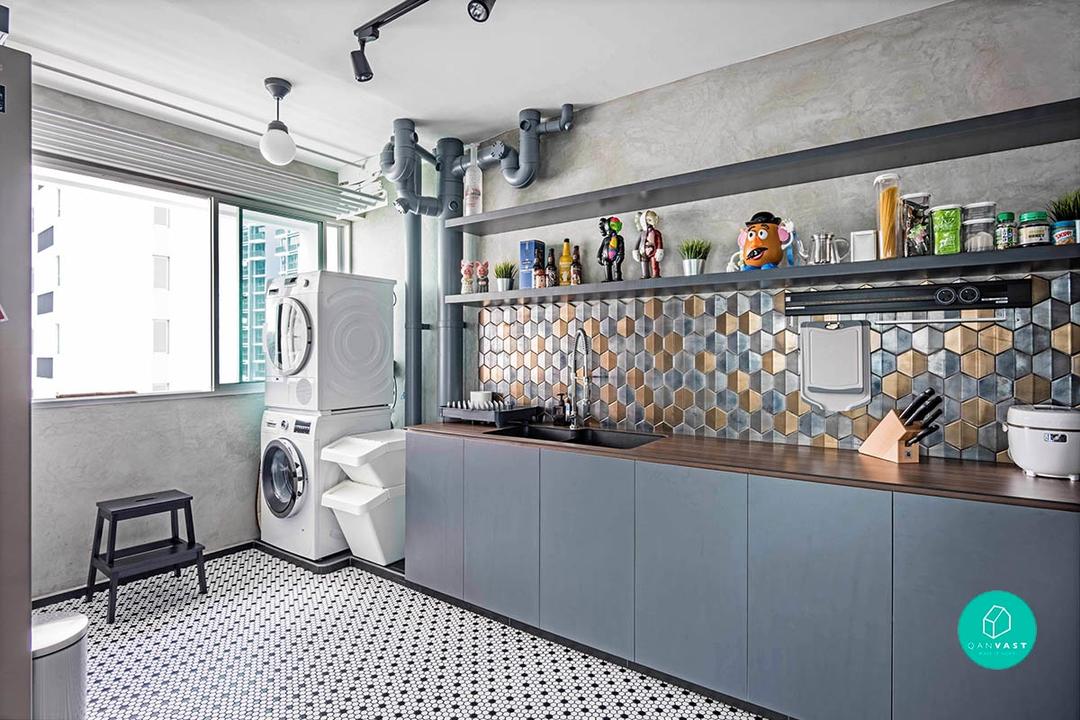 Likewise, opting for a stackable washer-dryer unit for your service yard can save you plenty of room and even fill up a dead corner.
But beware! Do take note that full-sized versions of both appliances are fairly bulky, and this means they will chew up some walkway space (albeit less) despite being stacked one on top of the other. In any case, make sure to double-check the measurements if you intend to adopt this space-saving solution for your home.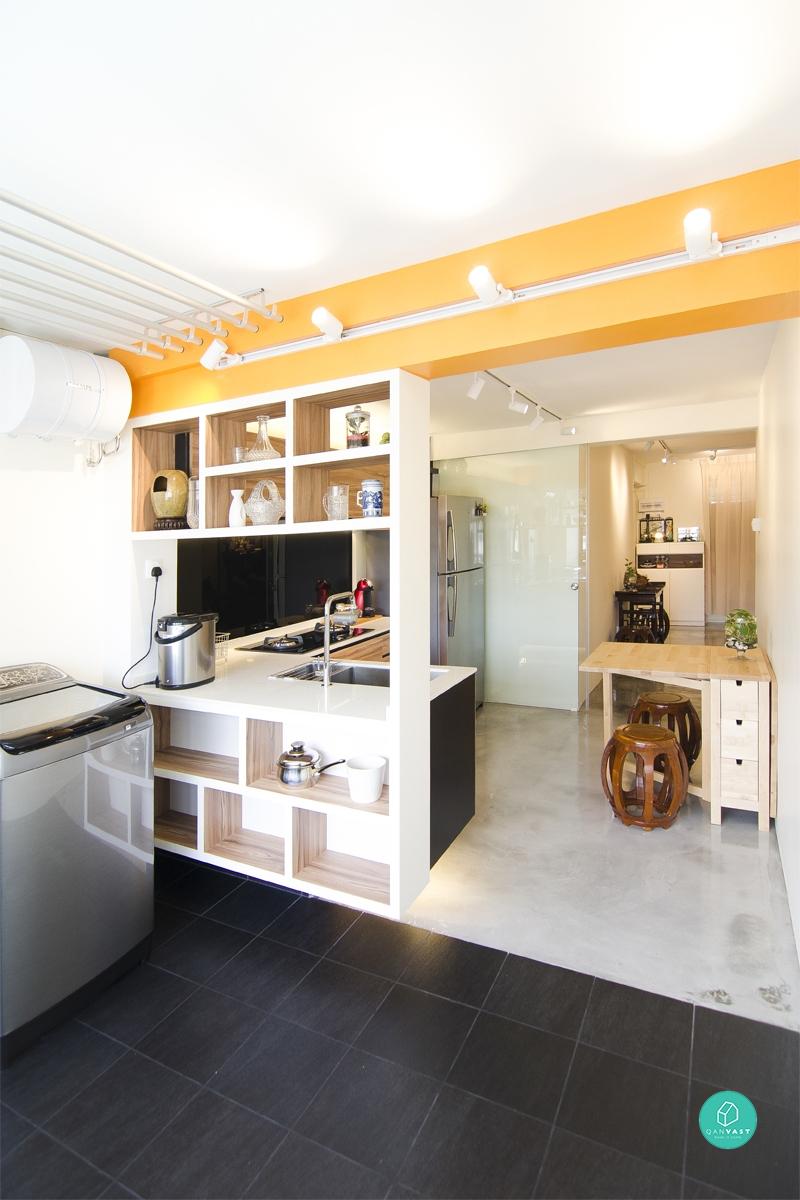 The same applies for shelves as they are great for keeping frequently used objects within reach. And chances are, you'll find that to be the case for service yards with plenty of vertical space to spare.
But what about using them as partitions? While you may not have thought of such an idea, the designers of this Telok Blangah apartment most certainly did. Here, a see-through storage shelf for various kitchen accessories serves as a physical divider, yet allows natural light to pass through freely and brighten up the inside.
3. Make Sure Things Flow
Considering their relative distance to each other in HDB apartments, treating your home's service yard as an extension of the kitchen almost seems like the natural thing to do. And even if you aren't keen on knocking down the walls, it's still possible to make both spaces look as though they are one and the same.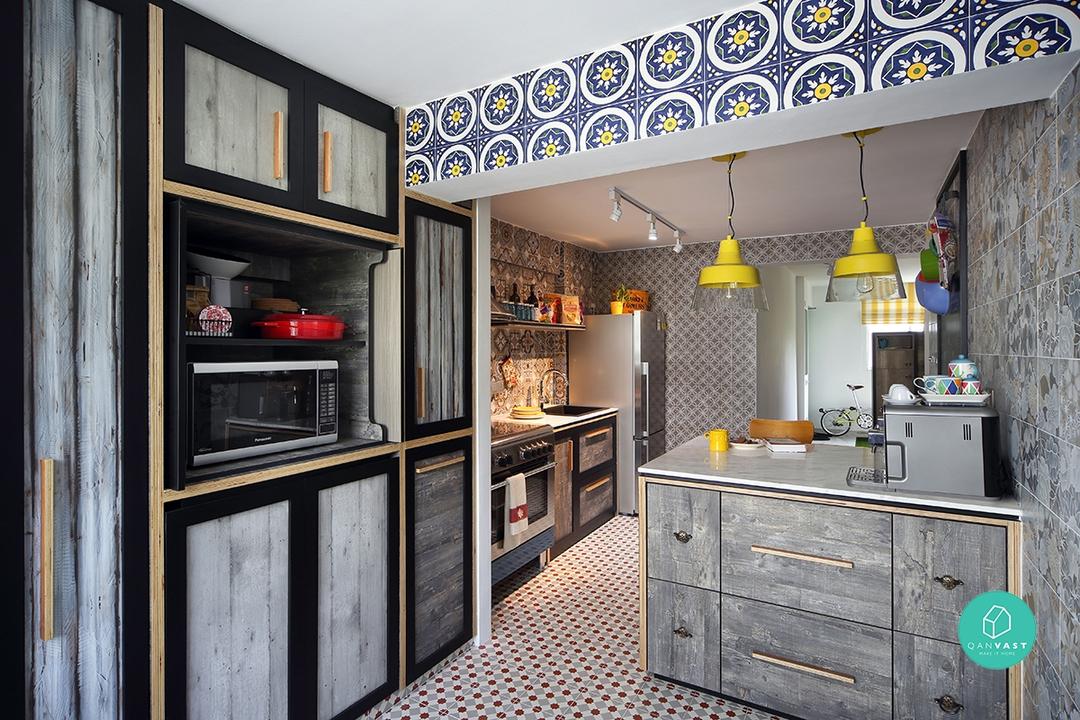 In this Marine Drive home, walls of graphic tiles extend from the kitchen into the adjacent service yard to create a consistent visual motif, whereas a built-in microwave nook and an island allow the space to double as a cosy breakfast corner.
Similarly, combining your kitchen and service yard with a galley-style layout creates better flow between both spaces.
Just think about it: letting your kitchen take over the yard means you'll be getting a more spacious cooking space, and you'll no longer have to struggle with two separate zones that are too small for your needs. Moreover, keeping everything tucked against the walls (or underneath the countertop like this washing machine) with a galley-style layout means you'll be getting additional walkway space and an overall neater interior.
4. Exercise Your Green Fingers
Although there's much that you can do to make a service yard look good, the simplest way to accomplish this is through exercising your green fingers.
Having an indoors garden works well for this Marine Crescent apartment's service yard as touches of natural greenery soften the starkness of its whitewashed surroundings while complementing its wood-fronted cabinetry.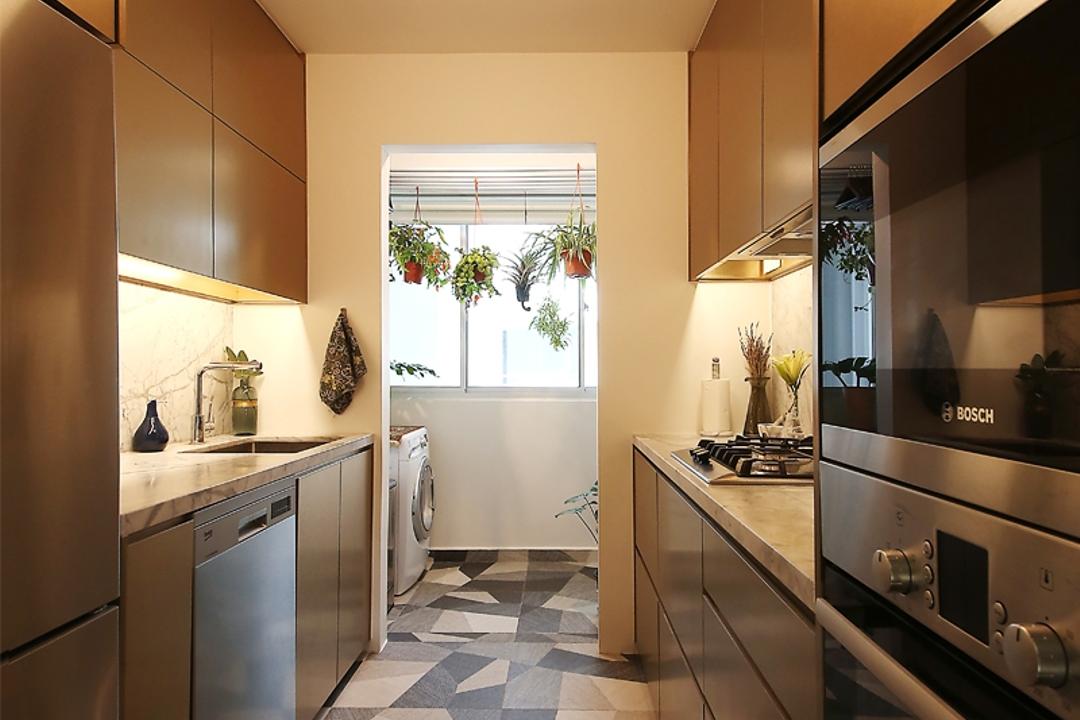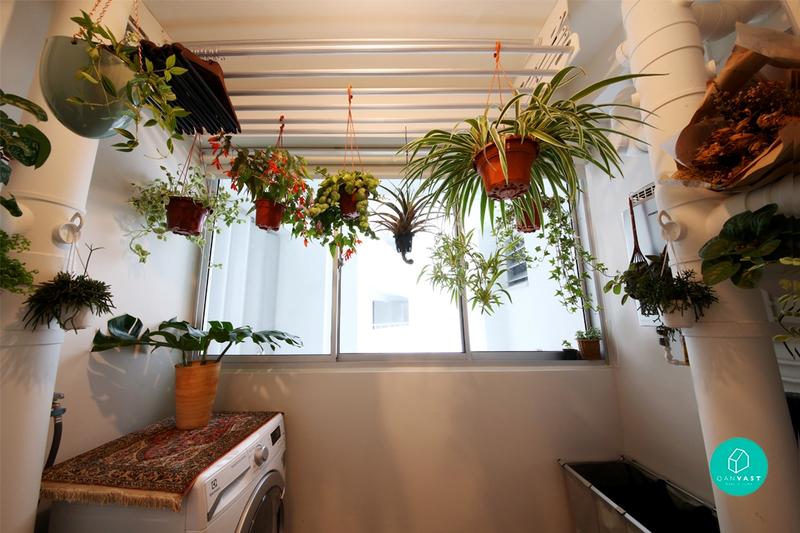 Not using the laundry hanging system in your service yard? These handy fixtures also provide a great way to hang potted plants. Simply lower the rods when it is watering time and then raise them back up to ensure your plant babies receive sufficient sunlight all day long.
This article was first published on Qanvast, a local interior design platform for homeowners passionate about their home design. Download the free app to get inspired by thousands of local home ideas and connect with interior designers.
Find the home of your dreams today at Singapore's largest property portal 99.co!
Upcoming Freehold Condo Launch: The Arcady @ Boon Keng
About Qanvast
Qanvast is a trusted platform that connects homeowners and home professionals. Discover over 10,000+ home inspiration ideas, with renovation cost. Simplify your renovation journey by downloading the Qanvast app (available on iOS or Android).
Looking to sell your property?
Whether your HDB apartment is reaching the end of its Minimum Occupation Period (MOP) or your condo has crossed its Seller Stamp Duty (SSD) window, it is always good to know how much you can potentially gain if you were to list and sell your property. Not only that, you'll also need to know whether your gains would allow you to right-size to the dream home in the neighbourhood you and your family have been eyeing.
One easy way is to send us a request for a credible and trusted property consultant to reach out to you.
Alternatively, you can jump onto 99.co's Property Value Tool to get an estimate for free.
If you're looking for your dream home, be it as a first-time or seasoned homebuyer or seller – say, to upgrade or right-size – you will find it on Singapore's fastest-growing property portal 99.co.
Meanwhile, if you have an interesting property-related story to share with us, drop us a message here — and we'll review it and get back to you.
Join our social media communities!
Facebook | Instagram | TikTok | Telegram | YouTube | Twitter