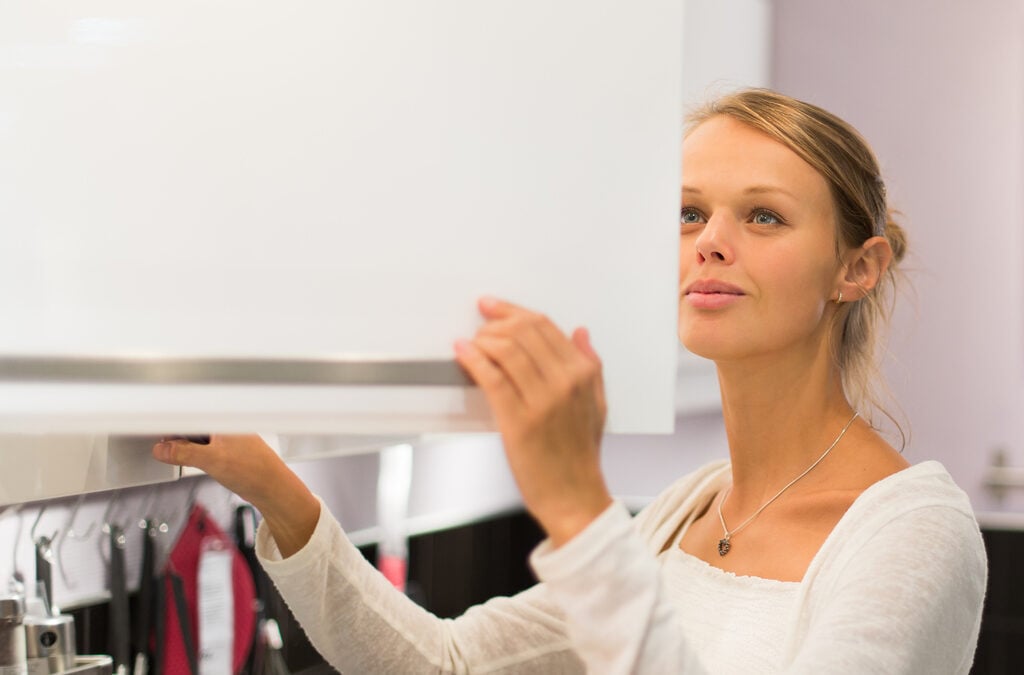 Have you always dreamed of a chic yet conducive room for both work and relaxation? Do you wish to be at ease in a room that is not just multi-functional, but also Instagram-worthy in every corner — without costing a fortune? No more boring and mundane interior spaces that look dull and lifeless! In this article, we have compiled a total of 12 HACKS you can find in IKEA, the Swedish-founded multinational group and largest furniture retailer every household has heard of!
Layer textures and tones for a polished feel
(Credits)
To bring a perfectly fine design up to enviable levels, you can layer up throws and cushions in the same colour palette where the shades are very similar. Some examples of colour schemes include monochromatic, analogous, complementary, etc. Pick the right fabrics and colours that work well for your room, and they'll instantly add colour and personality to the space.
» ÄNGSLILJA Duvet cover and pillowcase(s) $39.99
Get creative with basic and budget-friendly racks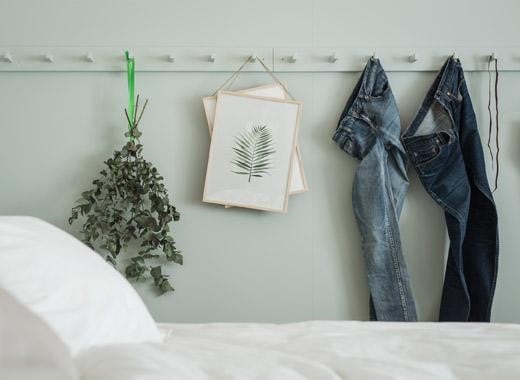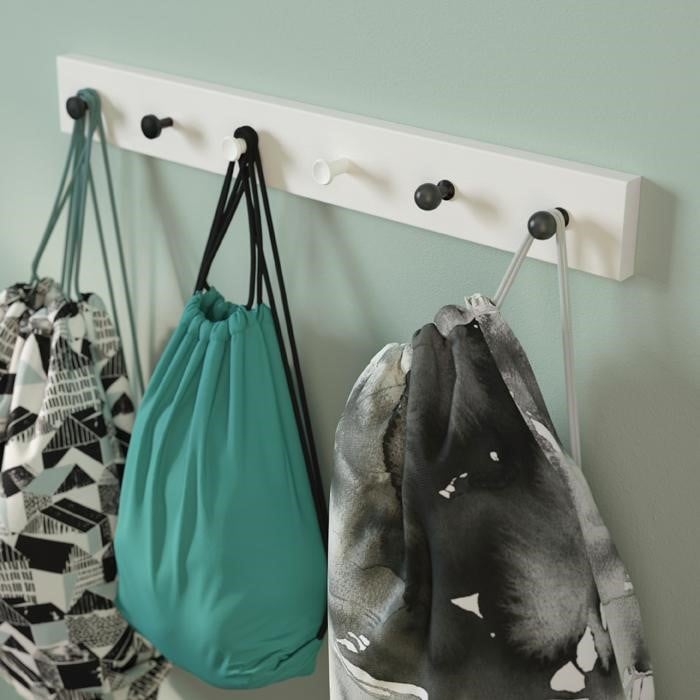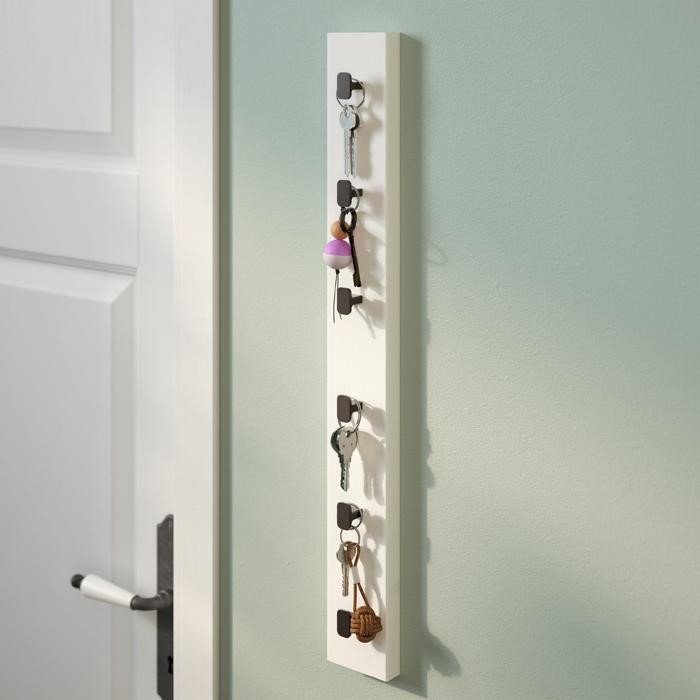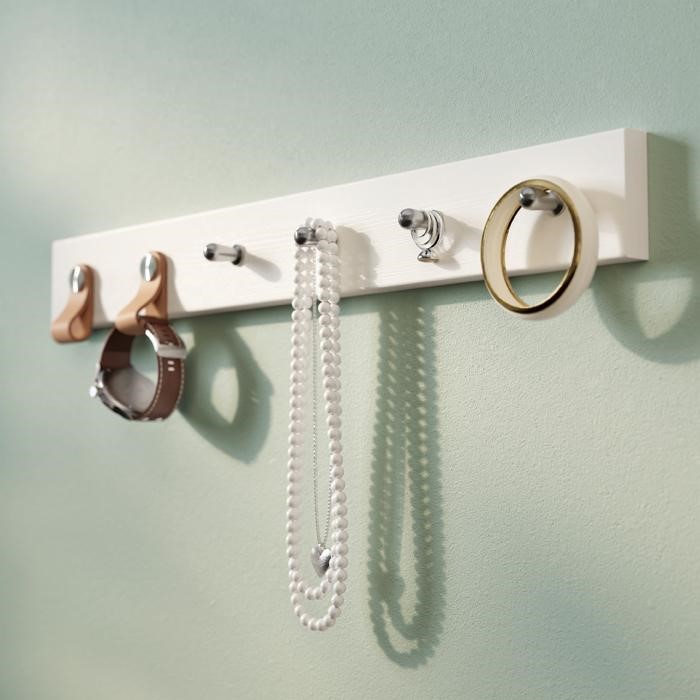 (Credits)
Whether it is to hang up some of your favourite daily essentials or to air clothes, you can opt for any knobs from the IKEA kitchen range. In this way, you can grab and go when you are in a rush, or simply display what you love for decoration purposes.
» KUBBIS Rack with 7 hooks $12.99
» LURT Rack for 6 knobs $2.99
Adapt to your taste and fine tune with shelves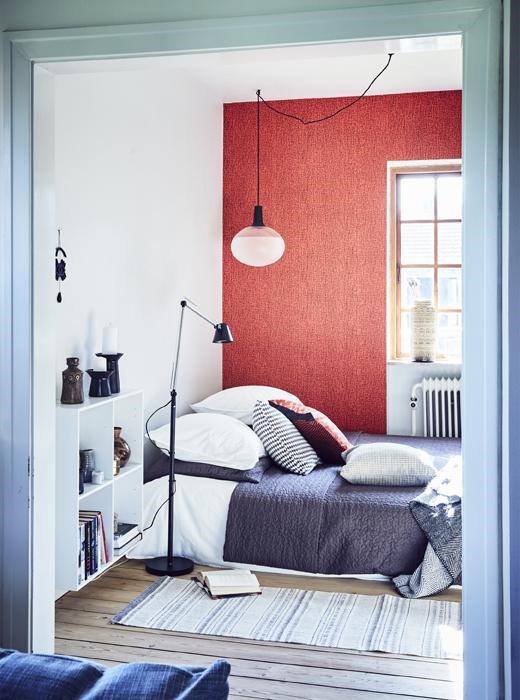 (Credits)
Sleek shelves are great options to satisfy your decorative desire and at the same time, offer creative storage solution out of necessity. They help to eliminate clutter and expand storage, which will allow for quick organization. Additionally, it is the simplicity of the shelves and minimalist design that will make your room look stylish and modern.
» KALLAX Shelf unit $34.99
Cover your room in softness to achieve the style of Scandinavian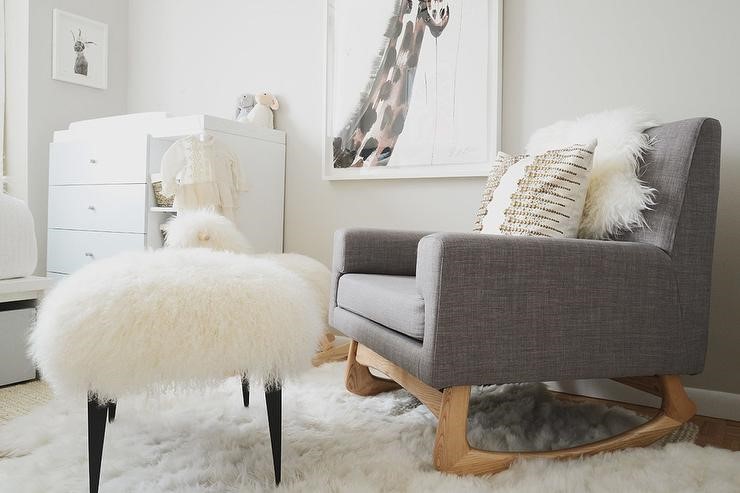 (Credits)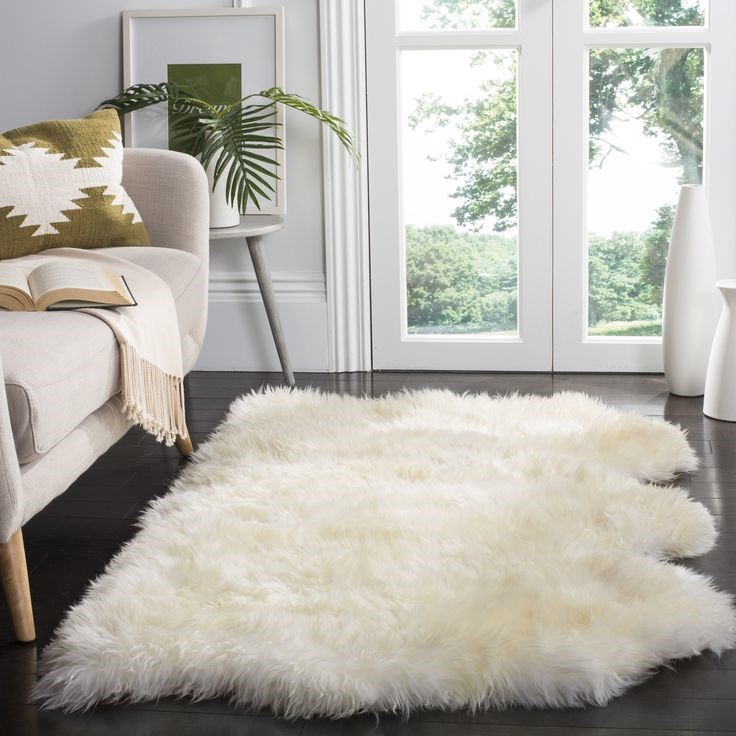 (Credits)
With the rise in popularity of Scandinavian design, more households are starting to incorporate sheepskin rugs in the house. Sheepskin's silky and soft texture can also act as a seat cushion on sofas and chairs. Just by adding little details, you can totally change the look and feel of the room — cozier, enhanced visual warmth and more inviting.
Note: If you decide to use it as a rug, be sure to secure it using an underlay or place something atop it to avoid slipping.
» RENS Sheepskin $29.99
Create atmosphere with a pleasant scent and warm candlelight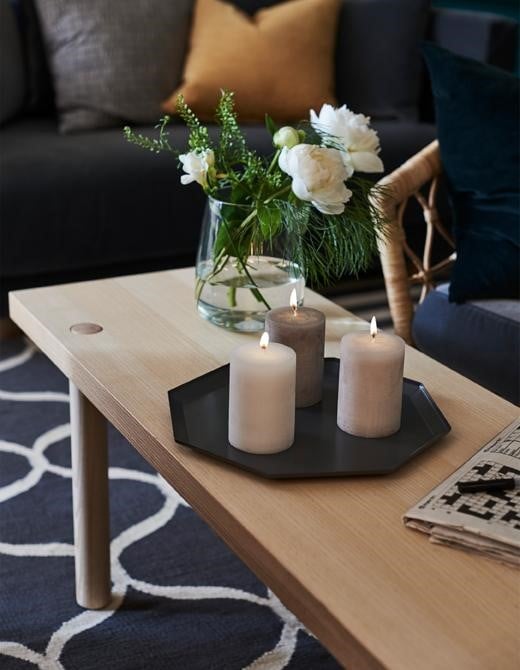 (Credits)
To create a relaxing setting in your room, a touch of your favourite fragrance will help greatly. Even if it is not scented, candle lights will also bring adequate and mood building illumination to uplift your spirits.
» LUGGA Scented block candle $5.99 /3 pack
Hide clutter or eyesores in a chest of drawers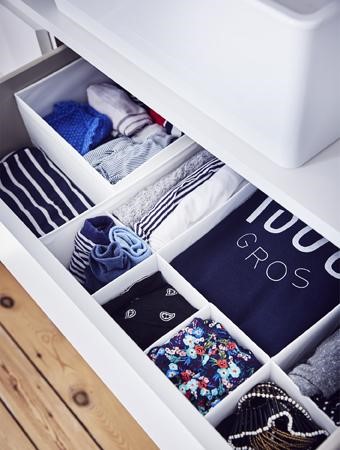 (Credits)
Drawer inserts will bring order to your chaos as they help you to tidy up smaller items e.g. undergarments, socks or accessories and gather them all in one place. Such compartments are especially useful to hide unpleasant-looking things and maintain the overall aesthetic appearance of your room.
» SKUBB Box with compartments $7.99
Color code your hangers for a coordinated look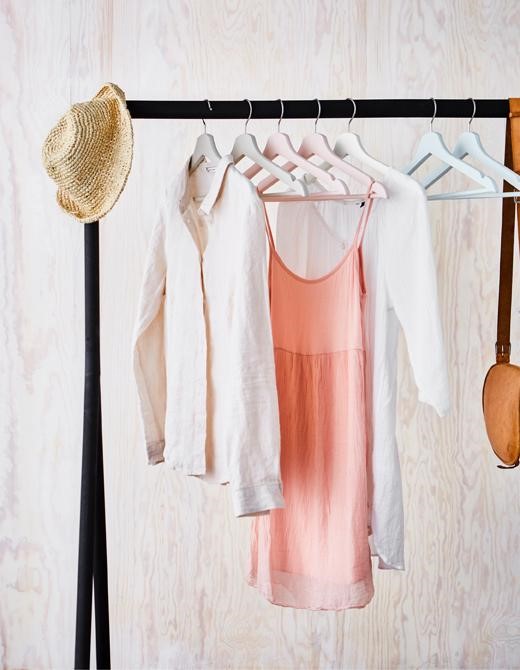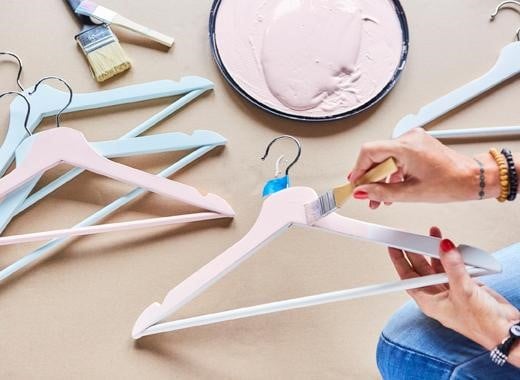 (Credits)
Besides being able to achieve a coordinated look when the hangers are in the same shade as your garments, colour coding with IKEA hangers will also help to organise clothes and allow you to easily find and grab the outfit of the day.
» BUMERANG Hanger $4.99 /8 pack
Have your next chill-out covered with some rails and curtains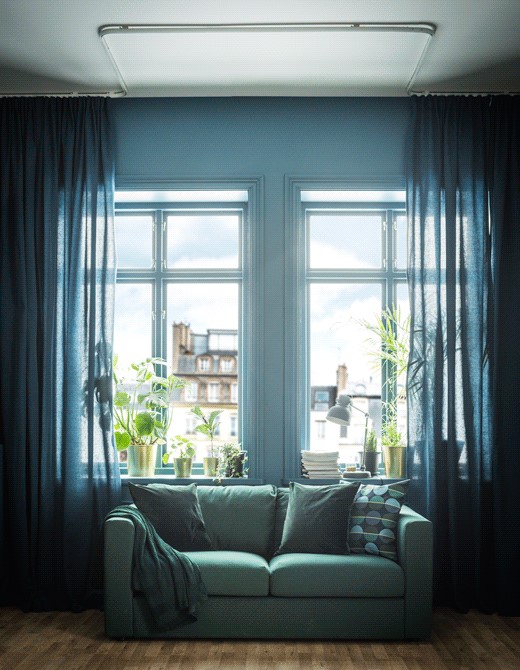 (Credits)
If you want to add a canopy feel to your room/ bed and make it the coziest place on earth, simply add some rails and curtains around it. To achieve this, you can combine straight rails with two corner units to build out from the walls, and another two to surround the sofa/ bed with the curtains.
» LENDA Fabric $5.99 /yards
Think vertically and keep your desk free of unnecessary clutter
(Credits)
Is the room too small and has limited storage space? Consider installing these IKEA wall-mounted shelves that complement the other furniture and theme of your room! In addition to the extra storage space that you will earn, a well-chosen and suitable design will make your walls look great as well.
» EKBY ÖSTEN / EKBY LERBERG Wall shelf $10.99
Maximize your room's storage space right up by the ceiling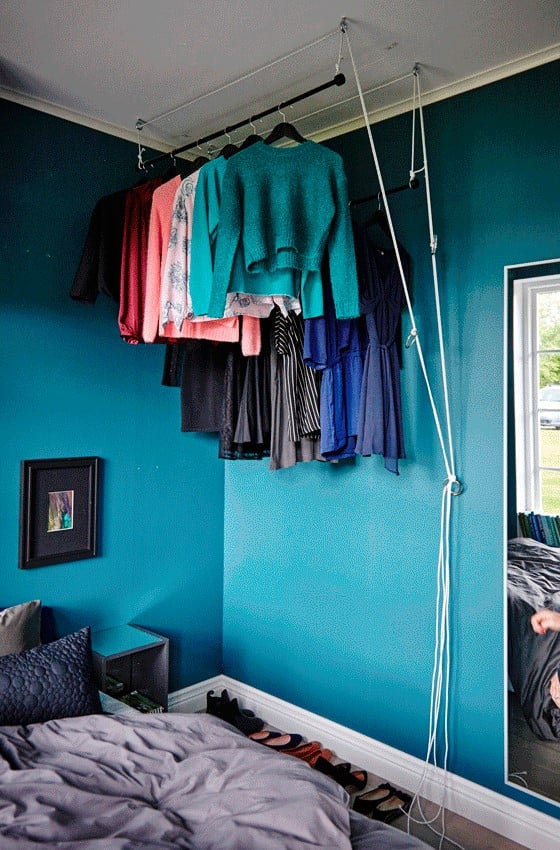 (Credits)
Try out this rope and pulley system to get your very own ceiling wardrobe and gain extra storage space! All you need is two curtain rods, some rings and rope.
» RÄCKA Curtain rod $1.99
Put your wardrobe on display using open clothes racks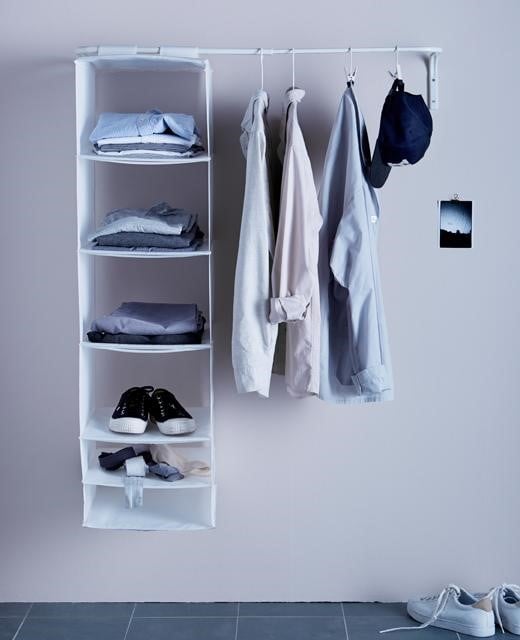 (Credits)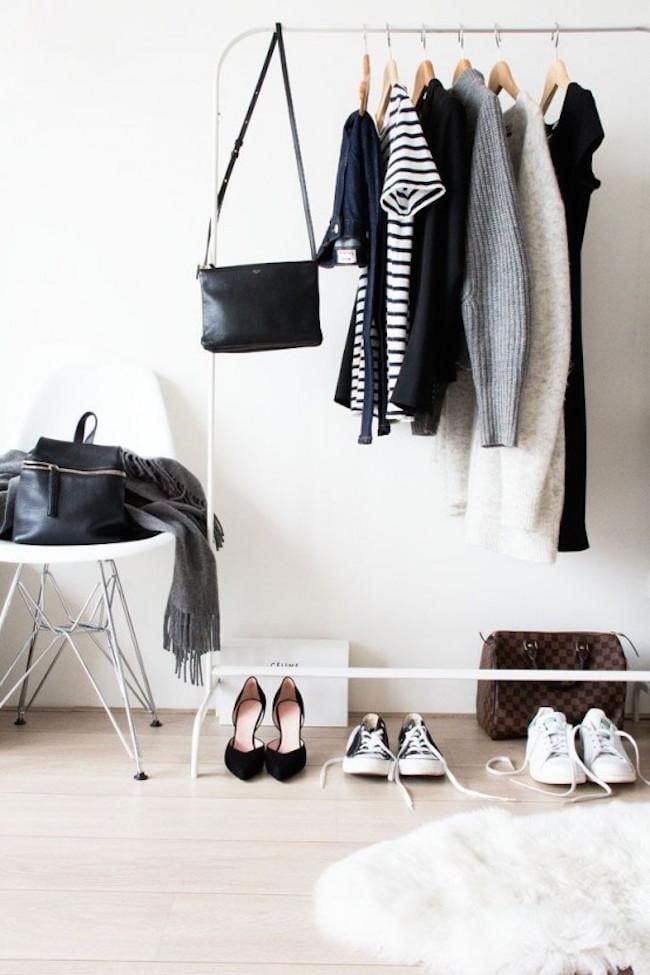 (Credits)
Are you proud of your personal collection of apparel and fashion items? Why not be unconventional and leave some of these out in the open? Open IKEA clothes racks are pleasing to the eye, simple, yet functional. With such racks, you can now showcase your style and add a special flair to your room too.
» MULIG Clothes bar $4.99
» TURBO Clothes rack $44.99
Transform your wall into an inspirational or reminder board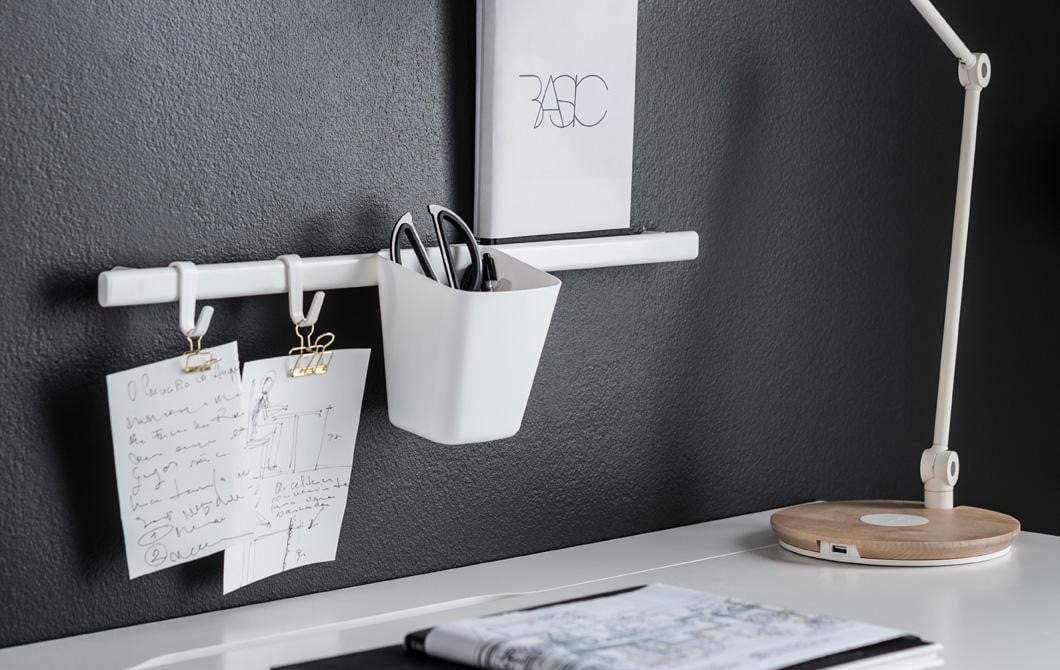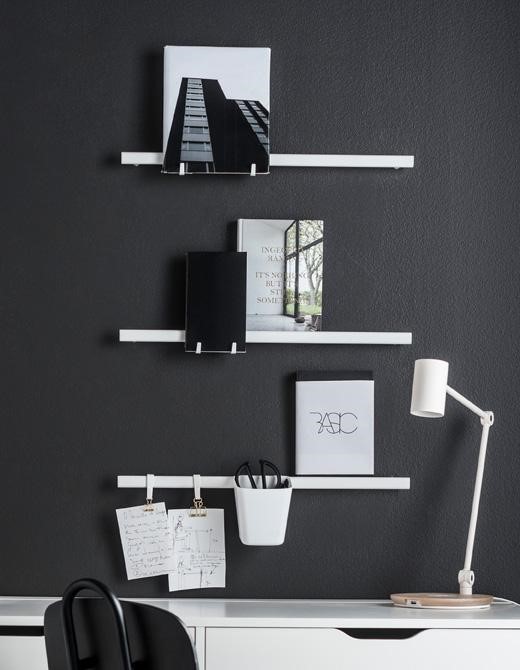 (Credits)
For easy access to your daily essentials, you can also install these IKEA rails on the wall. Alternatively, consider using the rails as a bookstand or resting your favourite items on smart hooks. You can even paste inspirational poster or reminders on the rails. Attach a container to store your stationery too or organize your study materials in a manner that you would love to see after work everyday!
» SUNNERSTA Rail $1.99
Under S$50? Yes, it's possible! With the many products IKEA has in store, you can unleash your creativity and find inexpensive ways to transform your room into a cozy paradise without compromising your style. Lastly, we hope that this compilation will help you find inspirations and explore more alternatives to revamp your humble abode!
This article was contributed by Redbrick.sg, a  mortgage advisory in Singapore. To find out more about how to save more money when buying your dream home, check out the best home loan rates in 2018 !
If you found it helpful, 99.co recommends House Tour: A Creative Couple's Dreamy Ikea-Filled Flat and 10 most common home decorating mistakes you want to avoid.
Find the home of your dreams today at Singapore's largest property portal 99.co!