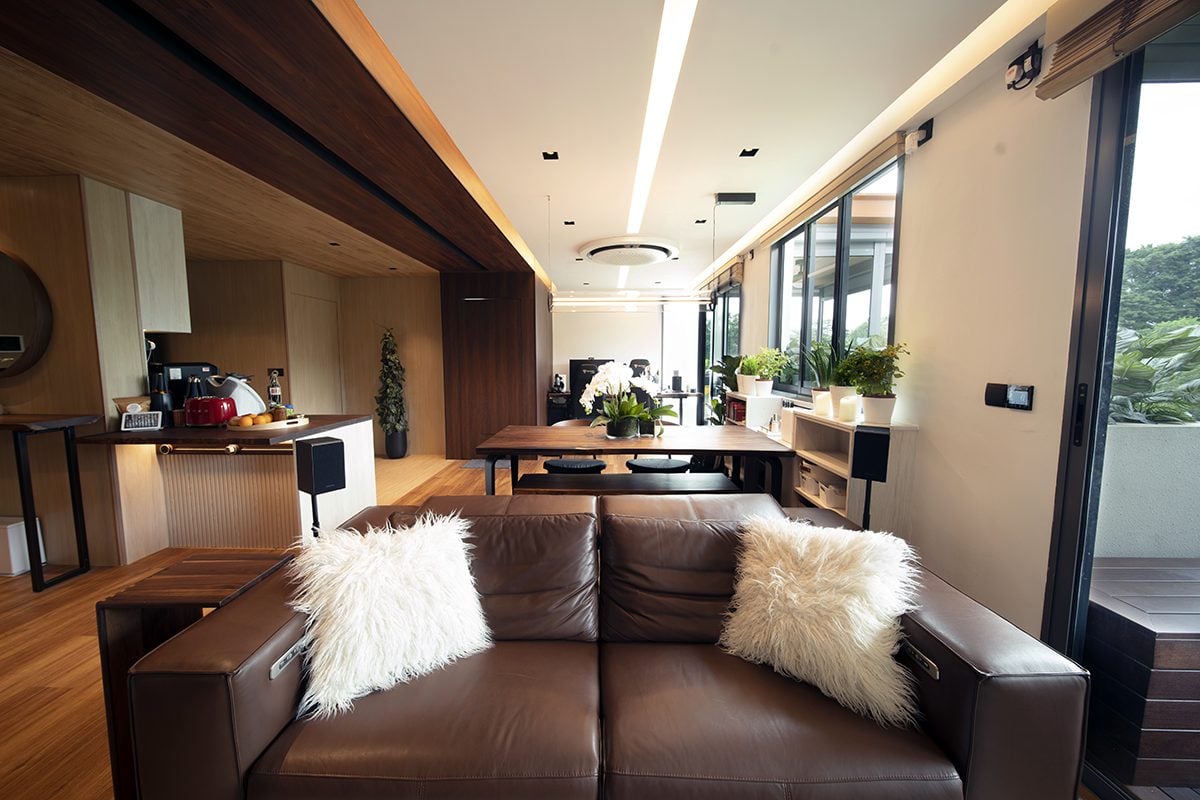 How does a man celebrate his newfound freedom of singlehood? Well, co-founder of local video content powerhouse Night Owl Cinematics (NOC) Ryan Tan has done it in some style, turning his duplex penthouse condo unit in Seletar into a masterpiece of interior design that's posh, understated and inviting in equal measure.
Ryan, a seasoned cinematographer, turned to interior design portal VEHS.com, which connected him with reliable vendors. He worked with ID firm The Designer Inn, who refined the man's ideas and preferences and promptly showcased their superior product knowledge and ability to translate design concepts into 3D.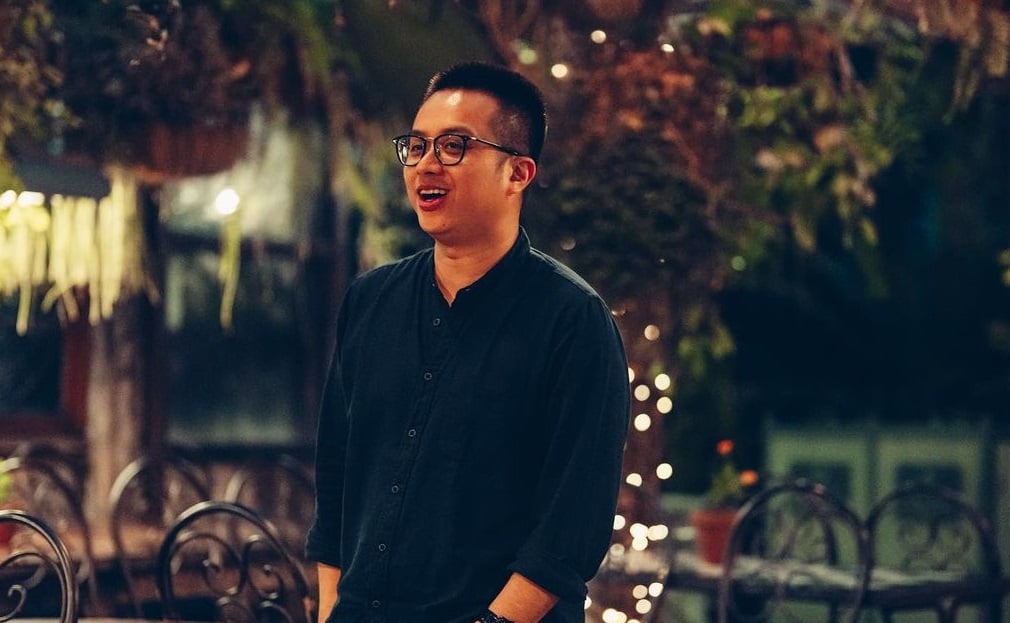 A desire to be close to nature
The first thing that will strike you about Ryan's home is that it's decked all-over in wood, like a cosy cabin in the forest somewhere in America or Europe. Turns out that Ryan loves nature; the condo unit he picked actually faces unspoilt greenery in Seletar.
Ryan's architect father also influenced his decision to choose wood, a building material which he now understands and loves. The wood theme in Ryan's penthouse is not only limited to the flooring, but also the walls and decks.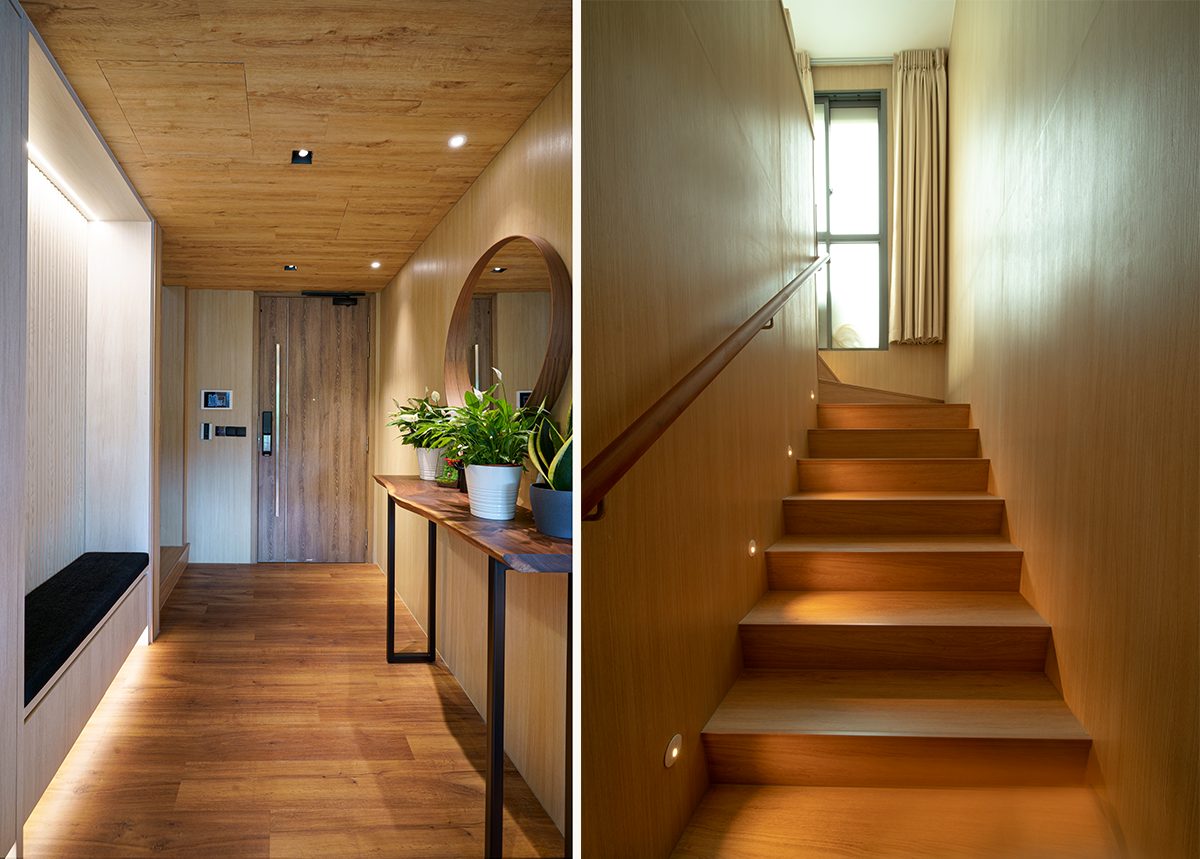 Traditionally, the drawback to using wood in a humid tropical environment like Singapore is the susceptiblity to mold and rot from moisture, as well as pest issues like termites. Luckily, the advance of technology means that sustainable solutions to using wood so liberally in interior design is now available (and affordable).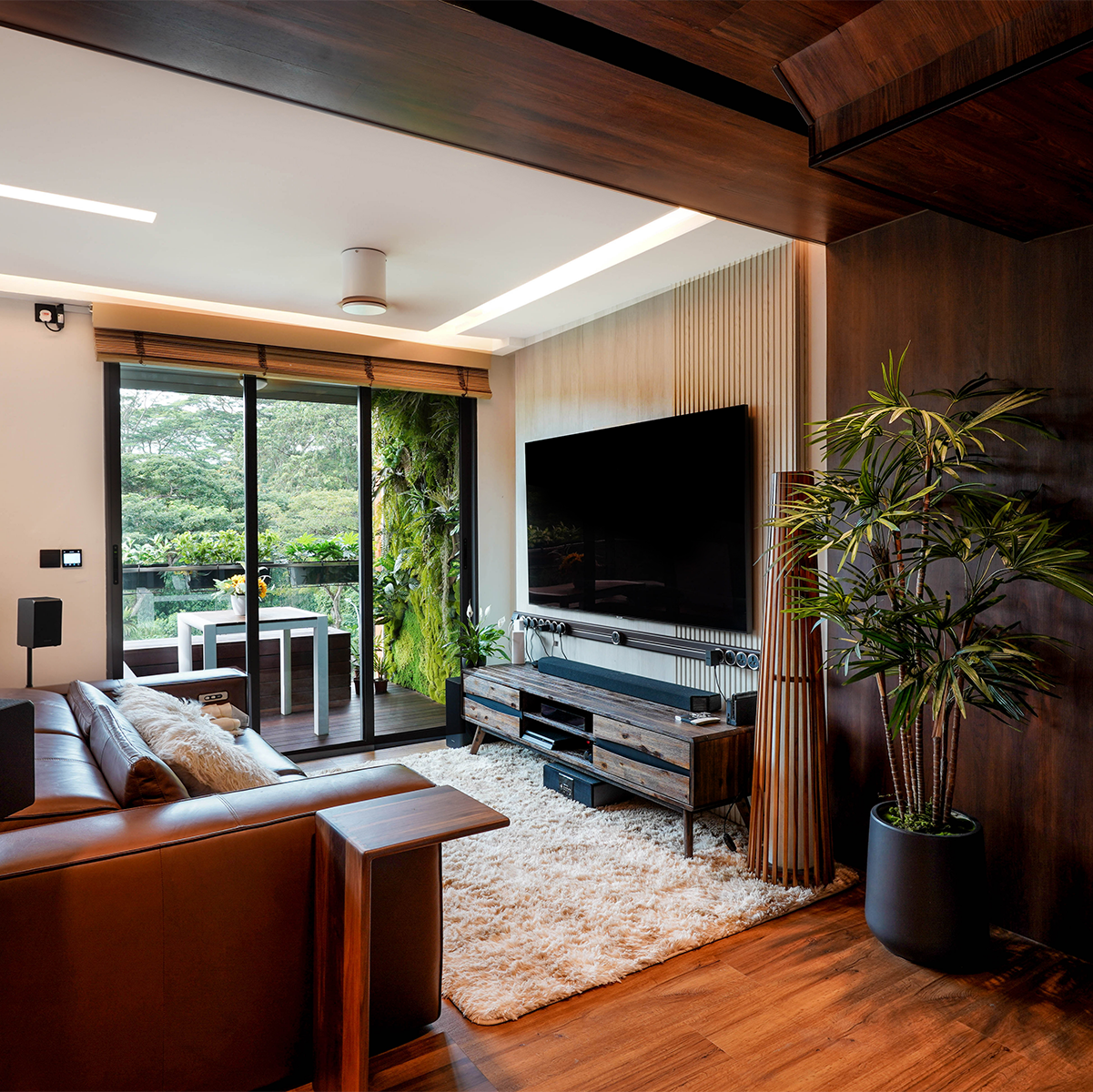 Ryan's home, which measures a generous 1,410 square feet, flaunts a huge range of wooden materials and textures thanks to Evorich, a veteran of the floor, wall and deck material industry in Singapore. The apartment showcases Evorich's High End Resilient Floor (HERF), a series of eco-friendly, highly durable and authentic wooden surfaces that's resistant to moisture, termites and fire, amongst other attributes—a low-maintenance and aesthetically pleasing solution ideal for a busy dude like Ryan.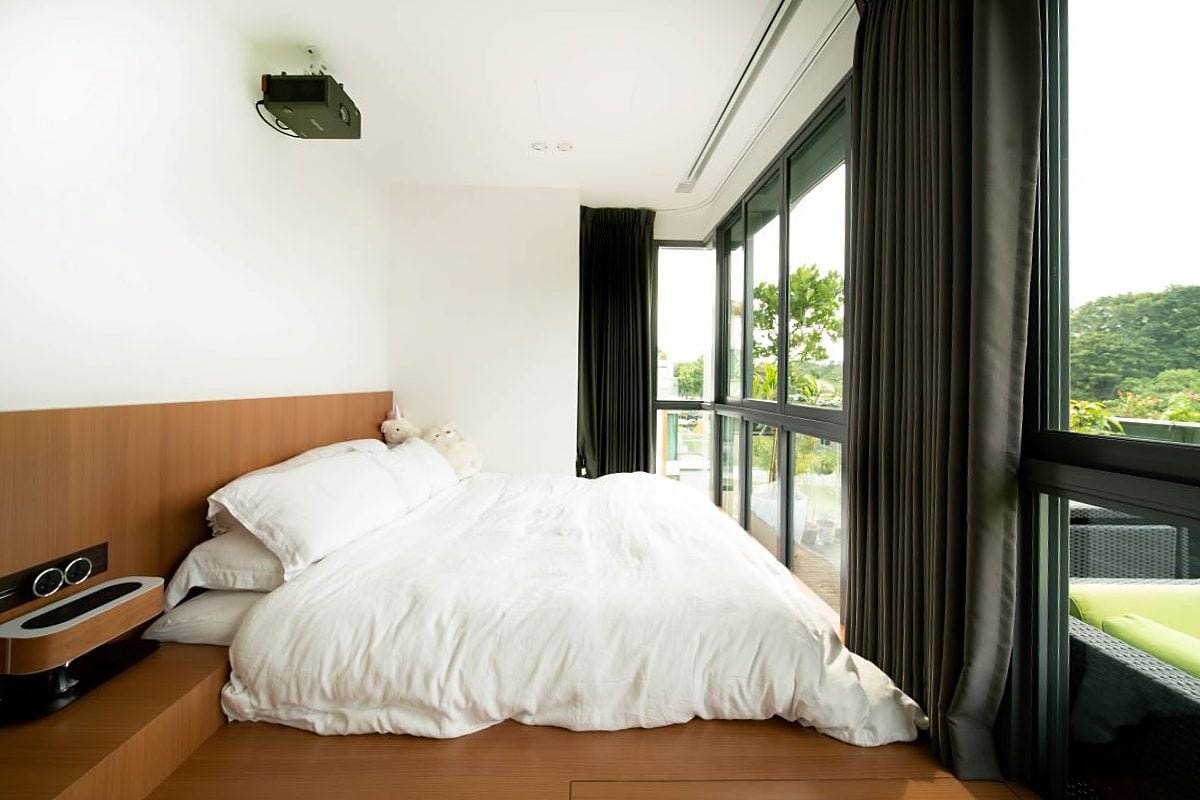 Decking in Ryan's balcony and roof terrace, which he confessed is his favourite spots in his home, is done up with the hardy Merbau wood by Namsoon Decking. Due to its toughness and sustainability, Merbau wood is commonly used in tropical resorts such as those in Bali.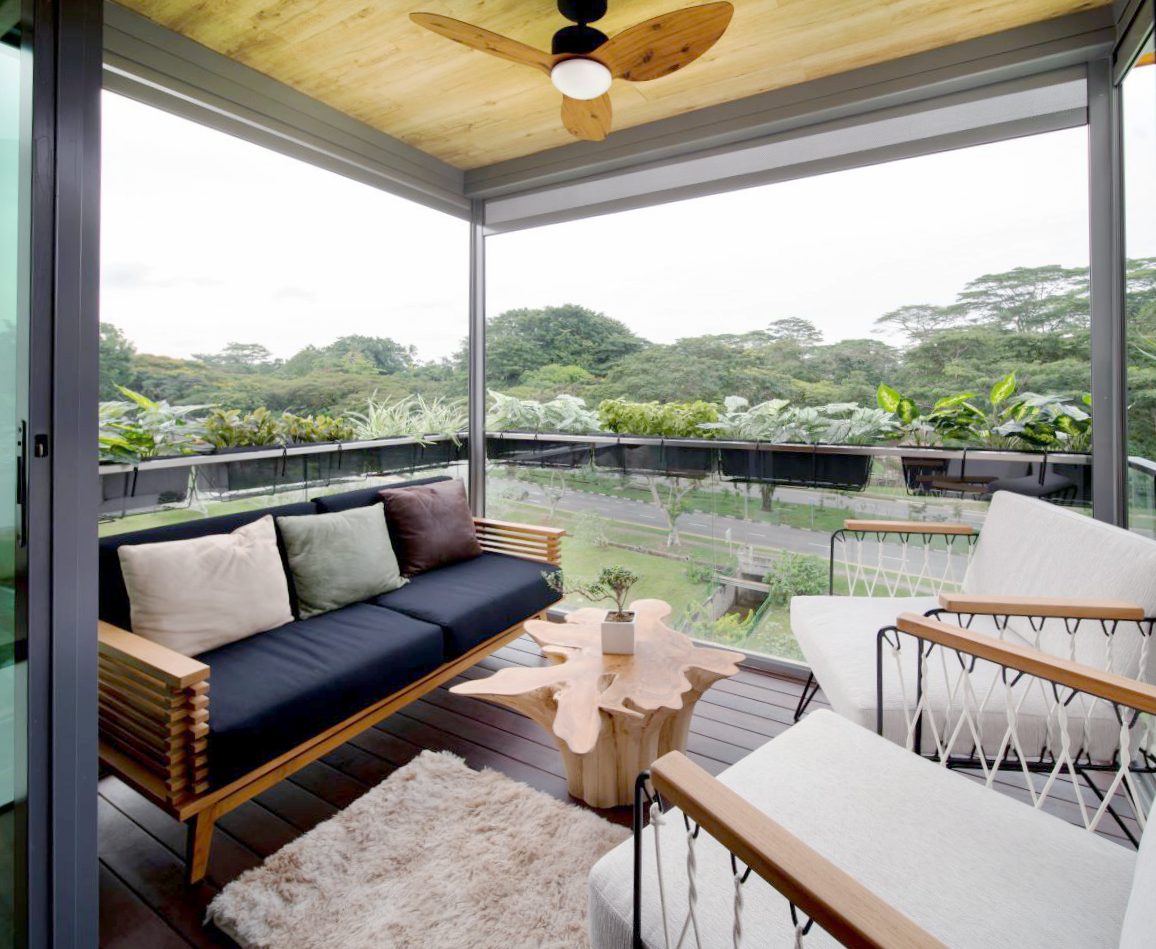 Recommended article: For singles, these are the most popular condos in SG [2020 edition]
Not just aesthetic, but also super-functional
Another thing to note about Ryan's home is how the living and dining spaces merge so naturally with each other, creating a seamless space that doesn't have an iota of clutter.
Well, it's not that Ryan doesn't have possessions! Rather, clever space planning, achieved with the use of mirrors, hidden storage and soft closings from TM Design Associates, is the reason for the apartment's clean look.
Ryan also spared no expense in quality fittings, including fitting out his cabinets and drawers with Blum's renowned Servo-Drive electrical motion system. The system eliminates the need for handles for a clean and modern look and lets Ryan access storage with a simple tap. This makes it possible to open a drawer, for instance, even with hands full!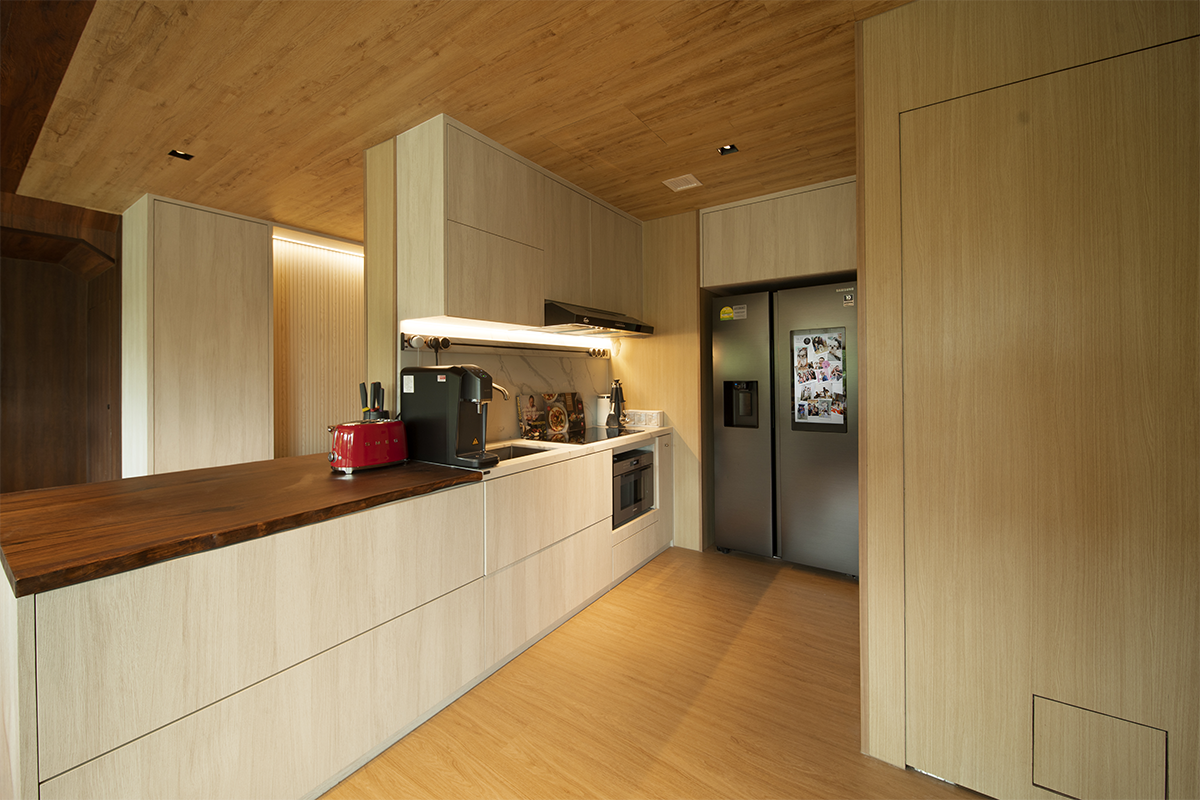 And as a cinematographer, Ryan proved to be a perfectionist when it came to lighting design for the home. He had very specific ideas in mind but couldn't find what he was looking for until a tip from Home-A-Genius, his smart-home vendor, brought him to Sol Luminaire.
Sol Luminaire's creative soltuions to lighting, like using cove lighting as an architectural feature to connect different zones in the house, provided a touch of class that turned out to be the thing that Ryan was looking for.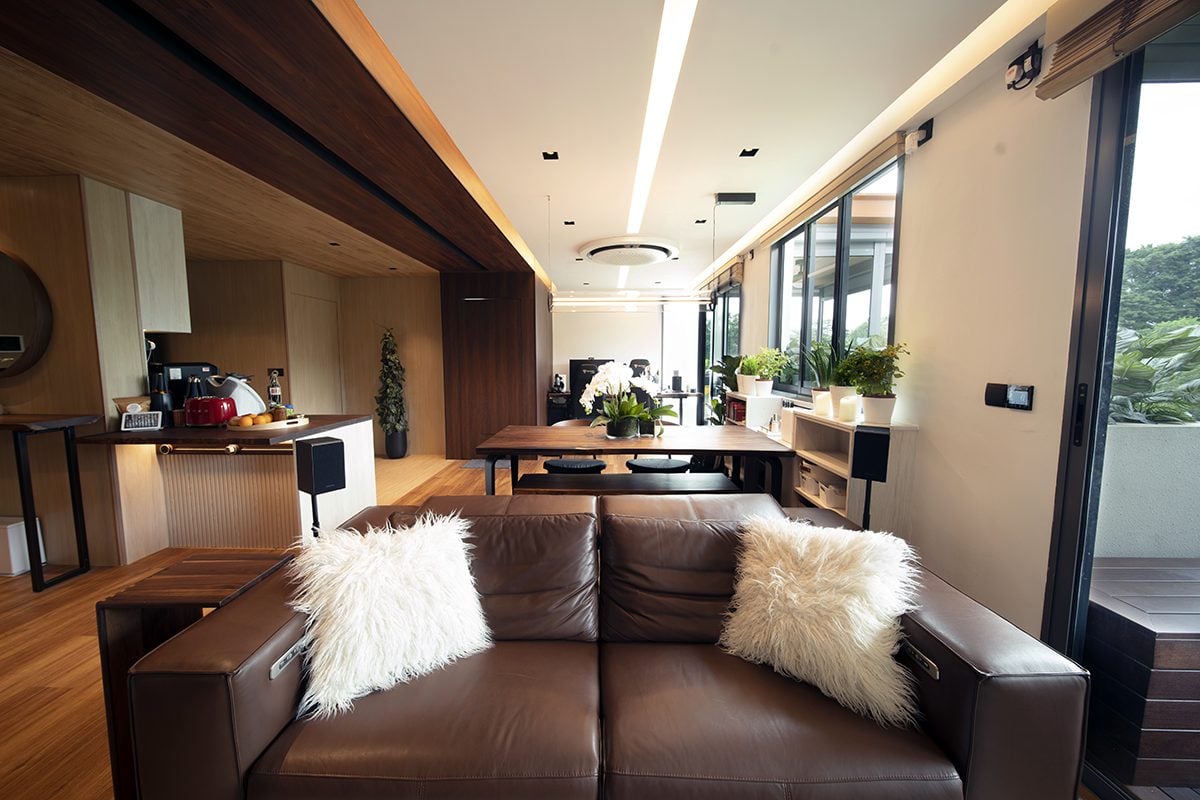 Appliances maketh the man
With the design done and dusted, it was time for Ryan up the ante with high-end appliances that complete the home's transformation into a modern castle.
A self-confessed film junkie, Ryan certainly wasn't about to compromise when it came to choosing a television. He opted for the Samsung 75-inch QLED 4K Smart TV for his compact living room. The television set comes equipped with Samsung's Quantum Dot Technology, which assures true-to-life picture quality.
Aesthetically, the technological capabilities of the Samsung TV allowed it to be mounted flush against the living room feature wall without an excess of messy cables or wires. Instead, all external devices are connected to the TV via the One Connect Box, an external device that can be stowed away out of sight.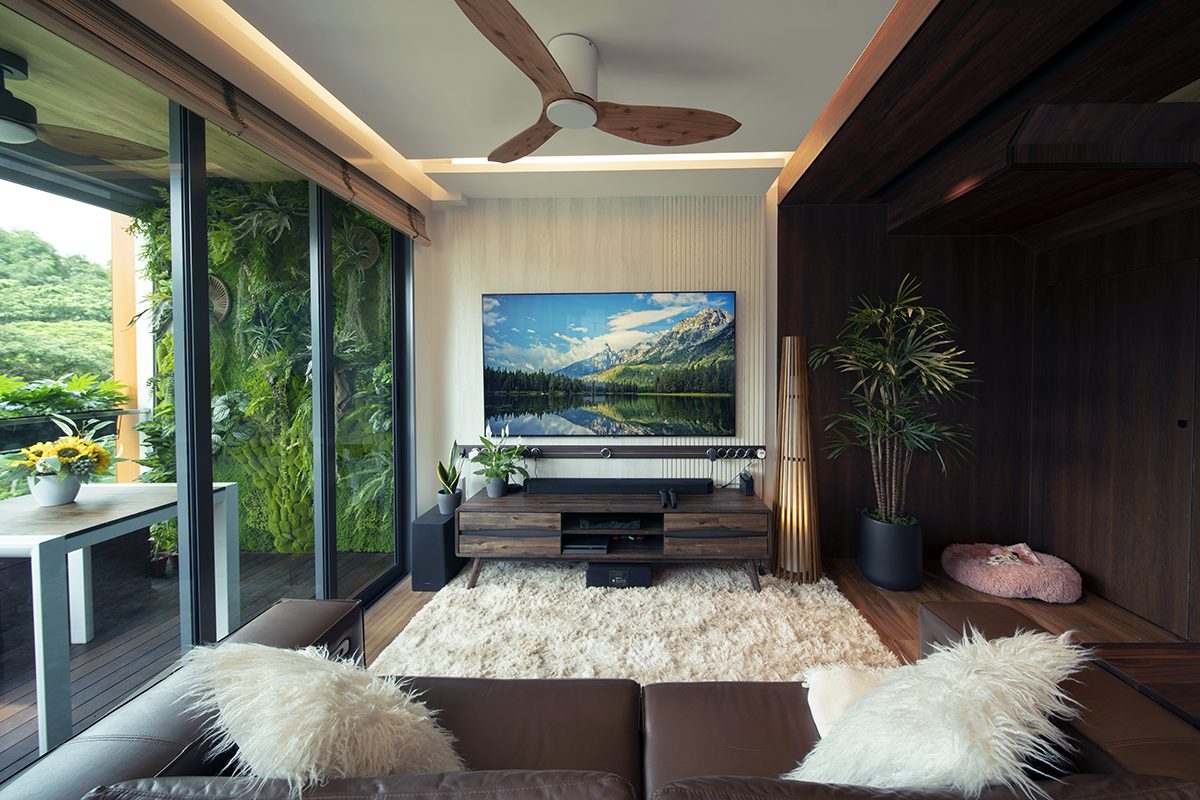 Ryan also wasn't ready to compromise on sound quality of his entertainment system. He turned to Samsung's true 9.1.4ch Soundbar, equipped with wirelessly connected rear speakers, for immersive sound that creates the experience of being in a cinema.
A bona fide foodie, Ryan also made sure the kitchen had top-notch appliances. He chose a massive double door fridge, the 595-litre Samsung Family Hub, which is packed with smart features such as easy control of compatible home devices and lets him stream music and videos on the fridge!
To cook up a storm without a fuss, Ryan depends on the versatile 35-litre Samsung HotBlast Convection Microwave Oven. The oven is like having your very own home chef, thanks to a long list of functions such as HotBlast (a new way of cooking with powerful hot air that reduces cooking time significantly) in addition to air frying, grilling, baking, steaming and even dehydration and fermentation.
Last but certainly not least, air conditioning. To battle the topical heat of his top-floor home, Ryan again called upon cutting-edge technolgy: Samsung's Single Split 360 Bladeless Cassette. This ceiling-mounted air-con is capable of delivering the power of four compressors worth of air-conditioning without any cold drafts. The award-winning design of the air-con also allows cool air to be dispersed over a wider area.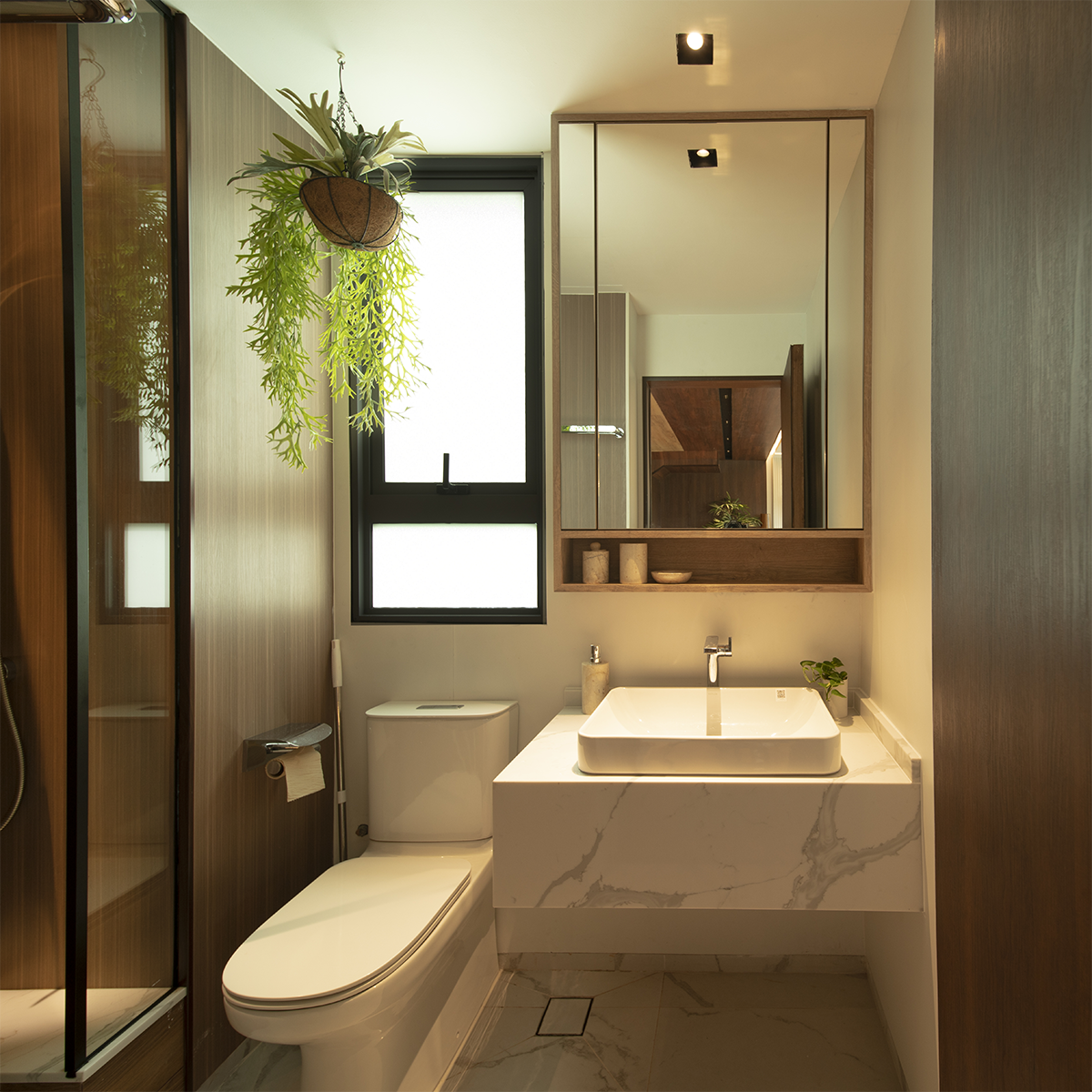 Ryan's home: the walkthrough
Over 20 vendors were involved in creating Ryan's dream home, and it was a record of sorts that renovation works were completed within a month! The two main reasons for the speedy completion was that Ryan knew exactly what he wanted and, secondly, he moved back in to the master bedroom once it was done to could monitor the work first-hand.
Here's the complete, exclusive 3D walkthrough of Ryan's home, check it out!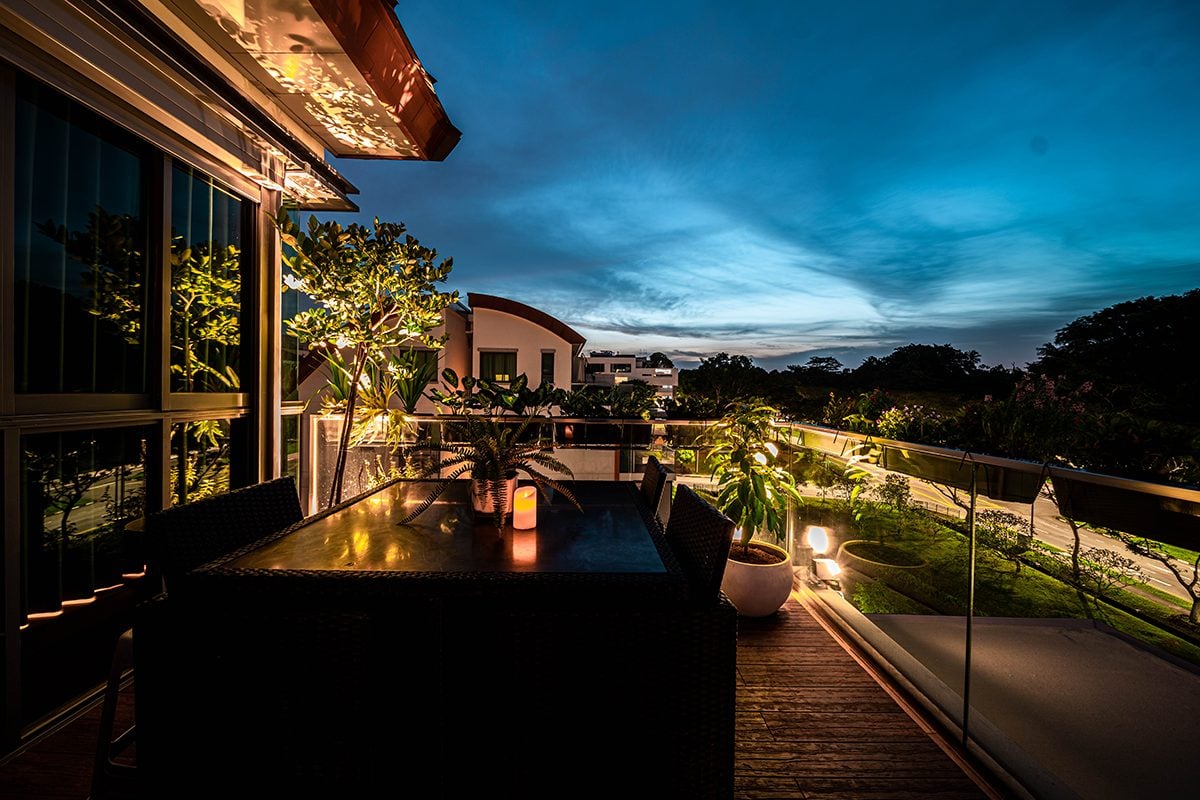 Updated 16 May 2023: It is understood that the duplex penthouse has been listed for sale. Fancy a smart home for yourself?
–
Planning to sell your HDB flat soon? Let us help you get the right price by connecting you with a property agent.
If you liked this article, check out How much to afford to buy a house in Naomi Neo's neighbourhood and Malaysian influencer and "Piano Goddess" Cathryn Li's bungalow, possibly worth RM22m (S$7m), is now up for rent.
New launch alert! Welcome to Grand Dunman
About Kyle Leung
Content Marketing Manager @ 99.co
Looking to sell your property?
Whether your HDB apartment is reaching the end of its Minimum Occupation Period (MOP) or your condo has crossed its Seller Stamp Duty (SSD) window, it is always good to know how much you can potentially gain if you were to list and sell your property. Not only that, you'll also need to know whether your gains would allow you to right-size to the dream home in the neighbourhood you and your family have been eyeing.
One easy way is to send us a request for a credible and trusted property consultant to reach out to you.
Alternatively, you can jump onto 99.co's Property Value Tool to get an estimate for free.
If you're looking for your dream home, be it as a first-time or seasoned homebuyer or seller – say, to upgrade or right-size – you will find it on Singapore's fastest-growing property portal 99.co.
Meanwhile, if you have an interesting property-related story to share with us, drop us a message here — and we'll review it and get back to you.
Join our social media communities!
Facebook | Instagram | TikTok | Telegram | YouTube | Twitter