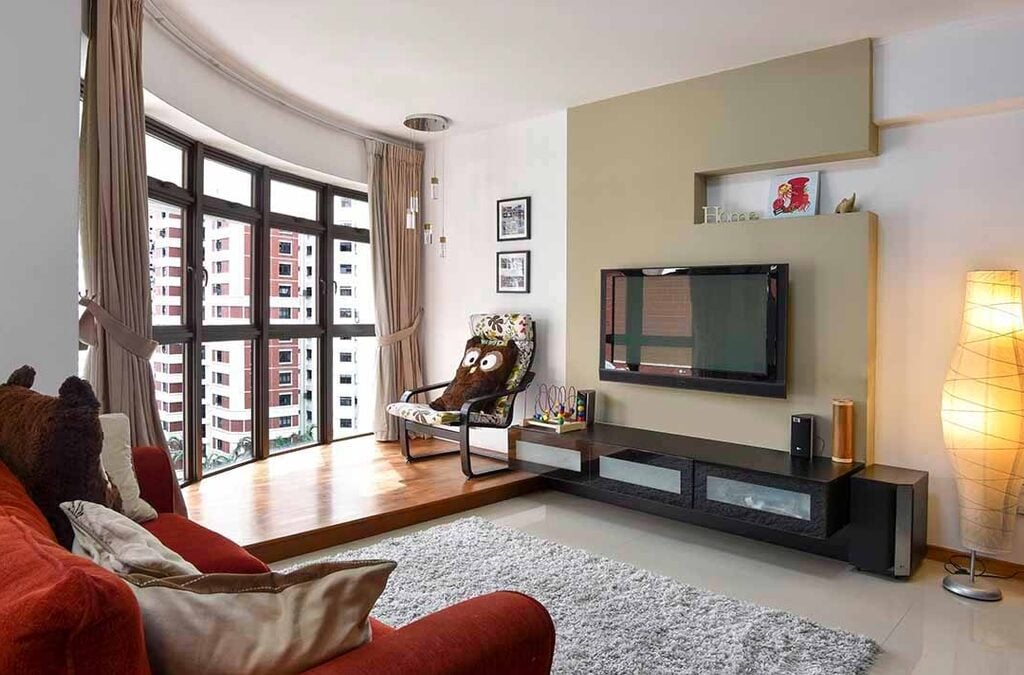 Viewing properties to rent plays a vital part in the house-hunting journey.
Even if you want no hassle and your objective is simply to find a roof to sleep under, putting some effort into viewing properties may prove helpful. 
After all, it shall not be the first time a seemingly great apartment turned into a maintenance-needy hellhole the moment you moved in. 
To guard yourself against nasty surprises of clogged drains, rock-hard mattresses, and haphazardly rattling aircon installations, it's a good idea to get a little more fastidious on this viewing.
Prep work 
While the average viewing only takes about 15 minutes, we recommend you to get there early to walk around and check out the neighbourhood.
A stroll around the area lets you discover surrounding amenities and any factors that may affect your life in your prospective home. 
Landlords tend to omit information about that heavy construction project around the corner, the sports fields down the road, and the lack of chicken-rice stalls in the vicinity. 
So before your viewing appointment, walk around to see if you are in for any surprises. 
If you usually use public transportation to get around, we advise you to do the same on the day you view properties. 
The unit
Now you're in the unit itself. You have about 15 minutes to check it for any hidden defects and shortcomings. Take your checklist and nose around. 
You should freely engage the landlord or agent in conversation about concerns you may encounter in the apartment, such as the door that doesn't lock or the incessantly dripping tap.
Incorporating any grievances you may find into your negotiation is essential. 
To become a master negotiator, read our guide.
Apart from checking for defects, there are a multitude of things you should be noting. Here are some pointers:
Space
The scarcest commodity in our tiny little island is space. See if the unit's spatial layout makes sense to you and that it is not under-utilized by unnecessarily oversized closets or awkwardly placed furniture. 
More so, while you can (with a little effort) move things around yourself, some things can be relocated, such as wall-mounted flatscreen TVs. Others, however, are immutable items, such as an in-built kitchen island.
Window placement 
One of the things which you may take for granted is natural light. Note the placement of the windows, and figure out at which times of the day will you be enjoying (or suffering from) the sun. 
Unintentional afternoon saunas are a very real and ever-present annoyance in Singapore. 
Plug points
While not impossible, it'll take effort and money to change power socket locations around your house, so getting them right from the start is essential. 
While extension cords are an easy workaround, they'll detract from the aesthetics of your new home (not to mention they're a tripping hazard). 
So before moving into your new place, ensure that the unit has enough power points to serve your needs.
Internet potential 
With Singapore proudly brandishing the title of having the fastest broadband speed in the world, you want to ensure your new place has a termination point so you can enjoy lightning-fast internet. 
You can check out the Netlink Trust's website on how to have it installed.
Ambiguities and negotiation 
Viewing properties is the perfect setting to get on the same page with your landlord or agent about what's included and what's not. 
As a rule, try to leave as little as possible to chance and actively inquire about everything that may later be up for dispute.
---
Going to view a property and want more tips? Let us know in the comments section below or on our Facebook post.
If you found this article helpful, check out Rental tenancy agreement in Singapore – 5 things you must know and Ask these 10 questions when renting in Singapore.
Looking for a property? Find the home of your dreams today on Singapore's fastest-growing property portal 99.co! If you would like to estimate the potential value of your property, check out 99.co's Property Value Tool for free. Also, don't forget to join our Facebook community page or Telegram chat group! Meanwhile, if you have an interesting property-related story to share with us, drop us a message here — and we'll review it and get back to you.
Upcoming Freehold Condo Launch: The Arcady @ Boon Keng
About Marouan Fatti
Looking to sell your property?
Whether your HDB apartment is reaching the end of its Minimum Occupation Period (MOP) or your condo has crossed its Seller Stamp Duty (SSD) window, it is always good to know how much you can potentially gain if you were to list and sell your property. Not only that, you'll also need to know whether your gains would allow you to right-size to the dream home in the neighbourhood you and your family have been eyeing.
One easy way is to send us a request for a credible and trusted property consultant to reach out to you.
Alternatively, you can jump onto 99.co's Property Value Tool to get an estimate for free.
If you're looking for your dream home, be it as a first-time or seasoned homebuyer or seller – say, to upgrade or right-size – you will find it on Singapore's fastest-growing property portal 99.co.
Meanwhile, if you have an interesting property-related story to share with us, drop us a message here — and we'll review it and get back to you.
Join our social media communities!
Facebook | Instagram | TikTok | Telegram | YouTube | Twitter