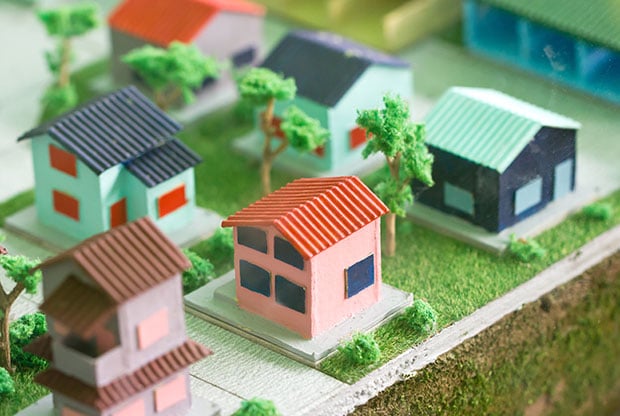 The jigsaw puzzle that is the Singaporean real estate market can be divided up, labeled, categorized, and sliced into various forms and types of housing types – or, dwellings. To make sense of it all we have created a kind of comprehensive – overview of most types of housing that can be found in Singapore. If that isn't enough, we have summarised everything into a neat little infographic for you to refer quickly to at any time.
Quick reference guide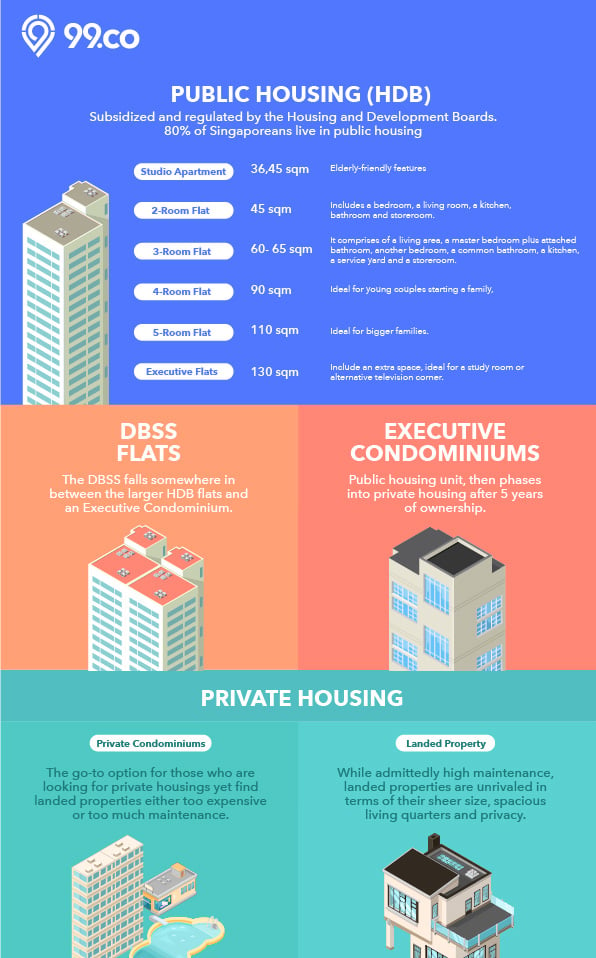 Public Housing – (HDB)
First off, there are of course the HDB properties. Subsidized and regulated by the Housing and Development Boards (hence HDB), the flats were hugely popular and today more than 80% of Singaporeans live in public housing.
Relatively cheaper housing does of course come with some strings attached, the most notable of which is that to be eligible for HDB property your household income cannot be a specified amount.
To accommodate the different segments of societies, HDB offers public housing in various forms, all of which shall be detailed in this piece.
Studio apartments are designed and tailored to meet the needs of elderly residents with modest means, who aim to live independently.  They come in two sizes, 36 and 45 sqm, both of which can comfortably accommodate one or two people
The two room HDB flat is specifically tailored towards the smaller and less affluent households. These dwellings are typically around 45 sqm including a bedroom, a living room, a kitchen,  bathroom and storeroom.
Despite what the name suggests, the 3 – room HDB flat is actually quite a bit more than just a one room upgrade from the 2 –room HDB flat. It comprises of a living area, a master bedroom plus attached bathroom, another bedroom, a common bathroom, a kitchen, a service yard and a storeroom. This flat totals about 60 to 65 sqm.
Ideal for young couples starting a family, the 4 – room flat offers an intimate and cozy living experience. Basically, it's the 3 – room flat plus one bedroom, upping the total estimated living space to about 90 sqm. This flat type is available in a variety of layouts tailored to your preferences.
Covering 110 sqm, the 5 – room flat is a more spacious variation on the previously mentioned flats, including an additional dining area.
This mammoth of an HDB flat has an estimated 130 sqm of floor area. The highlights include an extra space, ideal for a study room or alternative television corner.
DBSS Flats
The DBSS falls somewhere in between the larger HDB flats and an Executive Condominium. In terms of class, it caters to the segment of society that is affluent enough to buy or rent the better HDB flats, yet are not ready to make the jump into the private market space.
Executive Condominiums
The executive condominium as a type of property starts off as a public housing unit, then phases into private housing after 10 years of ownership. Tailored to young professionals who can afford more than an HDB flat but find private property still a little out of reach, the executive condominium share most of the design and facilities of a private condominium yet has the cheap edge of being HDB issued.
Condominiums
Condominiums can be regarded as the liberated, and relatively unrestricted  brother of the executive condominium. Home to recreational facilities such as swimming pools, security, gyms and at times tennis courts, basketball pits, and well-maintained gardens, condominiums are the go-to option for those who are looking for private housings yet find landed properties either too expensive or too much maintenance.
Landed Property
Landed Property is by many Singaporeans viewed as the housing equivalent of reaching the top tiers of the society's social ladder. While admittedly high maintenance, landed properties are unrivaled in terms of  their sheer size, spacious living quarters and privacy.
Interested to read more about HDB flats and the space they offer? Click here to learn more about 3, 4 and 5 room flats.
Browse thousand of property listings on 99.co, the largest property portal in Singapore.