Lake Grande is a luxurious new residential development with 710 units at Jurong Lakeside. The property is developed by MCL Land, well-reputed for their development of some of the best properties in Singapore, namely The Estuary, Sol Acres, and Palms @ Sixth Avenue. Amongst all the property for sale in Singapore, Lake Grande promises to be most tailored toward modern occupants looking for a Singapore property investment.
Aligning with the technologically advanced developmental pace of the Jurong area, Lake Grande keeps abreast with smart homes. How? Residents can control electrical appliances and doors without even lifting a finger. There are also plenty of other features that make Lake Grande an urban lifestyle avenue that fits right into Jurong, Singapore's second CBD.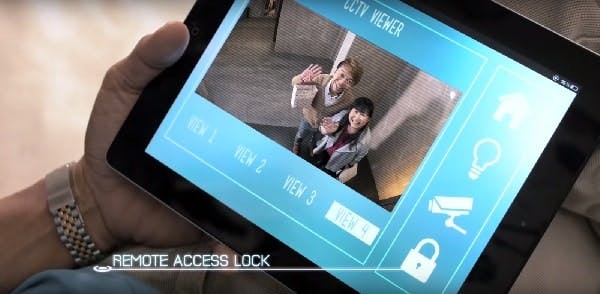 It Goes Without Saying - Accessibility
A mere five minute walk away in Lakeside MRT on the East-West Line, just two stops away from Jurong East. The Chinese Garden station is just a minute away, and plenty of bus routes offer a swift, relaxing ride to Jurong's shopping district.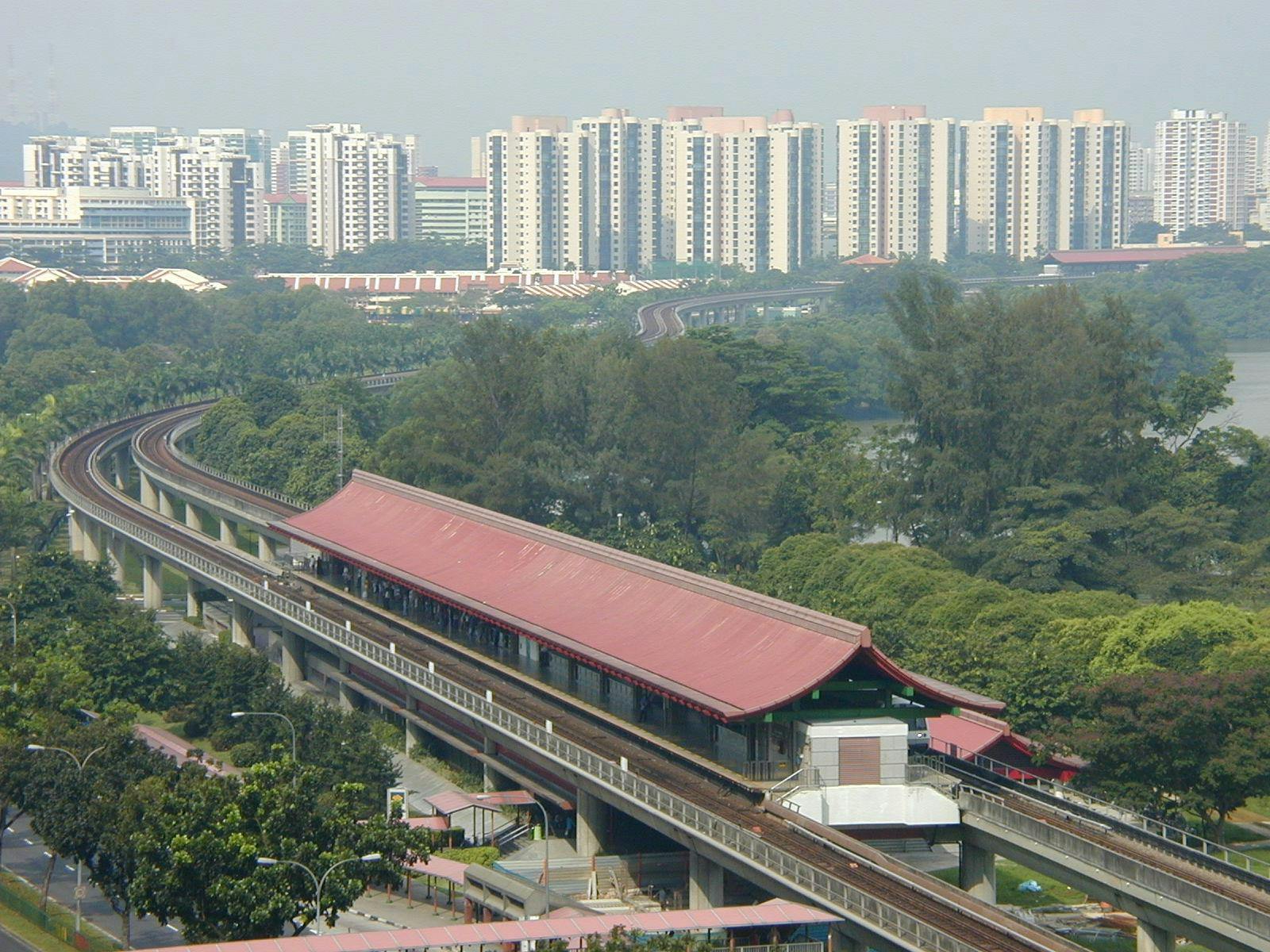 A little north of the development is the Pan Island Expressway, which keeps the rest of Singapore accessible by private vehicles and by bus. Living on the cusps of Singapore has never felt so good. 
Unbeatable Upcoming and Current Amenities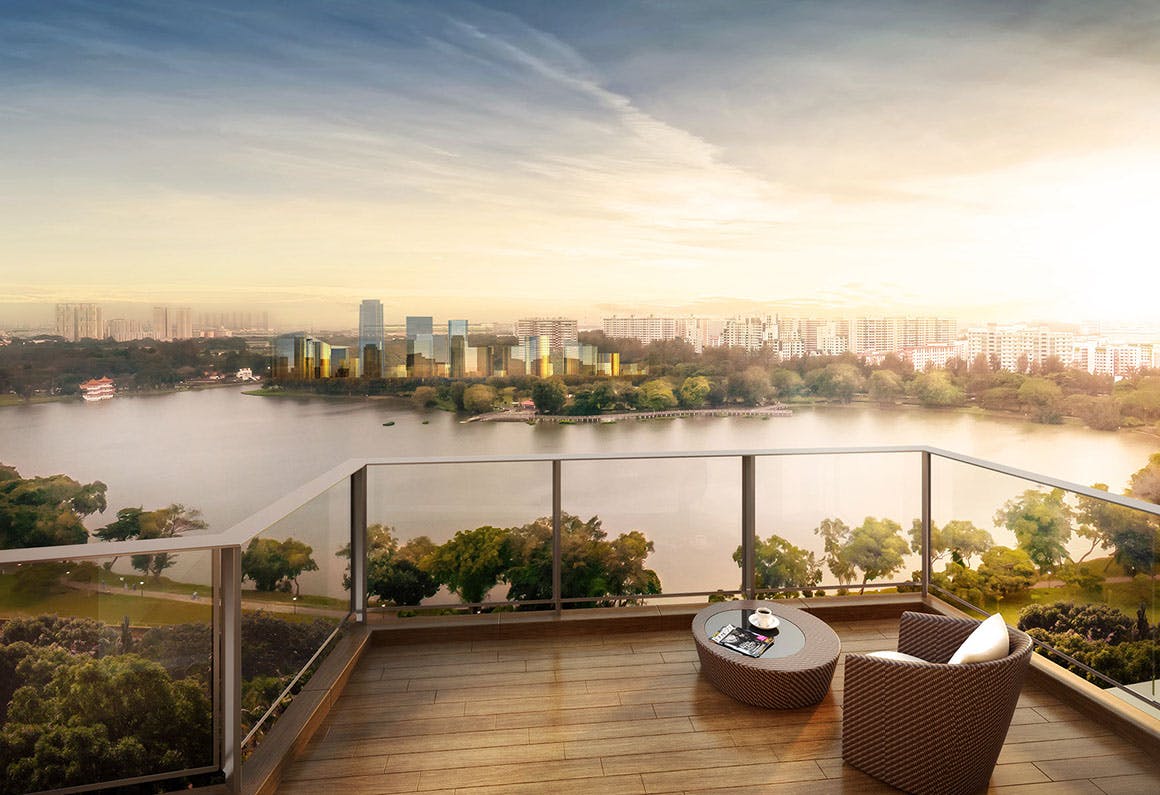 Jurong Lakeside is on its way to being a recreational hub and bringing the waterfront life to Singaporeans with exciting water sports, as well as invigorating nature and wetland trails at Lakeside Garden. There's practically a lake in every resident's backyard. Not to mention, there are also many ongoing office and retail developments in Jurong Lakeside. 
Further skyrocketing the investment value of this property is the High-Speed Rail from Jurong to Kuala Lumpur, which is undergoing development to be launched in 2031.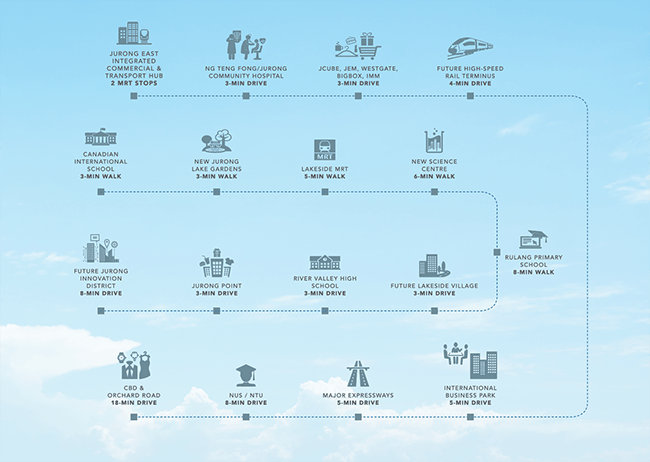 A speedy MRT train ride away is four of Singapore's most vibrant malls: JEM, Westgate, Jurong Point, and Boon Lay Shopping Centre. Residents can gain access to almost every type of retail and food therapy they want.
Closer to home, there is plenty of scrumptious local fare for residents to enjoy. There are four coffee shop and hawker centre options to choose from.
Putting the fun aside, educational options also offer a strong competitive advantage. In the area, there are two primary schools and two secondary schools, as well as the reputable Canadian International School.
Never Look Outward for Invigorating Amenities
Even with all the attractive amenities surrounding Lake Grande, residents may cave to the temptation of staying within the premises of the condominium.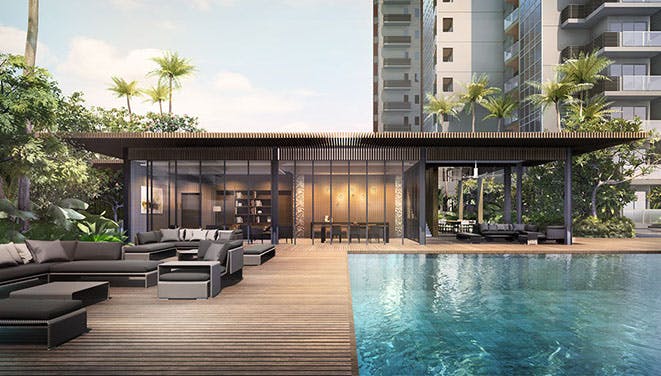 Leaving one of nine different unit types from studio to spacious five-room apartments, a resident could opt to relax or exercise in one of several pools within the "Family Fun" zone. There are five themed activity areas for families to bond in! 
For fitness enthusiasts, the options are unconventional, with an aqua gym, an exercise studio, a cardio park, and a reflexology garden for recuperation after a taxing workout!
If there's one thing that could tempt a well-stocked resident into heading outward, it's food! But Lake Grande can even keep residents' hungry bellies full. There are tantalising choices within the condominium. One can choose between Teppanyaki Outdoor Dining, an Italian Cut Bar, an Alfresco Cookout, and a Dining Lawn. Date night can even be completed with a walk along the firefly trail.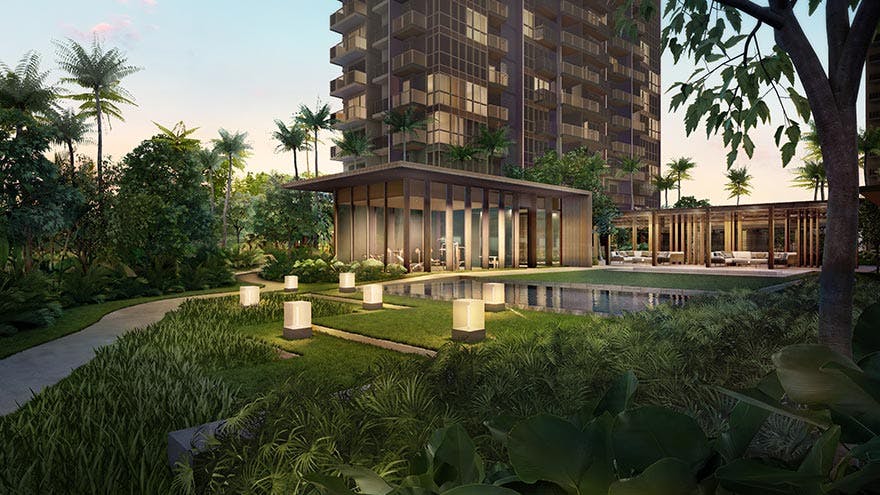 Lake Grande is the ultimate lifestyle destination home for buyers who want the world at their fingertips. There's no doubt that this property will prove to be an investment with sizeable returns, given how swiftly it's developing!