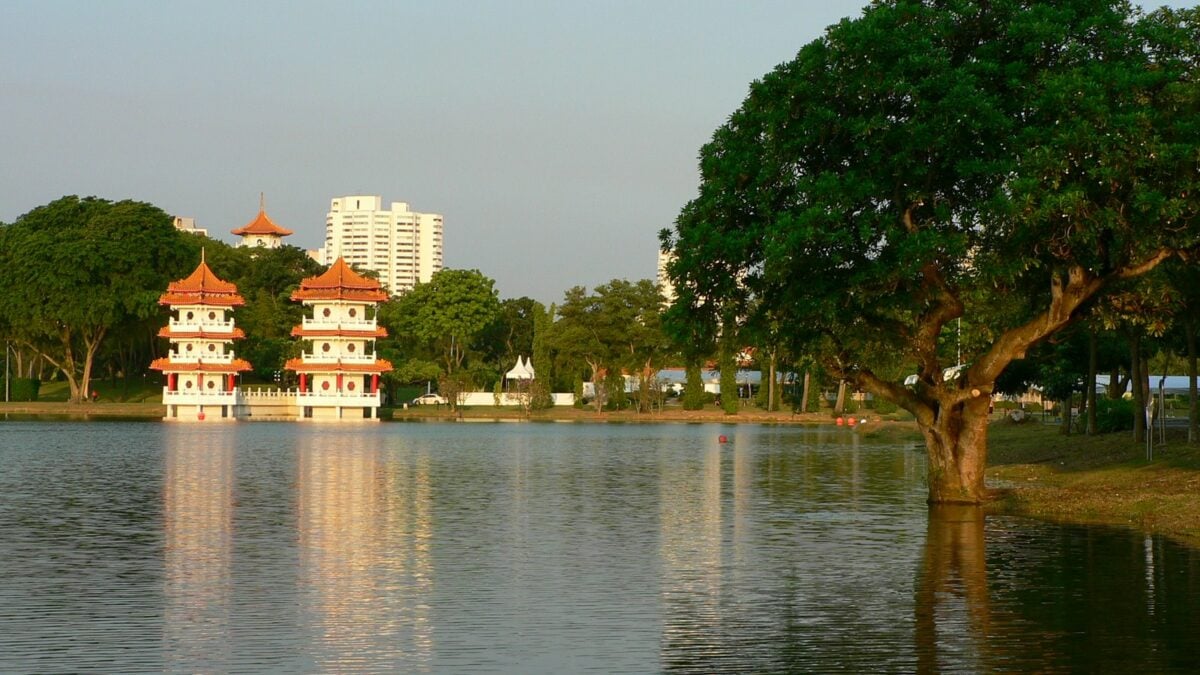 Jurong Lake is an up-and-coming district, and we know what that means: the condos in the area are locked in a death match to determine which is the ultimate development. To find out, we pit them against one and another:
Jurong Lake and its prospects
The Jurong Lake district consists of three precincts: Jurong Gateway, Lakeside, and Lakeside Gateway. You can see how creative we are with names. As part of the Urban Redevelopment Authority master plan, the Jurong Gateway precinct will be the centre of a new business hub; a sort of secondary Central Business District (CBD). In addition, it will host the High Speed Rail terminus, if we ever build that train from here to Malaysia.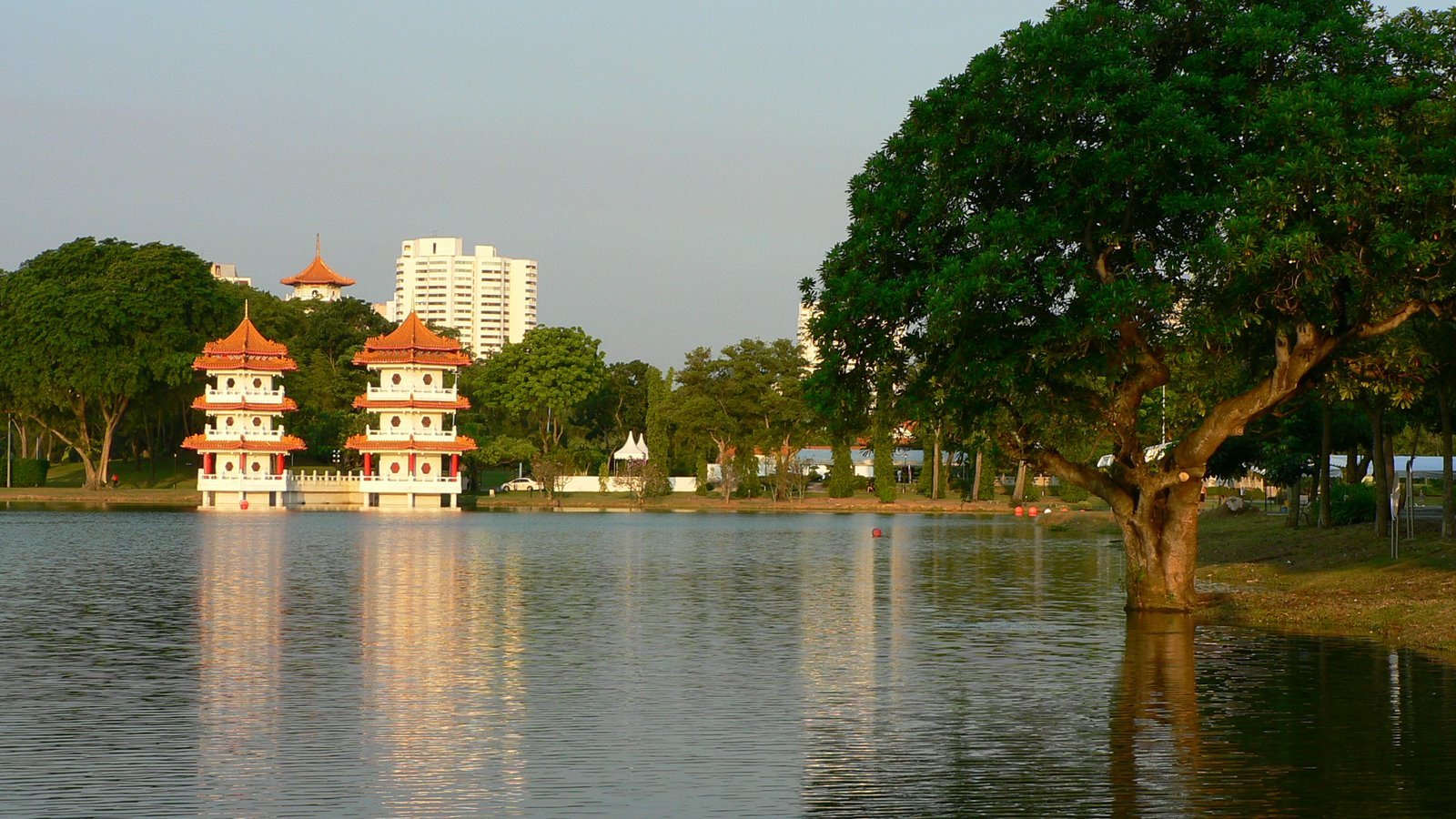 Jurong Lake consists of some 360 hectares, and the lake in question is actually a reservoir. The Jurong Lake Garden Central (JLG Central) will be its most iconic landscape feature: an intended co-joining of two famous parks, the Chinese and Japanese garden.
The project to transform Jurong Lake into a major hub was announced on 4th April 2008, and given a 10 to 15 year period to be completed. So what we're seeing now are developers and buyers rushing into the area, in order to get a piece of what might become a prime district.
Here are some of the top contenders for the best development so far:
Lakefront Residences
Lakefront Residences has one of the best locations in the Jurong Lake area. It is practically attached to the Lakeside MRT station – the pillars supporting the train tracks actually cross a part of condo grounds, and there's a short sheltered walkway leading to it. Landlords who believe that MRT stations boost rent should be all over this one.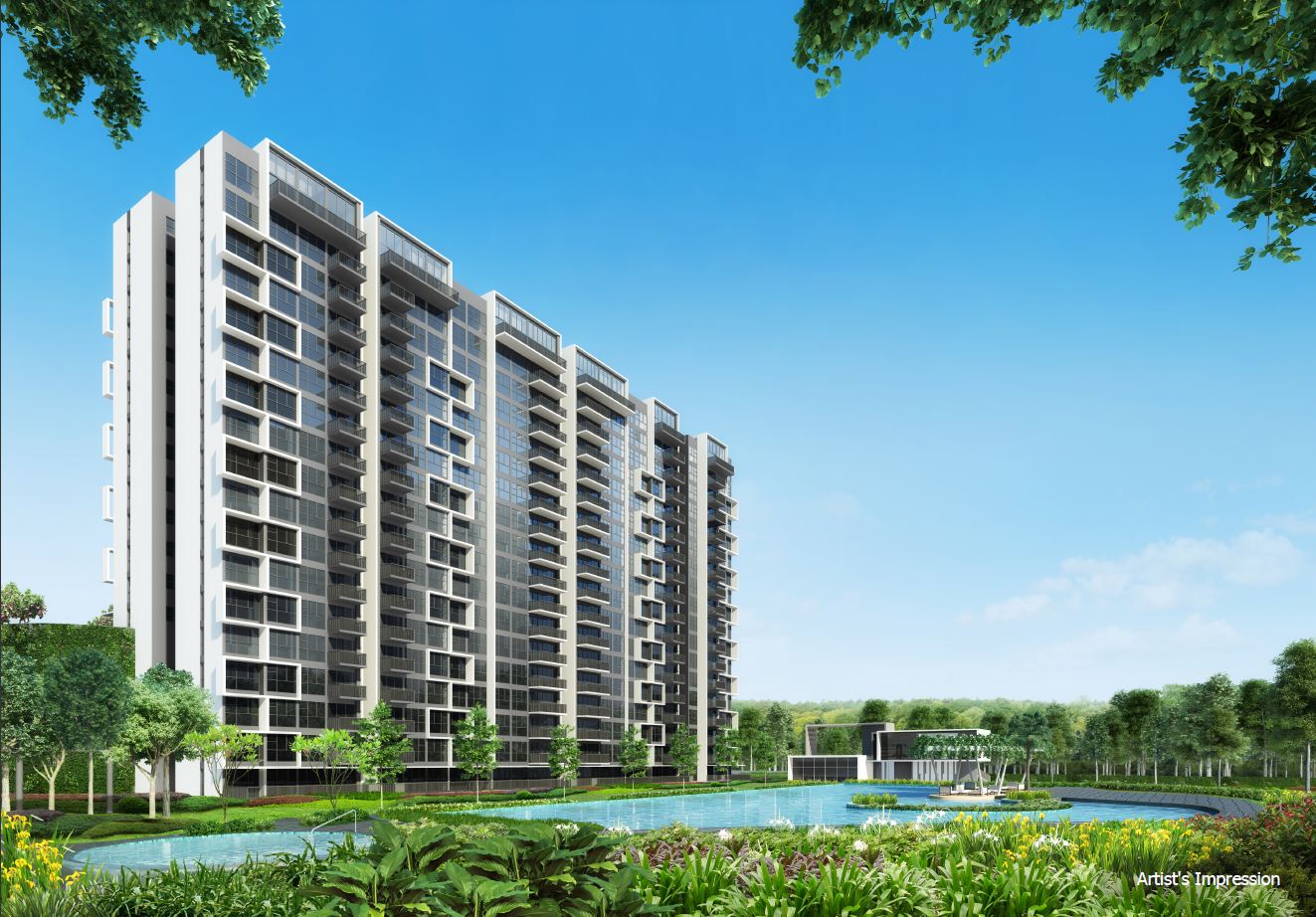 In addition, Lakefront Residences is close to the centre of the Jurong Lake district – as amenities like shopping malls, cinemas, and landscaped parks build up, it will be a convenient place to live.
This is a 99 year leasehold unit, with prices coming to around $1,354 per square foot. If you are looking for capital gains, we should warn you most of it has already been priced in.
Outstanding features:
Best location on this list

Almost attached to the MRT

Some of the units (not all) have a great view of the landscaped parks
Lake Life
To our knowledge, this Executive Condominium (EC) holds the record as the fastest seller in the district. At the time of its launch in November 2014, Lake Life had three contending buyers for each of its 546 units. This was partly due to Lake Life being the first EC launched in Jurong in 17 years (at the time).
The other reason was that – unusually – real prices were a lot cheaper than indicative prices. The EC sold for around $857 per square foot, despite indicative prices being $890 per square foot. No one ever found out why. Maybe it was just a particularly clever marketing strategy.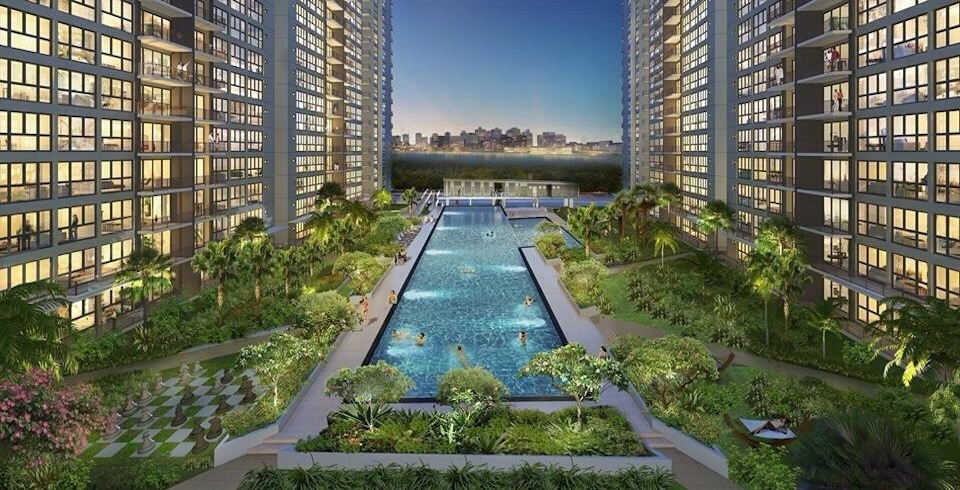 Lake Life is a 99-Year Leasehold Executive Condominum close to Lakeside MRT
Lake Life is notably close to Nanyang Technological University (NTU), and is 1.4 kilometres from the Lakeside MRT station. Lake Life is a 99 year leasehold project, and the key attraction is still the price – based on our listings, prices hover at a range of around $830 per square foot (lower than the time of launch because of the overall market slump).
Lake Life is about 30 percent cheaper than most other condos in the Jurong Lake area, and it's the most affordable on this list.
Outstanding features:
Best value for money. At around $830 per square foot, there is significant room for price appreciation.

Up to $30,000 CPF grant for those who qualify. It's an EC, so you can get subsidies.

Fast access to AYE and PIE for drivers
Lakeville
All these condos are around Jurong Lake. There's a lake here. Just in case the last three names on this list didn't make that clear.
This 99 year leasehold, 696 unit condo is located along Jurong West Street 41. It's by MCL Land, who also launched J Gateway – this was one of the most successful developments in the Jurong Gateway precinct. As far as facilities go, Lakeville is the most impressive entry on this list.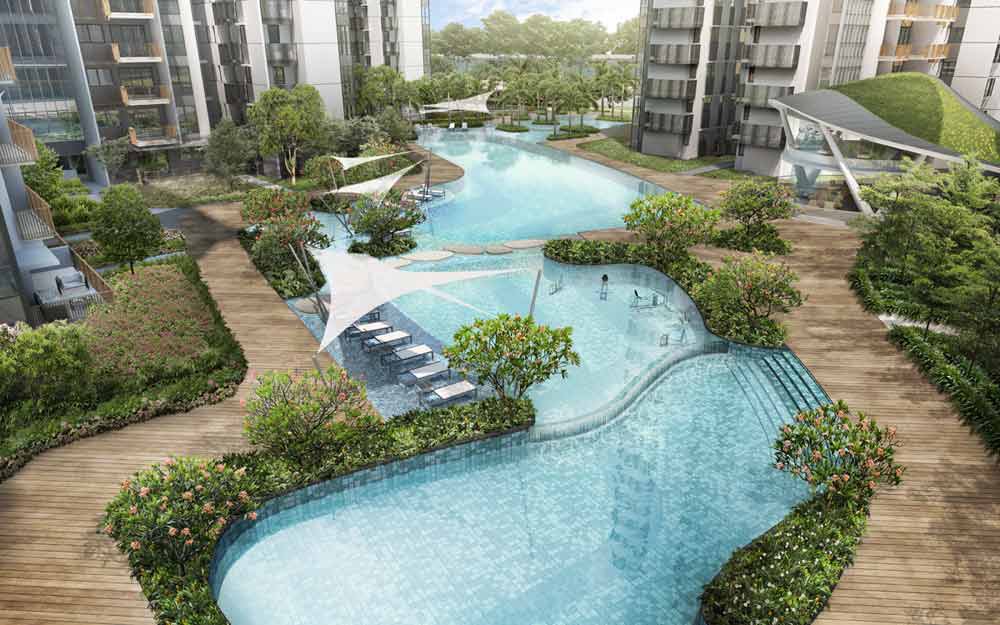 The highlight is a giant swimming pool, of the sort we see in East Coast properties like Costa Del Sol. The pool imitates a lake, stretching all the way across the estate. The grounds consist of six separate landscaped gardens, each with its own theme, instead of a single landscaped area. Each garden is built around one of the six condo towers.
Lakeville isn't close to the MRT station, but it is near several local and international schools. Listings suggest prices are around $1,350 per square foot.
Outstanding features:
Best pool and overall facilities

Best looking condo grounds

Ideal for bus users, as the interchange is next door
The Lakeshore
Now we understand why, when we forgot the name of this place and told the cab driver "it has something to do with lakes", he just get confused.
The Lakeshore is a 99-year leasehold condo, and is the oldest one on this list (it was completed in 2007). Early buyers of The Lakeshore have no doubt hit the jackpot, as they moved in before Jurong was hyped up.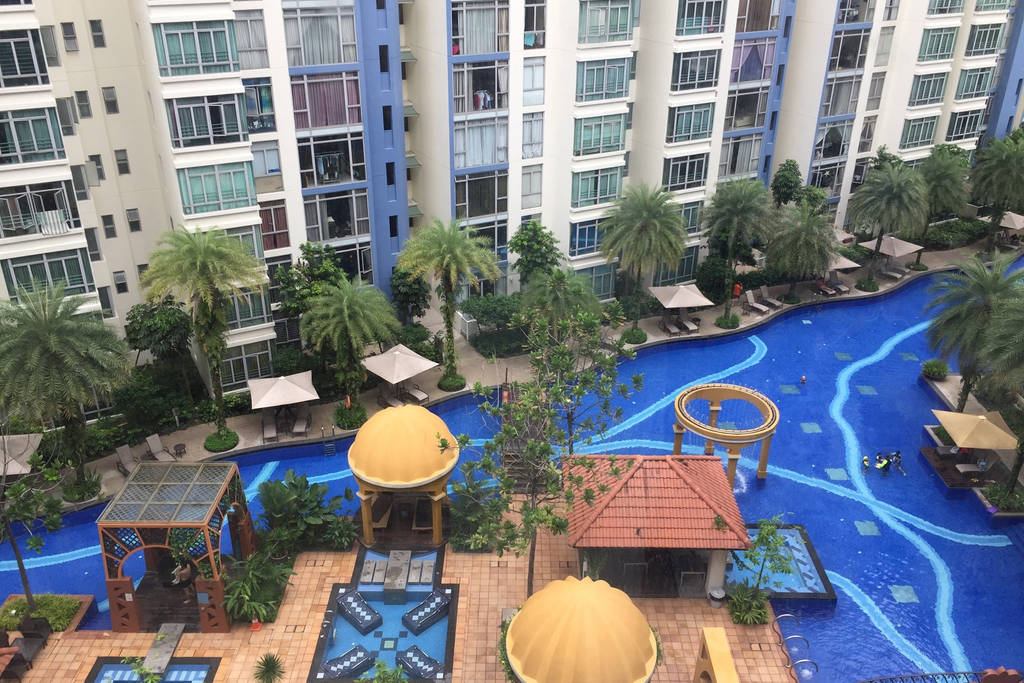 The Lakeshore is just a short hop away from both the Chinese and Japanese gardens, and the view is magnificent. The Jurong West market and food centre is also nearby, and some of the stalls there have been famous for decades. It's also close to the Westpoint Family Hospital.
The Lakeshore is probably more appealing to home owners than landlords. It can't boast especially close proximity to the bus interchange on MRT station (see the others on the list). But it is close to amenities like the food centre and hospital, so owner-occupier families will be interested. It might be a bit late to buy with an eye toward gains, as the development of Jurong would have been priced in long ago.
Speaking of which, listings indicate a price of around $1,112 per square foot.
Outstanding features:
Proximity to Jurong West market

Easy access to Chinese and Japanese garden

Excellent view of the surrounding gardens and lake from most units
Lake Grande
Wow, we're as surprised by the name as you are.
Lake Grande is right next to Lakeville (scroll up), and it's also by MCL Land. This is a 99 year leasehold property, expected to get its Temporary Occupancy Permit (TOP) sometime in 2020. Lake Grande is comparable to Lakeville in terms of location – but due to its position between Lakeville and The Lakeshore, there are more units with an unblocked view of the lake.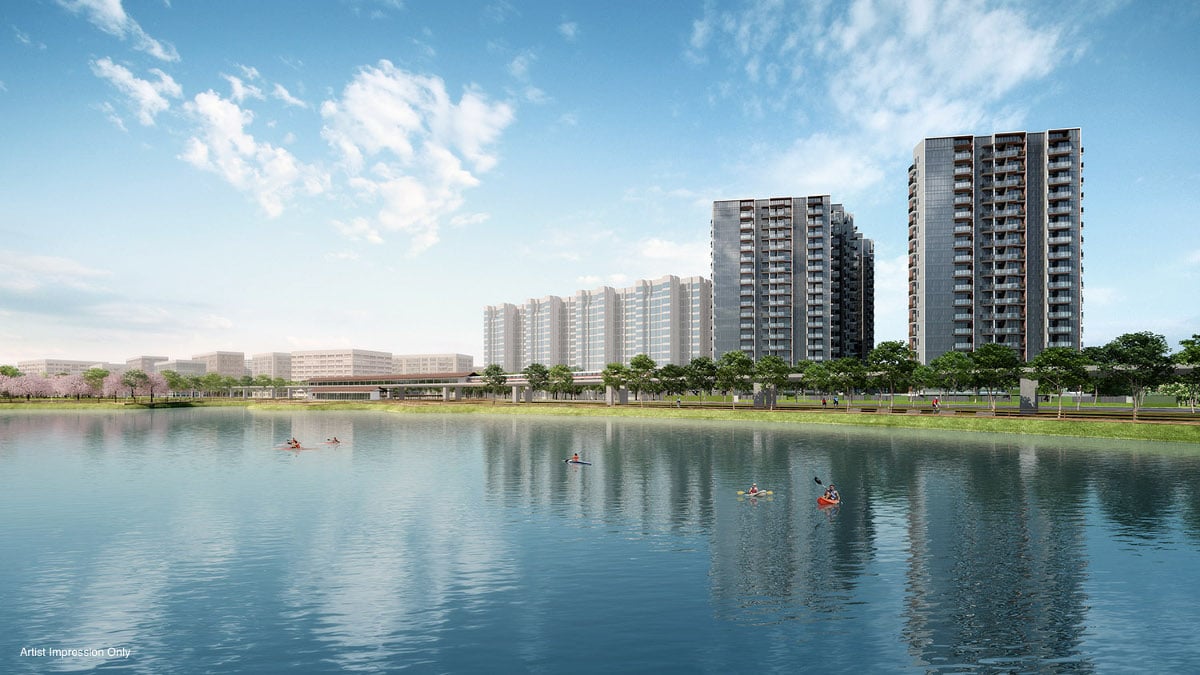 The science centre, which will soon be moved near the Chinese Garden MRT station, will be nearby. This area will be developed into an edutainment area, giving Lake Grande extra appeal to families with young children.
Other than that, Lake Grande might be a viable alternative if you can't get a unit with a good view (at the Lakeshore or Lake Ville). Prices are around $1,350 per square foot – and is reported to be 60% sold on the first day of launch!
Outstanding features:
Close to the planned edutainment area of Chinese Garden MRT

Many units have the best, unblocked view of the lake
Which condo is the best?
For landlords, we would pick Lakefront Residences. It's hard to beat its central (within the context of Jurong Lake) location, and its proximity to the MRT station. Coupled with the prospect of the High Speed Rail being in this area, it could be one of the hottest rental options in the coming future.

For those who can get an EC and the related subsidies, Lake Life may also tie as a winner. The cost is incredibly low – you can see that other entries on this list are well in excess of $1,000 per square foot, but Lake Life manages to stay below that.