Review of unit layouts at Tembusu Grand
Tembusu Grand Showflat: 4-Bedroom (D1) - 1432 sq ft (133 sqm)
No. of units:
Who is it suited for:
Multi-generational families
Families with three or four children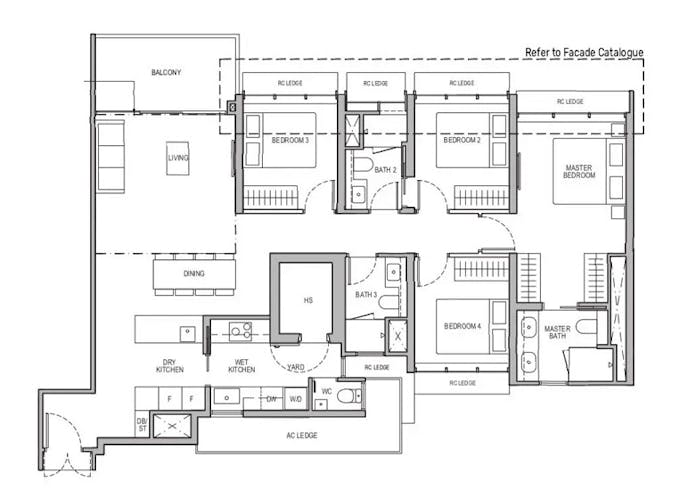 We'll start off with the largest showflat unit, the 4-Bedroom, which makes up almost 13% of Tembusu Grand's unit mix. Type D1 is 1432 sq ft and is the only 4-Bedroom unit type at Tembusu Grand. There are a total of four stacks of 4-Bedroom units.
Sizeable foyer at the entrance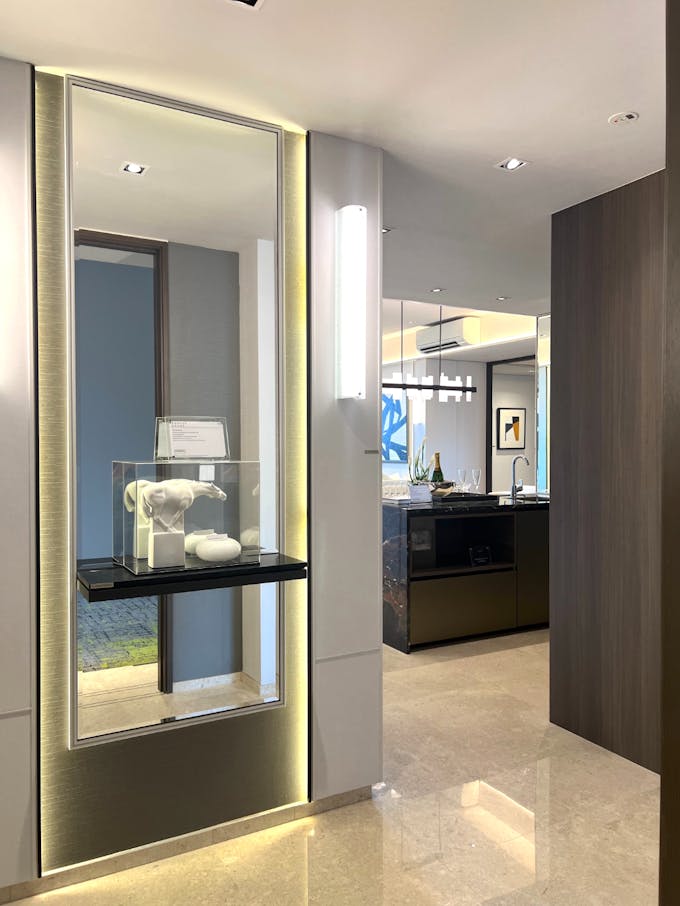 As you enter the unit, there's a sizeable foyer area which is great for welcoming guests. There's a built-in storage compartment which hides the distribution board (DB) but you can also choose to add more storage space in the foyer.
This is an ideal layout for buyers who prefer privacy, as you won't be able to see the entire living and dining area from the entrance. However, it might not be suitable for some buyers who might see the foyer as wasted space.
Dry and wet kitchen concept
Like many new launches we've seen, Tembusu Grand also has a dry and wet kitchen concept. We previously saw this in CDL and MCL Land's new launches last year, too, Copen Grand and Piccadilly Grand.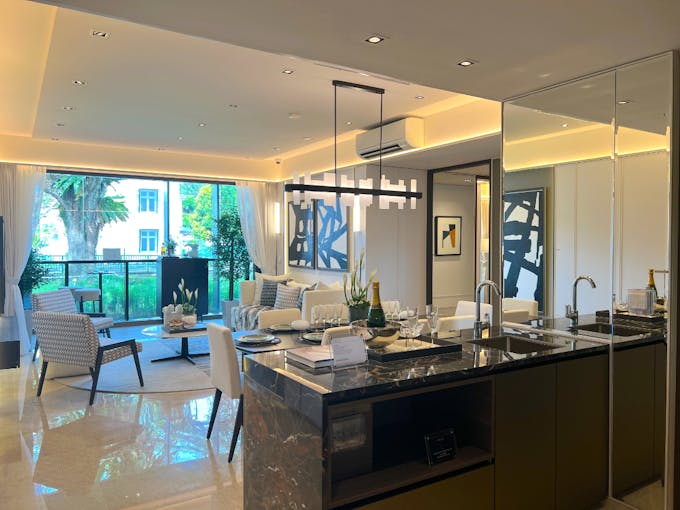 The dry kitchen has a built-in counter top in a porcelain tile finish which gives it a more luxurious look as compared to the usual quartz countertop. There are also built-in cabinets in satin glass finish which complement the elegance of the countertop.
Other provisions in the dry kitchen are a built-in oven by Miele and a two-door integrated fridge by Liebherr. Both are premium brands known for their good quality and durability.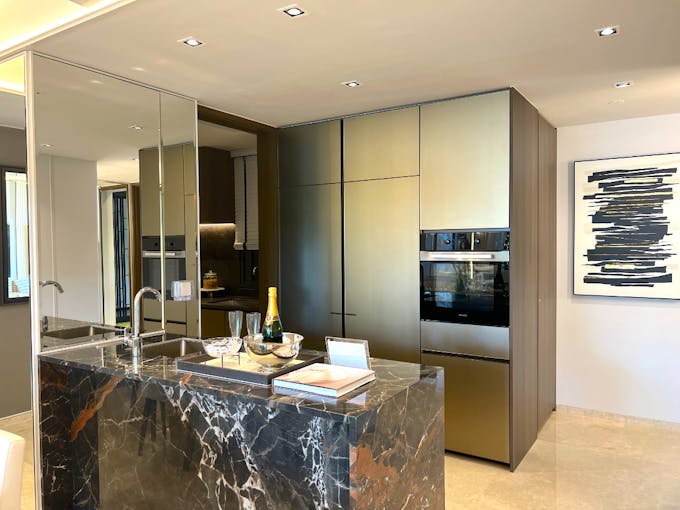 There's also a sink and tap so you can do some simple washing. The dry kitchen area is ideal when you have guests over as you can serve drinks and light refreshments over the counter while entertaining them.
For multi-generational families, having a dry and wet kitchen allows two family members to prepare meals simultaneously. While one family member is preparing a feast in the wet kitchen, the other family member can prepare a lighter meal using the oven.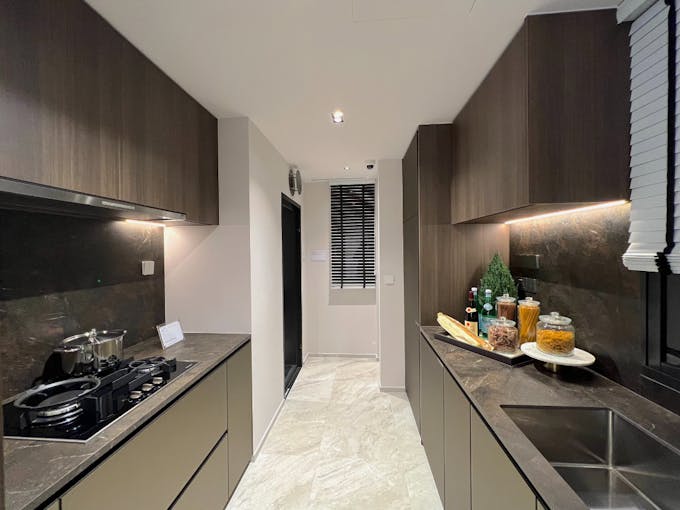 The wet kitchen is 86 sq ft (8 sqm), which is a pretty standard size and able to accommodate about 2-3 people. There's also plenty of cabinet and countertop space.
Like Copen Grand and Piccadilly Grand, there are two different themes for the kitchen and bathroom. Tembusu Grand's larger units have a "Luxury" theme, which comprises darker tones in the kitchen while smaller units have a "Contemporary" theme with lighter tones. You'll also notice that the countertop has a different texture as compared to the smaller units.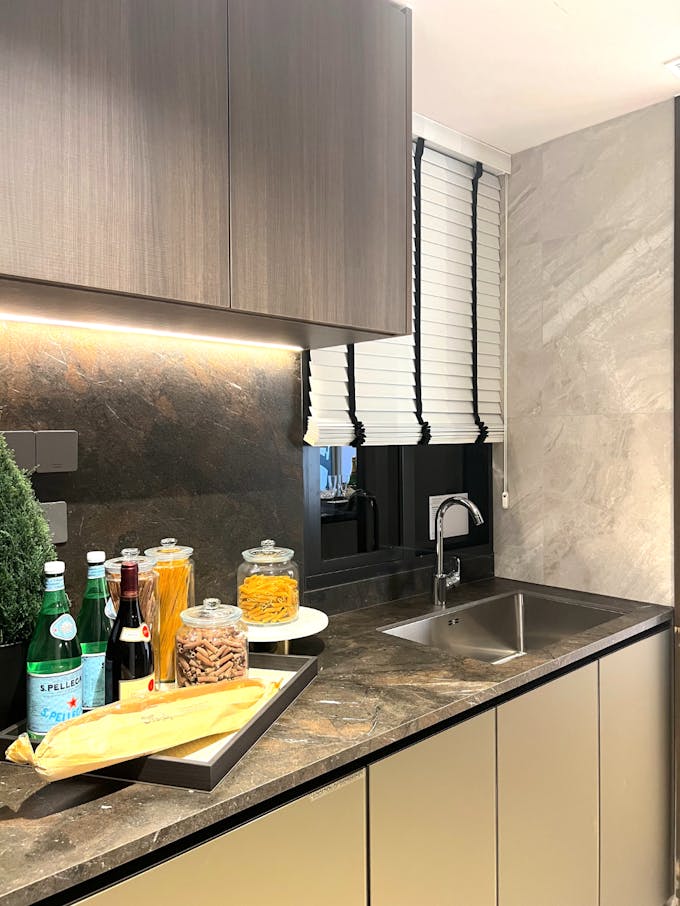 We like that there are two windows in the kitchen so there's natural ventilation. This is useful as 4-Bedroom households are expected to cook more often, considering that a gas hob is given in the list of provisions as well.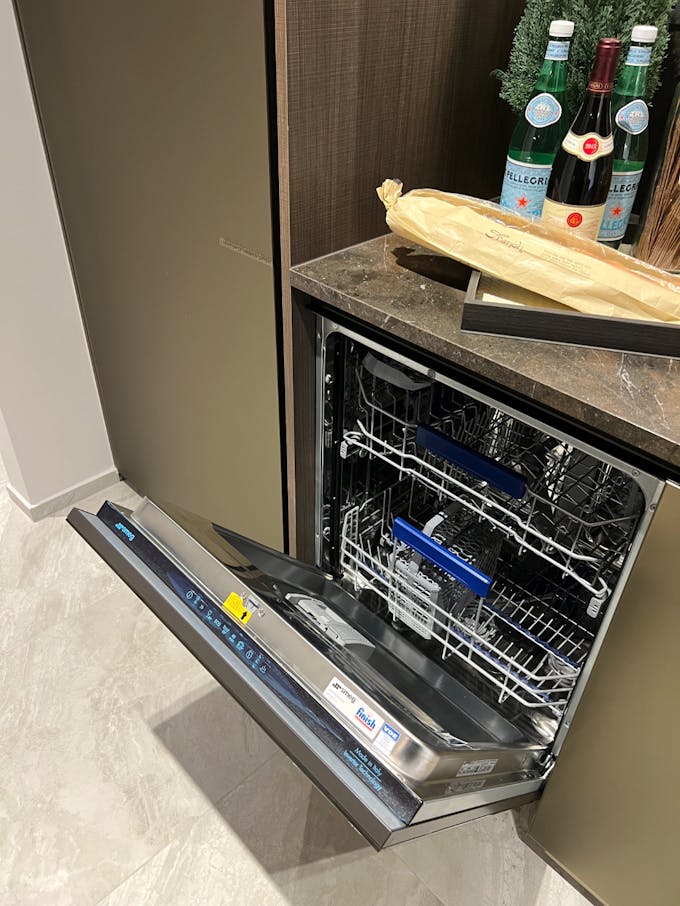 A plus point is that the kitchen also comes with an integrated dishwasher by luxury brand Smeg. We've rarely seen a dishwasher as part of kitchen provisions but it's definitely something we'd like to see more of. For a large household, having a dishwasher helps save time and it's water-efficient as well.
Tembusu Grand's 4 and 5-Bedroom units also come with a separate washer and dryer, both by Smeg.
Spacious living and dining areas
The communal areas of the 4-Bedroom unit have a combined space of 441 sq ft (41 sqm). This includes the living and dining areas, dry kitchen, foyer and corridor. Hence, there's a generous amount of space in the living and dining areas not just for family members but also for gatherings with loved ones.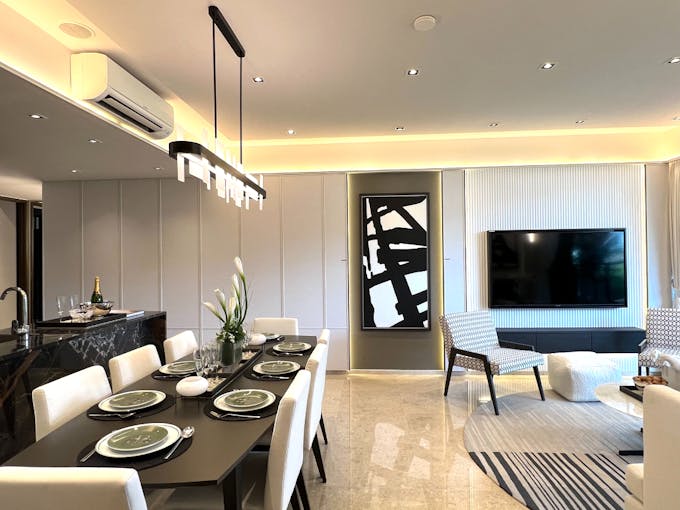 The communal areas for larger units are fitted with natural marble floors with matching stone skirting. The ceiling height of standard 4-bedders is 2.77m but units on the highest floor have a high ceiling of 4.4m.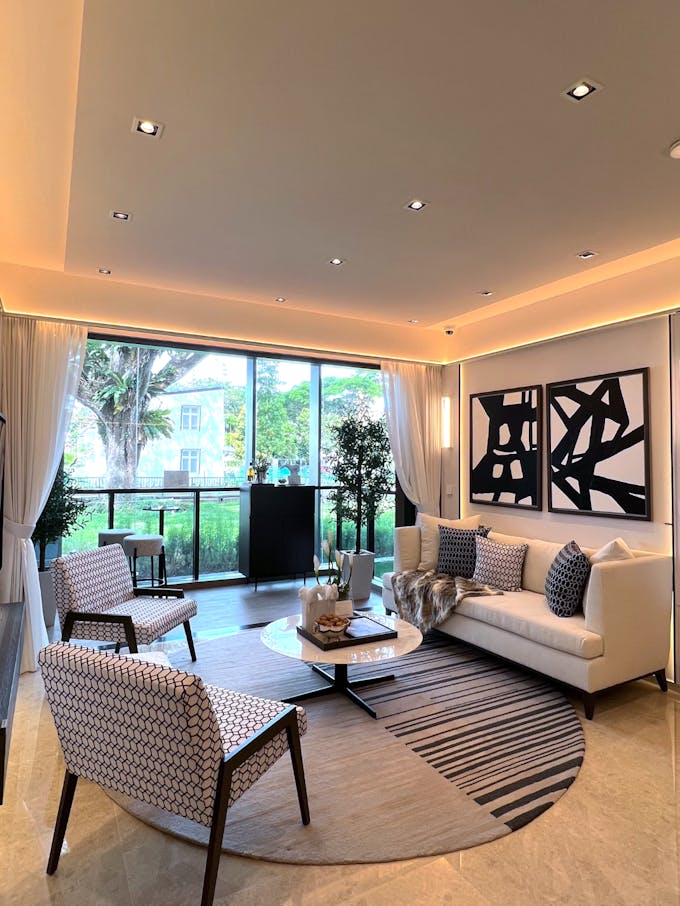 The living area is spacious enough to accommodate a four-seater sofa, side couches and a decently-sized coffee table. With a width of 3.85m, there's considerable sofa-to-TV distance and ample space for walking around.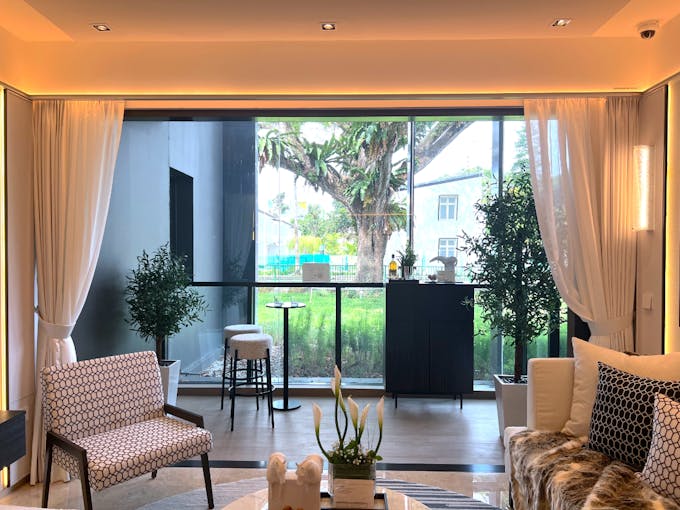 The balcony is 86 sq ft (8 sqm) which is the size of a common bedroom. Hence, there's sufficient room for additional seating areas. Alternatively, you can turn it into an exercise area, a hobby area or a work-from-home corner.
We would have loved it even more if the balcony's width spanned the living and dining areas, like some new launches we've seen. That'll also bring more light into the unit.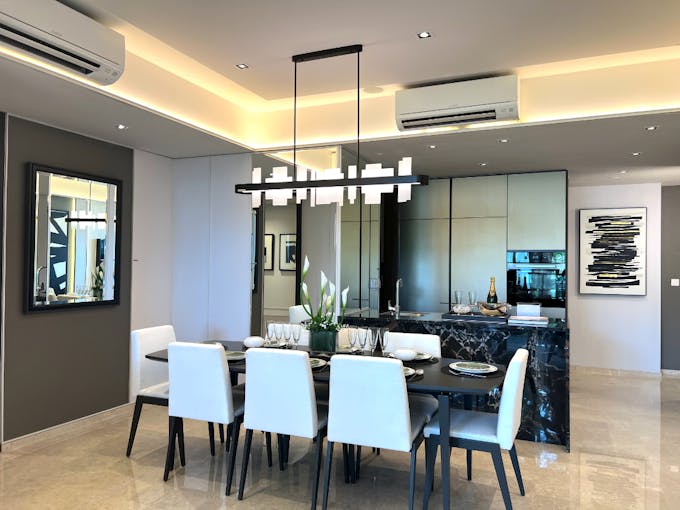 The dining area is able to accommodate an eight-seater table, which is more than enough for the number of people that are expected to live in the household. What's great is that even with a sizeable eight-seater dining table, there's still plenty of room behind the chairs for you to move around.
If you need to host a larger group of guests, a 10-seater table is also possible but that will mean there's lesser walkway space around the table.
Master bedroom has a "walk-in" wardrobe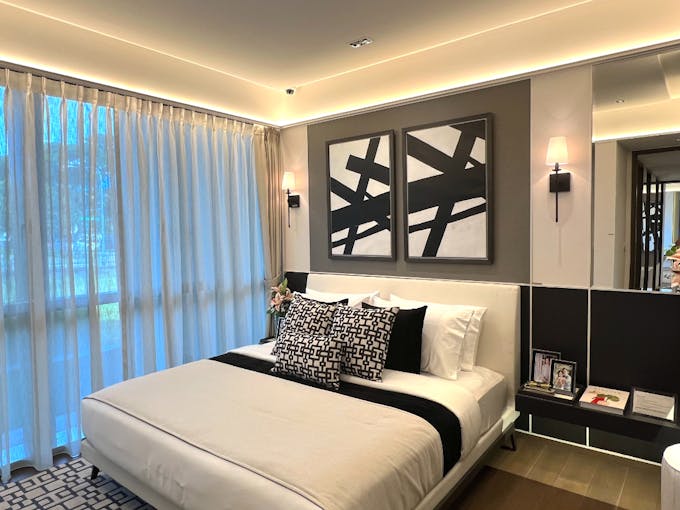 The combined master bedroom and bathroom size is 248 sq ft (23 sqm), which is pretty standard and it comes with a full-length window as well. Even with a king-sized bed, there's still substantial walkway space around the bed and it didn't feel squeezy at all.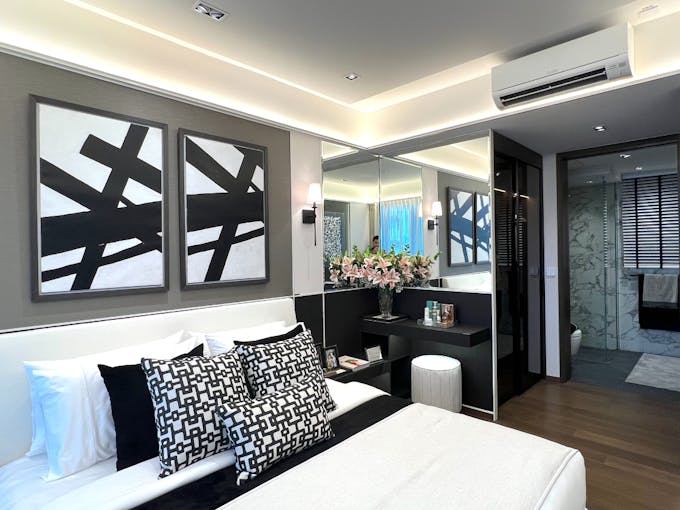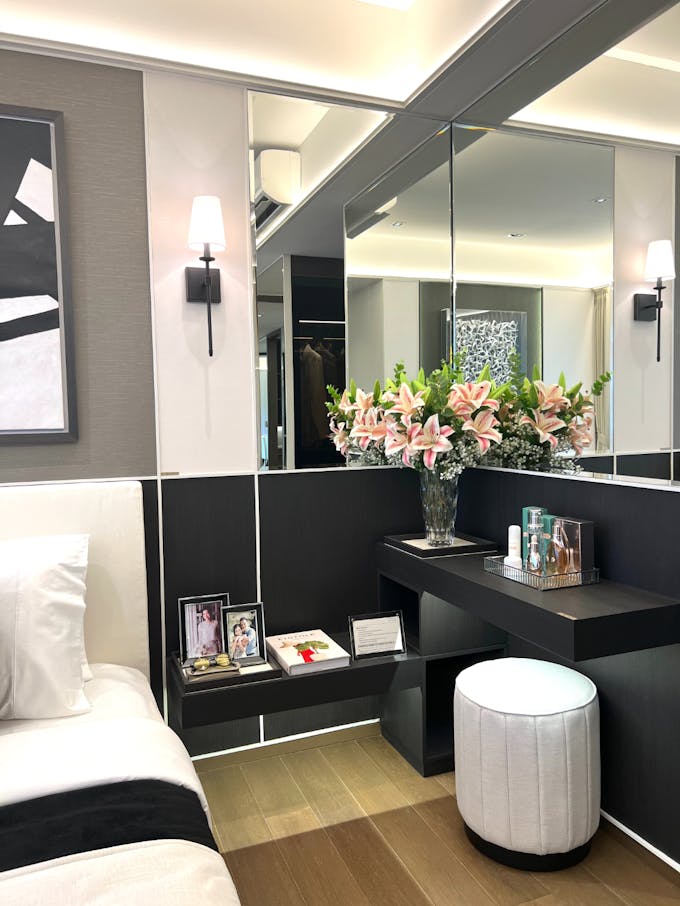 In the showflat, the ID had placed the dressing table on the right side of the bed. However, there's also enough space to fit a dresser in front of the bed. Hence, there are two possible spots where you can place your dressing table. If you choose not to have one, you'll get to enjoy even more space.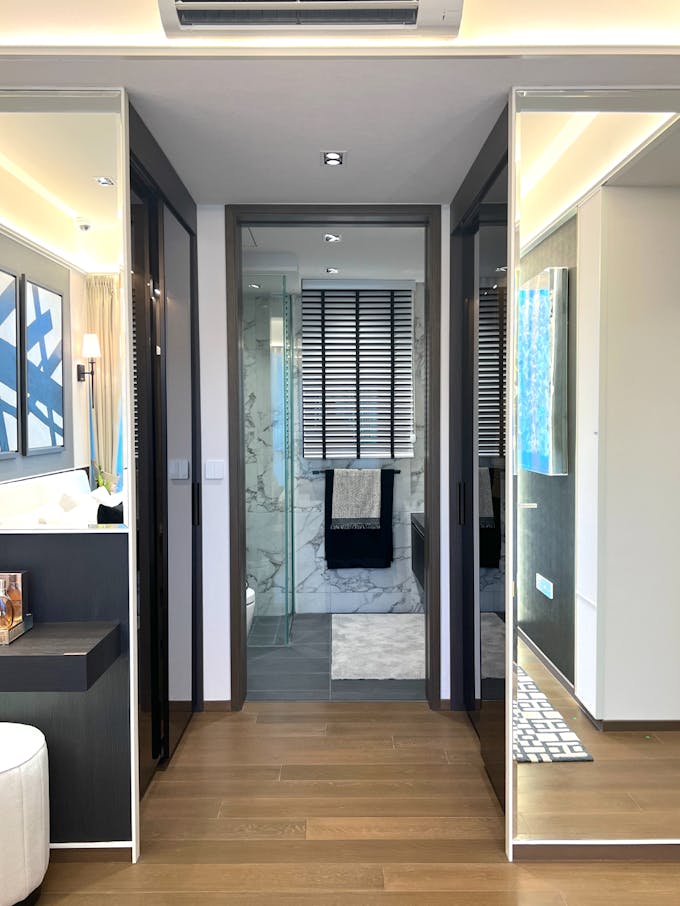 One highlight of the master bedroom is the "his and hers" wardrobe which resembles a walk-in wardrobe concept. This way, the Mr and Mrs of the household will have their own personal space while getting ready.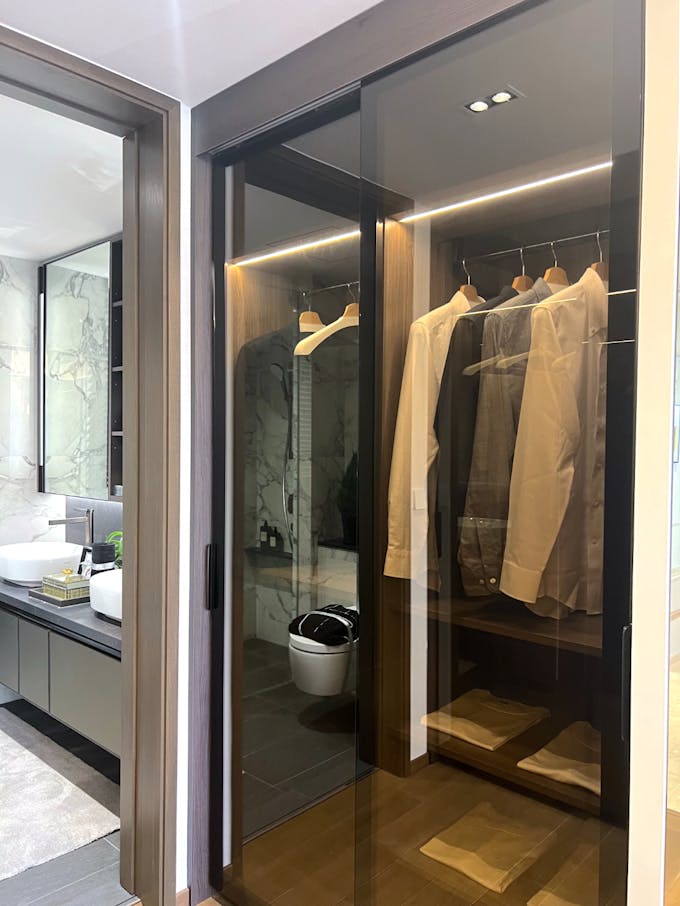 The master wardrobes come with glass sliding doors, which are more stylish than the usual melamine or timber finish. There's also built-in lighting which comes in handy if you don't want to switch on the main bedroom light, especially if your partner is asleep and you come home late.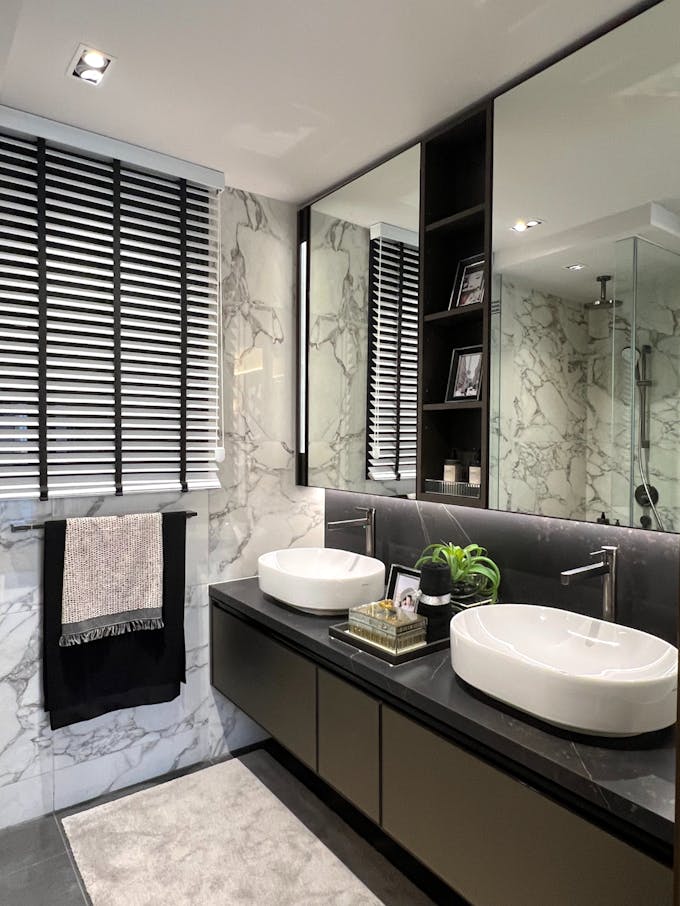 The master bathroom has his and her sinks, too, so couples won't have to share a sink and can go about their morning routine simultaneously. There are also two mirrors with a storage cabinet, providing plenty of space to store toiletries. What we love here is that the cabinets come with built-in lighting as well so you won't have to fork out additional costs.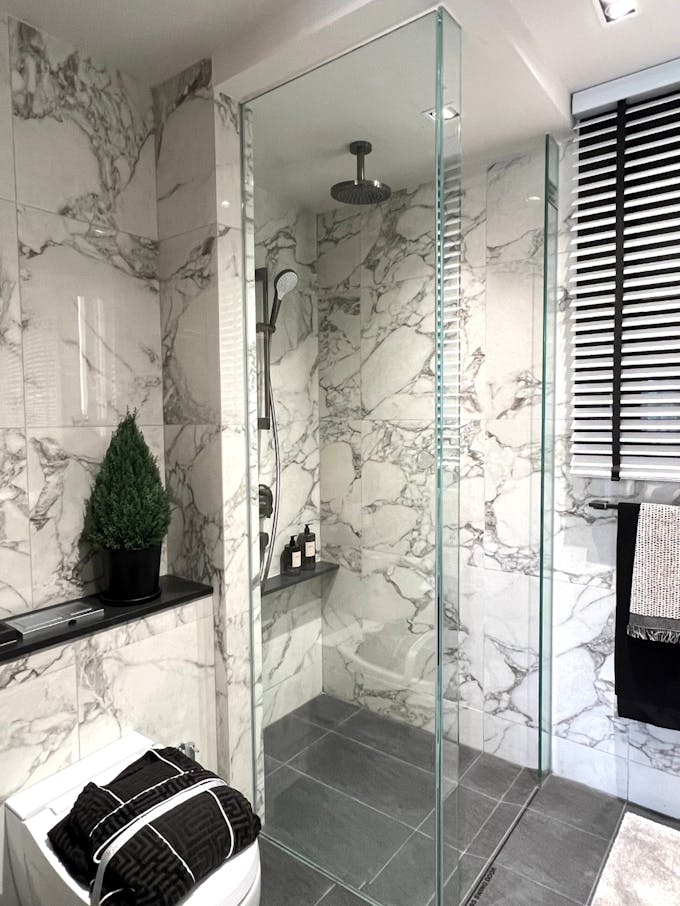 As usual, a rain shower is provided for the master bathroom. There's also a decently-sized window for natural ventilation and a source for natural light.
Like the kitchen, the master bathroom also follows the Luxury theme and is fitted with marble-like porcelain tiles for a more elegant look.
One common bedroom is en suite
All the common bedrooms are 97 sq ft (9 sqm), which are slightly larger than average. They can all fit a queen-sized bed and come with full-length windows.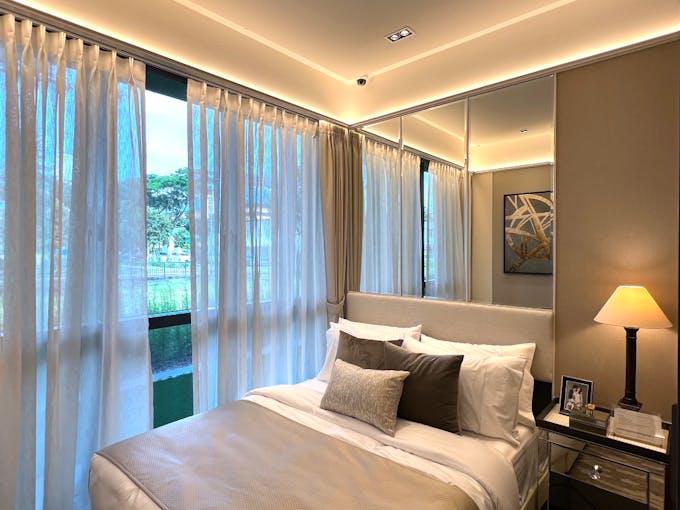 A plus point is that one common bedroom is attached to a jack-and-jill bathroom. This means that the bedroom can also function as a "junior master bedroom" which is suitable for multi-generational families, where children are newly married and still living with their parents. Alternatively, this layout is also suitable for those who live with their elderly parents who might frequent the bathroom more often.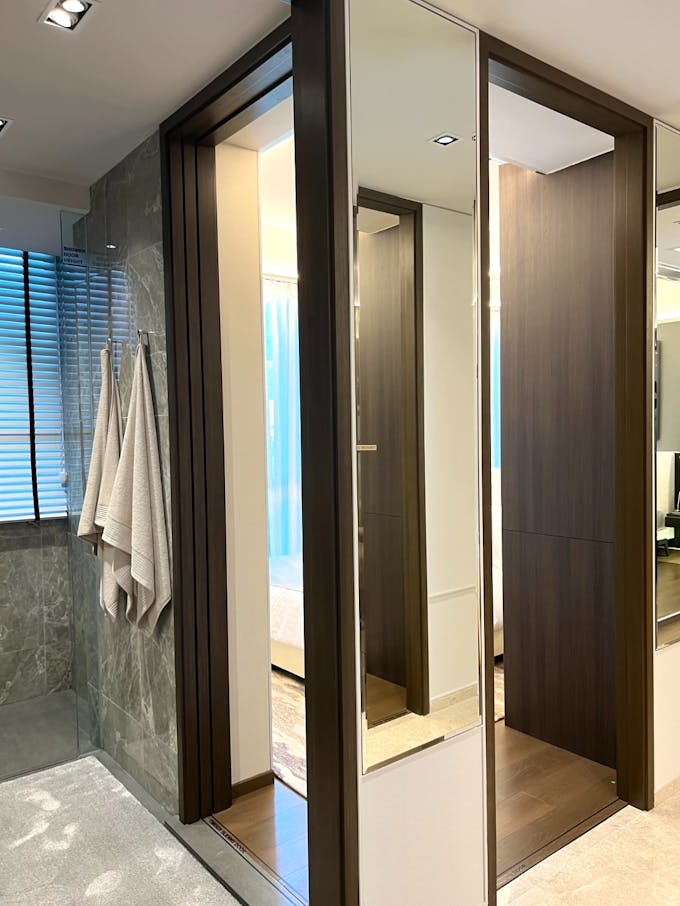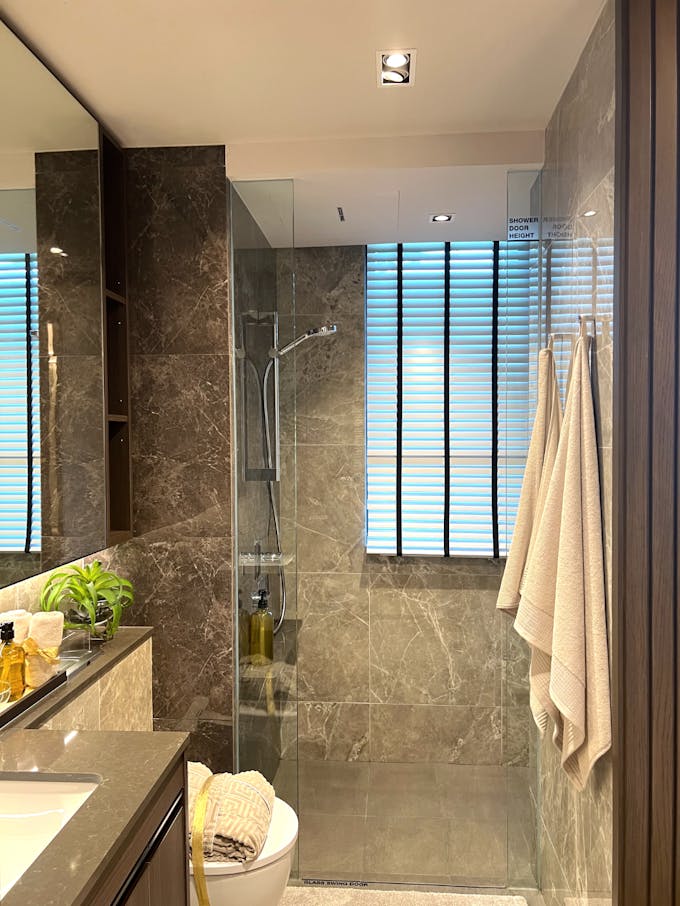 The bathroom can be accessed via the corridor and the bedroom, and hence, guests are still able to use it.
What's great is that there's another shared bathroom for the other two common bedrooms. So, in total there are three bathrooms (excluding the WC in the yard). Tembusu Grand has a better 4-Bedroom unit layout than some others we've seen in the market which has only one shared bathroom for three common bedrooms.
Tembusu Grand Showflat: 3-Bedroom + Study (C2S) - 1173 sq ft (133 sqm)
No. of units:
Who is it suited for:
Families with two or three children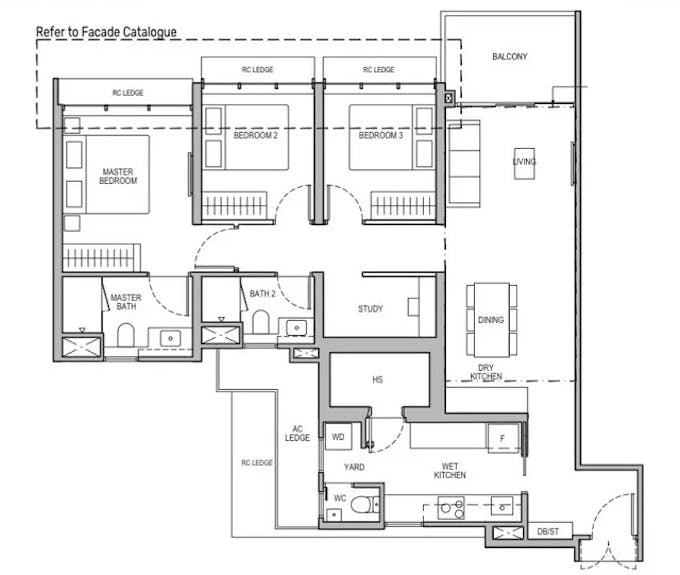 3-Bedroom + Study units are the predominant unit types at Tembusu Grand, making up close to 19% of the unit mix. In fact, there are more 3-Bedroom + Study units (121 units) than standard 3-Bedroom units (79 units) which are 990 sq ft.
The 3-Bedroom + Study units are suitable for families who need an extra space for studying or working from home.
Entrance has a foyer area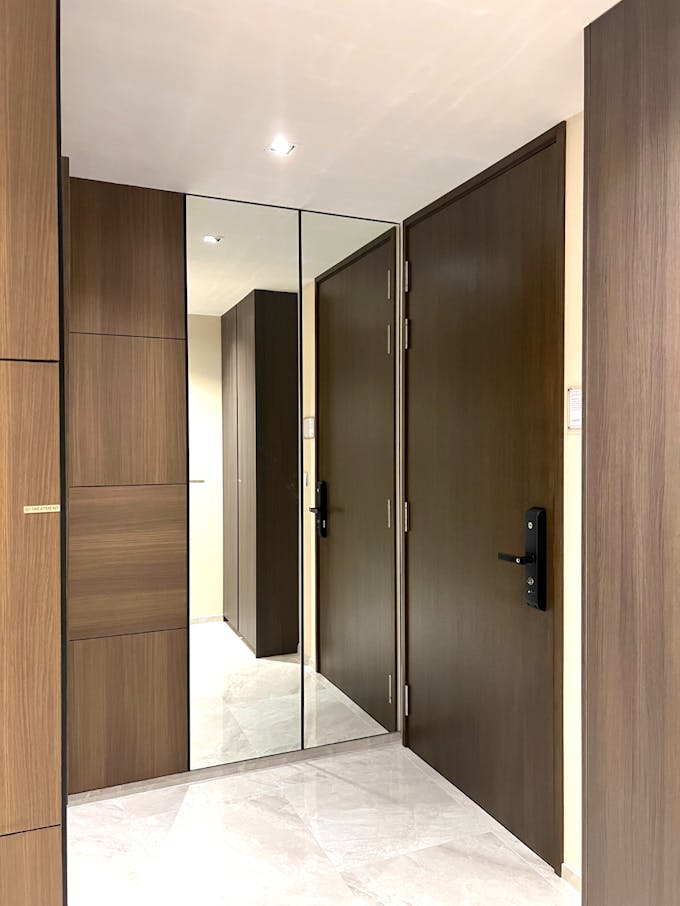 Like the 4-Bedroom unit, the 3-Bedroom + Study unit has a foyer space that comes with a storage cabinet.
One thing to note is that both the 3-Bedroom + Study and standard 3-Bedroom units have a foyer which might not appeal to all buyers.
Spacious kitchen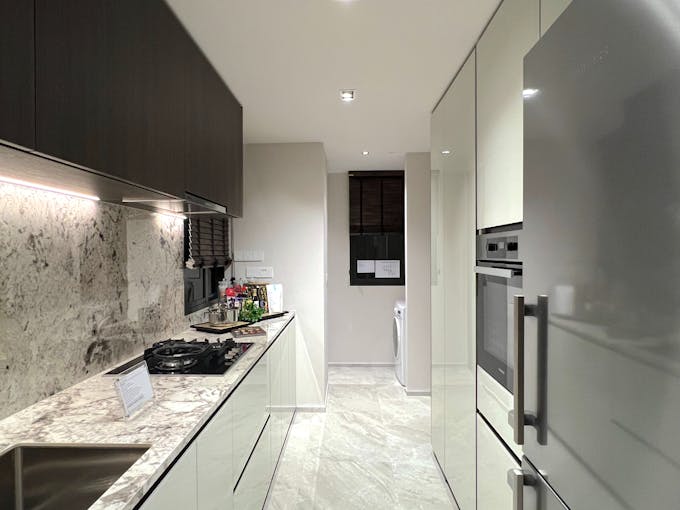 With a size of 108 sq ft (10 sqm), the kitchen (including the yard) is pretty spacious for a 3-bedder. It's actually slightly larger than the wet kitchen of the 4-Bedroom unit.
There are also two windows, a plus point for natural ventilation considering that a gas hob is given. It's quite rare for the kitchen in 3-bedders to have two windows, so it's a generous provision.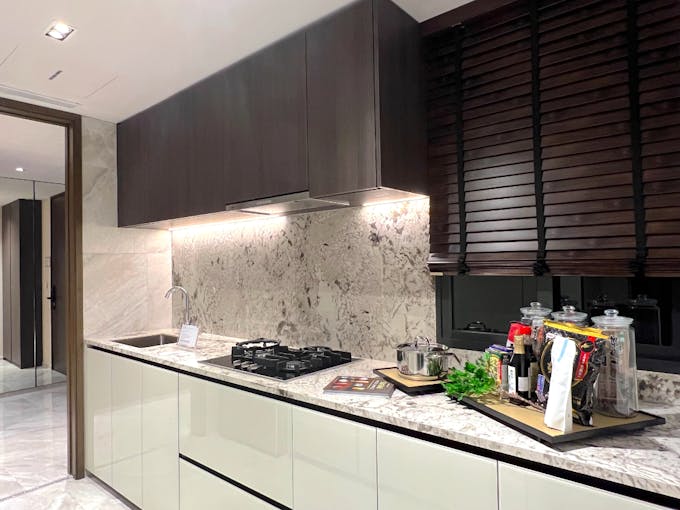 1 to 3-Bedroom units come in the "Contemporary" theme which has lighter colour tones than what we saw in the 4-Bedroom kitchen. This gives off a brighter and sleeker vibe as compared to the more subtle elegance of the latter.
While having two different themes is a great concept, we would have loved it even more if buyers had a choice between both themes.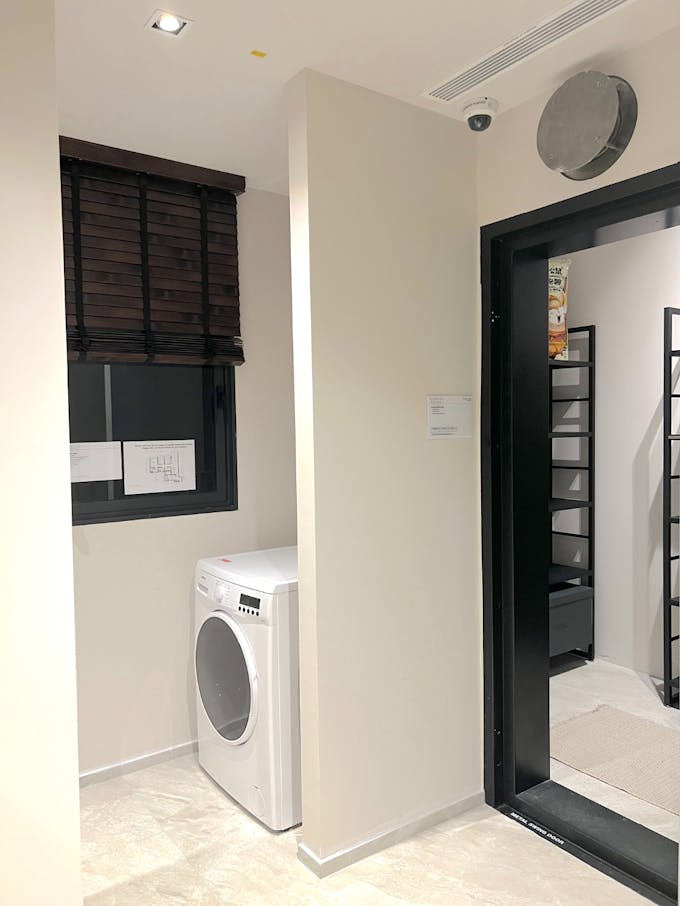 Besides the gas hob and cooker hood by Miele, other appliances given are a Smeg washer-dryer and a free-standing fridge by Liebherr.
Dining area has a "dry kitchen" concept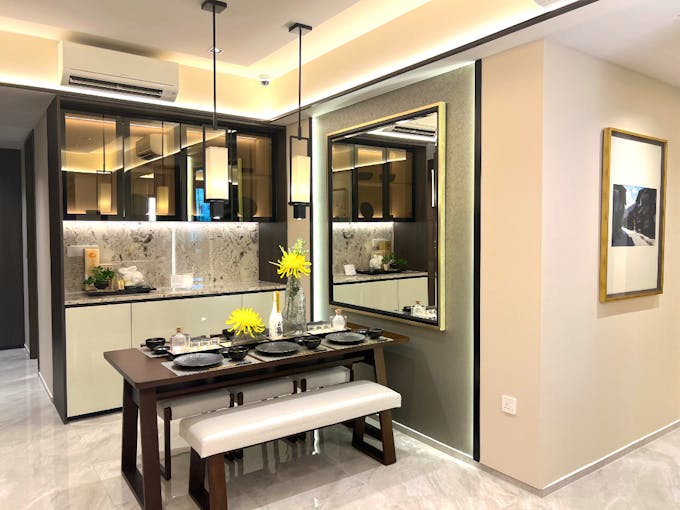 The dining area can accommodate a six-seater table comfortably, which is a standard for 3-bedders. But what's interesting is that there's a dry kitchen counter in the dining area. It's not common for 3-bedders to have a dry kitchen so this is a bonus.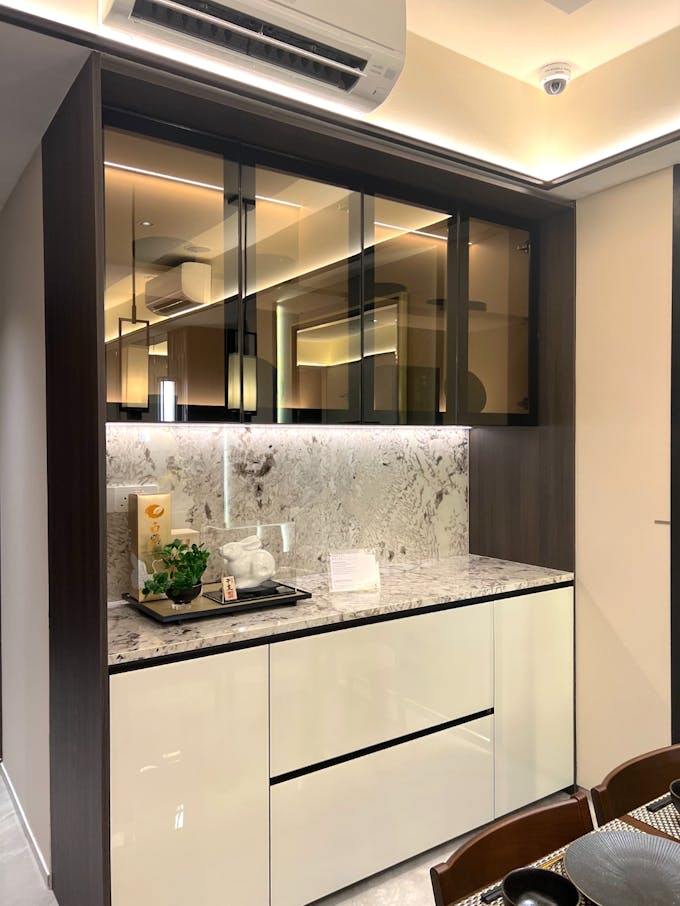 What's more, the dry kitchen comes with a built-in top-hung display cabinet in glass finish, complete with built-in lighting. If you enjoy drinking and entertaining guests, the display cabinets are perfect for storing your collection of drinks.
For residents who are into coffee-making, you might also want to place your coffee machine on the countertop.
Living area and balcony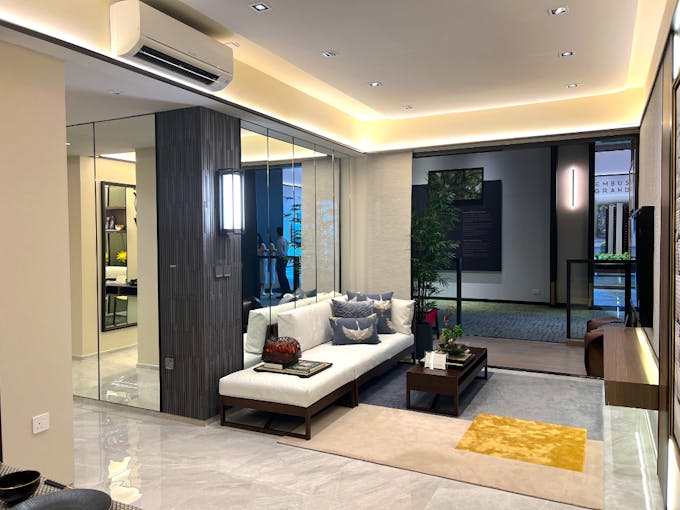 The living area is adequately-sized for a three-seater sofa. One thing you'd have to consider is finding a sofa with the right length so that it won't eat into the corridor. Perhaps an L-shaped sofa might work better if you need more seating space.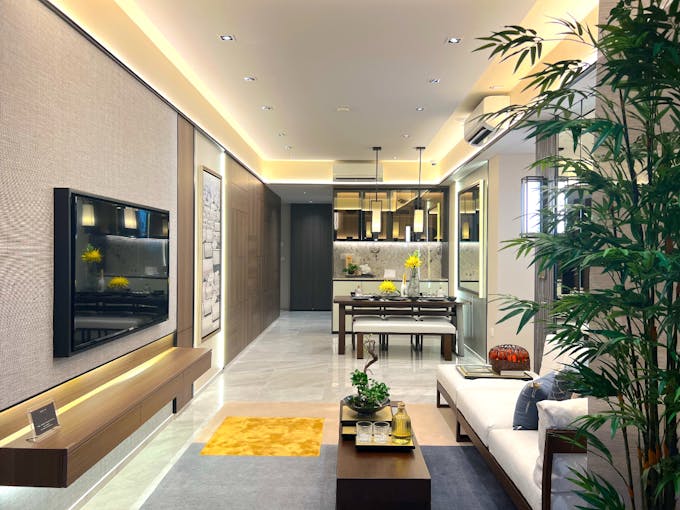 The living area has a 3m width, so there's considerable distance between the sofa and the TV. Instead of a small coffee table, the ID has placed a rectangular coffee table instead and the living area still feels roomy.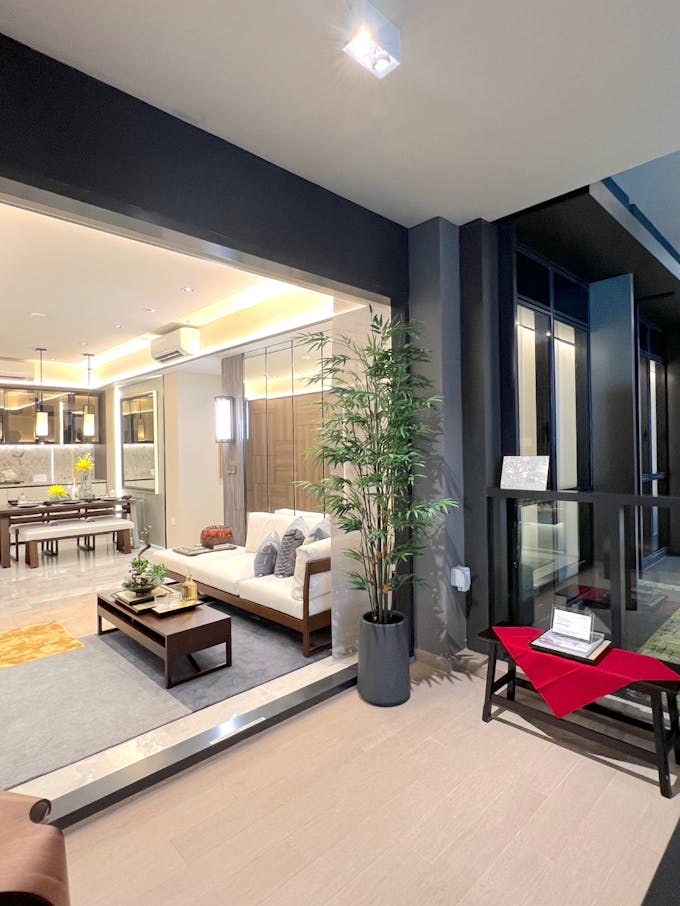 Study room
All 1 to 3-Bedroom units at Tembusu Grand have layouts which come with a study room. With hybrid working arrangements after the Covid-19 pandemic, having a study room has become increasingly common in new launches these days.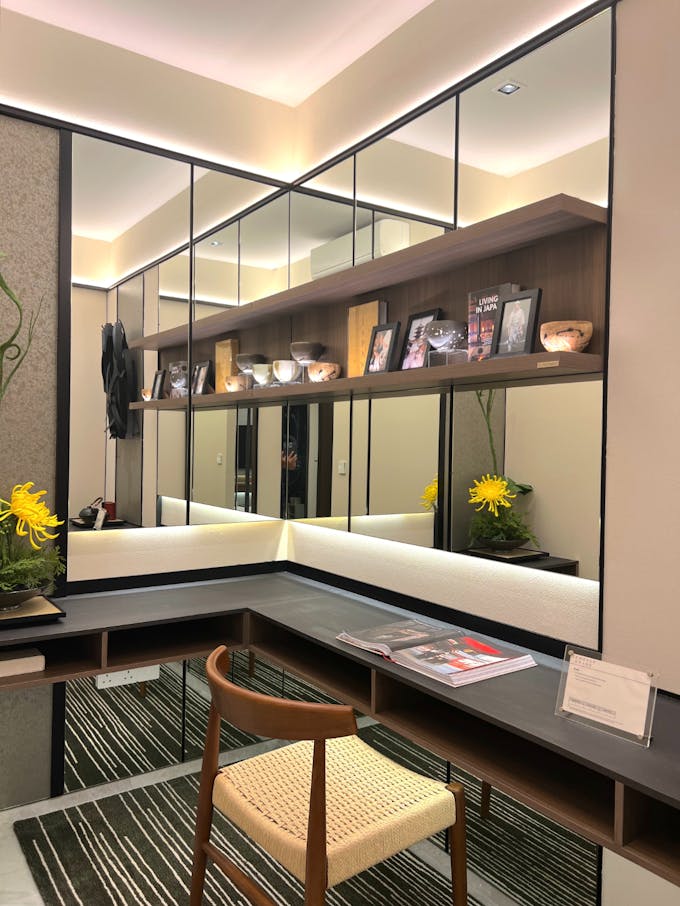 The good news is the study room can fit a single bed and it has air-conditioning too, so you can convert it into a proper bedroom. For buyers who need an additional bedroom but don't have the budget for a 4-Bedroom unit, the 3-Bedroom + Study unit might be appealing to them. However, do note that the study room doesn't come with a door but you can choose to install it yourself.
One downside here is that you can't hack down the study room wall if you prefer an open concept or want a larger communal area.
Master bedroom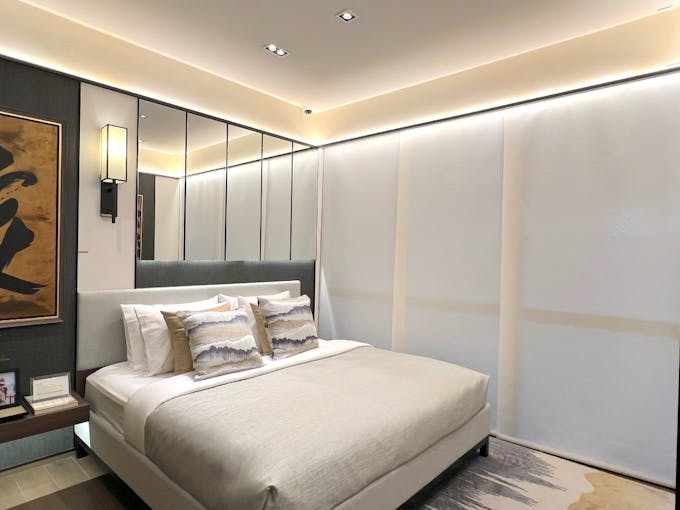 The master bedroom and bathroom have a combined size of 205 sq ft (19 sqm), a decent size for a 3-bedder. With a king-sized bed, the walkway space on the sides of the bed is adequate. It's not super generous but not too shabby either.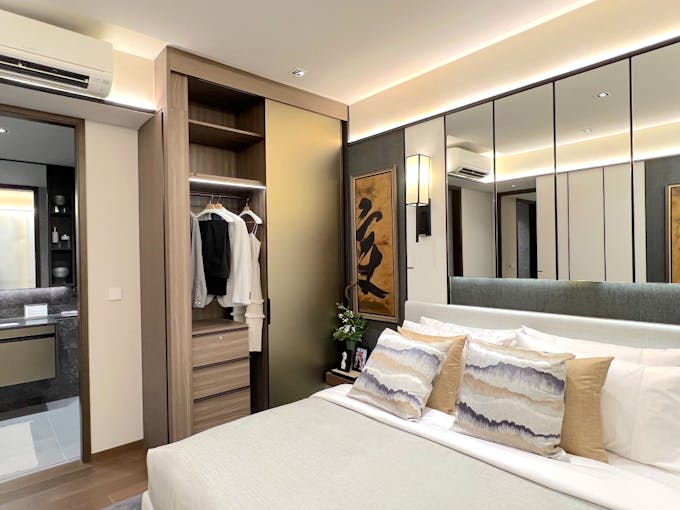 For the wardrobes, the developers are providing satin glass sliding doors instead of the full glass doors that we saw in the 4-Bedroom unit. They also come with built-in lights as an added convenience.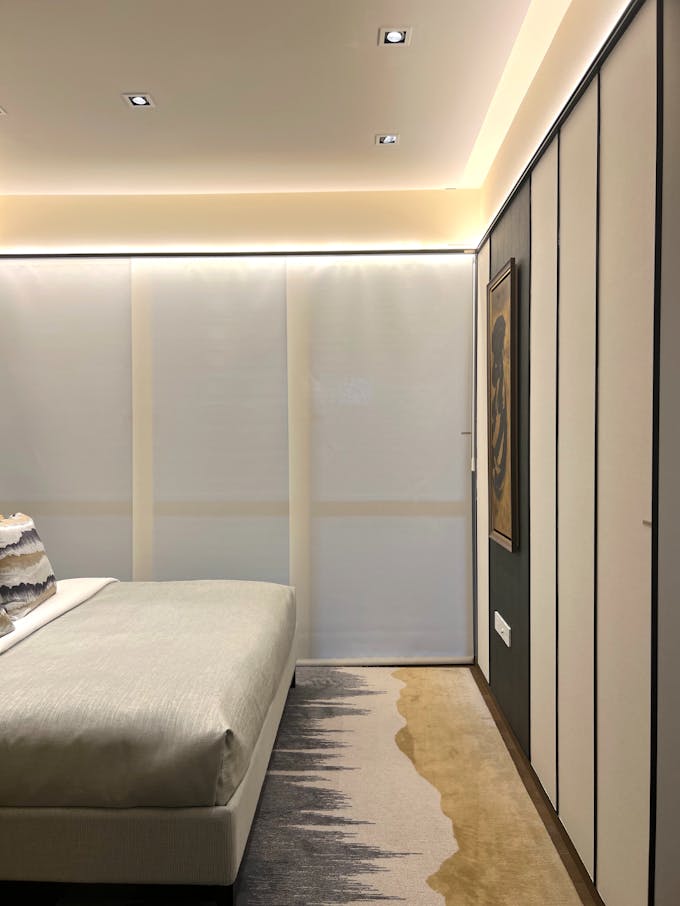 It's a pity that a dressing table is not displayed in the showflat as we felt that there was sufficient room in front of the bed for a mini dresser.
However, the good news is that all 1 to 3-Bedroom units come with a side accessory rack where you can store small items like watches, ties, jewellery and more. It's complete with a full-length mirror so the accessory rack can be used in place of a dressing table.
Many new launches these days provide an accessory rack for the master bedroom in smaller units as there's usually insufficient space for a dressing table. Hence, it's great to see Tembusu Grand jumping on this bandwagon as it's quickly becoming an industry standard.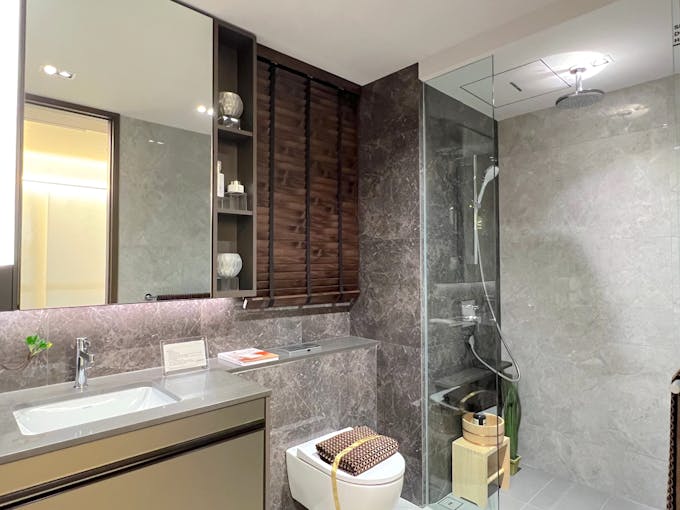 In the master bathroom, you'll see that it is fitted with porcelain floor and wall tiles following the "Contemporary" theme. The grey tones are a contrast to the white marble-like design of the master bathroom in the 4-Bedroom unit.
Some standard provisions are the rain shower, vanity cabinet with engineered quartz countertop and a mirror with a storage cabinet and built-in lighting. There's also a half-length window that's great for natural ventilation.
It would have been nicer if there was another mirror with a storage cabinet (behind the WC). However, this isn't possible due to the window.
Common bedrooms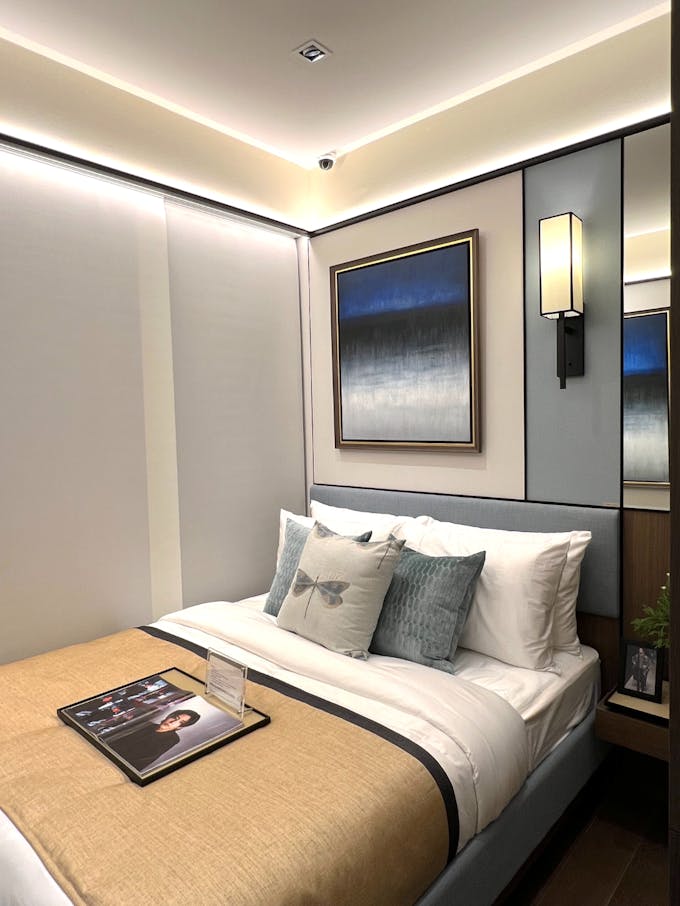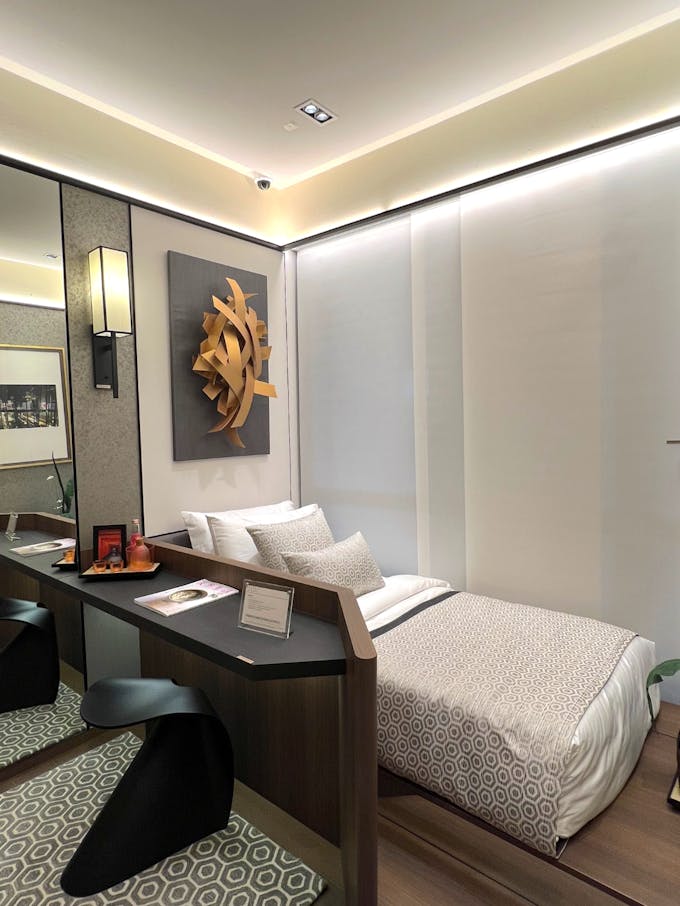 Both common bedrooms are slightly larger than average, at 97 sq ft (9 sqm) each. There are full-length windows in each bedroom and they can fit a queen-sized bed. One thing to note is that you can't hack down the walls to create a supersized bedroom, as the development will be built using PPVC (prefabricated prefinished volumetric construction).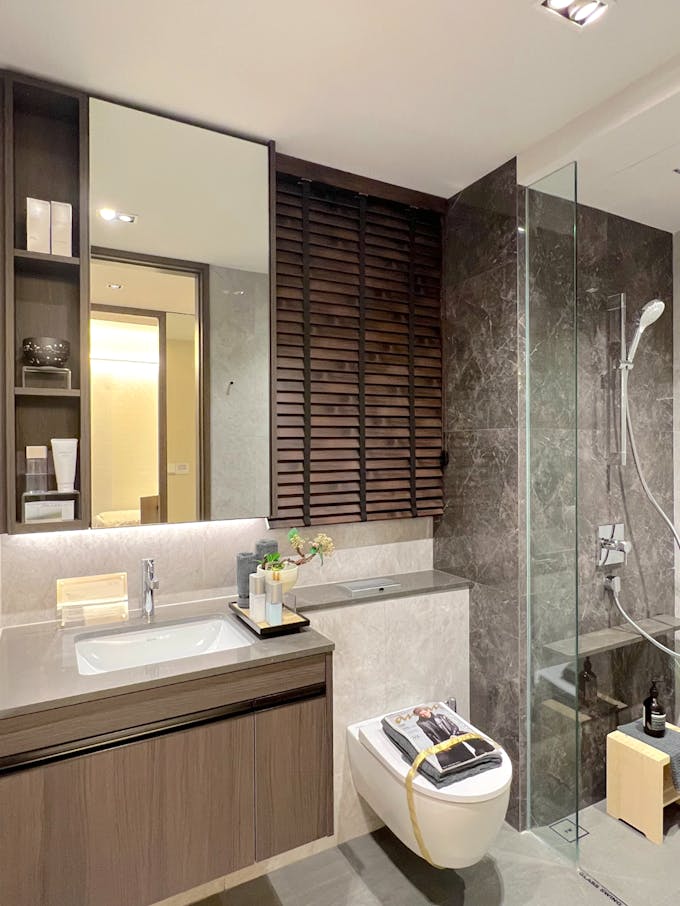 Both bedrooms will share one common bathroom. Except for the rain shower, the rest of the provisions are pretty similar to the master bathroom. The common bathroom even has a window for ventilation, which is uncommon for shared bathrooms.
Tembusu Grand Showflat: 2-Bedroom + Study (B2S) - 743 sq ft (69 sqm)
No. of units:
Who is it suited for:
Young couples
Families with one child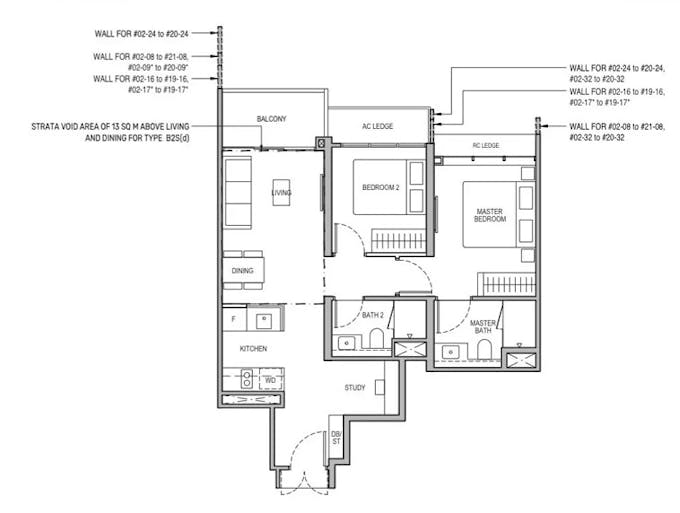 The 2-Bedroom + Study units are the second most common bedroom type at Tembusu Grand, after the 3-Bedroom + Study. Like the latter, there are more 2-Bedroom + Study units (119 units) than the standard 2-Bedroom unit (81 units).
The standard 2-Bedroom units are 667 sq ft (62 sqm) and have two bathrooms.
2-Bedroom + Study has a T-shaped layout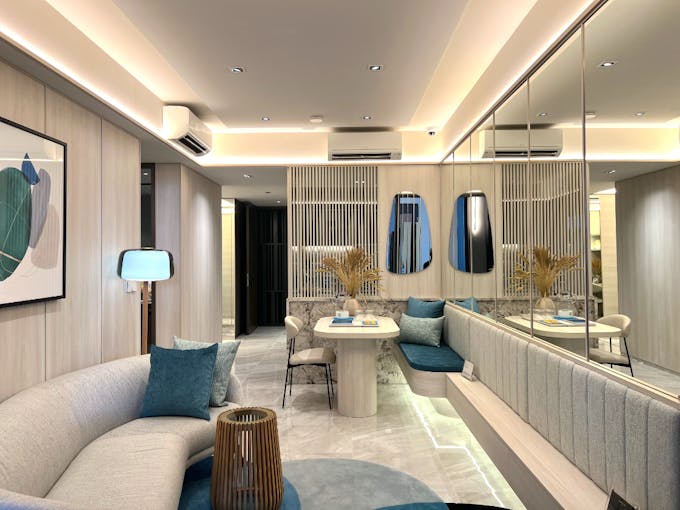 Instead of the conventional dumbbell layout, the 2-Bedroom + Study unit has a T-shaped layout where the bedrooms share a common corridor. This layout is better suited for young couples and small families who are looking for their own stay. For investors, it would make sense if you're planning to rent out the whole unit.
If you're looking to have two separate tenants, then the dumbbell layout in the standard 2-Bedroom unit would be better.
Open-concept study room
The showflat unit has an open-concept study room which is about 54 sq ft (5 sqm) and comes with its own air-conditioning. It's a cosy space for one person to catch up on studies or work from home.
We do find that it's quite awkwardly positioned near the unit's entrance and the kitchen so it might be quite distracting for the person using the study room. One suggestion is to install a door to enclose the study room.
Some buyers who might not need an additional room might choose to convert the study room into a dining area or even a storage area.
Semi-enclosed kitchen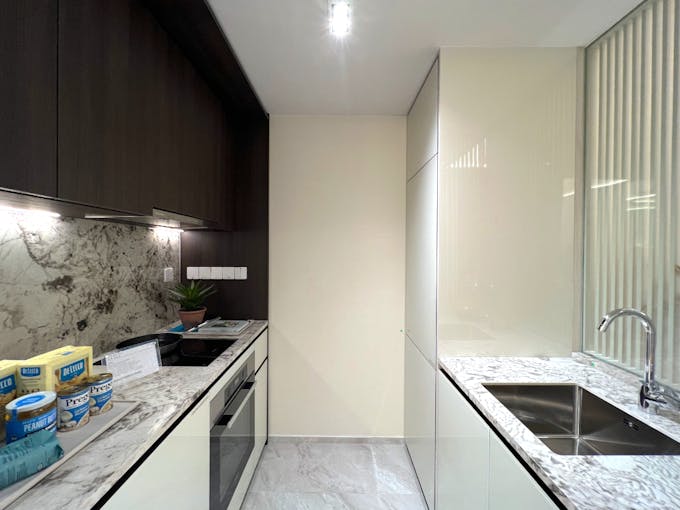 Instead of a fully open-concept kitchen, Tembusu Grand's 2-Bedroom units have a semi-enclosed kitchen. This way, you'll have a dedicated kitchen space and the smell of food won't linger throughout the house if you're cooking. You can also choose to fully enclose the kitchen by installing your own door.