Who's it suitable for?
Tampines GreenSpring is a perfect HDB project if you are looking for:
Multigenerational family housing in Tampines
Public housing right next to Our Tampines Hub
Various unit layouts including 2-room Flexi, 3-, 4-, and 5-room flats
Close proximity to Tampines MRT Stations 
Bounded by Tampines Avenue 5 and Tampines Walk, Tampines GreenSpring offers 657 units across 6 residential blocks, ranging from 12 to 15 storeys in height. Residents of Tampines GreenSpring can enjoy a relaxing walk amongst lush landscaped spaces such as the central precinct spine, roof garden, and smaller pockets of garden spaces. 
Children will also enjoy playing at the thematic playground, which is designed to reflect Tampines' heritage as a sand quarry in the 1990s. On top of that, this HDB in Tampines has two multi-storey car parks – one within the development, and another just across Tampines Walk at Block 859B.
Accessibility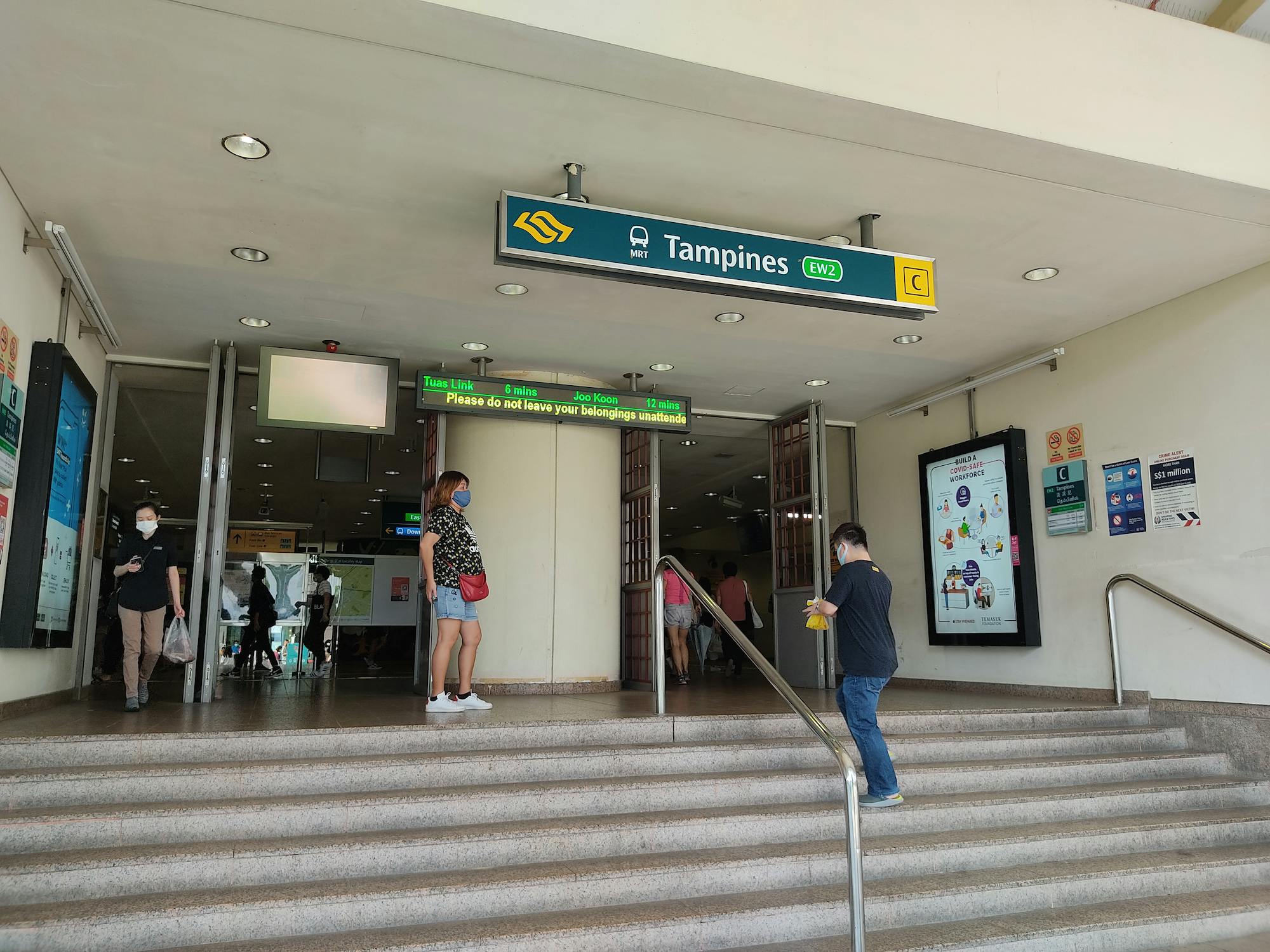 In terms of public transport, Tampines GreenSpring is very well connected to other parts of the city, with the Tampines MRT Station and Bus Interchange located a short walk away. Tampines MRT Station is an interchange station between the East-West Line (EWL) and the Downtown Line (DTL). A few stops ahead from Tampines, Paya Lebar MRT station connects you to the Circle Line (CCL), while City Hall MRT station connects you to the North-South Line (NSL). 
Meanwhile, Tampines Bus Interchange is located within the Tampines Town Centre and is connected to the MRT station via a sheltered walkway. It provides residents with bus services that cover areas around Tampines, Simei, and the industrial areas around Changi North. 
Drivers can make their convenient way to Changi Airport via Tampines Expressway (TPE) within a 10-minute drive, while getting to the CBD and Orchard Shopping District would take approximately 25 minutes via Pan Island Expressway (PIE) and Kallang-Paya Lebar Expressway (KPE). Rest assured that residents of Tampines GreenSpring will have a seamless travel experience around the island. 
Nearby Amenities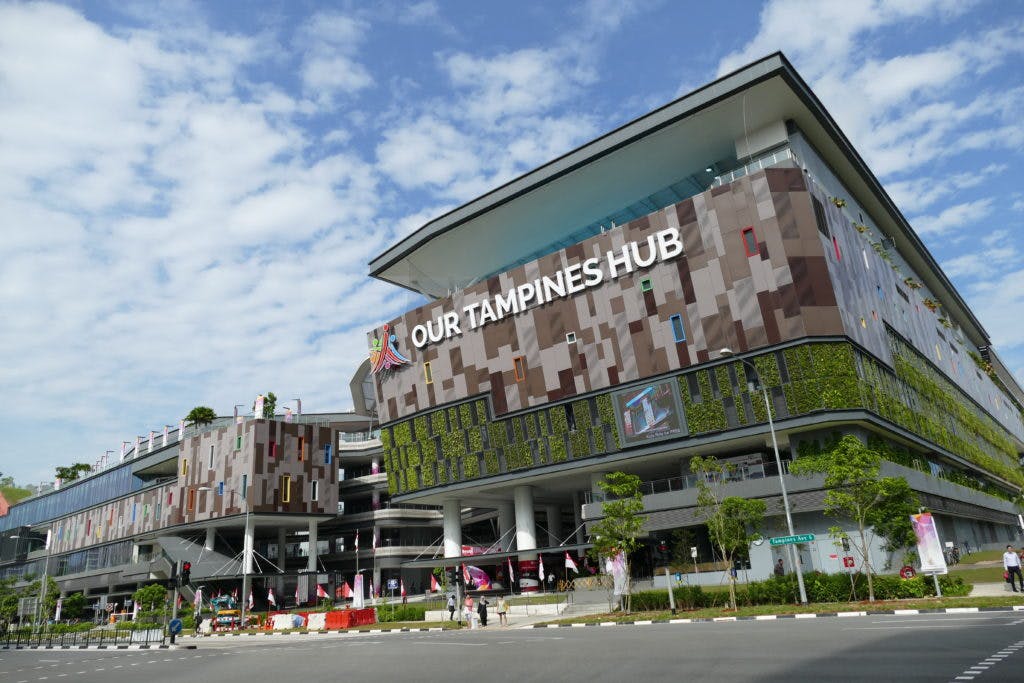 Living in one of the most popular HDB estates, residents enjoy a wide variety of amenities. What's more, Our Tampines Hub is located right next to the HDB complex, giving residents the best convenience in the entire town. 
Other than the shopping and hawker centre, Our Tampines Hub's facilities include Tampines Regional Library and The Town Square. Formerly known as Tampines Stadium, it is a 5,100-seater stadium with a FIFA-endorsed football pitch. The artificial turf can be used for both football and rugby matches, and also for other community events in Tampines.
Shopping Centres Near Tampines GreenSpring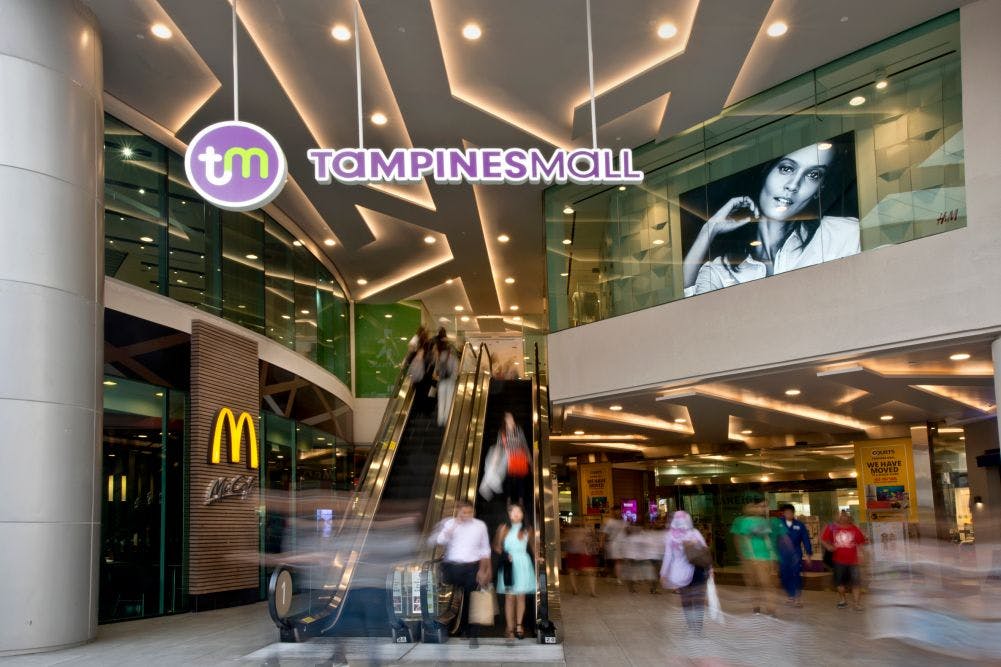 Shopaholics will have the best of time living at Tampines GreenSpring. Exciting shopping malls that offer regional and global brands are easily accessed around the area. For example, just a short walk away from the development, there is Tampines 1, which is one of the iconic retail landmarks in the East. 
Tampines 1 houses over 180 retail and dining options, including Sephora, Vans, Daniel Wellington, Muji, GoroGoro Steamboat, and Korean Buffet. Do check out the mall's respective website to see the updated list of the stores. 
On the other hand, if entertainment is your focus, come shop at Downtown East. Located at 1 Pasir Ris Close, it is a premier lifestyle, recreational, and entertainment hub catering to the wide interests of families by bringing exciting activities and fun facilities all under one roof. Other than a myriad of retail dining and entertainment options at Market Square, there is a huge water park, Wild Wild Wet, that would turn a regular day into an exciting one!
Looking for furniture has never been easier with several major furniture stores just a short drive away from home. IKEA Tampines, along with Courts Megastore, Star Living, and Cellini Furniture, provide you with a wide range of furniture, home appliances, and home decor.
Here is a list of shopping centres near Tampines GreenSpring:
Our Tampines Hub (100m)
Century Square (850m)
Tampines 1 (1km)
Tampines Mall (1km)
Eastpoint Mall (2.8km)
White Sands (3km)
Hawker Centres Near Tampines GreenSpring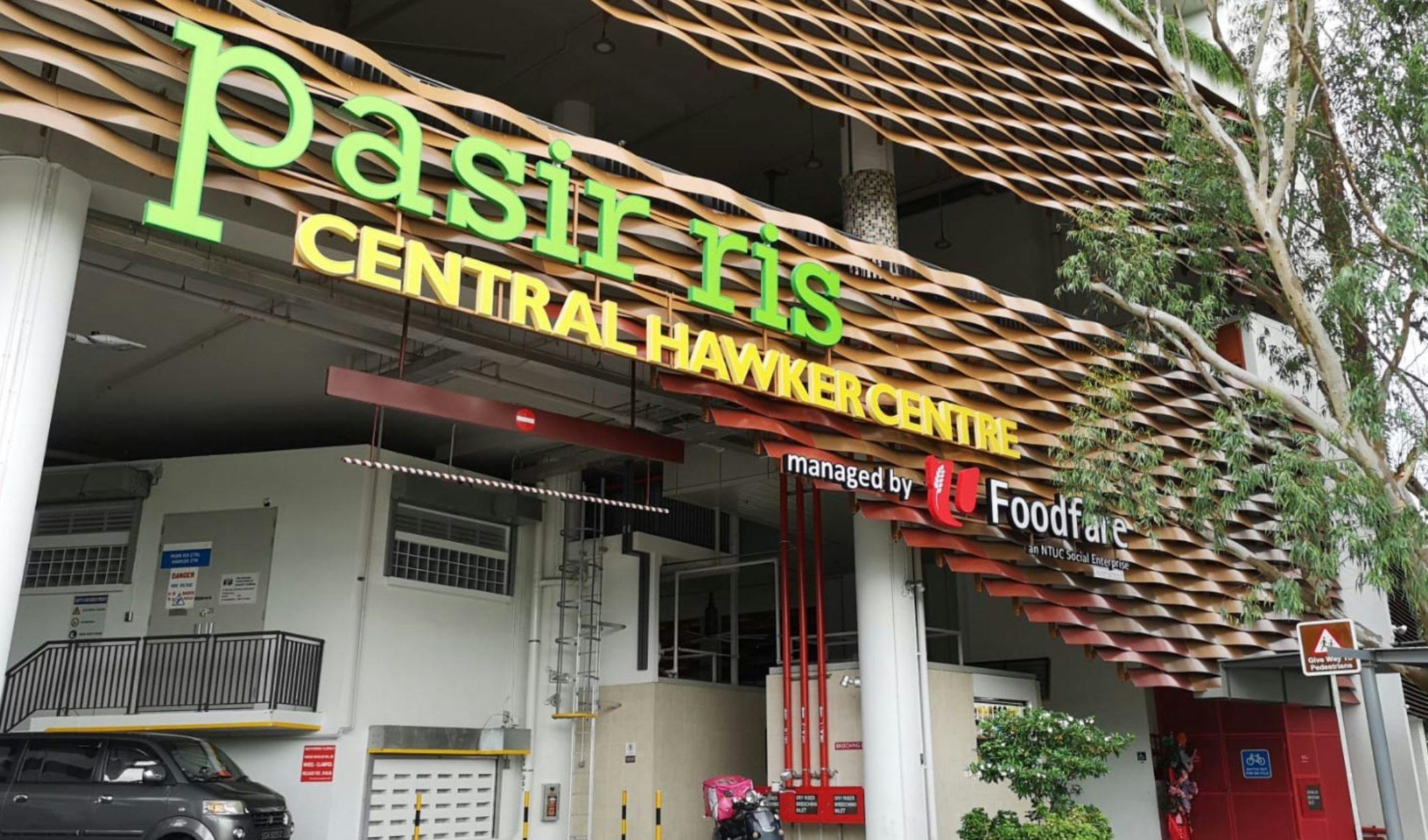 Though you have Hawker Centre @ Our Tampines Hub located just next door, you might want to go a little further up to Pasir Ris Central Hawker Centre for a unique concept – combining traditional hawker food and the "modern" dining options.
If you would like to find some hawker favourites such as bak chor mee, fish soup, and ayam penyet, the first floor pretty much has it all covered. However, if you are more into something different, take the stairs up to the Fareground! 
This second floor of Pasir Ris Hawker Centre offers a more eclectic food choice such as kebab, ice cream waffles, and even beef bourguignon. It is fair to say that this food centre in Pasir Ris can cater to lots of different palates and dining preferences.
Here is a list of hawker centres near Tampines GreenSpring:
Hawker Centre @ Our Tampines Hub (100m)
Tampines Round Market & Food Centre (1.5km)
Pasir Ris Central Hawker Centre (4km)
Schools Near Tampines GreenSpring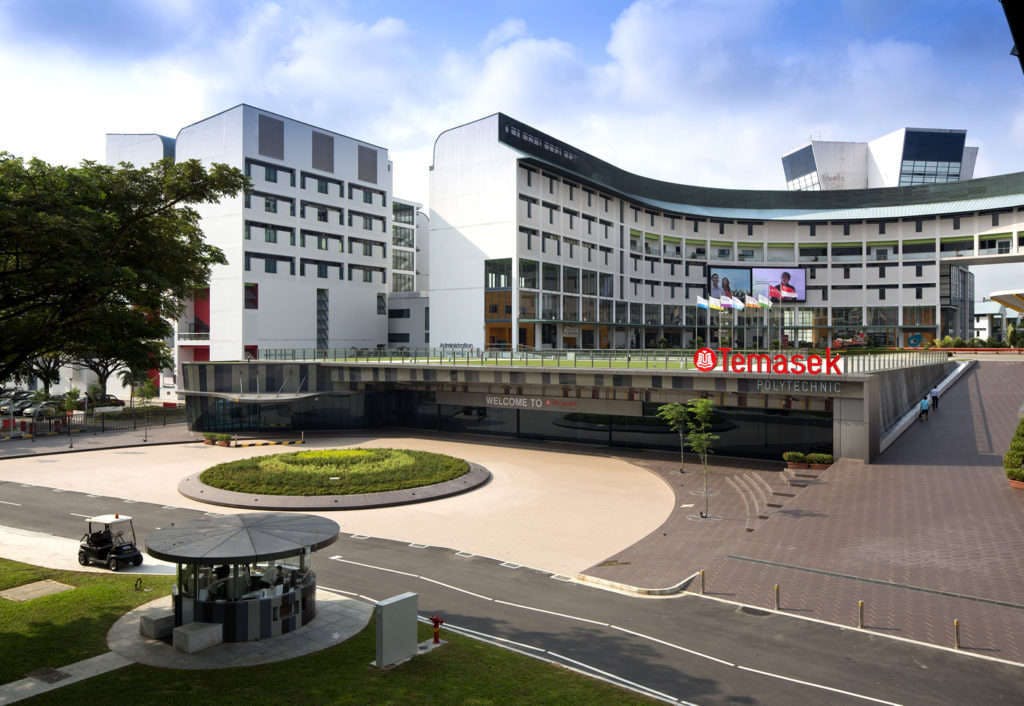 There are numerous established schools in Tampines, such as Poi Ching School, St. Hilda's Secondary School, Tampines Secondary School, Temasek Polytechnic, and ITE College East, all of which are within close proximity to Tampines GreenSpring. 
Here is a list of educational institutions, including primary and secondary schools as well as colleges and universities around Tampines GreenSpring:
Poi Ching School (750m)
Auston Institute of Management (800m)
St Hilda's Primary School (850km)
Tampines Primary School (1.2km)
United World College (1.5km)
Pasir Ris Secondary School (1.5km)
Gongshang Primary School (1.6km)
Springfield Secondary School (1.6km)
Tampines North Primary School (1.7km)
Temasek Polytechnic (1.7km)
Chongzheng Primary School (2km)
Singapore Institute of Technology SIT@TP (2km)
Bedok Green Secondary School (2.4km)
Dunman Secondary School (2.7km)
Red Swastika School (2.8km)
East Spring Secondary School (3km)
i12Learn Centre (3km)
Changkat Primary School (3km)
Elias Park Primary School (3.3km)
ITE College East (3.9km)
Singapore University of Technology & Design SUTD (3.9km)
Lee Kuan Yew Centre (4km)
Parks Near Tampines GreenSpring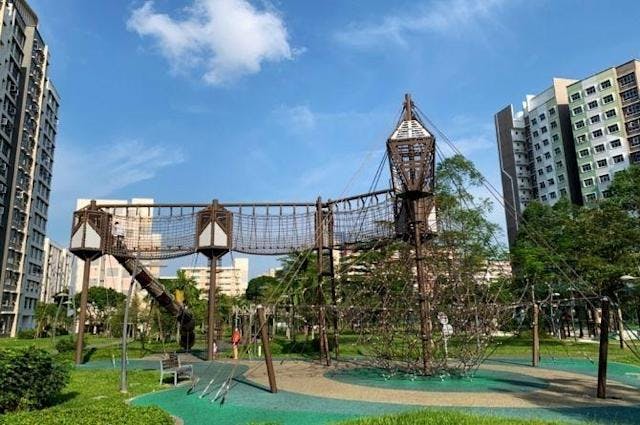 There are numerous parks and open spaces around Tampines GreenSpring, and the nearest one, Tampines Central Park, is only 350 metres away. Tampines Central Park is an ideal place for a morning walk or a jog. 
Among the distinguishing features of this park are the fruit-themed playgrounds in the shapes of mangosteens and watermelon slices. The expansive layout makes it a perfect spot for your kids to run around freely. 
The nearby Sun Plaza Park also offers a host of exciting activities to provide families with countless hours of fun. With an amphitheatre, a Sense Discovery Garden, a Beach Ball court and a Woodball course, the 9.6-hectare park is a popular meeting place for cultural and social interactions. 
The unique Sense Discovery Garden is quite a highlight of this park. Visitors will experience intriguing sounds and other fascinating sensations with 10 stations of interactive play features such as textured walls, talking tubes, and chimes.
Looking for more nature? Enjoy the charm and tranquillity of Pasir Ris Park, just a short drive away from Tampines GreenSpring. It is really a great place for a family outing where there are many recreational activities such as cycling, skating, water sports, BBQ, and even pony rides. 
The 6-hectare mangrove forest is a magnificent destination for any nature lover. With multiple trails, a Mangrove Boardwalk, and the 3-storey bird-watching tower, the forest will keep you mesmerised all day long. Especially for bird enthusiasts, do not forget your binoculars and cameras!
Here is a list of parks near Tampines GreenSpring:
Tampines Central Park (350m)
Tampines Park (850m)
Sun Plaza Park (1km)
Tampines Eco Green (1.3km)
Tampines Boulevard Park (1.5km)
Tampines North Park (2km)
Pasir Ris Town Park (3.5km)
Libraries Near Tampines GreenSpring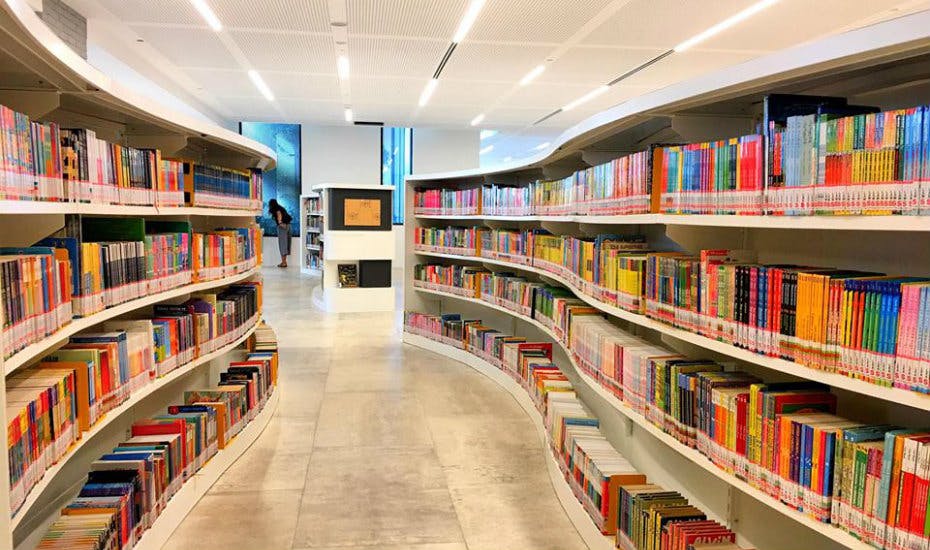 Located within Our Tampines Hub, Tampines Regional Library has a floor area of 10,900 sqm and a collection of over 400,000 items (as of 2020). They have several book clubs for the reading enthusiast, such as Taiji Book Club. 
Taiji Book Club is a reading club conducted in Mandarin for adults, hoping to share with the public how taichi may help to strengthen the body and maintain good health, as well as to promote Chinese martial traditions. 
Another unique highlight of the library is MakeIT at Tampines, a free-for-public makerspace that lets everyone learn about and try new technologies such as 3D printing, digital cutting, robotics, and more. 
Patrons interested in volunteering at Tampines Regional Library may sign up on NLB's website to be involved in areas such as shelving, library user education, and programme facilitation. 
Places of Worship Near Tampines GreenSpring
You can find numerous temples along Tampines Link, such as Tian Teck Keng Temple and Golden Pagoda Buddhist Temple. As for Muslims, the nearest one is Masjid Darul Ghufran, located merely 240 metres away from Tampines GreenSpring.  
Here is a list of religious buildings such as temples, mosques, and churches in Tampines near the HDB:
Masjid Darul Ghufran (240m)
Lighthouse Evangelism (850m)
Tampines Chines Temple (1.7km)
Hiap Tien Keng Leng Poh Tian Temple (2.4km)
Golden Pagoda Buddhist Temple (2.5km)
9 Sen Kong Temple (2.5km)
Tian Teck Keng Temple (2.7km)
St Andrew's Community Chapel (3km)
Hospitals Near Tampines GreenSpring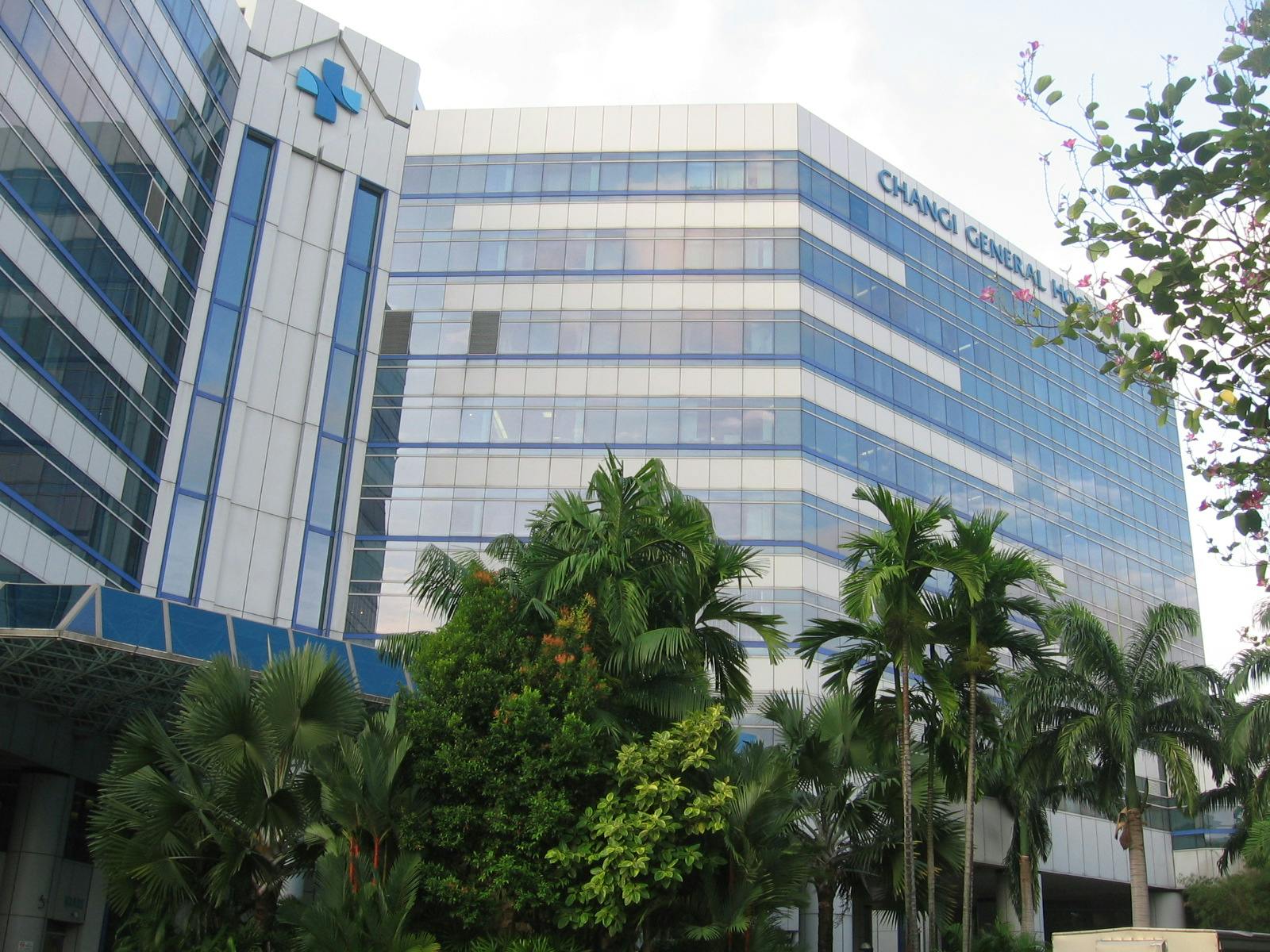 Located approximately 3 kilometres away from Tampines GreenSpring, Changi General Hospital provides residents with more than 23 medical services, ranging from general surgery, internal medicine, cardiology, and ENT to orthopaedic surgery, and sports medicine.
CGH is a 1000-bed hospital with specialist centres, including the Breast Centre, Changi Sports Medicine Centre, Diabetes Centre, Geriatric Centre, Integrated Sleep Service, and Medical Centre for International Travellers.
Suppose you prefer smaller medical facilities to treat your condition; there are several clinics located near Tampines GreenSpring, such as Woodlands Family Clinic (900m) and Tampines West Medical Clinic (950m).