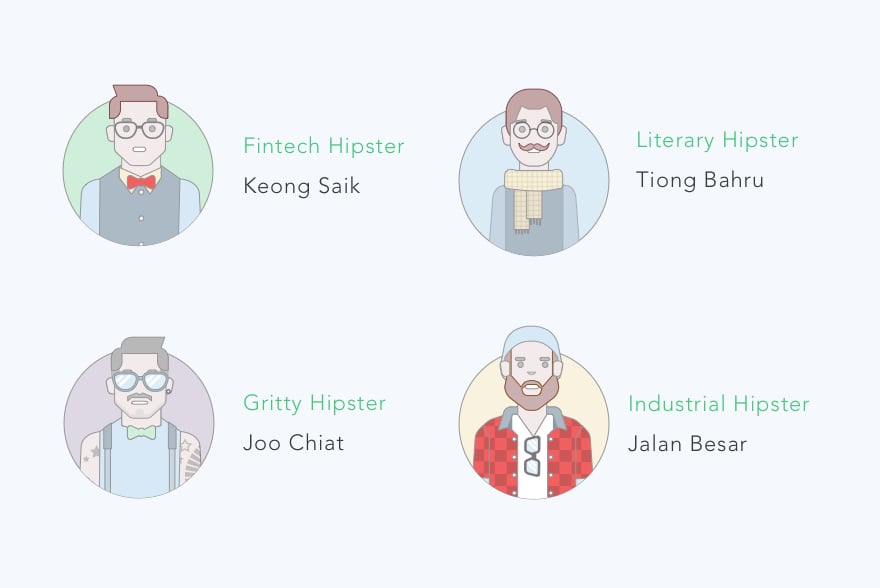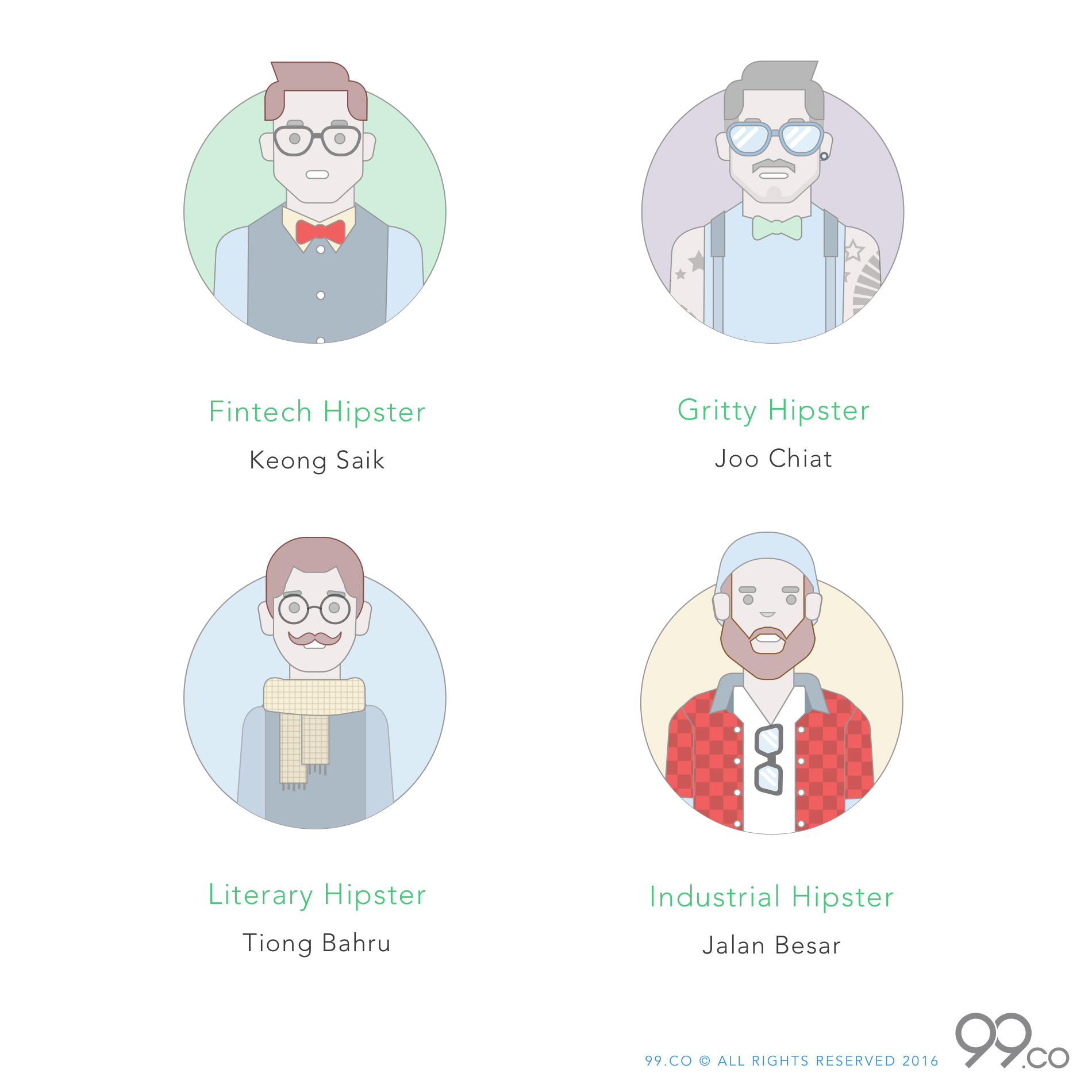 We all need a place to sip overpriced coffee and pretend to be writing a novel. Fortunately, Singapore has no shortage of options. Now, you can be pretentious about your tastes in music to…to other people being pretentious about their tastes in music. Here's where to go:
1. Keong Saik
Back in the 1950s, Keong Saik formed part of an infamous "Blue Triangle". It adjoined Teck Lim Road and Jiak Chuan Street as a red light area, which never quite reached the colourful status of Geylang.
But those days are behind it. Today, Keong Saik caters to the entrepreneurial end of the hipster crowd. This is mostly thanks to The Working Capitol, an open office space that is home to various tech start-ups, as well as hip internet companies like Hootsuite.
It's also right across from The Pinnacle@Duxton, a development that has produced at least six (to our knowledge) HDB flats which sold for a million dollars.
Keong Saik Road has also attracted a number of edgy bars and eateries. These include Potato Head Folk (a sort of burger place come tiki-bar. It makes less sense than its name, and is awesome that way), The Library (you need to know the always changing password to get in, because otherwise it's not pretentious enough), and Mexican joint Muchachos, which accounts for 6000 of the 2000 calories I'm supposed to have per day.
There's a big rush for commercial properties in this area right now, with prices around $4,270 psf for conservation shophouses.
Vibe: Fintech hipster. You claim to hate capitalism, but what you really want to do is take over the banks, but still look socially acceptable to your peers while doing it.
2. Joo Chiat
In 2011, the area surrounding the stretch of Joo Chiat Road was declared a heritage area. Excuse me while I drip a tear into my triple chai mocha-frappucino. Joo Chiat is a traditional haven of my people, the Peranakans (you can tell I have deep roots, from my Starbucks card and Foster the People t-shirt.)
For a little while in the early 2000s, Joo Chiat was in danger of developing a sleazy reputation. A number of dubious massage parlours and bars appeared, but residents fought back and the area cleaned up.
Today, Joo Chiat commands high rental rates due to its proximity to Katong. In and around this area, you can find Berg (a gourmet burger joint) as well as the famous Rabbit Carrot Gun and Zaffron Kitchen. A few dive bars, like the Check It Out pub attract hipsters who want to show their "street" side.
The few residential units up for grab here don't stay listed for long. At just $980 psf, they get snapped up fast.
Vibe: Gritty hipster. You come from a rough upbringing, growing up in a $5 million landed property, with only a Lexus bought for you on your 21st birthday. You drink hard (one bottle of Corona, watered down) and you love Vanessa Paradis songs, even if you only know two French words.
3. Tiong Bahru
Tiong Bahru was one of the first housing estates, and it was an upmarket area in the 1900s. In fact, it had a reputation as the place where high society women would be housed as mistresses.
Tiong Bahru's aging storefronts and residential areas have since been repurposed. Forty Hands café started the trend: it was located close to Books Actually, which if you're a serious reader you'll identify as Singapore's only real bookshop (it's since moved.)
After Forty Hands surged in popularity (I went there in 2010, and I am still in line for a table), expensive joints like PS Café and Drips moved in. The area is also home to various specialty shops, like Kah Mee, which exists solely to sell thick, black hipster glasses. In addition, the Tiong Bahru bakery has a reputation for combining its artisanal baking with 1930s ambience.
With residential units here going at around $1,246 psf, the area is fast becoming gentrified.
Vibe: Literary hipster. Sure, Books Actually moved out a long time ago, but this is still the best place to drop hints that you read Laszlo Krasznahorkai (not even Satantango, but Seiobo There Below.) But you've probably never heard of them. Kick back in a café, and complain bitterly about how much Paulo Coehlo sucks.
4. Jalan Besar
This used to be Singapore's equivalent of a redneck hangout, in the colonial era. The area was rife with wildlife, and called out to duck hunters, fishermen, and people who didn't faint when they saw a leech. Today it attracts the opposite. Jalan Besar is a hipster enclave right in the Central Business District (CBD).
The two most famous hipster hangouts here are Chye Seng Huat Hardware – which sells no hardware and is a café – and Scissors Cut Curry Rice. The secret of Scissors Cut Curry Rice is supposedly that they have used the same scissors for 50 years, which I don't think is a marketing gimmick that endears them to health inspectors.
Jalan Besar has plenty of old hardware shops and mechanics' dens. This place has grime. You can act the 21-year-old hipster who behaves like a crotchety 65-year-old car mechanic. Wear grease stained overalls and thick glasses, complain about how commercialised Old Chang Kee is, and eat curry puffs prepared in sanitary conditions more dubious than a public toilet.
When you're done, visit the various specialty crafts and clothing shops that dot the area.
Residential prices in this area reach around $1,098 psf, on the rare occasion that you can find any. Few people would give up a home within the CBD.
Vibe: Industrial hipster. Coffee shops are meant to be run down. Dusty old hardware stores are heaven. You only sit on rusted stools, or near-broken office chairs. Everything here is old, worn out, and more real than the things in your generation.