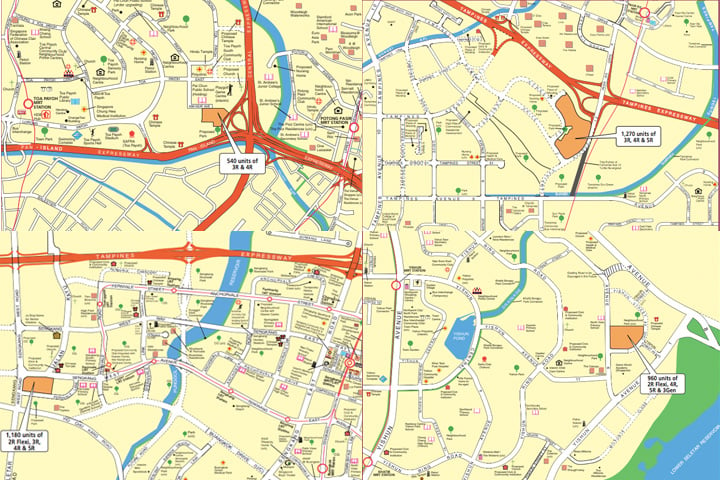 There's usually a project or two in every HDB BTO launch that gets everyone excited. In May 2017, the Dakota flats were on everyone's lips for how strategically located they were. Then, in February, applicants took fancy at the Teck Whye BTO flats, classified as a non-mature project (which makes it cheaper) but very accessible to the CBD via the new Downtown MRT line.
Looking at the HDB May 2018 BTO projects, very few positives stand out. We look at the pros and cons of the four projects in Toa Payoh, Tampines, Sengkang and Yishun in detail, so you can decide whether to even part with the $10 application fee — or instead go for a resale flat at any location you want.
May 2018 BTO Launch: Toa Payoh
Pros:
Within 1km of Pei Chun Public School, a popular primary school with parents who want their children to master the Chinese language from an early age

Within 1km of St. Andrew's Junior School (part of the larger St. Andrew's campus, which includes a secondary school and a junior college)
Cons:
Mature estate pricing, yet some distance away from key amenities such as Toa Payoh Central and MRT

Highway noise pollution from the Central Expressway (CTE) and Pan-Island Expressway (PIE)

Worshippers from nearby places of worship might cause traffic congestion, especially on weekends or during festivals
Our take:
HDB classifies estates into mature and non-mature, which doesn't always make sense (e.g. the Bidadari BTO projects are classified as part of a mature estate when the area had, until recently, been a cemetery).
The thing is: BTO flats in mature estates come with a price premium. To many buyers, this price premium should only be justified if the project is within walking distance to the estate's key amenities such as the MRT station or civic centre.
Not only is the Toa Payoh site a good 15-minute bus ride from the town centre and Toa Payoh MRT, it's actually nearer to Potong Pasir MRT if you only take distance into account. (By the way, you can only get to Potong Pasir MRT on foot; it's a 20-minute walk.)
Besides ulu-ness, future residents also have to deal with noise pollution and congestion issues. Unless you're an extremely heavy sleeper who doesn't get bothered by noise, you probably won't appreciate that these flats are to be built right next to not just one, but TWO expressways — the PIE and CTE.
And just when you think proximity to expressways will get you home on a cab faster, note that the highway exit at Kim Keat Link is notorious for traffic congestion. Besides, you might find yourself jostling for space with worshippers at nearby places of worship on weekends and during festivals.
Indicative price range (after grants) for May 2018 BTO flats in Toa Payoh:
3-room: $225,000 – $292,000
4-room: $375,000 – $463,000
Verdict: If you want to live in Toa Payoh and can afford to wait, wait for soon-to-come BTO projects at Caldecott instead. If you really want to seriously consider this project, go up a nearby block that's next to the PIE and hear the noise for yourself before you decide.
May 2018 BTO Launch: Tampines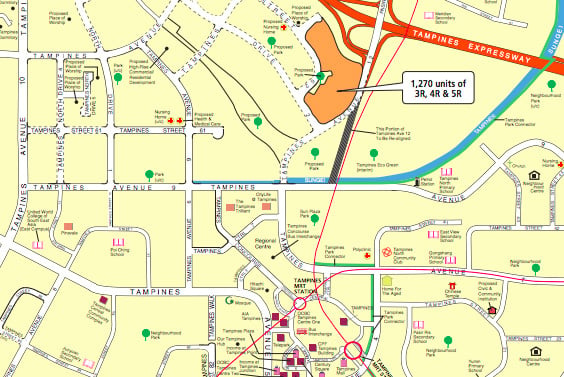 Pros:
Near Tampines Ikea, Courts and Giant

Near to several parks

Large plot may mean bigger and better recreational amenities, such as playgrounds
Cons:
Mature estate pricing in an yet-to-be-developed area

Far from all three MRT stations in Tampines

Noise pollution for flats facing the Tampines Expressway (TPE)
Our take:
Similar to the Toa Payoh project, the upcoming BTO in Tampines has a less-than-ideal location. It's just as far from the town centre and MRT and is close to the TPE, although the large site will spare a large number of households from the full onslaught of highway noise. Another saving grace is the presence of several parks in the vicinity; we can foresee families grabbing supplies from the nearby Giant hypermarket and having weekend picnics near home.
An important point to note for those who intend to sell soon after MOP: this area is being built up all at once with BTO flats, so expect intense seller competition if you intend to offload your BTO within 10 years.
Indicative price range (after grants) for May 2018 BTO flats in Tampines:
3-room: $190,000 – $237,000
4-room: $307,000 – $358,000
5-room: $422,000 – $495,000
Verdict: A decent place for long-term living, provided you get a good queue number.
May 2018 BTO Launch: Sengkang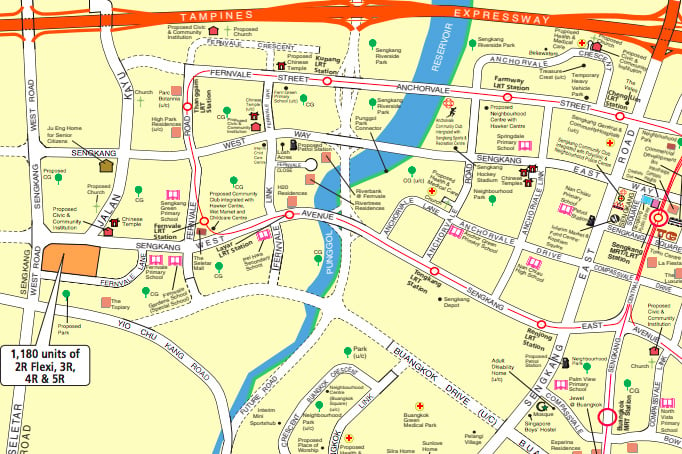 Pros:
Non-mature estate pricing
Many existing and proposed amenities around Fernvale LRT

Near to Jalan Kayu (for prata lovers)
Cons:
Far from Sengkang Central
Depending on block and stack facing, residents may have to endure traffic congestion and noise/light/smoke pollution due to a nearby place of worship, especially around late-September, early-October every year (Nine Emperor Gods Festival)
Our take:
Although this upcoming BTO site is within Sengkang by name, future residents probably won't see the need to go to Sengkang town centre. Firstly, those working in the CBD would have a faster commute by taking the bus from Yio Chu Kang Road to Serangoon MRT. Secondly, for daily needs and recreation, the vicinity around Fernvale LRT will have it all, complete with a community club integrated with a wet market, childcare centre and, lo and behold, a hawker centre! Seems like the government wants to bring back the good old heartland vibe to Fernvale.
For movie fanatics and prata lovers, their fix is just 10 minutes walk away, at Seletar Mall and Jalan Kayu respectively.
Indicative price range (after grants) for May 2018 BTO flats in Sengkang:
2-room flexi: $3,000 (40-year lease), $4,000 (99-year lease)
3-room: $112,000 – $227,000
4-room: $219,000 – $342,000
5-room: $357,000 – $426,000
Verdict: Not very accessible to the CBD, but self-sufficient enough for daily needs, entertainment and the occasional prata fix.
May 2018 BTO Launch: Yishun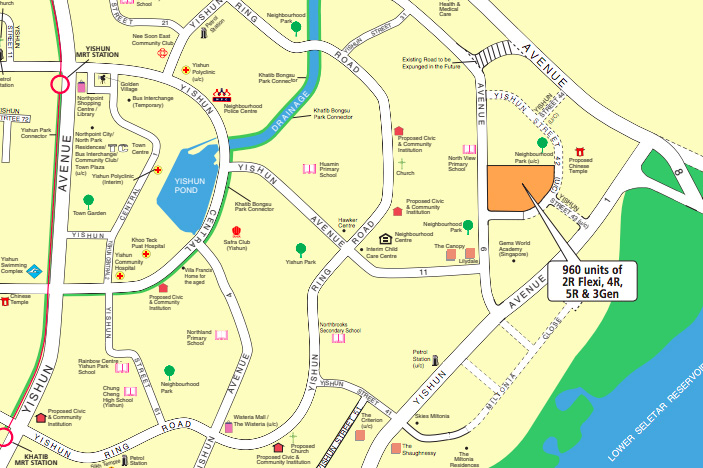 Pros:
Close to nature; near to Lower Seletar Reservoir Park

Most affordable project of the May 2018 BTO
Cons:
Far from the nearest MRT station, Khatib

Far from the nearest town centre, Yishun

Far from everything, basically
Our take:
This upcoming BTO project in Yishun is near to Lower Seletar Reservoir, which may be the only thing other than price that appeals to applicants. The site is extremely far from the rest of civilisation and many of the roads bordering the project haven't even been built yet.

Also, if you're intending to sell soon after MOP, note that the site is surrounded by new BTO projects that will also MOP at around the same time.
Indicative price range (after grants) for May 2018 BTO flats in Yishun:
2-room flexi: $3,000 (40-year lease), $4,000 (99-year lease)
4-room: $196,000 – $295,000
5-room and 3Gen: $330,000 – $386,000
Verdict: If price is your biggest concern and location doesn't matter, this BTO project is for you.
Looking at the upcoming BTO projects, is a resale flat the better choice?
Given the lack of standout options in the May 2018 BTO launch, we wouldn't be surprised if citizens, especially couples, eschew all four projects and decide to purchase a resale flat instead.
Yes, resale flats are more expensive, but they also come with several perks. For one, these flats will appeal to couples who want to get married and live together ASAP (without having to repeatedly endure the disappointment of BTO ballot results). On top of that, those who opt for resale flats can pick any location they desire and, speaking of location, there's ample supply of resale flats near key amenities. We don't know about you, but taking even 10 minutes off our commutes is a huge bonus in our books.
Perhaps, most importantly, waiting for a BTO to be built is an opportunity cost that sometimes can't be quantified. For couples, being able to settle down and set up a family earlier is priceless. For singles, having their own space for their own pursuits is worth its weight in gold. What this means is, as long you see the value in having a home to call your own, you should never write off buying a resale flat.
If you found this article helpful, 99.co recommends 3 important questions to consider when buying resale HDB as your 1st home and Things you should consider when buying an older HDB resale flat.
Find the home of your dreams today at Singapore's largest property portal 99.co!