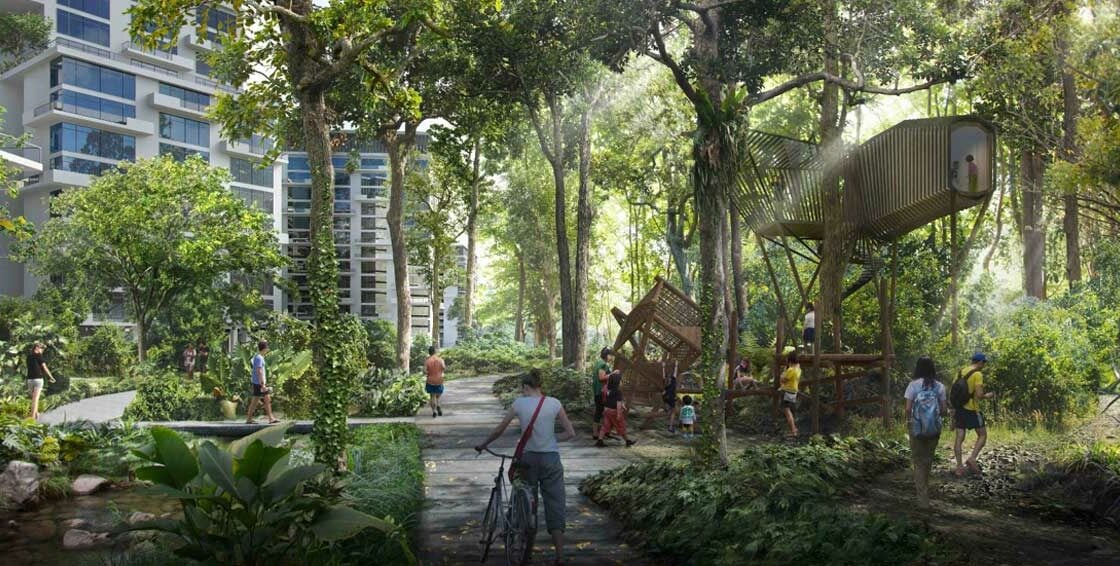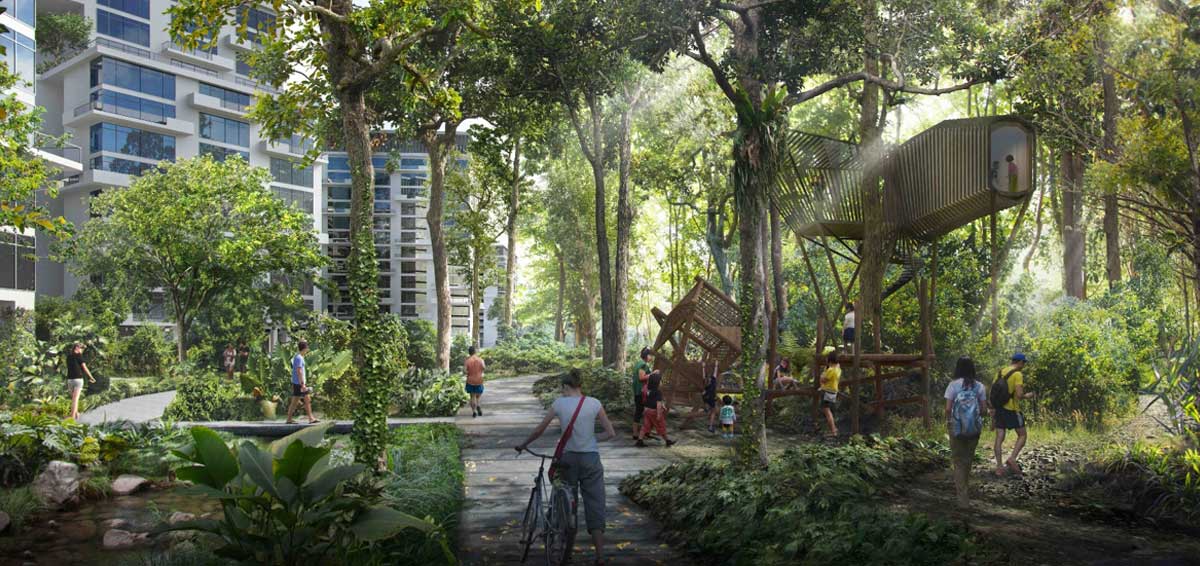 Spanning more than 700 hectares, around the size of Bishan, the Housing Development Board (HDB) town of Tengah will take green living to new heights.
Dubbed "forest town," it will have a car-free town centre – where roads and vehicles will run beneath it – and residents will be surrounded by greenery. Also on the charts is a designated area for community gardening and urban farming, making it a prime location for the sale of organic produce.
The masterplan for Tengah was announced by National Development Minister Lawrence Wong at the recent HDB awards ceremony. The newest HDB town is set to contain 42,000 new homes, of which 70 percent will be public housing. It will be spilt into five housing areas: Plantation, Park, Garden, Brickland and Forest Hill.
The estate, outlined by the Kranji and Pan-Island expressways, Bukit Batok Road and Brickland Road, has been used for decades as military training ground.
The Ministry of Defence told TODAY that it was "supportive of HDB's development of Tengah New Town."
"Military training in the area will be adjusted accordingly in line with the HDB's Masterplan," it added.
From the town, residents will have access to a wide Forest Corridor stretching 5km, that will be linked to the Western Catchment Area and Central Catchment Nature Reserve. It will also have a 20-hectare Central Park with an amphitheatre.
The town "would be sensitively integrated with the ecosystems surrounding it," HDB said.
Its chief executive Cheong Koon Hean added that Tengah was a "big step forward" for urban town planning and will "completely transform the western region of Singapore."
In particular, the area will complement the development of Jurong Lake District, he explained. Construction of the town will start next year, and the first HDB flats are expected to be launched in 2018.
Will the new plan affect private housings around the area? Which areas will benefit the most? 
We reckon that property values in Choa Chu Kang and perhaps Jurong West, Boon Lay, might benefit. Previously, Choa Chu Kang is seen as a far flung location in the northwestern part of Singapore, similar to Boon Lay in the Jurong West area. Now that Jurong West/Boon Lay is benefitting from the makeover of Jurong East and Lakeside, the development of Tengah can potentially help properties in Choa Chu Kang. This is because the development of Tengah will provide more convenient options and extend vibrancy in the area.
Is it a good time for potential buyers to buy properties around Tengah?
The property market (both private and public resale residential) are in doldrums and it is advisable for buyers to err on the side of caution not to over buy or over invest in properties too quickly.
But that said, there could be a some positive benefits from buying in the area due to Tengah's development, largely due its synergy with the neighbouring estates of Jurong West, Choa Chu Kang and Bukit Panjang.
The lifestyle quotient in Tengah in the years ahead may benefit Choa Chu Kang too – just like Sengkang benefits from Punggol's waterway living enclave identity. These benefits will not be tangible at present but we do expect Tengah to get increasingly attractive with a range of lifestyle amenities. However, until Tengah has been sufficiently developed, it will definitely not result in property prices in Choa Chu Kang, Bukit Panjang to rise.
Read more about the pros and cons of Tengah
here
.