Exciting developments are coming our way with HDB's announcement regarding BTO flats in Tengah housing estate. Here are 7 things you should know about Tengah BTO flats in Singapore's "forest town".
Situated within the west region of Singapore, lies Tengah. Centrally bound by neighbouring districts, Choa Chu Kang, Bukit Panjang, Jurong West and the Western Water Catchment. Previously known as a military ground, this 700ha town is to be roughly the size of Bishan town. Tengah will consist of five housing districts: Plantation, Park, Garden, Brickland and Forest Hill. Upon completion, a total of 42,000 new homes will be up for sale, 30,000 units of public housing and 12,000 of private housing.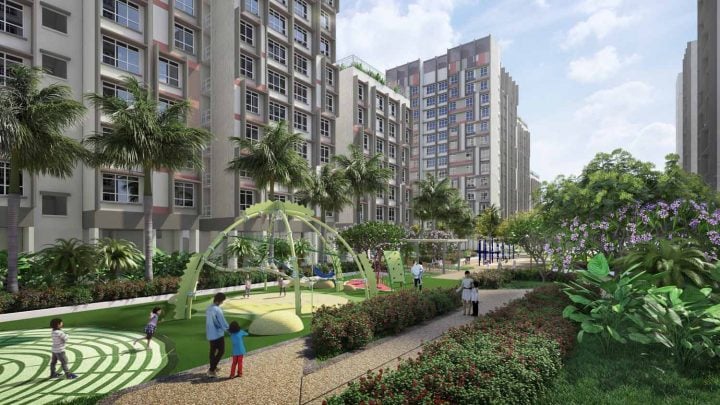 (Credit)
1. The launch of two housing projects, Plantation Acres and Garden [email protected]
Garden Vale @ Tengah offers approximately 987 units of 2-Room Flexi, 3-Room, 4-Room and 5-Room flats. Plantation Acres offers approximately 1,193 units of 2-Room Flexi, 3-Room, 4-Room and 5-Room flats.
This amounts to a total of 2,200 units offered for sale.
2. Closely connected to Jurong East MRT Station
This area will be connected to the Tengah Plantation MRT Station on the Jurong Region MRT Line in 2026. It brings great convenience for commuters as it is only 4 stops away from Jurong East MRT Station.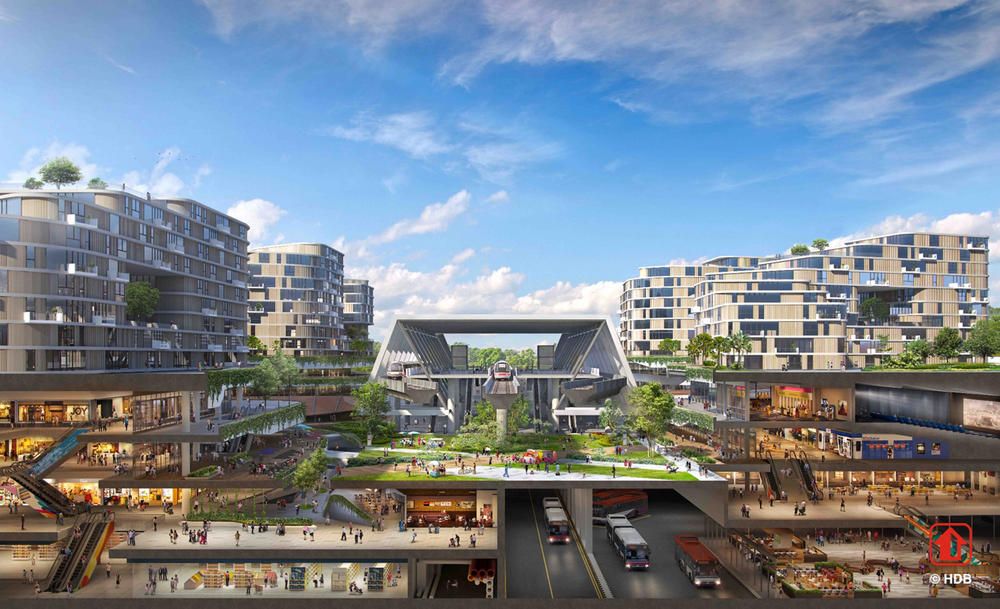 (Credit)
3. Singapore's largest smart and sustainable town
Let's all be clear, sustainability matters. Singapore is part of an active process of building a better tomorrow. This is where Tengah town, the first of its kind, will be the one of the products of Singapore's efforts in sustainability.
Eco-friendly water conservation and energy features will be sighted in both private homes and public spaces. LED lights with motion-sensor controls, energy-efficient lifts and the new Pneumatic Waste Conveyance System (PWCS) are just a few examples of what is to come.
PWCS is a smart and green feature that increases hygiene and efficiency in waste collection and management. So, say good-bye to clearing waste manually, waste scattering and pest problems.
4. A "cool" town
With plans to transform Tengah into a "cool" town, a new software called Urban Microclimate Multi-physics Integrated Simulation (UM-MIST) will be put in place. The adoption of this technology allows for wind flow optimisation, increased natural ventilation and lower temperatures.
(Credit)
5. A car-lite town
Featuring cleaner and greener streets, Tengah is envisioned to be a car-lite town. In efforts to promote walking and cycling, all district roads will feature 2m-wide cycling paths and 1.5m-wide pedestrian paths.
A 100m-wide, 5km-long forest corridor with hiking trails will link Tengah to the surrounding green network between the western and central catchment areas. It takes nature straight to your doorstep. 
In addition, direct access will be available from homes to nearby shopping malls and the MRT station. A bonus for all lazy bums.
6. Shorter waiting periods for application results
We can now expect shorter waiting periods for Tengah BTO flat applications. A rough waiting period of two to three years instead of the usual three to four.
Furthermore, prospective home buyers can also find out the results of their BTO flat ballots in three weeks, compared to the usual six. 
7. Expected Tengah BTO prices
Plantation Acres
Two-room flexi flat from $86,000
Three-room flat from $165,000
Four-room flat from $244,000
Five-room flat from $366,000
Garden Vale @ Tengah:
Four-room flat from $340,000 – $448,000
Five-room flat from $455,000 – $570,000
Considering buying a BTO flat in Singapore's new Tengah town? Voice your thoughts in our comments section or on our Facebook community page.
Looking for a property? Find the home of your dreams today on Singapore's largest property portal 99.co! You can also access a wide range of tools to calculate your down payments and loan repayments, to make an informed purchase.